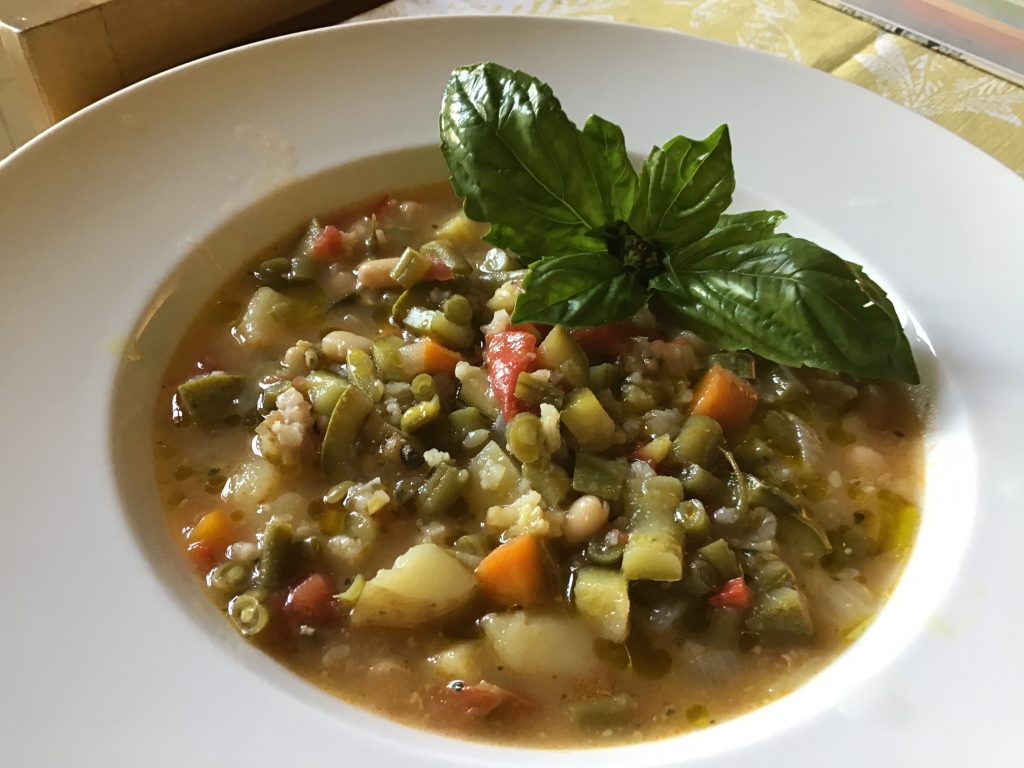 This soup is made from fresh summer vegetables. Any fresh vegetables can be used so the list below is just what I happened to use. And anything can be left out if you don't have it. Key is chopping everything pretty small. And it's super easy to make. After the chopping work you just put everything together and cook.
Olive oil for sautéing
1 onion chopped
1 carrot chopped
1 garlic clove minced
One or two big tomatoes chopped with peels
3 small zucchini chopped
2 potatoes chopped – I kept the peels
Big handful of fresh green beans chopped in small pieces
1 can of cannellini beans
Some chopped leafy greens of any type would be good (but I didn't have any)
1 box of chicken or vegetable broth (or two cans)
Any chopped herbs you have (I put in a dollop of pesto)
Some hot pepper flakes if you want it a little picante
A handful of rice (optional) this thickens the soup some
Salt and peppet
Sauté the onion and carrot until slightly soft. Add garlic for 30 seconds. Put all the rest of the ingredients (except the rice if using) plus water to cover and make it soup-like. Simmer for around 45-50 minutes. If using the rice add it 20 minutes before the end of the cooking time. This soup can be served at room temperature if desired. Serve with some or all of : good olive oil, a sprinkle of grated Parmesan, a spoon of pesto or chopped basil. Summer in a bowl.