Since our last momentous news I thought I would update about our comings and goings and doings 🙂.
The day we got our PdS lungo periodo we had already planned a celebration of sorts with friends who live in or near Spello. It was a quiche potluck. The participants were Steve and Roselyne, our hosts, and our good friend Doug who is in the midst of a major renovation of his house on the mountainside nearby. We had three quiches. The celebration was of Steve's passing of the written exam for his Italian drivers license – Patente. This is probably THE most difficult hurdle of all to moving and living in Italy. All in archaic Italian with "trick" questions. But he did it! First try! So a real cause to celebrate. And we also celebrated our long term PdS and Doug's house getting a floor. That is also a BIG thing. Anyway, it was a very fun day. Steve and Roselyn's apartment has two lovely terrazzi and a balcony overlooking the main street in Spello. After lunch we sat on their grande terrazzo. The rooftops of Spello spread out and the views of the mountains were lovely. A special place.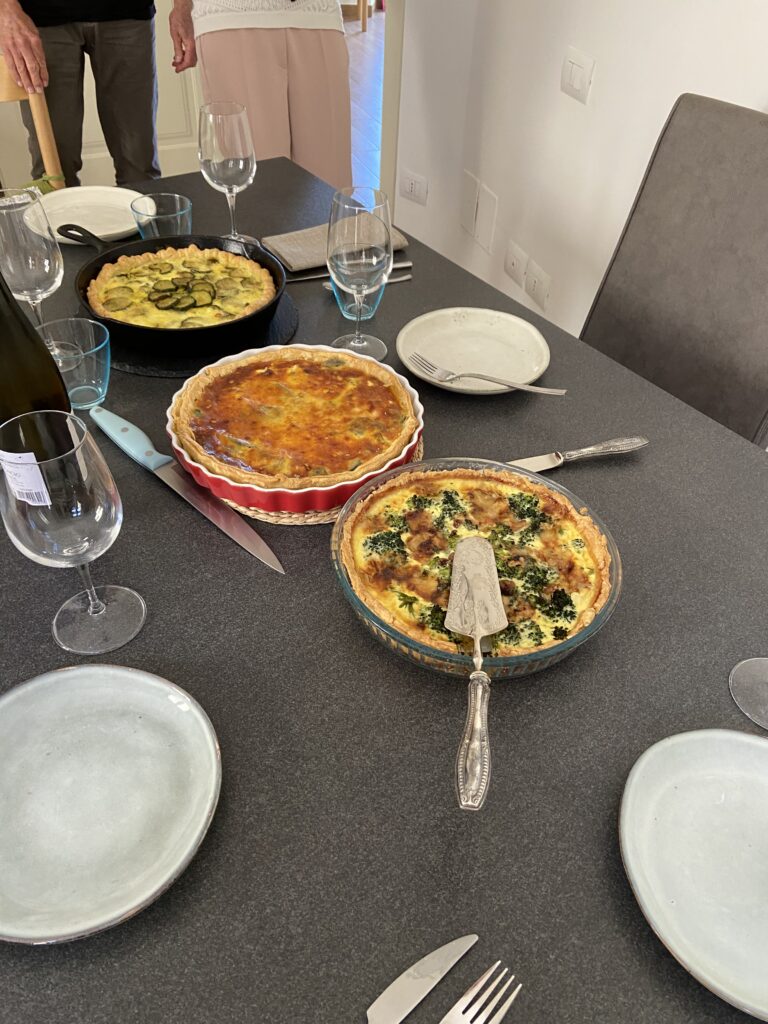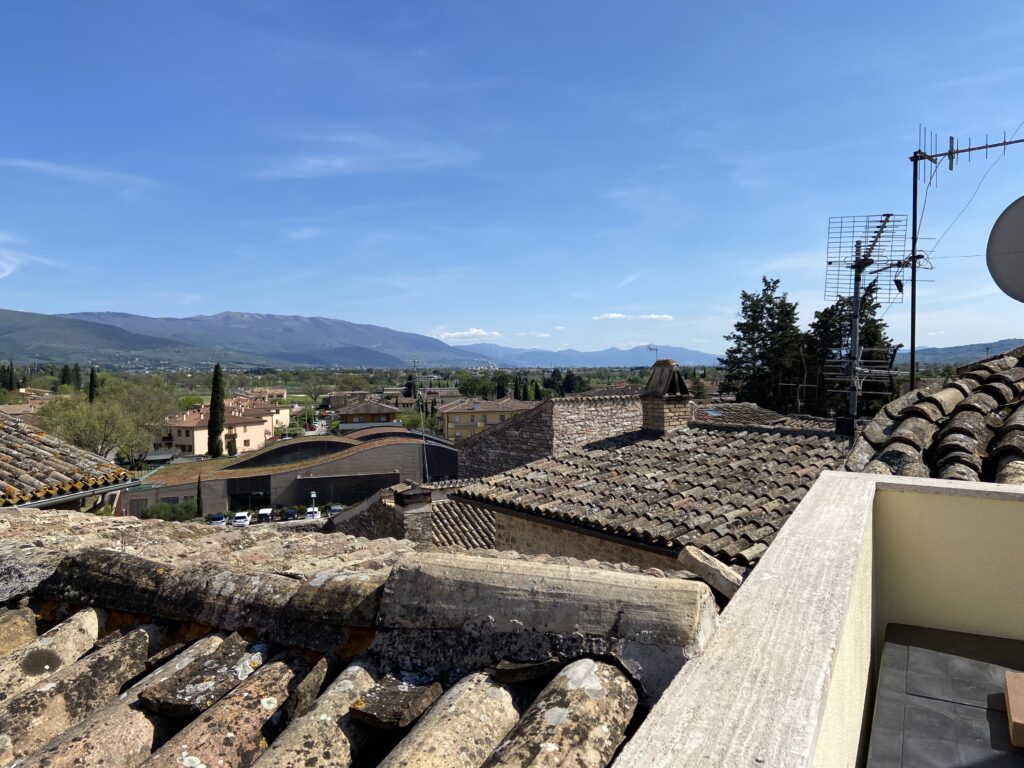 I did a lot of work on Sunday. I had been putting it off but the day was fine. I had ordered new, stick-on rugs for our stairway. The old ones were awful. Dirty and rough and the cats fur stuck to them.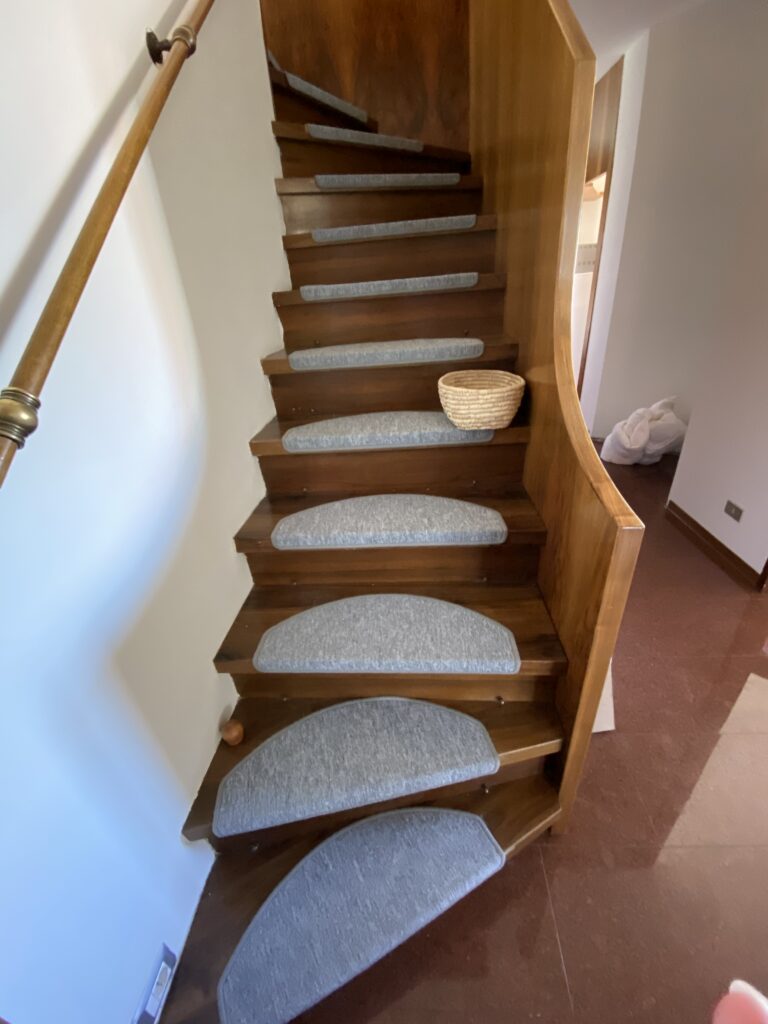 I also shifted about ten bags if soil and transplanted my two herb plants. This is just one planter of five. They all need dirt to be added so it will be a slow process.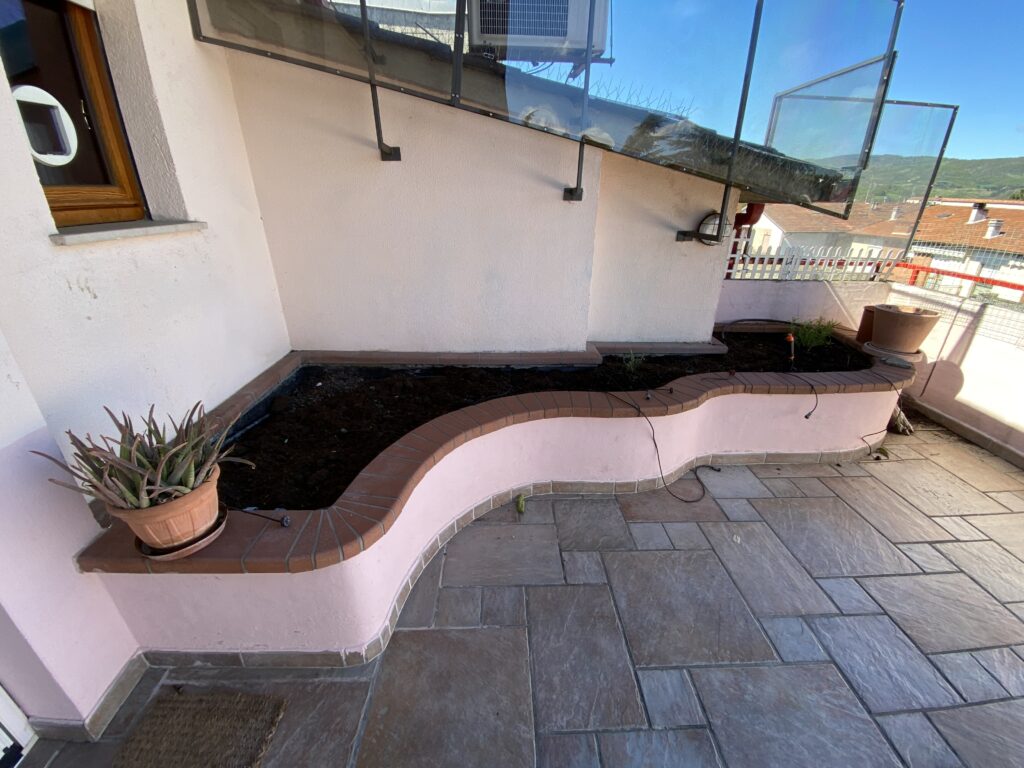 Below are the roses that managed to escape the "purge" by our sellers. I transplanted two which may or may not survive. It will be interesting to see what colors they are. The other bed has a rogue hydrangea on the right side. I will let it grow. This will also be my spring garden. I have some hyacinths to transplant and some tulip bulbs and the two primroses gifted to me by my friend Jill. I "think" there may be one more hyacinth coming up too, in a different bed.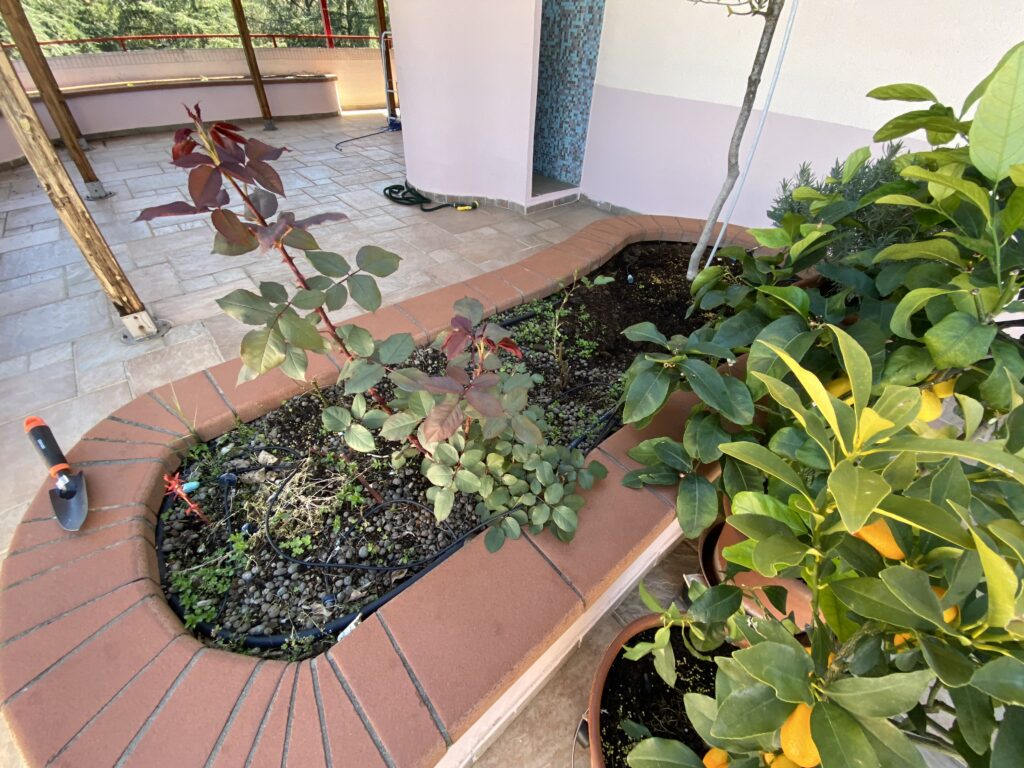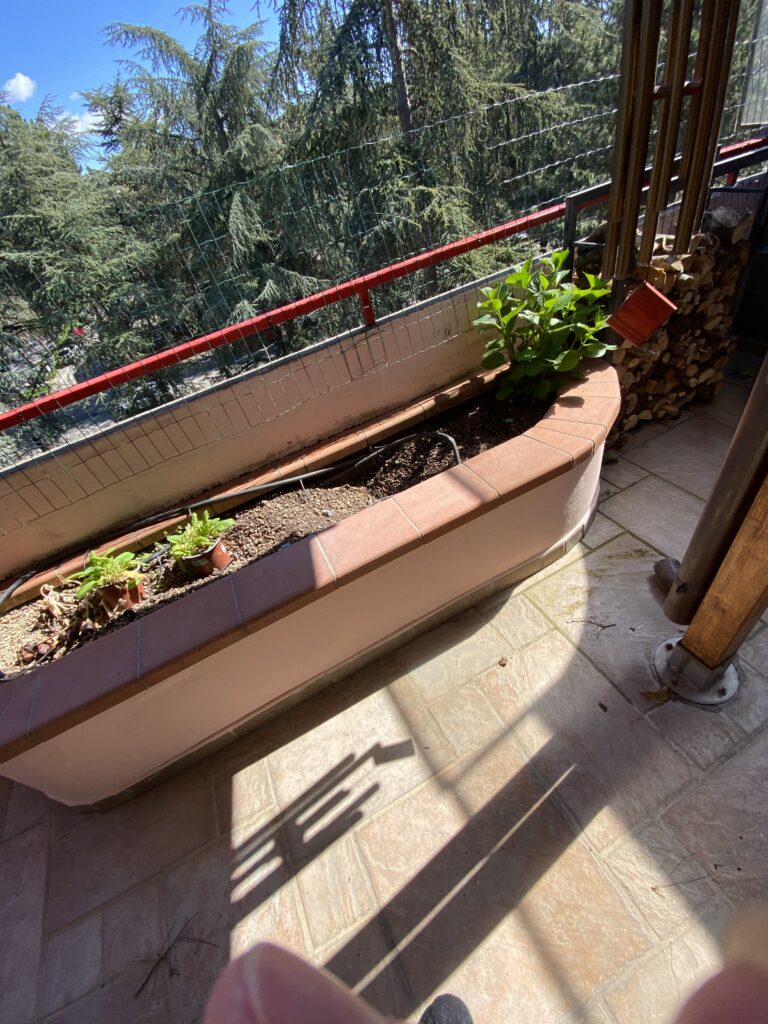 I bought two pretty little side tables if ever we get an outside sofa! I plan to order a sofa soon. They are mosaic tiles on wrought iron stands.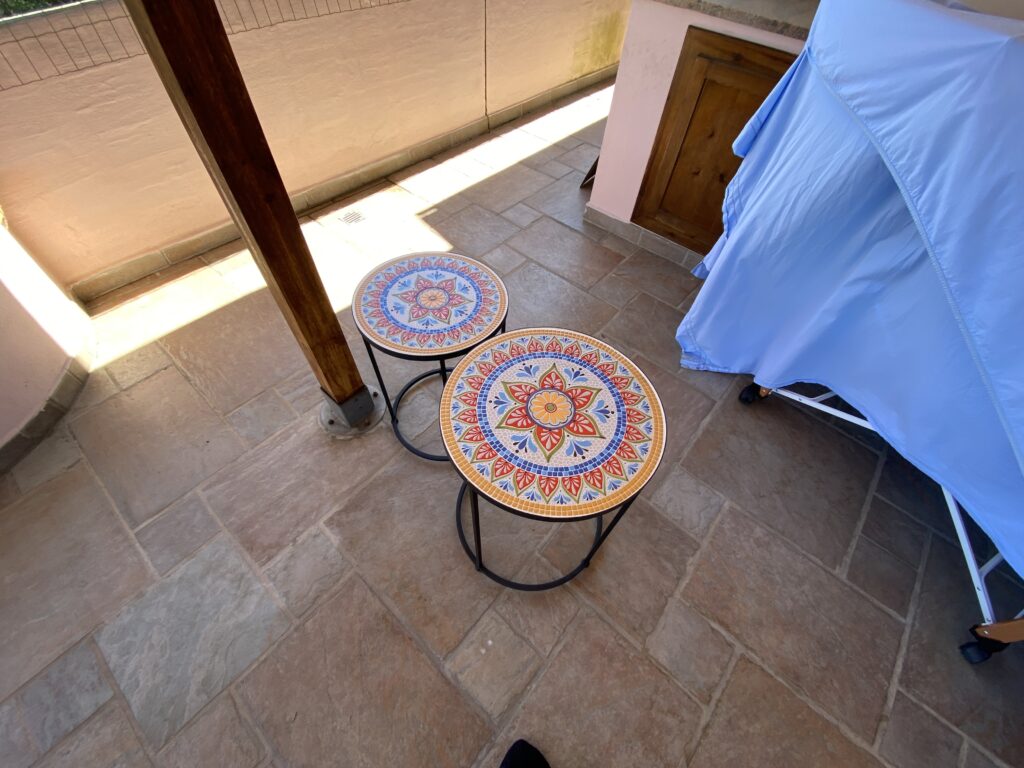 I also obtained two amazing Thailandese cat statues from my friend Paul. They are heavy as all get out but I love them on the terrace. They are near the pizza oven.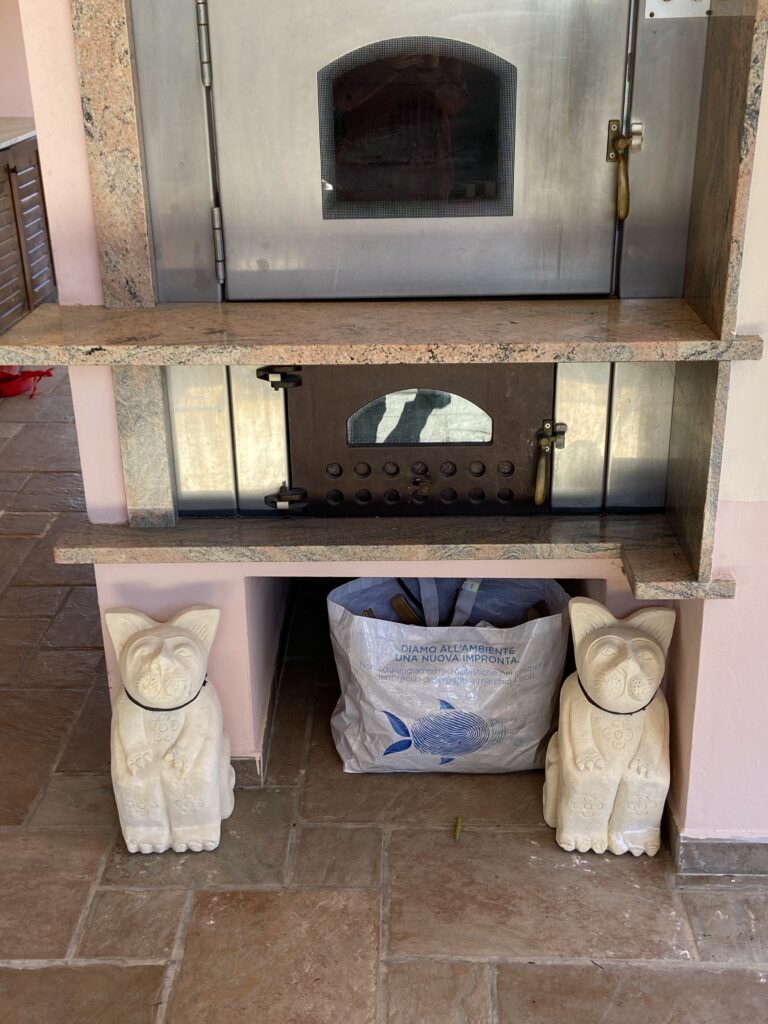 Finally, today we had an appointment at the Anagrafe in our Comune to change our abode from Via Grilli to Via Fratta. Easy to do since they are both in the same Comune but nonetheless an experience. The people in our Comune couldn't be nicer. Whenever we've had dealings there they are always super helpful. So we did all the paperwork. Went from office to office and got it all done. They are a bit old fashioned here. Everything is done on paper. Here are some pictures I snapped inside the Comune. It used to be a grand palazzo. A single family home. It is enormous. The grand room pictured below has the seal of Umbertide. It looks like a hanging but it is not. It is a fresco on plaster. It is where the official dealings of the Comune all happen.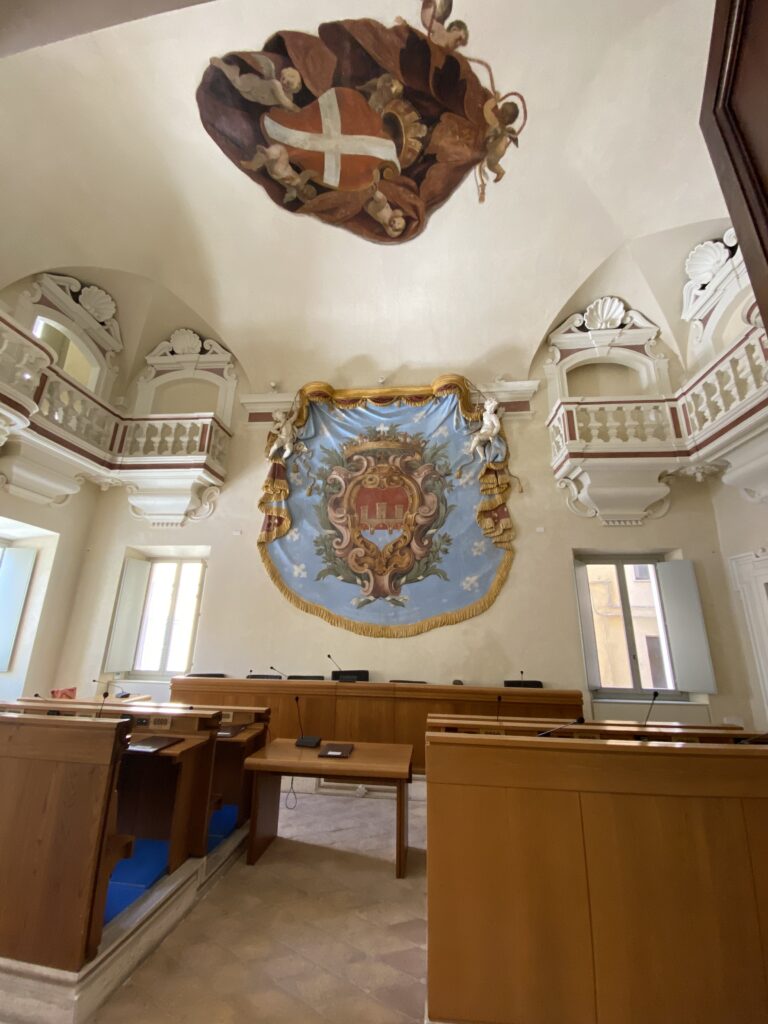 On the wall in the office we were in they had this great photo of Umbertide Centro Storico.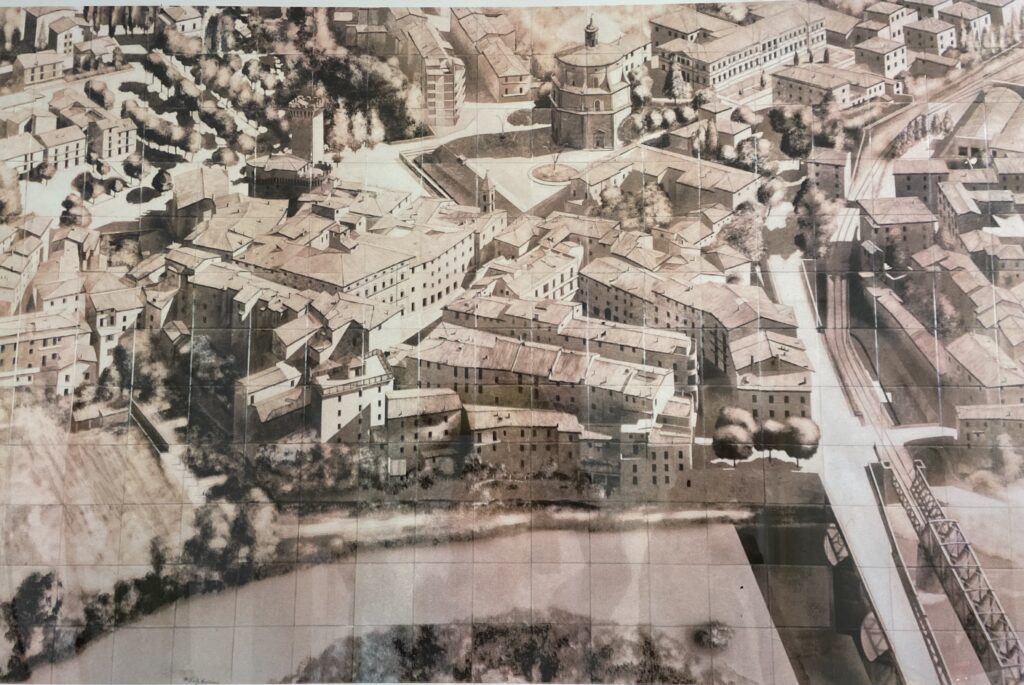 Below is the second office we visited. The tax office — ufficio tributi. We only pay trash tax, no property tax, here since our apartment is our prima casa or primary home. But they need to know we moved. I was amused that all their records are on paper in all these file boxes. Wow.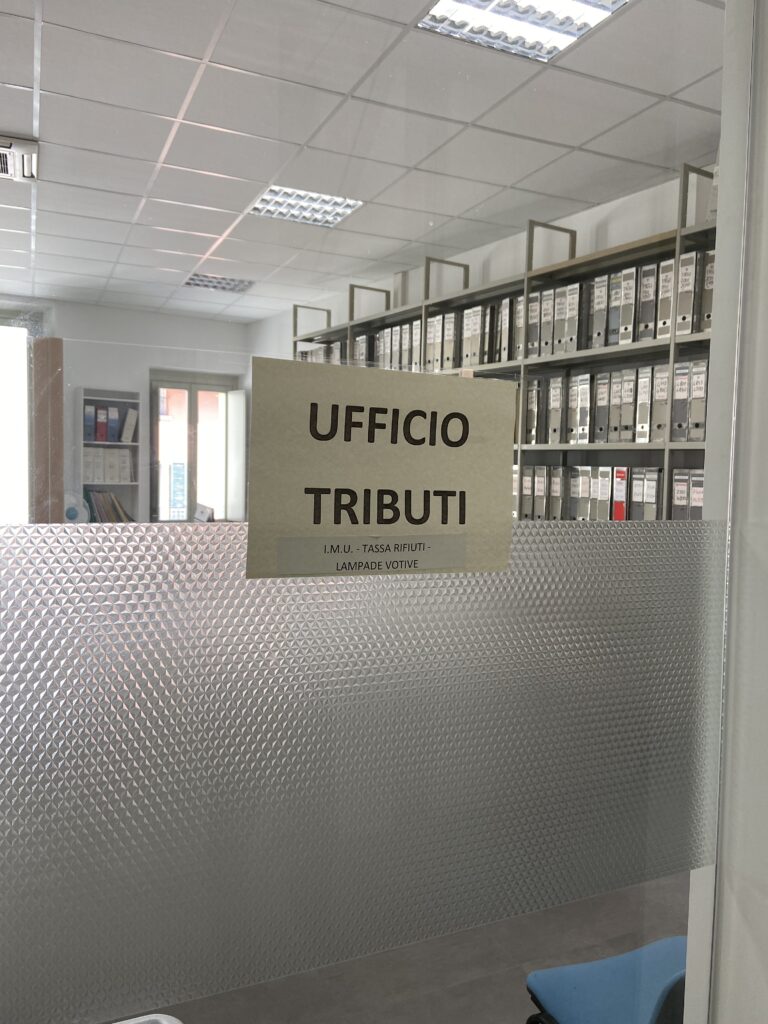 Big stuff done. We still must visit the vigili or the local police and tell them we have moved. We'll probably do that Friday or next week. Always makes me happy when we get things done!
Our weather has turned fine, finally! It's low 70s and sunny. My big focus will be on the terrace as time goes by. Stay tuned for updates!