We had a great time with our latest guests who only stayed two nights. Sadly. We began by picking them up in Arezzo where they had spent one night. There are two parking lots near the Duomo. One is free, the other is paid. The free lot is always full. The pay lot is always empty. We parked in the pay parking lot and took the escalators to the Centro. In the parking lot was this beautiful plant. It had long trailing arms loaded with buds just about to pop.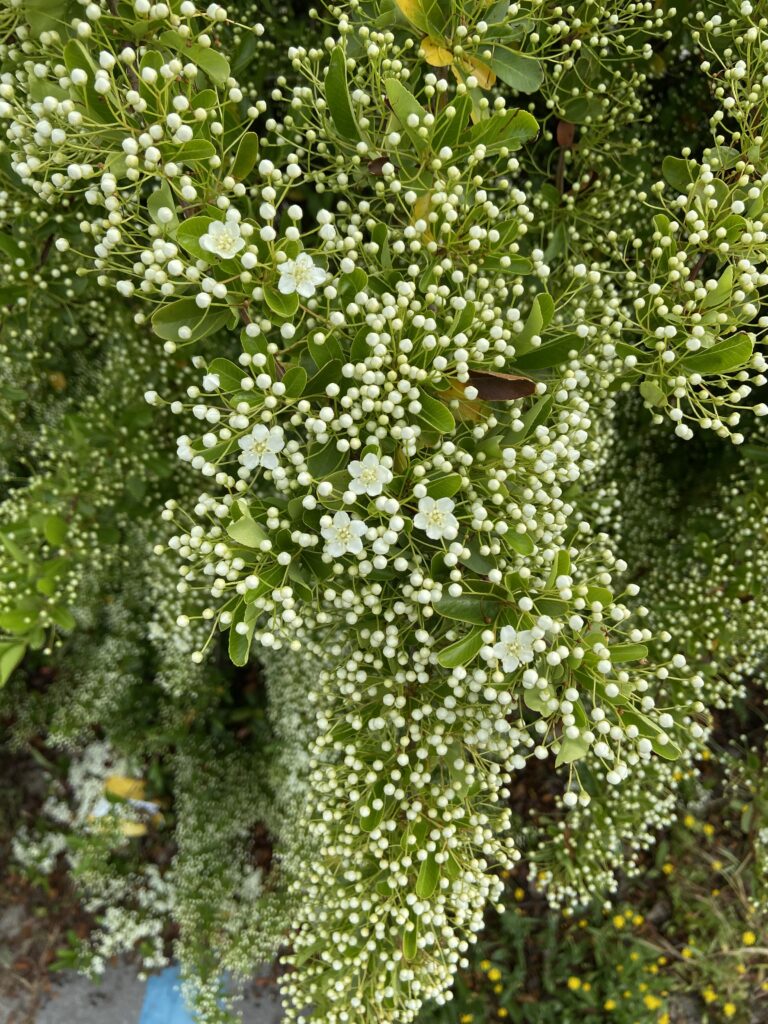 We had arranged to meet our friends at the Bar Duomo, which was near their hotel. It has been years since we saw them but we recognized them right away. We decided to have a caffè before leaving. I loved the artistry of my caffè macchiato. Looks just like my cat Rocky!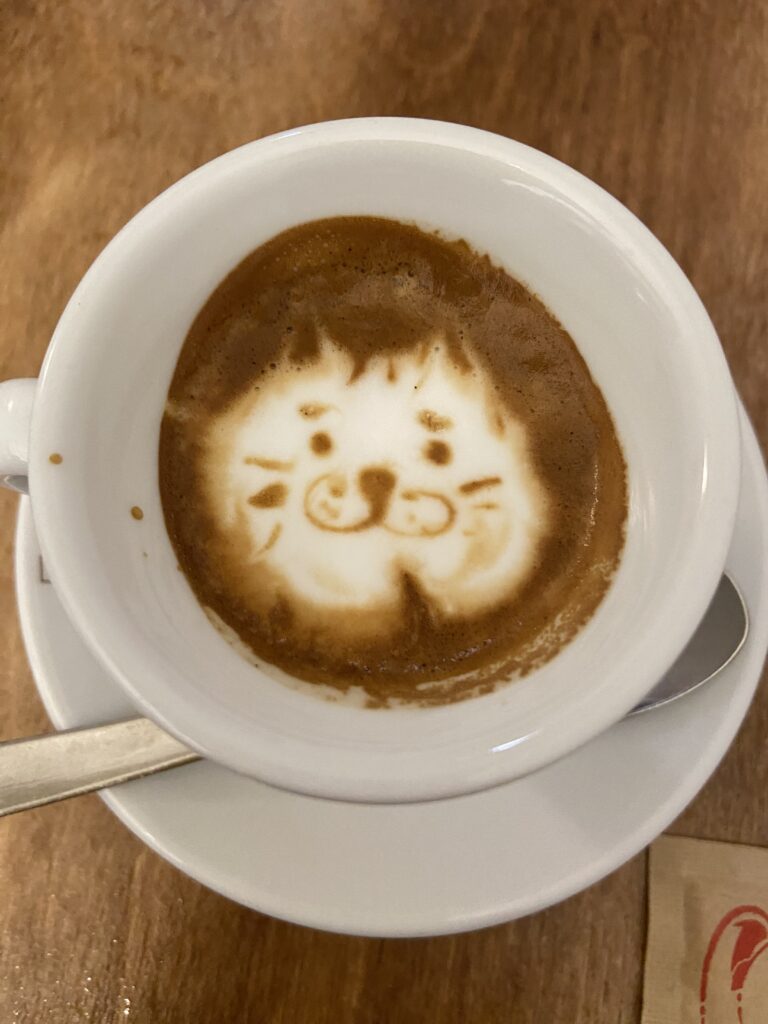 It was a beautiful day so we decided to stop in Città di Castello because it was on the way. We walked around and stopped for some refreshments. Then headed for Umbertide. Before going home we visited the Montecorona church. One of my favorite places on earth.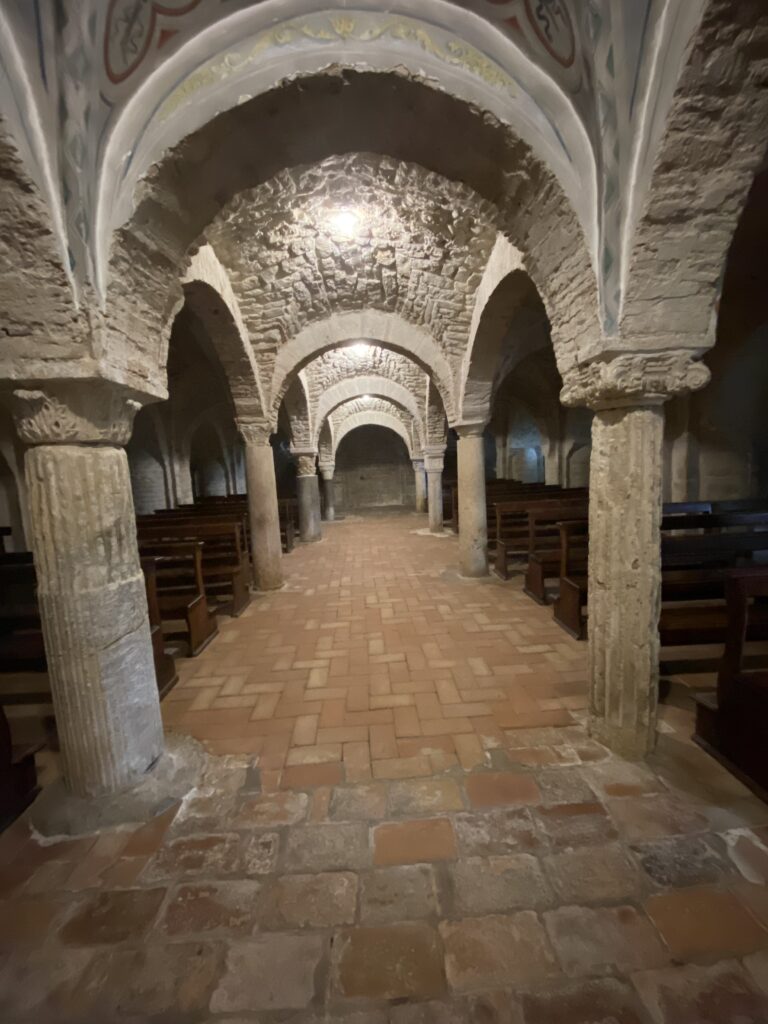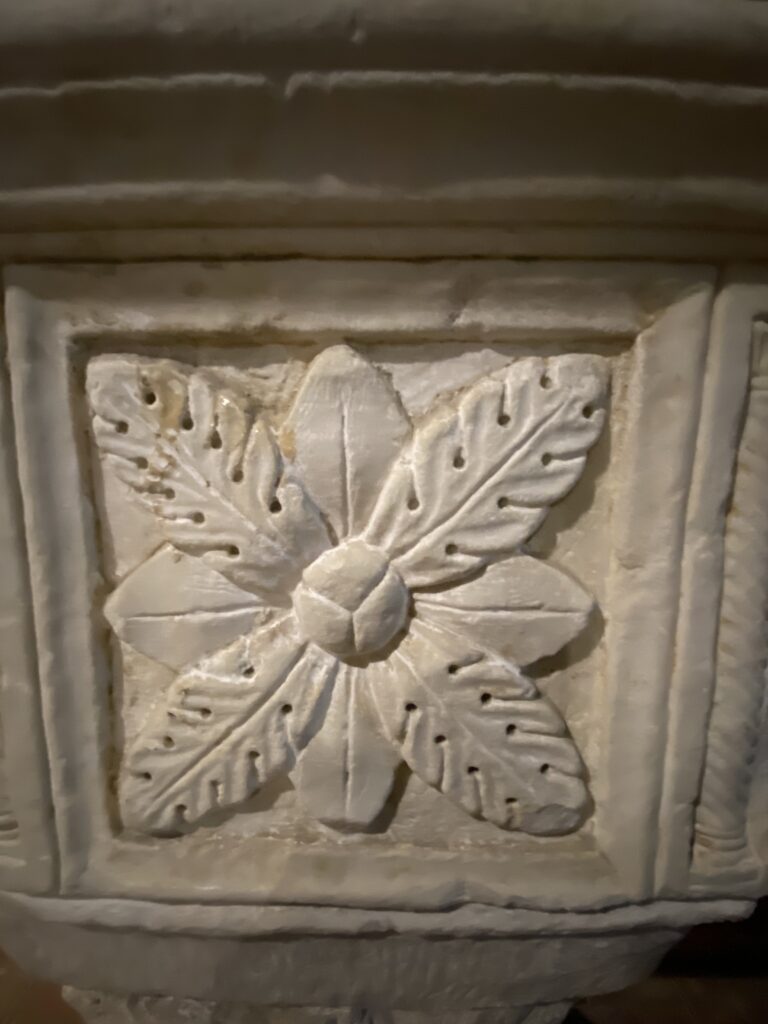 We arrived and checked into our apartment 🙂 …well, they checked in, we live here! We had a light lunch of prosciutto e melone, cheese olives, breadsticks, crackers and bread. During our lunch we were serenaded by a thunderstorm. Perfect timing. After lunch, and after the rain, we walked into town and we showed them around.
That evening we had meant to dine at C'era una Volta, near us but they were full due to a political meeting. Our mayoral election is coming up this weekend. So we had to form a Plan B. We decided to go up to Montone for dinner, which we did. We picked Erba Luna. We were the only patrons. Dinner was very good. Our friends had the antipasto plate with local meats and cheeses. Some had lamb chops for secondi. Very good.
The next day, their only full day here, was going to be a perfect day! They had lucked out on the first part of the trip and had really nice weather the whole time. They had chosen Gubbio for our target to tour. Before we visited, the night before, we viewed videos of the Festa dei Ceri which is the biggest festival they have (always May 15) and it is famous. I knew the city would be madly preparing for the event. Being very hard to describe I will try a bit here and then I will post a good video of it. Ceri is the word for candles. The fest starts in their main square and it is literally packed. The town has three Guilds left over from the medieval times. They compete in this fest, to carry three heavy (700 lb) tall wooden structures (Ceri) up the mountain, and it is steep and a long way. The Ceri start out as prone, parallel to the ground. On a command the teams tip the heavy things up so they become vertical. Then they must circle the flagpole in the center of the square three times before going up the mountain with the Ceri. They are mounted on long poles and eight or ten strong youths are carrying them. As they tire, they get replaced with fresh men for the long run ahead. It is worth it to watch this video and then I have a very sweet video to share after you've seen how the whole fest works. I won't ever go. It is too crowded and quite frightening to be in the crowd.
Link to YouTube video and here is another with great aerial views. Link to YouTube Video
I just took this one picture of where the rotation happens and the crowds gather and the Ceri begin their run up the mountain. The entire city was decked out in its finery. The neighborhood flags were everywhere.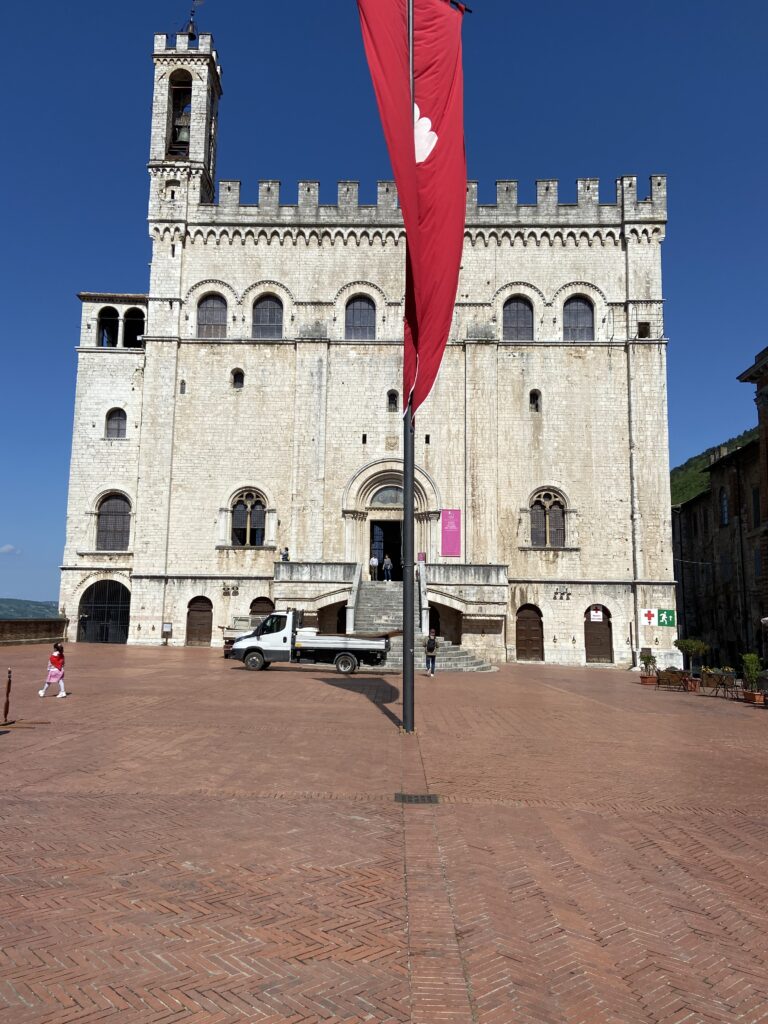 This was precious. In the Piazza was a class of little kids. Dressed in their pink or blue smocks. The teachers (or some volunteer!) had made miniature versions of the Ceri. The kids split into neighborhoods and guilds. They gave the signal and round and round they went with their miniature Ceri while all the other kids cheered them on. Someday, they will be grown up and will participate in the Festa! Traditions. Passed along over the centuries.
The Duomo stained glass and nave.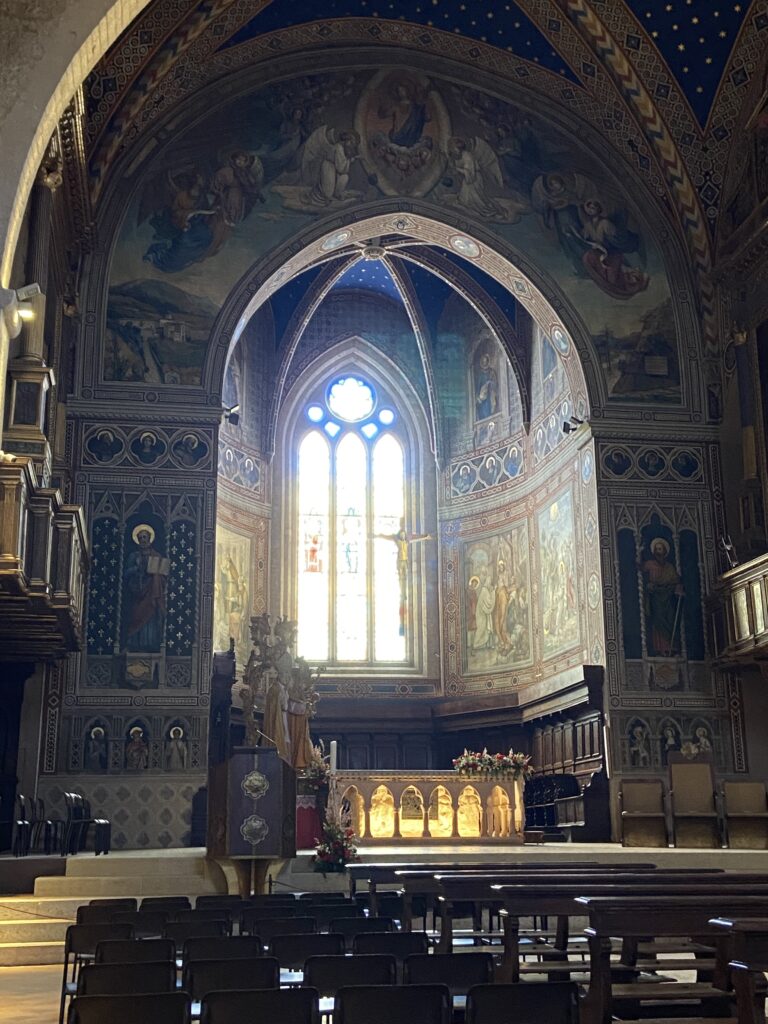 Our next stop was a wine tasting and lunch at our local winery, Vineria del Carmine. They have a good chef and you can just have a small appetizer, which we normally get. This time, since it was lunch we decided the wine tasting with the light lunch would be good. First we were served freshly made bread sticks along with two dips. Very delicious. They also served bread, their olive oil, and truffle salt. Our guests had never tasted good, Umbrian olive oil (the best!). It's hard to find in the US. I was proud to see they really appreciated it and said it was the best they'd ever had. Then they brought us a Sfromato di zucca gialla su letto di fonduta di parmigiano — which is a flan of yellow squash and truffles on a bed of parmesan cheese cream. At the same time they brought a cool soup of fennel and chive oil. To finish we had cheeses with truffle honey and meats. Along with the meal we tasted two whites, both Trebbiano, one 2019 and the other 2020 (Umbrian indigenous grape) and two rosés, one a Merlot and one a Sangiovesi, and three reds all blends of Merlot, Cabernet, and Sagrantino, in differing quantities. It was a leisurely lunch and I think we all had fun. The sommelier is a nice guy and we like him a lot. I only remembered to take one photo!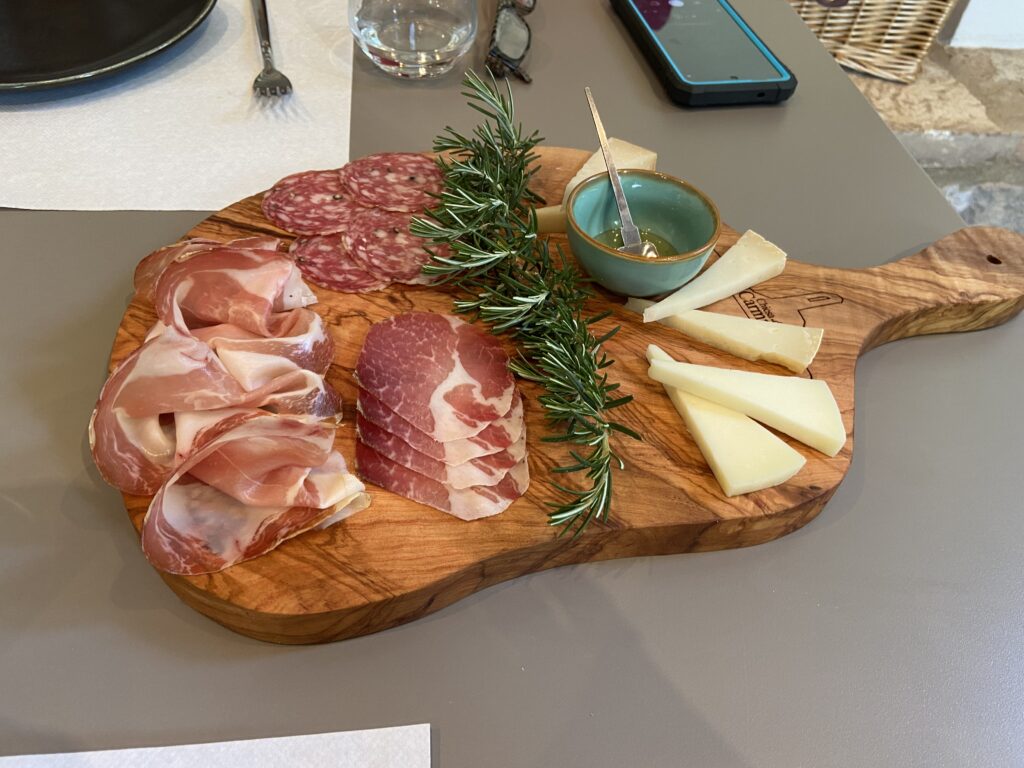 We left and I have to say, the countryside in this little valley is incredibly beautiful. Some pictures. The poppies are blooming everywhere now. My favorite.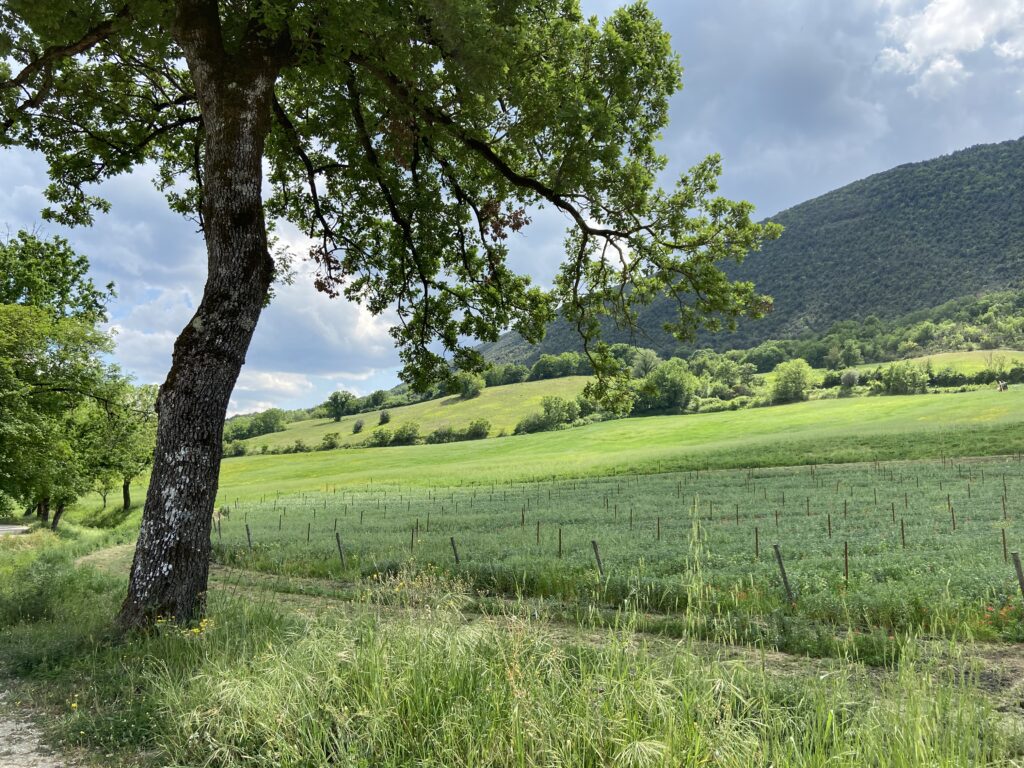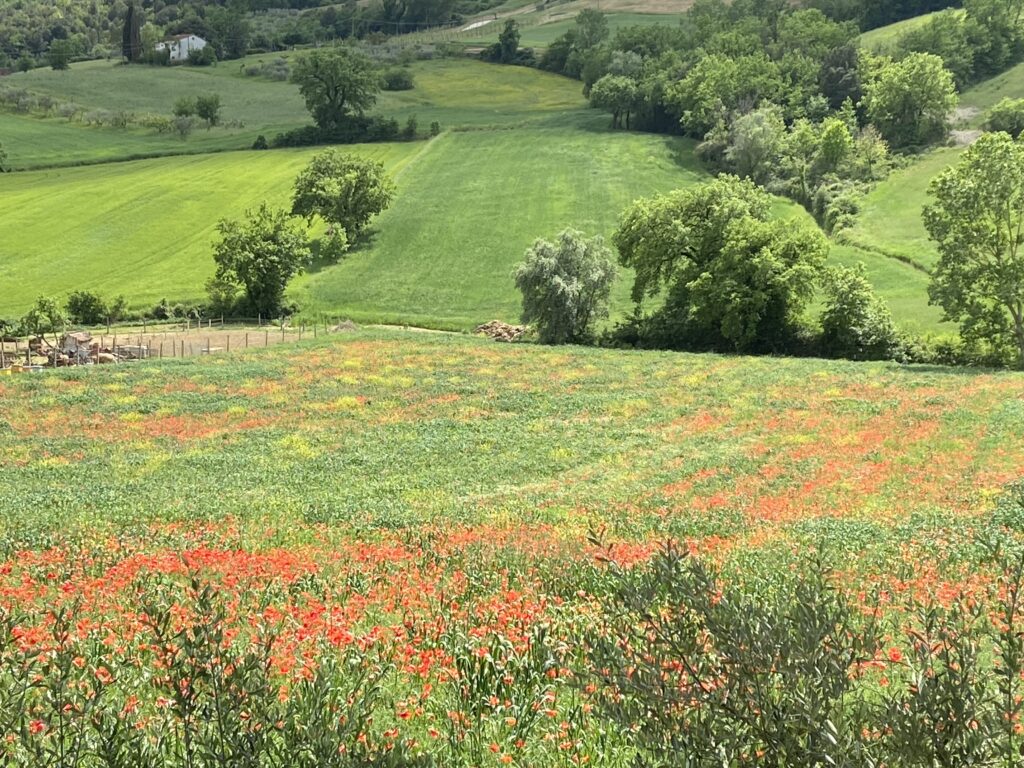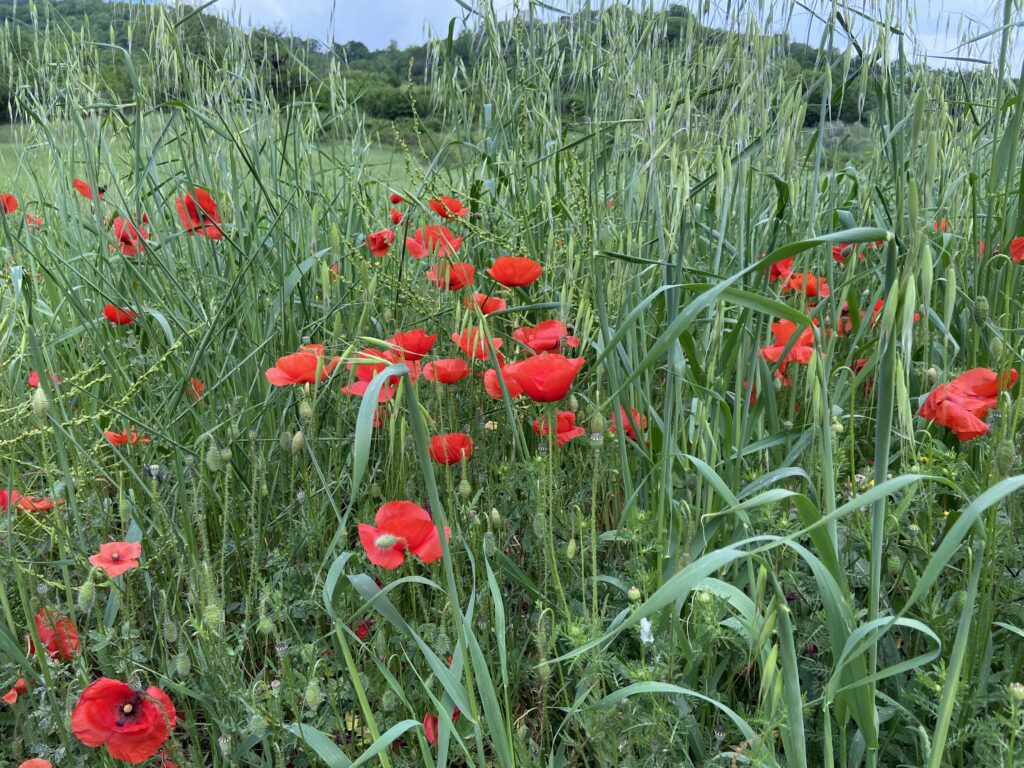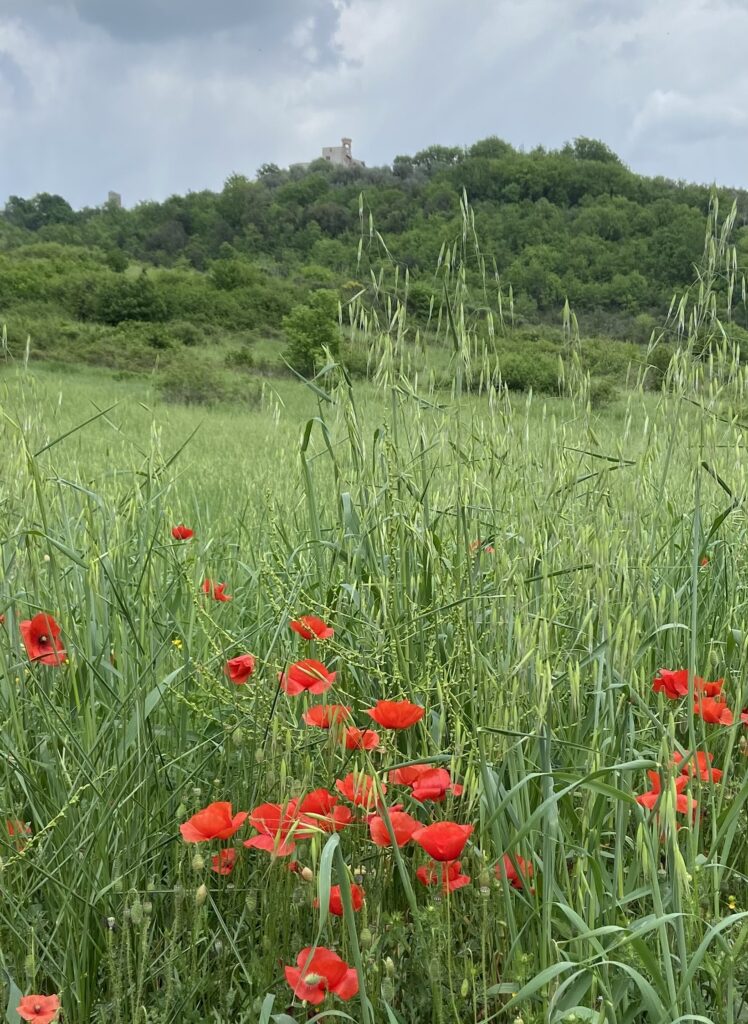 Final dinner was at Calagrana, because, well, it is Calagrana! The weather had turned horrible. Much cooler and plenty of rain. So we ate in the cozy inside. I took one picture. My asparagus with a fried egg and parmesan cream topped by shaved truffles. So incredibly good.
Today, we delivered our guests to the Foligno train station to catch the Frecciabianca (fast train) to Rome. They brought the good weather with them, and gave us the bad weather when they left. We hope they come back soon. 😉