Here's another Trip Report so skip if you're not interested
Lots of food pictures – of course!
~~~~~~~
Go to Part Two of the trip
Tuesday – June 14

We left our casa in Umbertide in the capable hands of Liz and Mark, Canadian friends and cat lovers and we headed for Bologna where we overnighted before our nine AM flight to Barcelona. In Bologna we always stay at Hotel Bologna Airport where we get a room for the night and they keep our car during the trip. Not a fancy place, but adequate.
Wednesday – June 15 – Barcelona
We took the shuttle and everything went without a hitch. No one paid any attention to our expired Permessi. Yay, and big relief. The flight was an hour and a half. Easy peasy. Arrived in Barcelona at 10:30. Got our luggage and met the driver who was transferring us to Casa Camper our favorite hotel in Barcelona. It is in the Gothic quarter, two blocks from Las Ramblas. We stayed here four or five years ago and loved the quirky vibe.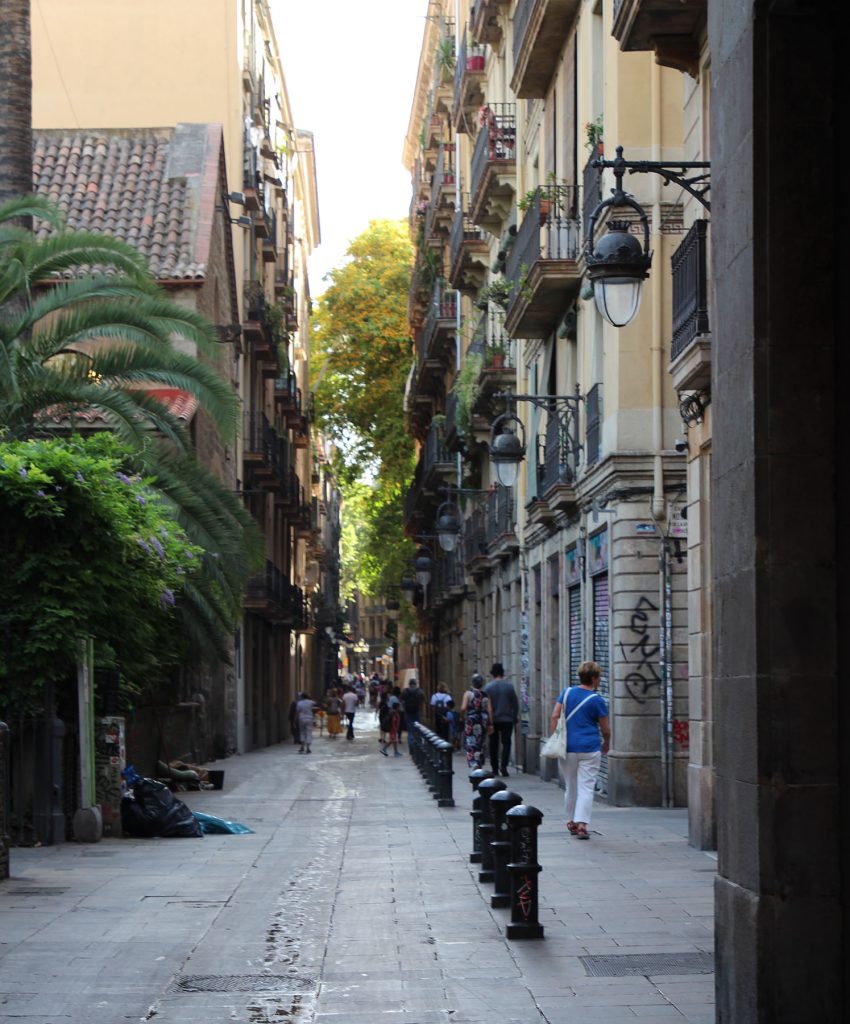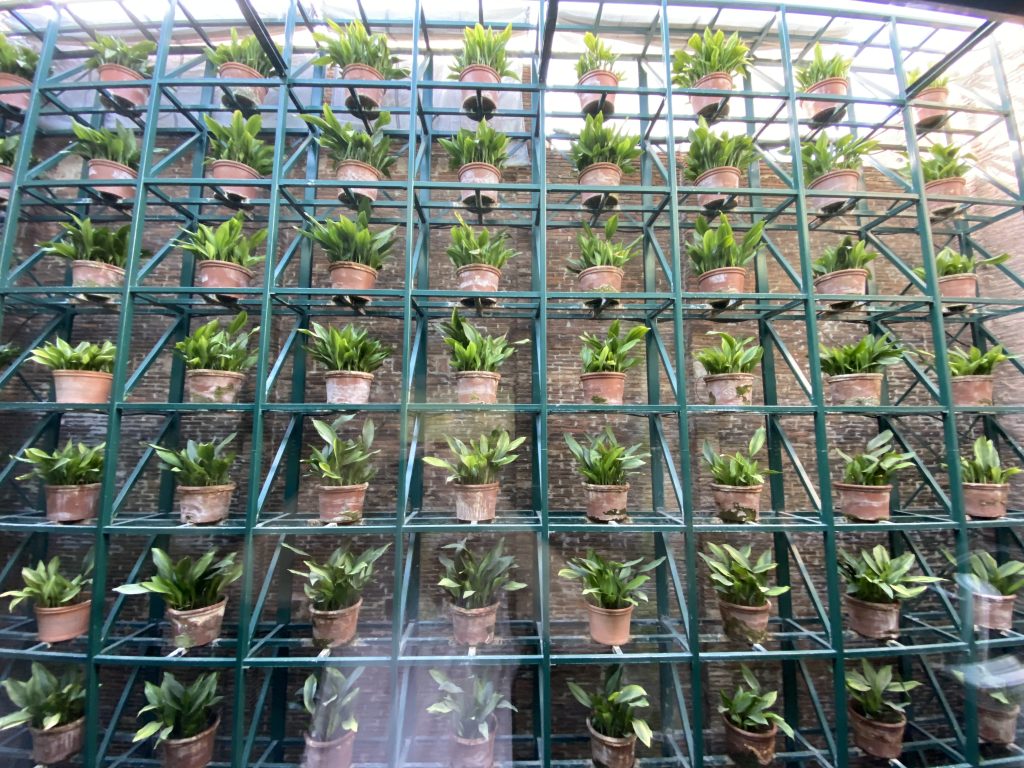 We had been in touch with my sister Cindy, on WhatsApp, who arrived from Virginia earlier than us. They were staying in a different hotel. It makes it more difficult being in hotels a 25 minute walk apart. But it's just two days. We decided to meet up for lunch at Cerveceria Catalana – a popular Tapas place closer to them than us. We sat outside and had multiple plates and multiple bottles of wine. The food was soooo good. I am sorry I didn't take more pictures of the food. This place had the best patatas bravas of the trip. Our waiter was soooo amusing. It was a lot of fun and this was the first time in three years I have been able to actually – physically – touch my sister. Emotional and overwhelming.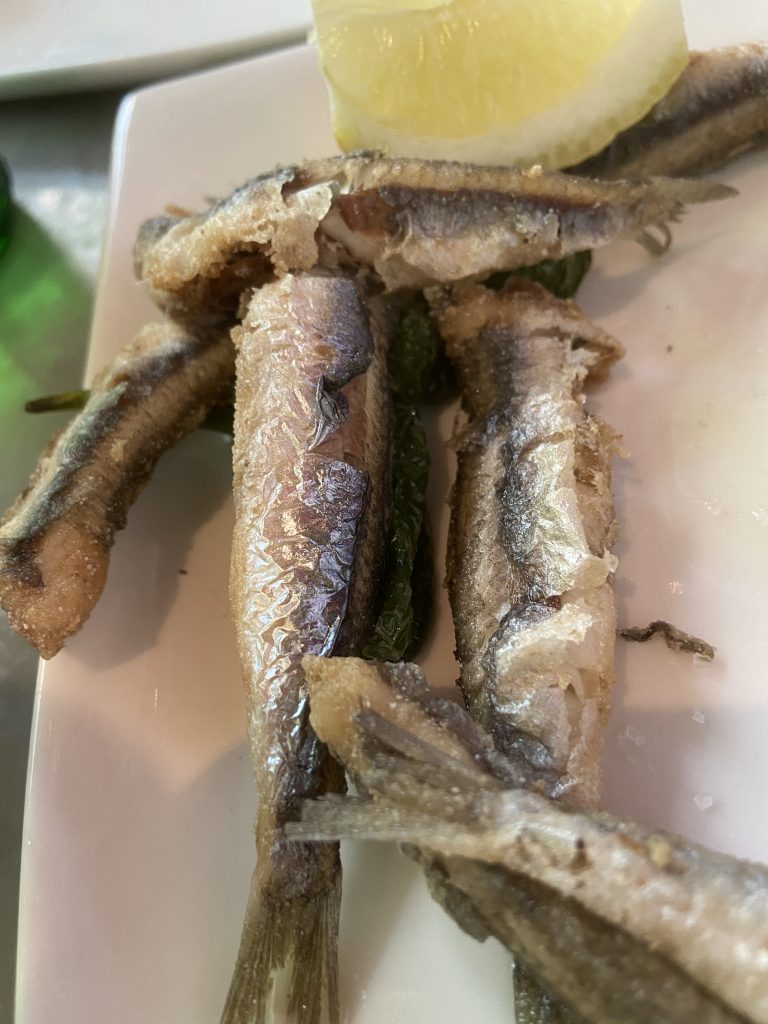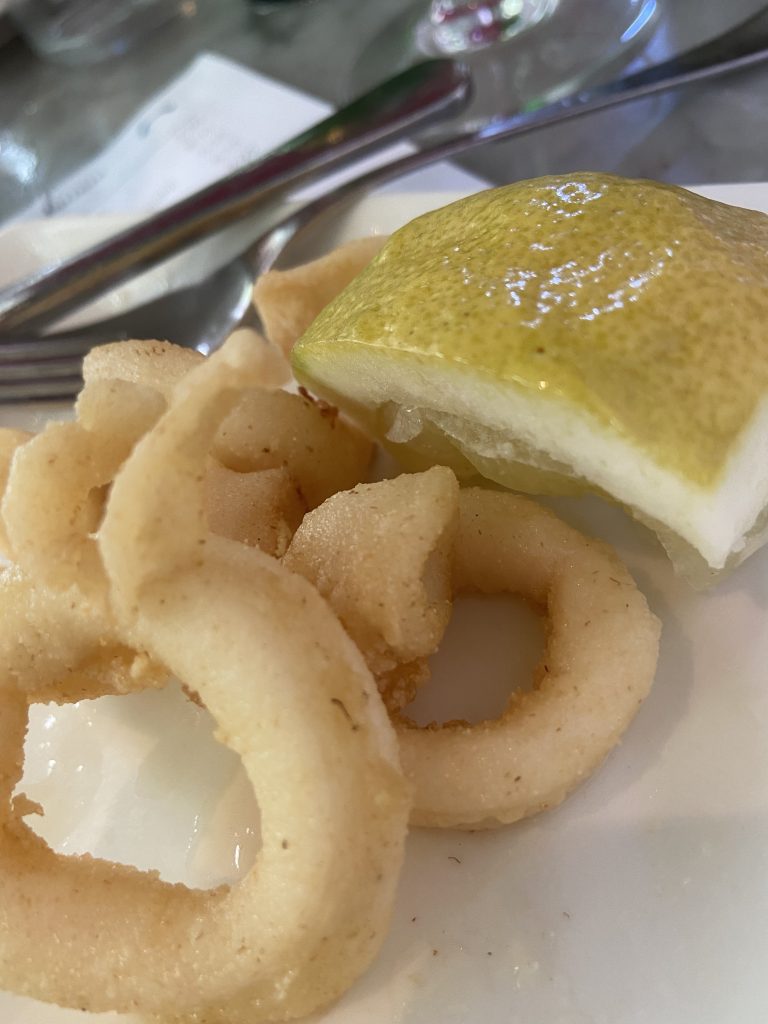 We walked las Ramblas and then Cindy and Bill went back to their hotel. We returned to our hotel for naps and then later for snacks from the free kitchen in Casa Camper. They have an honesty bar on the roof deck area with bottles of wine and liquor for which you just fill out a form saying what you took. We sat outside where it had cooled off nicely and enjoyed some wine and Luther, his cigar, a gift from Mark, our house/cat sitter. A vintage Cuban cigar made in 1991. It was so well made and burned beautifully for a long time. Thank you Mark! It was a nice first day of our trip.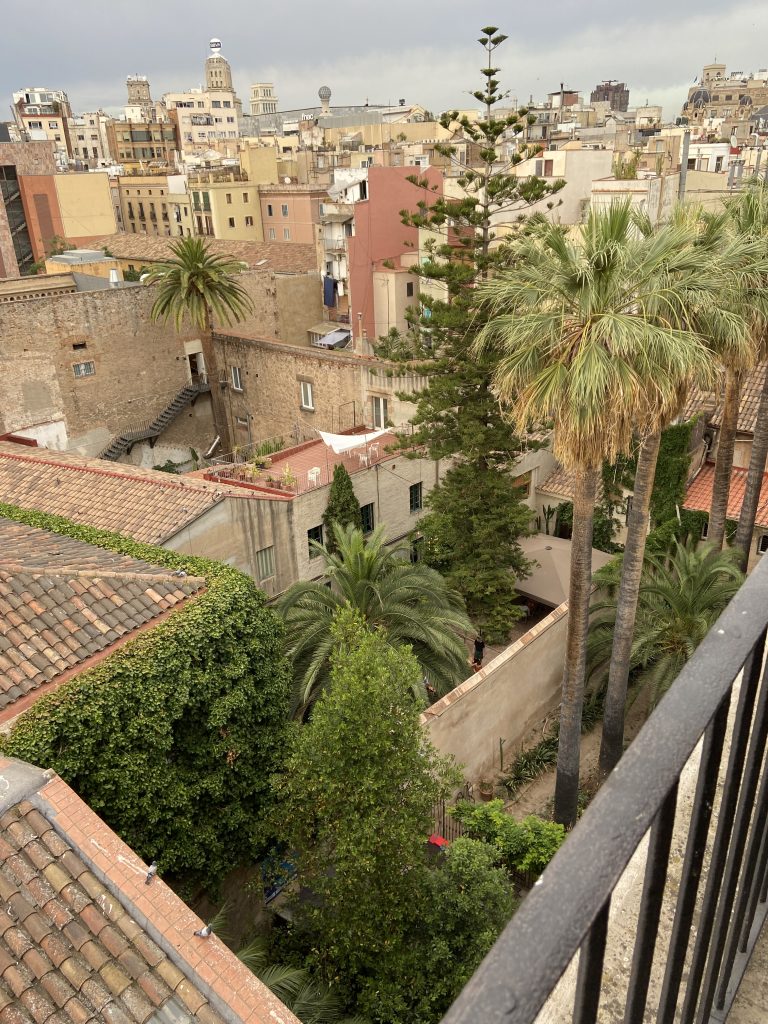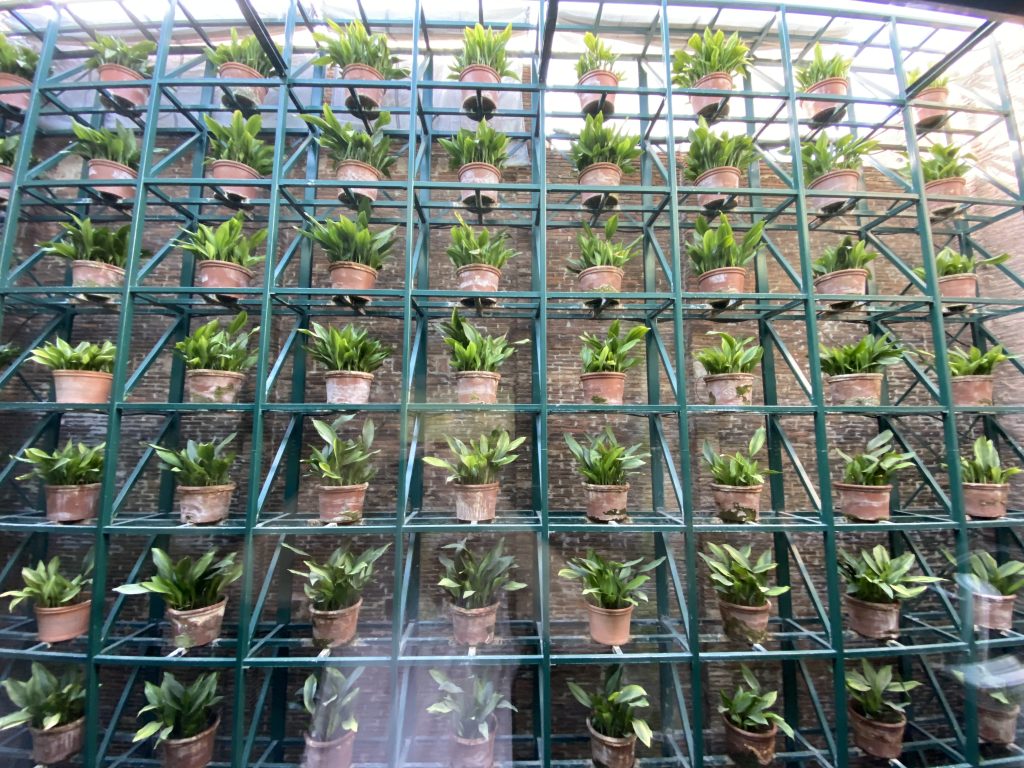 Thursday – June 16 – Barcelona
This day we had our half day tour of Barcelona. We had a driver, Jorge, and Marta our guide, who owns Forever Barcelona. We were picked up at our individual hotels at nine AM and we started off with a walking tour of the Gothic quarter. We got a pretty good picture of how the city evolved. Where the ancient Roman walls were, where the Jewish quarter was until around 1050 when there was a riot and massacre. We saw the cathedral. The former forum, lots of interesting tidbits. Then we met up with Jorge and we drove to a panoramic view of the city. It has between 1.6 and 2 million people. It was a sleepy backwater until the 1992 Olympics put them on the map. Since then it has been a vibrant city.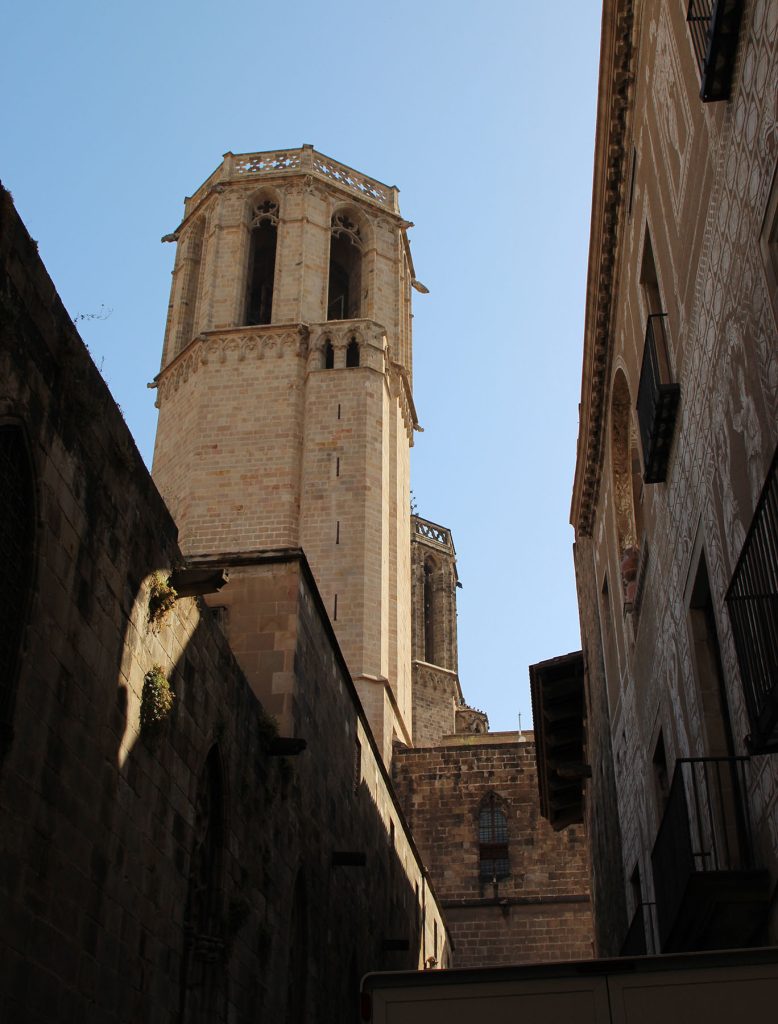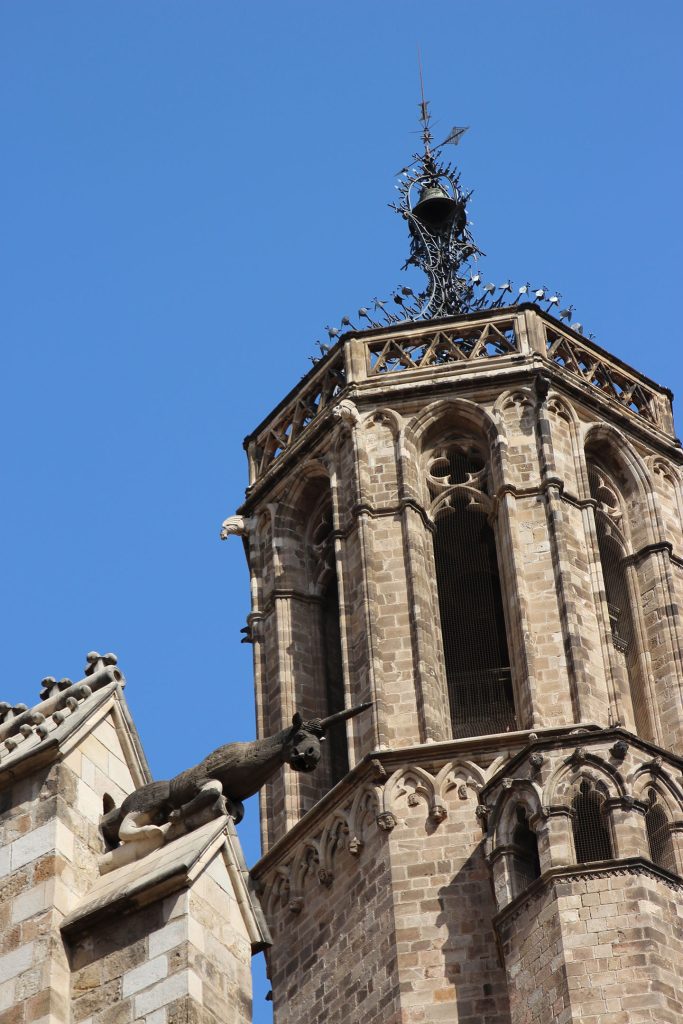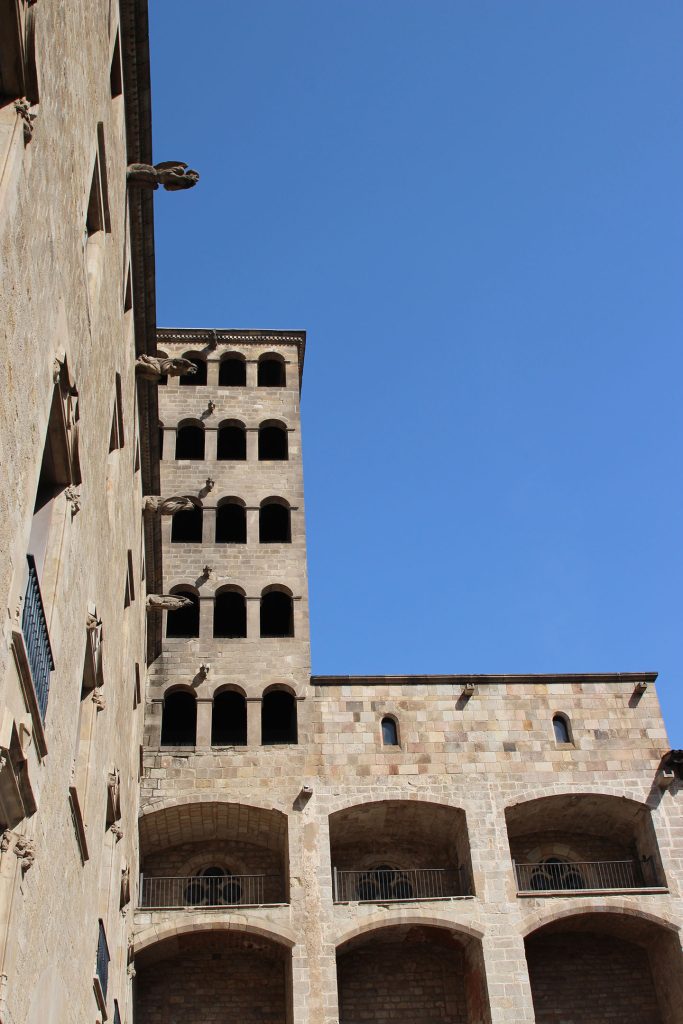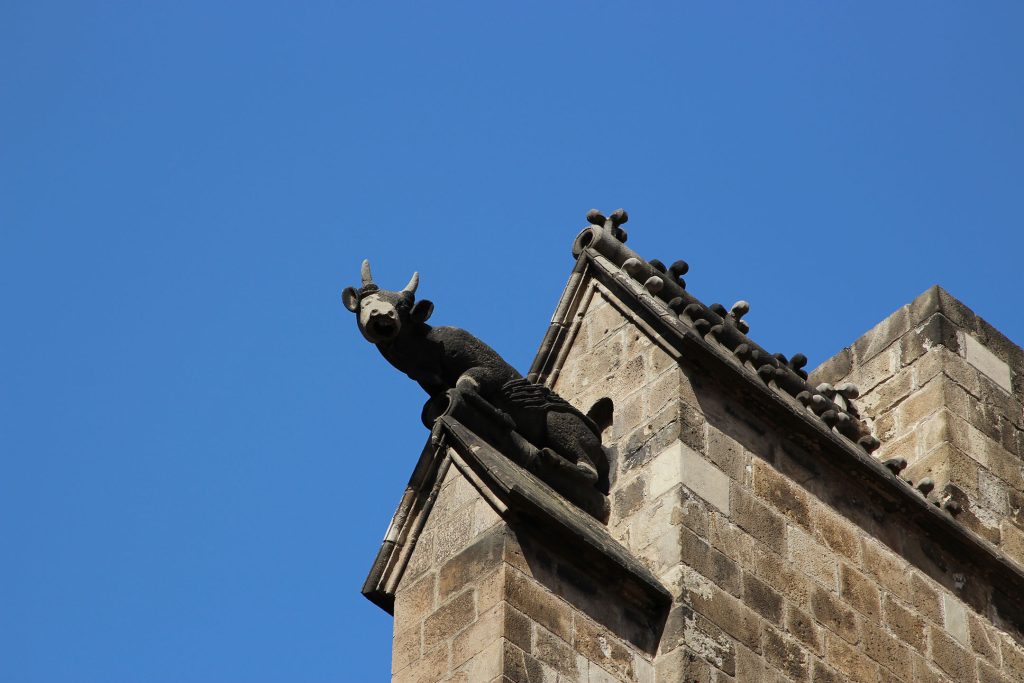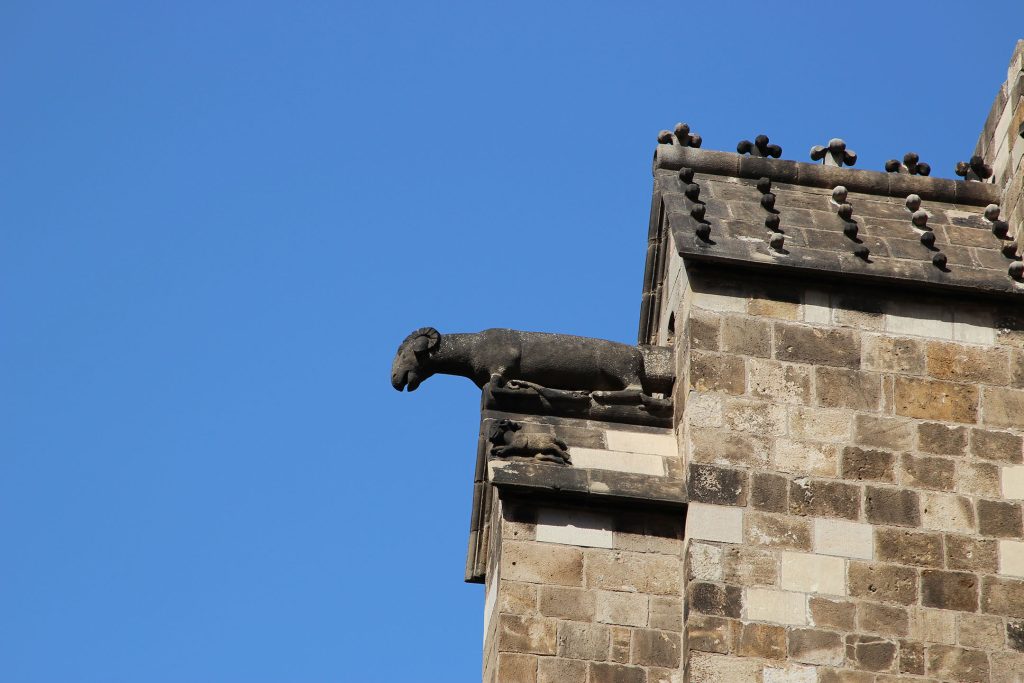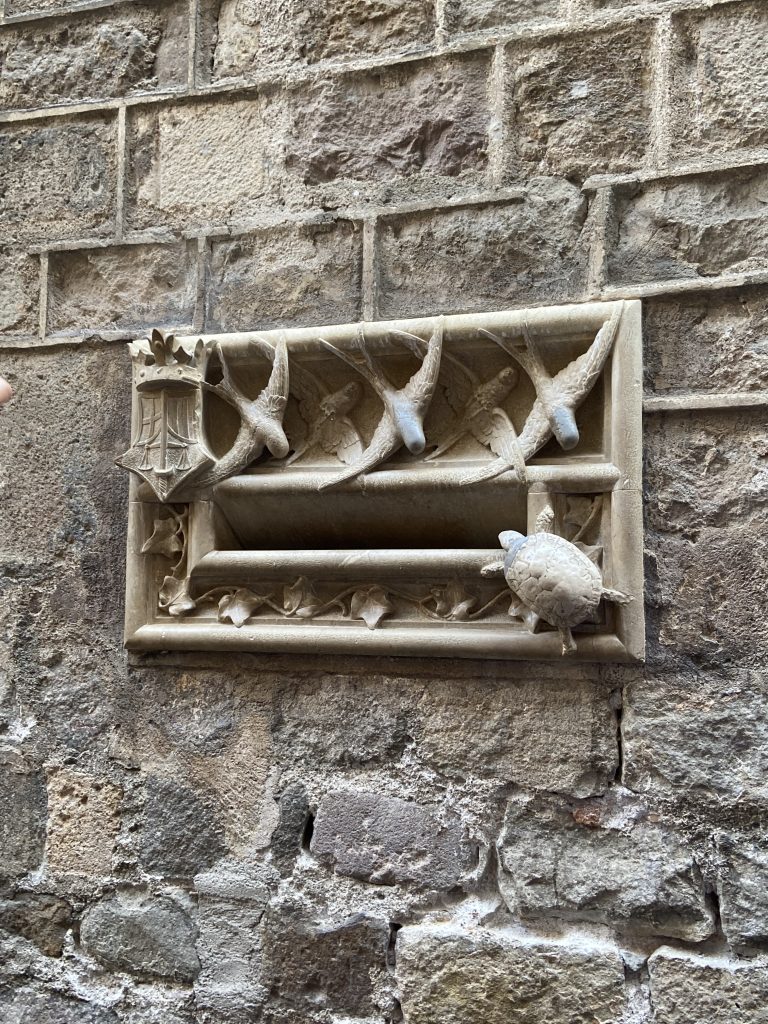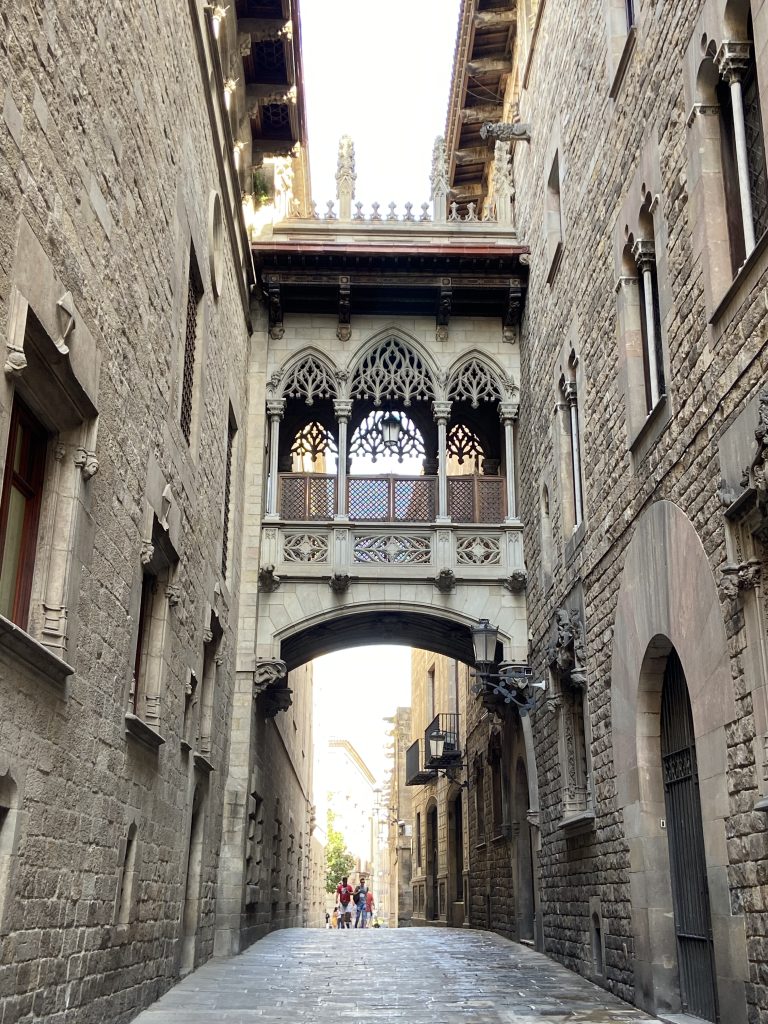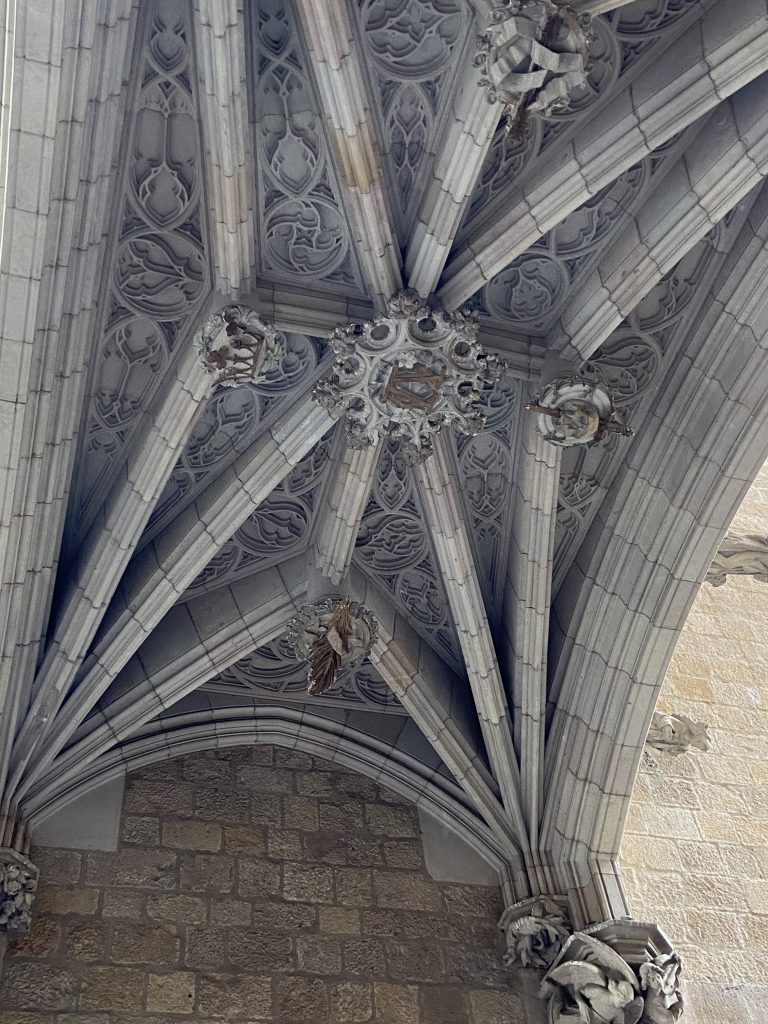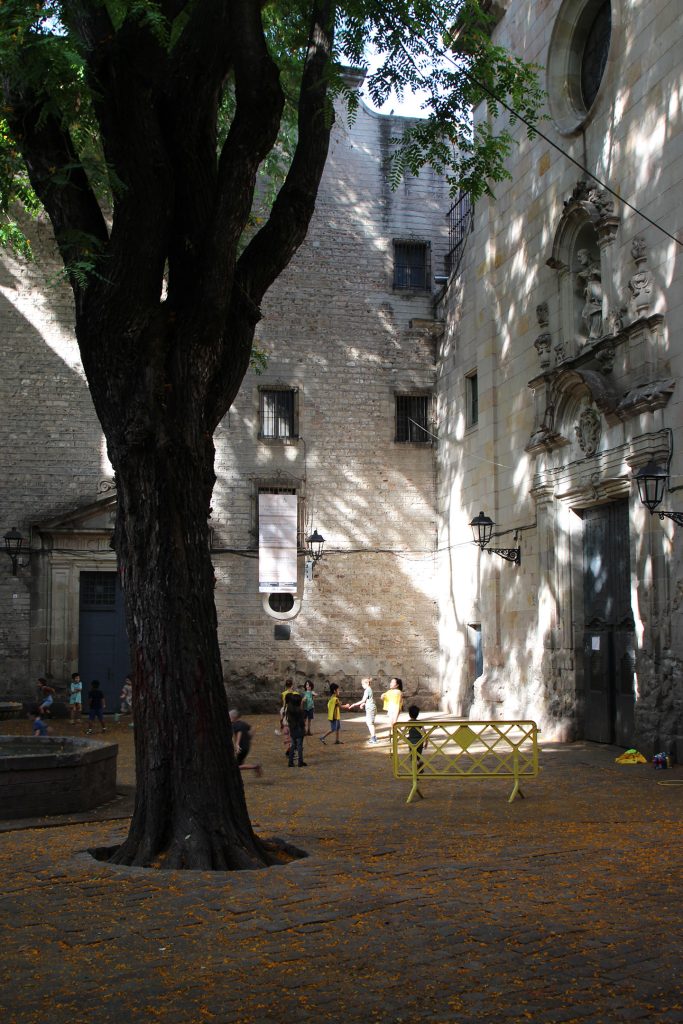 Today was Corpus Christi. Every place we went had the "floating egg". It is the tradition. Here are the three we saw.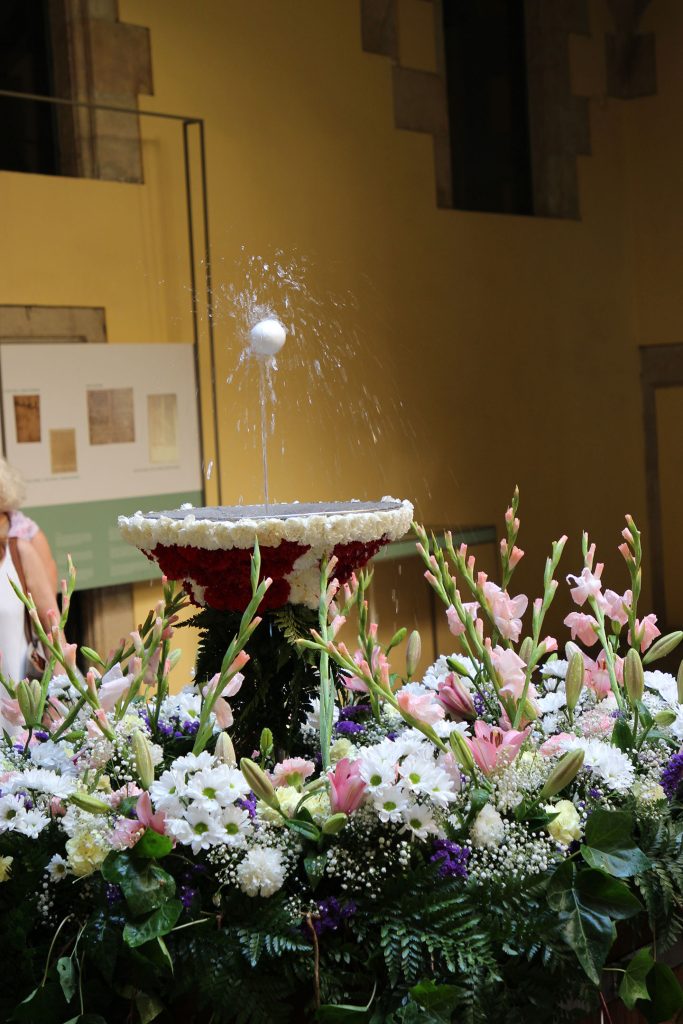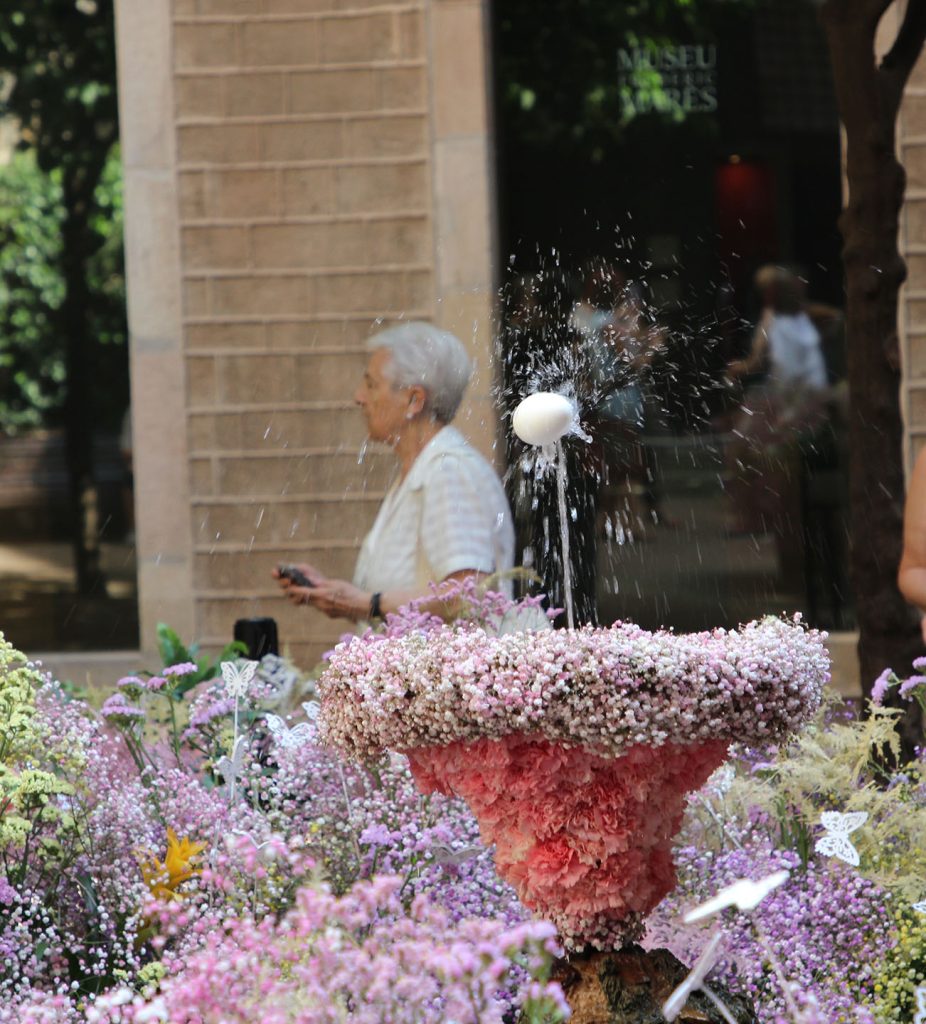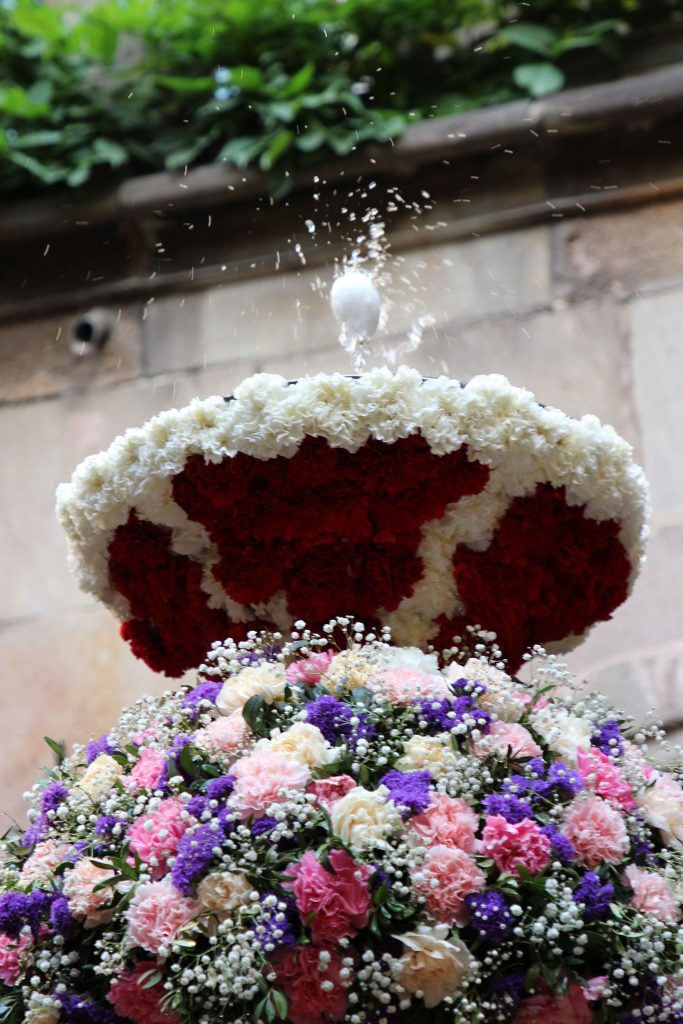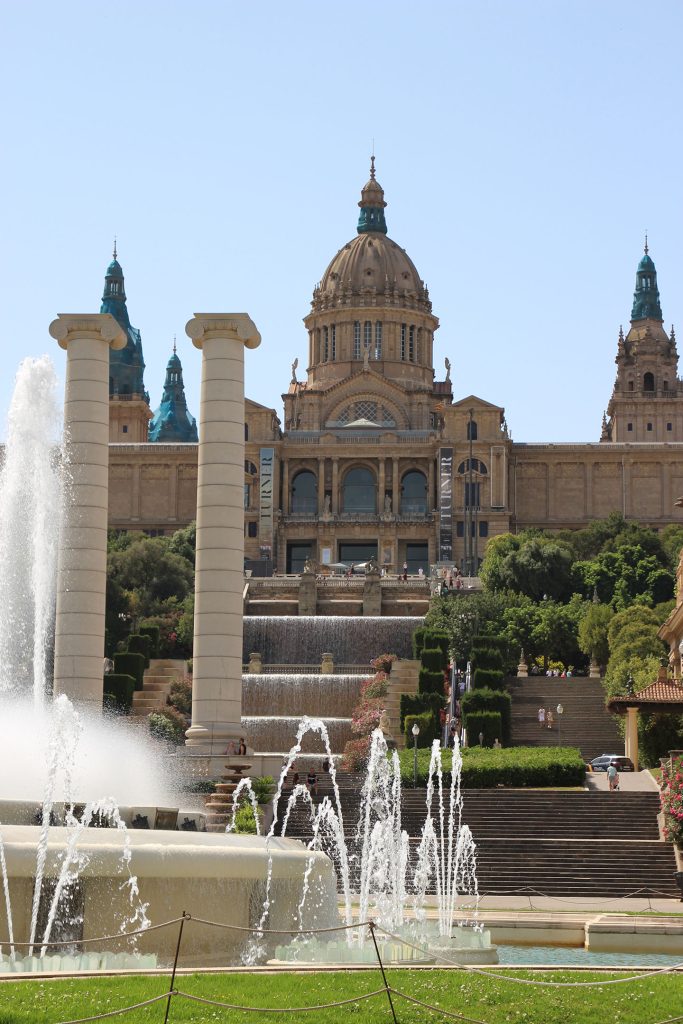 The highlight of the tour was Gaudi's church of the Sagrada Familia. I was completely gobsmacked. The man was an insane genius. The church is still unfinished. They wanted it to be finished by 2023 – the 100th anniversary of his birth, but Covid put the kibosh on that. Now they aim for 2030. There is still much to be done. This was my first view of the cathedral. The large tower, center, unfinished, will be the highest spire.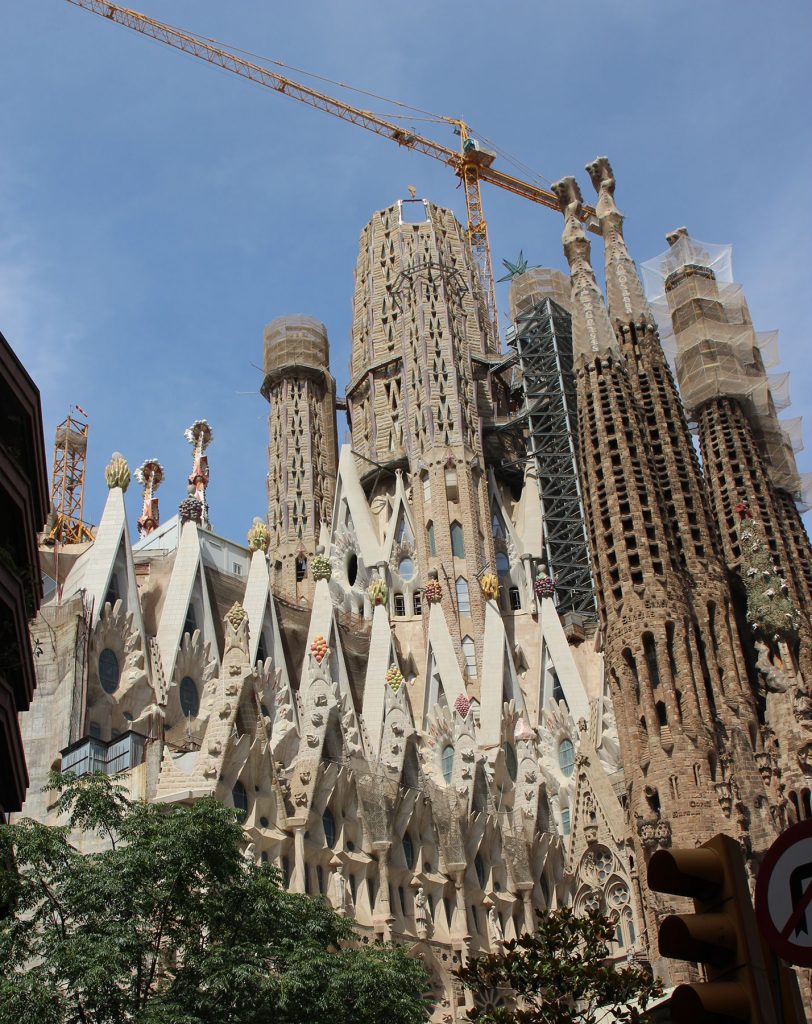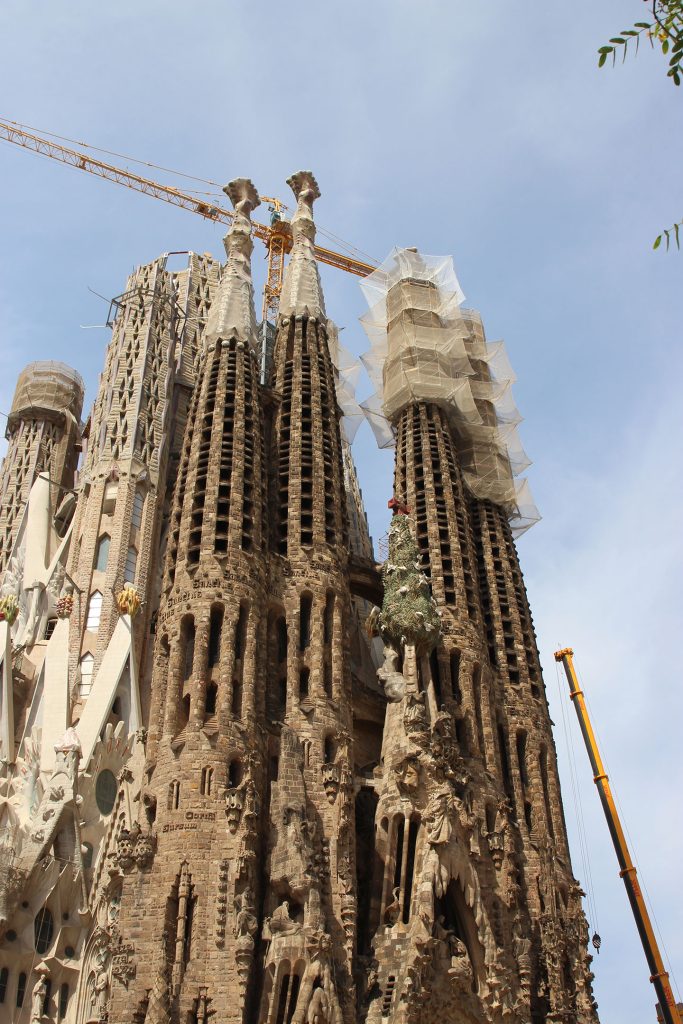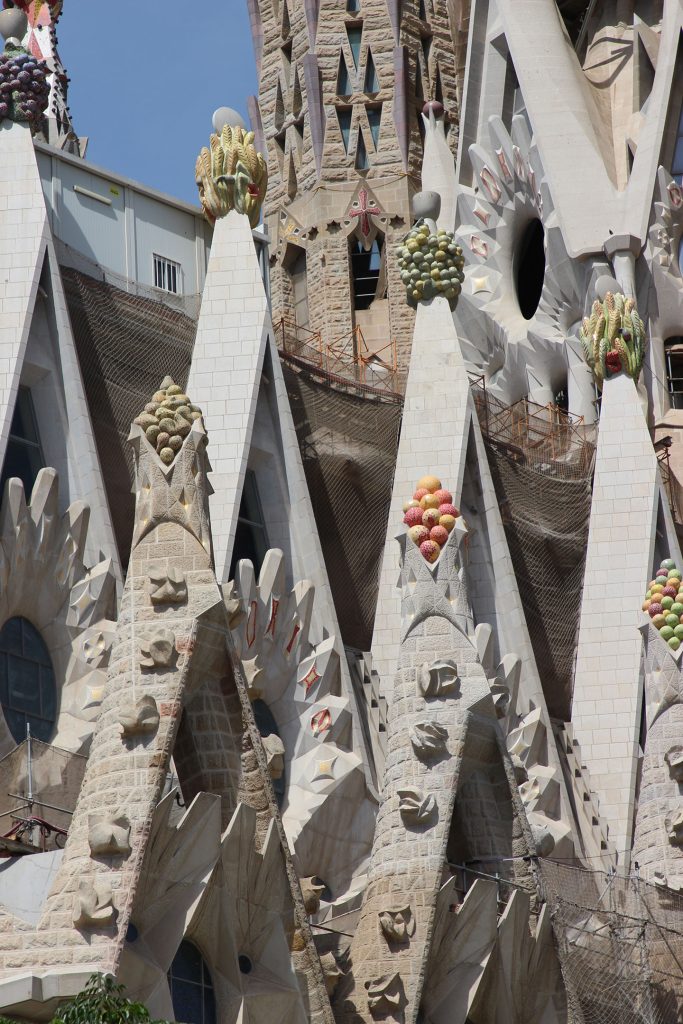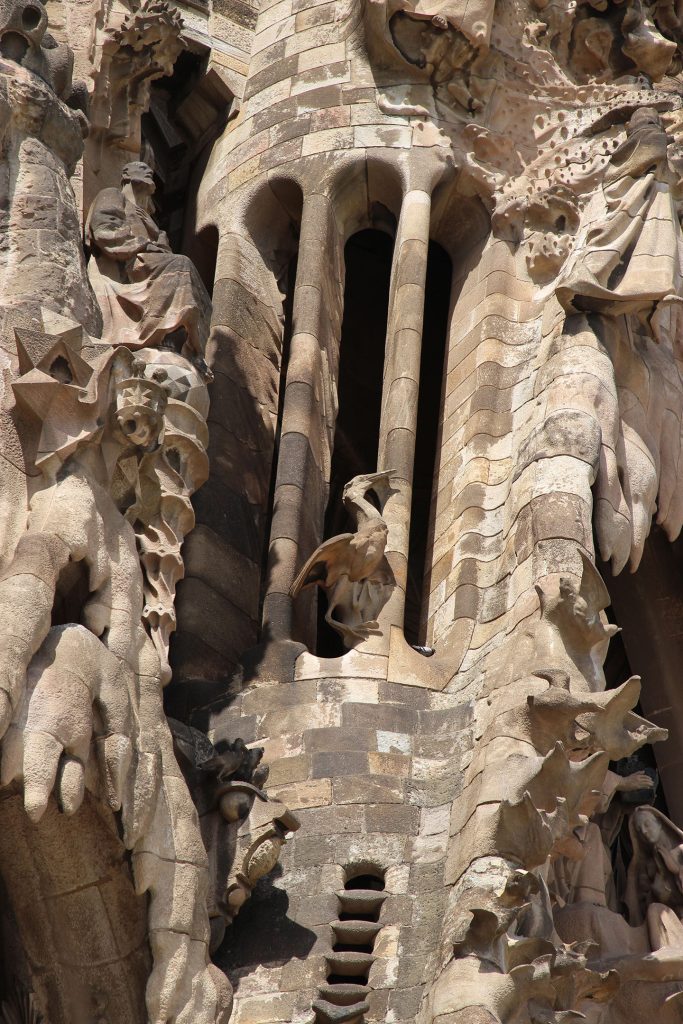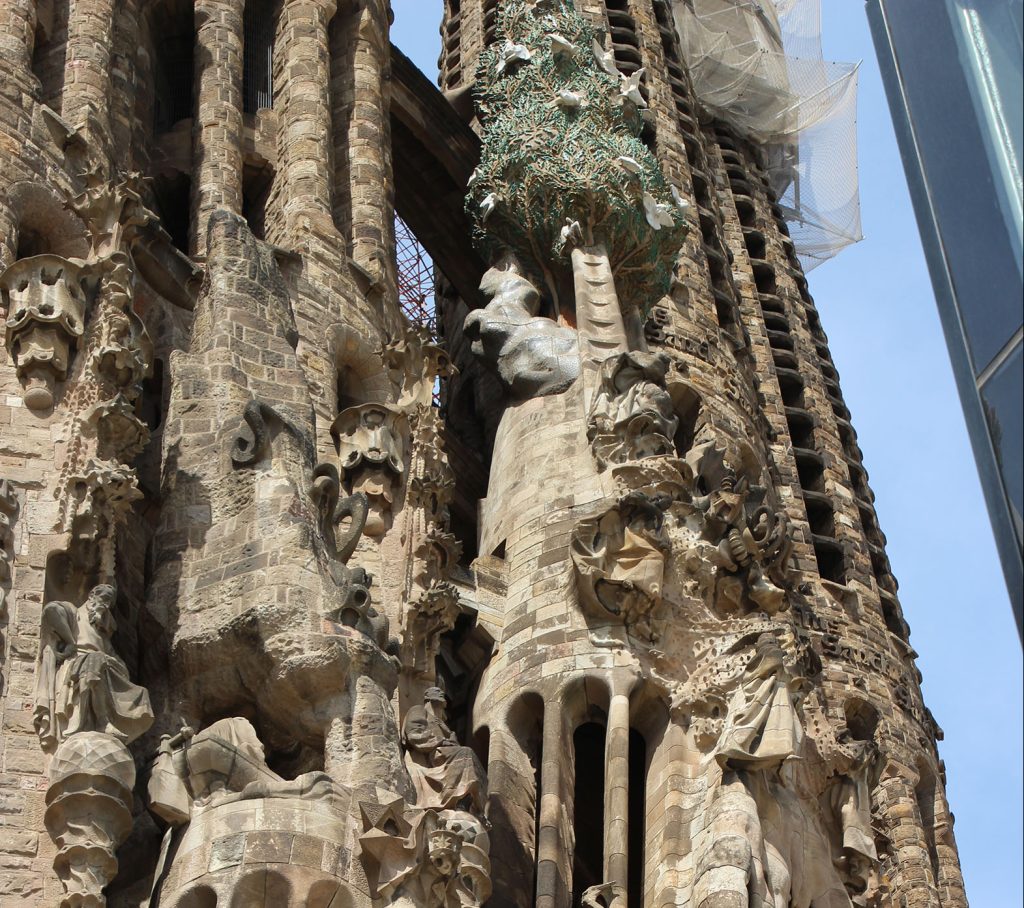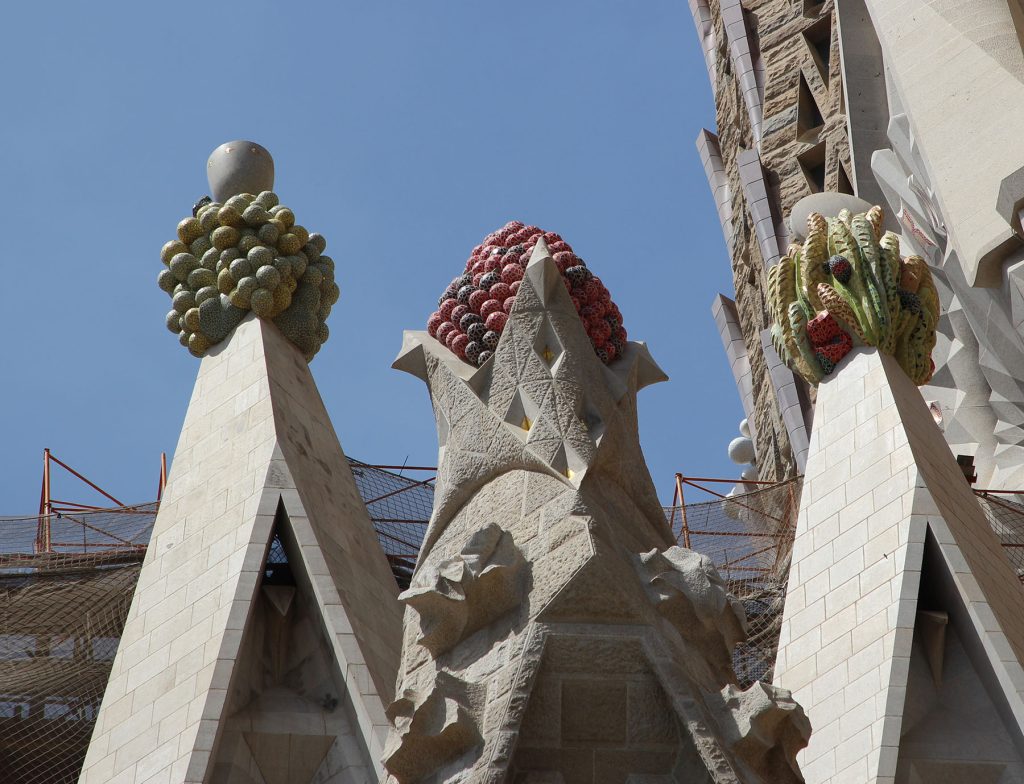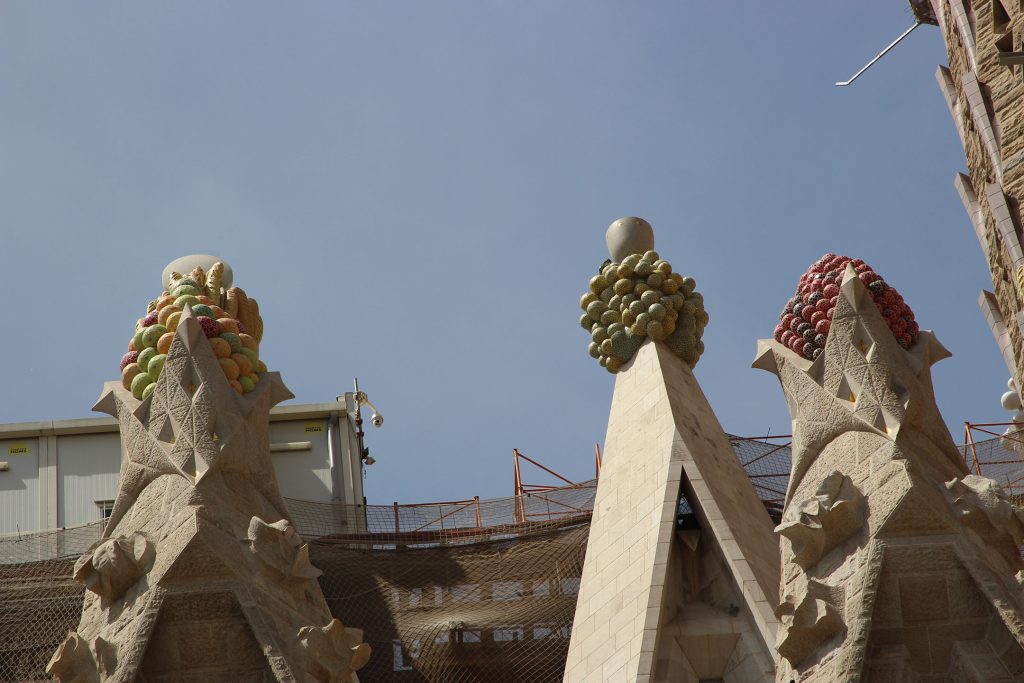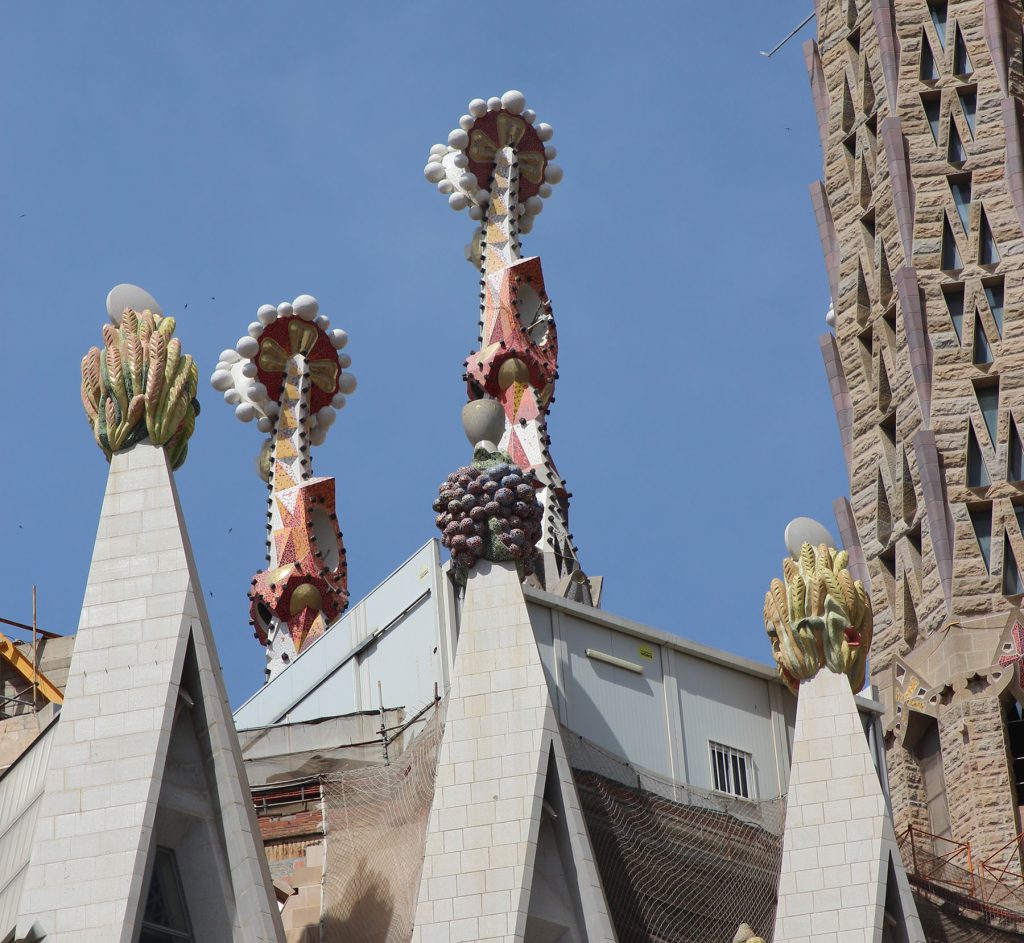 Now for the spectacular interior. It literally took my breath away. It was like being inside an animal – so organic.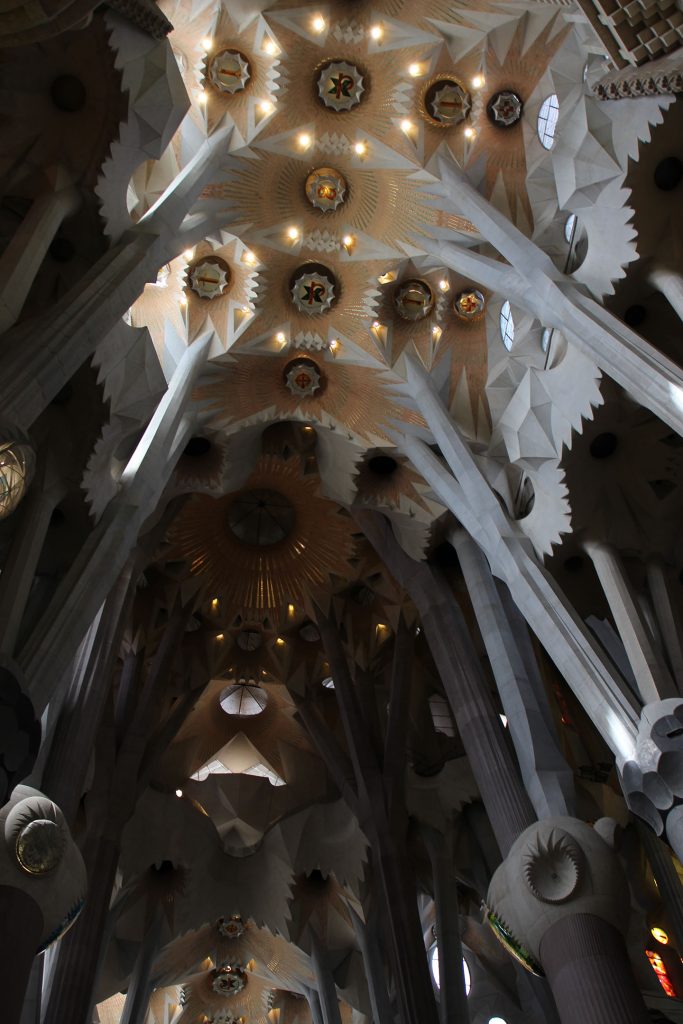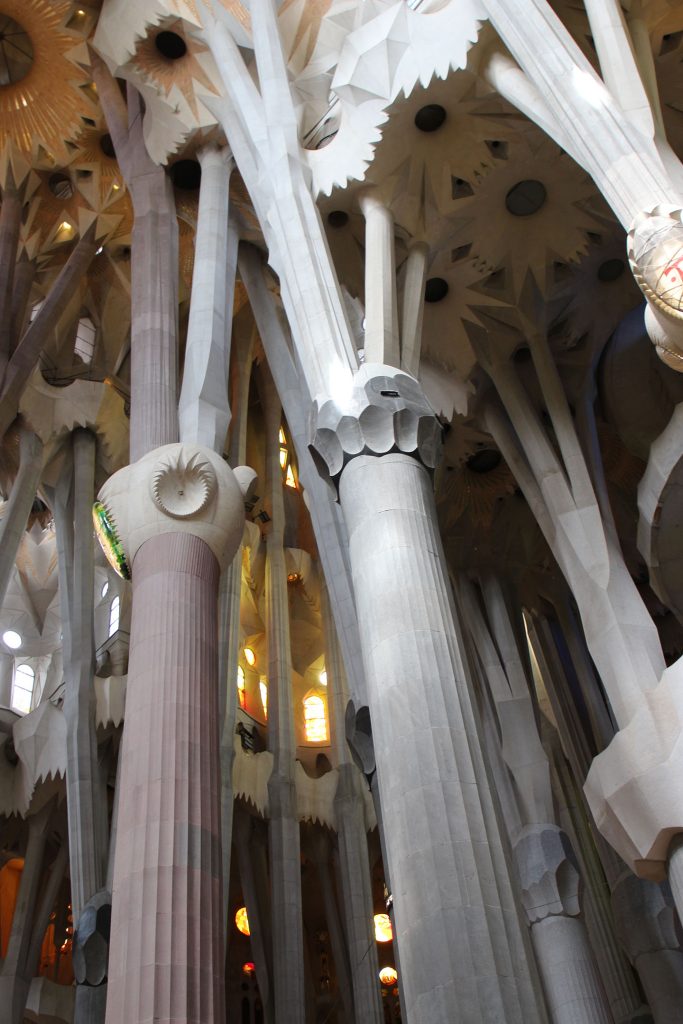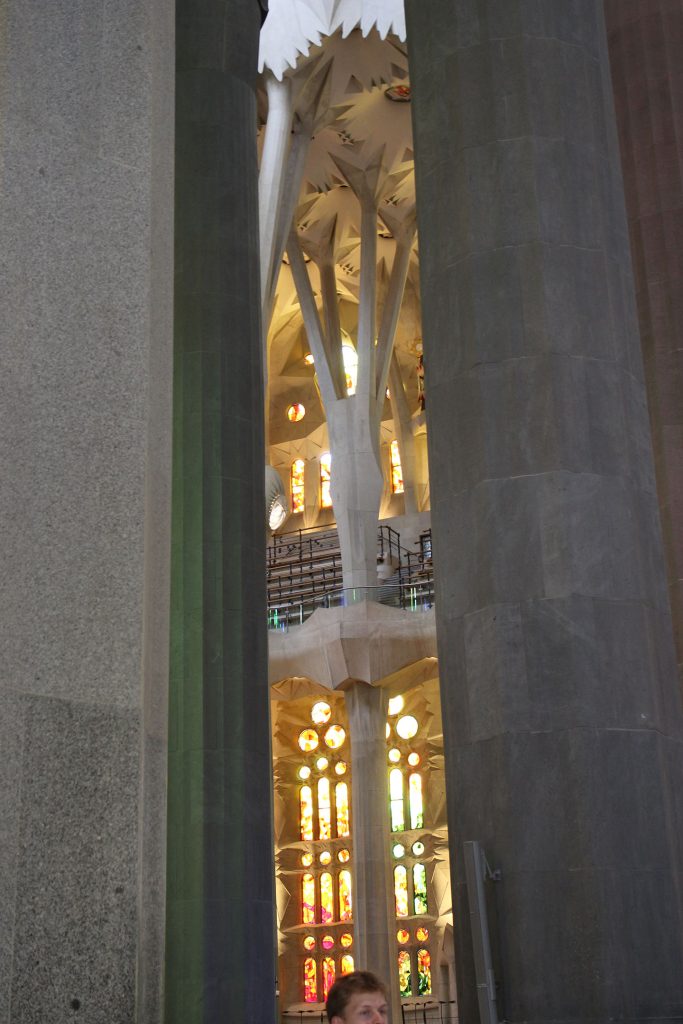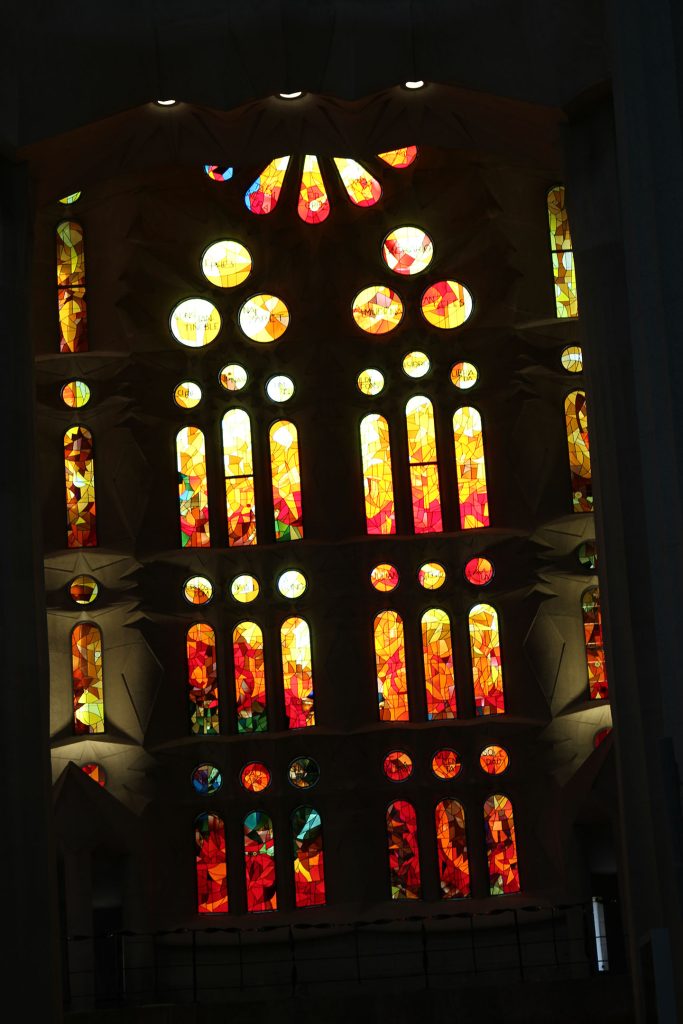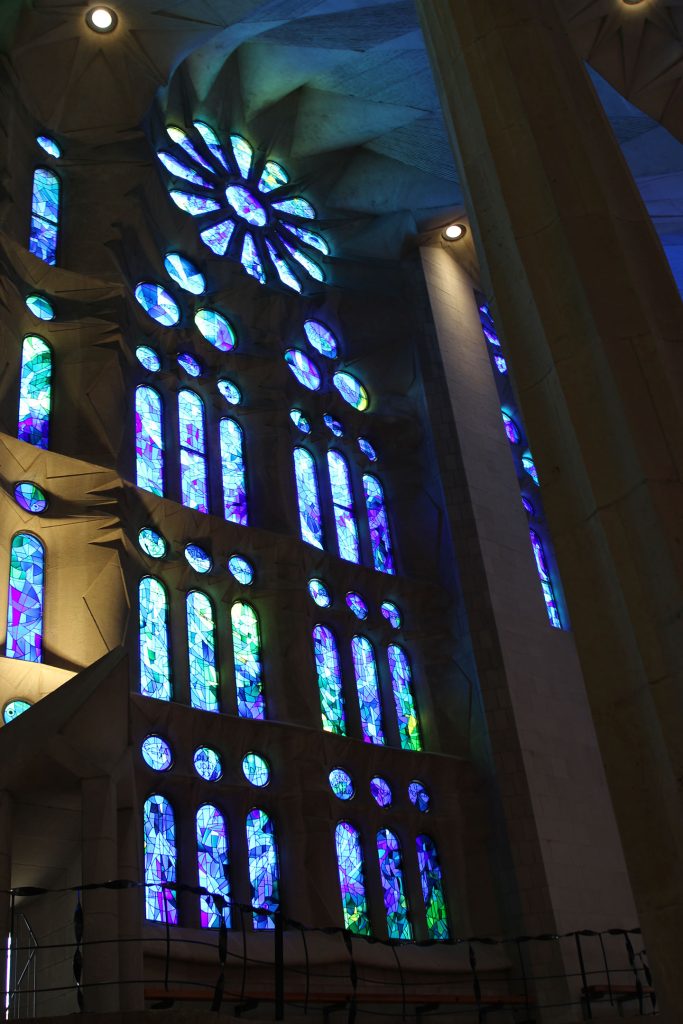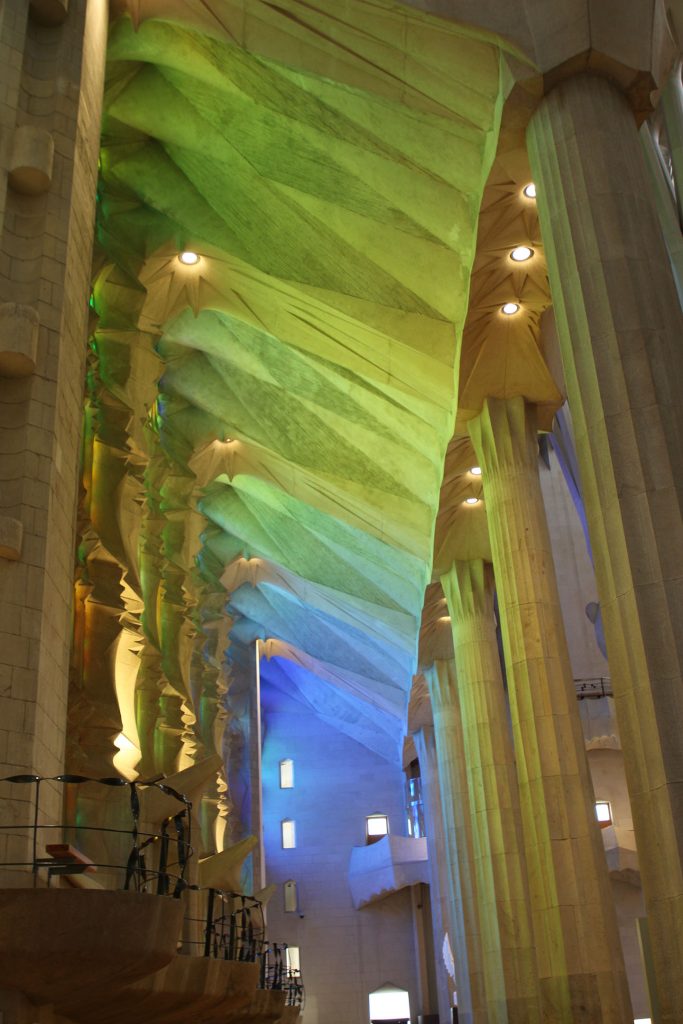 Exiting the church on the back side, which is newer and more abstract. The different sculptures were not all done by Gaudi. They were merely his vision created by other artists. Here is just one from outside the back. They all together tell the story of Christ.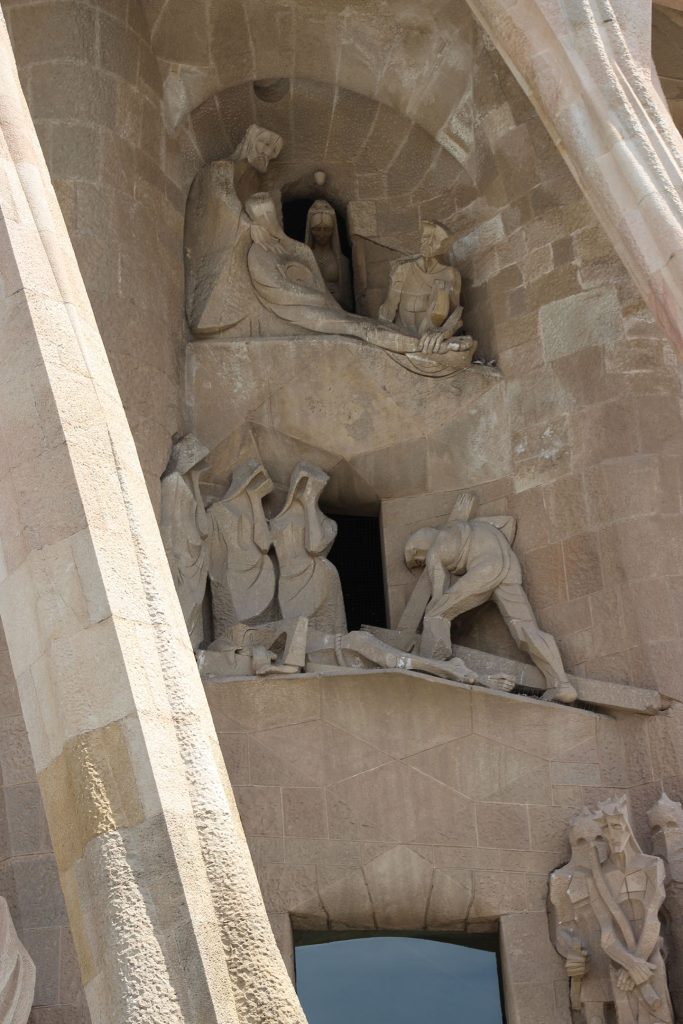 After that we went to a restaurant nearby that was recommended by our guide called Mediamanga. It was on the pricy side. Not traditional tapas. But we shared a bunch of plates that were mostly pretty amazing. World famous Iberian acorn fed ham was on the menu. I have heard of it many times but never got to try it. It lived up to it's reputation. We also had a plate of Spanish anchovies, fried whole shrimp, a chicken lasagna, white asparagus with anchovies in an anchovy sauce, and a fried egg and scallops with suckling pig. All smallish dishes. All shared. Very good food. Nice waiters.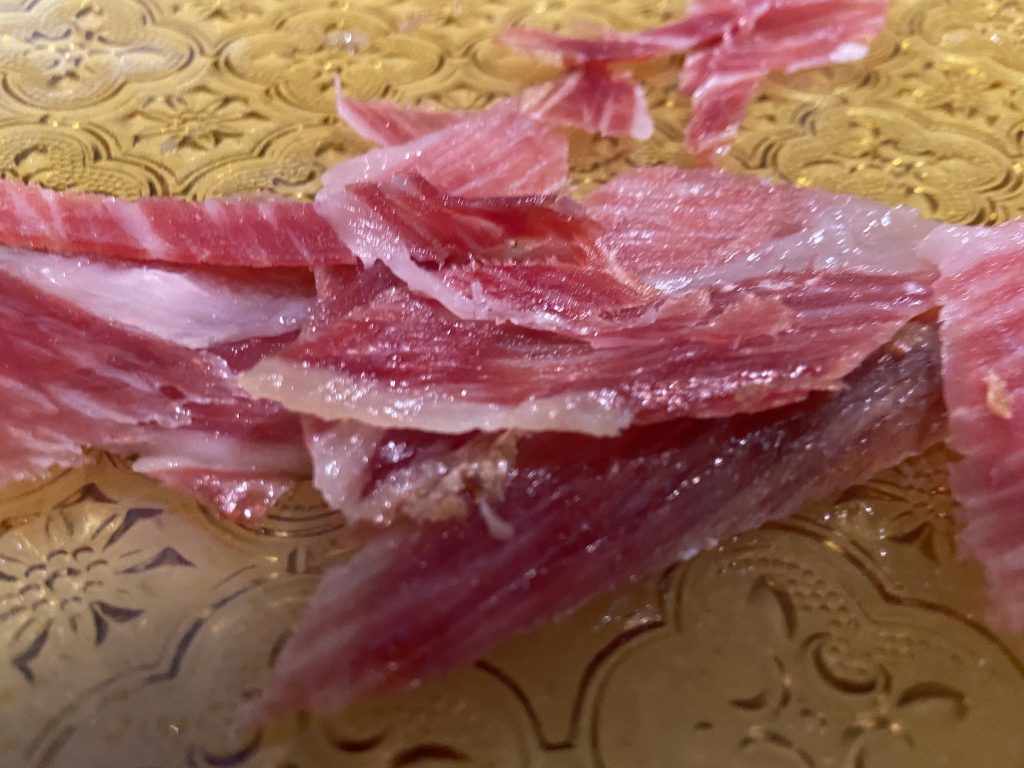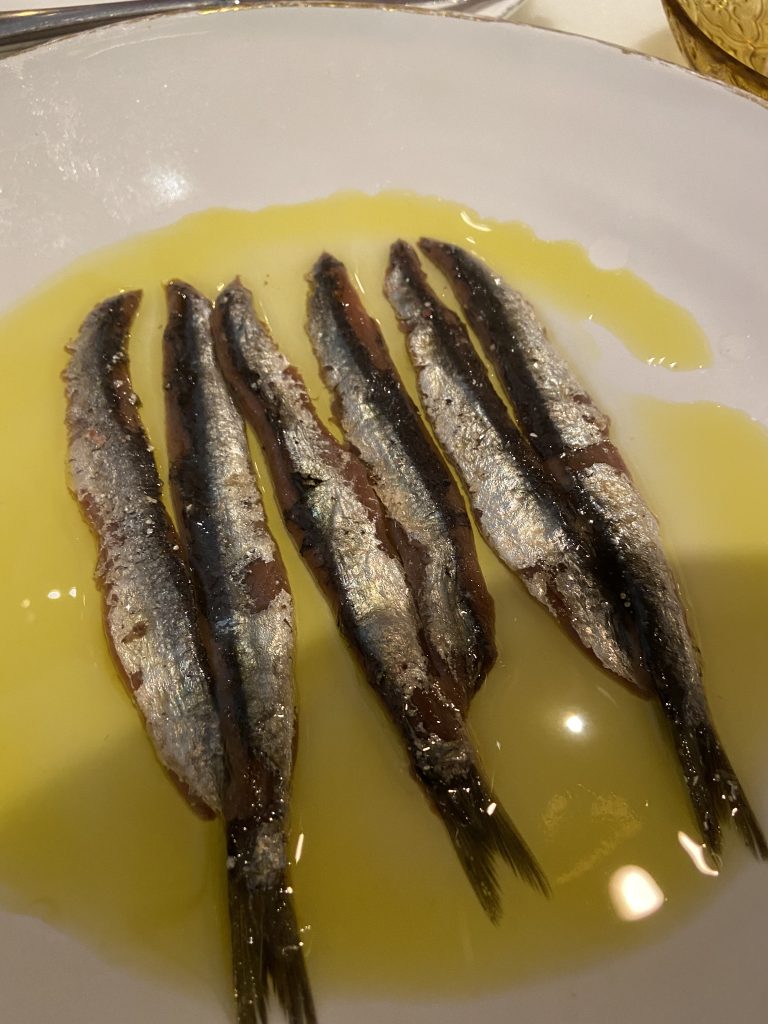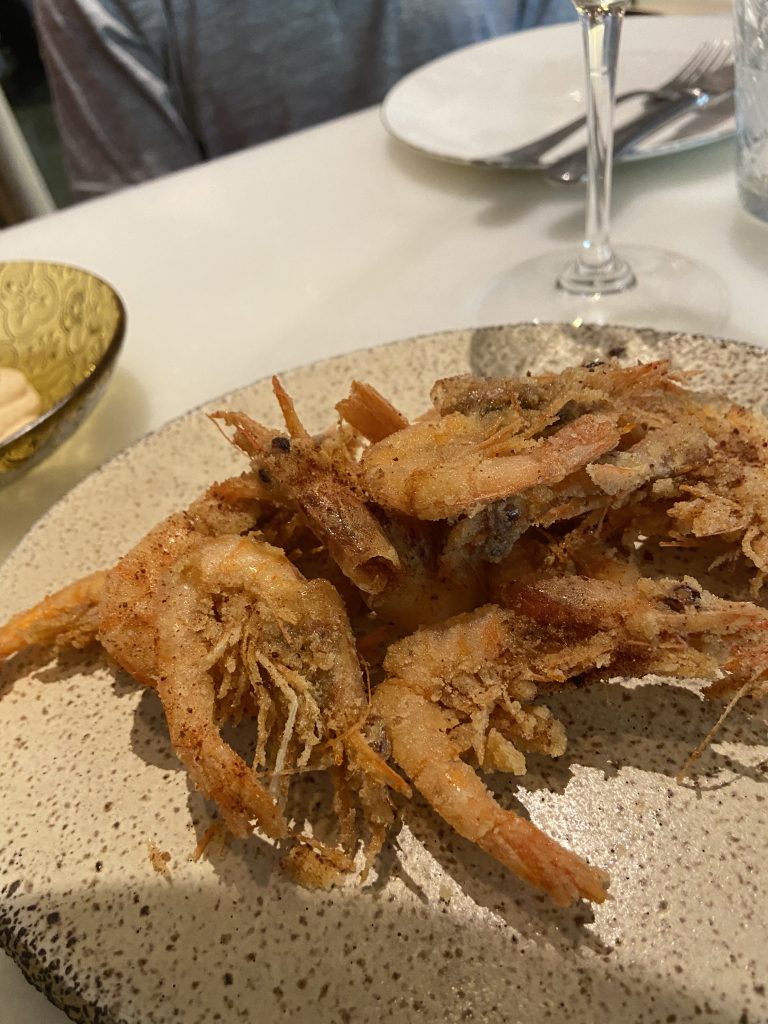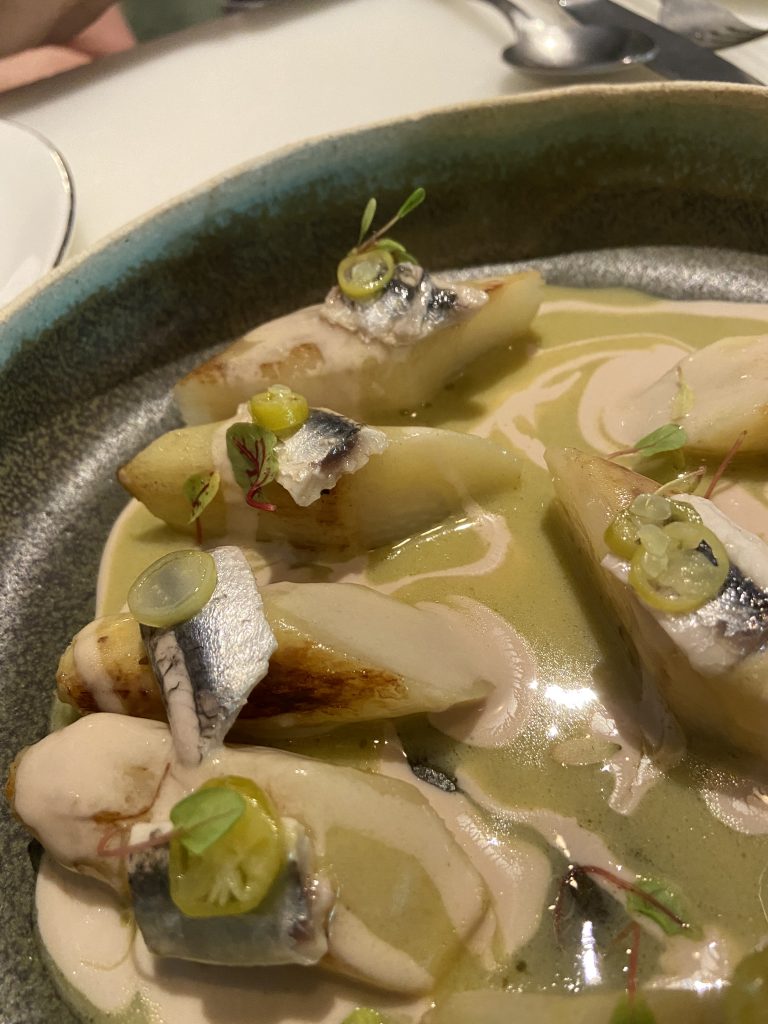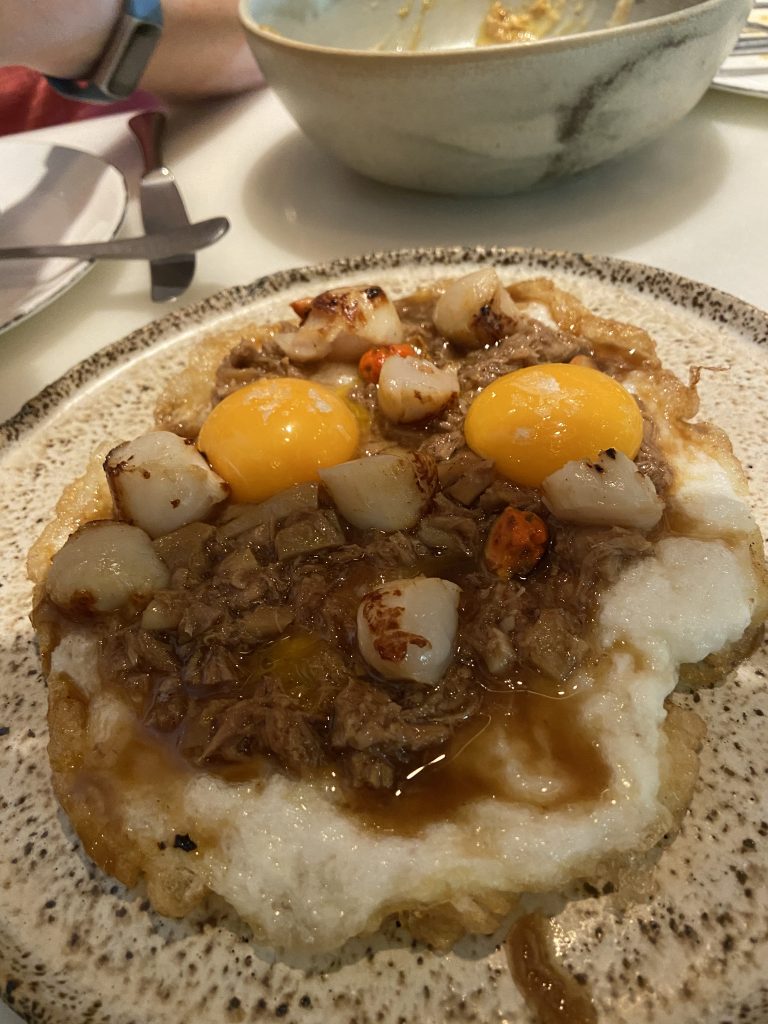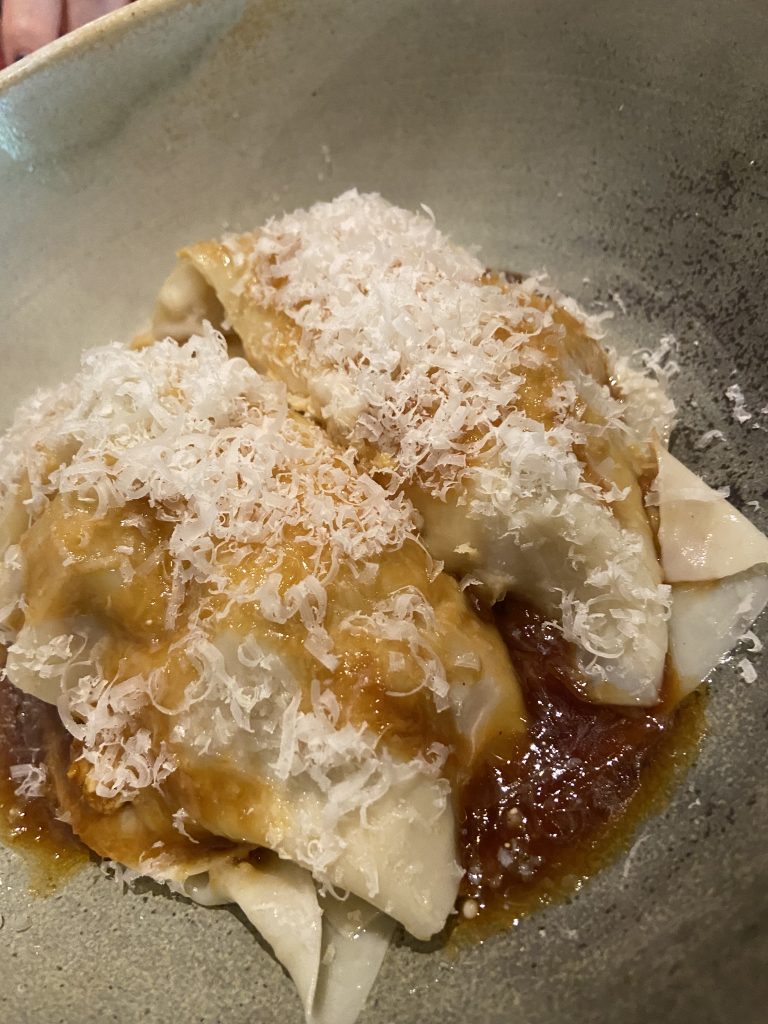 We all returned to our hotels for a nap and showers to wash off the sweat.
In the evening we went out shopping for some ham and cheese and some chorizo. Also bread and wine. We had a nice picnic in our "living room". In Casa Camper everyone gets a bedroom and bath and across the hallway, a living room. Makes it easy to enjoy some food without messing up your bedroom. Then we enjoyed the roof deck which we had all to ourselves.
Friday – June 17
This was embarkation day. We went down and had a big breakfast (because who knew if we would get lunch?) of scrambled eggs and bacon with juices, and cake and cheese…and.. It was excellent.
I packed everything up. On this trip, which is pretty long, I brought one medium sized suitcase and one carry-on size. The bigger one was packed full of just clothes. The smaller one I aimed to use In Barcelona so I didn't have to touch the bigger suitcase. This mostly worked great…except for the socks.
After breakfast we went out for a walk around the neighborhood. It was already steamy hot and humid outside. Then we went back, got our luggage, and checked out. They called a taxi for us. The ride to the port is short. We arrived and they took our luggage, we went through port security which is like an airport and then into the terminal. This is where the fun begins.
There was a huge room. With chairs set up in three columns of four seats. We all got numbers and were directed to which section to sit in. There were two tables in front of this section. When our turn came we went to one table and he checked our temperature and also our vaccination certificates. We were directed back to the seats. About 30 minutes later we were called and given an Antigen test. Then we moved to another set of chairs to wait for the results. There was water, iced tea, and cookies in this area.
Meanwhile my sister and her husband had arrived from one of the Windstar city hotels on the bus. They got there after us and it took them a while longer to get through since they were in a big group and behind all those who arrived first.
We got our A-OK and went to check in. We turned in our passports and gave them our credit card, and went down the line of people. We purchased the drink package and we made reservations at the two restaurants where you needed to specially reserve. The Star Pride, our ship, has a specialty Spanish restaurant and the Candles restaurant.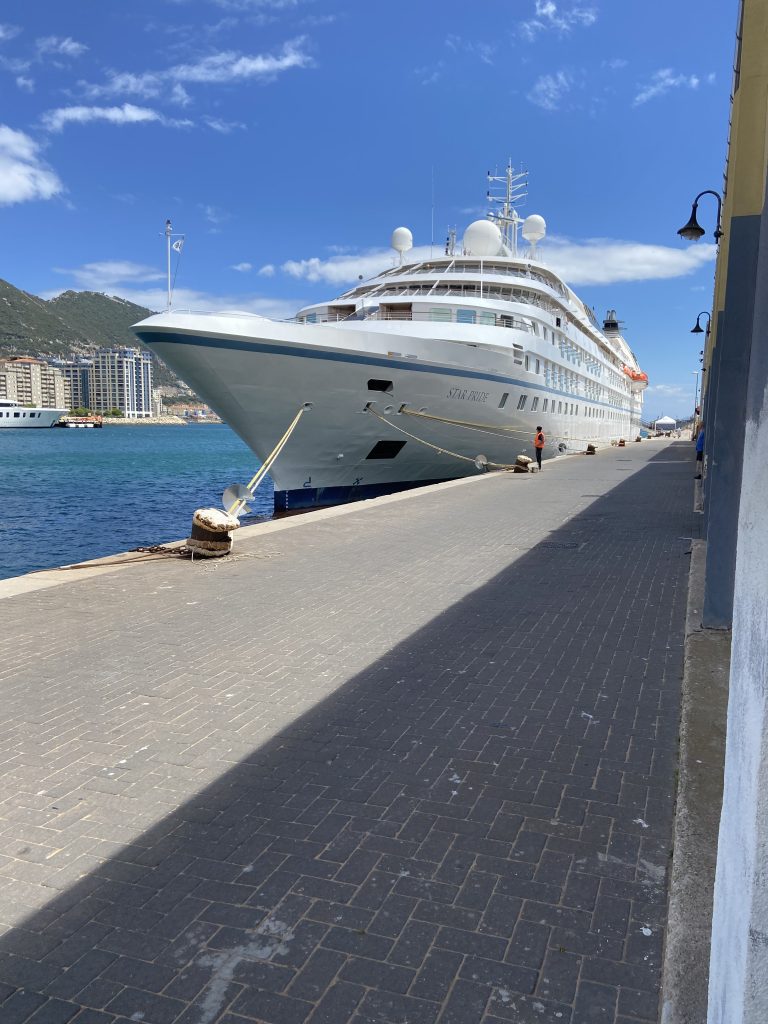 We boarded the ship and were shown to our room. It is an "all suites" ship. We had a bedroom and living room and a small balcony, big enough to stand on but not big enough to sit on. Nice setup.
The Windstar fleet is just 6 ships, three yachts, and three sailing ships. The three yachts were scheduled to undergo construction where they cut the ship in half and inserted a new section in the middle. Essentially it became a ship version of a stretch limousine. So the Star Pride just got out of dry-dock and back to sea at the end of May. This was all planned prior to the Covid pandemic. They proceeded with the work once the shipyards reopened in Italy. We learned the ship is about 2/3 booked with about 230 people on board. This is just the second sailing since it's refurbishment.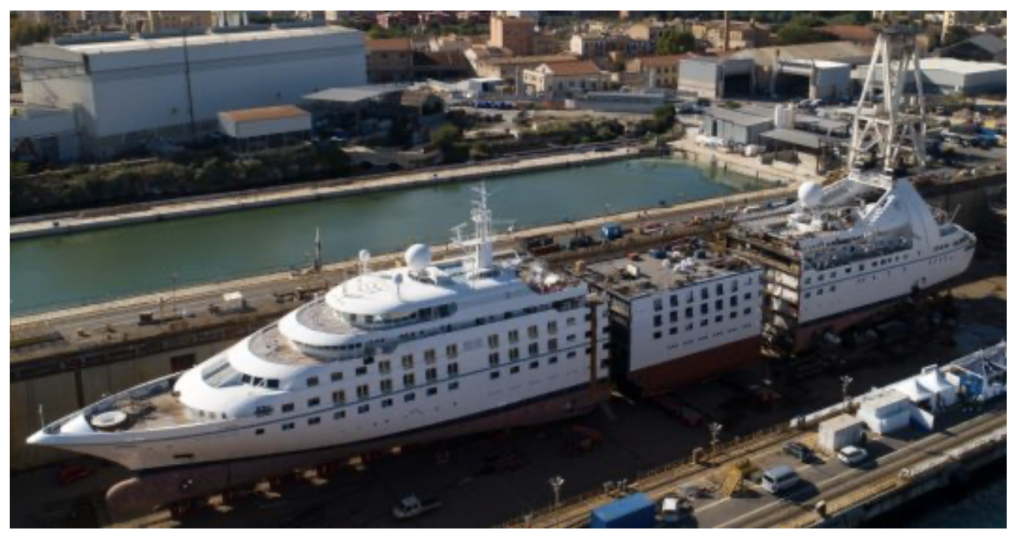 We went out to explore. There are eight decks. The bottom three are not used by the guests. We are on deck six. We found all the restaurants, the spa and gym, shop, and the deck with the pool. We stopped on the top deck to have some wine while waiting for Cindy and Bill who finally got through the testing process and checked in.
We had our mandatory muster call, and then watched sail-away from our little balconies. It was much cooler now. Beautiful Sunset.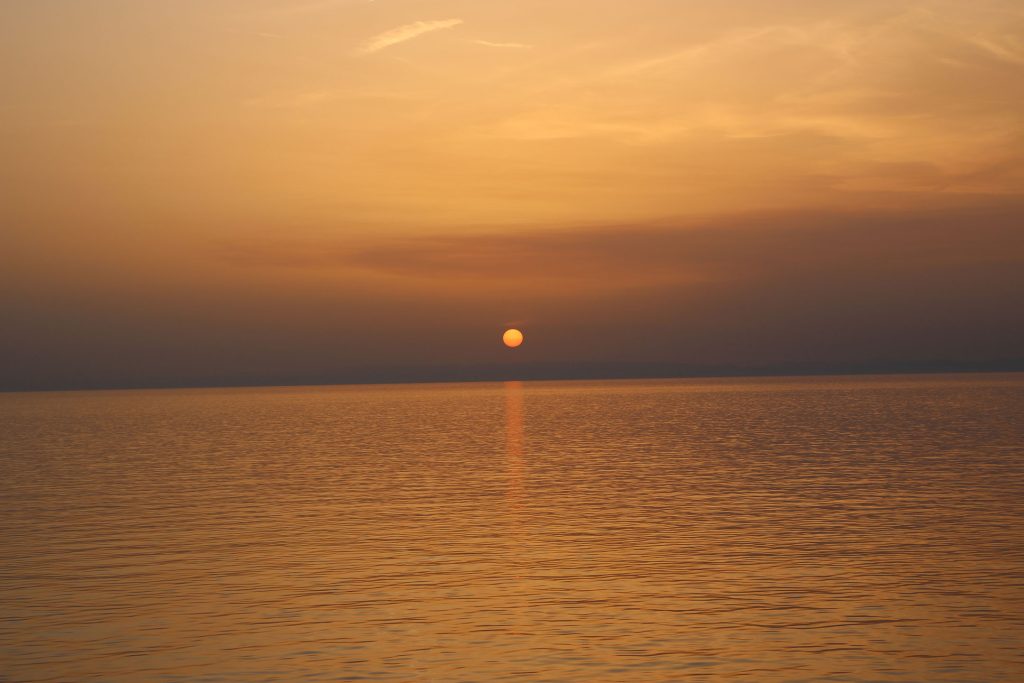 We went to dinner in the Amphora. It was ok.
We were disappointed that the smoking section on the top deck was put in the most unappealing possible spot. Between the two gigantic stacks of the exhaust and behind a bunch of stuff. Four chairs and a table, and a couple of other chairs made up this awful spot. I think perhaps it will be better when we are not sailing but rather, in a port for the night. We will see.
Saturday – June 18 – at sea
This was our at sea all day, day. We went to breakfast around 9:30. Then we wandered around the boat first going to the Yacht Club which is a nice lounge with a coffee bar and continental breakfast. It is in the bow and affords nice views forward. Later we shopped in the little boutique shop onboard. Then we headed up for a glass of wine outside on the top deck. We had a light lunch of salads for most of us at the Grill, but the guys both had some of the grilled meats. This is a well known chef who chose the menu and set up the restaurant. It is primarily grilled meats. We liked this added casual restaurant venue.
After a short rest I joined my sister and Bill for a Spanish wine tasting. It was quite good. We had a sparkling, a white, and three reds. Most came from the area north of Barcelona. We also attended the talk about our first port of call, Cartagena.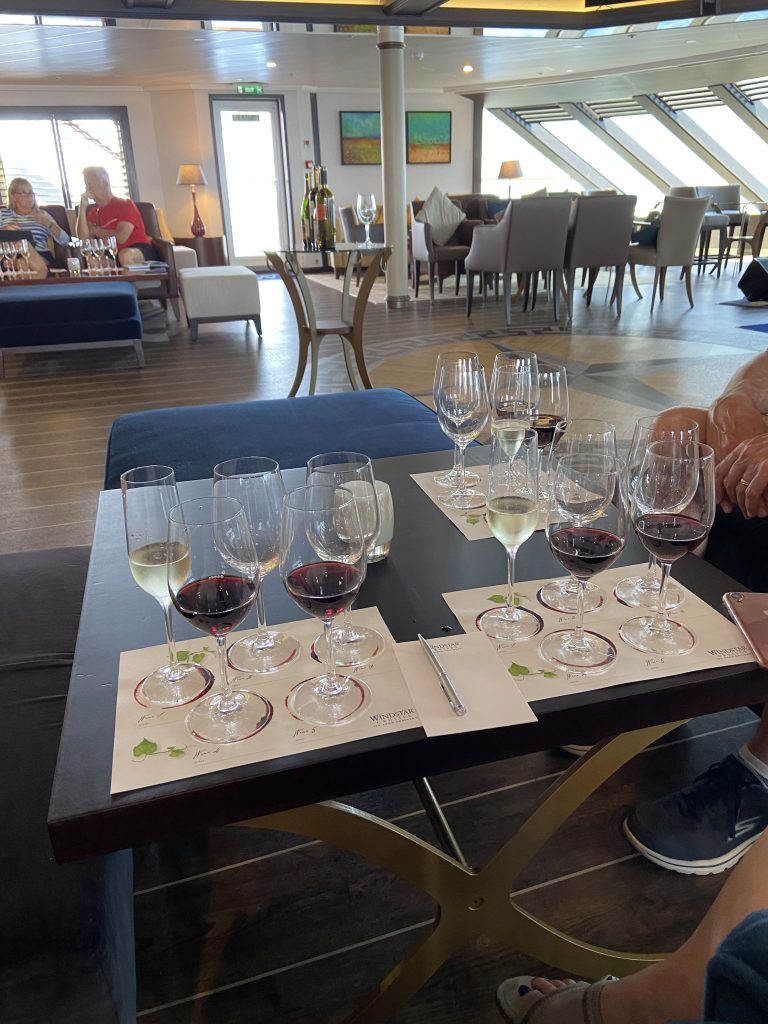 We returned to the Amphora for dinner. I had a cooling watermelon and feta salad, which was good. My choice of pulled pork penne was not good. Too salty by far.
Sunday – June 19 – Cartagena
We had breakfast and then headed into Cartagena. In the talk we heard it was a town of around 250,000 but there is a central old town, as usual. It seemed much smaller. The boat docked right next to town. Easy walk. Pretty little place with impressive multicolored stones for pavers on the streets. Many streets were pedestrian only. But it was Sunday, and a lot of shops were closed. We walked the length of town. Which isn't saying much. Still pretty with some nice architecture to include an Art Deco section. We visited the Roman amphitheater. It was only discovered a hundred years ago. They had built a church on top of it. It was pretty impressive.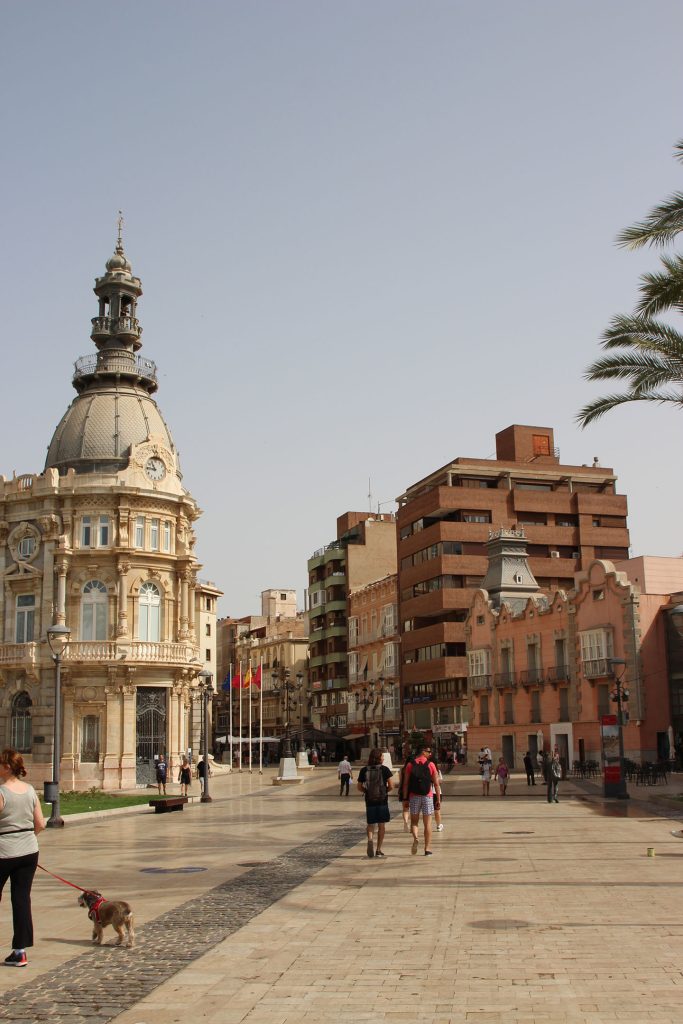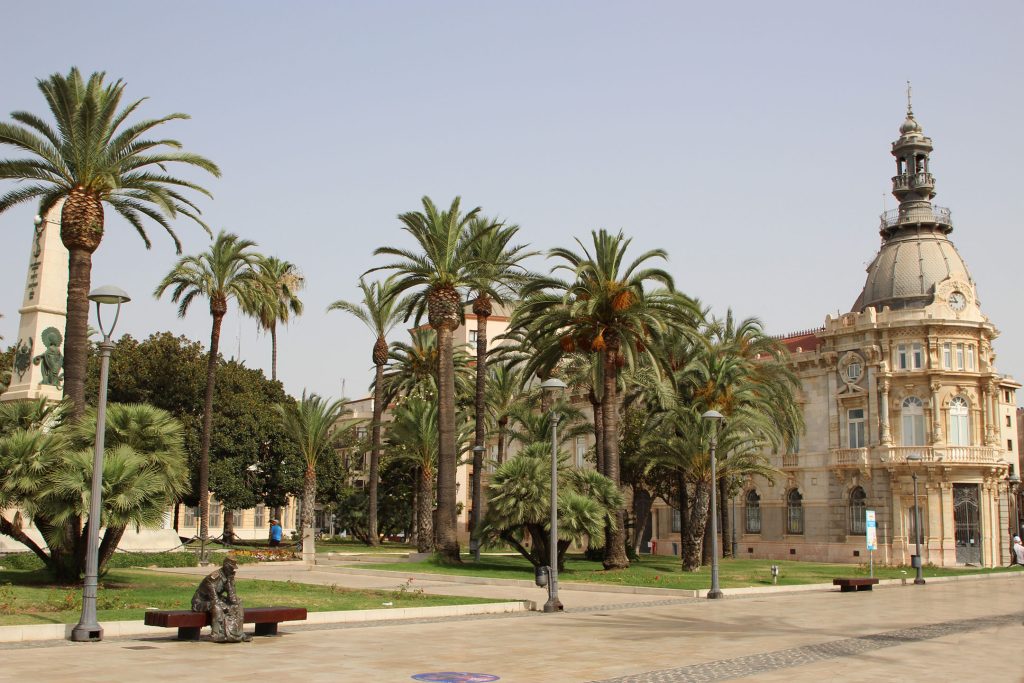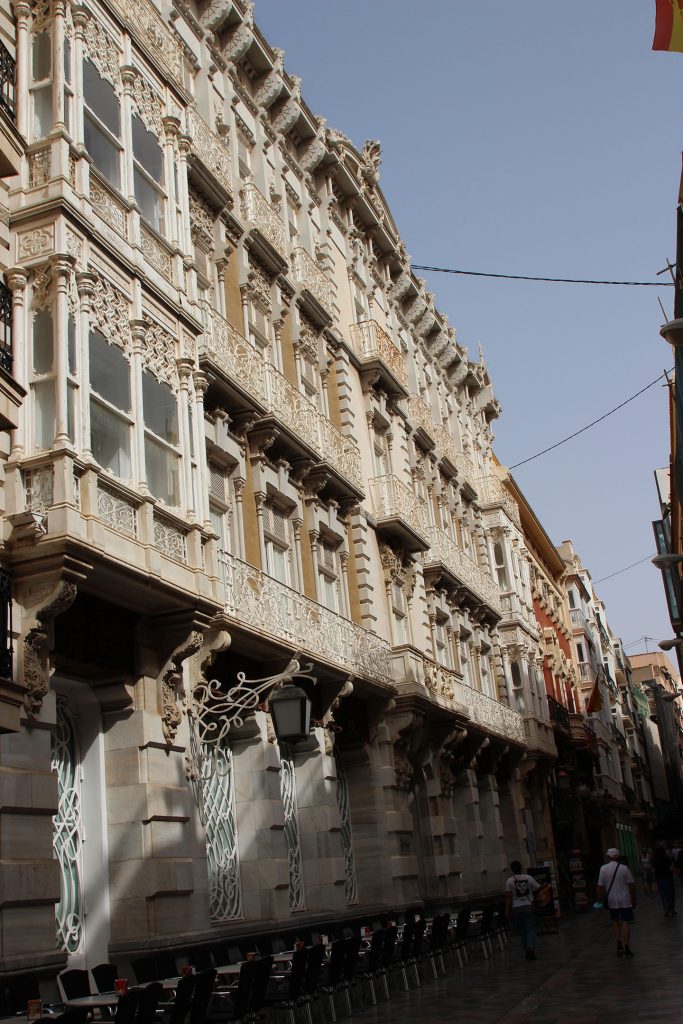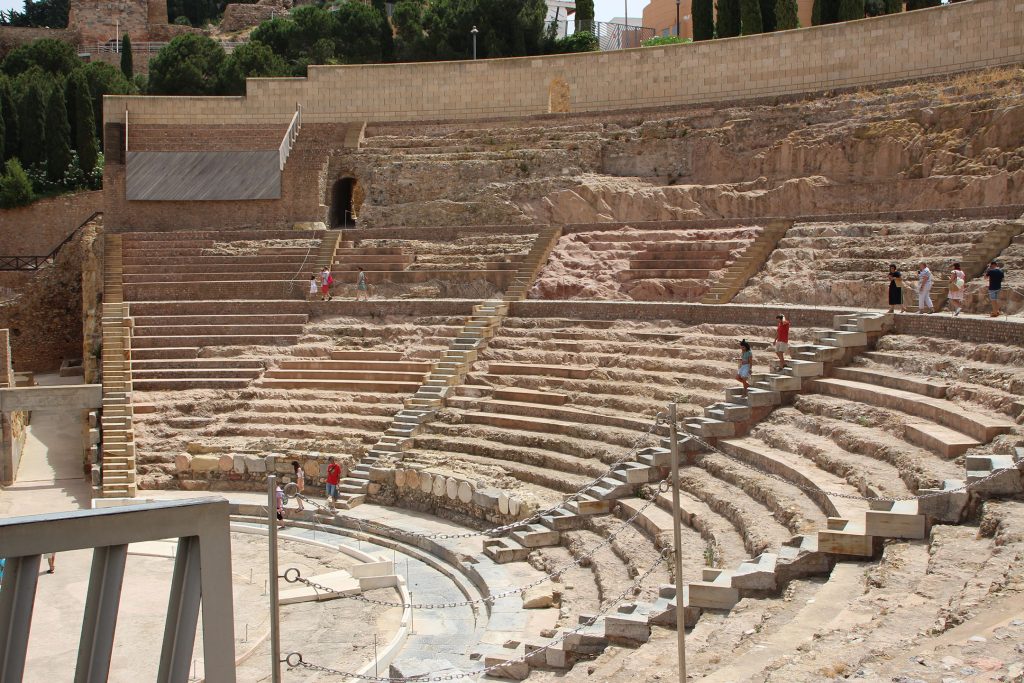 Now it was time for lunch. I found a traditional tapas place. It was supposed to have the smaller sized tapas. Nowadays, apparently the so-called tapas are more of an appetizer size. But traditionally they really were just a few bites. The restaurant was called El Cantón. Only a block from the Roman Amphitheater. A nice little place. Not much English but a fun proprietor. We sat outside. We each chose several tapas. The menu has sections like "let's start with" and then, "toasts" then "boards" and more robust finishers. We had everything from tomato with olives and tuna toasts, to crackers with Russian salad and anchovies, to chorizo with crackers, to goat cheese and Caramelized onions, and finally two plates of the famous artichokes Cantón style, apparently a speciality. A light white wine washed it all down, it was really fun and nice to try authentic tapas. Good value at only €78.50.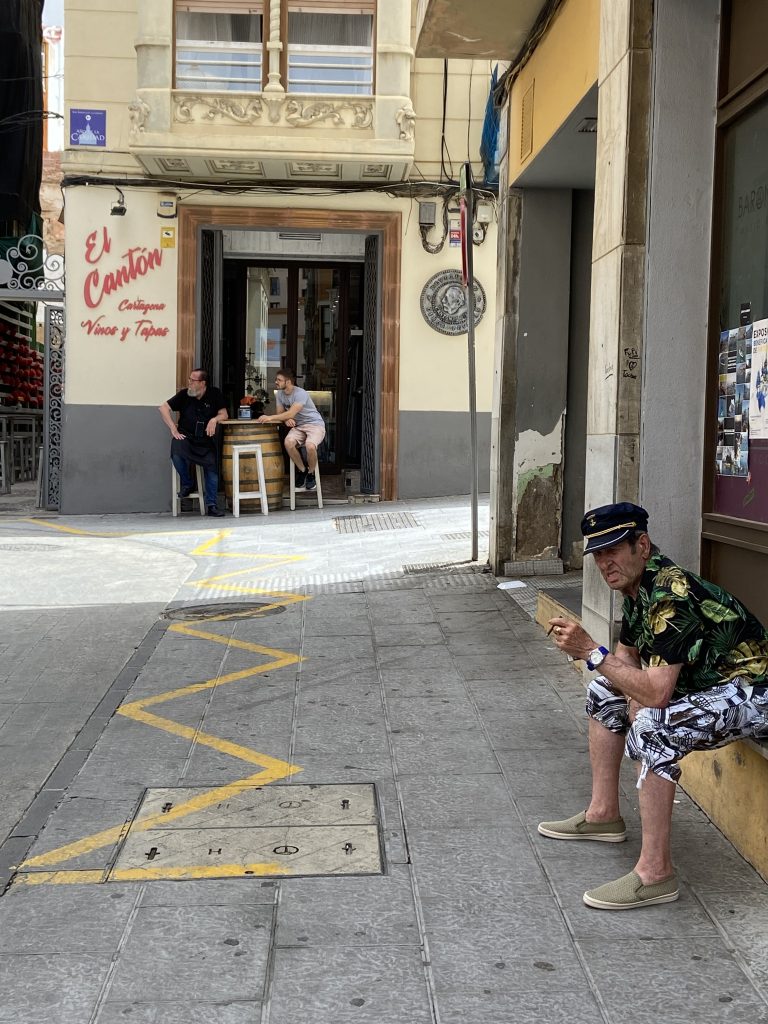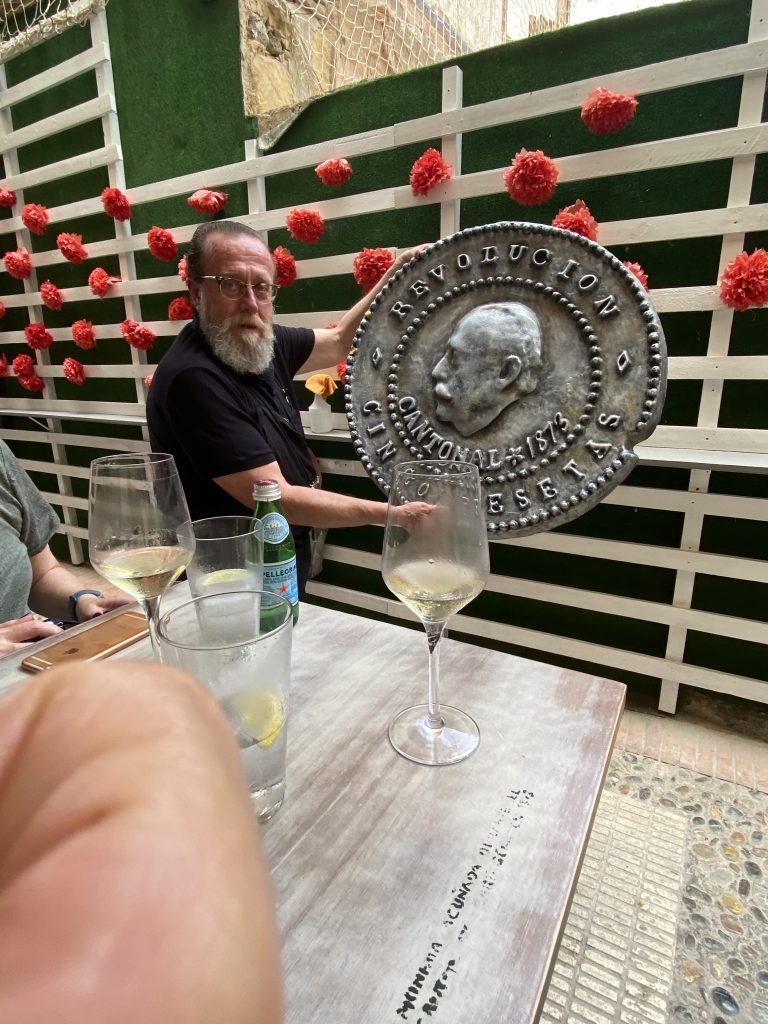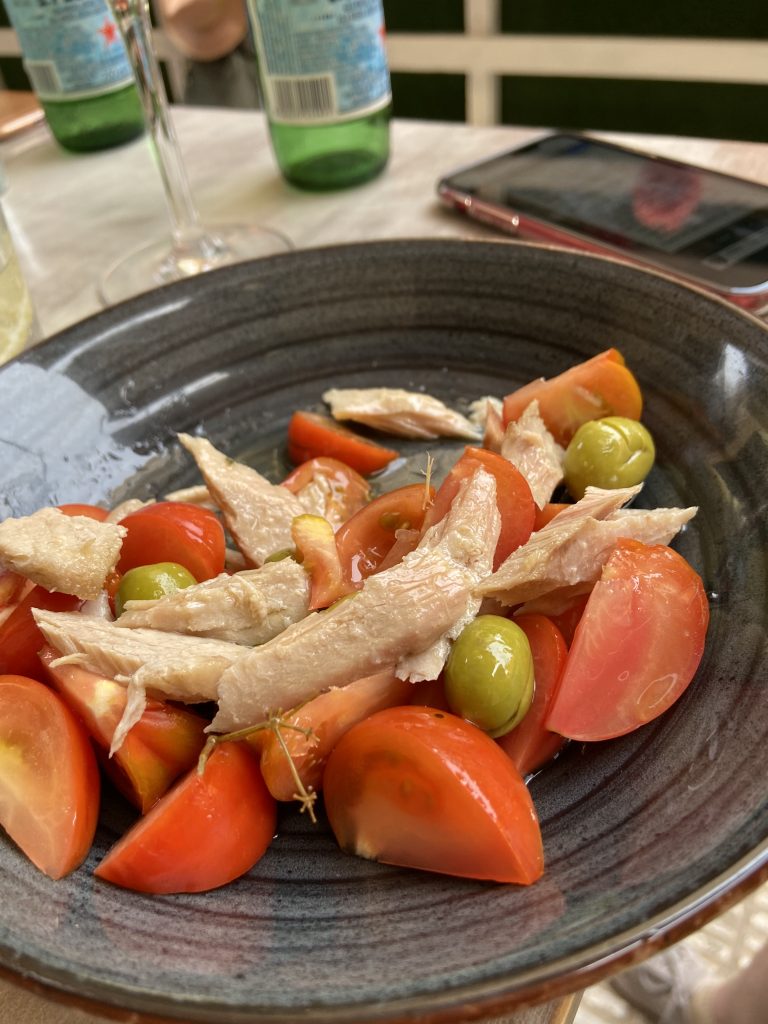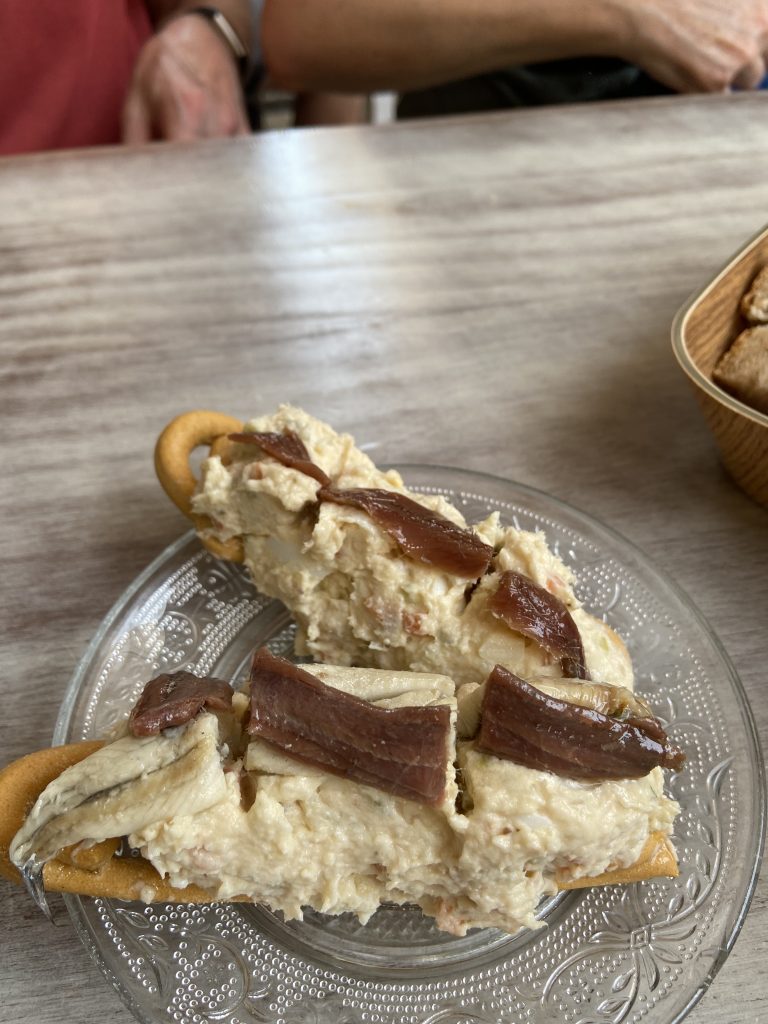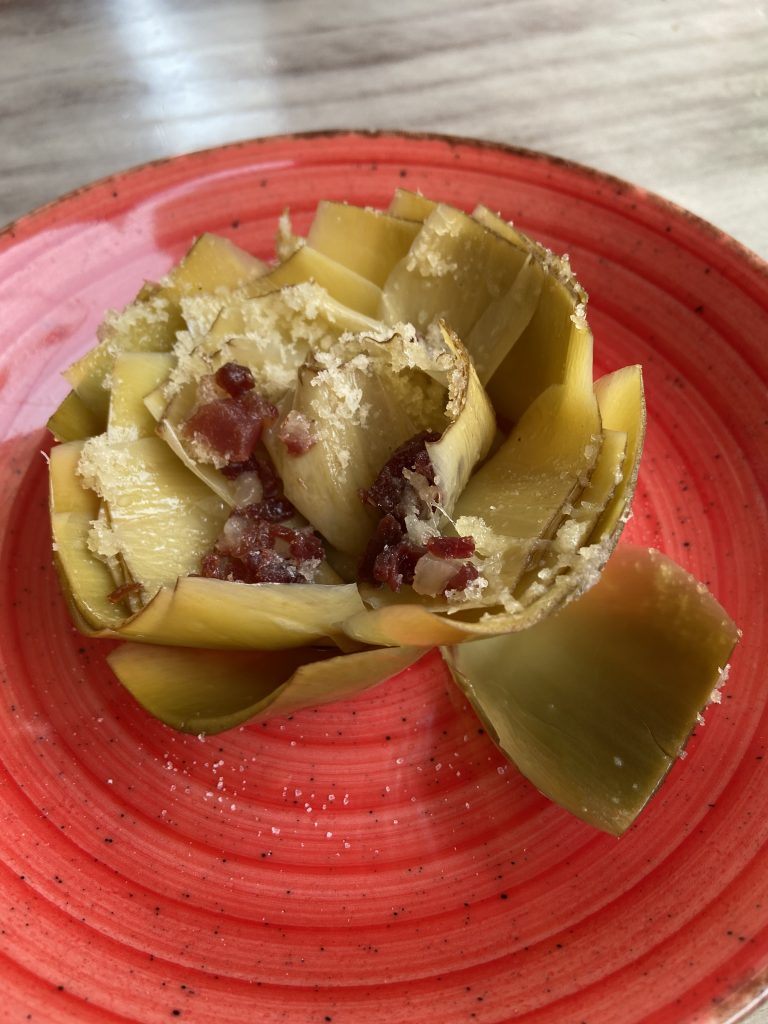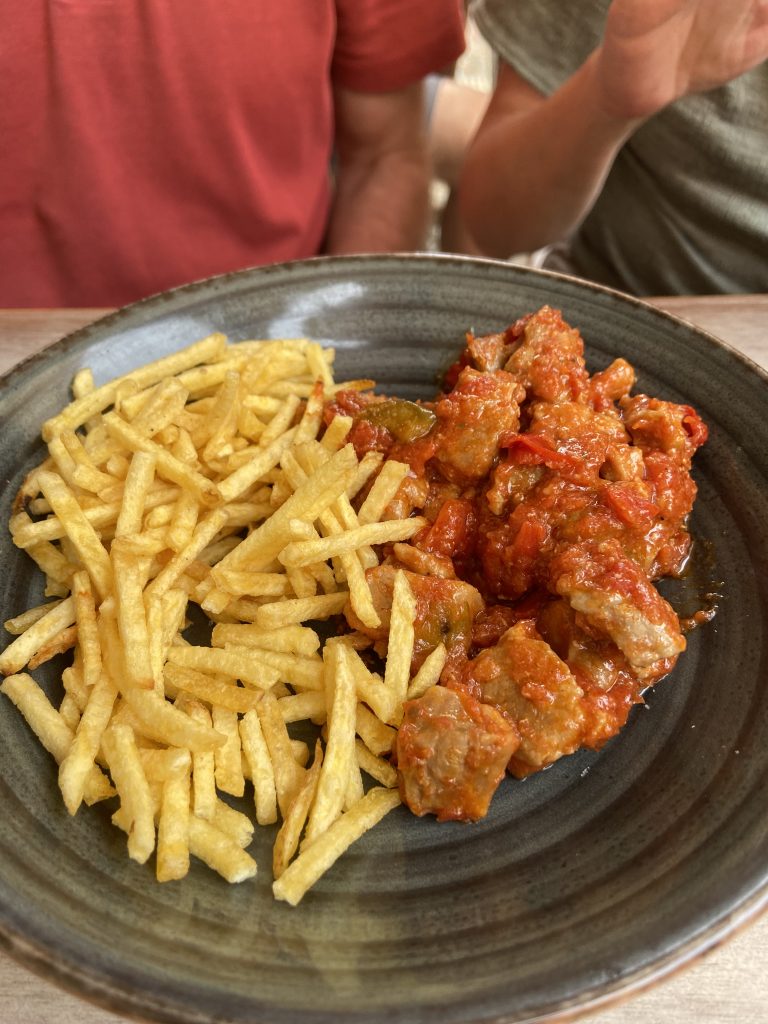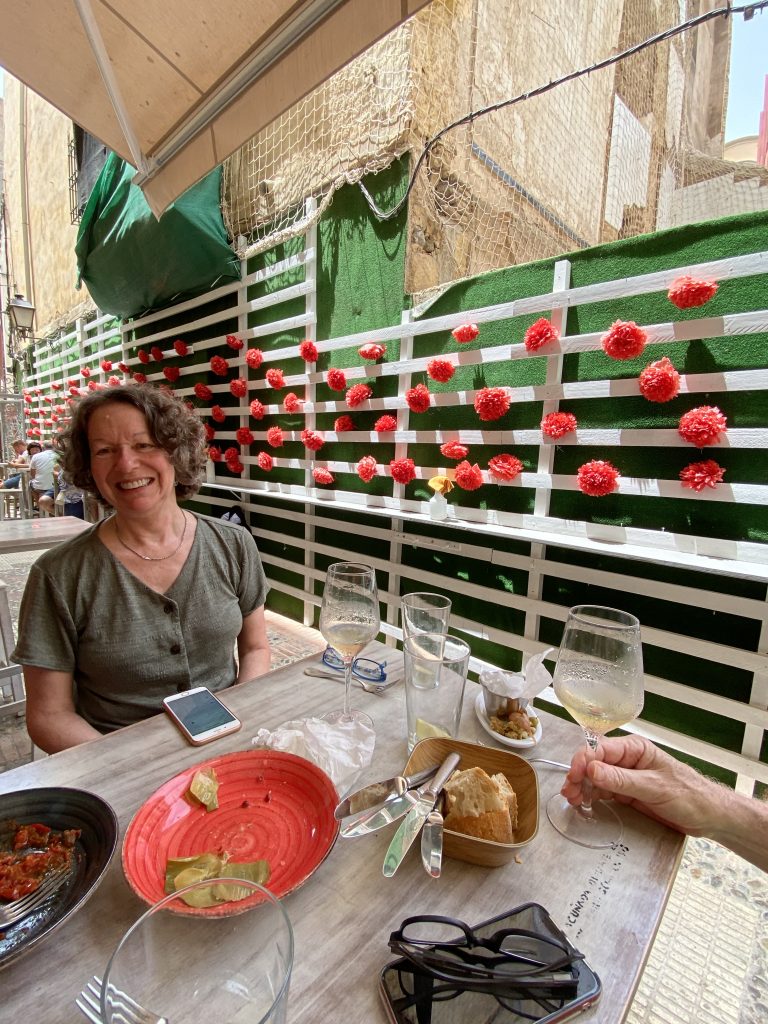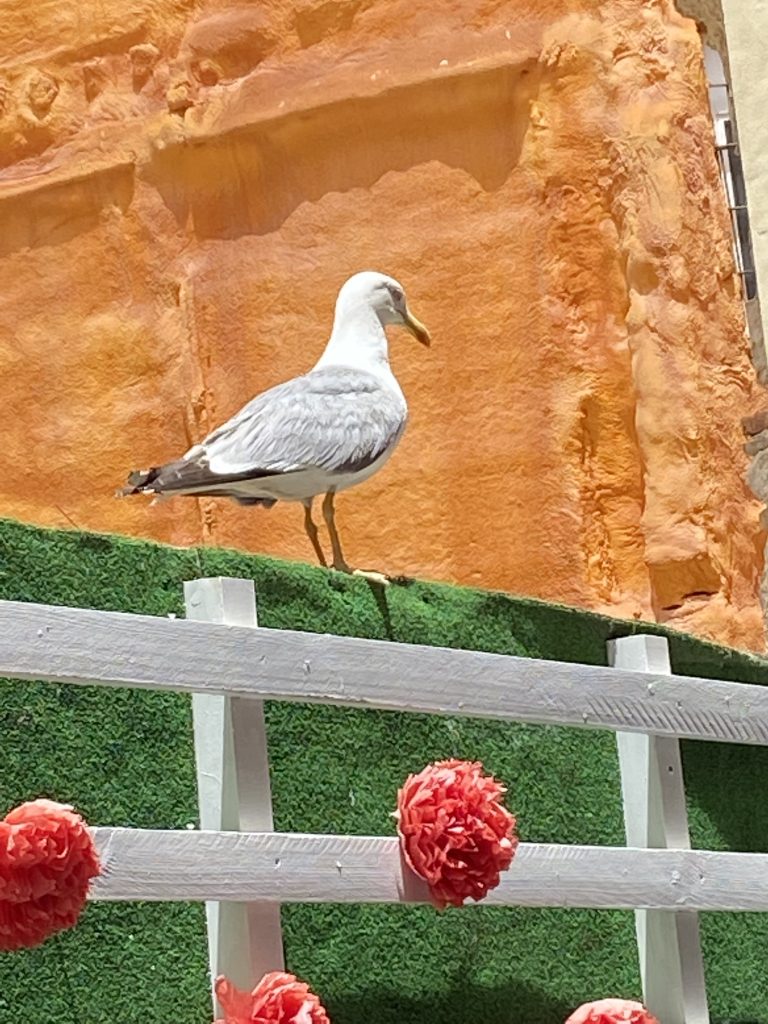 We returned to the ship for sail away.
We had dinner in the Spanish restaurant on ship. It was OK. We each had an appetizer and entree. We chatted with the people near us and then headed to the Star Bar for a nightcap. To be honest, even though this is a well known NY chef, it is hard to beat the Tapas we can get in the towns we stop in. If we weren't in Spain it might seem more special.
Monday – June 20 – Malaga
We arrived in Malaga after a bumpy overnight ride, we had purchased tickets to the Picasso museum and we headed out at around 10:30. We toured the show. Malaga is Picasso's birthplace. The museum had some early works and some later works but not many in between. It was a good show with some good anecdotes in the write-ups. We decided to stop for a drink in the plaza behind the museum and in front of the Roman ruins and coliseum.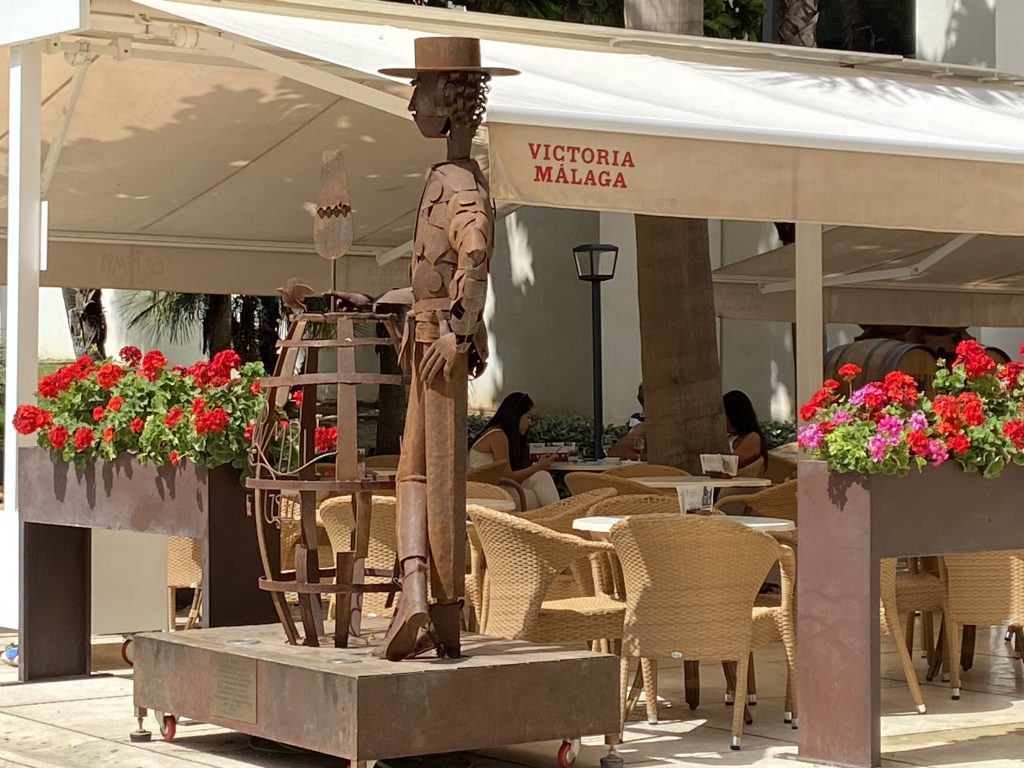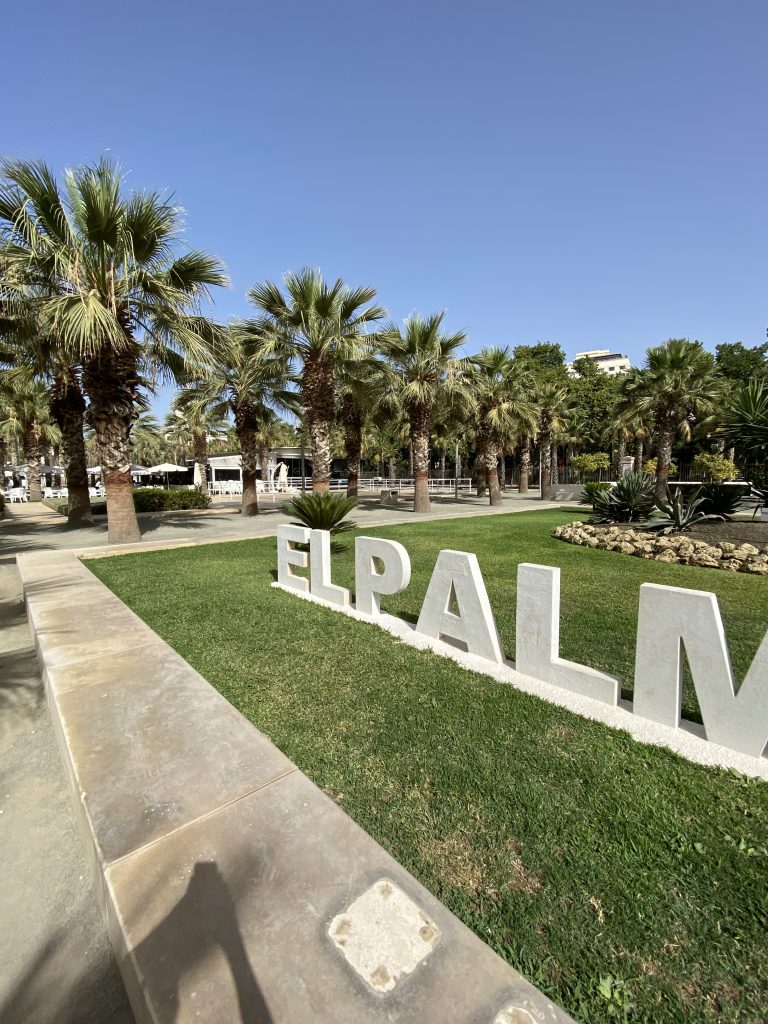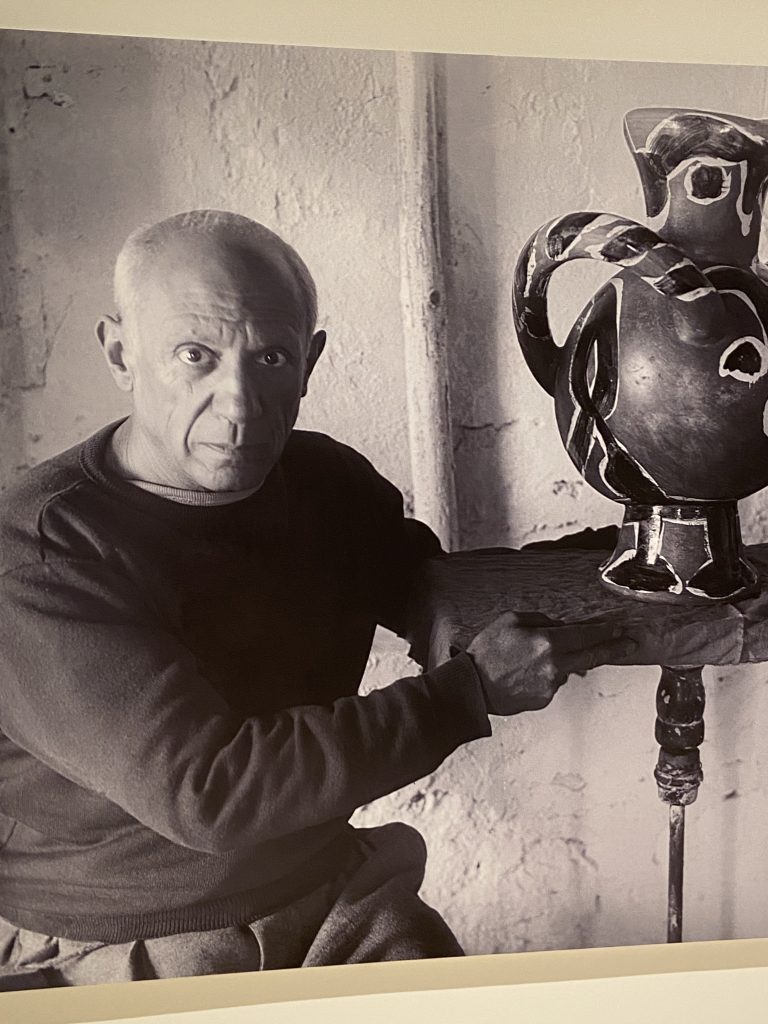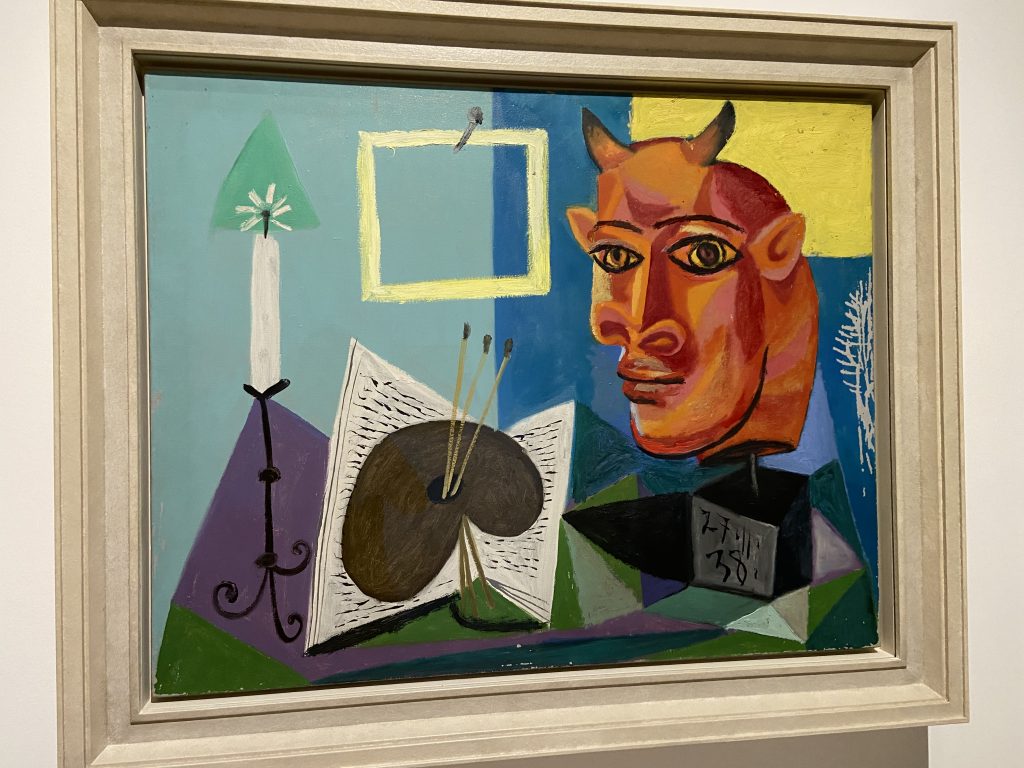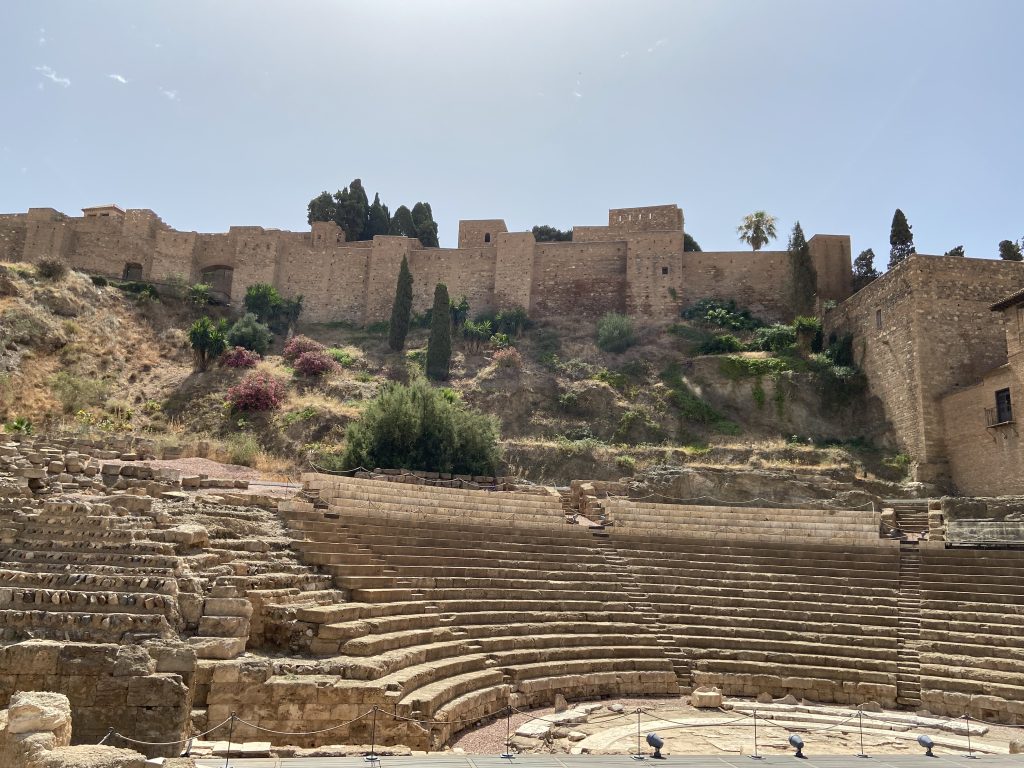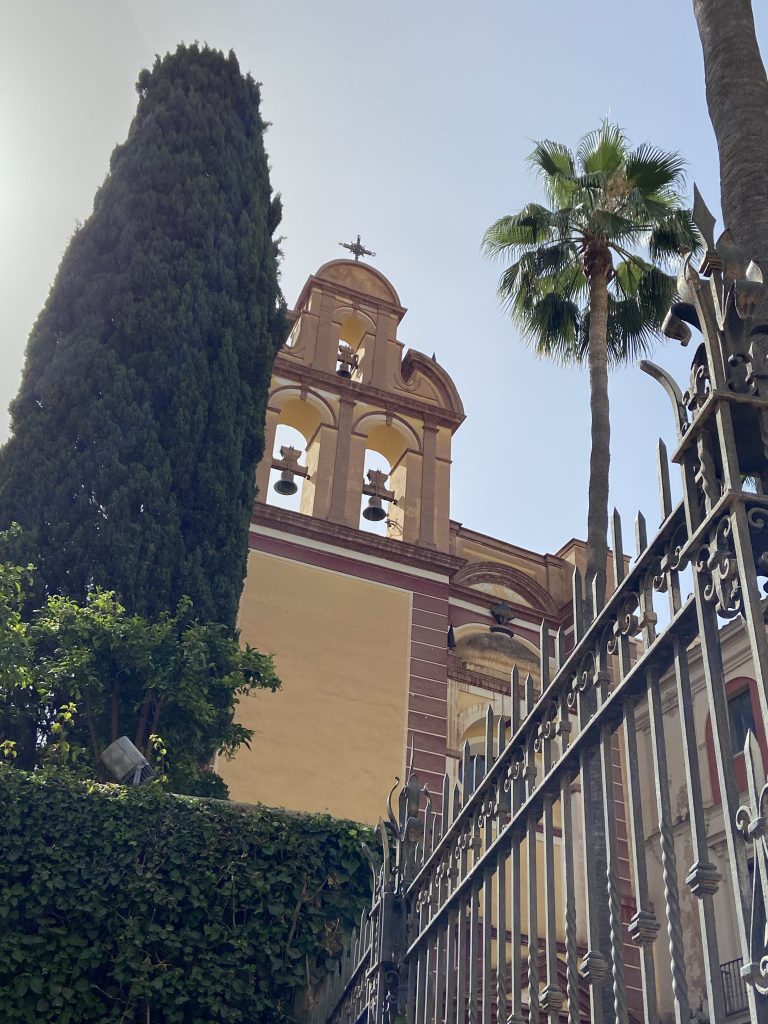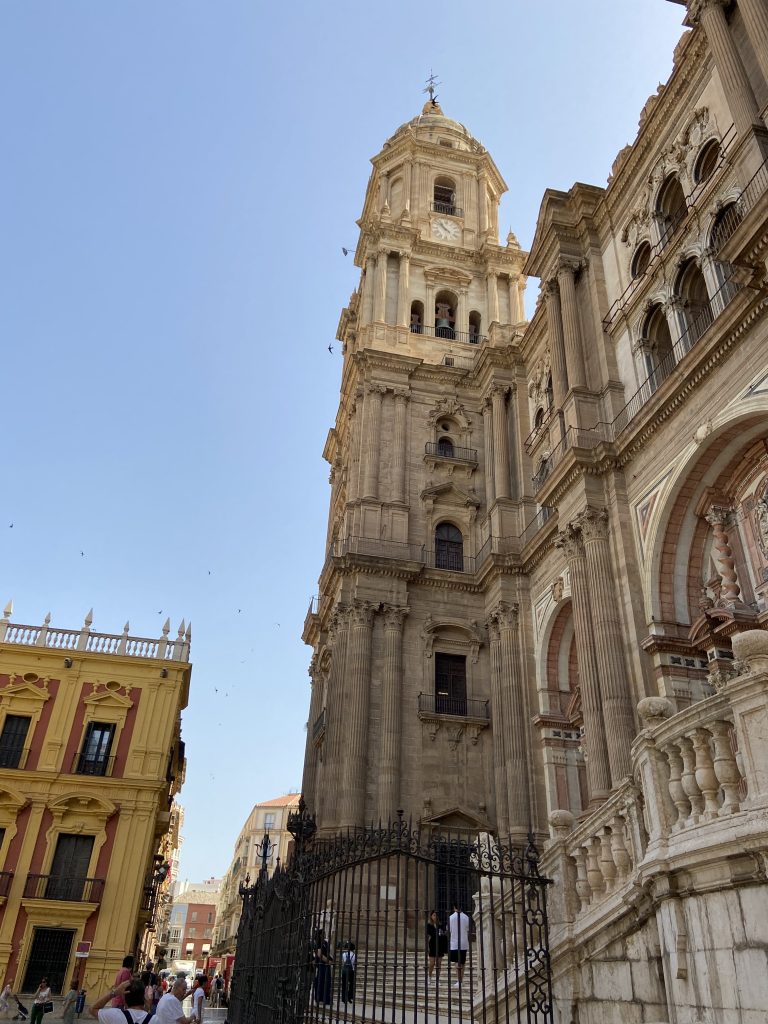 We decided on La Tranca for lunch. It got good reviews. Well, it was a real hoot. Not many tables. A long bar. Great Spanish music on the stereo which the waitresses sang along to. We got there just at one and within ten minutes the place was packed. The menu was only in Spanish, which was a challenge. We looked up some words and figured out a lot of the offerings and then we each ordered one or two things. They were soooo good. Luther got tuna with cheese on a skewer. Cindy got avocado with crab and shrimp. I ordered a skewer of shrimp which was so garlicky and to die for. Bill ordered an empanada. And then we had a huge bowl of salty grilled peppers and patatas brava. We did not go hungry. It was all delicious. At the end they total up your bill by writing in chalk on the bar and adding it up. €50 to include two bottles of nice white wine and a tip. Not bad at all!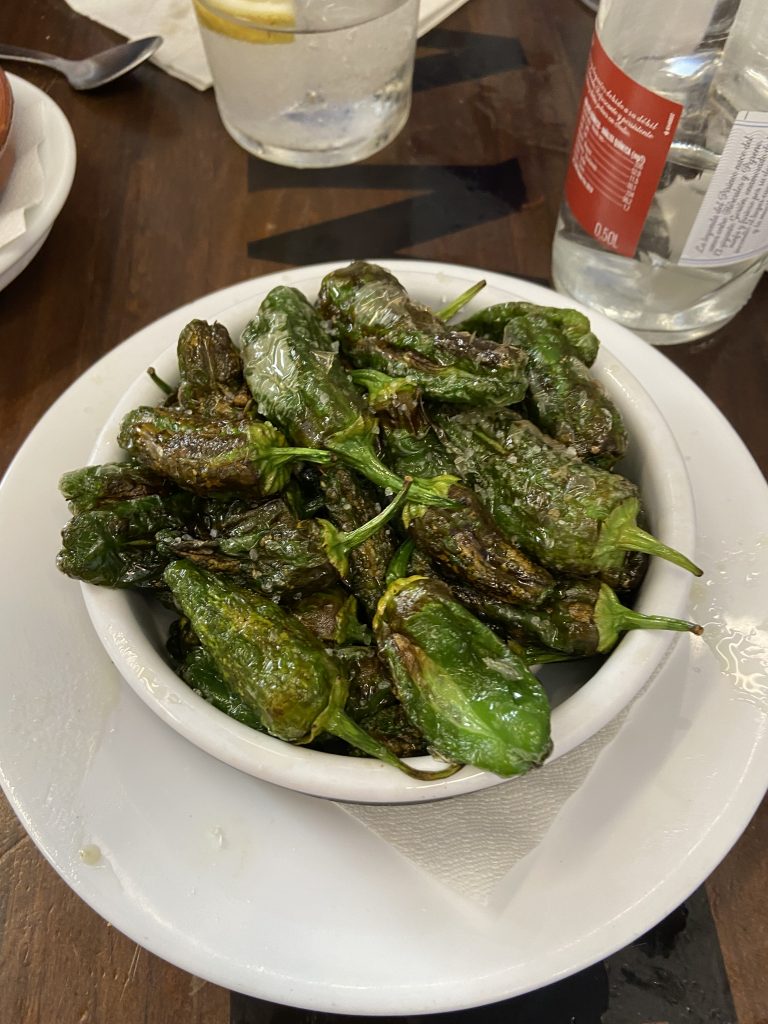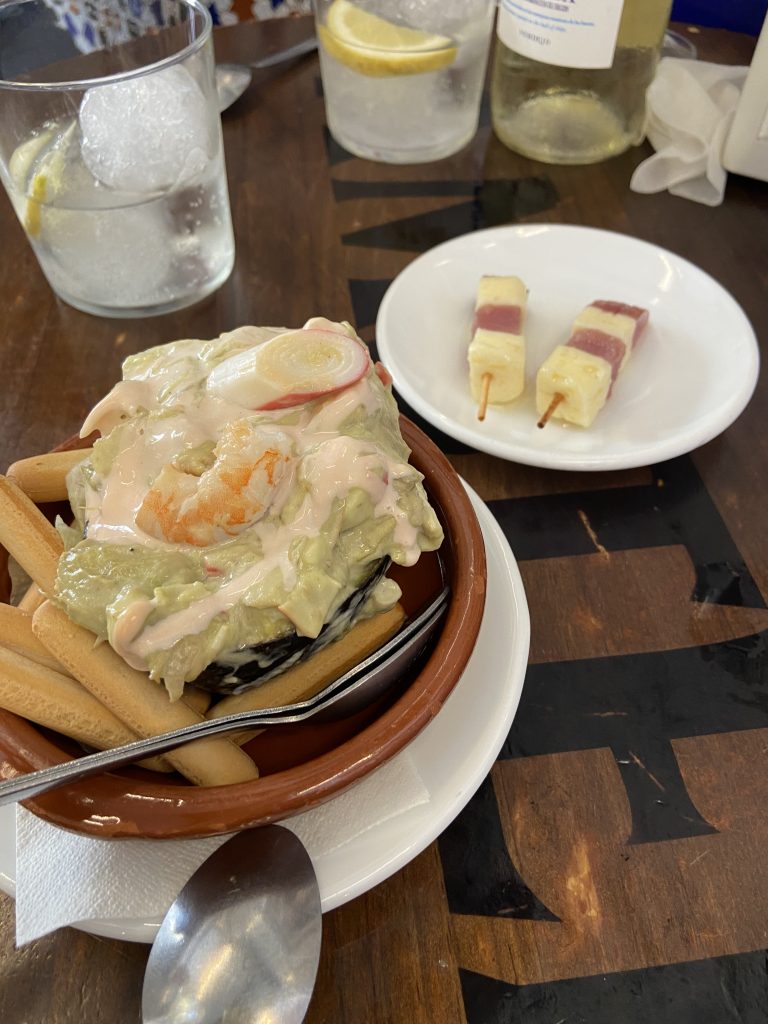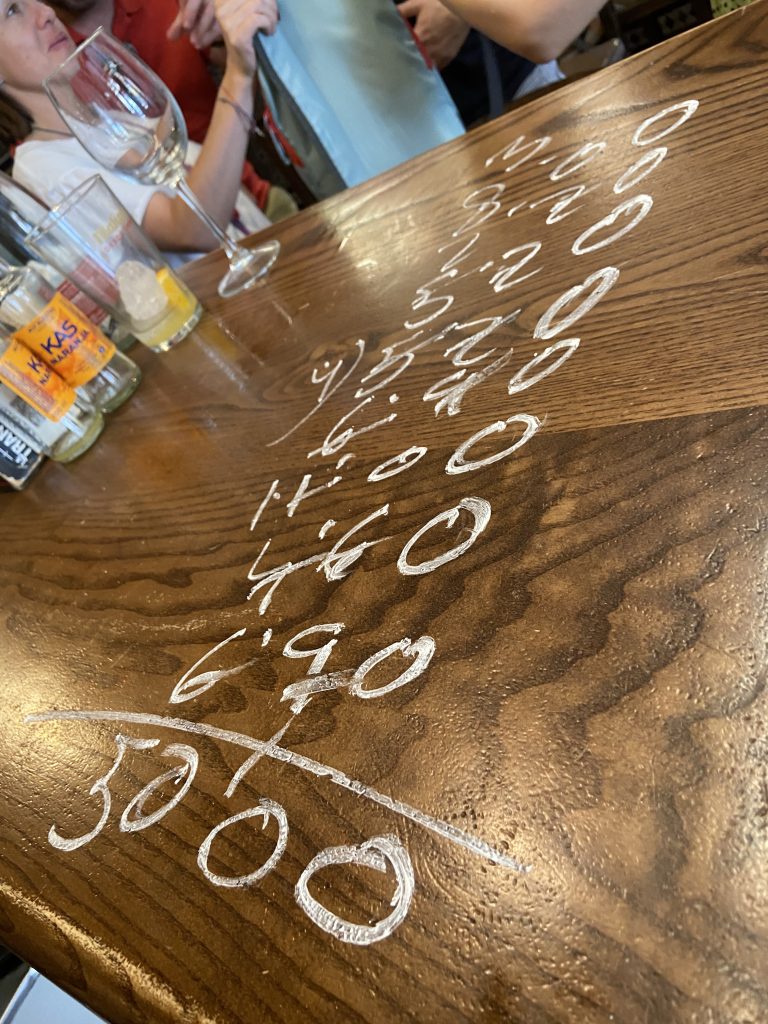 We wandered back through the city and returned for a siesta as the locals do. At six we headed to the lounge for the Flaminco show. A group of five, two women and three men. One woman sang, one man played the phenomenal guitar, one did percussion and the other two were the dancers. They were all very talented. For dinner we tried the grill. It was served buffet style and there were baby back ribs and marinated grilled chicken. Along with salads and sides. A nice change from the Amphora. Finally Luther could smoke a cigar since we were spending two days in Malaga. The ship wasn't moving.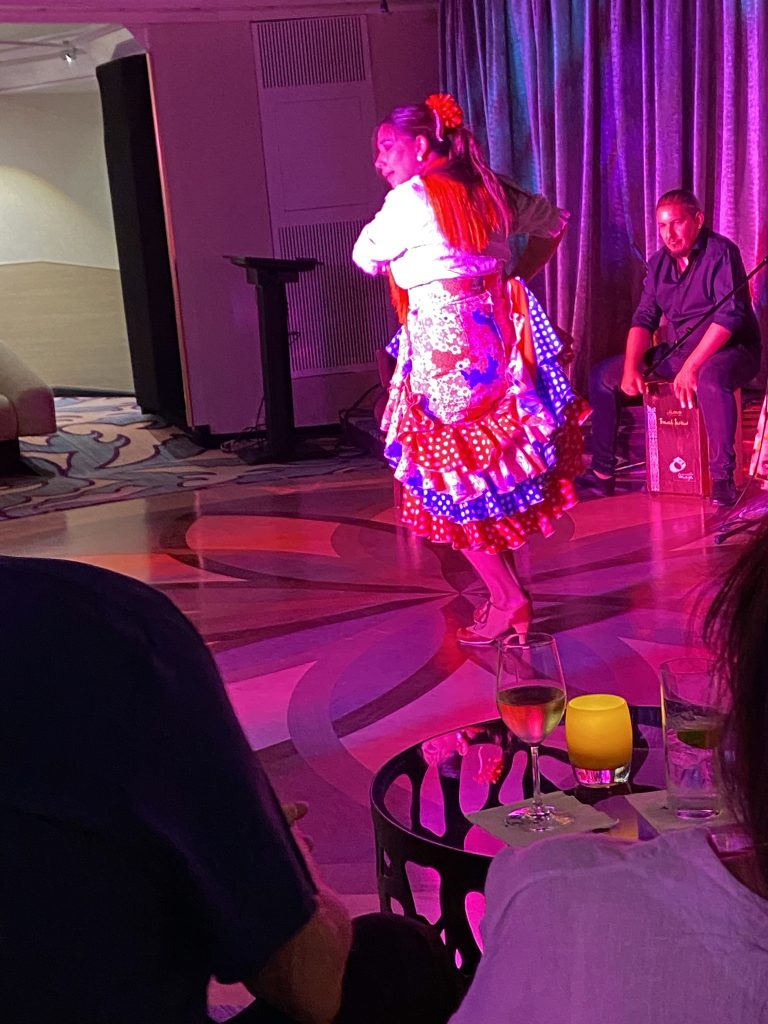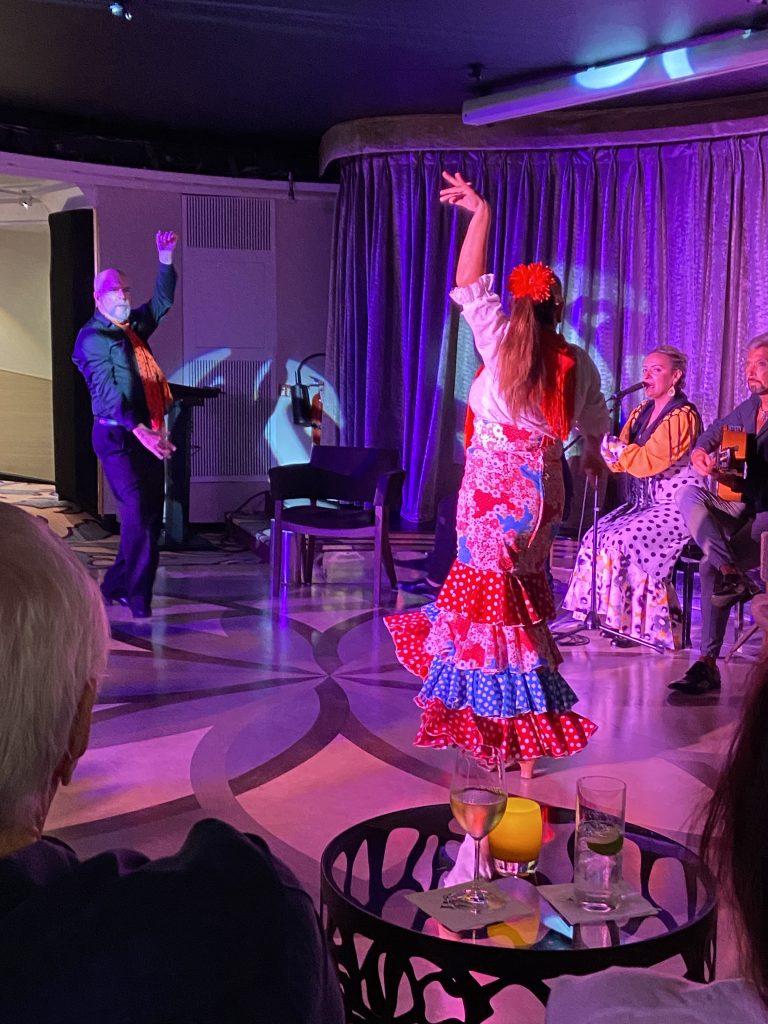 Tuesday June 21 – Malaga day 2
Our anniversary! A special day. The summer solstice, my wedding anniversary, and the anniversary of my retirement! It was cloudy and cool. A welcome change. We had a leisurely breakfast and decided to wander the streets and small alleys of Malaga. There were no big stores and I saw only one chain store which was Spanish. It was just about all small shops. Many souvenir stores. The specialty items which we saw in many shops were scarves, fans, Malaga ceramics, flamenco paraphernalia. I have now accumulated three fans! They are quite beautiful. I bought a hand painted one in Cartagena and two here. Both of the later ones were smaller in size and fit in my purse. One quite inexpensive, and one of wood which was moderate in price.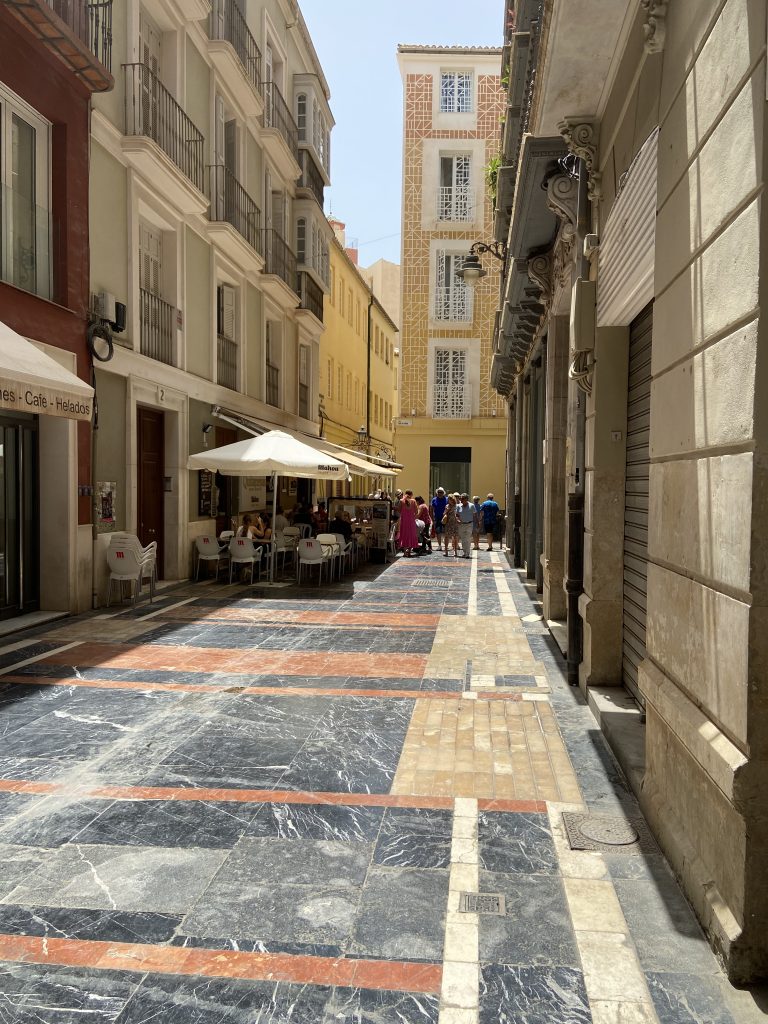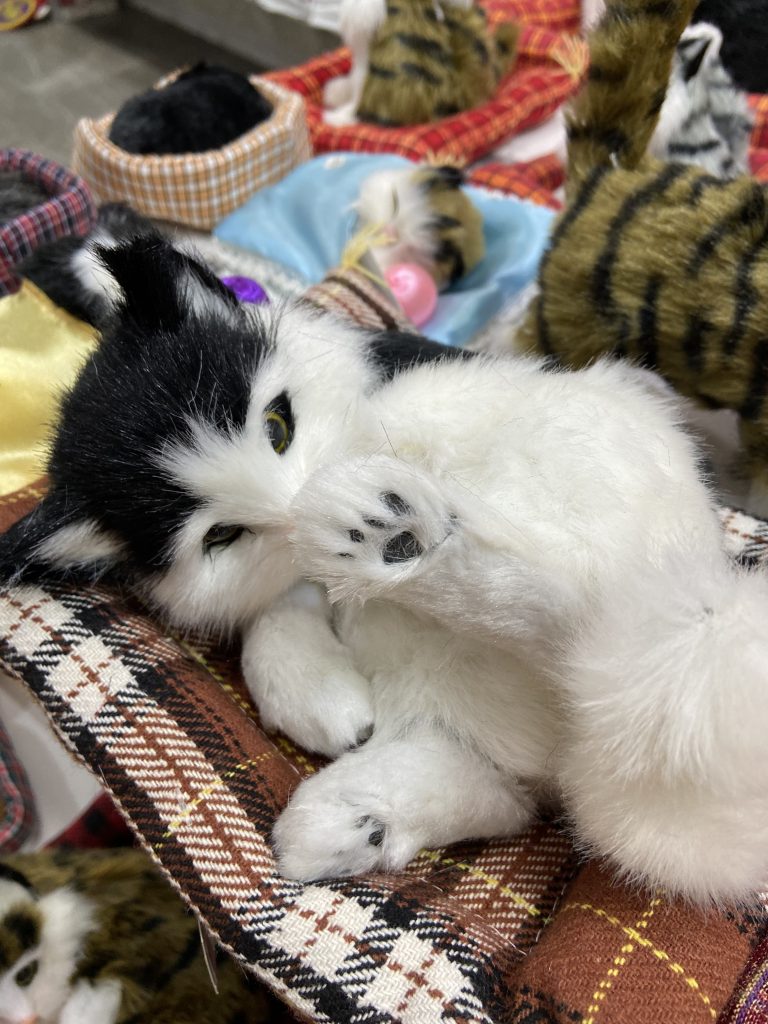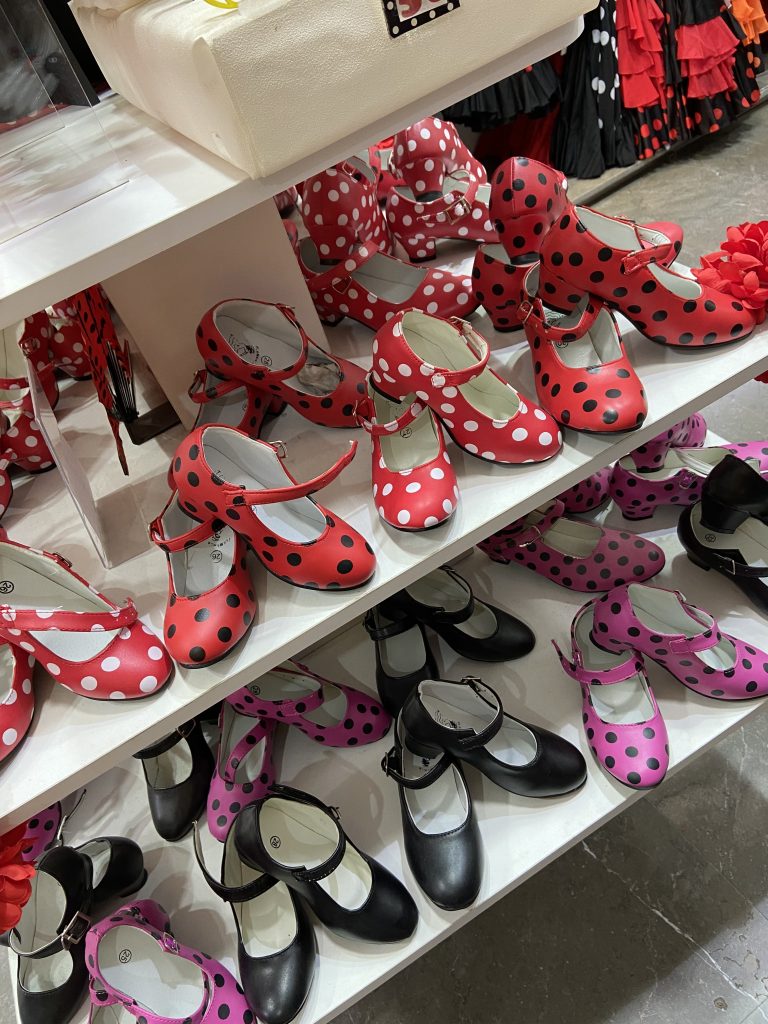 We went to Picasso Tapas for lunch. It was on a big square with many mimosa trees. We, of course, had tapas again. These were quite small and I think we ordered nine in two rounds. My personal opinion was they were good but not the best we have had. The patatas brava were very sub-par with no garlic sauce and only a ketchup which was spiked with cayenne. The spicy shrimp were not very garlicky and not very spicy. The padron peppers were good. We were waited on by a Welshman. Unexpected!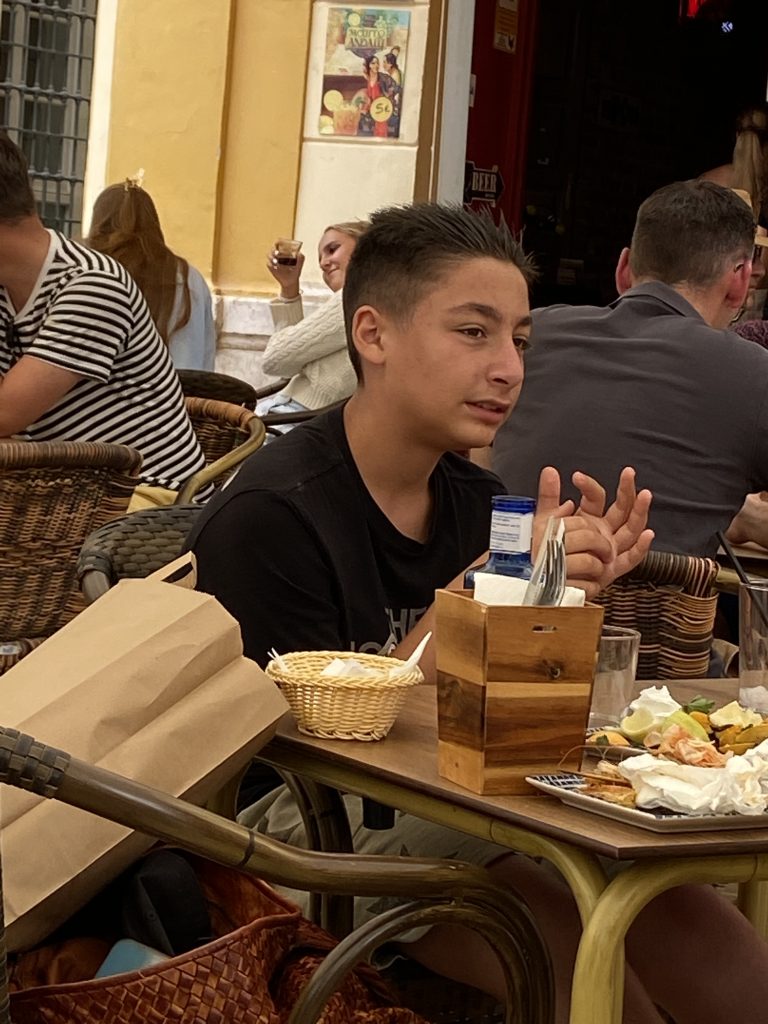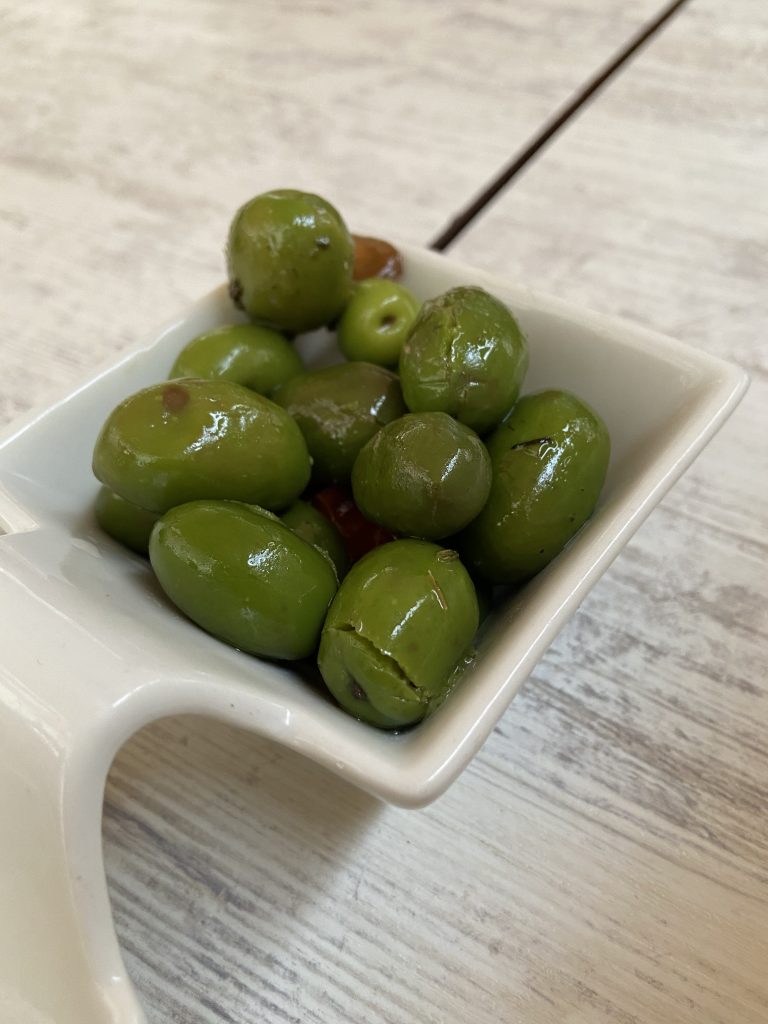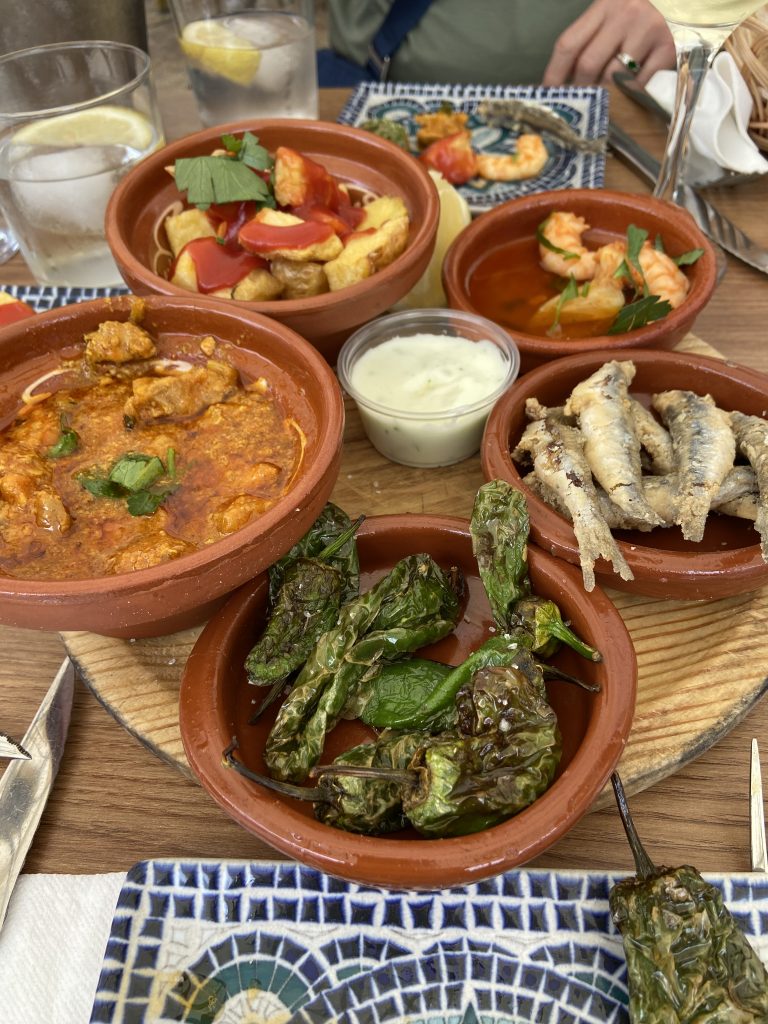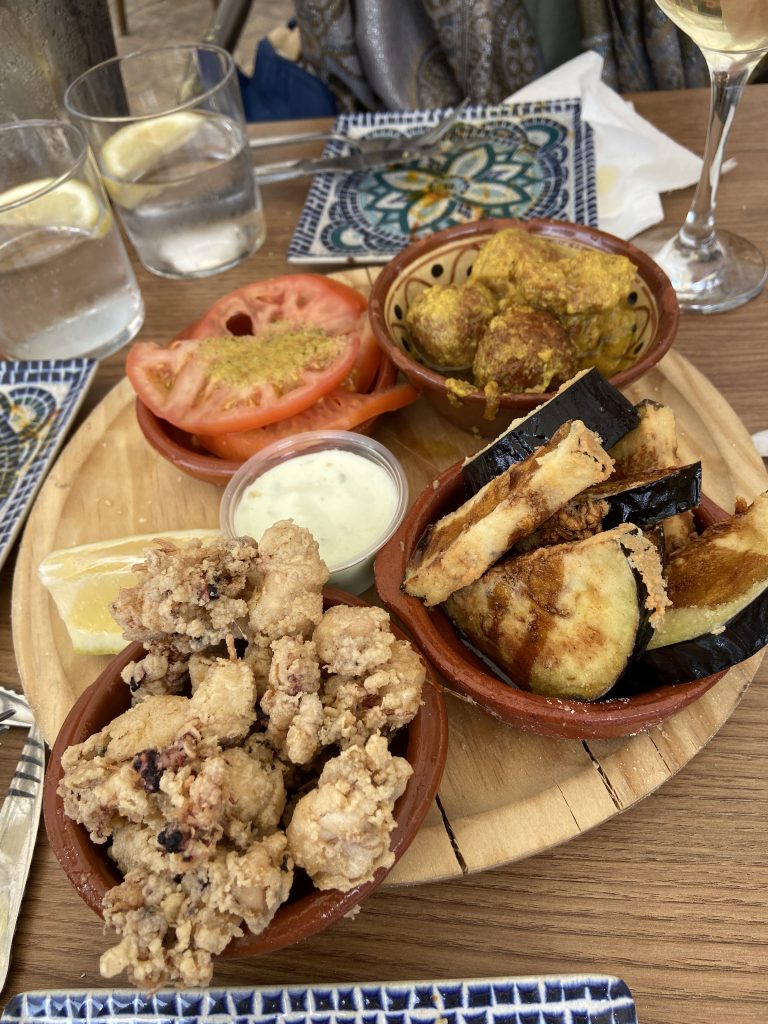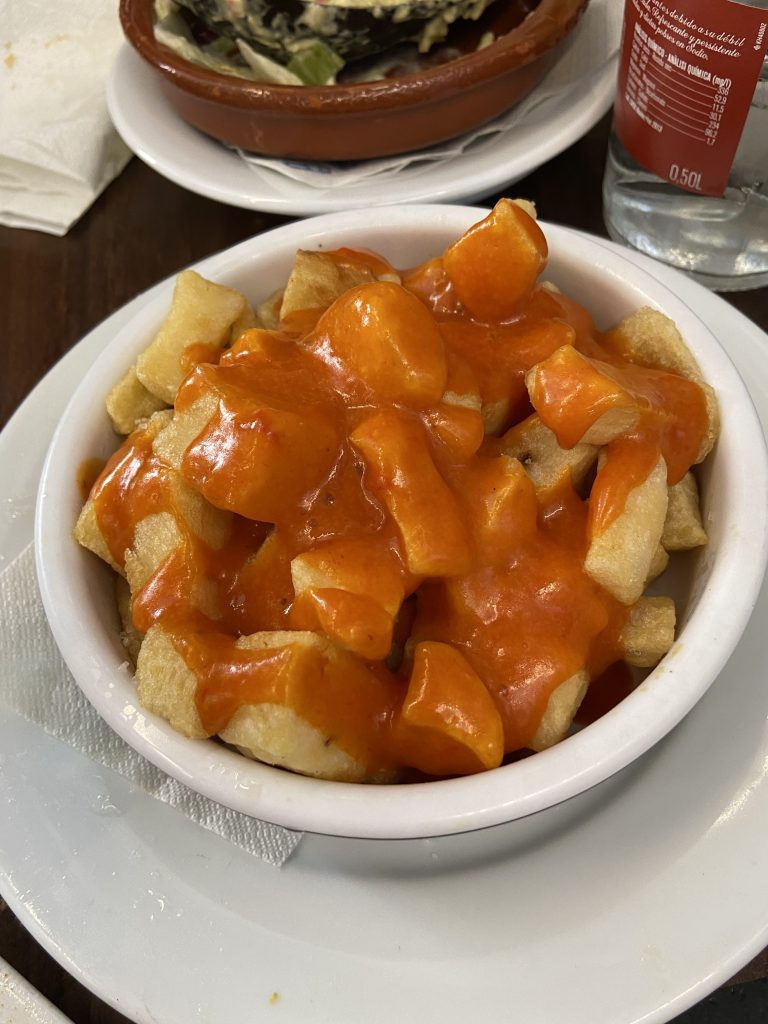 We walked back and had our siesta then readied ourselves for the Captains reception for returning customers. And our anniversary dinner at Candles.
Candles was a shadow of its former self. Too bad. Afterwards we headed to our room where we all watched the end of the Congressional hearings.
~~~~~~~
Go to Part Two of the trip