Last night I tried a new recipe (of course with some of my own adjustments/additions!) called Spaghetti quadrati con zucchine. Luther subscribes to a website calle Doctor Wine. He is always sending along recipes that he thinks he would like. When he sends one that I ALSO like I save it. This one was one of these.
It was bit unusual. Beginning prep was to cut a large zucchini (I used yellow summer squash), or a couple of small ones, into strips. And chop up a few cloves of garlic. I also added a few mushrooms. Then you sauté in olive oil until brown and crisp. (I also added pepper flakes for some zip). Add the garlic at the end. This is now ready for the spaghetti at the end.
For the quenelles (for two people) you put a couple of big, rounded spoons full of ricotta in a bowl. I had fresh goat ricotta from the market. Add a quarter cup grated pecorino Romano (or Parmesan) and a drizzle of olive oil and mix up. The recipe called for zucchini flowers but I didn't have them. If you do, then remove stamens and chop them, then mix in now. Roughly tear fresh basil leaves and mix them in. Form into rounded spoons full. Set aside.
Cook spaghetti until not quite done. Save some water. Drain and added to the previously made squash and garlic along with some water and more torn basil leaves [EDIT – also add more grated cheese now]. Sauté and cook until pasta is al dente. Place in bowls and put a quenelle on top of each portion. Drizzle with more good olive oil. Serve.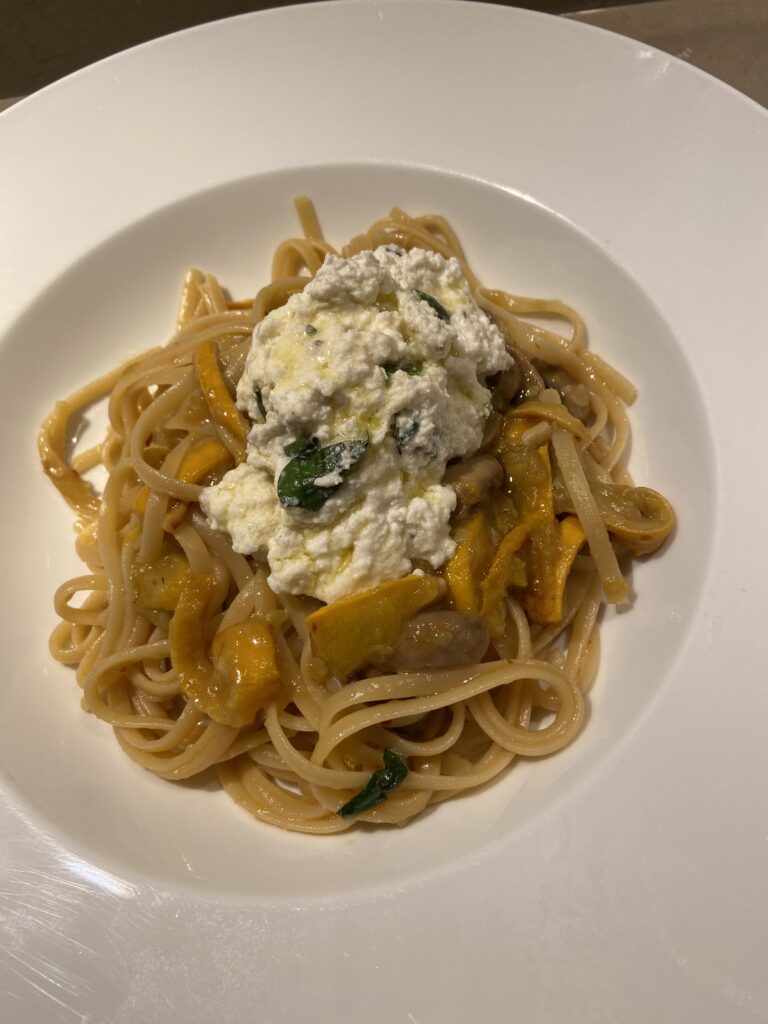 It was delicious. 💕