We have entered the very hot days today. So I got off early to go to the market so I didn't miss the good tomatoes. They sell out fast. There really is only one person who sells the kind of tomatoes I like. On the way I noted the Street Food festival that is on from Friday – Sunday. An annual event. Food trucks with interesting things . Wines. Micro brews. You load up and there are tables at which to sit. All in the shadow of La Rocca, our fortress.

But then, I heard the sound of a drum kit thrumming through the various drums. I spotted the band way up on a rooftop terrace. I was amazed. Those youngins will try anything! 😉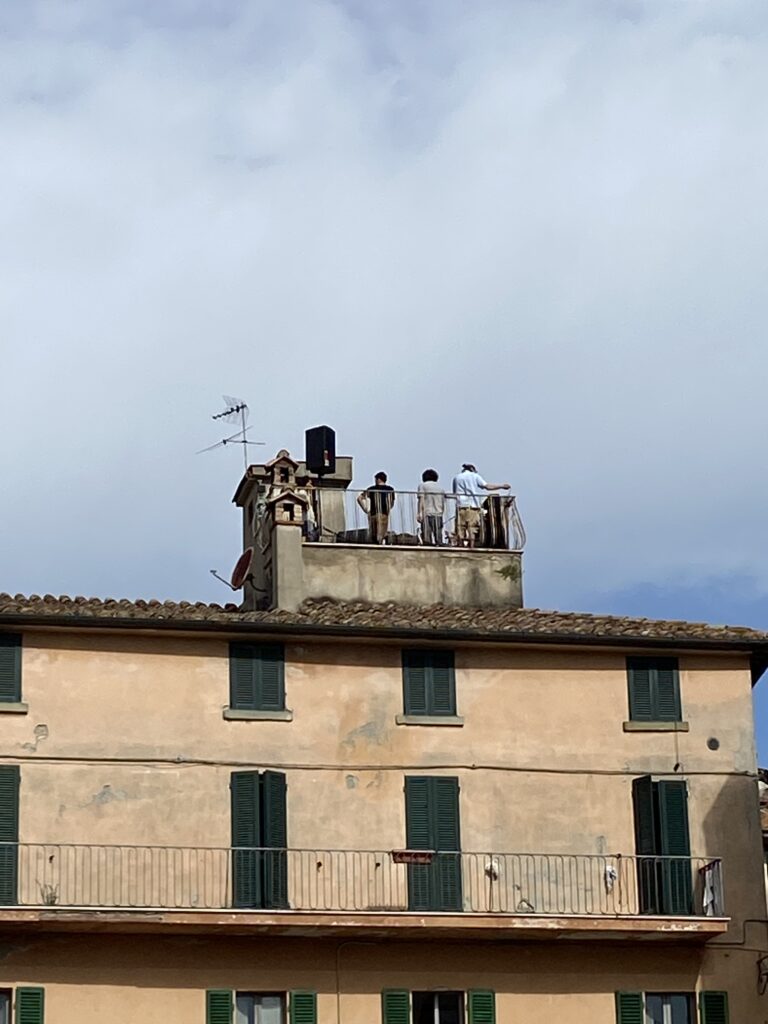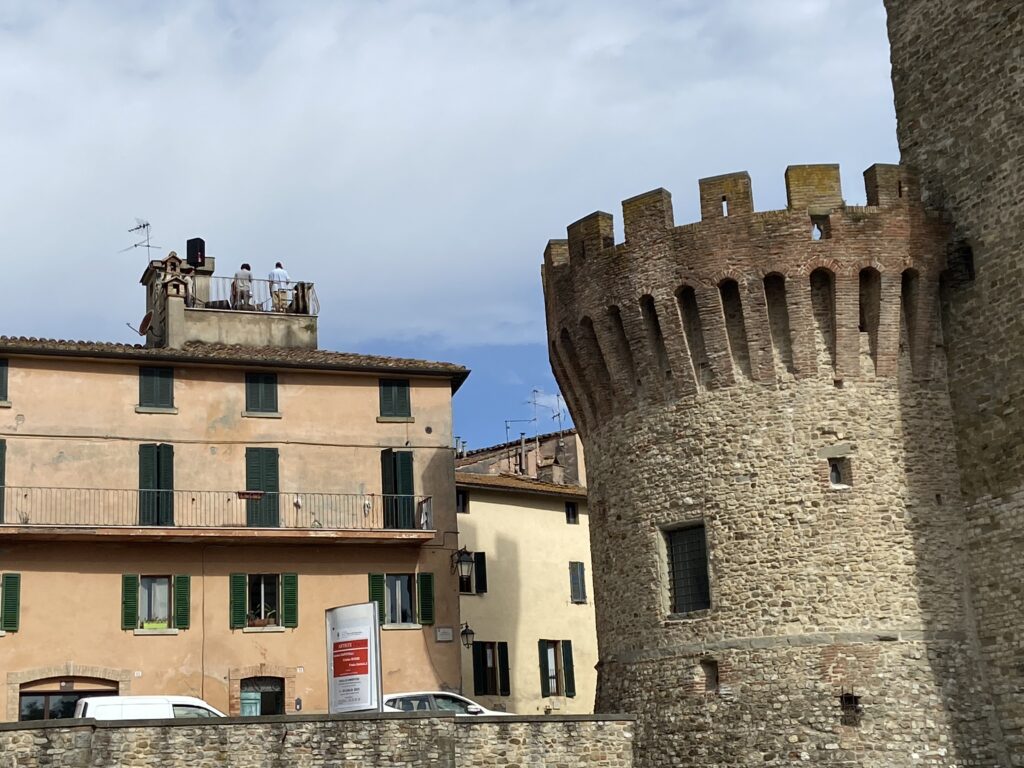 Into the market where, since I was early, the crowds weren't very thick. I got my tomatoes, a whole lot of tomatoes! And some pretty green beans, onions and borlotti beans, first of the season. I visited various stands.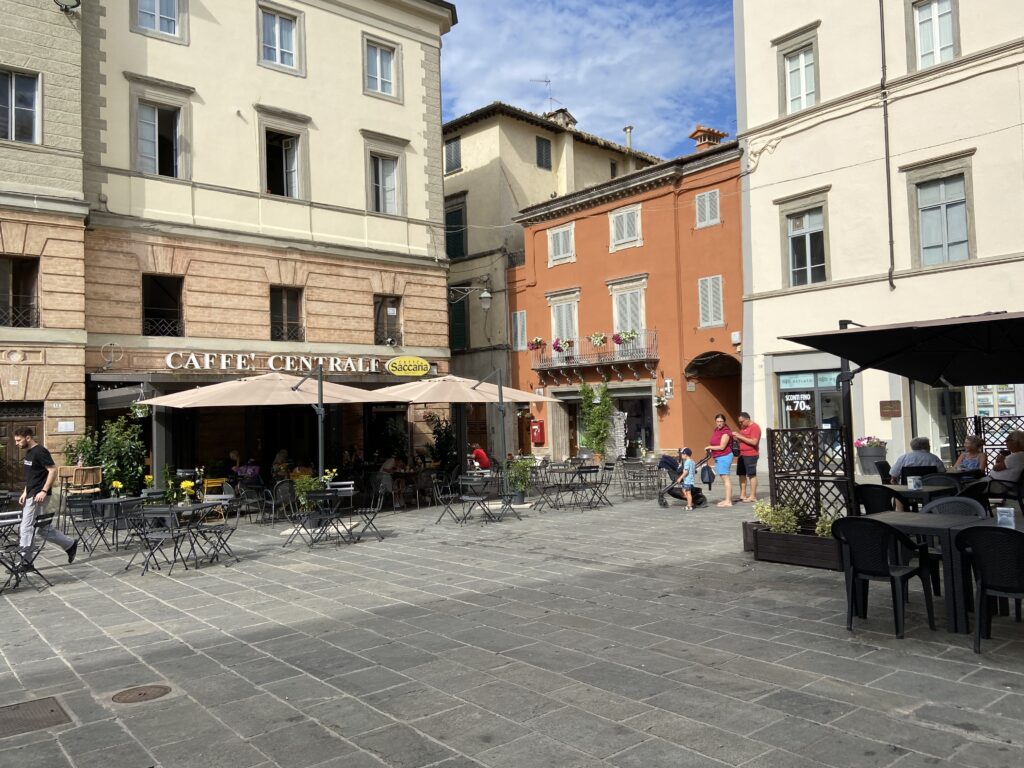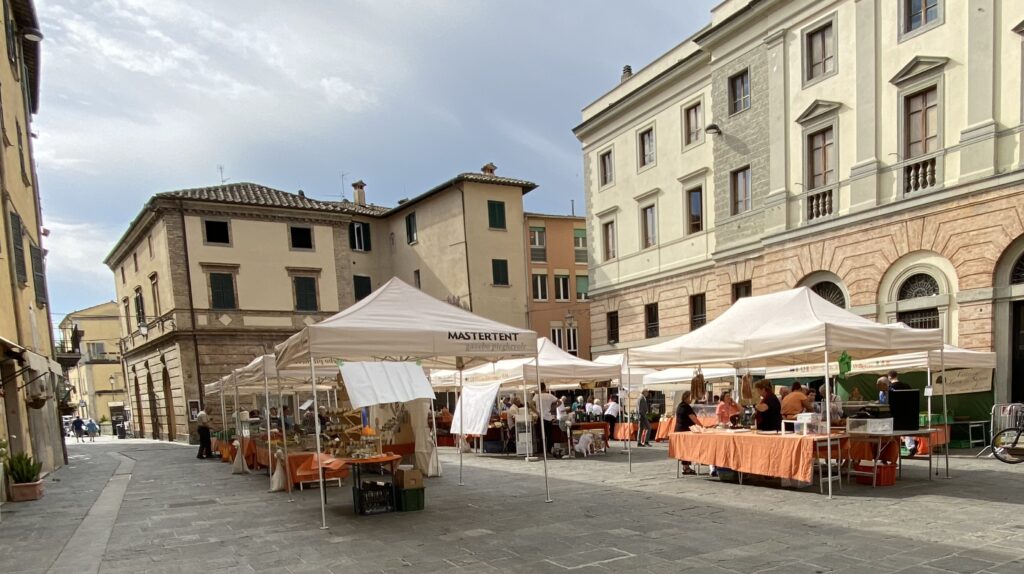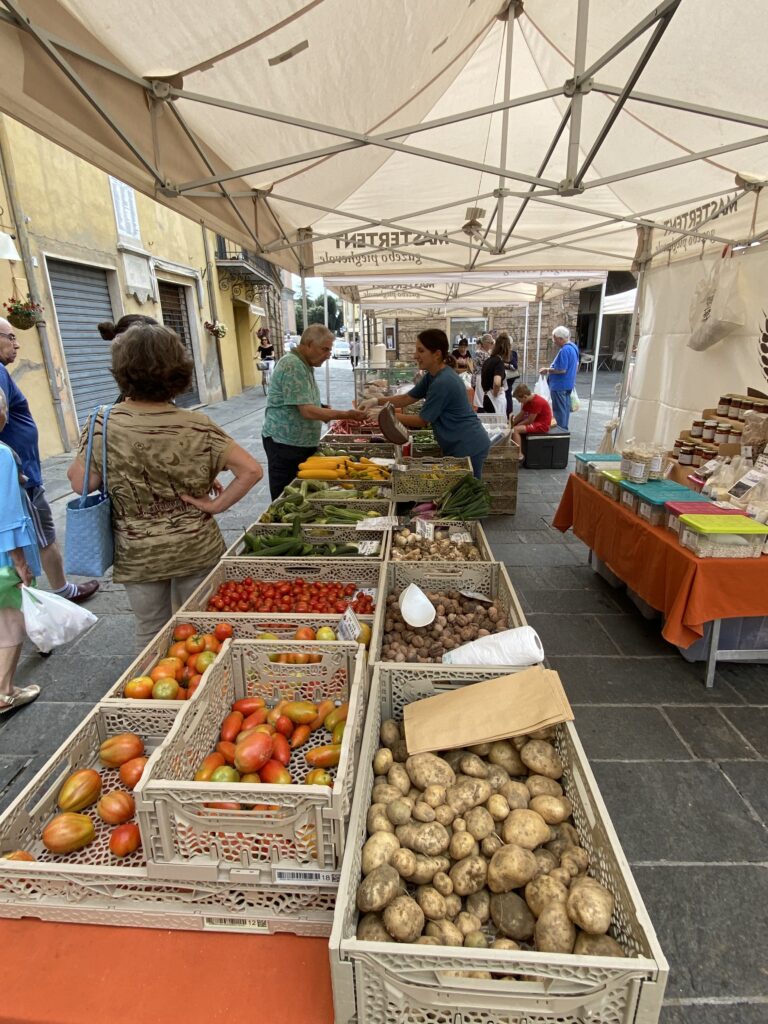 The lady at the above stand, also one of my favorites, knows me and that I have a blog so she gave me a flyer for an upcoming event. There is going to be a bi-lingual walking tour of Umbertide with a degustazione of foods at the end. It is all sponsored by Slow Food Alta Umbria and the Mercato della Terra di Umbertide. It's July 22nd in case anyone reading this wants to go and happens to be here. I think a reservation is mandatory.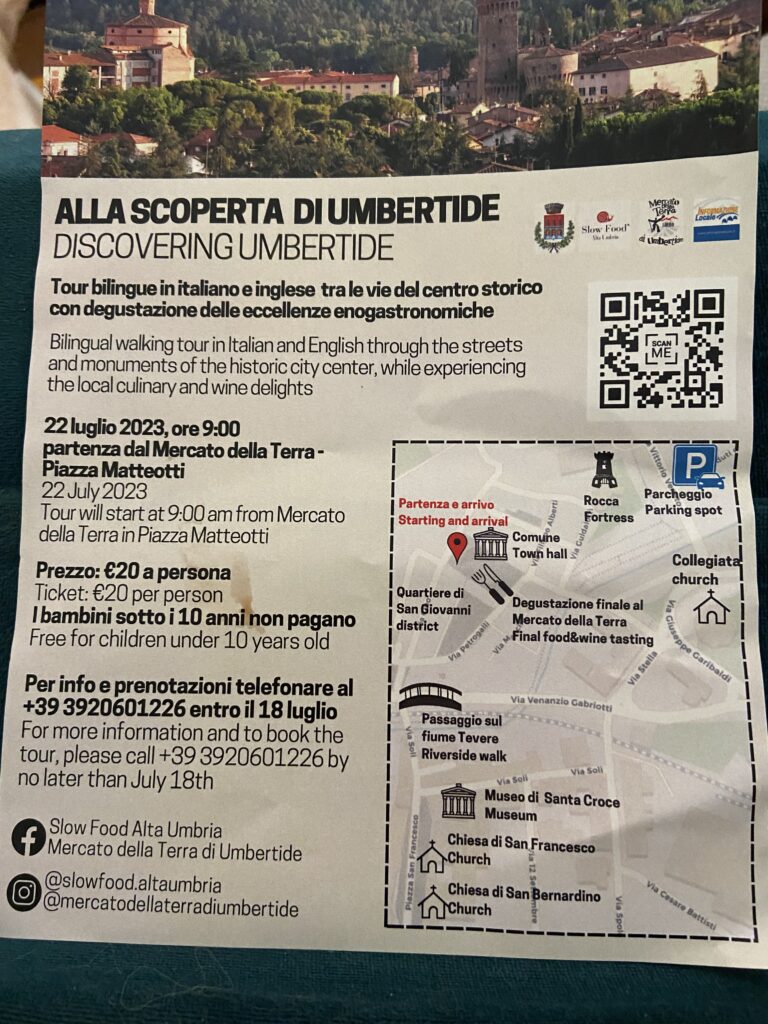 I bought mozzarella and eggs from my favorite cheese lady and I was finished. Except for one last chore.
I needed to photo the hours of our local electric place. Turns out, when we finalize our bill at Via Grilli, they ended up owing us €1,030. Which they gave us a credit for. Um, no. We do not use them for electric anymore so a credit isn't going to work. It should be interesting trying to get the money back.
~~~~~~~~
We next helped out a friend who wants to buy a place here. We went to view two houses. Over near Lago Trasimeno. The first one had spectacular views through pretty arched windows. But it was very small. Just two small bedrooms, two baths, and an open plan living, dining, kitchen area. [edit] There is a swimming pool.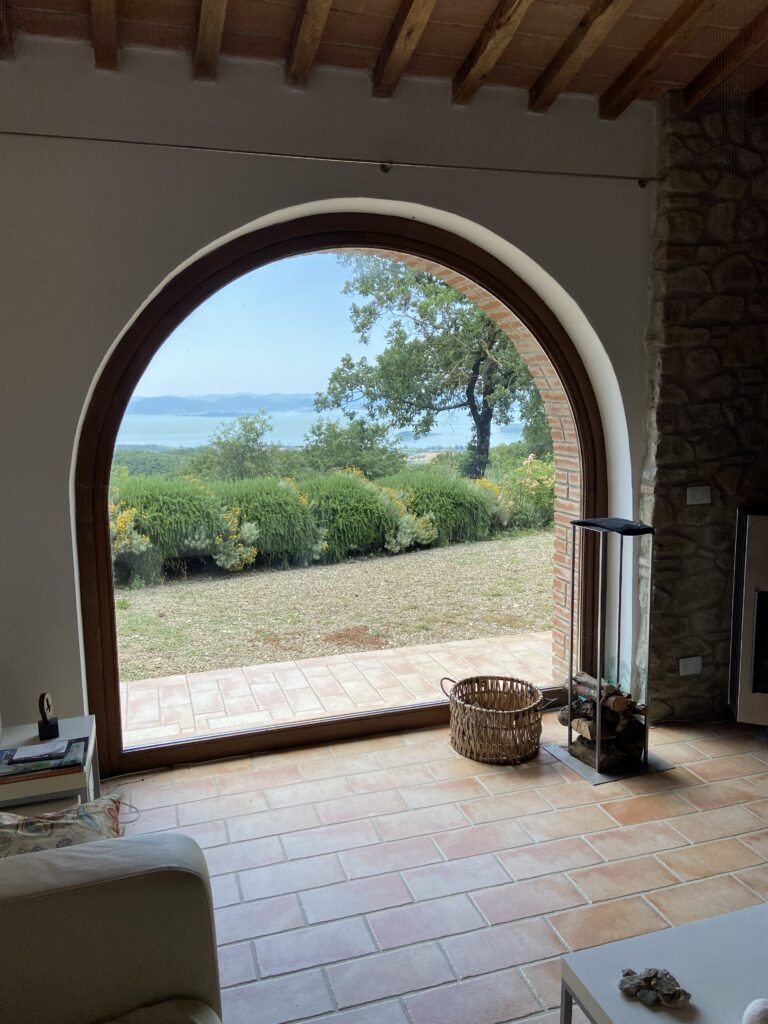 The second was a huge place down on the flats below and near the lake. The bare glimpse of the lake was visible through an upstairs bedroom window.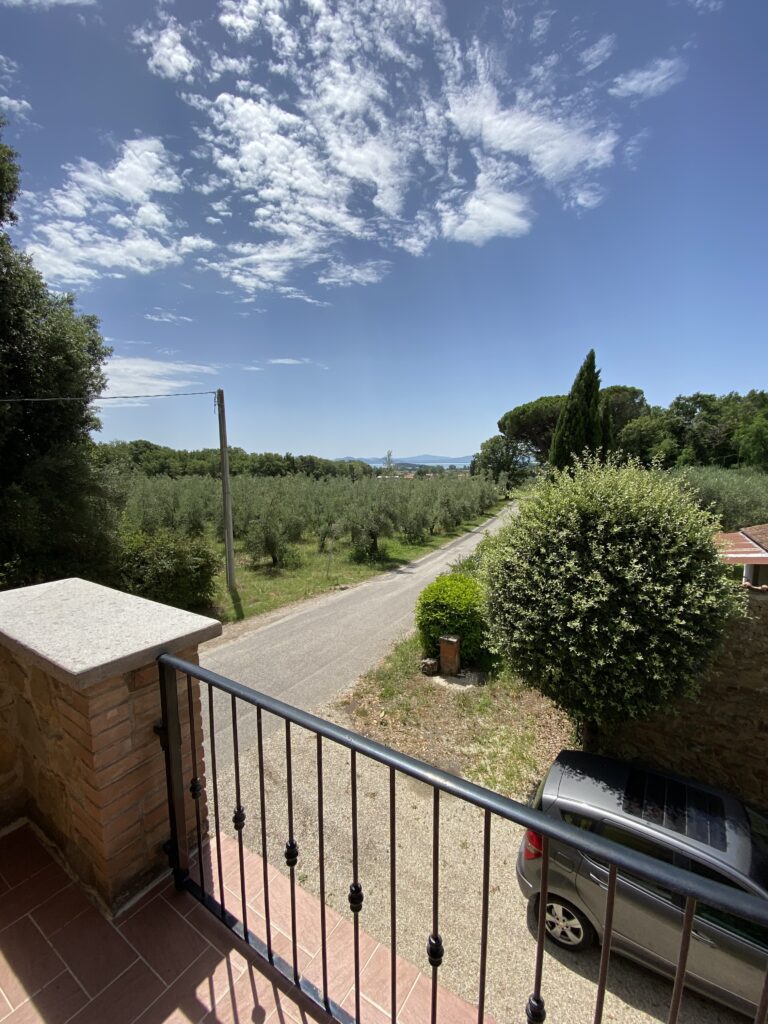 We parted ways with the real estate agent Valentina, who was very nice. Then, we managed to hit a big pothole and got a flat tire. Damn. It was hot and we were in the sun but we managed to get it changed and got home OK. Now to see about buying a new tire! It was nothing if not an eventful day.
Buona fine settimana a tutti!