Today was our anniversary. It started as a lovely day. We had reservations for Pranzo at San Giorgio. It is just across the piazza from our house…maybe 50 meters. Gosh. I sure wish I had had my camera. They have been here since before we moved here and they have been getting a lot of recognition from Michelin and Gambero Rosso (Italian food and wine publication). We haven't gone often for a couple years because I had a problem with the fact they never had a seasonal menu, any specials, nor did their offerings change. I got a bit bored with them. So we stopped going. Today, we decided to try them again.
They have maybe 6 tables outside. Very small. Their offerings are different from the last time we went but that was long ago. I am so sorry I didn't take photos! I ordered fried sweetbreads with cherries and a small salad with almonds to start, and a ravioli with shrimp. Luther got paccheri (pasta) to start, and tagliata (steak) as a main.

After we ordered they brought plates of different breads. All sorts. Cheesy muffin. An anchovy one, a tomato one, a couple seeded ones. And really good breadsticks. Then they brought the gifts from the chef. Pretty amazing. There were two tastes of each one. One was a sort of jello that I believe was made from Campari and lemon peel. Very bitter but very good. It came on a little spoon. Then two peanuts, well they were shaped like peanuts in the shell. They weren't peanuts though. But filled with a creamy peanuty filling. Essence of peanuts. There was a tuna lollipop with a red casing of tomato. And finally parmesan crisps on a stick. They were all very amazing. So sorry no pics. We will have to go back! 🙂😋
While we were there a thunderstorm messed up the pretty day. We had wind and some sprinkles but we stuck it out and it didn't get worse. All in all a nice Pranzo for our anniversary.
~~~~~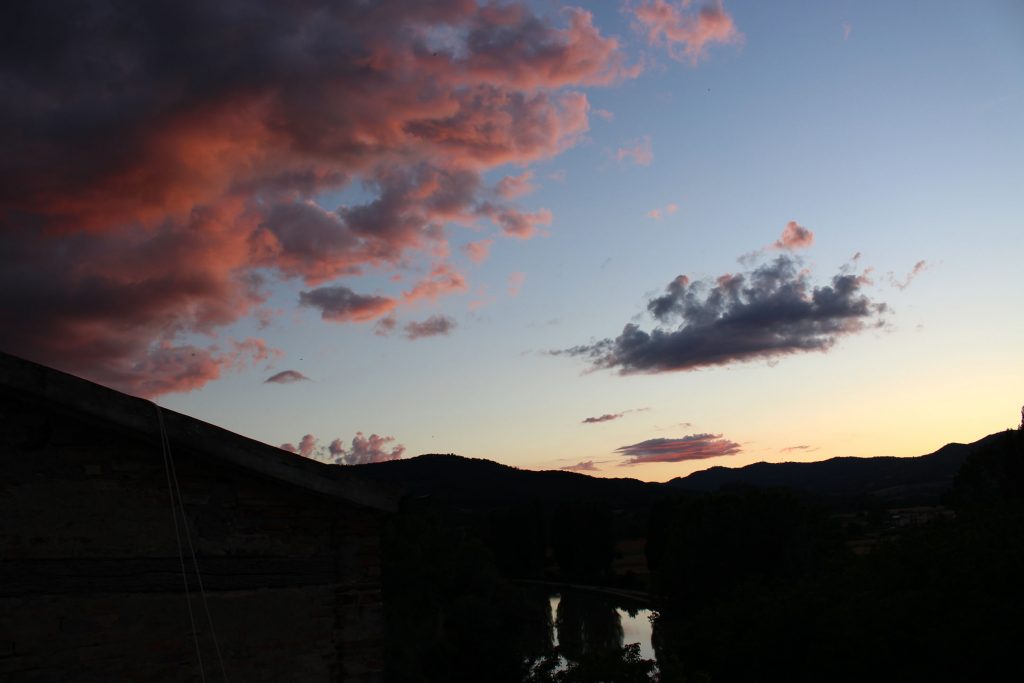 Last evening we had aperitivo with Joseph and Paul at Bar Mary. They have begun serving nice little pastries and prosciutto wrapped bread sticks with their drinks. I guess it is the competition with Cafe Centrale across from them. They have very nice appetizers to go with the drinks. It was a nice evening and we caught up with them about their recent 4 day trip to Rome. The city was empty. They had the place to themselves. Most hotels have not reopened. Many restaurants have not either. They have pictures of themselves at the standard sights — alone. The Spanish Steps, the Trevi fountain, the Pantheon. Amazing and a bit sad. I hated Rome for its frenetic bustle, but I don't think I'd like it any better this way. They heard no languages other than Italian. No tourists are there. 😢
~~~~~~~
Here is the latest information about travel to Europe.
Italy has dropped its travel ban on European countries, but for people hoping to travel from the US or anywhere else outside Europe the news is less positive. (This article was last updated on June 16th.)
As of June 3rd, Italy is once again allowing international tourism from within Europe after closing to almost all travelers for months. However, non-urgent travel from outside the EU bloc looks unlikely to be allowed until the beginning of July at the earliest.
While the EU rolled out a plan to loosen travel restrictions over the summer holiday season, it too was only talking about travel within Europe.
So what's the situation for people who want to travel to Italy from the US, Australia, India or anywhere else outside the EU or Schengen zone?
European travel ban
Currently, Europe's external borders are effectively closed to all non-urgent travel, while the US is also advising citizens against travel to Europe.
The EU in March brought in a ban on all non-essential travel from countries outside either the EU (which for this purpose still includes the UK) or the Schengen Zone.
Italy, along with other EU member states, is limiting entry to EU citizens and residents. US citizens who are not residents of the EU and do not fit into one of a handful of "essential travel" exceptions may not be able to travel, and/or may face quarantine measures upon arrival.
Here is a full list of the current restrictions and possible exemptions for all travellers from outside the EU.
It's possible that non-essential travel from the US to some European countries may be allowed again on or after July 1st, but this has not yet been confirmed by any authority.
The European Commission is recommending that countries consider a "progressive and partial" reopening to non-EU travelers from July 1st.
No details have yet been given as to which countries will be included in the move to lift restrictions. Each EU nation's individual response depends on how the coronavirus numbers in the United States change for the rest of June.
What is essential travel?
The EU's definition of essential travel is stricter than many countries' individual restrictions and does not contain any exemption for visits for family reasons.
People who can travel into the European bloc include:
—Citizens of an EU country
—Non EU citizens who are permanent residents of an EU country and need to come home
—Healthcare workers engaged in crucial work on the coronavirus crisis
—Frontier workers and in some circumstances seasonal workers
—Delivery drivers
—Travel services
Some flight connections have been reinstated in June, such as Alitalia's Rome-New York route. Yet this does not mean that the restrictions for travelling into Italy have been lifted.
The US Embassy in Rome and Consulates General in Milan, Florence and Naples remain closed for their usual routine services, and only offer limited emergency services on a case-by-case basis.
Quarantine
Currently, Americans who enter Italy for essential reason – for example returning residents – will be subject to quarantine for 14 days, according to the Italian government's latest decree.
This also applies to those who are entering Italy via another European country on a connecting flight, such as via Germany or the UK, if they have been in the US (or anywhere else outside of Europe) within the past 14 days.
Many readers have written to The Local to ask if a 14-day stay in another European country before arriving in Italy would allow them to avoid the Italian quarantine requirement and/or allow them to travel for non-urgent reasons.
It seems that any traveler from the US could still be asked to demonstrate that they have an urgent reason for travel in order to be allowed to enter Italy. The Local has asked the Italian Interior Ministry for clarification on this.
On travel from the US, the Interior Ministry's offical FAQ states, "the basic rules remain similar to the previous ones. Travel continues to be allowed only for proven work needs, reasons of absolute urgency or for health reasons; in any case, you are still allowed to return to your home or residence."
"Those who enter or return to Italy from states or territories other than those listed above must spend a period of 14 days of health surveillance and isolation at their home or in another residence chosen by the individual, or failing that, determined by the Regional civil protection authority."
US Official advice
At the time of writing, US authorities are warning against travel to Europe.
Anyone planning to travel is advised to check the latest updates from the US State Department, and to find out whether they are covered by their travel insurer.
The US Embassy in Rome directed us to the following advice for any US citizens planning to travel to Italy:
Visit the COVID-19 crisis page on travel.state.gov for the latest information regarding foreign countries' quarantine requirements and other global impacts.
Have a plan to depart from Italy that does not rely on US government assistance.
Check with your airlines or cruise lines regarding any updated information about your travel plans and/or restrictions.
Visit the Embassy webpage on COVID-19 for information on conditions in Italy.
Visit the Department of Homeland Security's website on the latest travel restrictions affecting travel to the U.S.
Review the Italian National Institute of Health's website (available only in Italian).
This also applies to those who are entering Italy via another European country on a connecting flight, such as via Germany or the UK, if they have been in the US (or anywhere else outside of Europe) within the past 14 days.
The rules change frequently in both Italy and other countries. Anyone with specific questions about travel to Italy at the moment is advised to consult the Italian embassy in their country.
~~~~~~
I will try to update as often as I hear anything.
Buona domenica! 🌈