211,938 positives in Italy. Up 0.6% – 29,079 total deaths since beginning of the outbreak.
There are 1,394 positive cases in Umbria. 70 total deaths. No new cases!
1,172,670 cases in the US – 68,326 deaths.
~~~~~~
Tonight's dinner was also courtesy of Calagrana. Wonderful farro salad with seafood and a balsamic drizzle. Oh my god. It was sooooo good. There were tons of shrimps, octopus, mussels, squid. We really enjoyed it! Thanks Calagrana!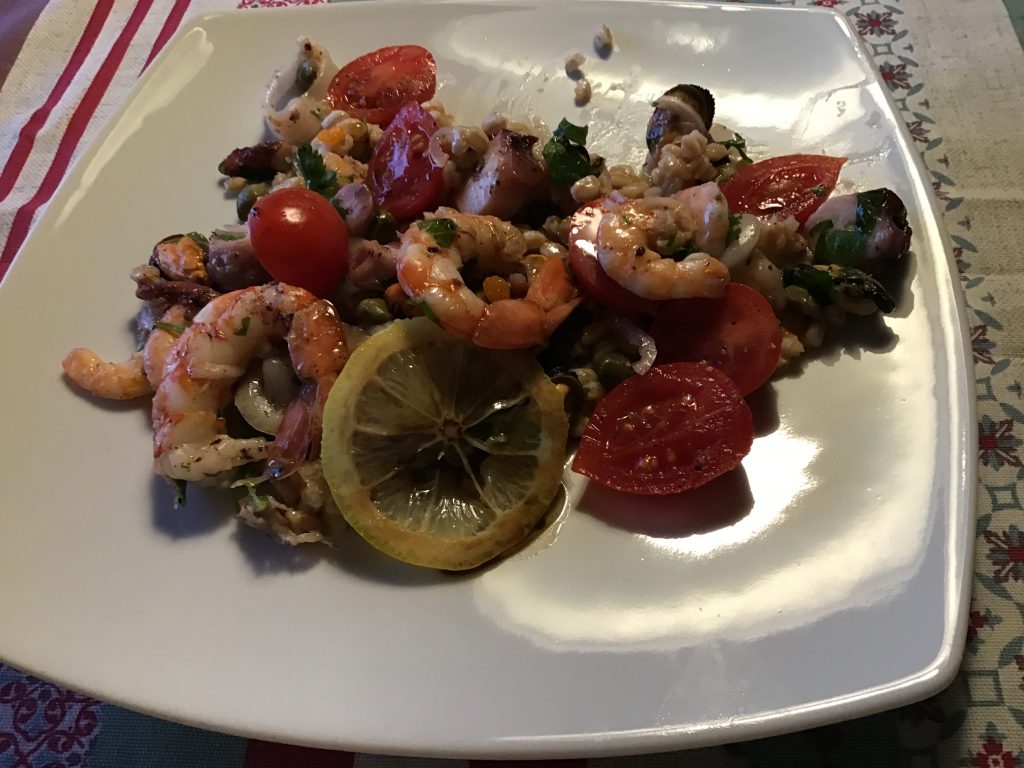 ~~~~~~~
New day! I went for a walk with my friend, Susan. Because I CAN! What freedom. How sweet it is! She met me outside and we walked upriver since she hadn't been on my side of the river in months. I say my side because both she and I live along the river. The town walls go along the river and houses are built into the walls. We live at kind of the ends of the walls at opposite sides of town.  
So we walked along turning down the path which runs behind my house to the river. There is an apartment with two big sliding glass doors right next to Bar Mary. I had wondered if it was the apartment of the artist who had passed away a couple of years ago. So I asked Susan. It is a lovely looking space. It has  pretty white modern furniture inside, not typical. It is also where the little Jack Russel terrier lives that I see out with a nice looking gray haired man. I know this because I've seen him sitting in the windows. The dog is never on leash when outside so he's noticeable.  And if you see the man, the dog can't be far away.
Anyway, the window on the left was open to the outside air. The other window was curtained. As we stood there discussing this stuff suddenly the curtains were pushed back and there stood the man in is black bikini underwear!! Oh my! Susan and I quick started walking behind the hedge. I'm sure he was as surprised as we were! Hah!
We headed up the river and before long came to a long row of fishermen. I'm sure they were happy to be out fishing for the first time, and I'm sure their wives were equally as happy to have them finally out of the house! We turned into the fields away from the long poles blocking our way — away from the river.
This took us out among the farms. I snapped a couple of pictures of the typical farms.  These farms are comprised of big fields, newly planted in corn, wheat, sunflowers or tobacco. The farmhouses sit among the fields and are surrounded by fenced in growing areas with a few grapevines, usually enough to make wine to get the family through the seasons until the new harvest. Also small orchards of fruit trees, large gardens of vegetables for eating and canning for the winter,  chicken coops with lots of types of poultry. Of course pens of sad hunting dogs living their lives in, what I consider, horrible conditions. A friend says it is all they've ever known so they live and die in the pens. In the fall they are let out to hunt. Until they are too old or don't do their job well and are disposed of. It is a sad fact of life here — the old ways don't change. Of course there are also the pet dogs, and many, many cats and kittens in the yards. These yards are immaculately groomed with ornamental bushes, trees, paths, eating pavilions, etc. Anyway, these two pictures are of the typical farms outside of Umbertide. We can see them from our apartment in the distance.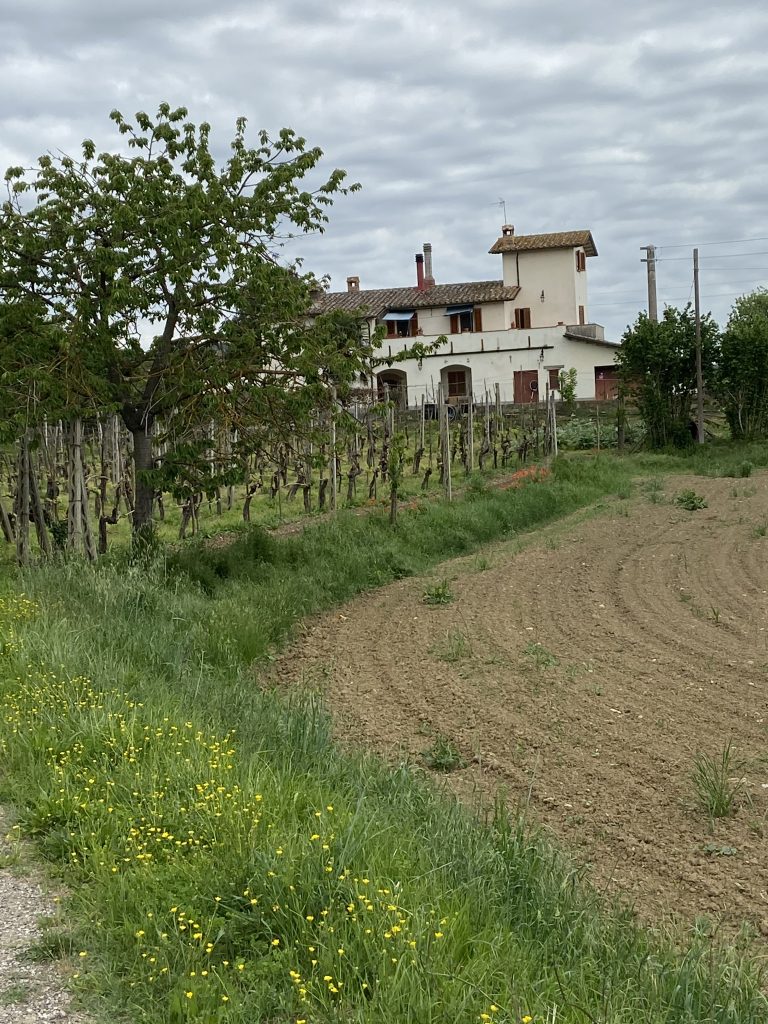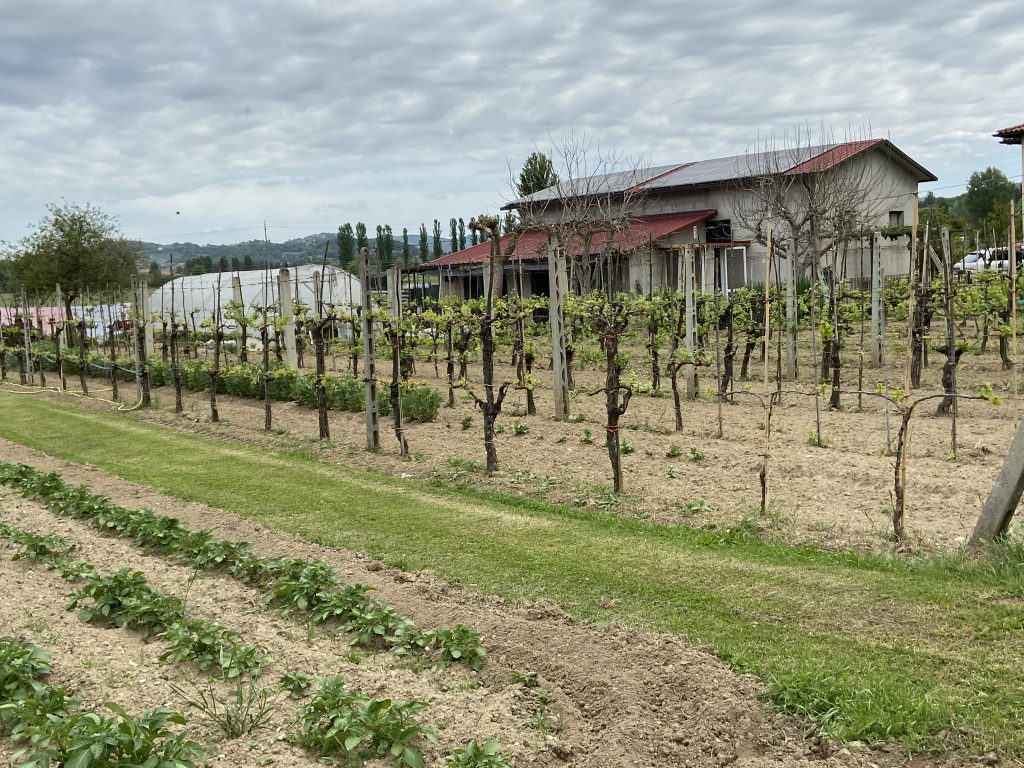 ~~~~~~
Tomorrow is our newly revived, if abbreviated, mercato. It will be a bit of new excitement for Umbertidese. I will be reporting on it tomorrow…
Stay safe everyone…🌈