A little thing I just realized…this is the first time in my adult life that I don't know who is playing in the Super Bowl. And I just read that this coming Sunday is Super Bowl Sunday 😏. It is also the next super-spreader event…some advice, Don't organize a party at home. Don't go to a Super Bowl party.
~~~~~~~~
It's time to update on our Covid situation and also talk about the future of travel to and from Italy. The emergency declaration which allows the government to make quick decisions about Covid issues has been extended until mid-April and it will probably be extended again.

Most of Italy has been rated Zone Yellow. Unfortunately we here in Umbria are Zone Orange, threatening to tip over into Zone Red. We have a steady increase of cases. This morning I read two cases of the new Brazilian strain of the virus were found here. I also heard the worst numbers are in the Perugia province of Umbria. In Umbertide we have a very famous rehabilitation center, Prosperious. Turns out there are 26 cases just in that center alone! It has necessitated the close of our hospital.

Speaking of hospitals, the big medical center university hospital in Perugia, Sibillini, is being hammered. There was a photo with a line of ambulances waiting at the Pronto Socorso (emergency). They have closed it except for Covid and emergencies. They are not allowing any visitors. This is particularly hard on Italians as they expect to practically live in the hospital with their family or friends.

Vaccines. We have heard our age group has been pushed to no sooner than April. They are still vaccinating over 80 year olds and health workers. We visited our doctor today and she says they have no idea what is happening with the vaccine. So we wait. I read an interesting article in the Washington Post about what people who HAVE been vaccinated should be able to do, and not do. The biggest issue seems to be the new strains which are loose practically everywhere now. The UK, South African, and Brazilian strains. No one knows if the vaccine people are getting now, will be protection against the new strains. And no one knows if a person who has been vaccinated can still carry the virus and infect others. This means people who are vaccinated can feel a bit safer themselves against catching it or getting very ill if they do, but they still need to wear masks etc to protect others. Because of the uncertainty I think they still recommend against traveling even if you've been vaccinated.

Travel. The EU, and Italy, have no plans to loosen the travel restrictions. In fact things are tightening up even more. The Italian government updates its rules and restrictions about every 2 weeks. And they don't try to predict any farther into the future than that. So there's no way to tell when the travel ban will be lifted. My guess is not until most Italians have gotten the vaccine and we have gotten the disease under control here. We are far from that right now. They don't predict the third group of people (under 60) to be vaccinated until October or November at the earliest. I don't think 2021 will be the year tourists return to Italy. 🙁
~~~~~~
Flatbread!
Today I decided to make a old recipe I've been making for years. Rosemary flatbread. I ordered some dry yeast on Amazon because the stuff you get here is very unpredictable. This is just like the Fleischmans I used to get in the States. So to try it out, I made…flatbread! It was thicker than my previous loaves because I don't have my big cast iron pan here. Still it was tasty.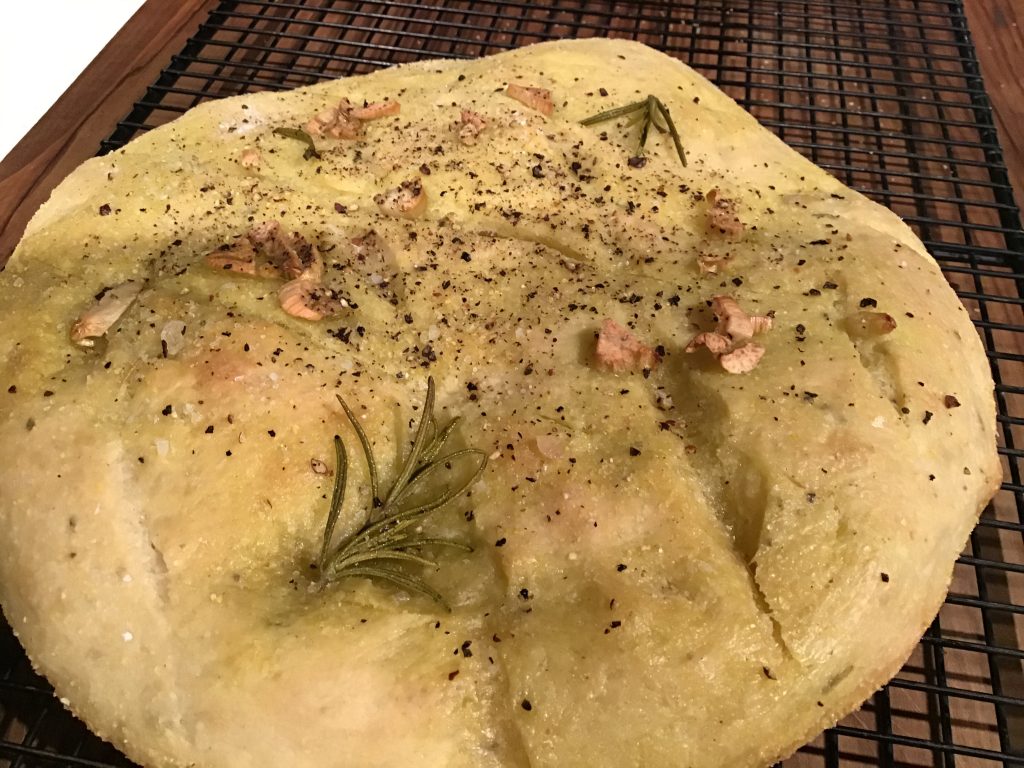 Sentence in Italian "Il tempo non è freddo questa settimana" in English, "The weather is not cold this week". Pronounced – eel temp-o non A fred-doh quest-ah set-tee-mahn-ah.
~~~~~~~
Stay safe. Don't go to a super bowl party! Andrà tutto bene 🌈