Here it is already Thursday. It's been a very cold week. It would be nice if we could get some warmer weather. I didn't write about our lunches out with friends last weekend. There were good things, and bad things but it was great to see friends.
Saturday we went to our nearby Restoro restaurant with friends who own a home here. The last time we were there was in the summer, when we had to fight off the aggressive chickens. This time we were treated to a show by the resident peacock. I prefer Mr. Peacock! I think he was showing off to his own reflection in the door. Gotta defend his territory from all intruders!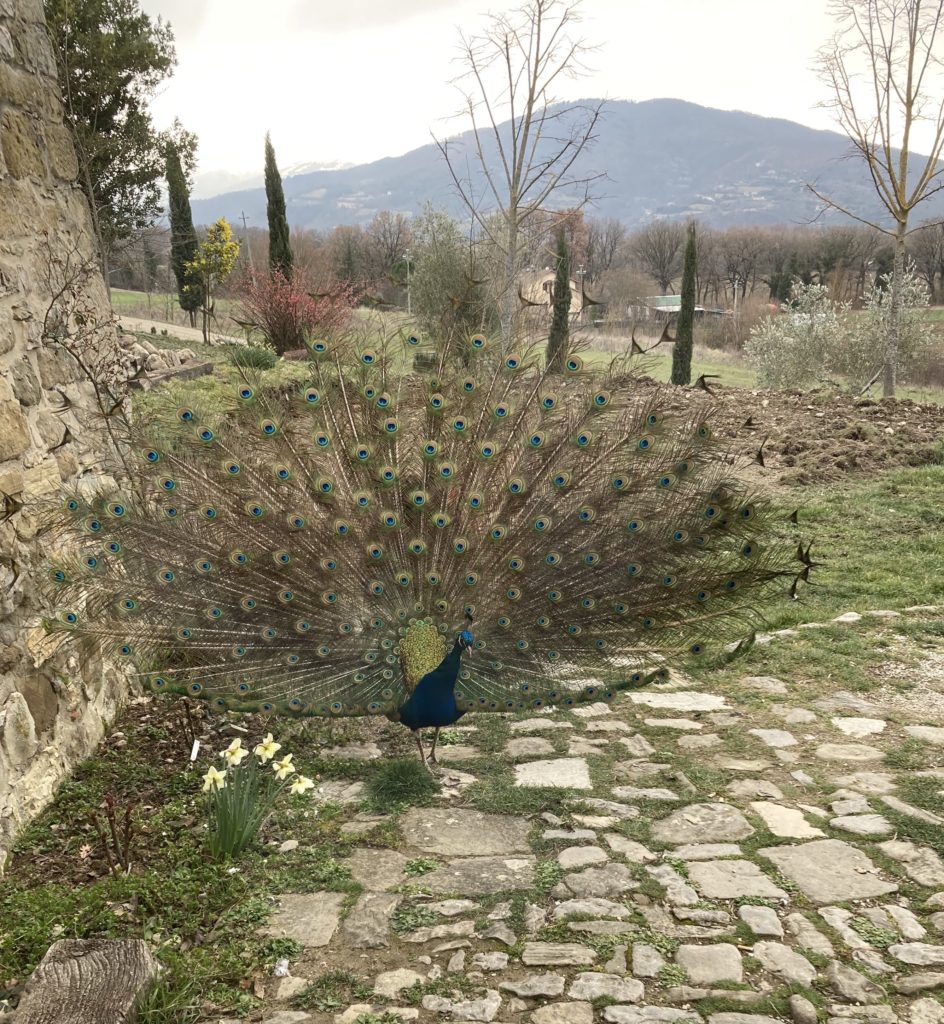 Our friend kindly brought Luther some cigars which he ordered and had sent to them. They also brought a roll of reed for my basketmaking. Thanks! Lunch was not terribly remarkable. But the company was great. My tagliatelle with bolognese ragu. Good.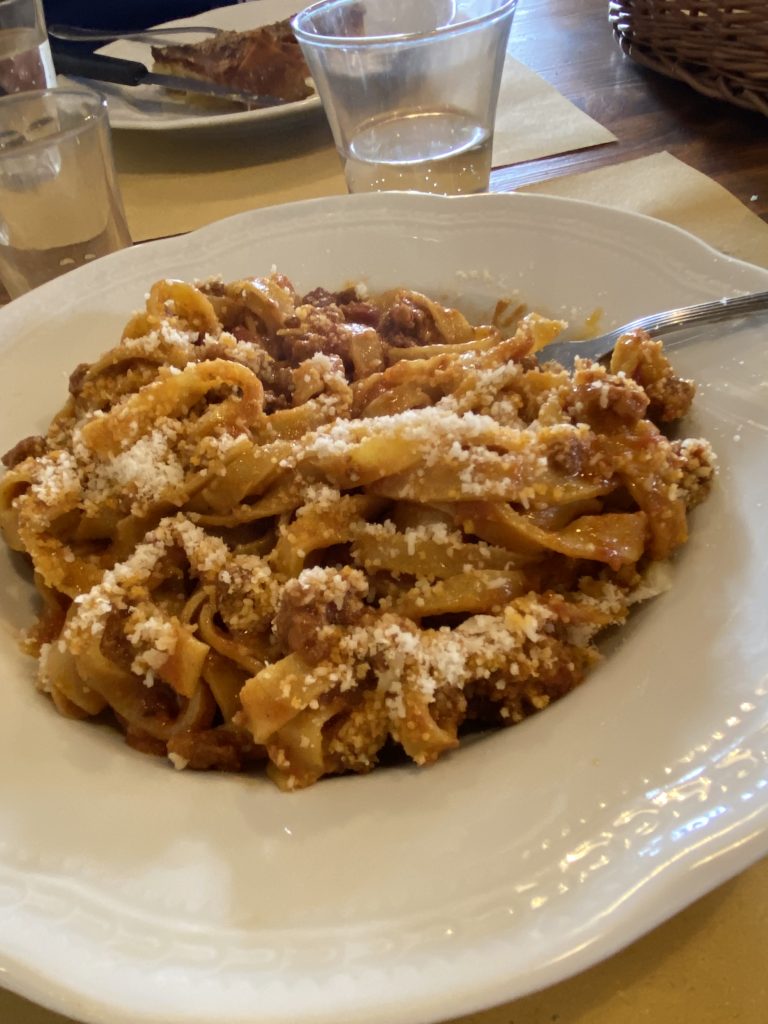 On the way home, Bob was driving, they were pulled over for a routine traffic stop. Bob and Debbie are dual Italian/American citizens. This allowed them to buy and register a car. So when the cop sees the Libretto for the car is in his name but he doesn't have an Italian drivers license, he upbraids him for driving illegally. He says, if you live here more than a year you must have your Italian Patente. We had even discussed this at lunch and I was unsure of how the law applied to them. Anyway, to keep the nice police person happy Luther drove back. Then Bob drove home.
For those who don't know, if you are a resident of Italy, after one year you are required to get the Italian Patente. Since you cannot buy a car until you are resident, if you own a car this tells the police that you are a resident. There is no way around the rule to change your license to italian. If you are a US citizen there is no reciprocity. Some think they can just keep their International driving permit but that is merely a translation of your US permit so it is not legally a drivers license. The test is notoriously difficult and it is only given in Italian. Many people say it is the most difficult thing they had to do to live here. The page I created on this website explains the whole thing and gives links to the practice tests and to other peoples testimonials. Scroll down to the section on cars and driving.
But wait! There's more! It turns out that our friends are a special case. They are dual citizens registered in A.I.R.E. (Anagrafe Italiani residenti all'estero). This allows them to buy a car without being residents. If you are not a dual citizen you cannot buy a car in Italy until you have become a resident. So they own a car, but are not residents. If you come here to LIVE full time, you will be a resident. If you are not a resident then you do not need to change your license to an Italian one. The police person didn't know this. It is an unusual situation. So from now on, Bob and Debbie will carry the Decreto which says they can own the car but are not residents. They can show this to the cops if stopped again. Whew, what a relief!
~~~~~~
For our lunch on Sunday we met Steve. He and his wife bought an apartment in Spello and he is here to get things moving on the renovations they want done before they move here in June. He also was kind enough to bring us things we needed from the US. Cigars for Luther, what else? And vitamins for me. Not that I cant get them here but they are super expensive and sold just 30 pills at a time. I'm used to the mega bottles of hundreds of pills. Anyway, thanks to Steve, we are all set.
We decided to meet in Bevagna. Oddly, Spello, which in all other respects a nice town, has no decent lunch restaurants. Dinner, yes, but not lunch. So, Bevagna it was. The restaurant is Delizie del Borgo Bevagna. I loved this little place situated in a park just outside the walls. I also loved the people. They were all super friendly and nice service. But, sad to say, I didn't like the food much. To start I chose the insalata di carciofi. Below is a picture. it was very thinly sliced raw artichokes, lightly dressed in oil and maybe vinegar. On a bed of lettuce with grated cheese. At first it was pretty good. Super hard workout for the jaws chewing. Crunchy. After maybe half of it, my mouth completely puckered up inside. It was not pleasant. I love artichokes any way, fried, boiled, raw, but I've never had so many raw at once. Cumulatively they are 😳 in the mouth!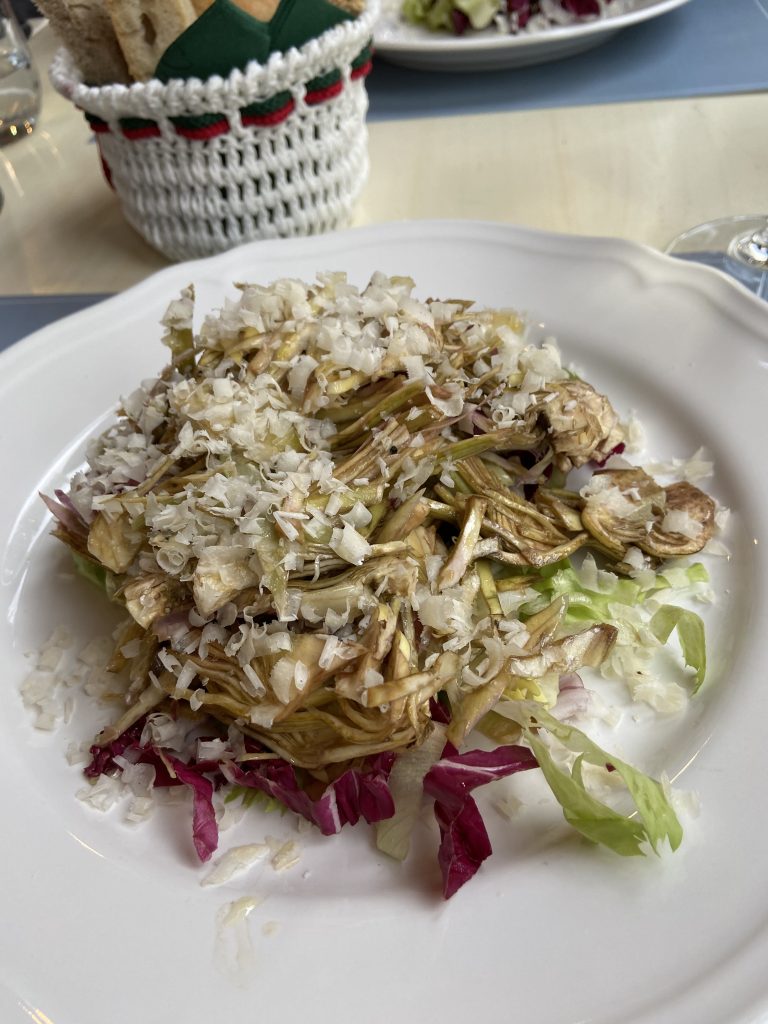 The boys got the polpette but it was one, gigantic meatball. I think they liked it OK.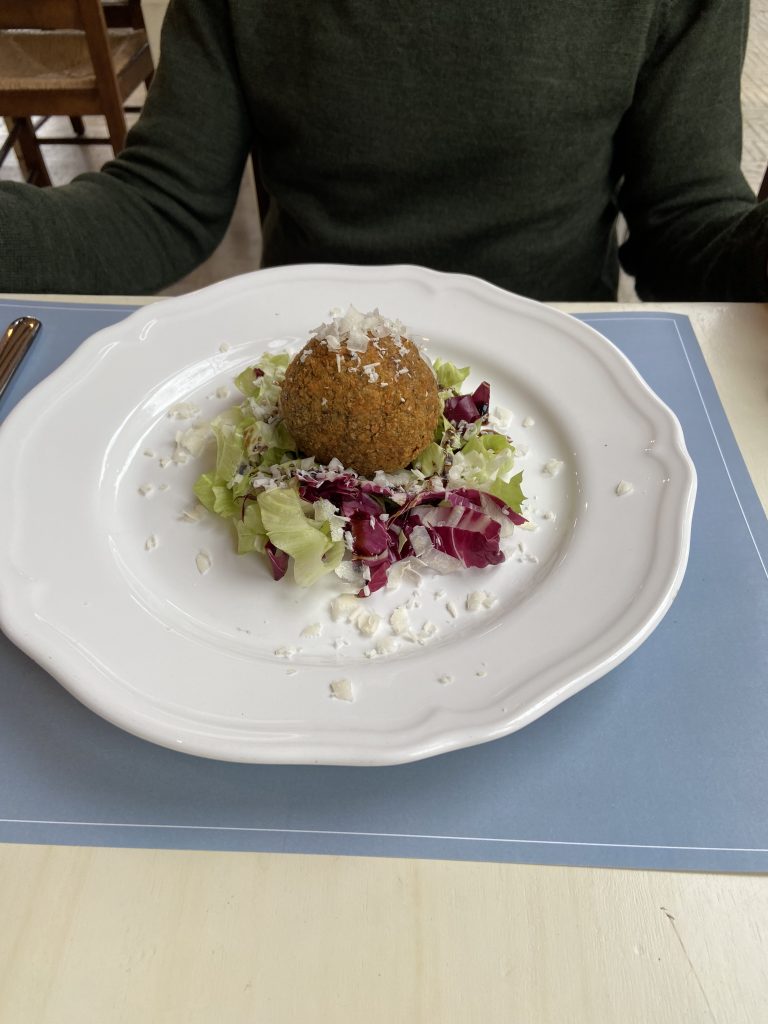 My primo was cappolletti in brodo. Cappolletti means little hats. A small stuffed pasta. It was good, if unremarkable. The best thing the lunch had going for it for me was that it was light. Luther got the steak. It looked not very appetizing, but it did taste good. I forgot what Steve got.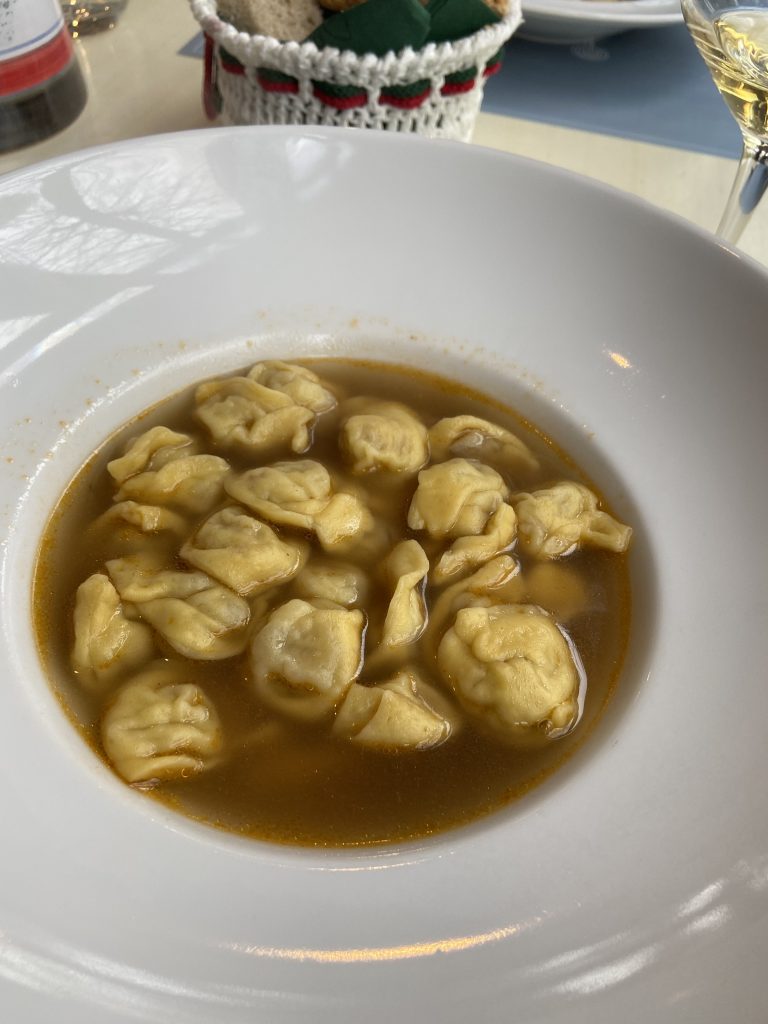 We loved the little cups they served the coffee in. Local ceramicist.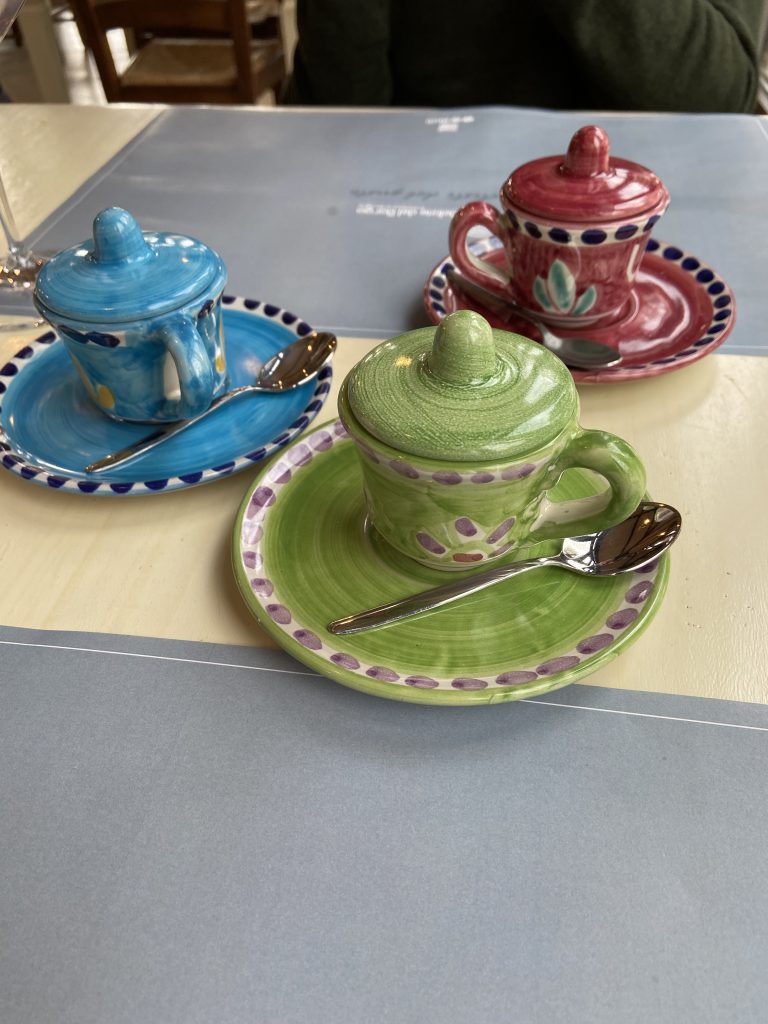 It matters not, we had fun and it was good conversation. I wish Steve all the luck with getting his house into shape. I look forward to visiting Roselyne and Steve once they get settled.
~~~~~
Now I want to mention how I feel about this horrible war in Europe. Other than the fact that the price of gasoline and diesel in Italy is the equivalent of $10.00 a gallon. That doesn't matter to me. It is nothing to what the Ukrainians are suffering. My heart is with them. We are watching the news every night on CNN. Horrible. A number of people have asked if we are worried here in Italy. Some of the young Italiani we know are quite scared. I am not really worried per se but I grew up in the Cold War. So this is not as frightening for me. I'm just so sorry that this nuclear sabre rattling has recommenced. I thought the world had dodged this bullet. That said, should Putin decide to use his nuclear arsenal it will be the end of Europa, and the US, too. It is just as easy for him to hit the US as here. I pray somehow we can figure out a way out of this. Maybe the sanctions will prove too much for the Russian people and they will rise up. After all, Putin, who says he is saving the Ukrainians, is actually destroying them. He says they are Russians…so why is he killing his own people?
Andrà tutto bene 🌈 Speriamo di si…😕