Tuesday, September 13
It was a drive across Germany this day. All on Autobahns. It was just as I remembered — parts of the road were light in traffic and had no speed limits, and then there were the staus (traffic jams) mostly caused by road work. It was around 4.5 hours. Luther did get the Giallo Angelo up to around 190 kph – around 120 mph – AND we were passed by cars going faster. A one of a kind thing, the German Autobahns.
Unable to find a restaurant we stopped in a rest stop to get something to eat. Then proceeded and arrived in Herrsching am Ammersee around 2:45. The nice lady told us to sit in the garden where we enjoyed a glass of wine while our room was being finished. We decided to reserve in their restaurant for that evening.
We wanted to stretch our legs a bit so we walked down to the lake, maybe a ten minute walk. There were a ton of people there. There is a path around the lake and there are a couple places to eat or get a drink.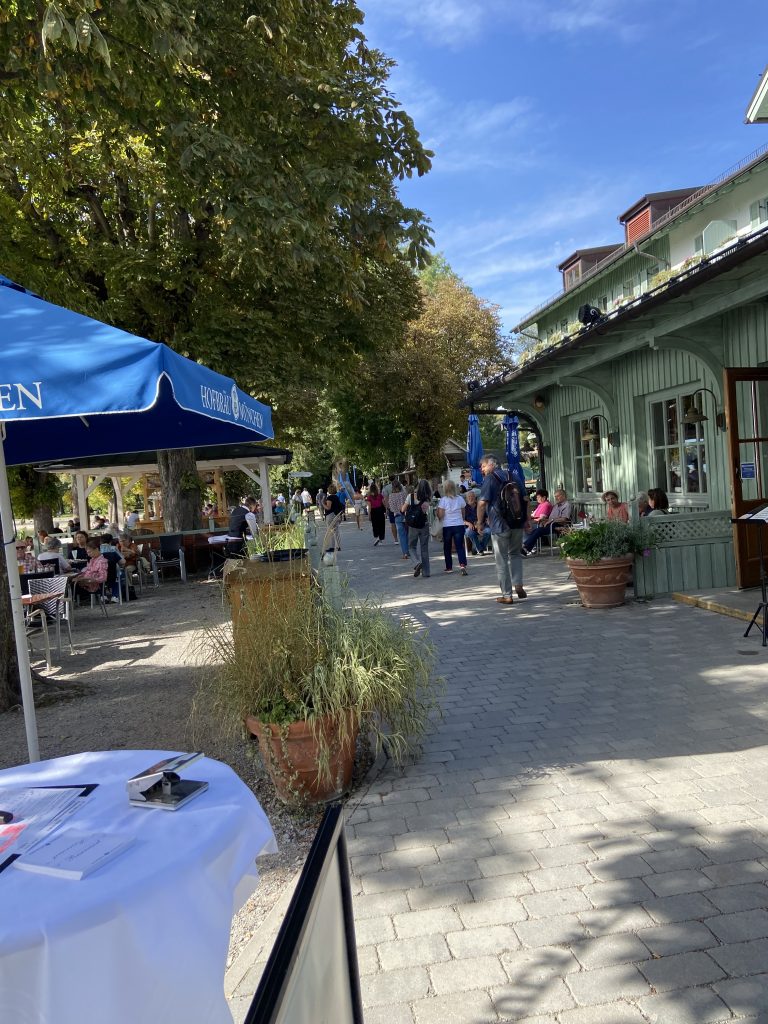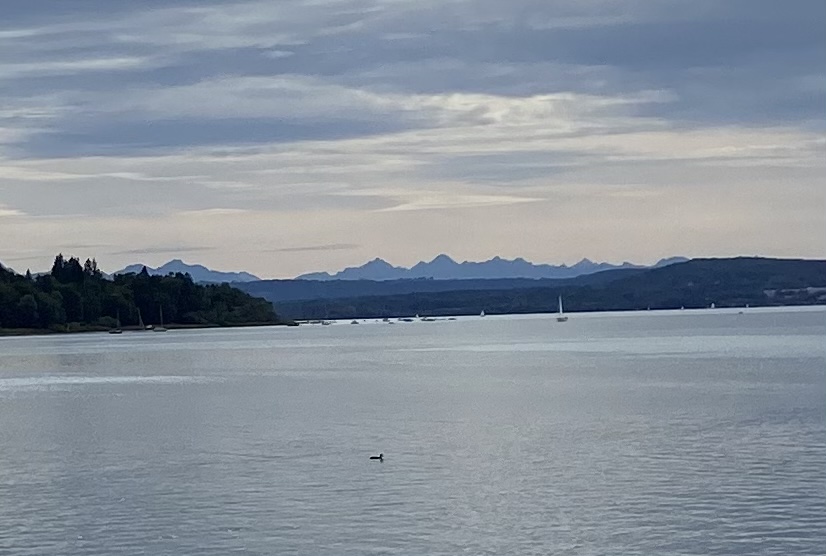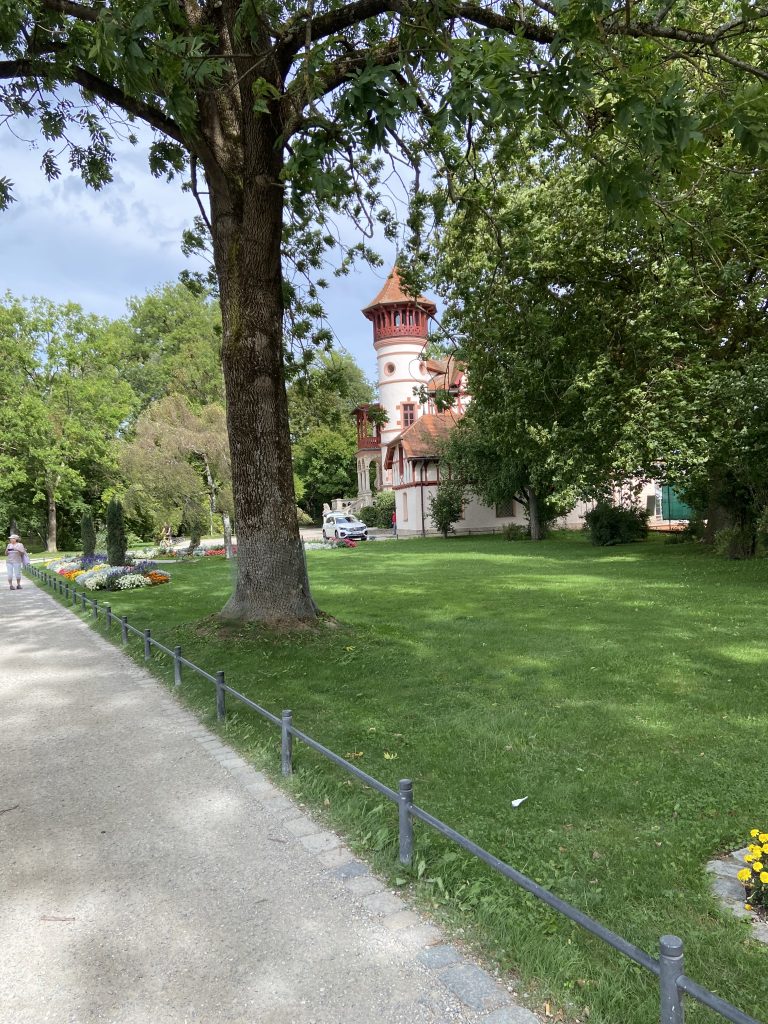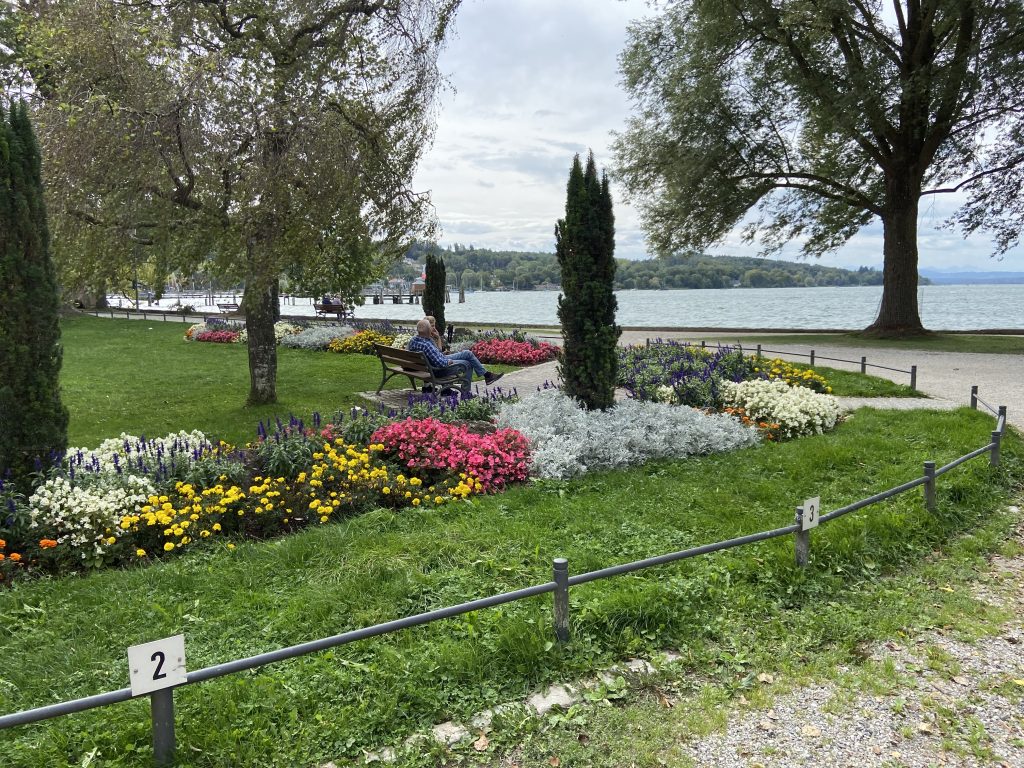 After showers and naps we felt ready to go again. We had a bottle of wine brought up and had a glass, then went down to dinner. I didn't take pictures. The food was the second best on this trip. It has been a culinary disappointment so far. I had carpaccio and a tagliatelle with Steinpilzen. Can't get away from Italian cuisine around here! Steinpilzen are the same mushroom as Porcini or Cepes. They are just being foraged out in the woods now as autumn is the season. If I see them I get them. Or order them. All was good. We retired to the garden and then to bed.
Wednesday, September 14
They have a terrific breakfast here. Wowie. And I was interested that not one single thing on our table was waste. Everything was in individual glass jars. We each had five little jars to choose from. They contained fresh fruit, yogurt, oatmeal, butter, or a fruit and cream dish. Then came the meats and cheeses and breads. Good German bread with many kernels and seeds. Confiture, jams, honey rounded it out. Oh, and fresh squeezed juice and not-too-bad coffee. It was perfect.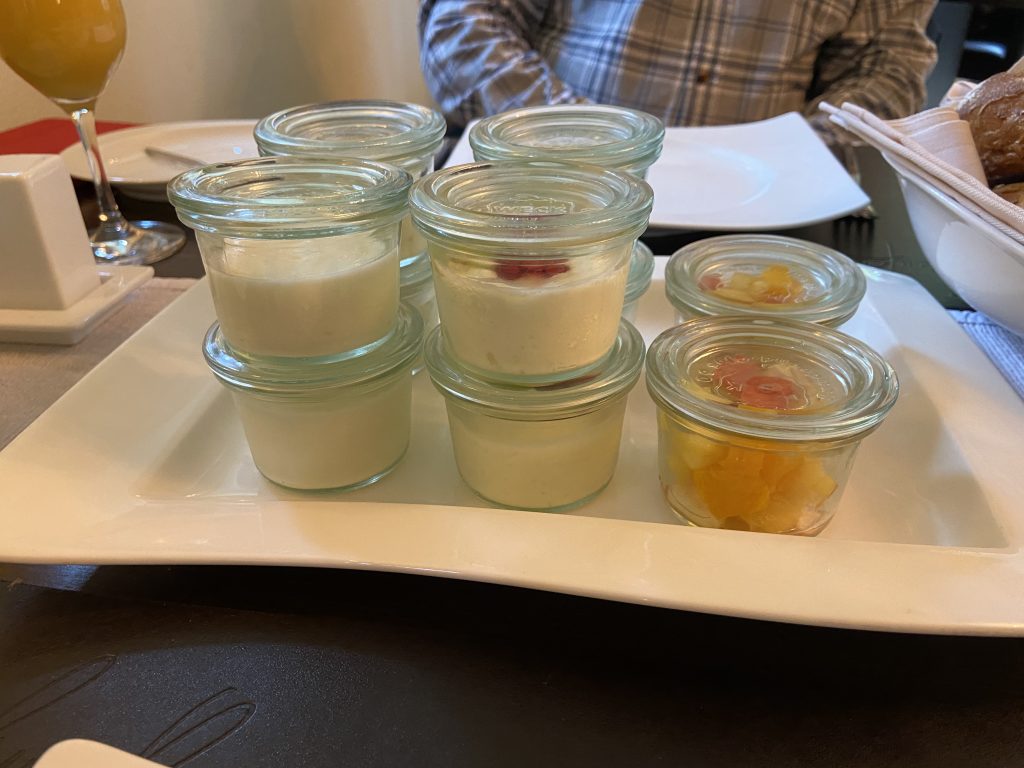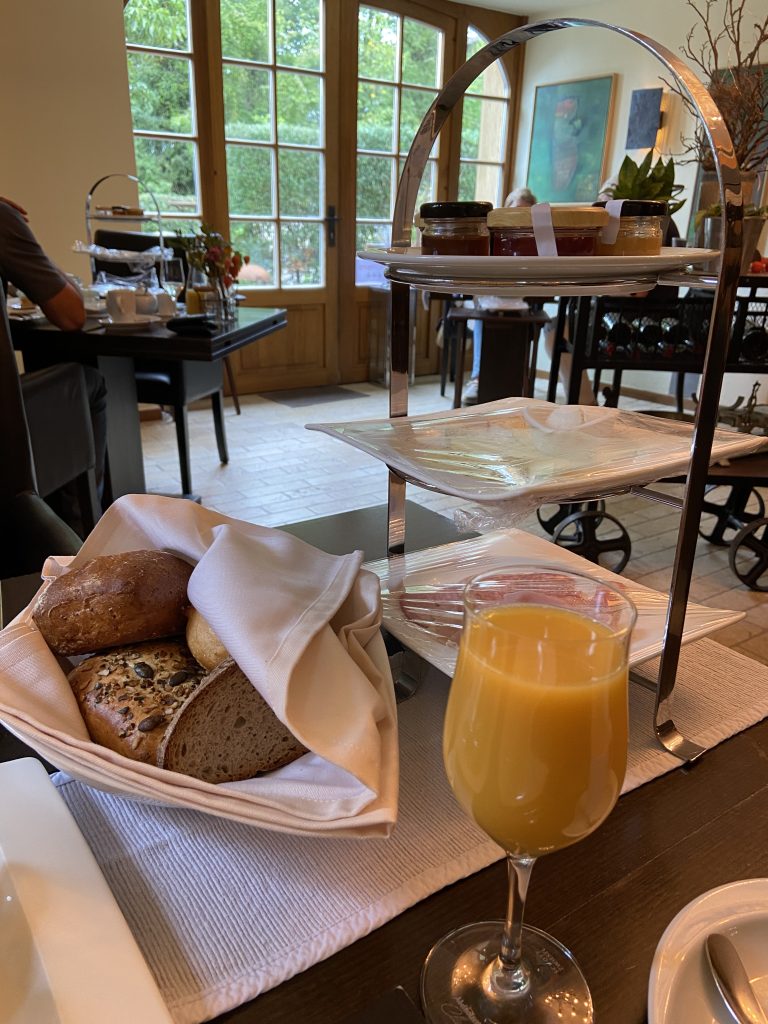 After breakfast we went for a walk to the lake and along the path that goes around it. It was lovely except for the weather. The wind was fierce and there was intermittent rain. But it wasn't that bad that we didn't continue. We watched the paragliders, and the wind surfers. They were in their element.  Returning to Herrsching we decided lunch was in order so we stopped in the Seehof Herrsching. It was right on the lake. We had fish with potato salad and a great wine from Franken (in very northern Bavaria). A wine we remembered from our days in Frankfurt. It is in a distinctive shaped bottle called bocks beutel — translates as a goats testicles 🙂. It was drier that what we had been drinking and much more to my liking.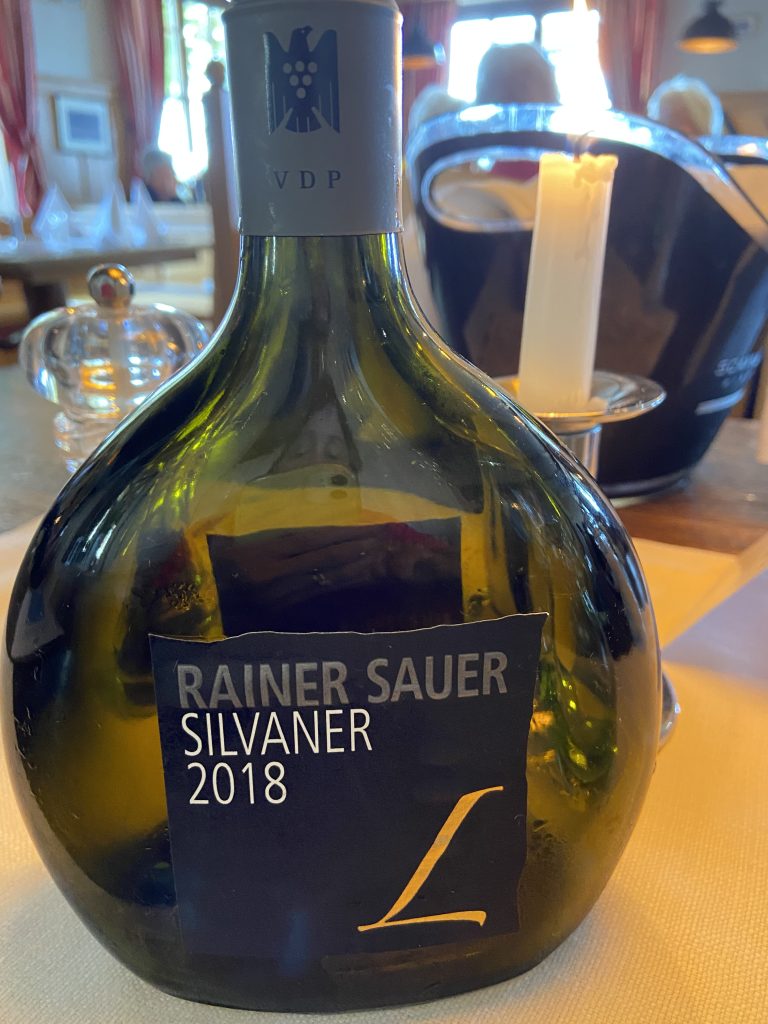 We took a different route through town and made a reservation for dinner in Zum Post, near our hotel and it has a real beer garden. Should be interesting!
~~~~~~~
Dinner was exactly what we expected. A German dinner. In a German restaurant.  We had Augustinerbrau Oktoberfest beer. And Luther got his schnitzel and I had fried chicken with salad. Oktoberfest in Munich starts this Saturday. First one in 3 years due to Covid. I am sure it will be swamped.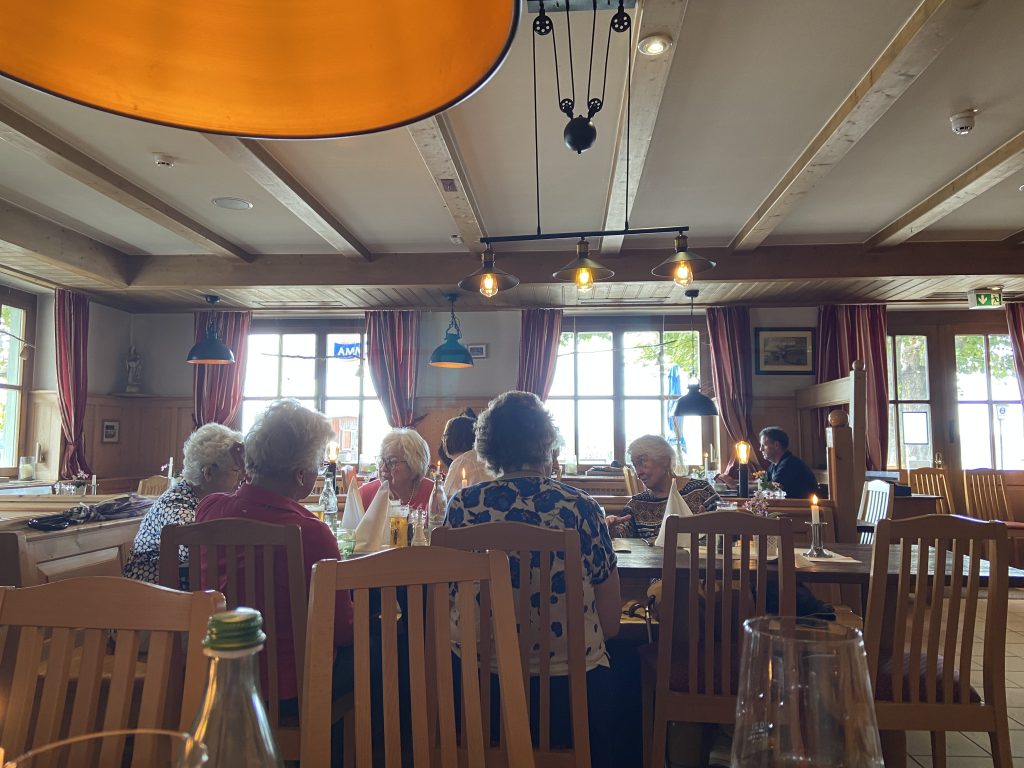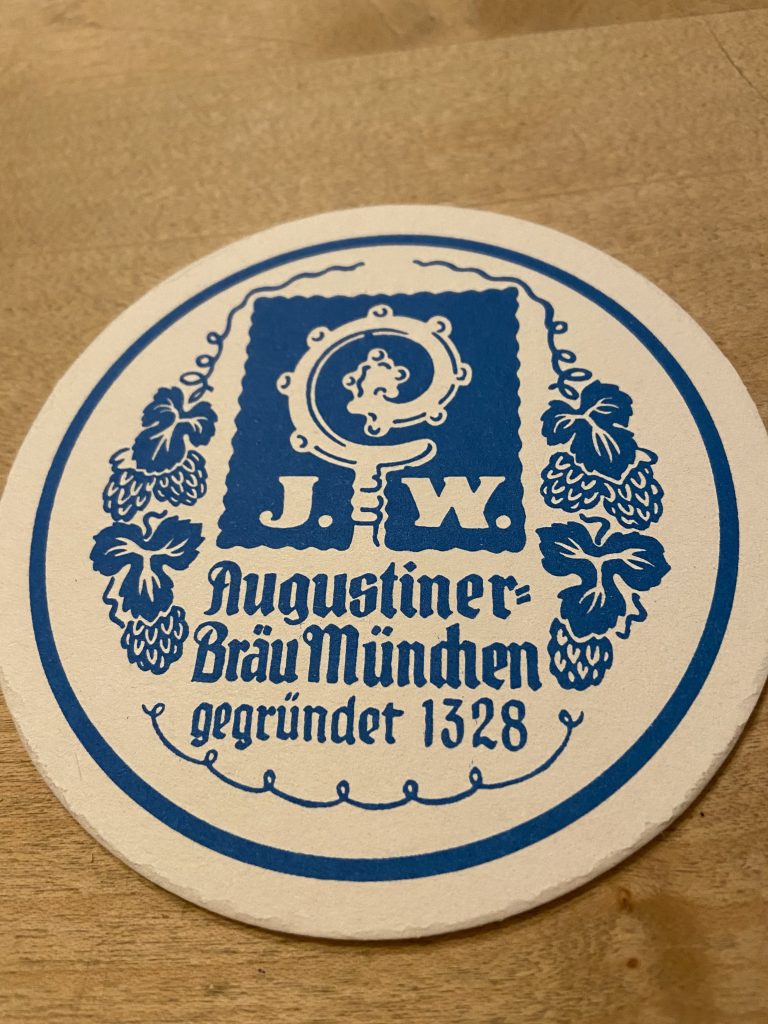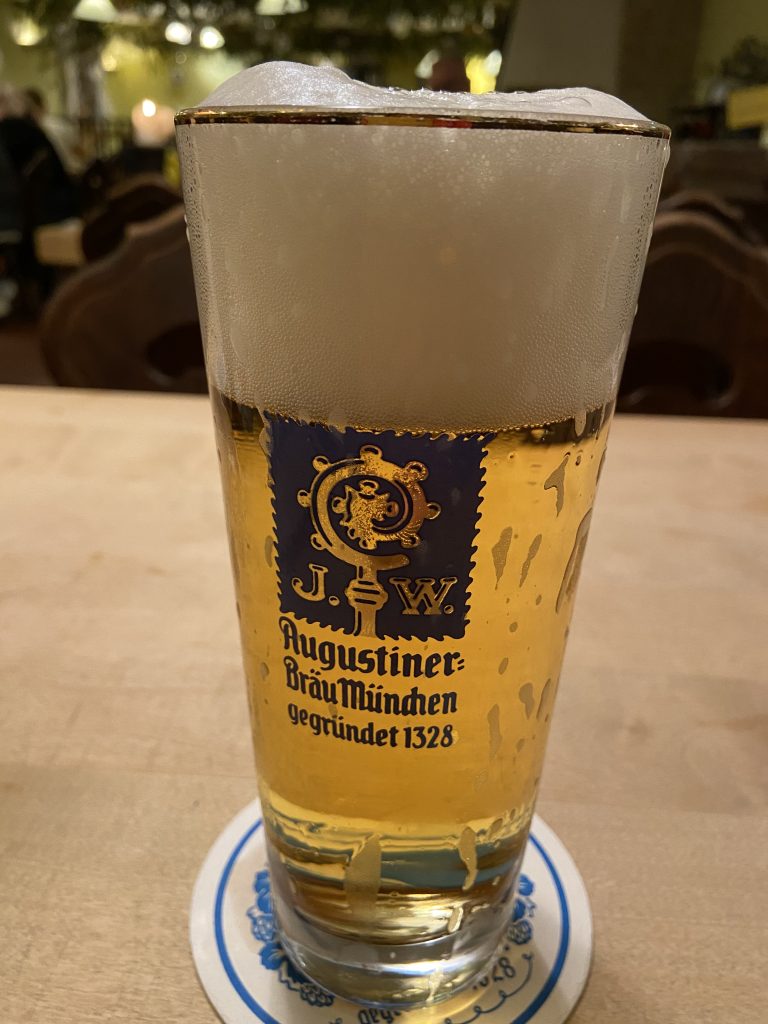 Thursday September 15
After another fine breakfast we drove to the next lake over called Starnbergersee. First to the town called Starnberg. The day had changeable weather. Clouds, then sun, then spitting rain. But not too bad. We visited the Starnberg museum. It was a great exhibition of life around the lake back in the 1700s and 1800s. They had amazing pleasure boats that sailed the waters. King Ludwig came there regularly. There was an exhibit of old photographs from then. They showed everyday life. There were many schlosses along the banks of the lake. They had all sorts of competitions in boats like jousting, and racing. I took some pictures.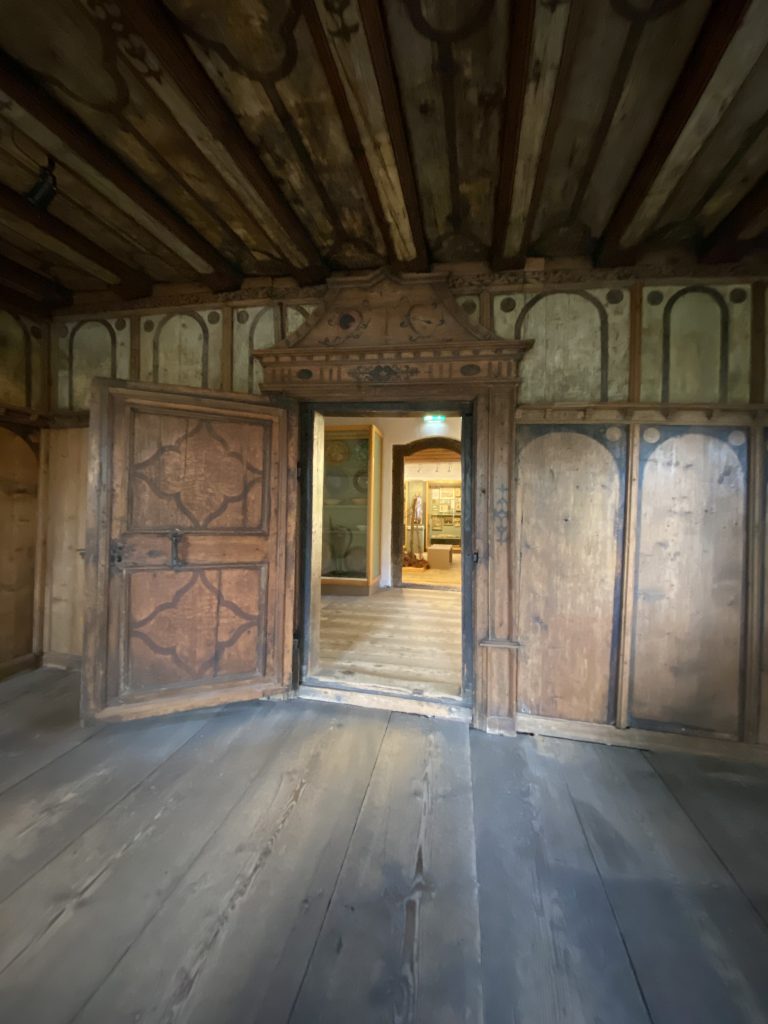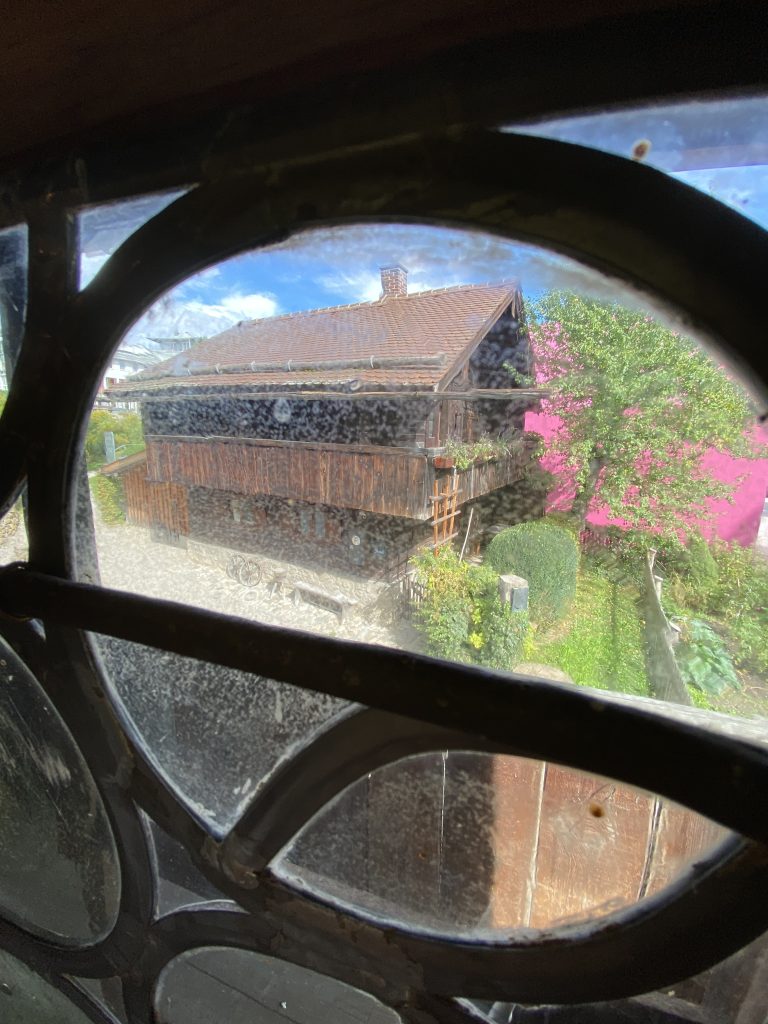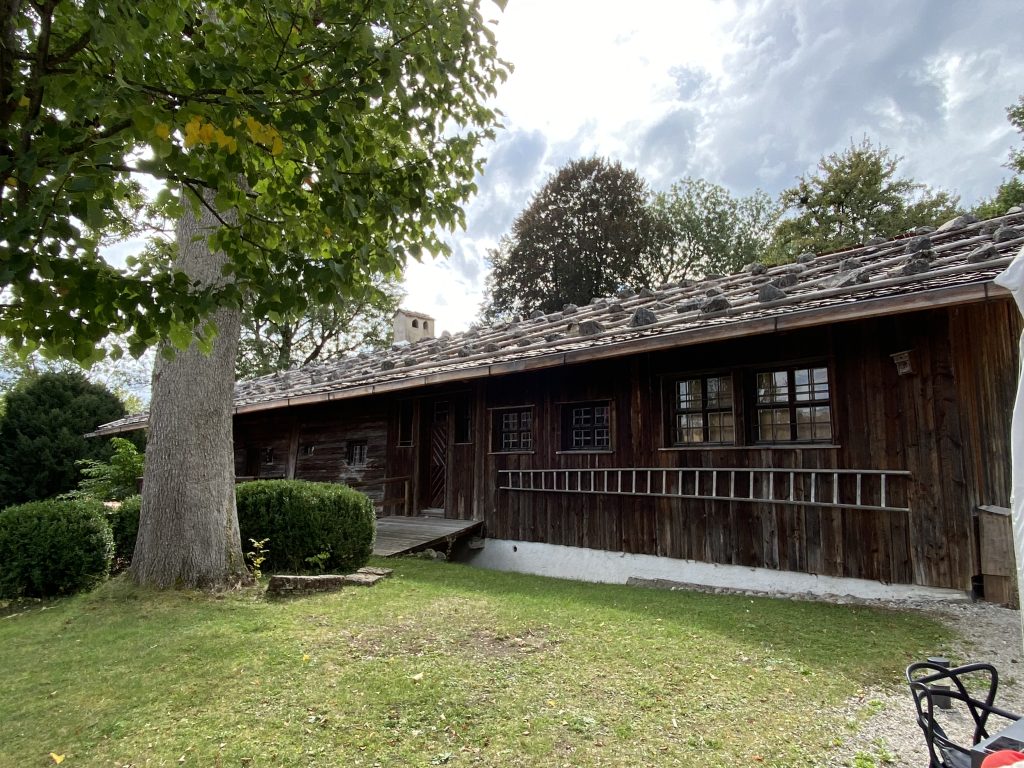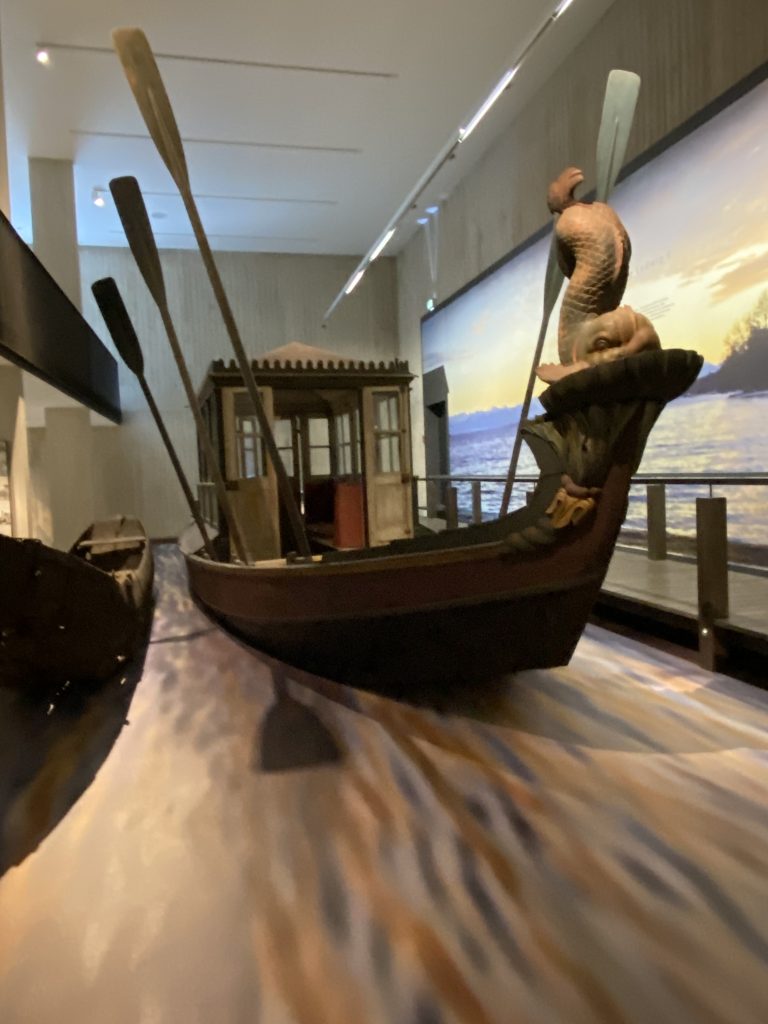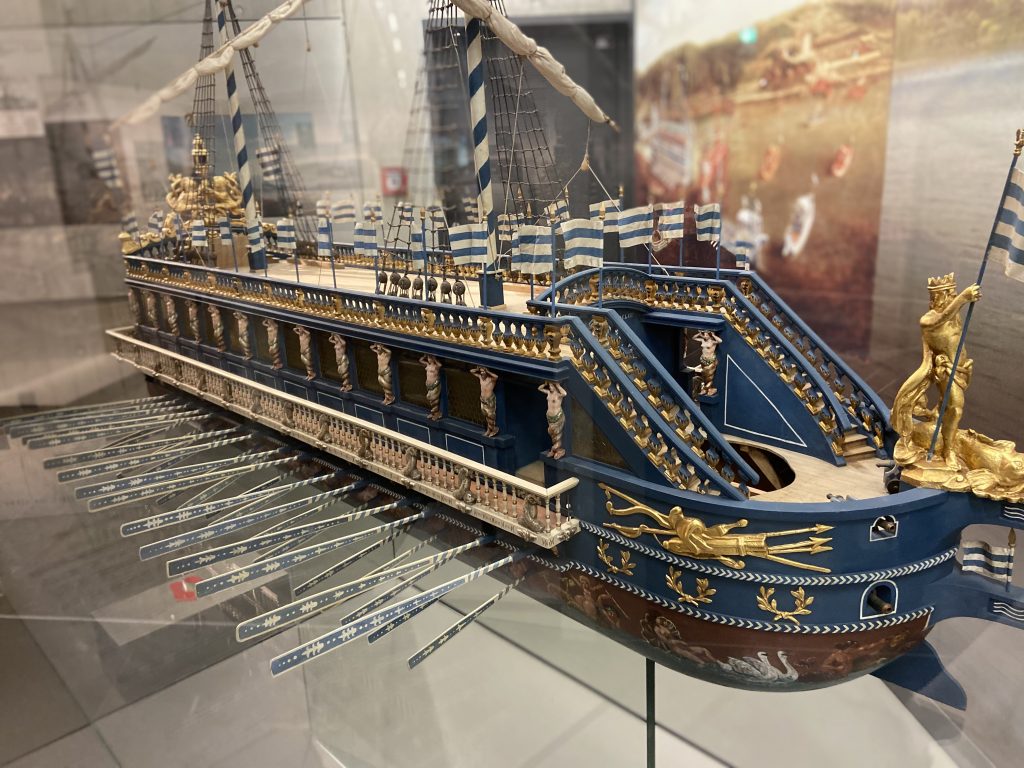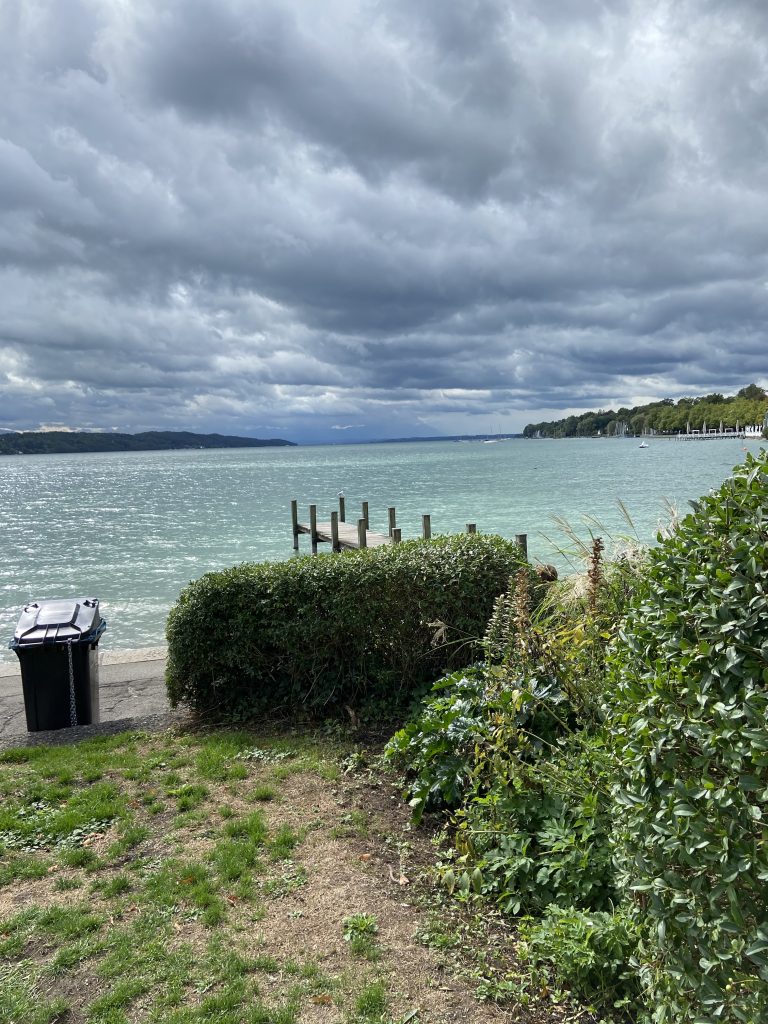 Then we drove down to the other end of the lake to a pretty town called Bernried am Starnberger See. Really pretty village. It was lunchtime and we found a place called Seeblick. Another very German but leaning more upscale than a Bierstub or Biergarten.  I had a very nice Zanderfilet that was grilled (for an change from fried) with lots of vegetables. Very nice.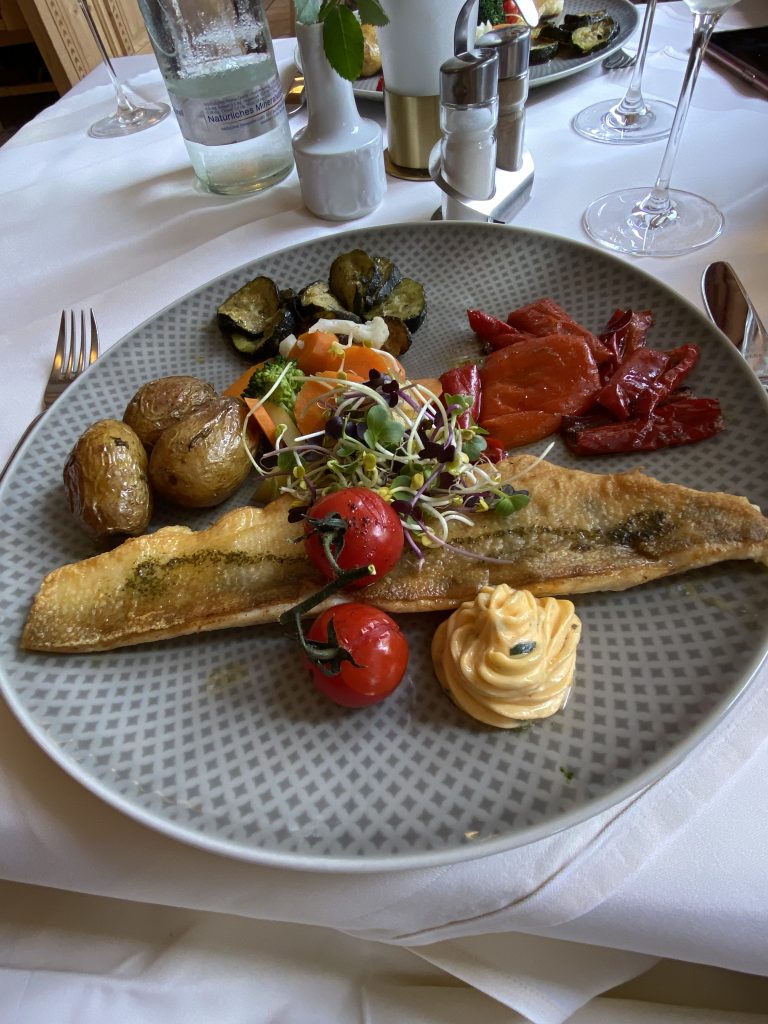 Tomorrow we head east to near Berchtesgaden. This is where Hitler had his Eagles nest. I hope the weather reports are wrong because it calls for rain all three days of our visit ☹️.