This is a Trip Report, so skip if you're not interested
~~~~~~~
We decided to do a trip while the window of opportunity is open for us. Who knows how long it will last. One of the last three regions we haven't yet visited, Sardinia, or Sardegna as the Italians call the island. It is north of Sicily and just south of Corsica in the Mediterranean. Things are not too good covid-wise in Sardegna. 2.3% RT. And they are having big wildfires on the west side of the island. Devastating the farmers. Sadly we read these fires are arson. The people who set them are firefighters who will be hired at €100 a day to fight the fires. Despite these issues we decided to go through with the planned trip.
We opted to fly. You can drive to the west coast of Italy and take a ferry. That way you've got your car. But we decided to fly. We could fly out of Perugia to the southern end of the island and drive three hours to our chosen destination. Or we could drive 2 hours to Ancona on the Adriatic and fly into the airport in the northern part. We decided on this one. We had not flown out of Ancona before. It's chock full of the so-called low cost airlines. WizAir, RyanAir, Volotea and Vueling. It was a pretty easy drive except for construction zones. We had arranged to park off airport and that all worked well. We got checked in with all the hordes going to either Olbia (our destination) or Catania in Sicily. Lots of young people flying. The plane left on time and arrived 15 minutes early. We picked up the rental car and headed north to the Costa Smeralda. Emerald coast.
Really interesting terrain. Rough, rocky and reminiscent to me of the US southwest. Susan said it reminded her of Baja. There were enormous, wind sculpted rock domes thrusting up dramatically. And in the distance serrated ridges shot high into the sky in jagged peaks. There were houses and hotels all hidden out in this desert-like landscape. The ones I could see were much like the adobe houses in New Mexico with clay exteriors painted in pastel earth tones. With flat terracotta tiled roofs.
Our hotel is called Grand Relais dei Nuraghi. It is a small boutique hotel with only about 30 rooms. Many of the rooms are in separate cottages or duplex cottages. We checked in and got unpacked. Went to the pool for a glass of wine and later we had dinner reservations.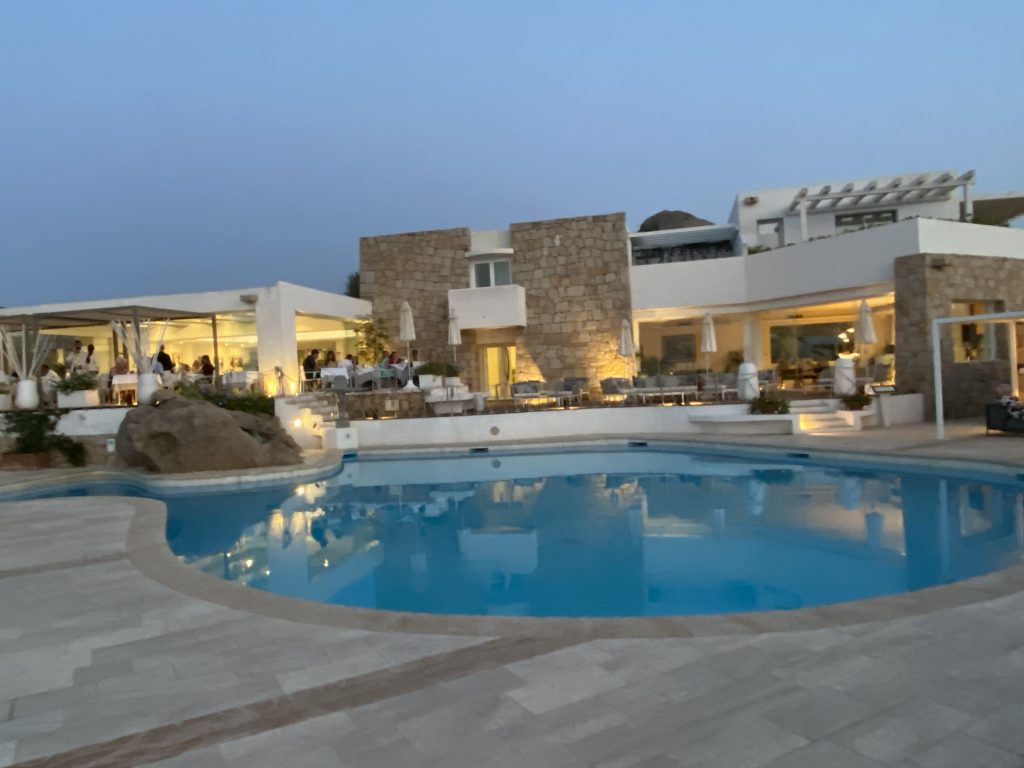 The food was good without being notable. They do half pension so many of the guests eat there every night. It's not open to the public. I had a very nice shrimp appetizer, a carrot soup and then the "catch of the day".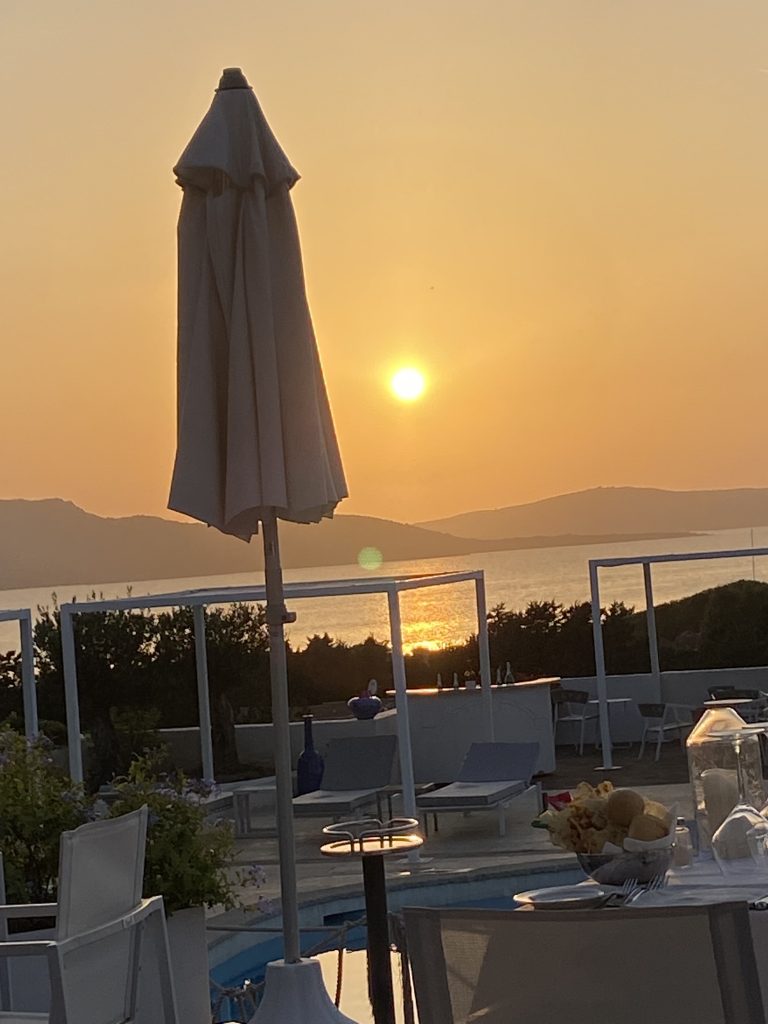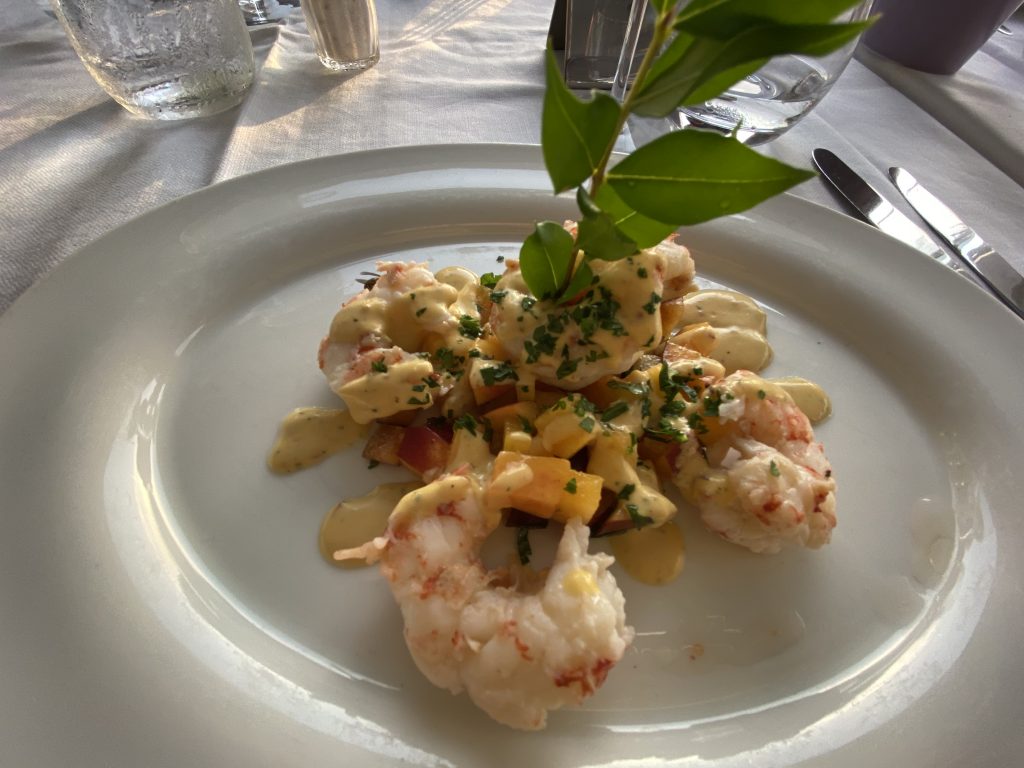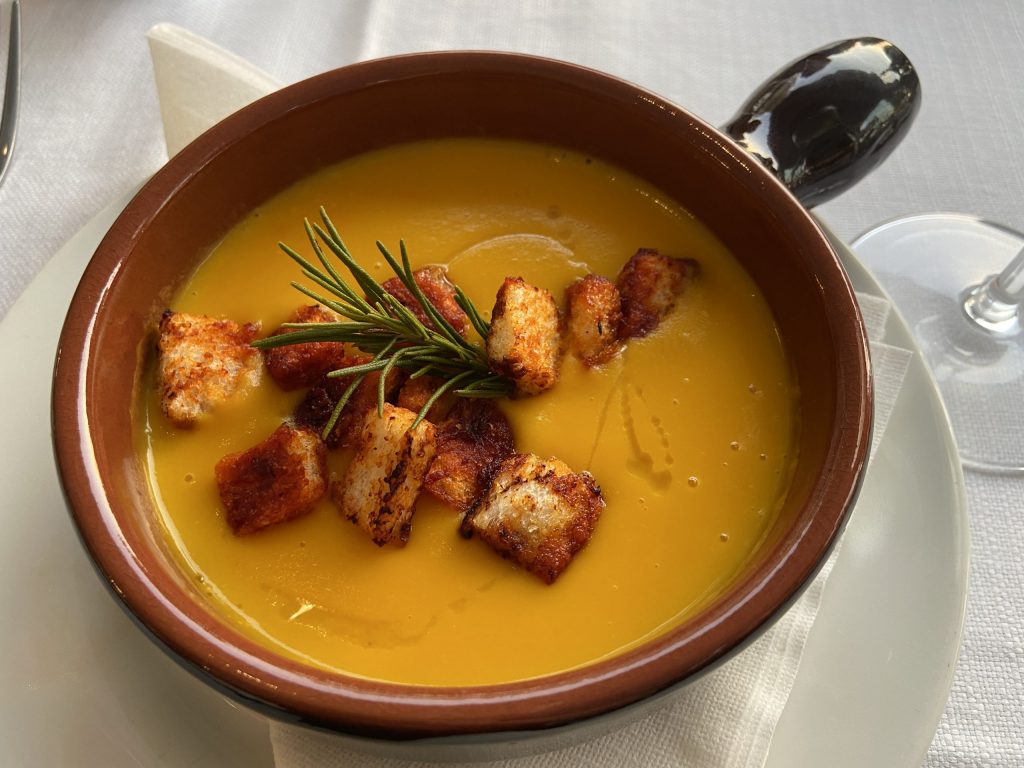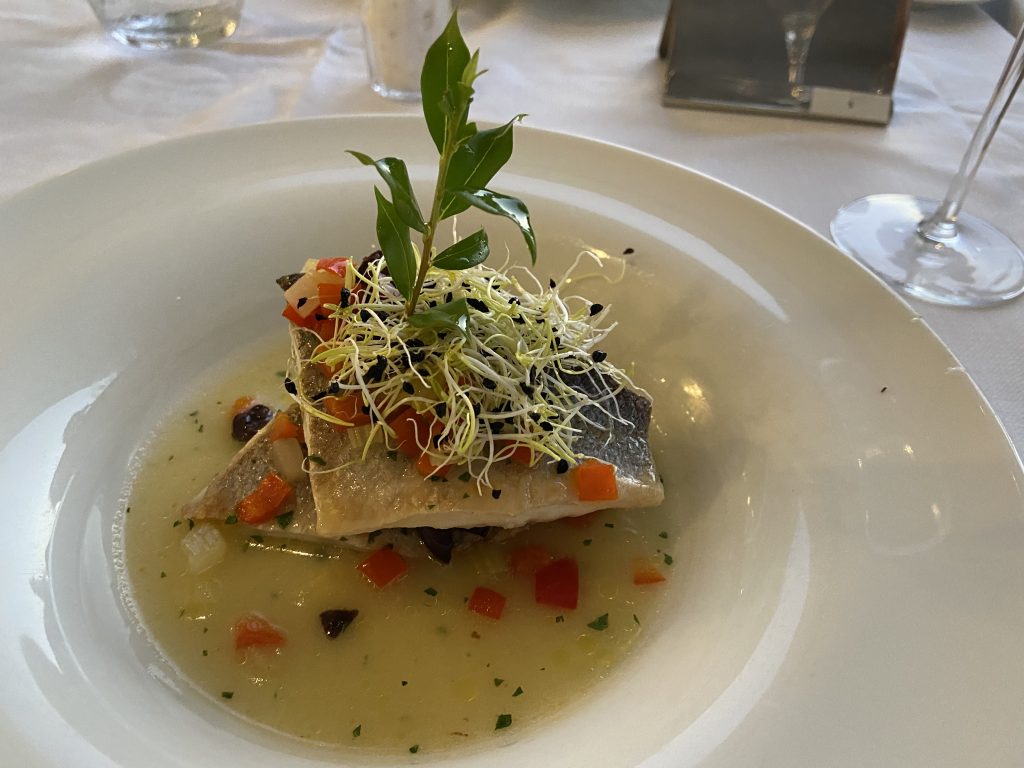 ~~~~~~~
Wednesday July 28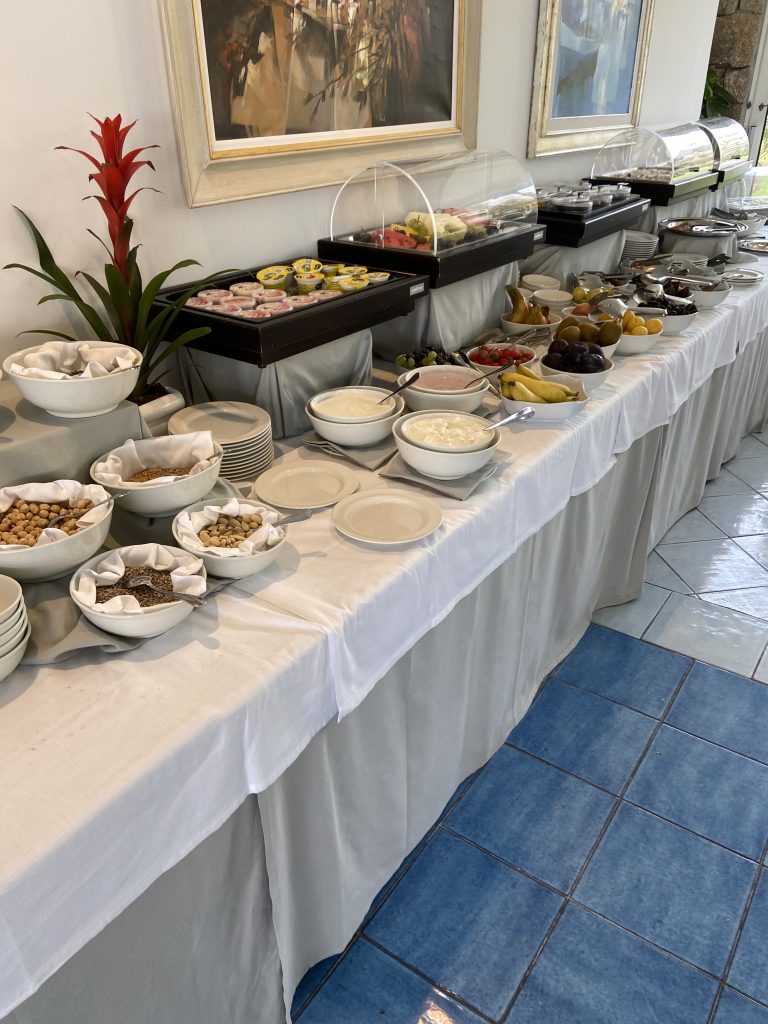 Above was the breakfast buffet. I thought it had gone the way of the dinosaur since Covid but it's obviously back.
Today we went to explore "Billionaire" coast. The town of Porto Cervo. This town didn't exist until the Aga Khan fell in love with the coast in the 1950s and decided to create a playground for the rich. He did accomplish that! He purchased the land from the poor inhabitants for a pittance in the 60s. They didn't value coastal land, they were, in fact, frightened of the water from whence all invaders came. For these people being in the mountainous interior felt safe. The Port was built in the 80s and it is the best in the Mediterranean with 700 slips. The real estate here is THE most expensive in Europe. An eye popping $300,000 a square meter (!)
We had a lunch reservation at the only Michelin One Star restaurant in the area. Ristorante ConFusion. As the name implies, it is a fusion between Sardegnian food and Asian food.

We arrived and parked in an underground lot. We walked around the shopping area which was pretty and unusual and completely unlike anyplace I've been in Italy. It's like being in Palm Springs or Boca Raton.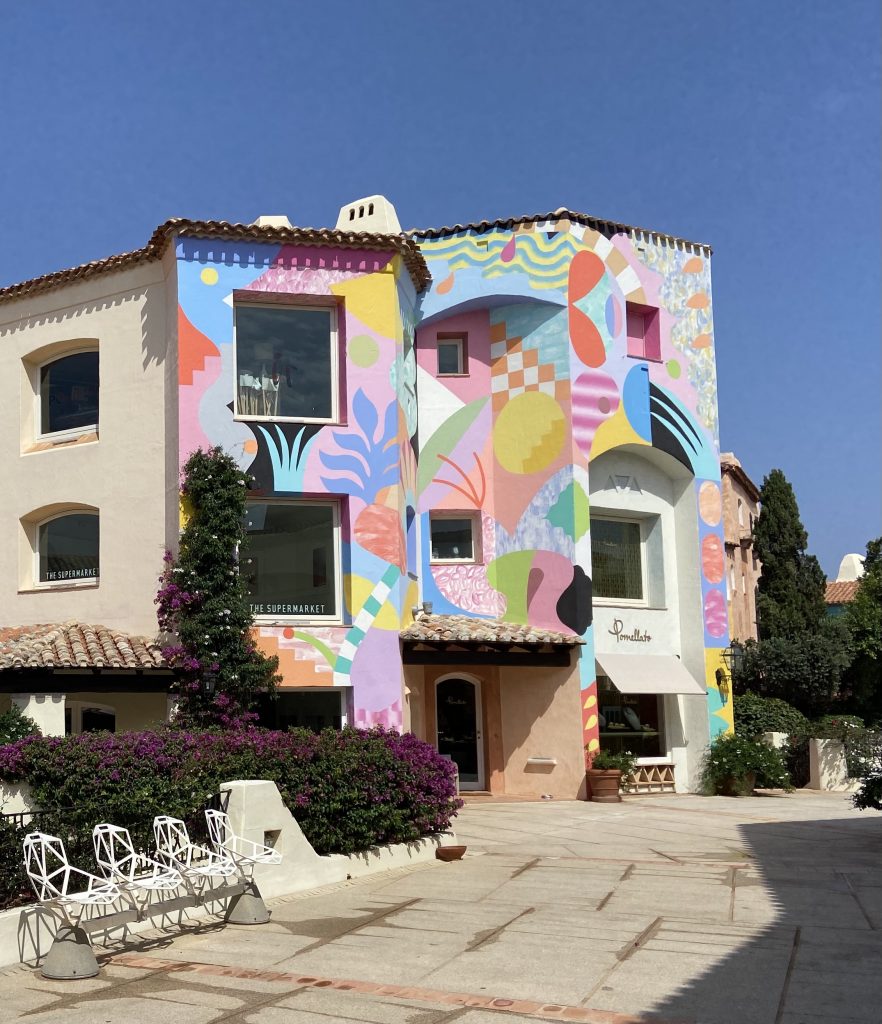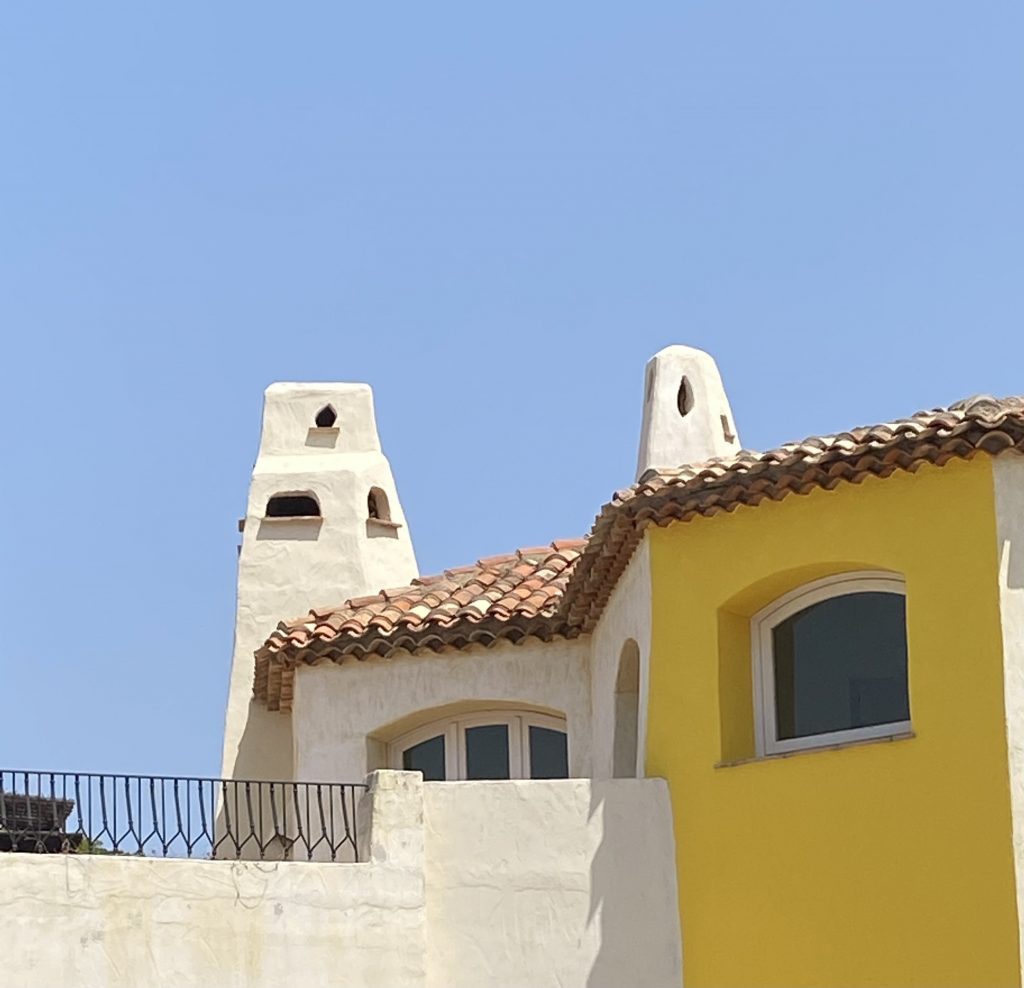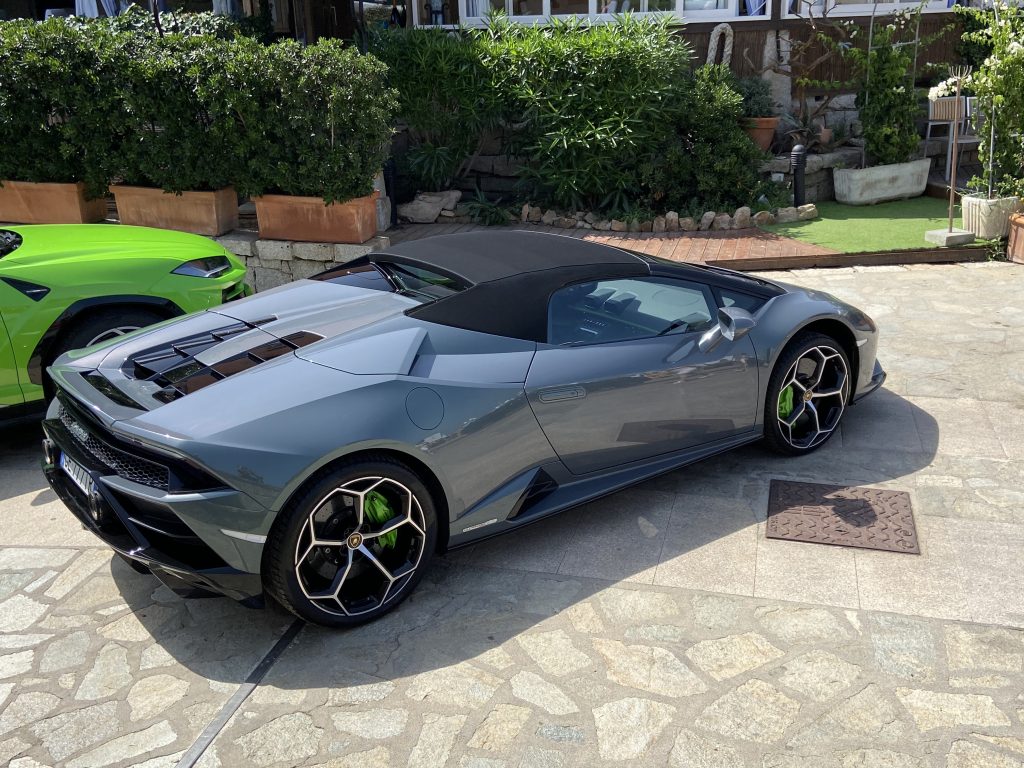 Towering over everything were the mega-yachts in the harbor. You could walk in and gape. Which we did! We looked up the names of some of the yachts. One is owned by a Saudi. One of the biggest was owned by a Walton daughter of the Walmart empire. These yachts cost millions of dollars.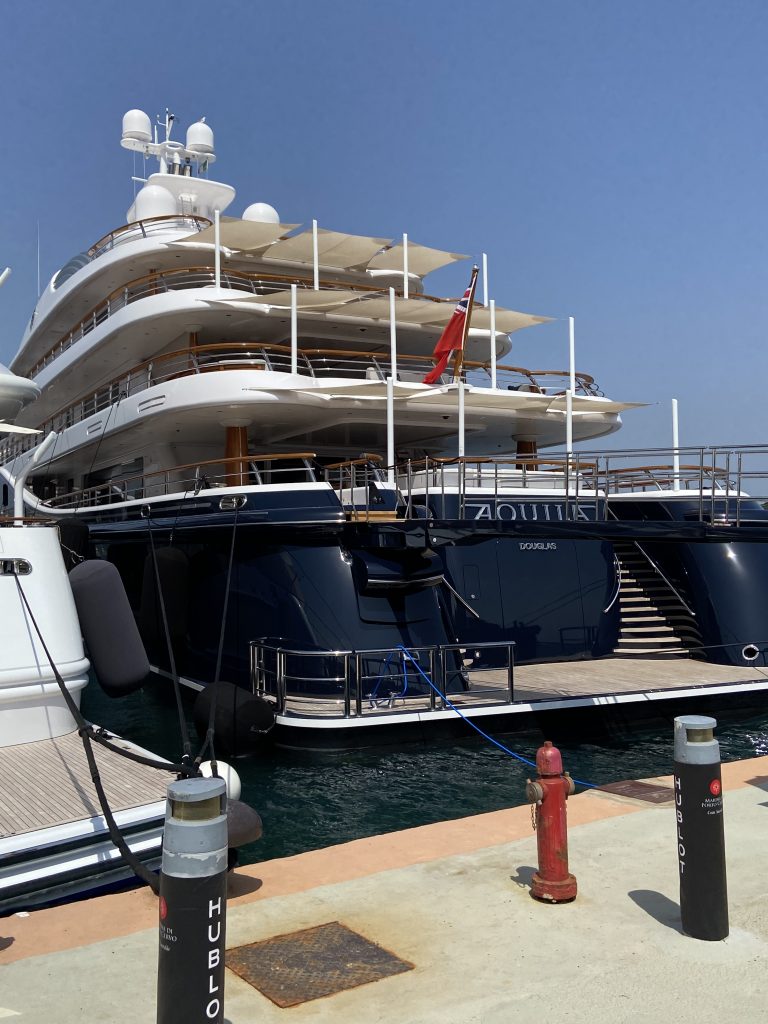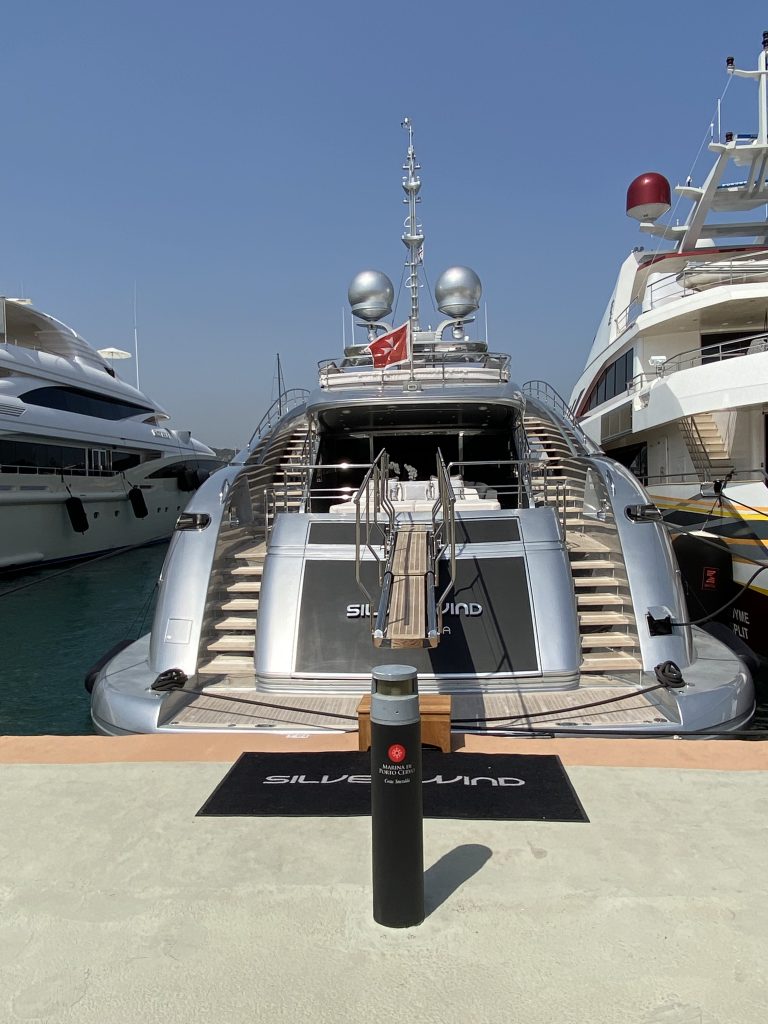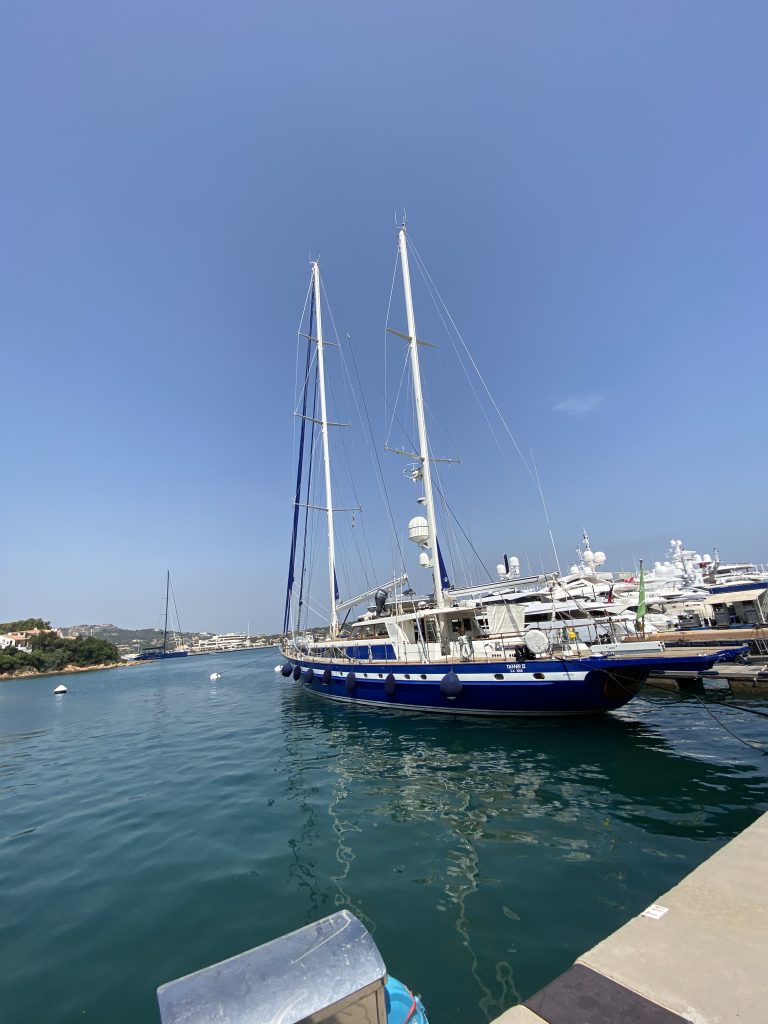 After some refreshments out of the hot sun we walked to our restaurant. Pretty place that felt comfortable and not pretentious…except for the fact that they bring a selection of glasses so you can pick your shape! That was a first. Chef Italo Bassi was very friendly and accessible. There were only two other tables so he had time to chat. We decided on a la carte for two of us and the Chef specialty 3 course menu for the other two. Prices were breathtaking, but the food was too.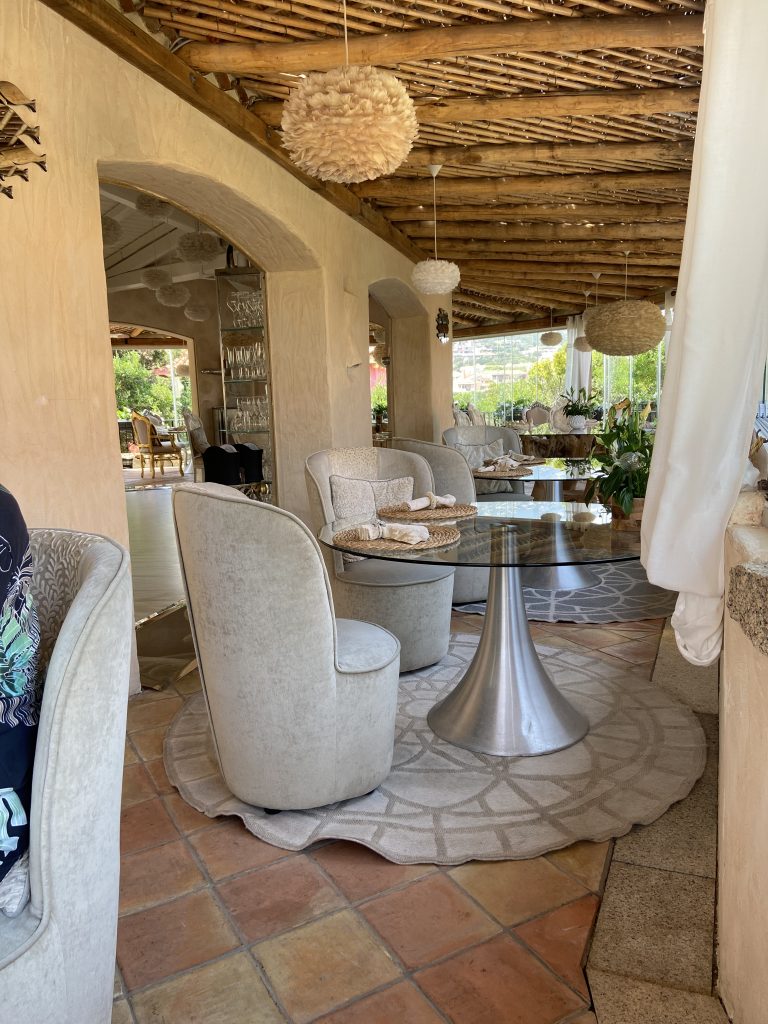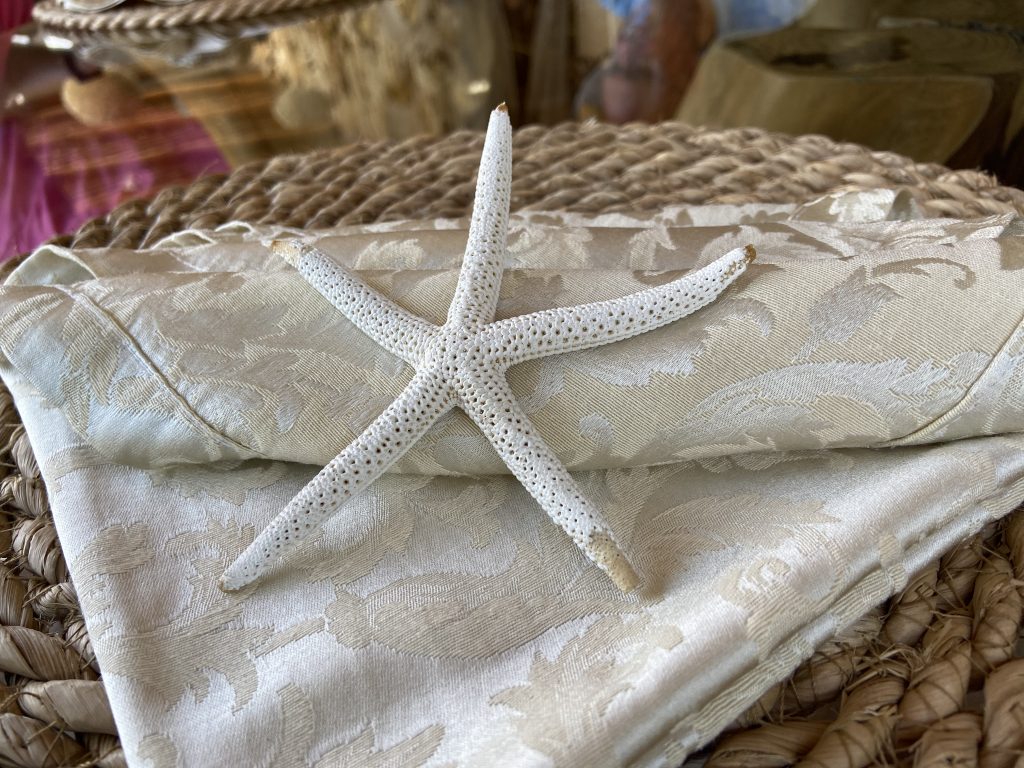 Here are some of the dishes.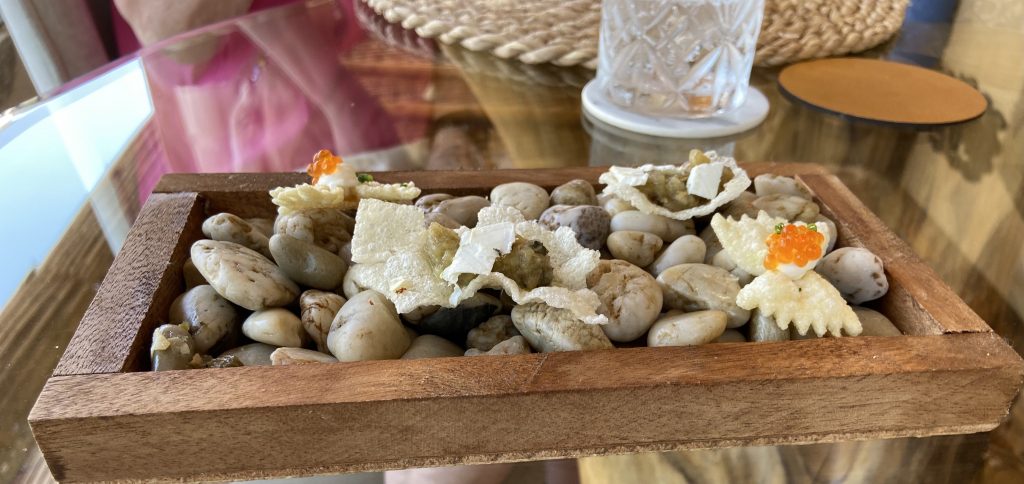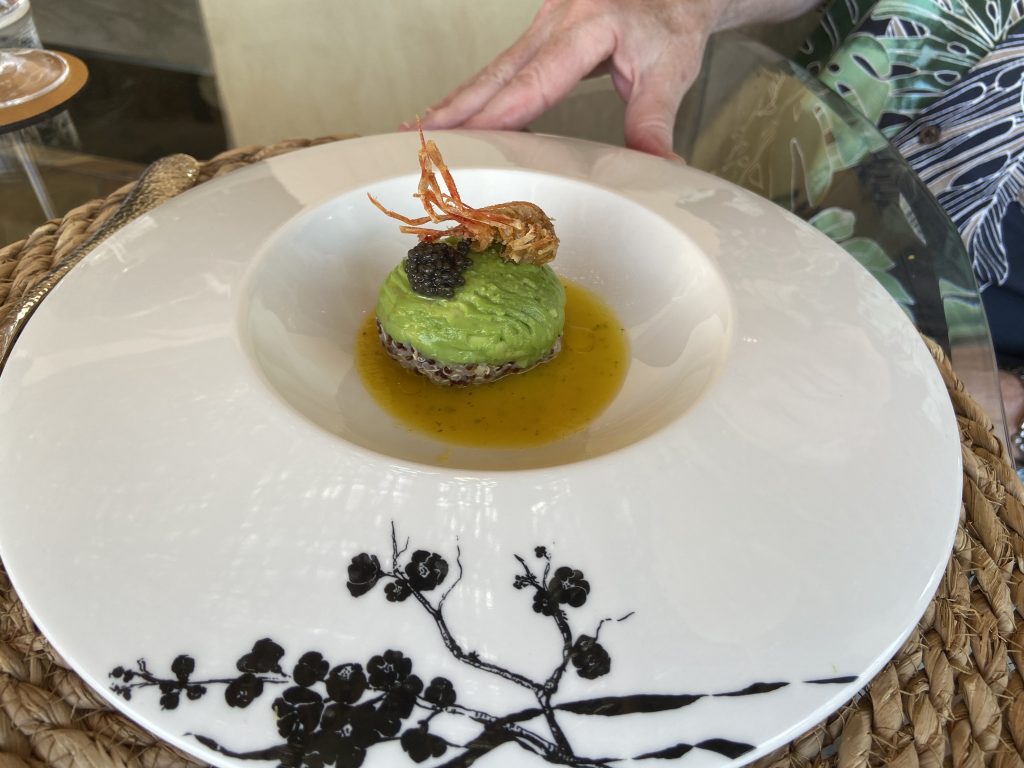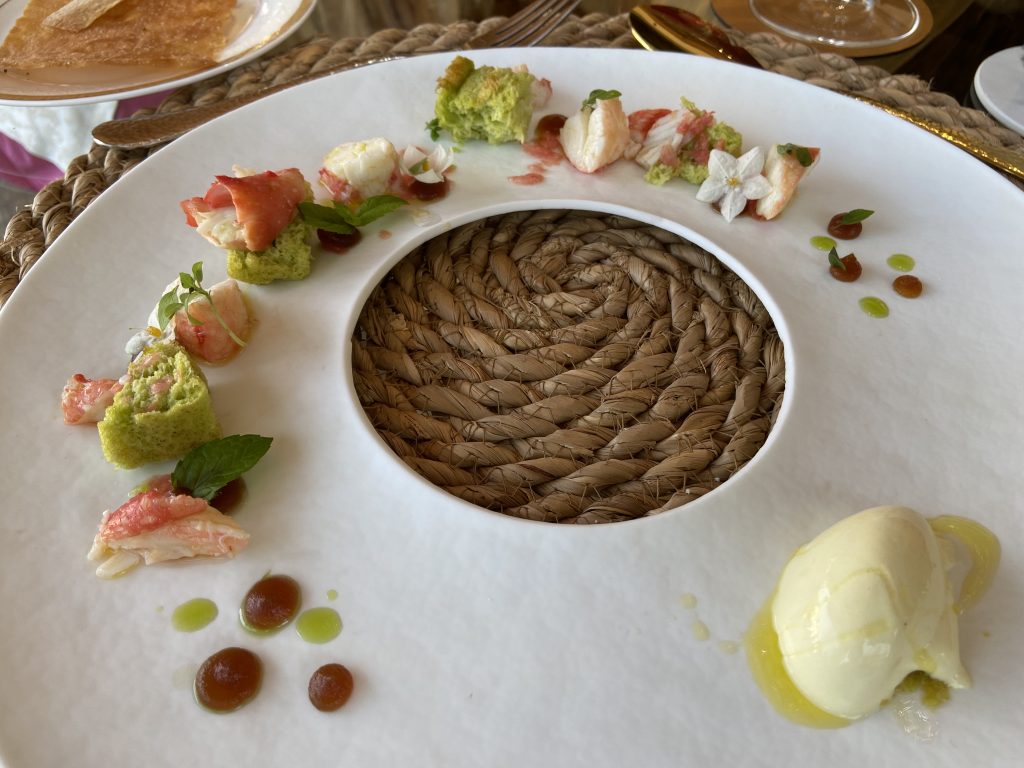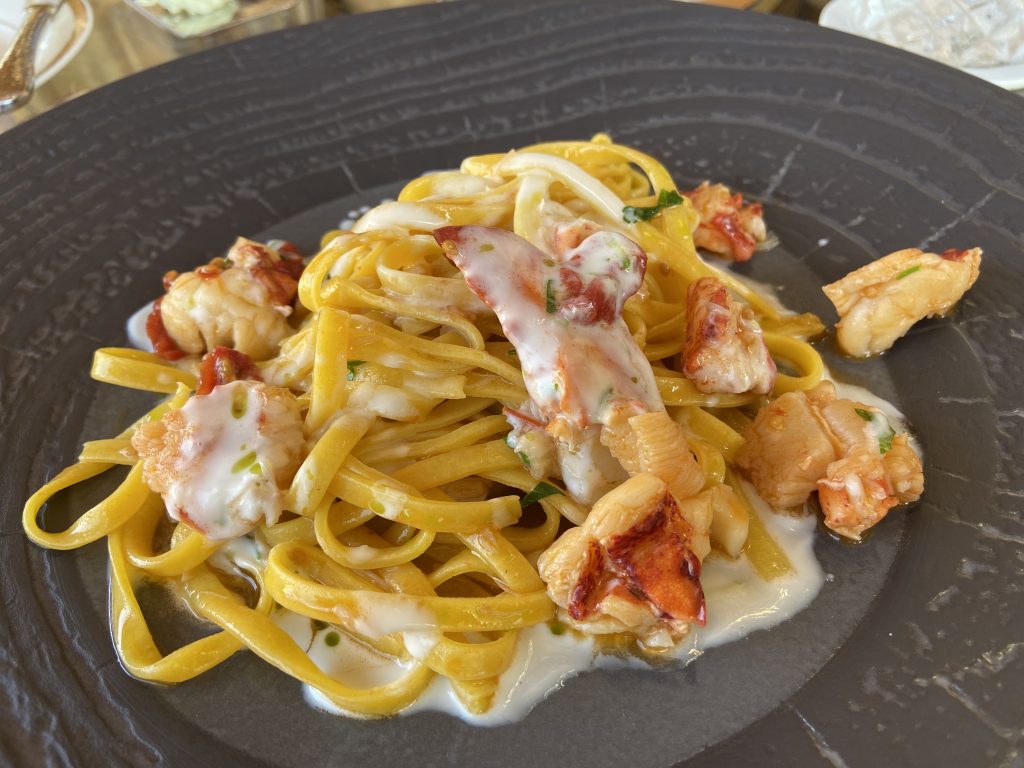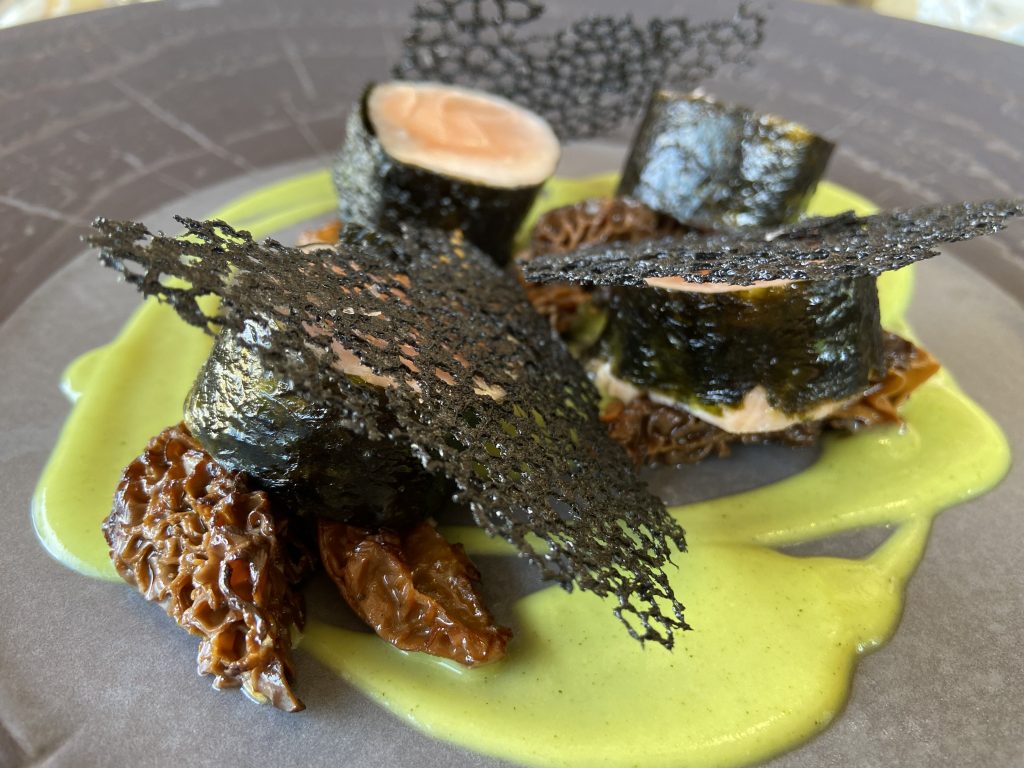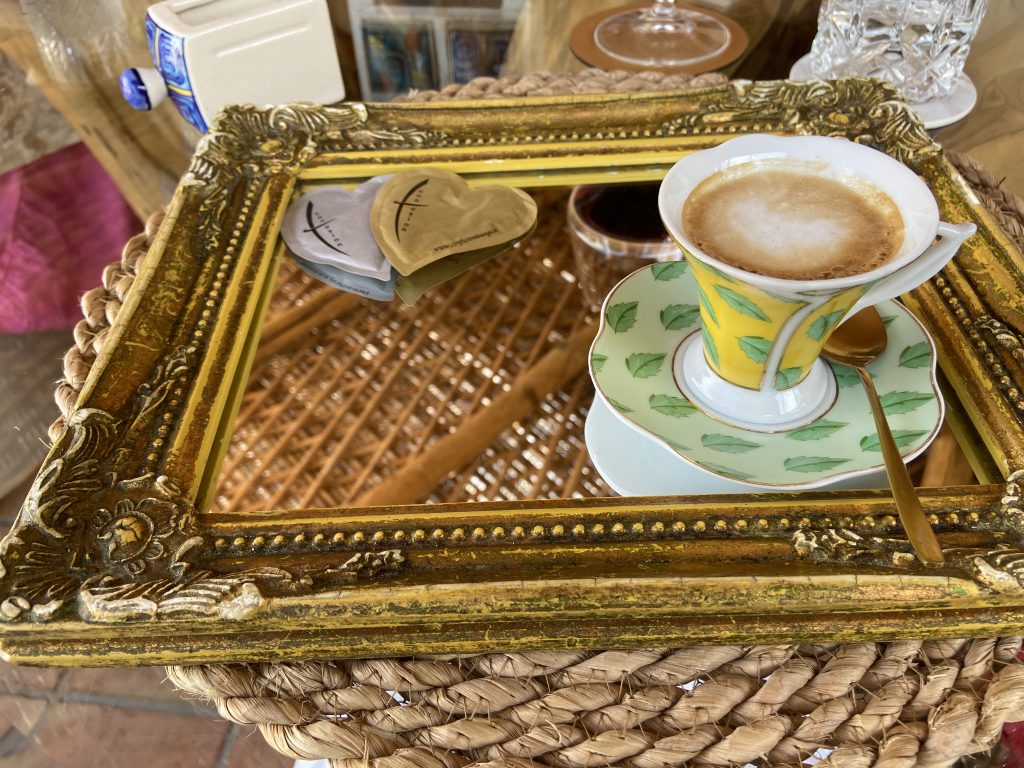 After our return and naps we went poolside and had drinks. It was very lovely. They bring a nice plate of food to enjoy with the wine so that was plenty. We didn't really need to eat dinner after the mega-lunch.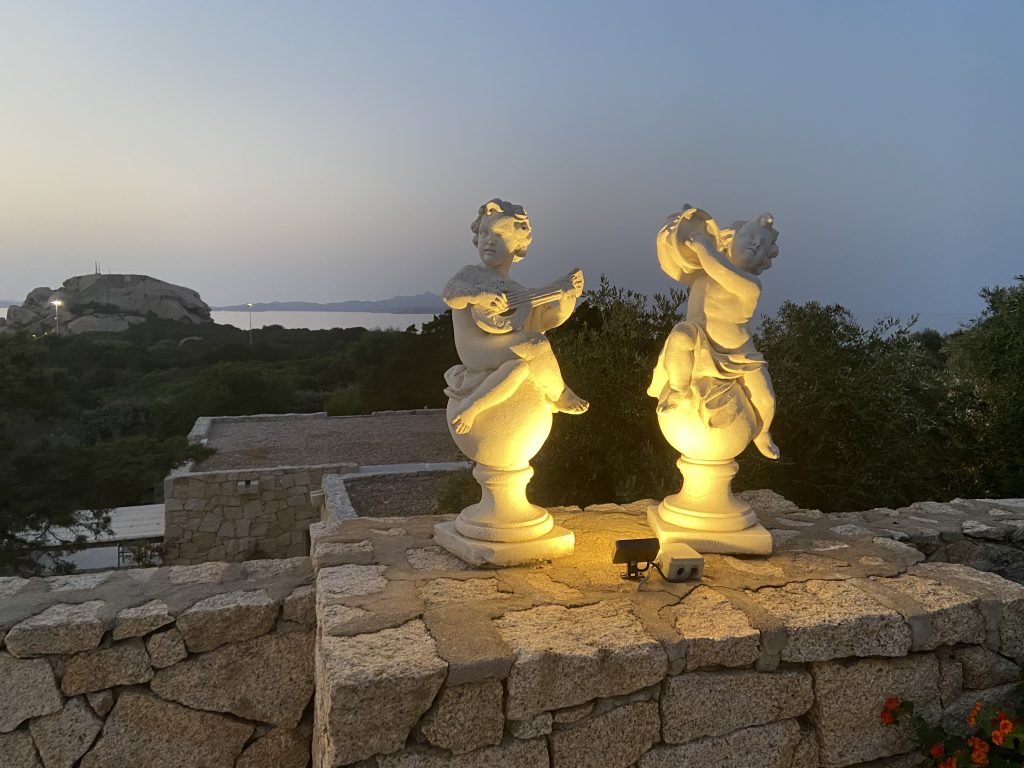 ~~~~~~~~
Thursday, July 29
This was the day we decided to go on a catamaran to the Maddalena archipelago. This is supposed to be the prettiest island group. There are some roads on the main island and you can ferry over with your car. There are a few towns as well. But the most popular way to see the islands is by boat. And BOY is it popular!
We left the hotel at 8:30 for the 40 minute drive to Porto Sardegna. We got there no problem on itty bitty roads to the very tip of the mainland. There we found a yacht club. A very cute yacht club. With cottages built into the rocks and hobbit bathrooms. At the bottom, a cafe. We hung around and finally boarded around ten. There were 18 of us plus three crew. It wasn't crowded. It was mostly younger people. Plus one middle aged couple. The oddest group was a foursome of two boys and two girls from Calabria. They spoke a Calabrian dialect mixed with German. Really. Very odd.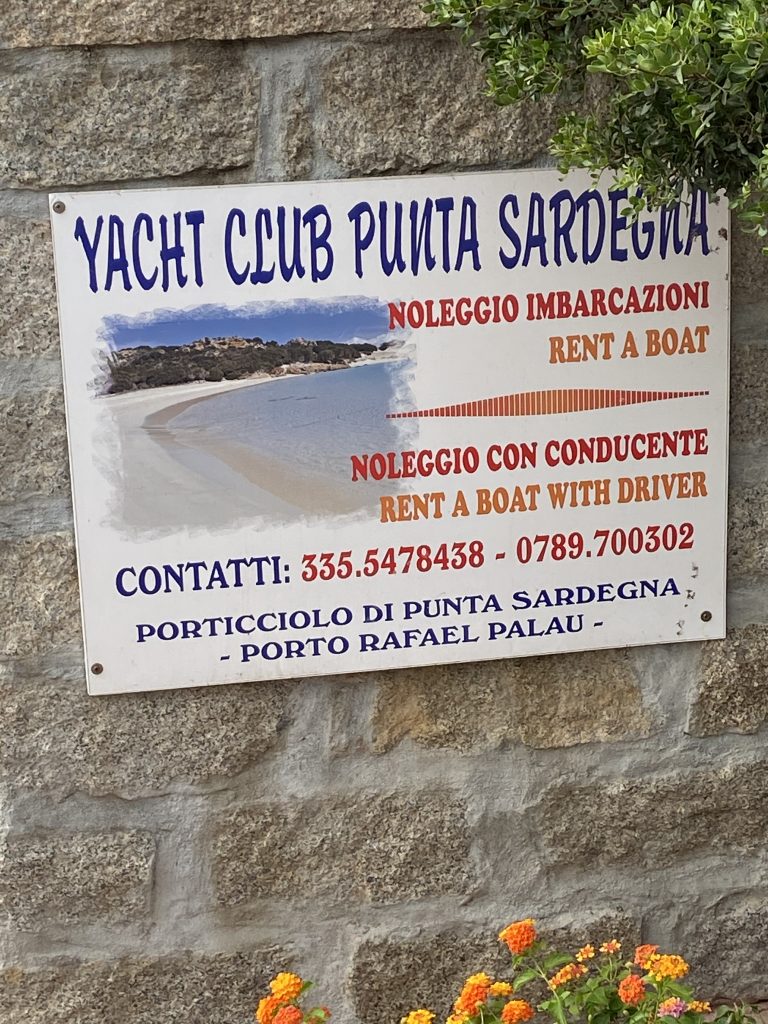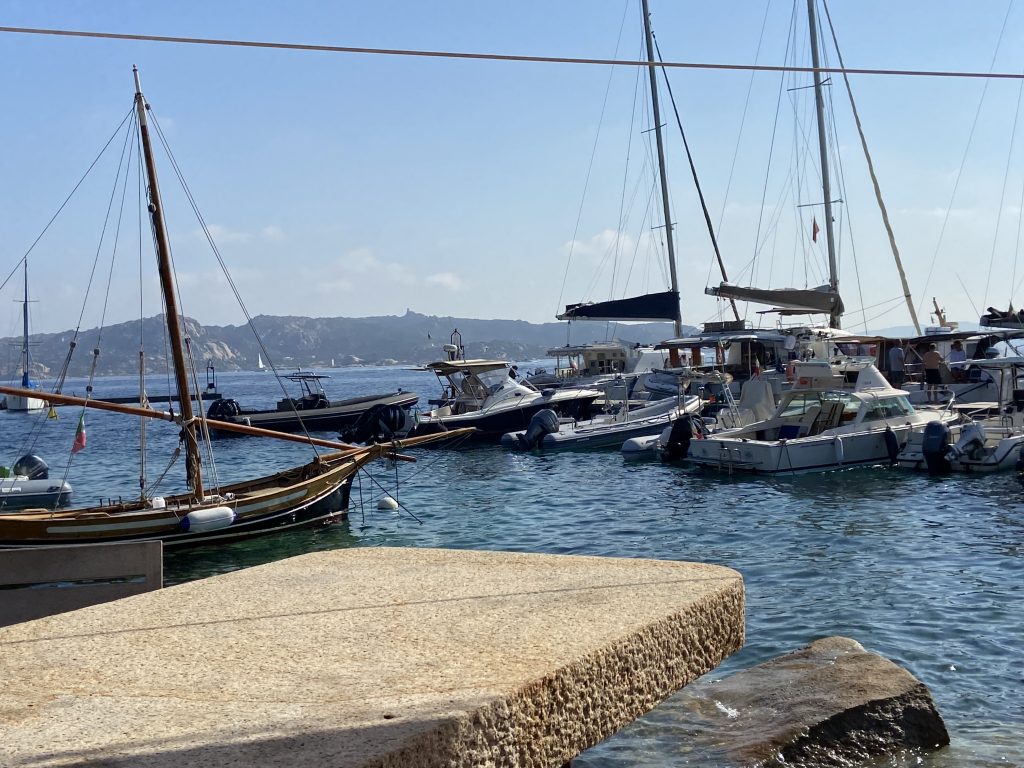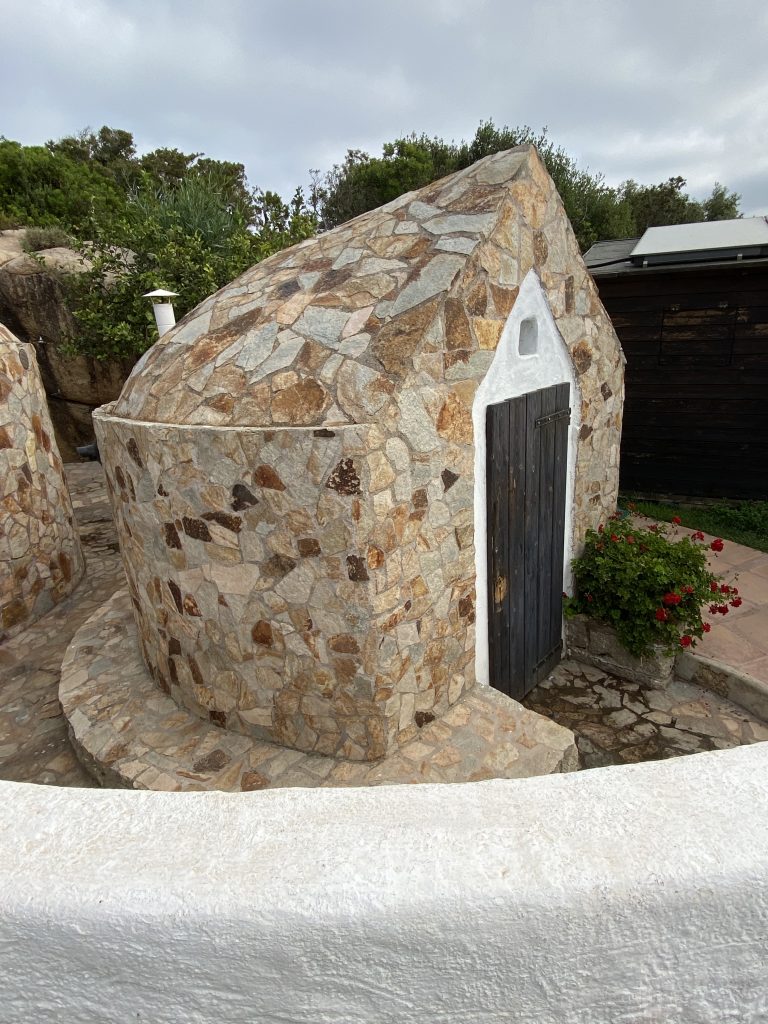 We all boarded and were briefed about the boat, and how to use the bathroom. Then we took off. It was a nice boat called Alice. I know most of you won't know this, but it is not the woman's name…but the word for anchovy in Italian. Pronounced al-ee-chay. The boat was named Anchovy, because it skips over the waves Captain Alessandro said. There were two more crew, Ely and Sandro. Our first stop was Spiaggia Rosa. A pretty spot with amazingly blue water. We went swimming.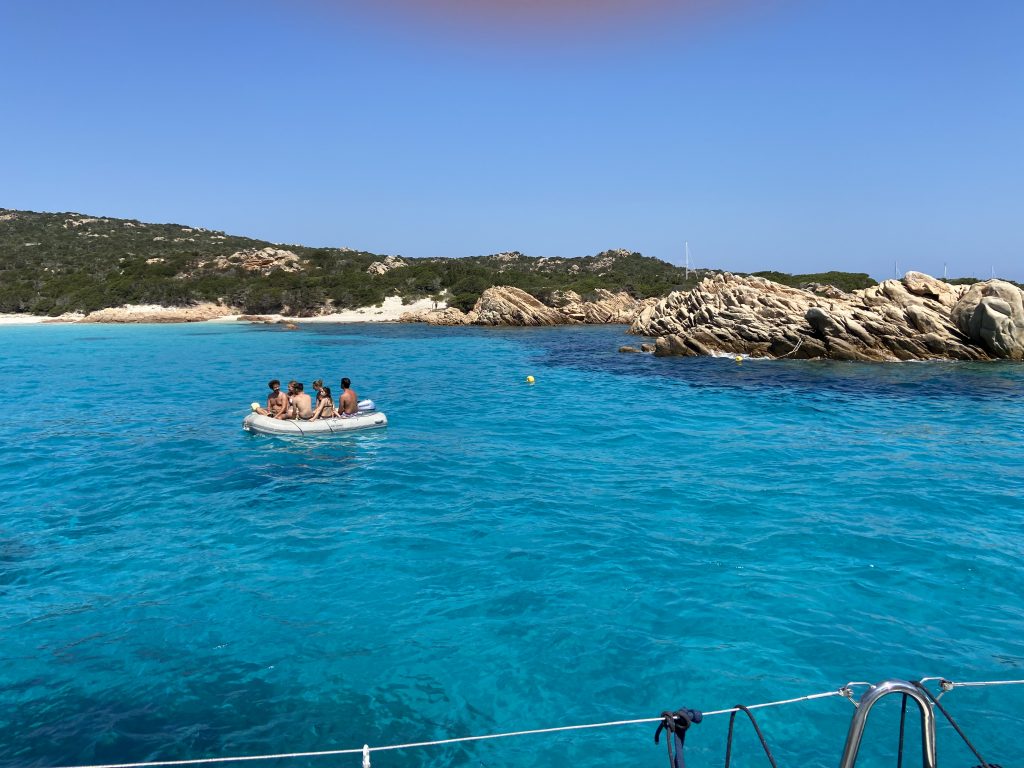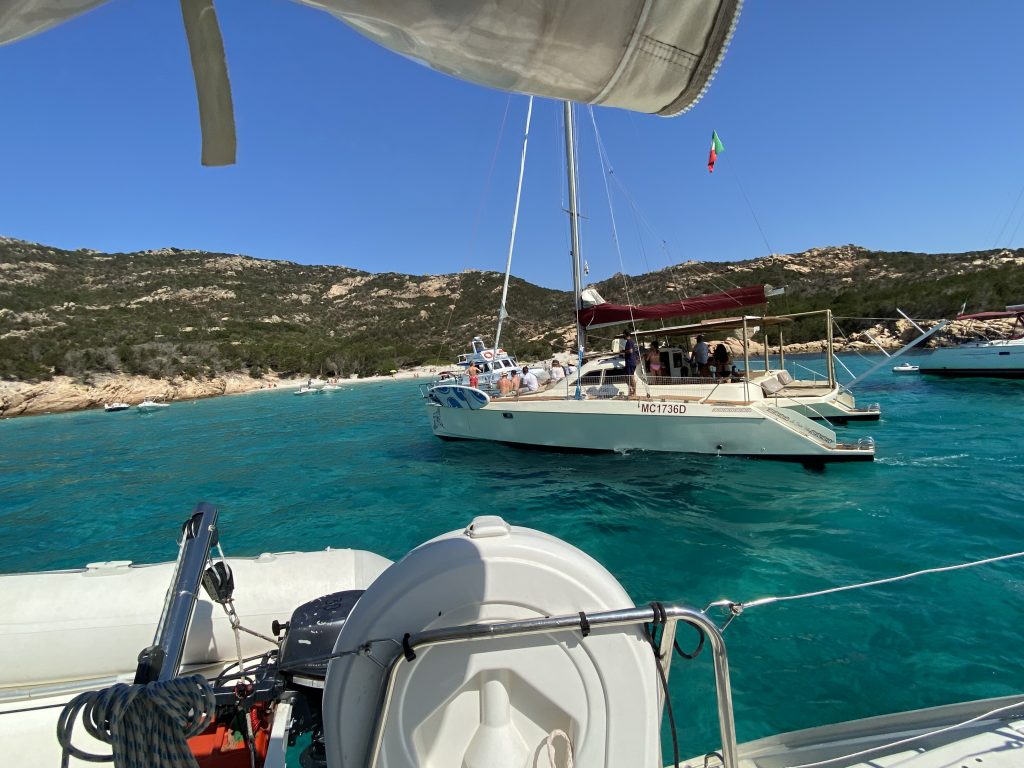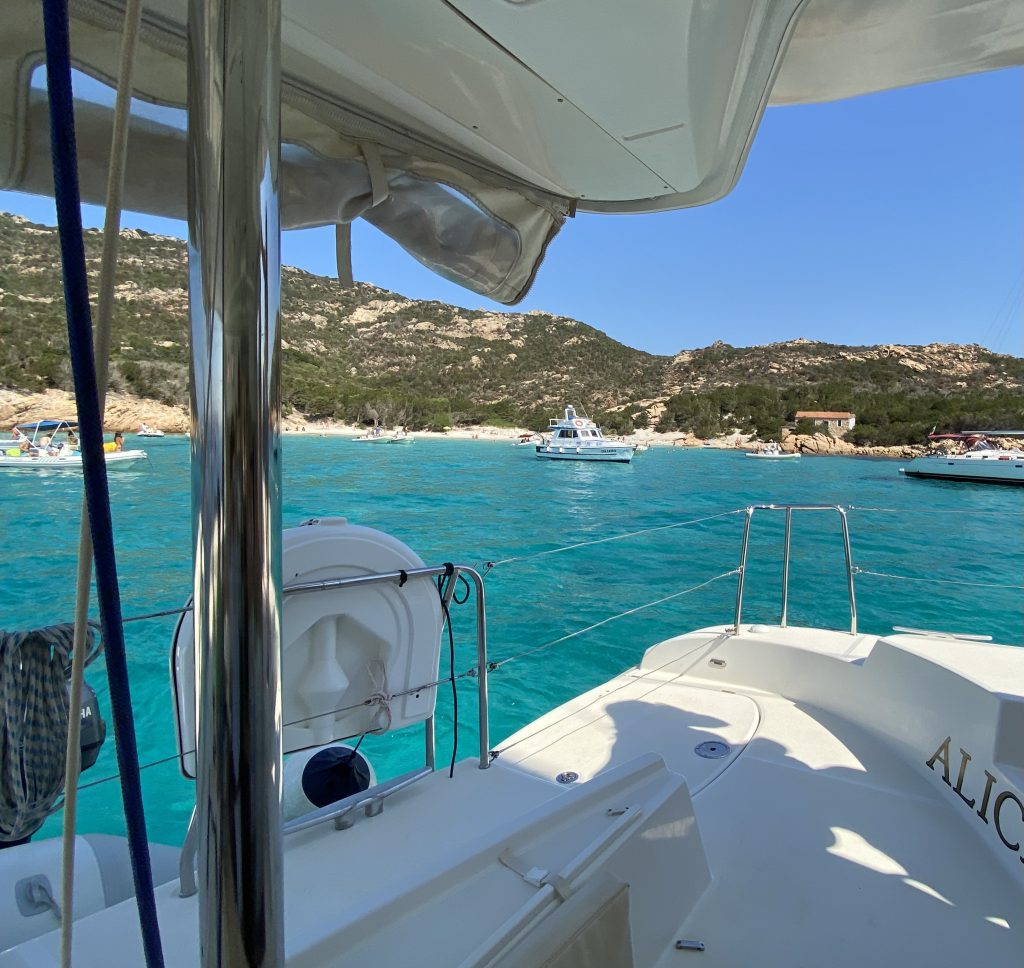 While here we had antipasto with bruschetta, olives, cheeses, salumi, and bread. Our next stop was Calla Vergine. This was so popular there were literally hundreds of boats of all sizes. Amazing. The water was lovely, calm and blue-blue.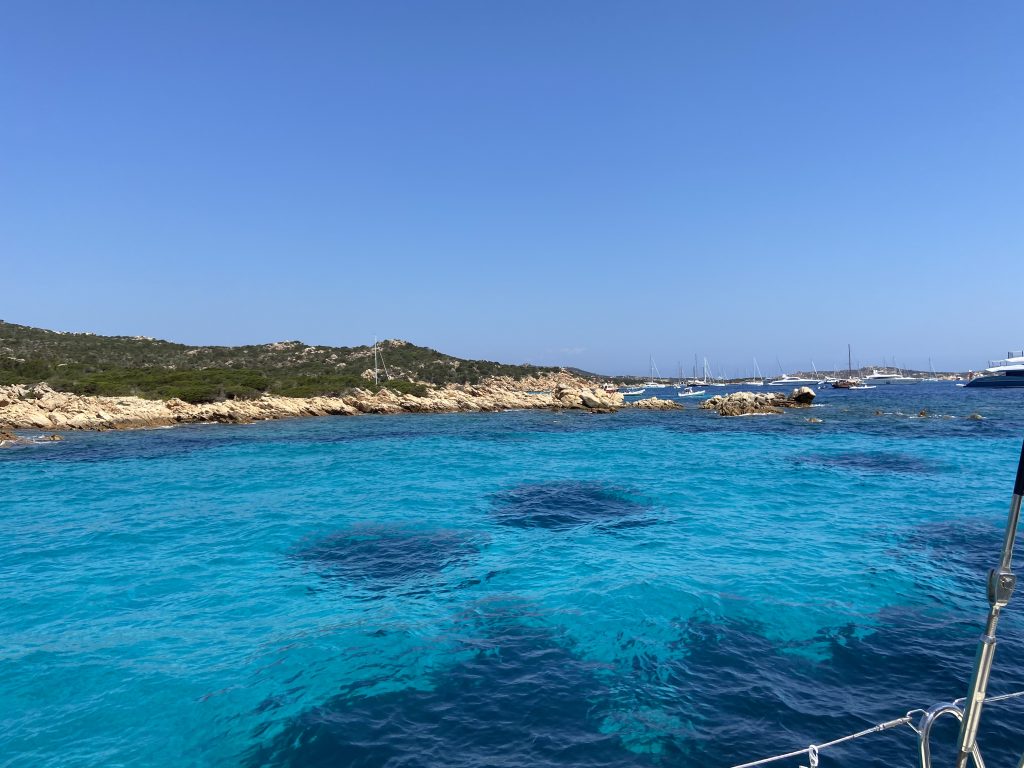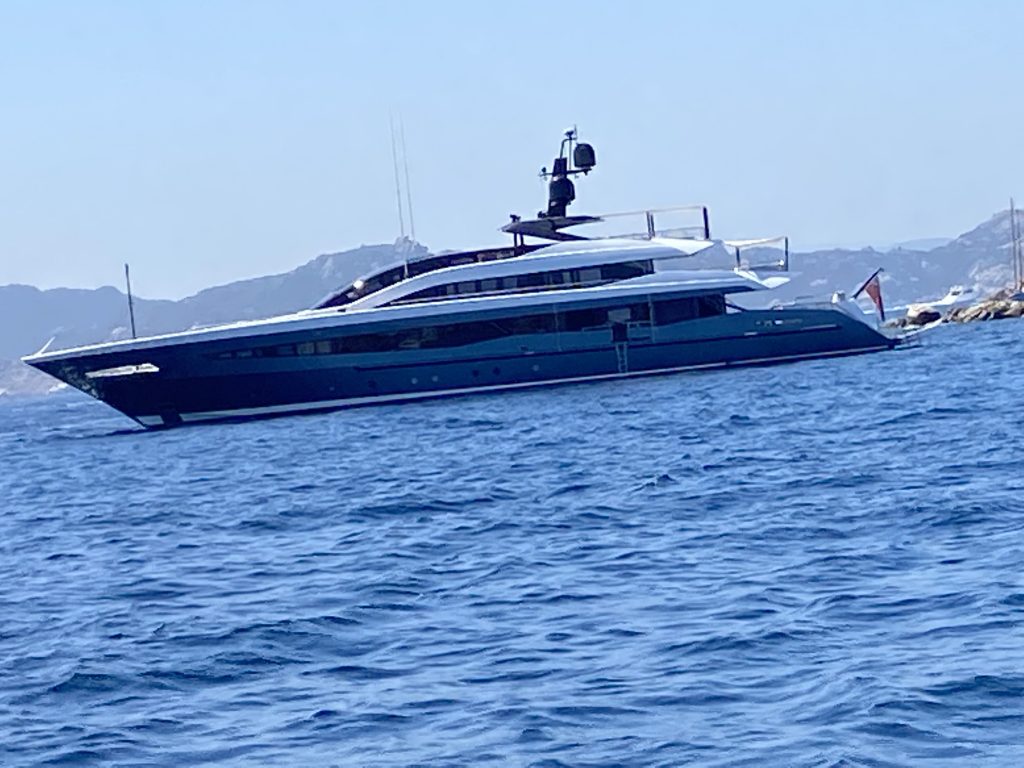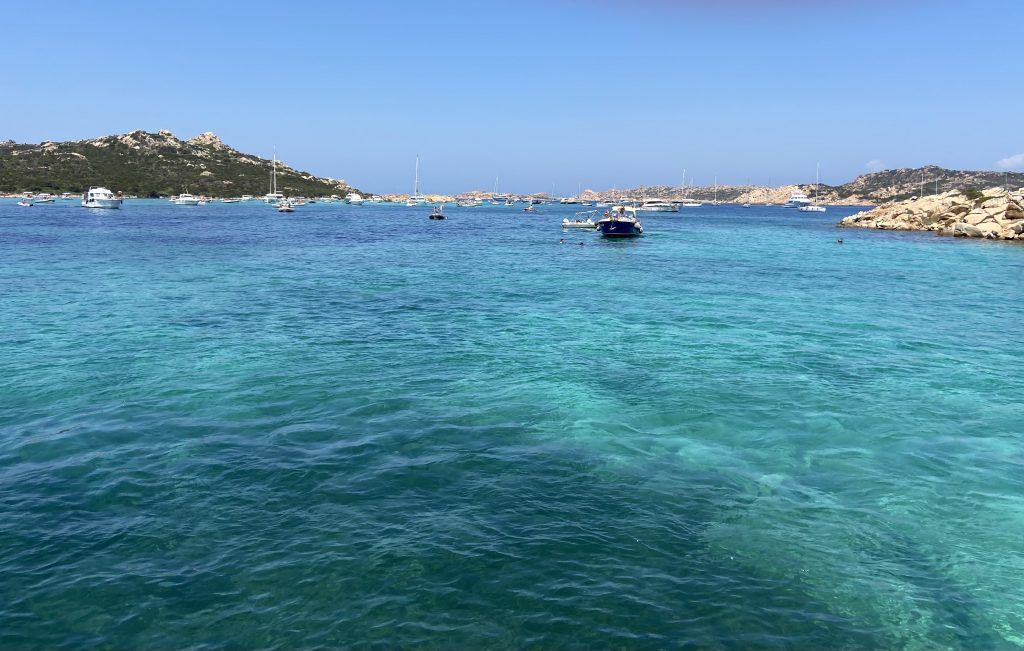 I took this video to try to show just how many boats there were. Note: videos don't usually play in the email version of this blog. To see it you want to go to NancyGoesToItaly.com
It was lunchtime and our Chef crew member Sandro, made a nice pasta lunch with rigatoni and lots of tuna. Served with beer, wine and cold drinks. It was delicious. Then we had fresh fruit, cookies, and Mirto, a potent drink made around here from myrtle.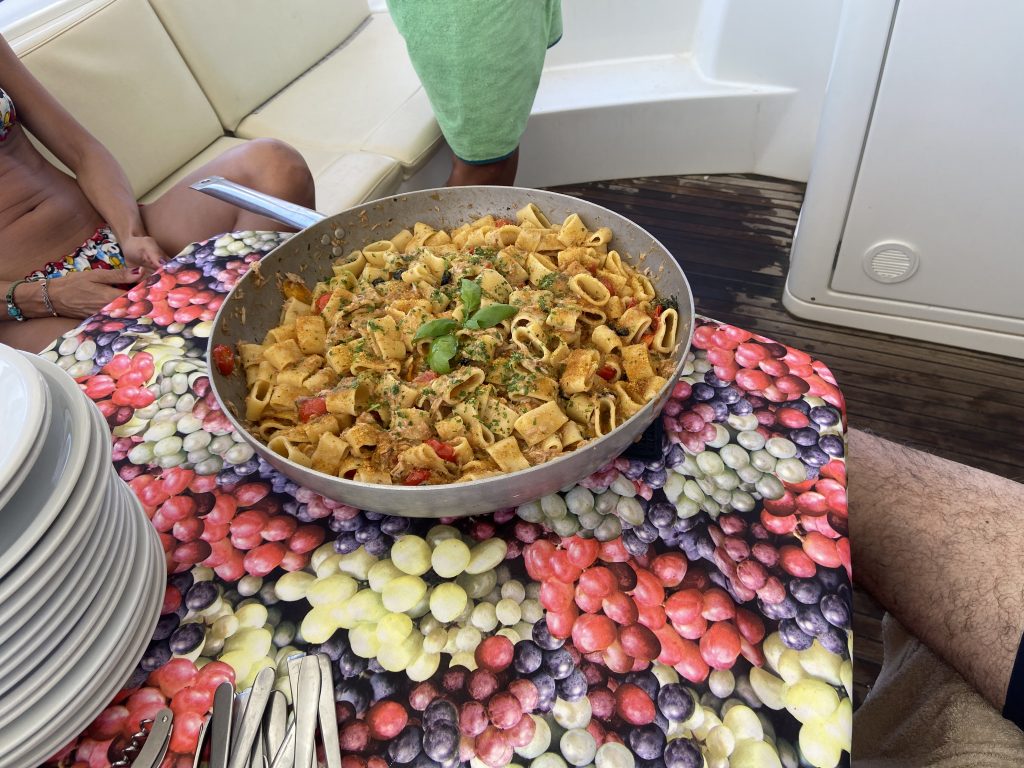 There was one more stop. The famous pink sand beaches. I was the only person who opted out. It was REALLY hot and it was a ride on the rubber tender to the beach, then a hike over the hill and down, but you couldn't go on the beach. The beach is protected by a full time caretaker because people were stealing the sand. No joke! One guy was caught with 3 pounds of sand and they fined him €3,000. Anyway, I decided to skip it. The rest reported I was smart not to go. I got to see the less than impressive pictures. While they were gone I went for another swim. The water is nice and cool and so salty it's impossible to sink.

We returned at 5:45. It was really fun. I'm glad we did it. It is a thing everyone should see. The Maddalena islands are spectacular. But boy were we all whipped. It really makes you tired being in the sun and wind and sea all day. When we got back we all just opted for showers and room service. I slept very well!

~~~~~~~
Friday July 30
Supposed to be 102 degrees this day. That is HOT. And the humidity is quite high. After our breakfast we had reservations to visit a winery called Carichera. It is one of the best and biggest producers.
We were greeted by Anna. She told us about the history of the vineyard and the family as well as the types of wines they produce. The family name is Capichera.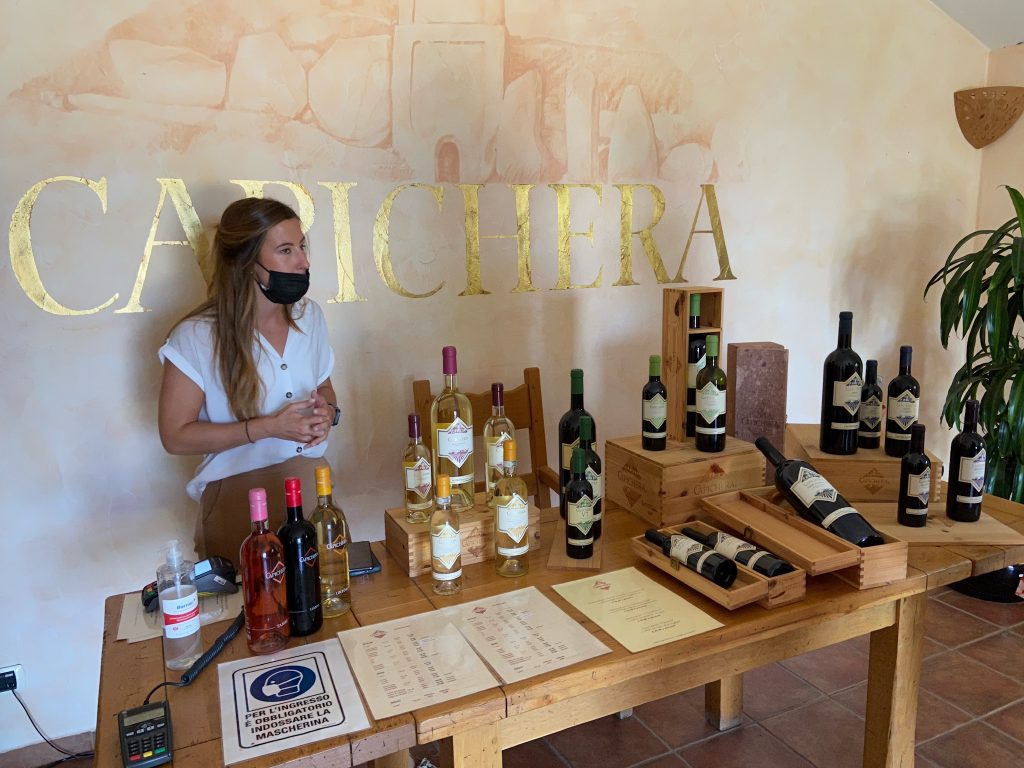 Next we were transported by golf cart through the vineyard to a brand new tasting facility. The entire vineyard has drip irrigation. Still, some of the vines were suffering.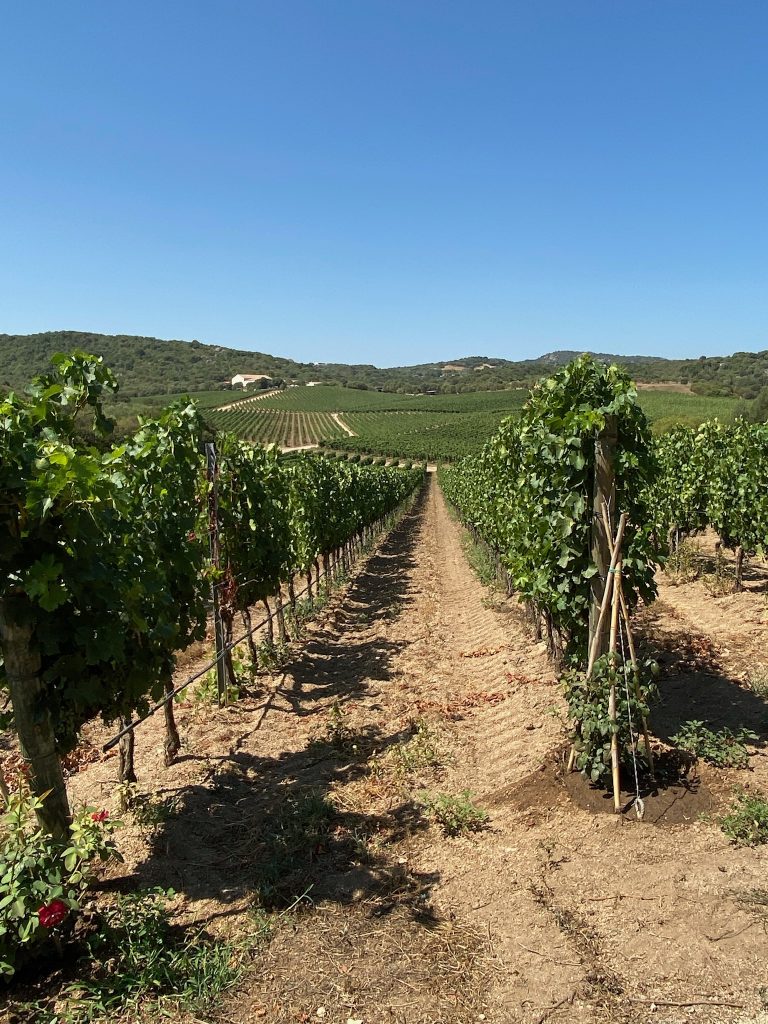 Along the way she showed us some of the indigenous plants to include the myrtle, from which they make the Mirto liquor. Then the pretty strawberry bush which flowers in November and fruits in summer. The honey is said to be very healthful. It is also rare since bees often do not pollinate that late in the year so they produce little honey. Anna said the people of Sardegna are some of the most long lived in the world. This is because until recently the people only ate what they produced which is very healthy. Little was brought in. There was no globalization. Until only 60 years ago they still mostly lived in stone huts with no running water or electricity.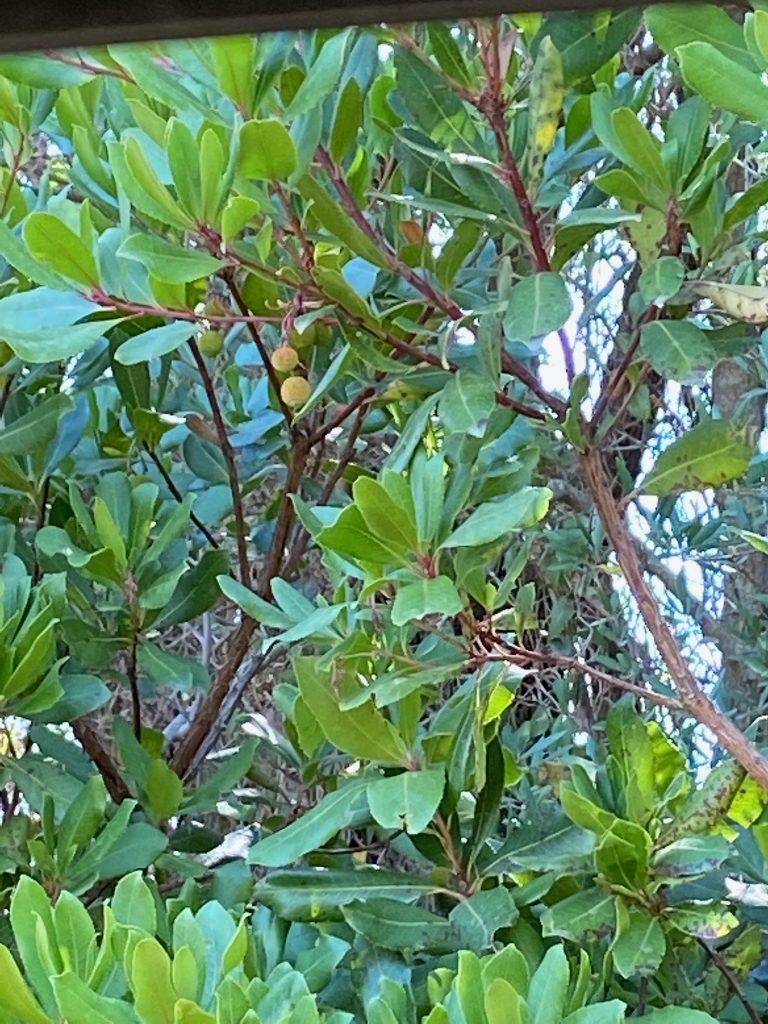 We arrived at the tasting room which was blessedly air conditioned. The big windows had nice views of the patchwork vineyards.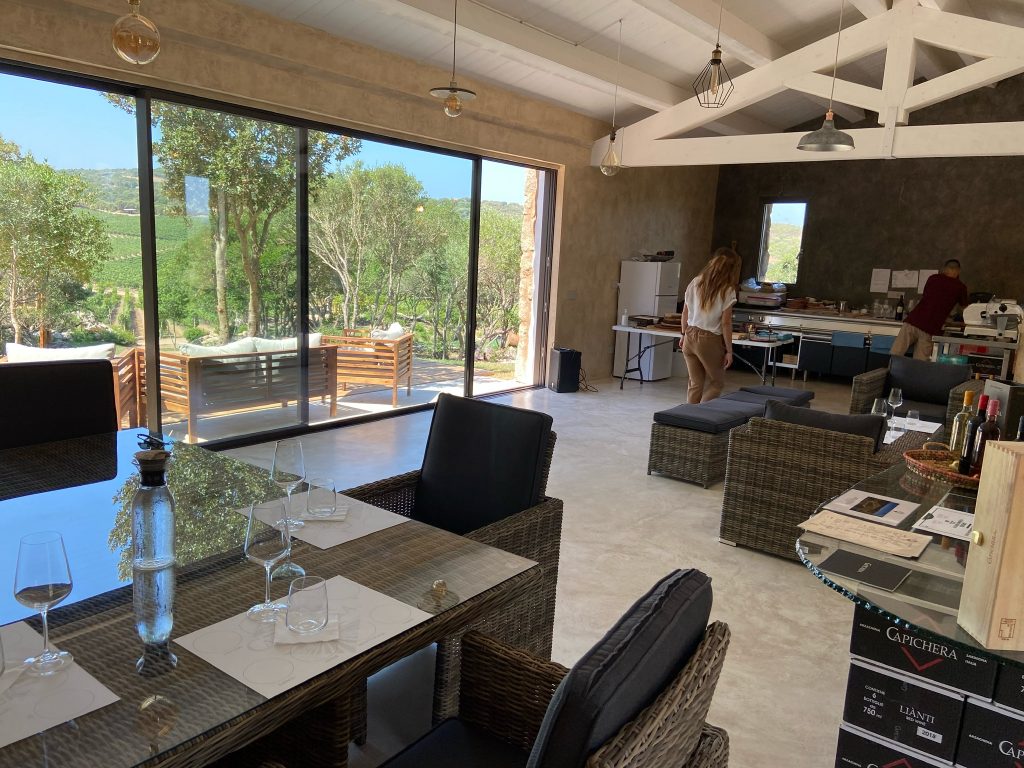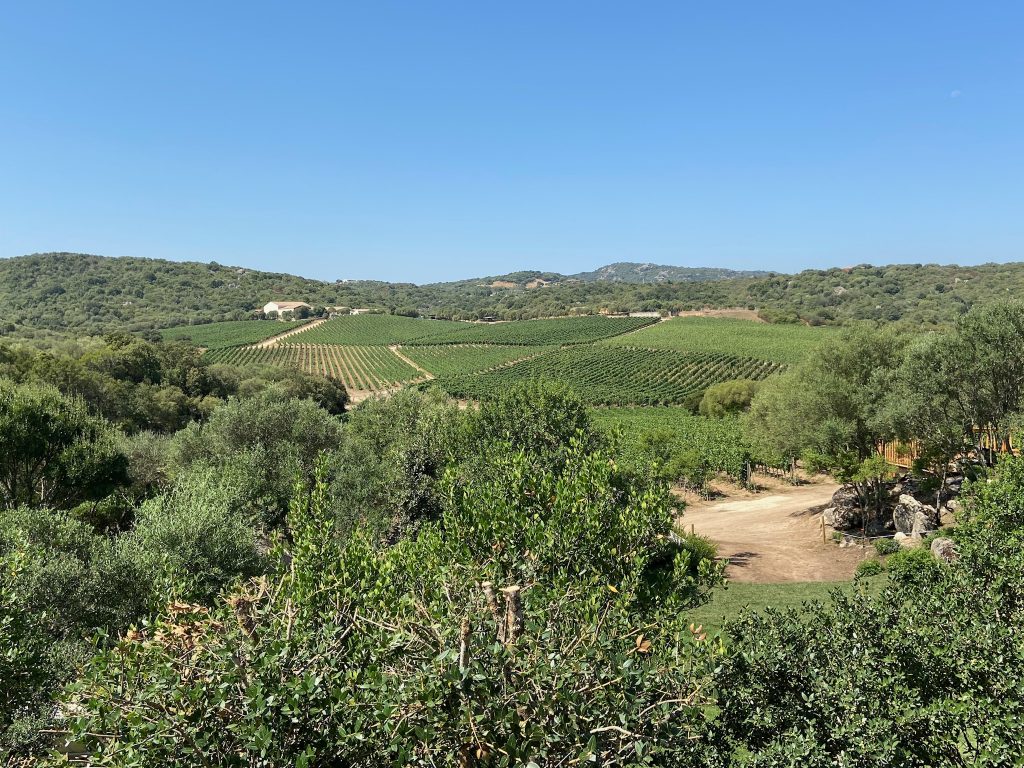 We decided to do two tastings and share. Luther and I got two Vermantino white wines, and two red. They only use the Vermantino grape in Sardinia to produce the white wine. The red was a Syrah and a Syrah blend. Very unusual grape in Sardinia.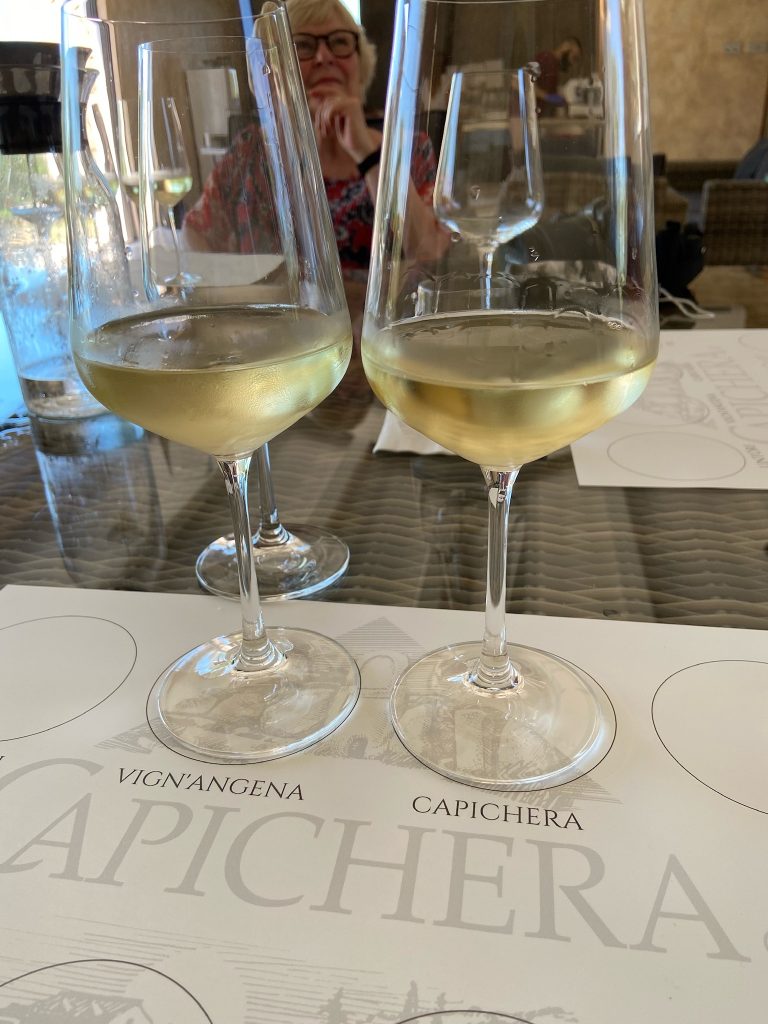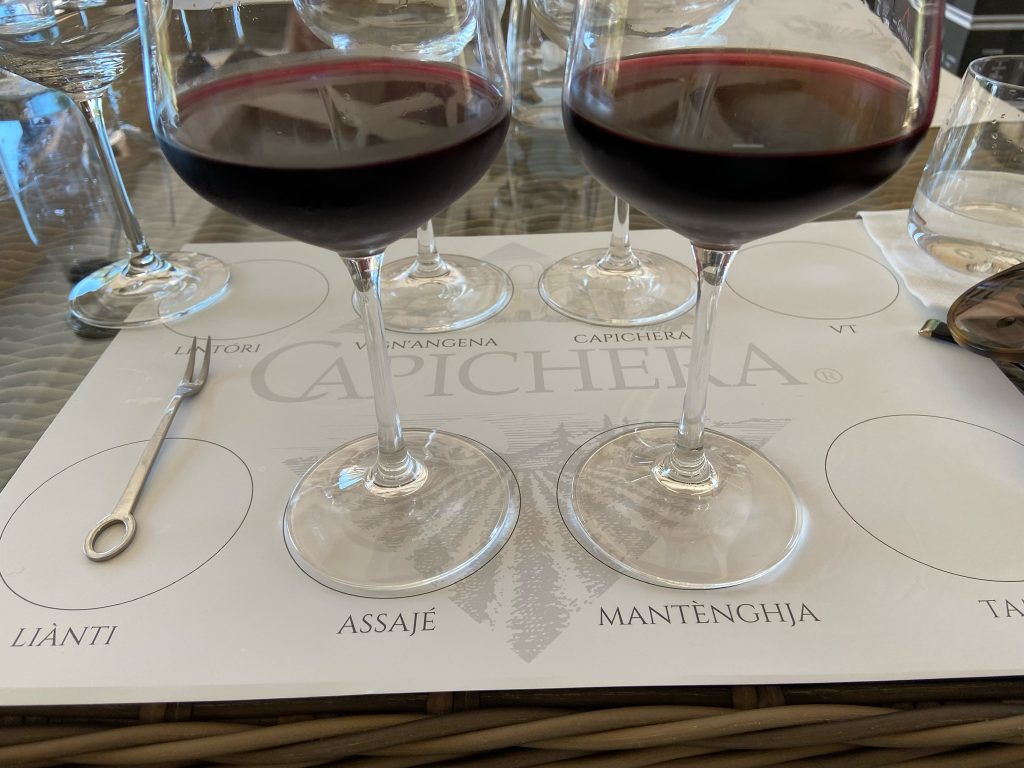 The placemats had the names of the wines so you could place your glasses in the right spots. Look at the names of the wines above. Most are in Sardegnian dialect. It is a very strange language. When I got back, I looked up lingua Sarda. Turns out there are three Sardinian dialects. Then the top part of the island speaks a Corsican dialect because Corsica is very close. Then a small town, and area to the west speaks a Catalan dialect. Very interesting. So the wine names we're in the Logudorese Sardinian dialect.
We had lunch reservations at Li Neuli. It's the restaurant at a country club. It was nice. Air conditioned and a pretty room. Interesting menus with much fresh seafood served crudo — raw. To include sashimi, an octopus carpaccio and fresh tuna. I picked the octopus and a nice scampi dish. Just the right amount.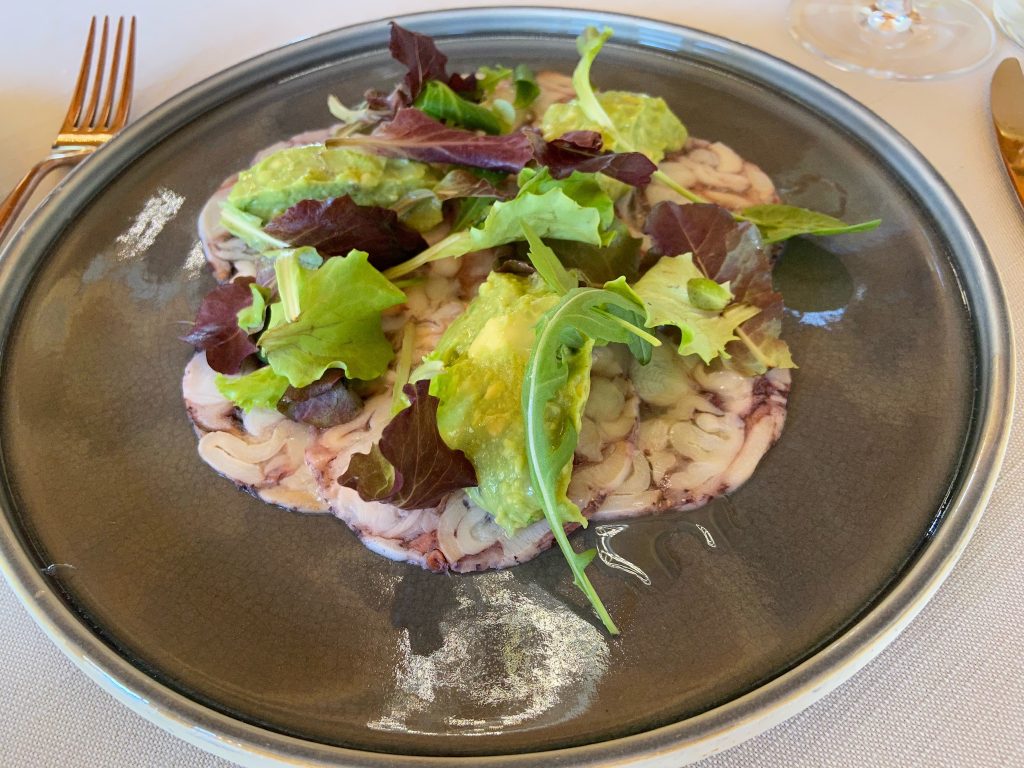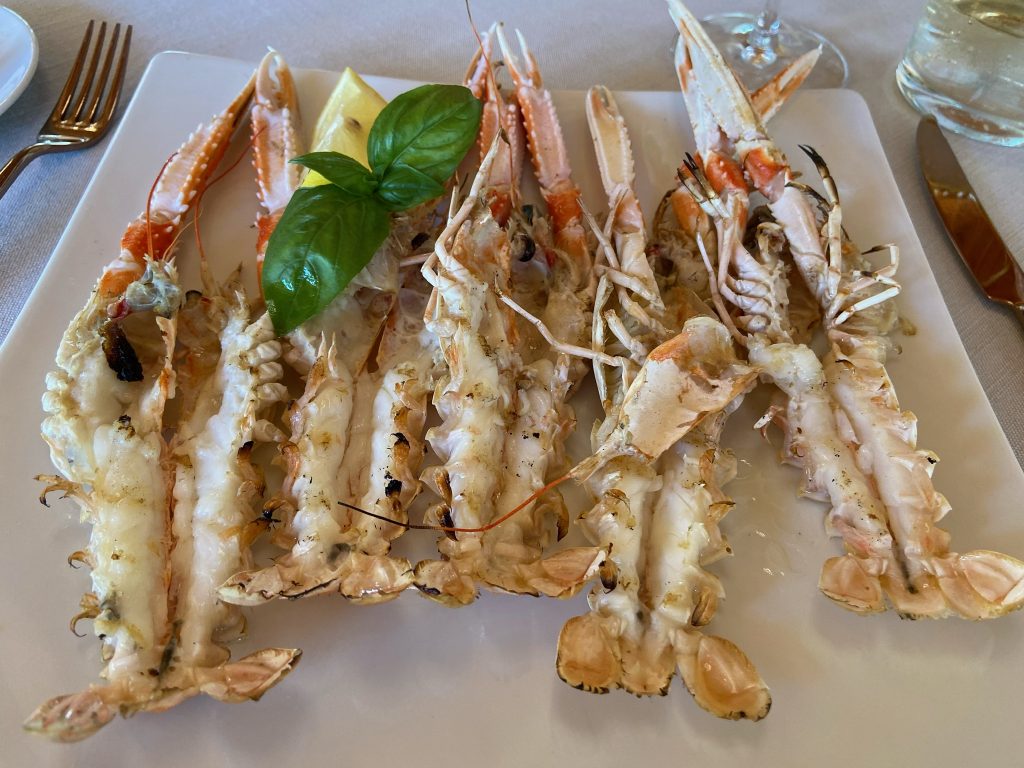 This is the Sardinian, cracker-like bread served everywhere. They even use it as a plate, putting it under cheese, fruit and salumi.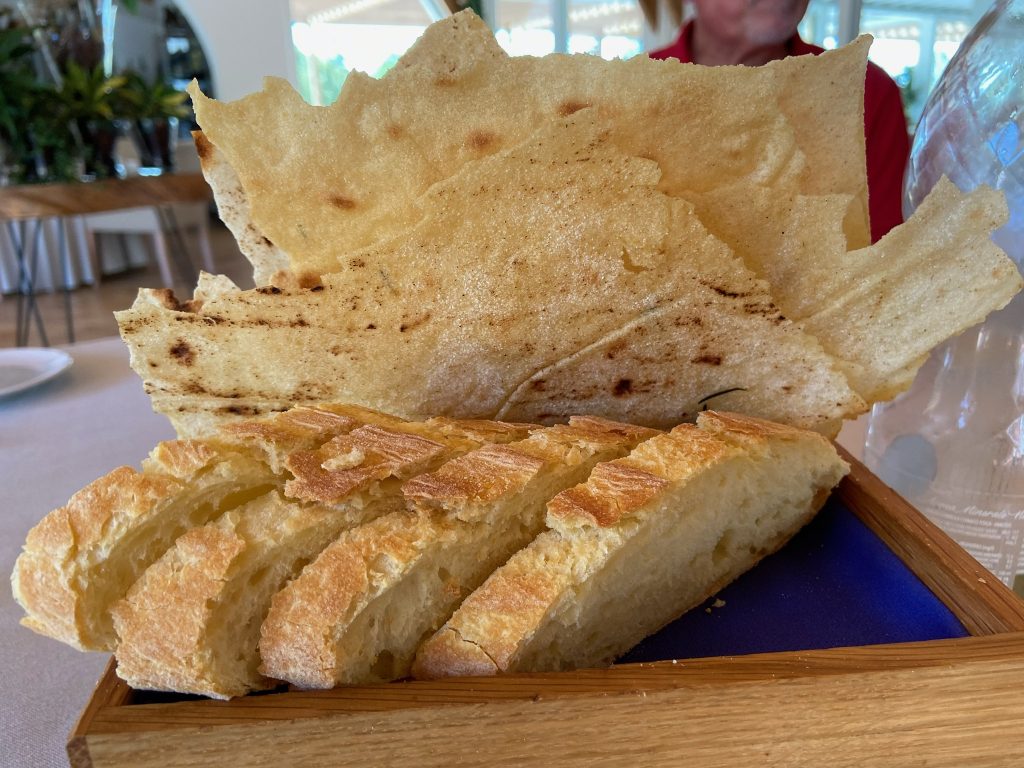 A good day. We finished off with drinks by the pool with our bartender friend Luca.
~~~~~~~~~
Saturday July 31
We didn't have much planned beyond lunch today. We breakfasted lightly because we had decided to return to ConFusion because we all liked it so much. I took some more pictures of the pretty buildings.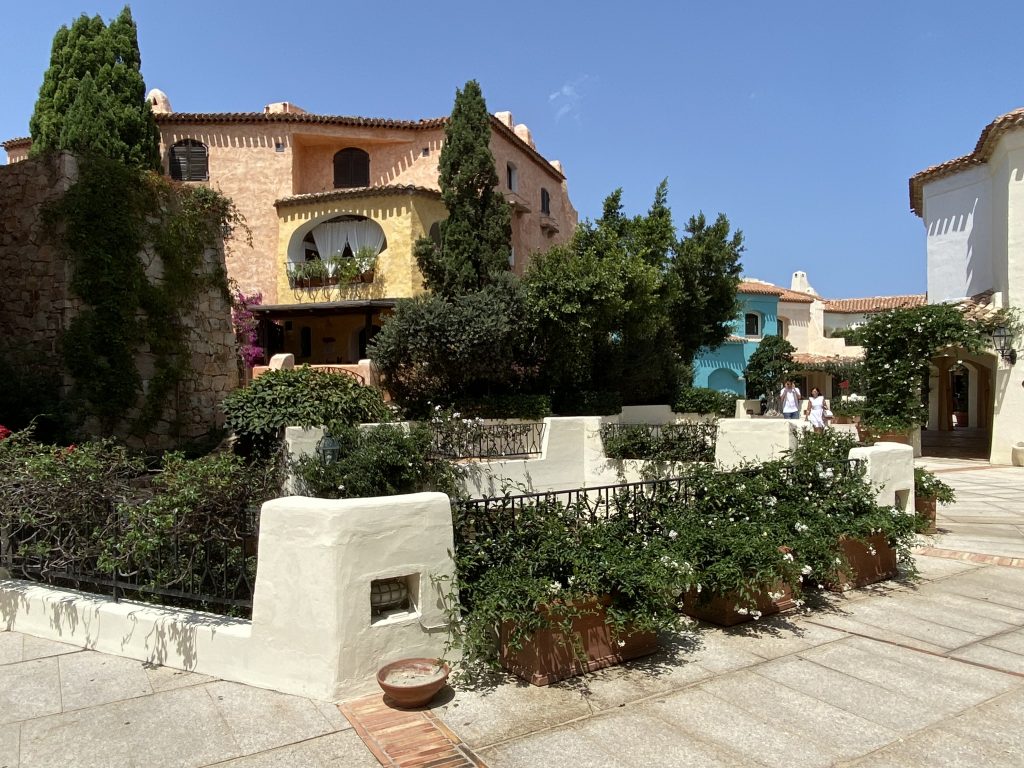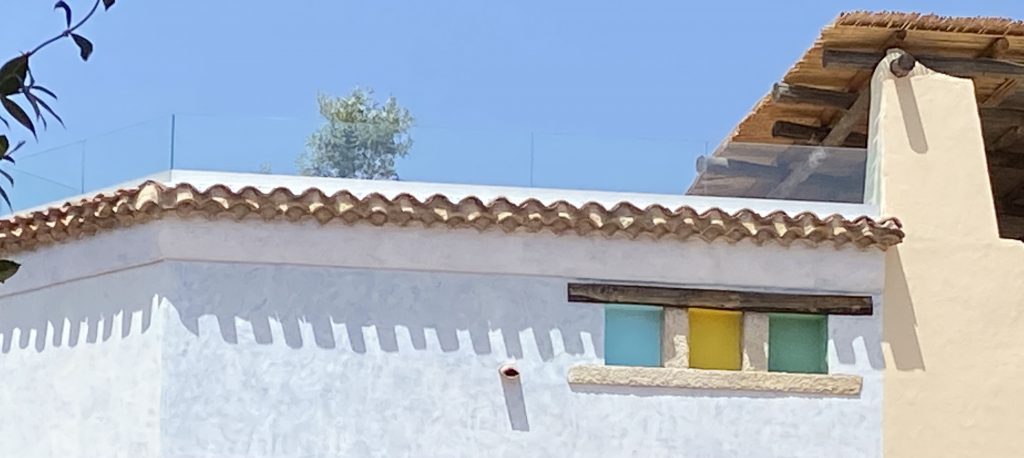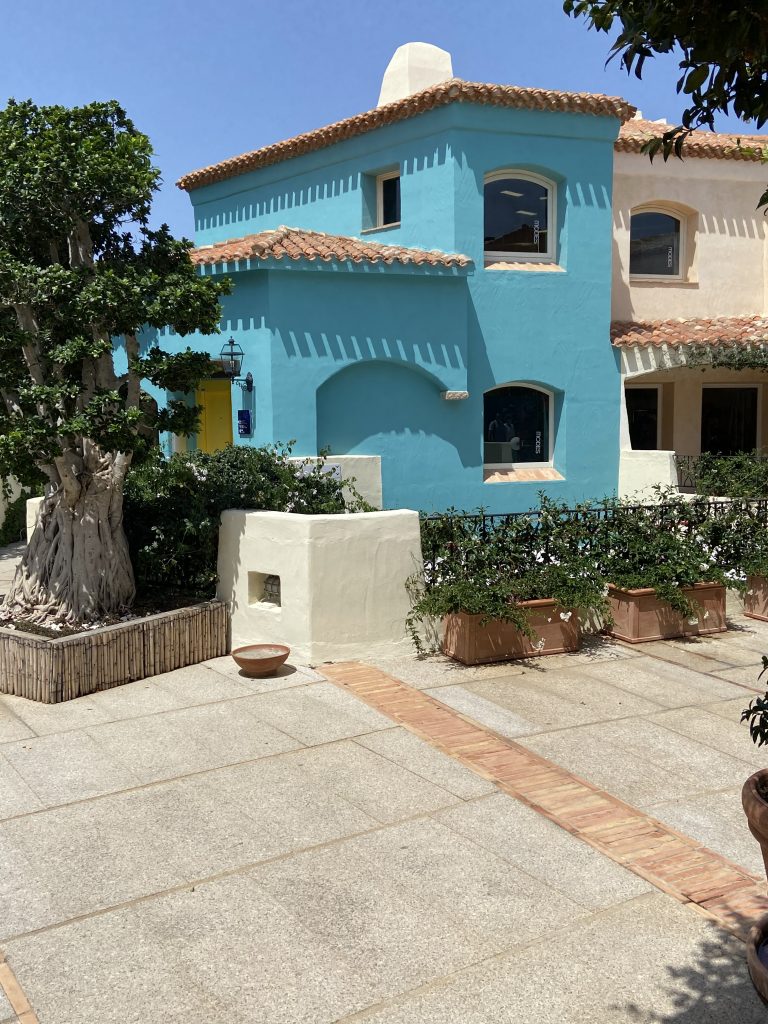 The lunch was wonderful as the last time. I only got an antipasto and a secondo. That way I would have room for dessert.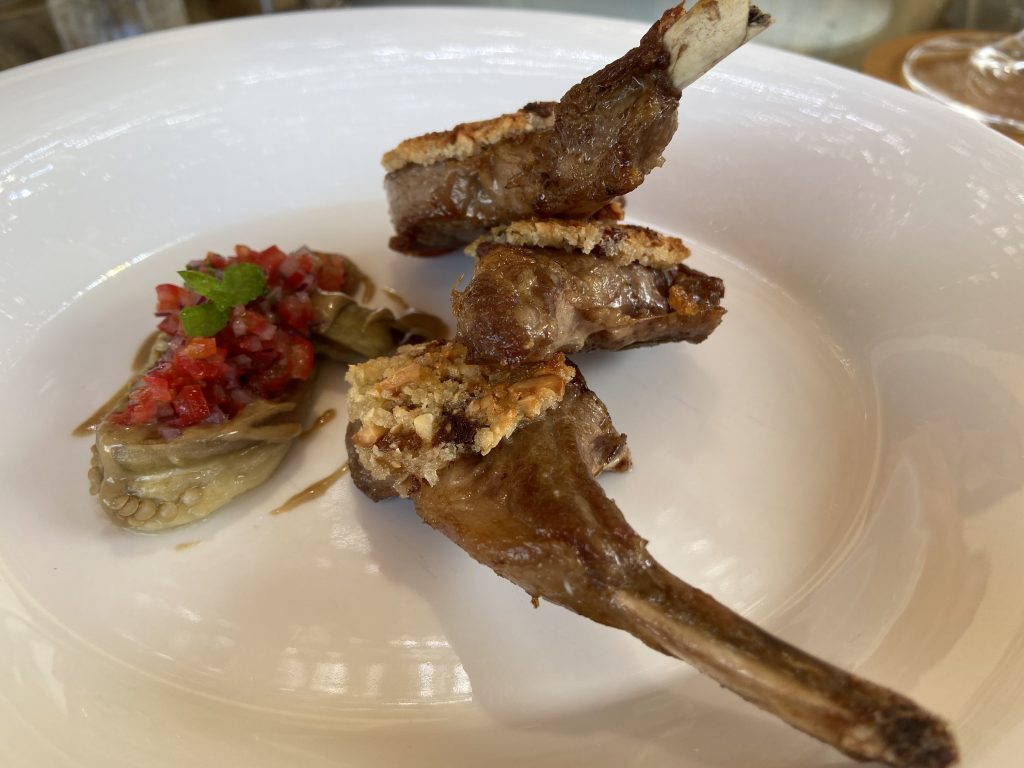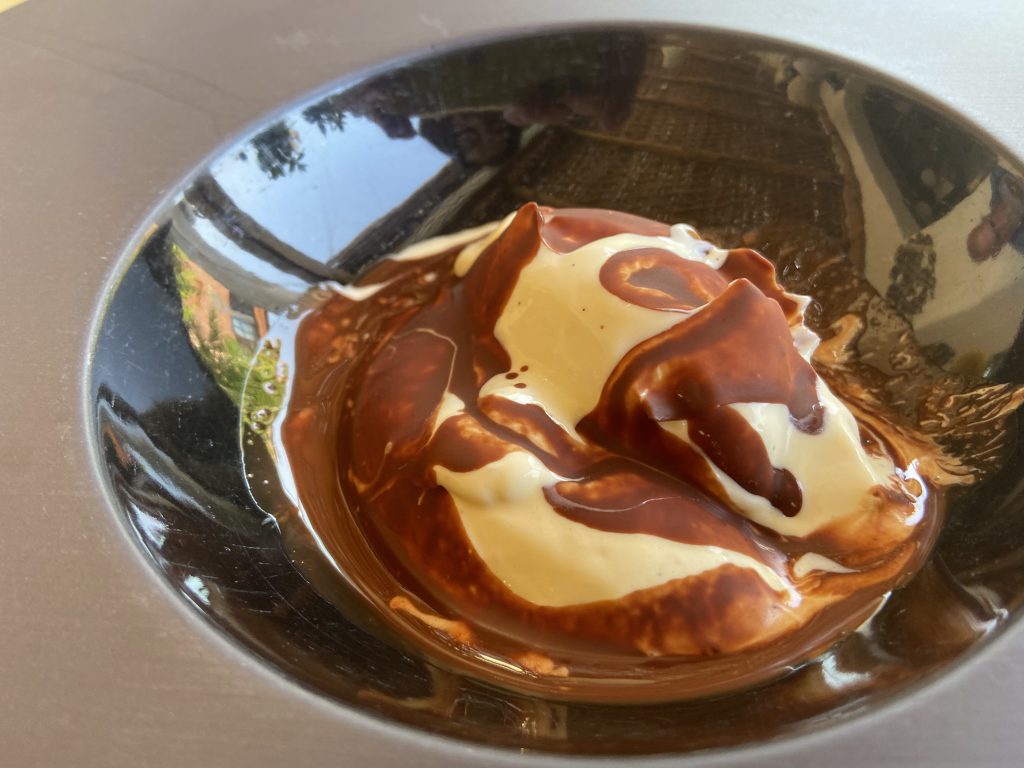 This is Filippo. One of Chef Bassi's chihuahuas. He was cute.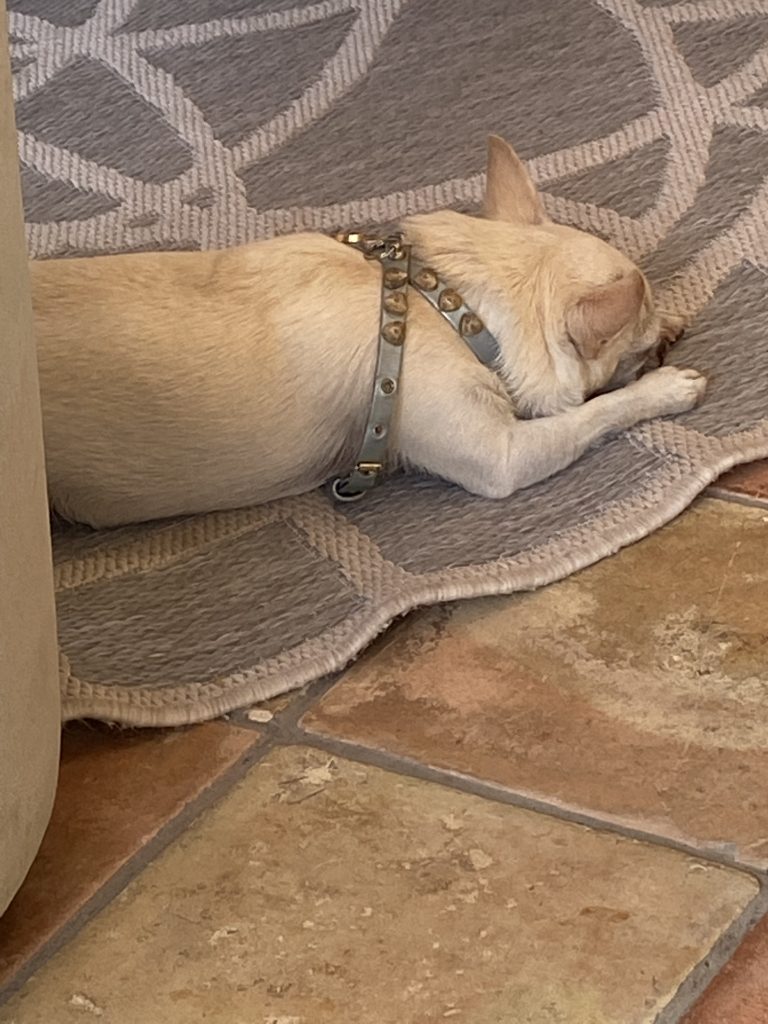 An excellent lunch. It's probably good that this guy is not closer to where we live!
Later, when we went for our customary glass of wine at the bar beside the pool at seven, we had to say goodbye to the sweet bar keepers. Luca and Gabriele. Two young men, small in stature and dark with beards. Quite handsome. They had to dress in the hotel dark pants with shirt and dark vest with a tie. Sometimes I felt really sorry for them because it was damn hot in the sun in those hot clothes. But they were both very nice and seem genuinely to like us. Sometimes you wonder with these employees. They have to be friendly but these two seemed to be really happy to know us. Anyway, sorry to say goodbye. I wish them well in the coming times. Which could be difficult.
~~~~~~~~~
Sunday, August 1
Thanks to Susan we got late checkout. Our flight is at 9:20PM. We can keep our room until six. A big thank you to our hotel. So we have this air conditioned space to share until we go to the airport.
We had hours to do things so we decided to go to the other big wine producer, Surrau. They had a three wine tasting with a nice plate of local cheeses, three meats, grapes, wine jelly and apple. Very nice. It was a big facility and very reminiscent of the California tasting rooms. Again that similarity to California.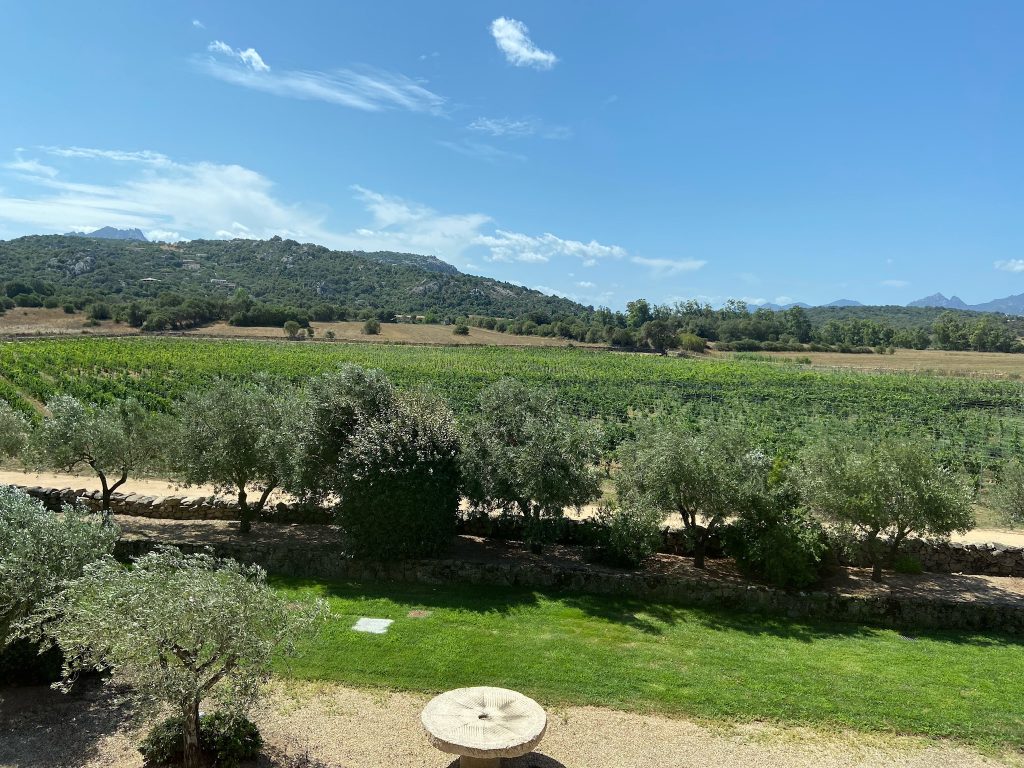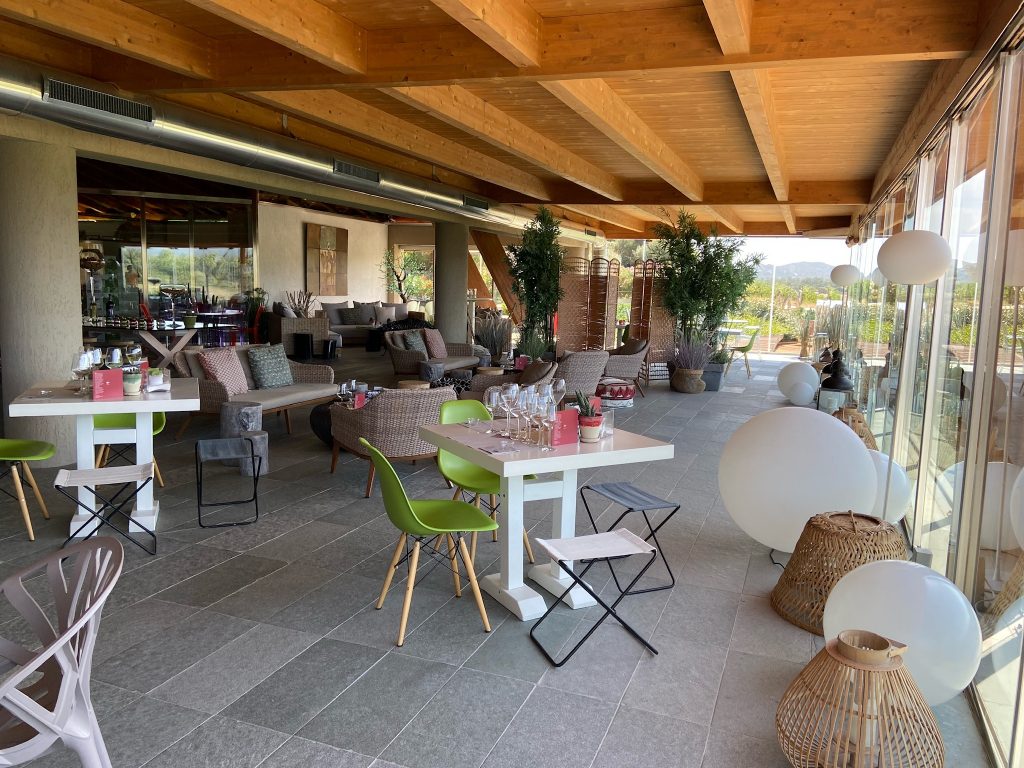 Then we drove up into the mountains to a small town called San Pantaleo. It has the only piazza in our part of Sardinia. It also has attracted artists. Cute place. We visited the piazza and the church.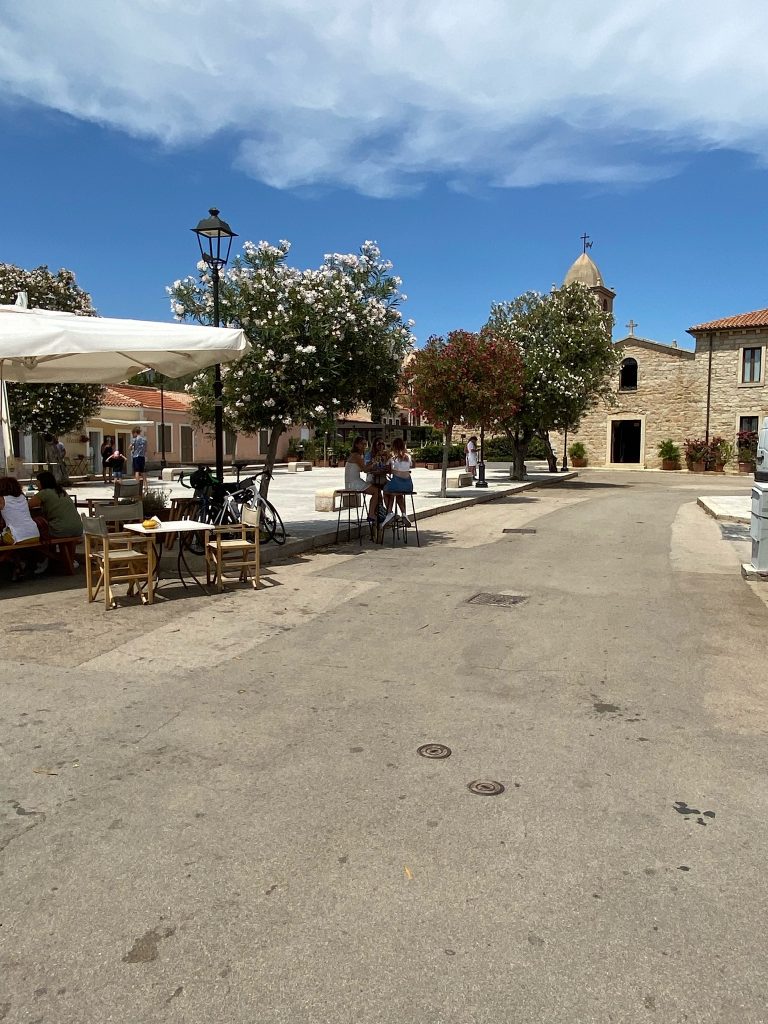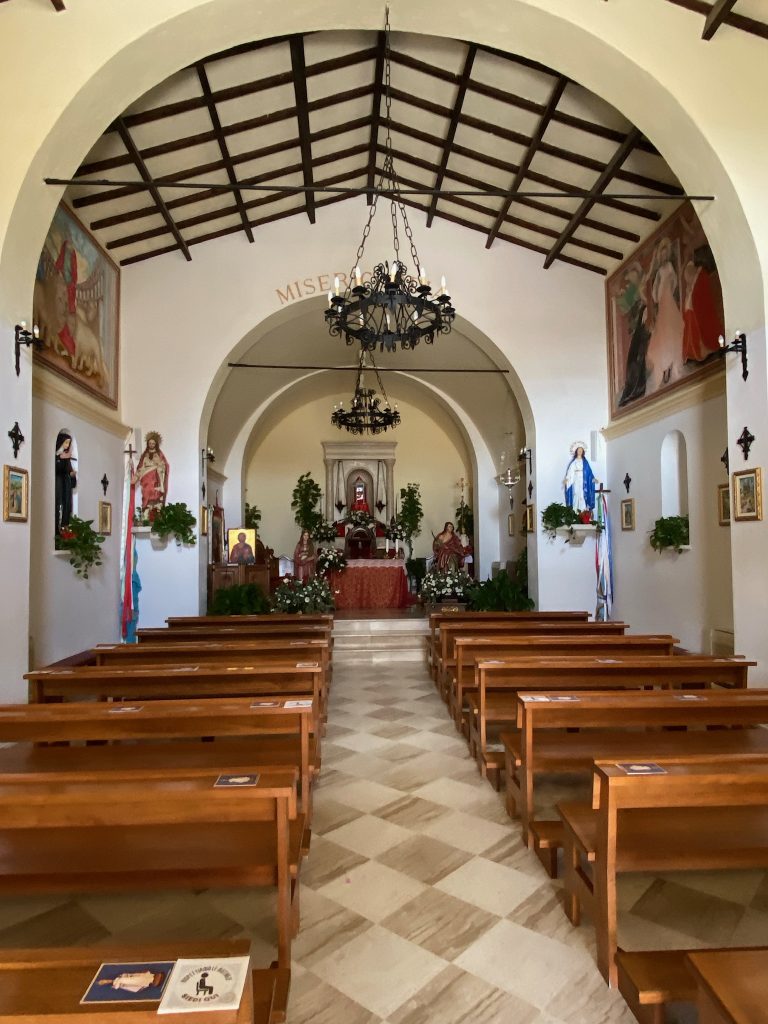 The town is full of little stone buildings. These are the typical houses that the people lived in before globalization.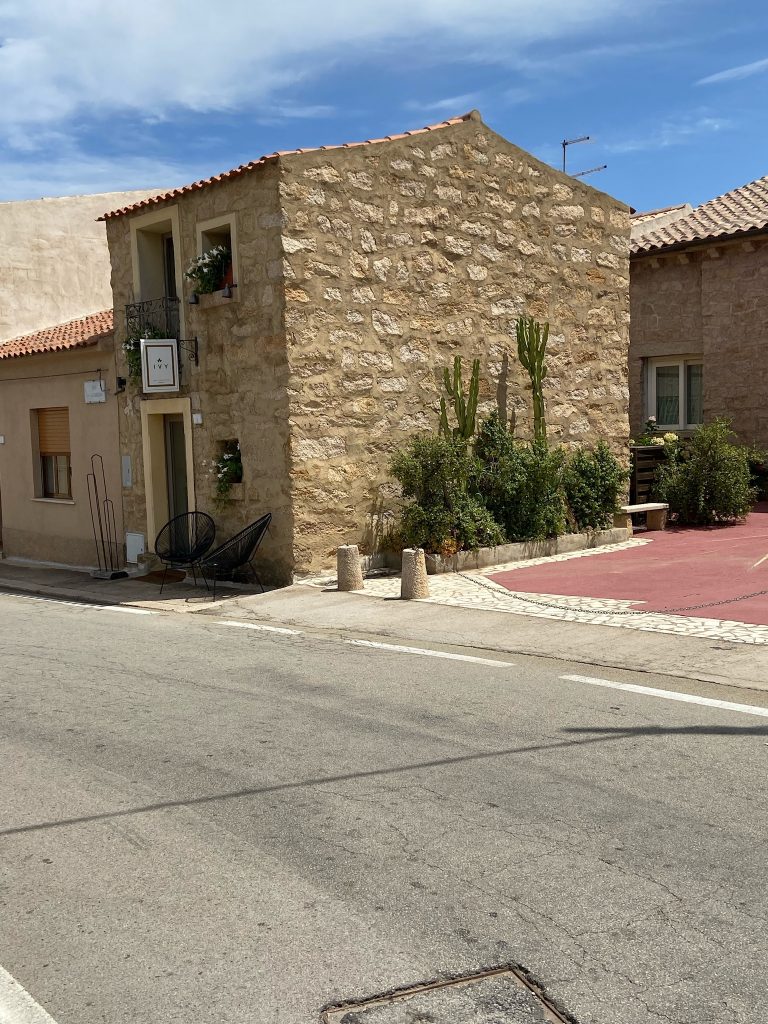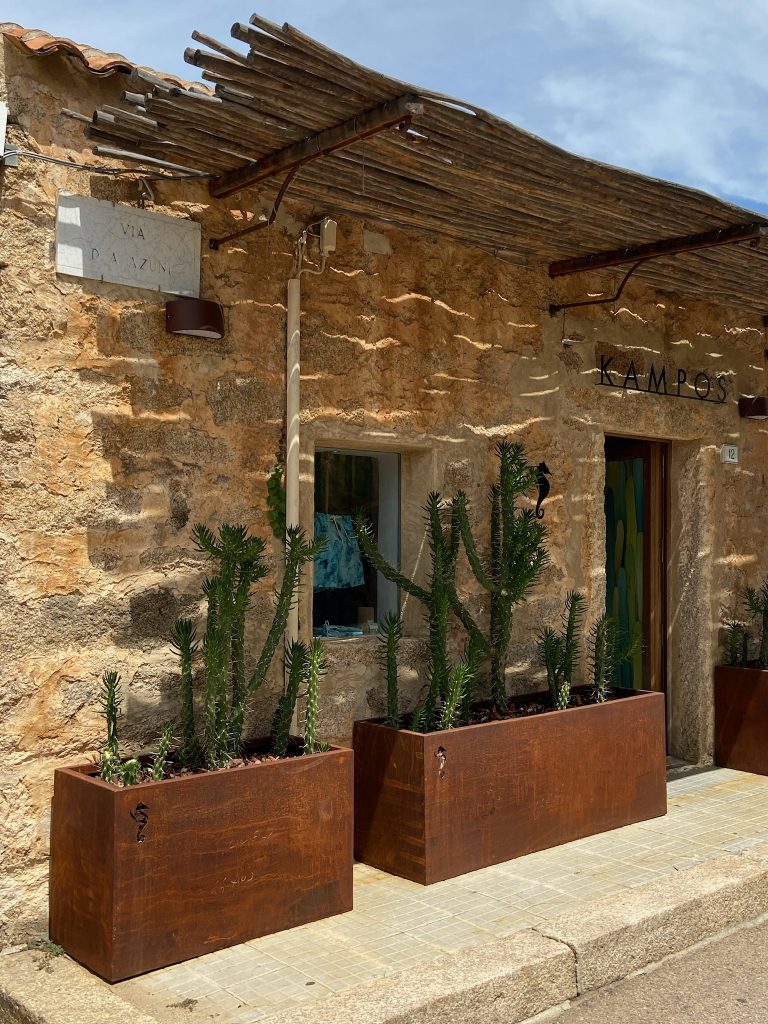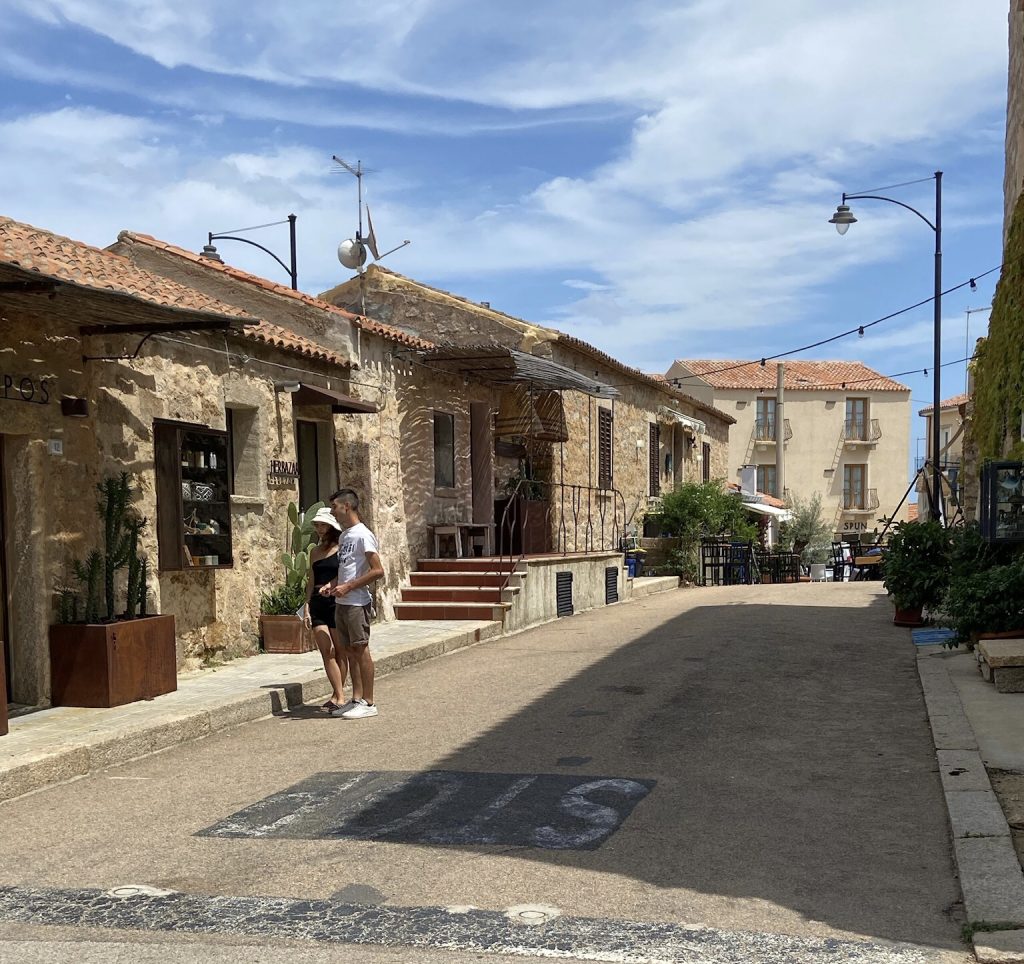 The town nestles up against these massive, wind sculpted granite mountains.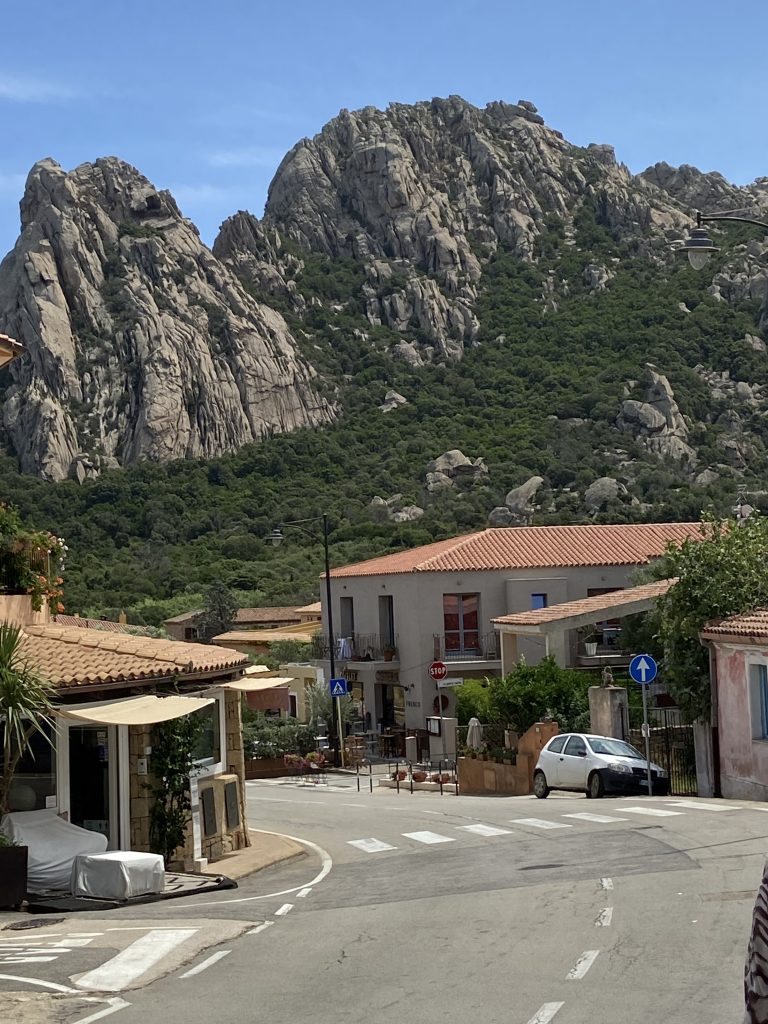 We decided to have lunch here in a place called Zara Cafe. Cute family owned place. Dad is the cook, Mom and son run the front. We had fresh grilled fish. So good.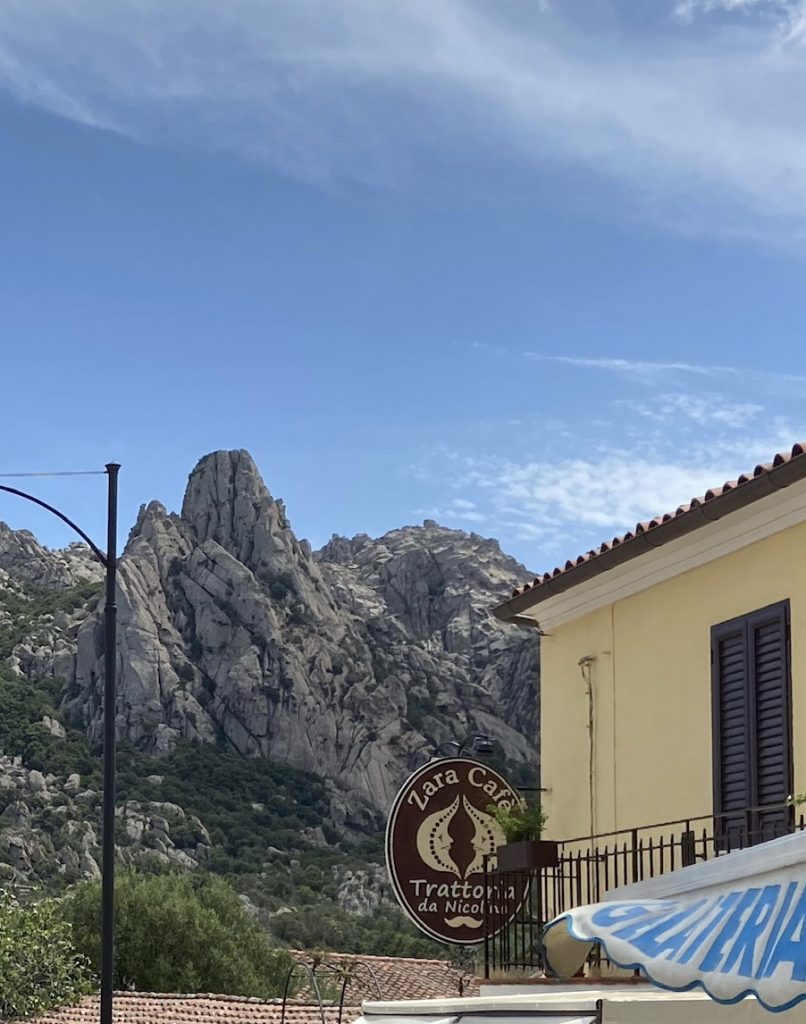 We returned to the hotel and stayed until five. Then for the horrors of travel nowadays. If we didn't catch Covid here, we never will. Crowds of young, and, I'm sure, unvaccinated people. No social distancing possible. Everyone was good about wearing the mask at least. But it was horrible.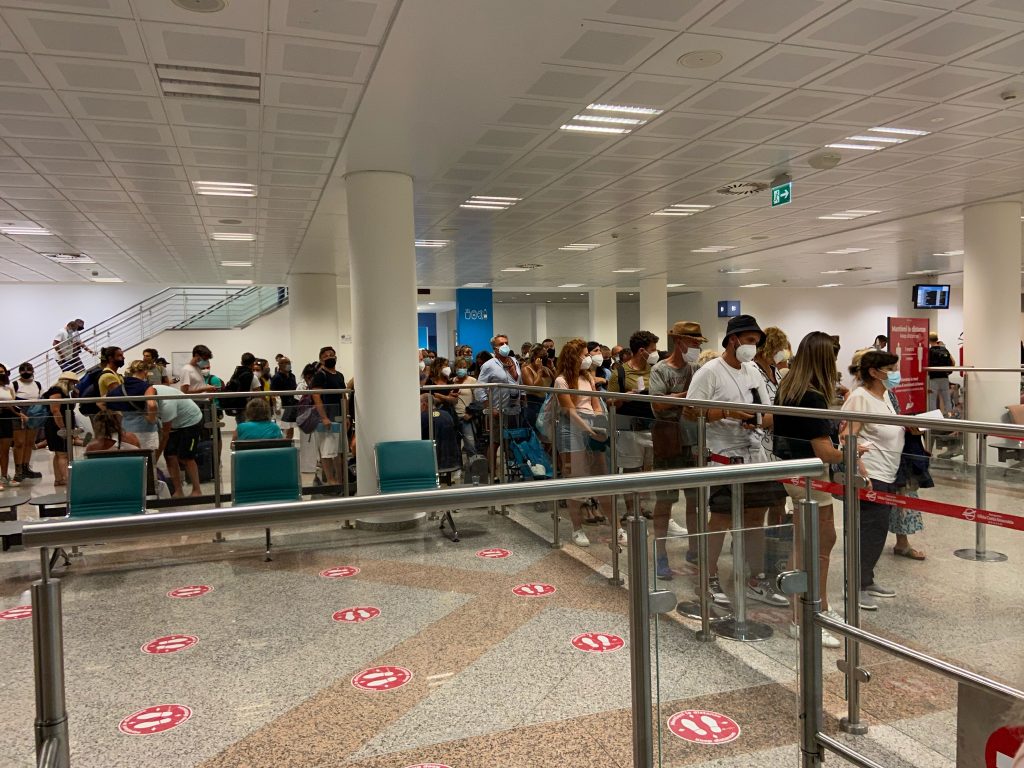 The flight was fine. It only takes 45 minutes. We landed at 10:40PM. Got our car just fine and decided to drive home. Only an hour and a half and it was fine. It was great to be home with our poor cats. The temperatures have been in the 100s and the house was very hot. I threw open the windows and hopefully it will cool off tonight.
~~~~~~
Now for my best and worst…
Our hotel. Grand Relais dei Nuraghi. There were some glitches but they work hard to fix things. And they let us stay eight hours after checkout for free. 👍
The two bar tenders, Luca and Gabriele, need special thanks for their always cheerful care.
Best food — ConFusion
Best outing — Catamaran to the Maddalena archipelago.
Best thing — those brilliant, cool, clear, electric blue waters!
Worst thing — Olbia airport.
All in all a fun trip. Would I go back? Probably not. It was not the "real" Italy. It felt like the US in many ways. The landscape and architecture looked like the US desert southwest. Because of this really big difference from what we are used to, it was a great get-away if only because we felt far away from home, in an exotic place for six days. I'm glad we went. I know we missed the interior for the most part and the south. So I can't speak to those parts. Of the two islands, Sicily and Sardinia, I'd pick Sicily.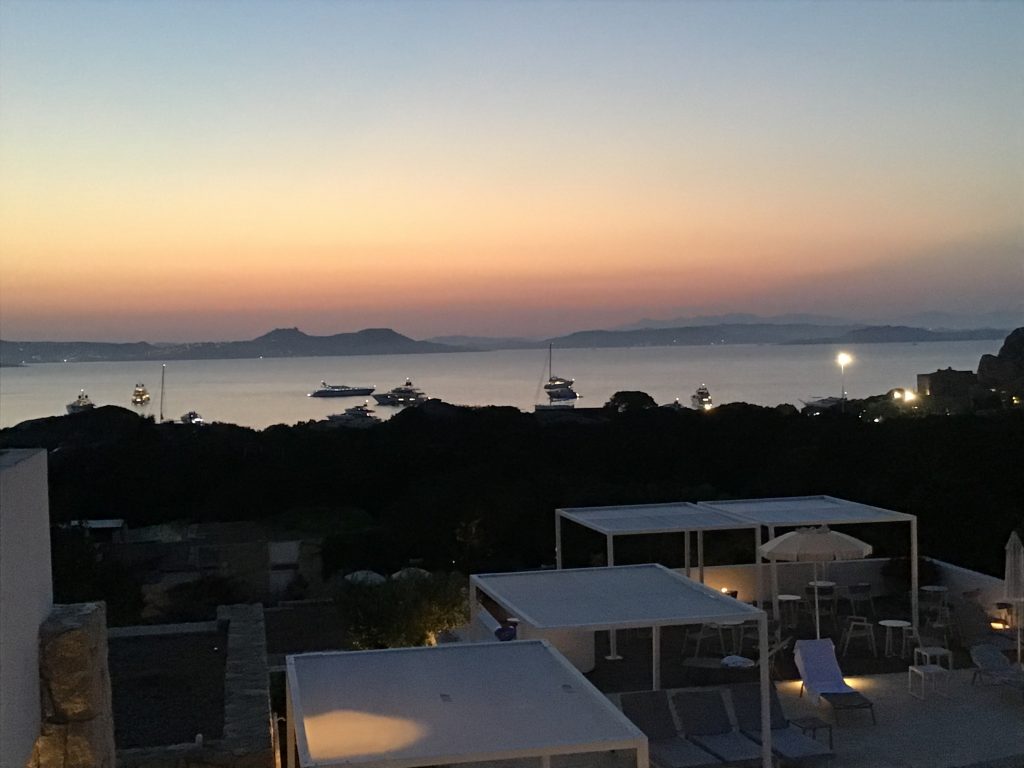 In five days we will know if we got Covid. We were hyper aware of the threat. The rate of transmission in Sardinia is the highest in Italy. And there were hordes of young people, most likely to not be vaccinated…or to follow the rules. We were in very crowded inside venues. The young people from Calabria on our catamaran tour were unlikely to be vaccinated and no one wore masks. I will report back!