Like everyone on this earth, we all have errands to run to keep our lives ticking along on track. We are happy all the shops are still open and, although we have to stay in our Comune, we have everything we need here.
Our list for today was extensive. First stop. As everyone does, we are preparing for winter. We have a heated mattress pad for our bed. And we have a summer one. So that summer one went to the dry cleaner to be cleaned for next summer…SUMMER ☀️ which I see as a shining light ahead of us! Maybe a new beginning after this pandemic. Spero di si.
Second issue we had been dealing with. Our old printer had died and we ordered a new one from Amazon, after trying to find one locally. We got that on Friday and have semi-set it up. (Don't get me going on how hard it was!) Of course, as these things go, I had JUST ordered new toner for our previous printer when it died. €80 worth. So I needed to return it. But, without a printer, I was unable to print the mailing labels to do so. So I waited. Today we took the toner to the DHL pickup location to return. Check.

Last week we also had to go to the ASL (Azienda Sanitaria Locale – Local Health Unit) because our E01 had expired. Our Dottoressa had noticed when we visited her. This is the code that is used here to determine how much you must pay for prescriptions and some tests…according to your income. If it expires, you automatically pay the most. So we got that updated but we didn't have all of the copies of our cards they needed (of COURSE they need copies!!). At home, we had no copier…so we waited and once we got the new printer – we made the copies and we took them there to drop off. Check.
A trip to the EuroSpin supermarket to order a turkey for thanksgiving was next. This part I liked best. This year I decided to do Thanksgiving dinner, even if it is just for us. Our friend Susan offered to make a pie and I think Gary is making a vegetable. No matter. I will take a pan of turkey, maybe dressing, gravy, and of course, mashed potatoes to them. We will eat alone, alas, but at least we will share the bounty with some friends.

After that we visited the Coop supermercato. I had not been since we went to Code Orange and they are again taking things seriously. We had our temperatures taken before we could go into the mall, of course masks are mandatory everywhere now, both inside and outside, and the spacing between people is being enforced. We bought a bunch of the staples we needed. And also some cat food for our friend who is in isolation. She feeds a mamma cat and her litter from this year and was running low on food. I dropped it by her house so she should be good for a while. She told me they are coming to her house to give her the Covid test rather than making her go to Citta di Castello. One of the few benefits of age 🙂.
~~~~~~~~
I took a walk Sunday evening. By the time I got back to the Centro the sun was just setting and the sky was pretty. Here are two pictures.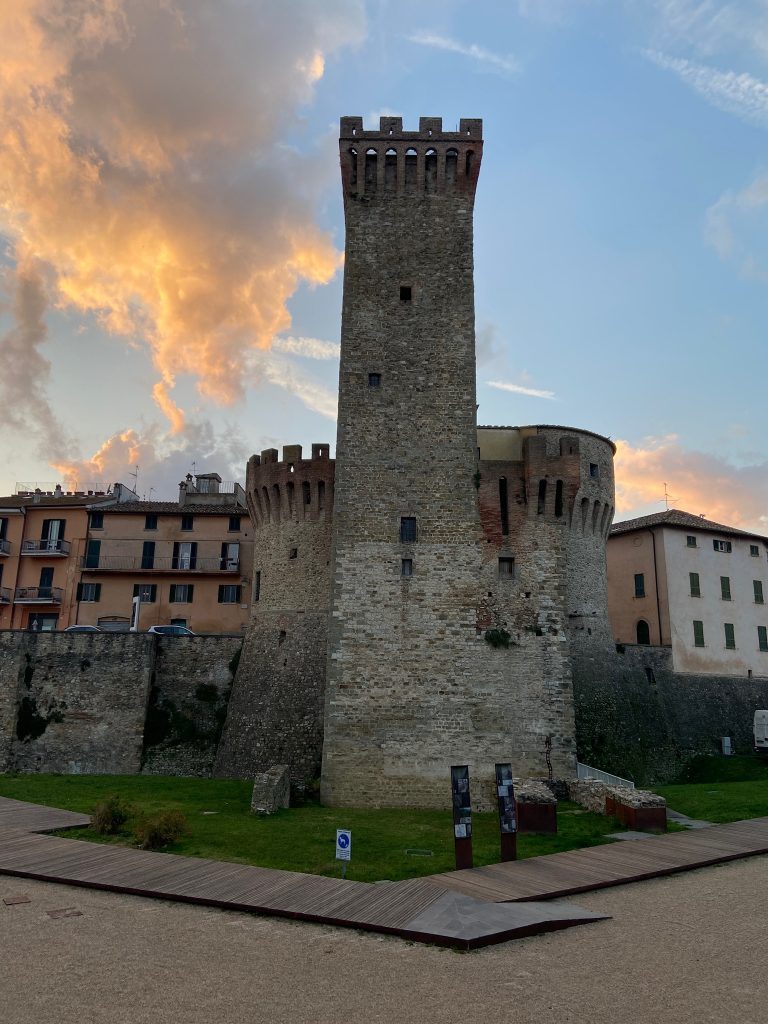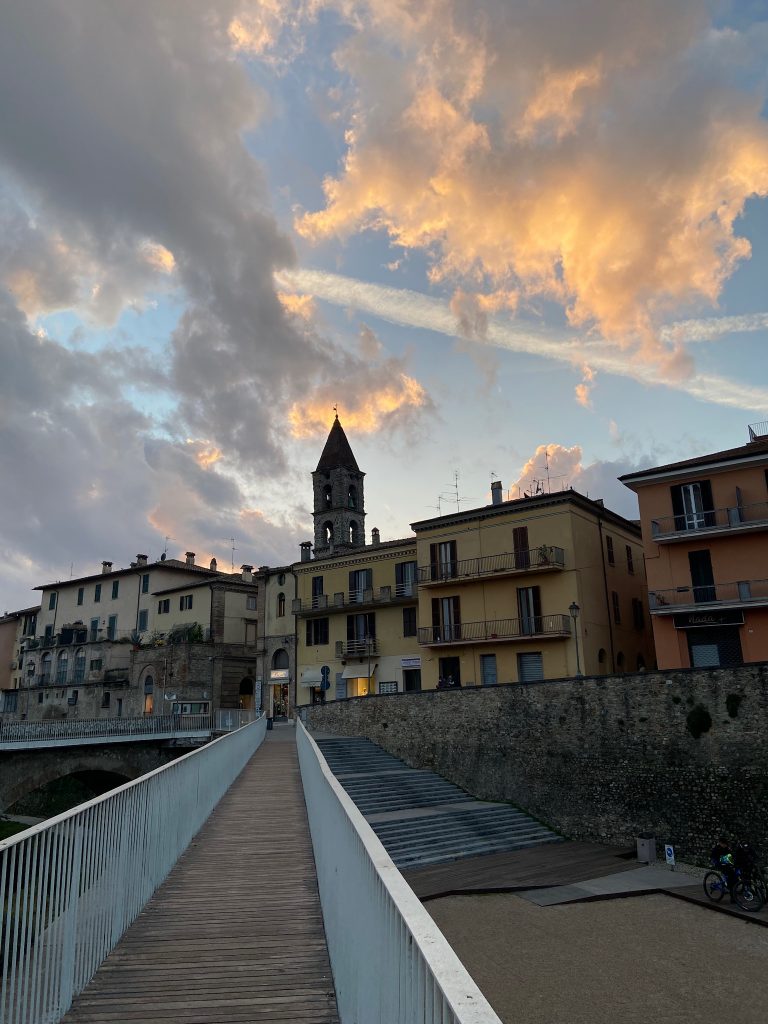 Stay safe all….andrà tutto bene 🌈