Recently, I had a comment on my blog that said, "I've noticed that people who have made life changes and are thrilled with their choices often will then mock or downgrade those or situations they've left ". Wow. I hope most people who read this blog don't feel like I come across this way. I certainly don't feel this way. I am happy with my new life, yes, but would never, ever "mock or downgrade" people in the US.
My Ferragosto blog post had a paragraph at the end where I expressed my concern for my fellow Americans and their difficulties right now. Maybe it was the way I worded it. To clarify…. I'm sure not everyone is experiencing difficulties but I know from what I see, and read, that there are a lot of people hurting out there right now. I do realize there are also many people unaffected financially who can do most of the things they have always done. I am happy for them. I just meant to express my concern for those not so fortunate.

I write my blog because I want to. It is not commercial in any way. It is a way for me to remember my life here. I can go back and re-live things if I want. I am gratified that some folks like to read it…thank you!

Mostly I try to stick to relating everyday events going on here. Back during the lockdown in Italy, I felt like I needed to relay all we were going through. So I posted for 83 days straight. I feel that is quite an accomplishment. As you can imagine it was a roller-coaster of emotions for me.
Sometimes I do compare the US and Italy. They are my two countries after all. I enjoy my life here, but remain interested in all that is happening back home. And I vote. What happens in the US affects us too. We are still US Citizens after all.
~~~~~~~
OK then. Enough of this. We are in a new week. It will remain hot for the foreseeable future. We have been dealing with a sick cat. We went to the vet last week and she put Rocky on antibiotics. He is much better. I don't know why he was sick but I am really happy he is feeling better.
This one is Simba, Rocky's brother. He always looks so comfortable when he's sleeping.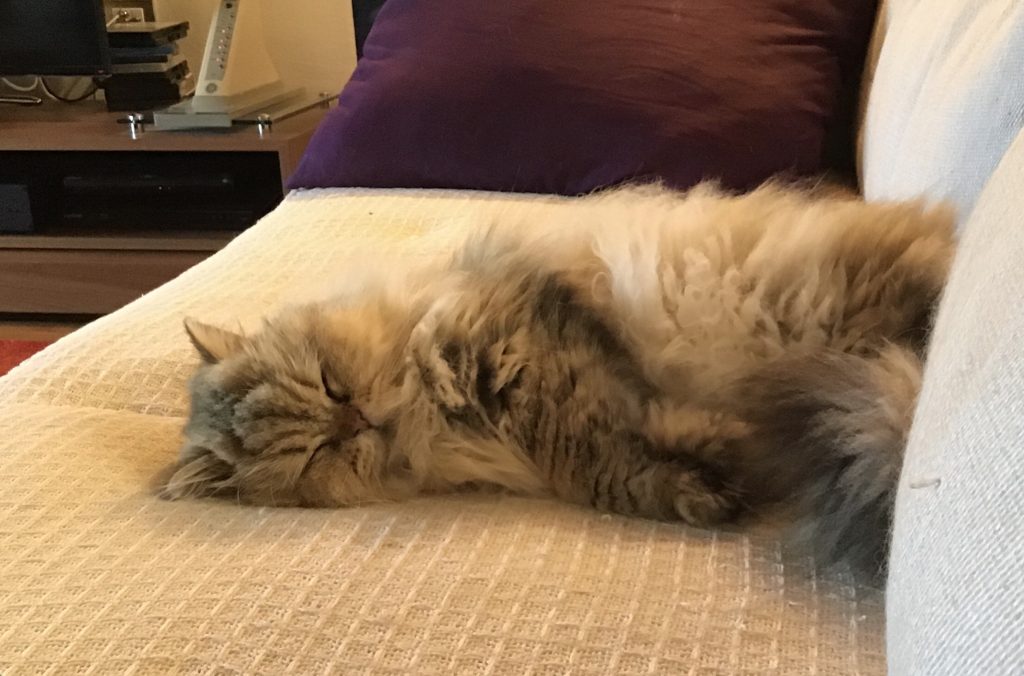 ~~~~~
I recently read that the Italian government has become concerned due to the rise in new cases of the virus here. They have added requirements that anyone traveling here from a few countries, Malta, Croatia, Spain and Greece (for now) must be tested before they can come or return here. They also have instituted new requirements that between 6pm and 6am, everyone inside or out must wear the mask and socially distance at Bars and Discos. There has been an uptick in young people getting Covid and it is related to the fact that the bars and discos have huge crowds of young people partying together and not being careful. Schools are reopening so the concern is the kids will bring it into the schools. We are not out of the woods yet. I'm glad Italy is being vigilant.
~~~~~~~
Stay safe everyone! 🌈 Andrà tutto bene.