Something I have avoided posting about. Since the curfews were lifted, the bar in our main Piazza, called Cafe Centrale, has gotten increasingly popular with the ragazzi. This is the perfect Italian word for young guys (and girls). It is a nice bar. He regularly hosts musicians, and has good cocktails and food. August, as most know, is the party month when people vacation, no work is done and much is closed. In the Piazza, as the month progressed the crowds got worse and worse. They stayed out there until dawn sometimes. And need I say they were loud? OMG. They were loud. And they were drunk. The bar owner, Diego, eager to recoup all the losses of the lockdowns, stayed open until the customers left…so, until around 4am 😳. Needless to say, this encouraged the crowds. Luckily for us we sleep in the bedroom in the back of our house. So we didn't really hear it that much and if we close the window in our office it pretty much cuts the sound completely. Thanks to good windows.

In the morning the wreckage of the night is evident. Trash, broken bottles, vomit, the smell of pee in the small streets. Things came to a head when an article was published in the newspaper about it and it turns out one of the residents swore out a "denuncia" on Diego. The court said he needed to control the crowds. He appealed, and they said, no go. Fix this. Diego spoke to the Mayor and agreed to close at 1:30 am.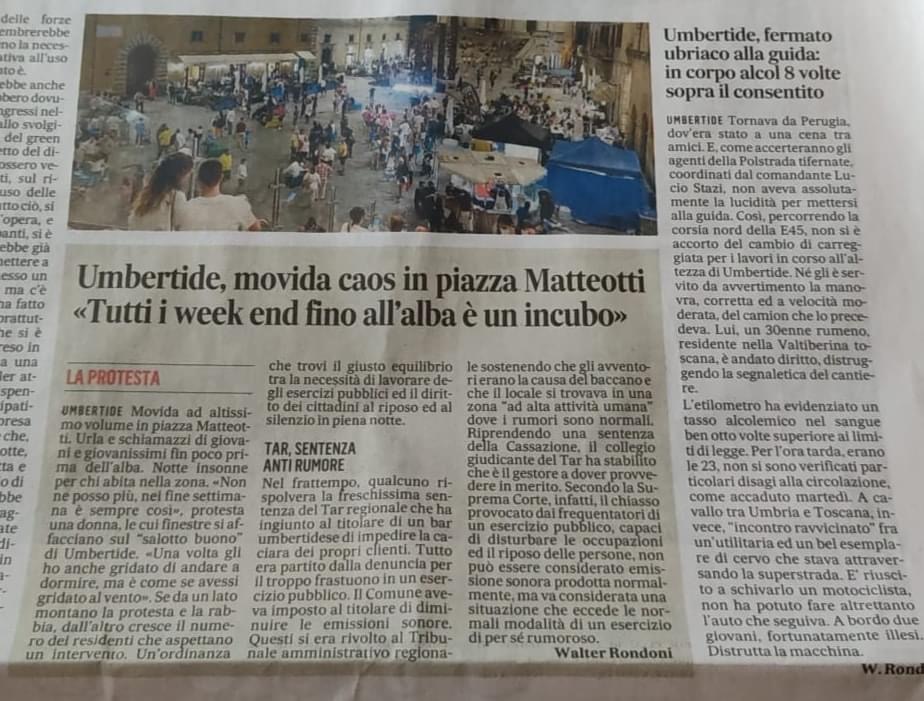 I bet you're thinking we should have just called the cops. What cops? Our cops are in bed asleep. The Carabiniere are awake, maybe, but they can't be bothered with a group of noisy kids.
So the saga continued. The first night, a Friday, that he closed early, I was up at 2am. I noted very loud crowds of ragazzi. The bar was closed. I was amazed to see packs of people, five or six strong, coming from all directions to congregate in the Piazza. They stayed even though he was closed. I suppose when other bars closed the people came to Cafe Centrale because they knew he was serving. The following night the crowds were also large. But the next day, a Sunday and the last weekend in August, things were calmer. And so it has continued. There are lively crowds which give our Piazza life. We love this. But now they are normal crowds of people sitting, eating and drinking. Music plays. It's hard to tell if this is because it is September now or because the word is out that it's no longer party central. Tomorrow is Friday. We will see what happens then.
~~~~~~
Always an adventure in the Big City!