In my last post I forgot to mention a funny thing. There had really been quite a downpour as we were eating with our friends in Calagrana, so when we left, during a lull in the storm, everything was soaked and dripping. We drove down the strada bianca what the IItalians call the unpaved roads – white roads) slowly. Lots of potholes and puddles. Then we saw them, toads crawling across the road, then small frogs leaping and hopping across. It's been so dry here that I am sure they were all rejoicing in the new water. It's their breeding season and they need the water to breed. Let the orgy begin!
Speaking of rain, night before last we had some of the heaviest rain we've ever seen. It was like the heavens opened and buckets of water came down. When we have heavy rain here, this new house has a nearly flat roof and, BOY, is it loud! It roars. In the morning all the plants survived. All looks as though nothing happened. Yay!
~~~~~~
House news. We met again with Irma, our architect. She brought a plumber with her so he could look at the caldaia issue. His idea is to move it onto the outside wall just next to the window in the kitchen. This would be ideal in my mind. I don't like them in spaces that are used, like a kitchen, anyway. They aren't the prettiest appliance and take up space. In our previous house it was in the attic and reachable by a pull down stairway. Optimal solution IMO. Now I guess we wait. I hope Irma will give us some drawings to look at soon. We still have to wait until fall to get the work done. And I would still like to get a refrigerator for up there. She needs to let me know the dimensions.
Most exciting of all! At long last our Deruta table has been finished. It's been about two months. This is a game changer for the terrazzo. A table and chairs is a big step to livability. Here are highlights of the delivery (those slabs of stone are HEAVY) and of the table in its new forever home. Note, there are hummingbirds, and butterflies!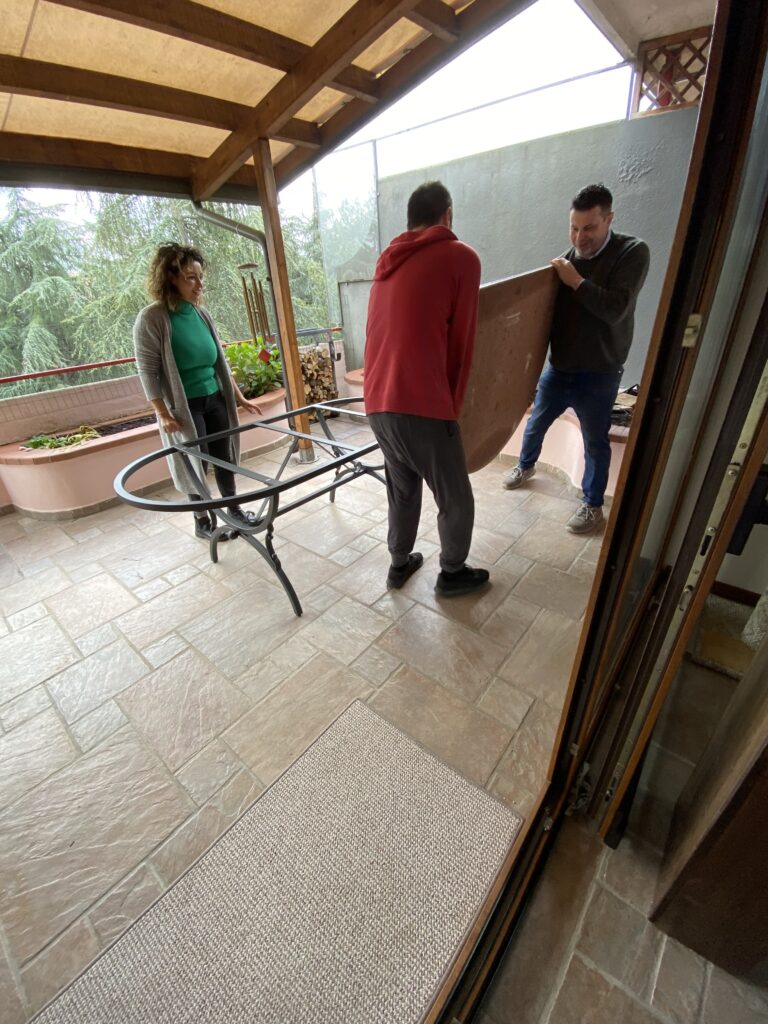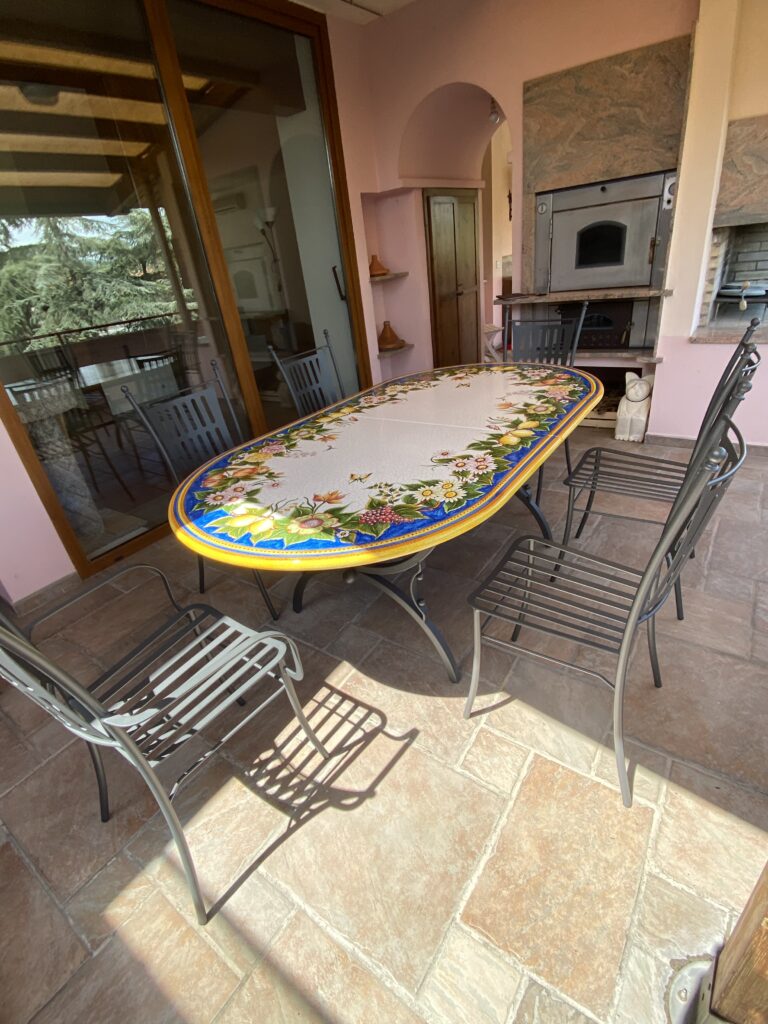 Now to order some cushions for the chairs. I'm thinking yellow! It was that or blue but I couldn't find this cerulean blue anywhere. The table and chairs make the top floor much more livable and inviting. And soon, it will be even more inviting since we just heard the sofa we ordered will be delivered next week. Things are shaping up.
It's a little cool today for sitting outside…but soon! Ciao a tutti!