Here's a trip report. The trip was short but the report has plenty of pictures. If you are not interested, as always, just skip!
~~~~~~~~~~
We took the train to Rome. It was a FrecciaBianca. One of the high speed trains but the slowest of the three kinds. We booked first class. There weren't many people in our car. The seats were staggered anyway so no one sits near anyone else. We all were wearing masks. This was the longest stretch that I will have worn a mask non-stop. I put it on at 9:15am and it will come off around 3pm. (Except for eating)
~~~~~
Then we boarded the FrecciaRossa to Napoli. This is the fastest train. We got up to 298 kph. We can get from Umbria to Naples in just over three hours, including a change of trains. We were in the business class car called "Area Silenzio" the silence area. Nice in there. Big cushy seats. Only one other passenger. Took just over an hour to get to Napoli from Roma. Before we boarded they passed out little bags with: a mask, gloves, antiseptic wipes, a cover for your seat back, water, cups and napkins, nice.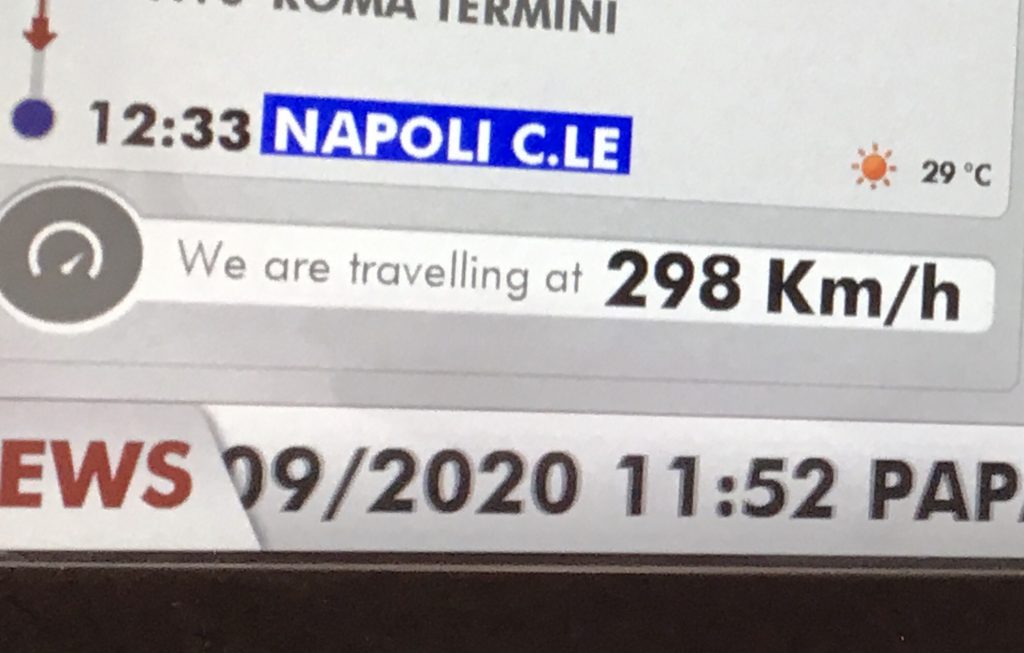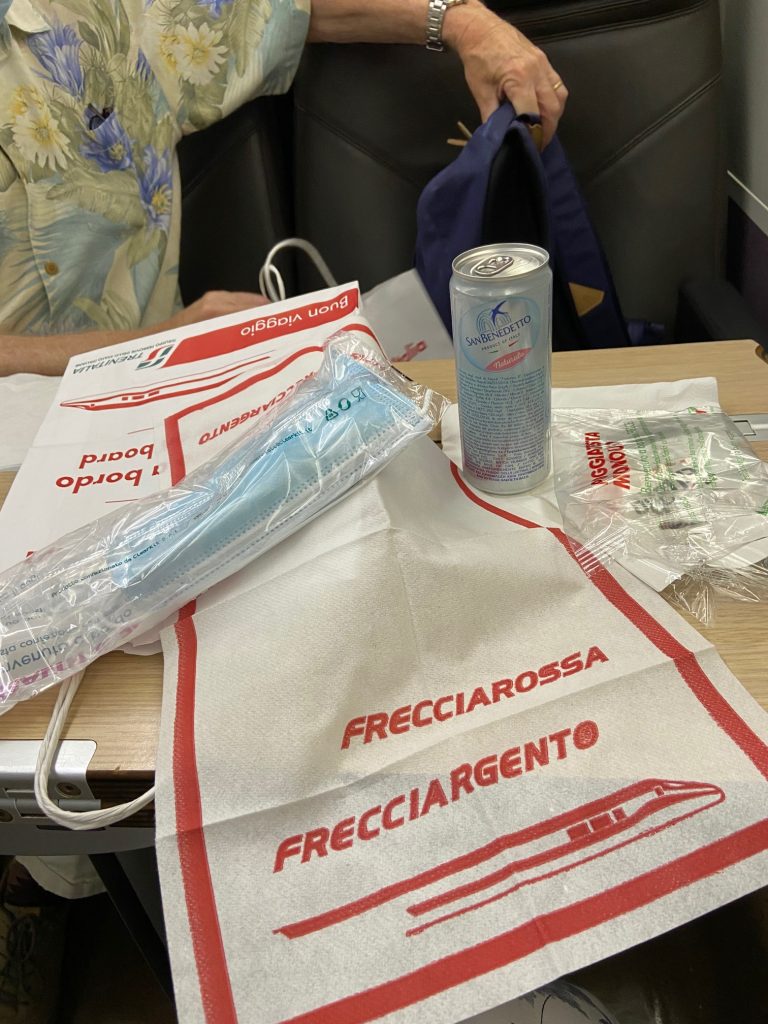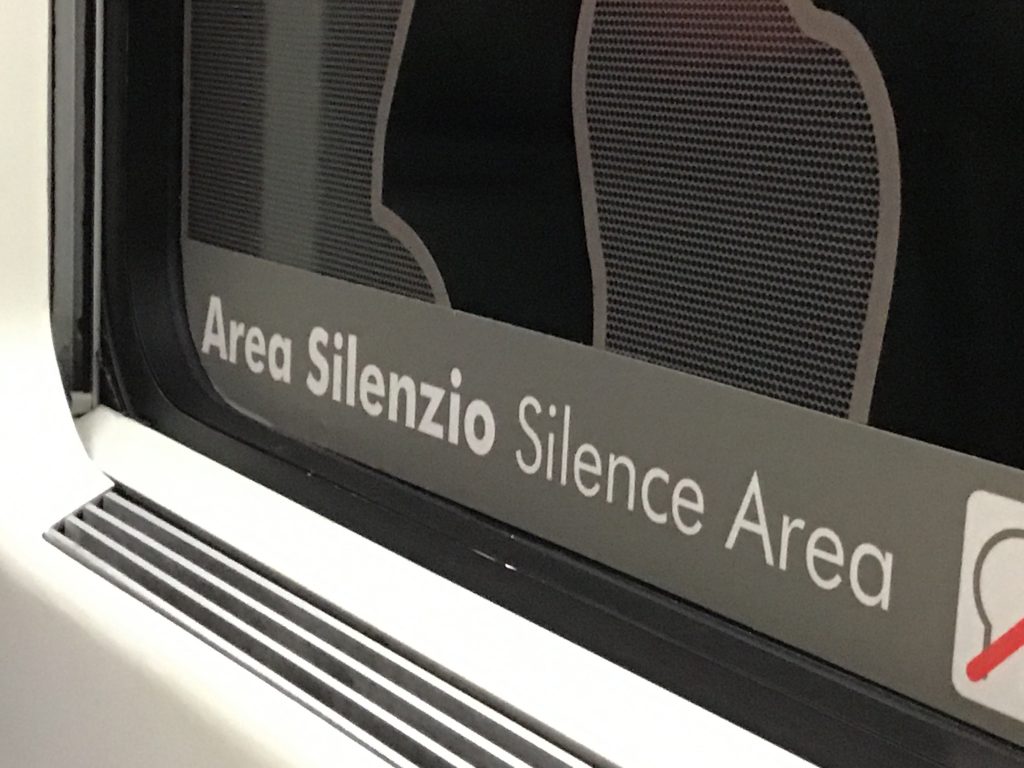 ~~~~~~~
I brought a picnic. Egg salad sandwiches with tomatoes, and peanut butter cookies courtesy of my friend Jen (yum – thanks Jen). And a bottle of white wine. Livin' large on the FrecciaRossa.
~~~~~~~
We had, for the first time, hired private transport from the Naples train station, to Positano – two hour drive.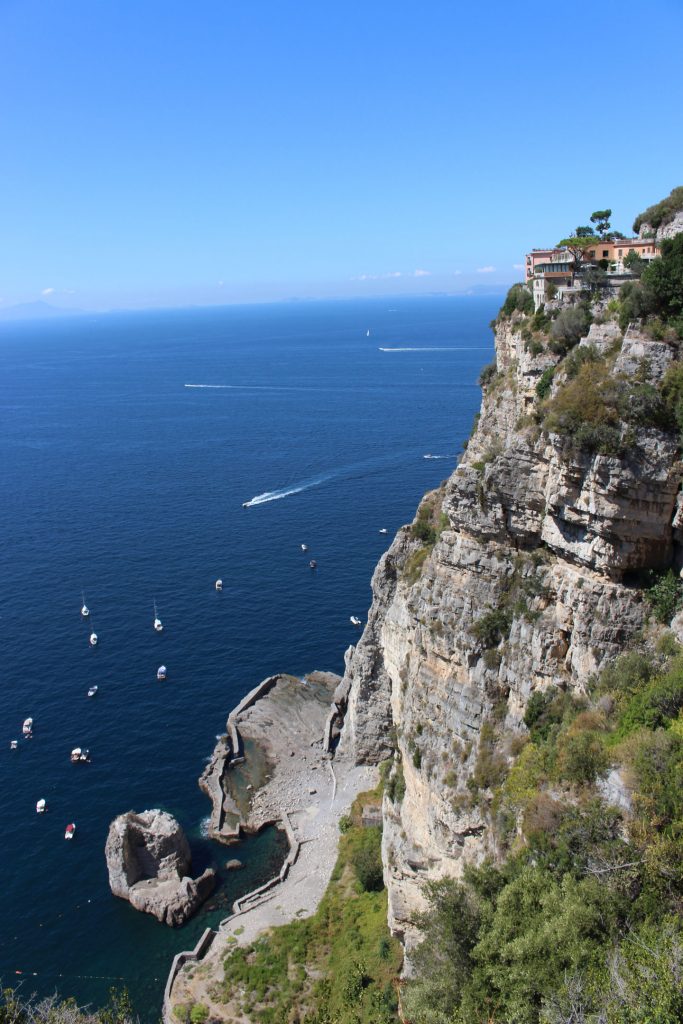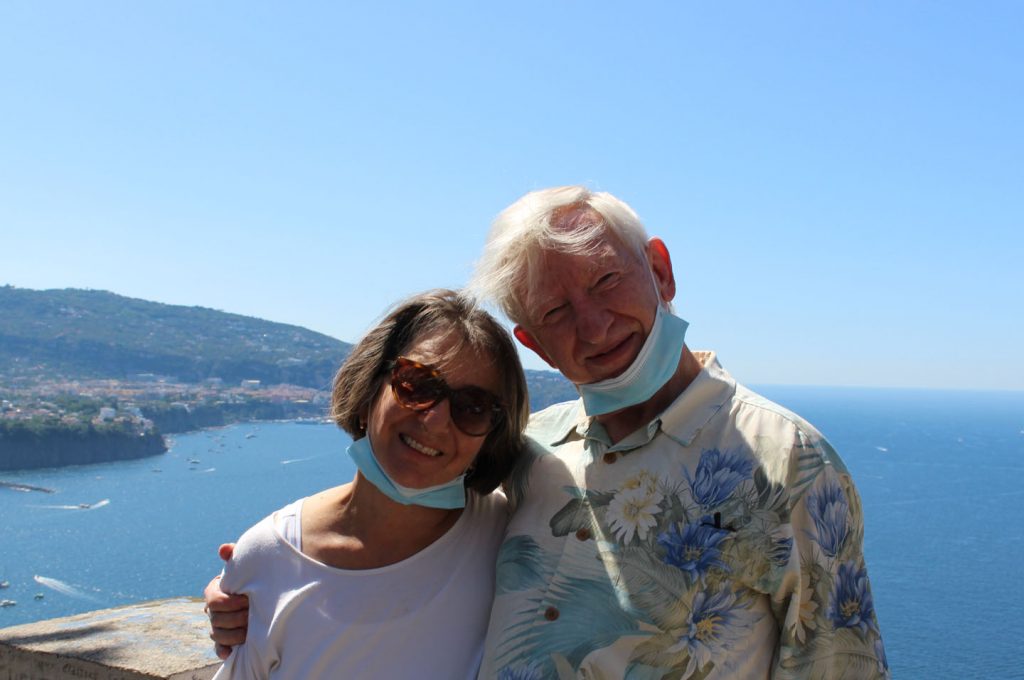 The other two times we've visited, Luther drove rental cars. This time, our driver was waiting for us and he drove us expertly to our destination. All we had to do was walk down the hill to our hotel. It was pleasurable experience. If we ever again have guests who manage to come, we will do this again.

Our hotel is called Palazzo Murat. Our first visit to Positano was in 1994 when we lived in Germany. This is the hotel we stayed in then. So, kind of for old times sake, I chose this one again. It is much more luxurious than before. Might be the best place in town. They have a pretty patio bar. Our room has views of the sea and the duomo. There is also a large garden beneath our window.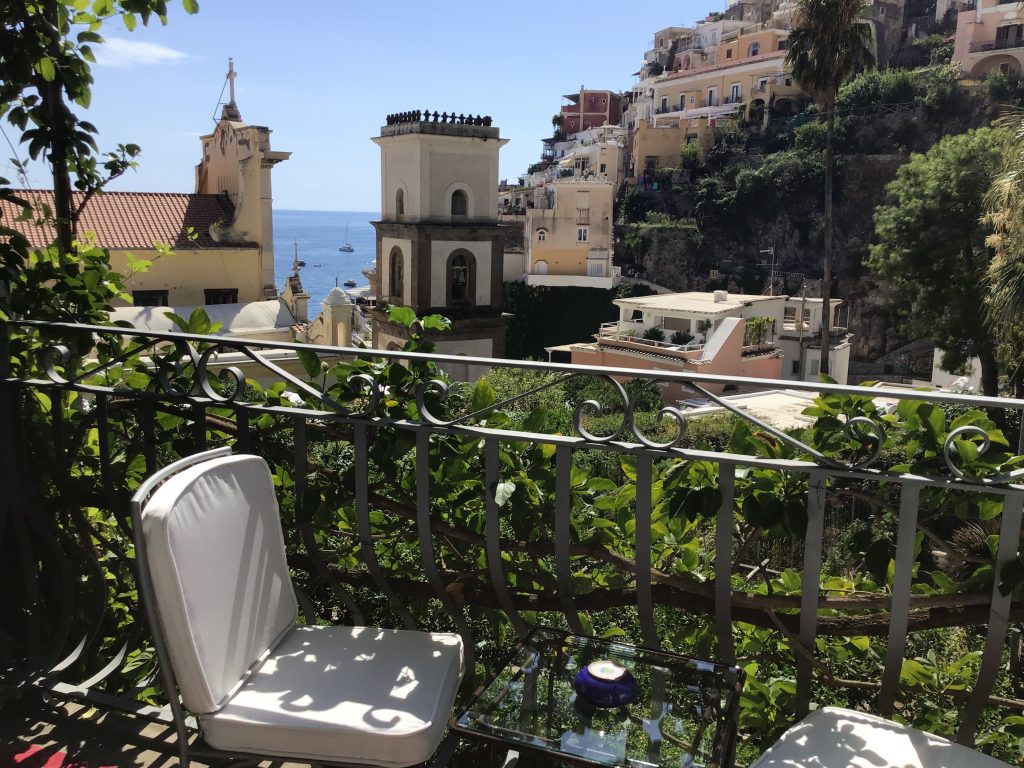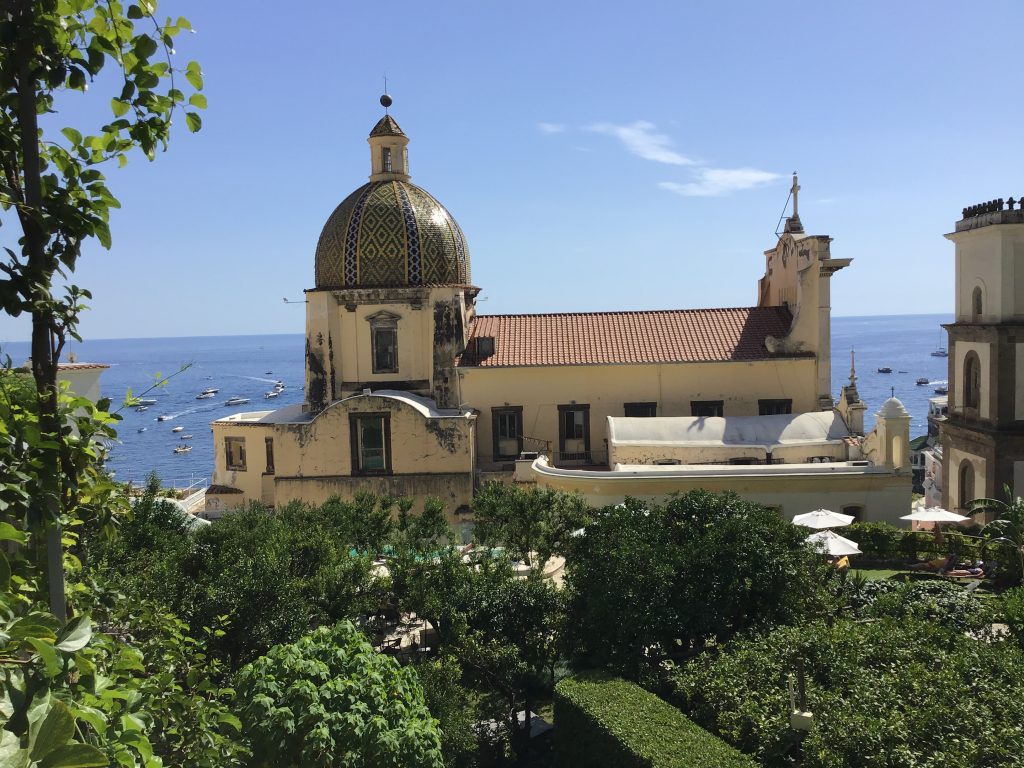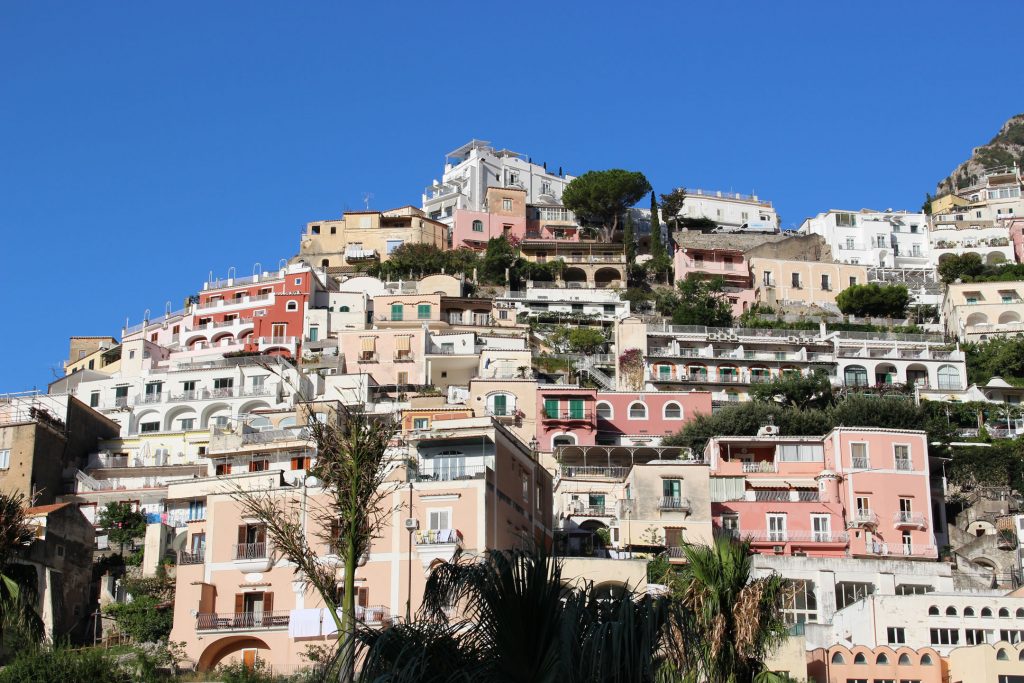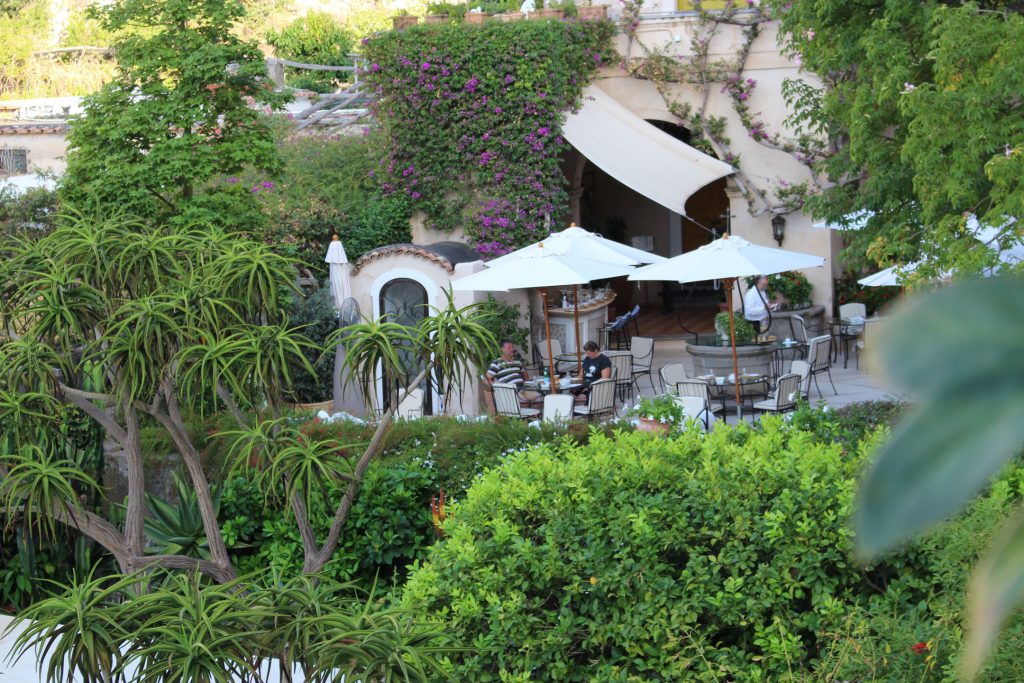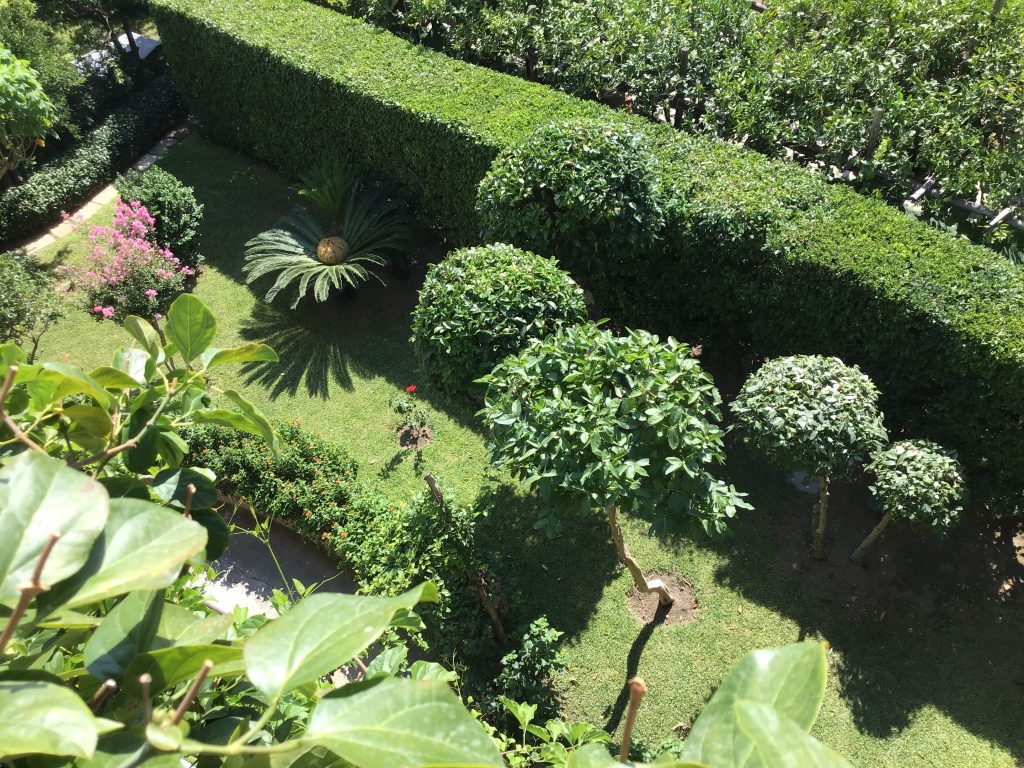 The entire building is wrapped by a bougainvillea that is more than a century old. It's main trunk is as big as a tree. For a plant enthusiast it is incredible. Along the balconies, and above the walkways there is a Genus Bignonia. There are also a banana plant, and tropical plants. My friend Doug would love it. There is even an entire trellised lemon, orange and tangerine grove. To one side there is the restaurant's garden full of beautiful ripe tomatoes, and herbs and salad greens used by the chefs. All of this in the center of Positano.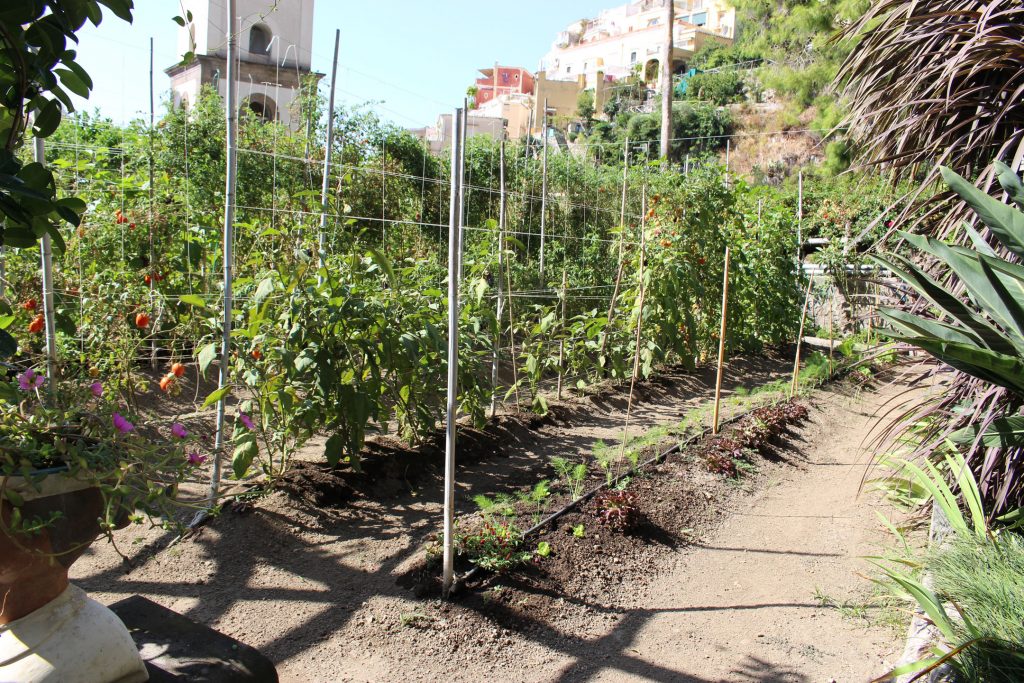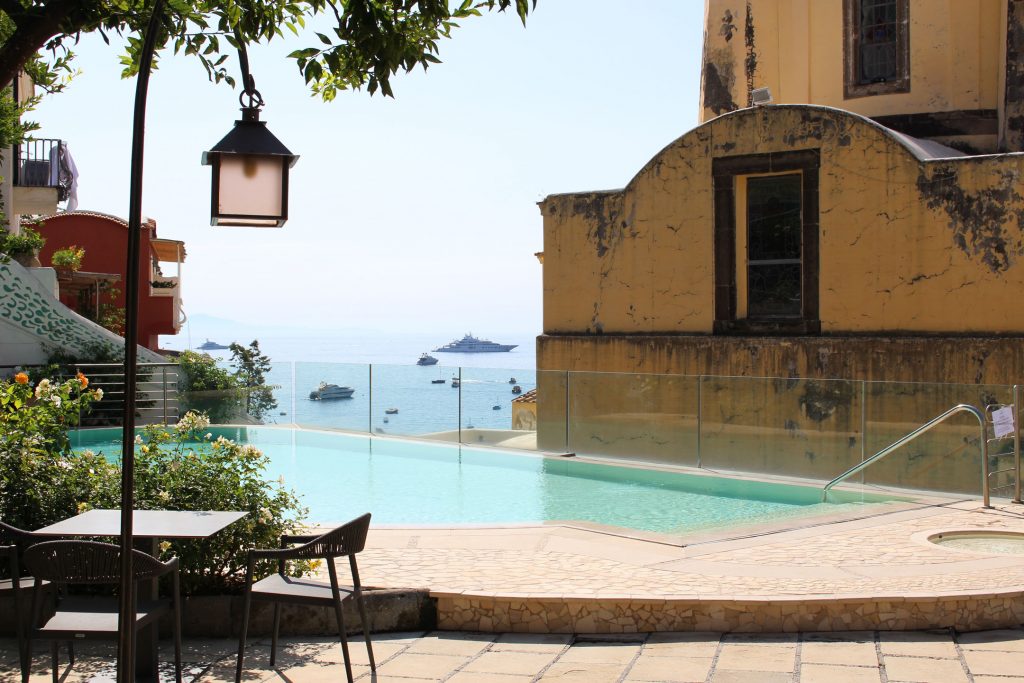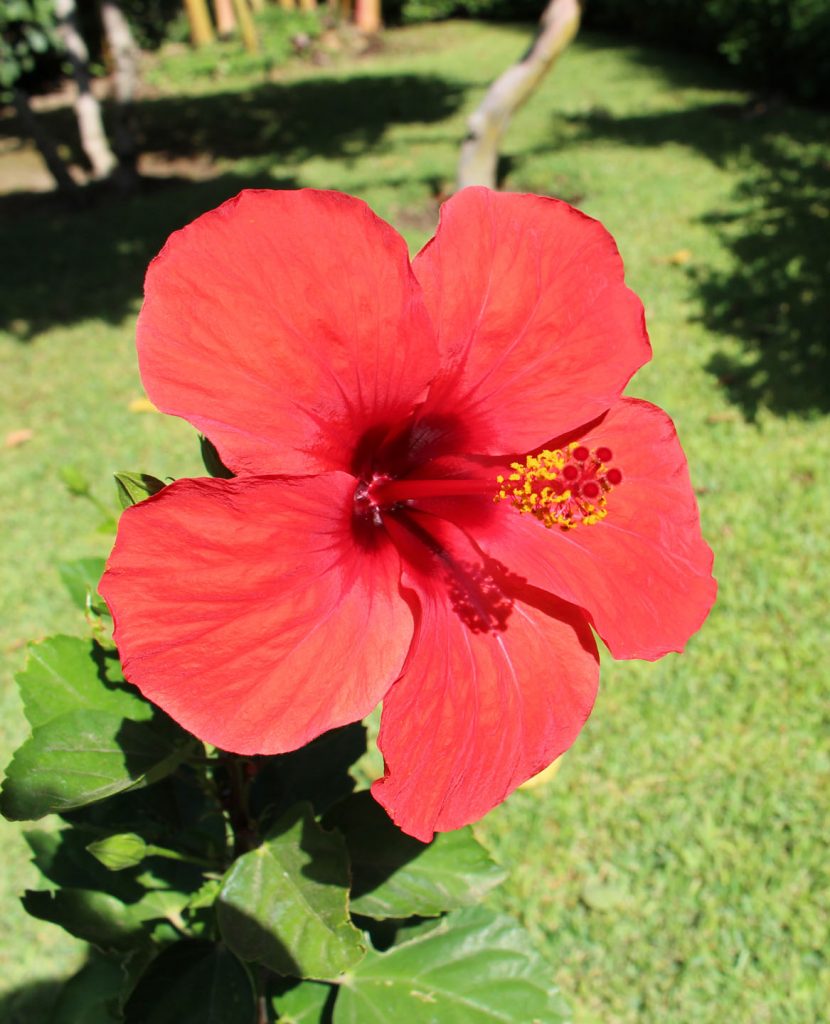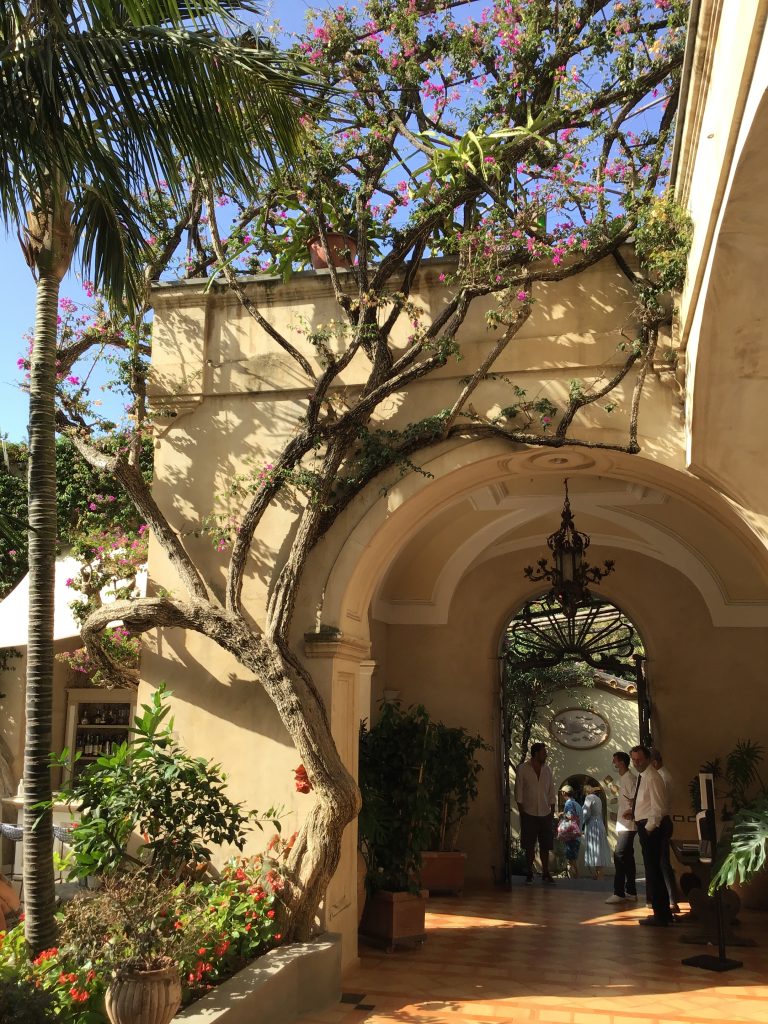 I was intrigued by the history of the Palazzo. It is 17th century and was the summer home of the King of Napoli. He was the brother of Napoleon Bonaparte. In 1808 he visited Positano and fell in love with the house. He spent summers with his lovers away from the politics in Napoli.

Now the house is the home of the Attanasio family. Several generations have lived here and made the hospitality of the hotel their careers. Each member of the family looks after a specific department.
~~~~~~~
After we arrived we rested and showered and met our friends Gary and Bill for drinks in the pretty bar as the sun set behind the cliffs. They had taken the boat from Salerno, where they live. I met Gary, virtually, a few years ago through my blog. We had met in person in Rome for lunch back in December, what seems worlds away now. I was happy to try an interesting drink so Gary and I tried a Bellini. Peach juice (fresh) in Prosecco. One of us tried the Fresh Breeze, a cucumber based drink. And one got a white wine.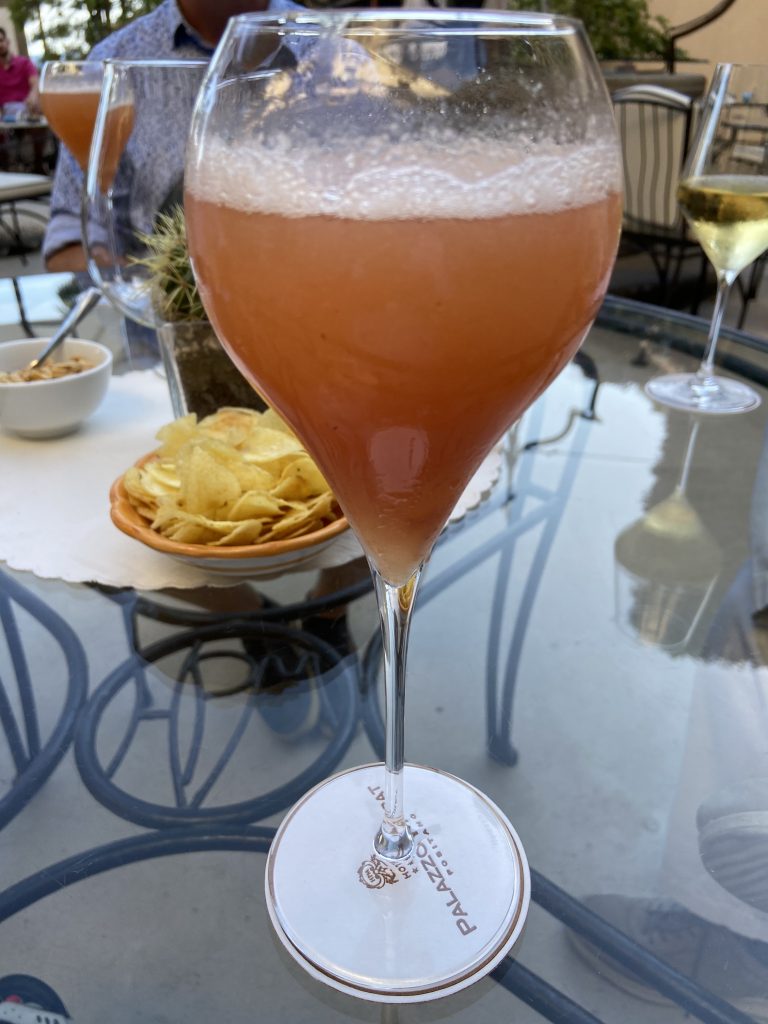 After drinks we wandered down to the beach. Gary and Bill had already made reservations for us at Chez Black. This restaurant has been there since 1949. We even ate there in 1994. The food was good. And the servers were nice. We started early. By the time we left the place was packed. That had been a surprise. Positano is positively packed with tourists. Mostly young people. They have mandatory masks inside but not on the street. I admit to not feeling comfortable with this.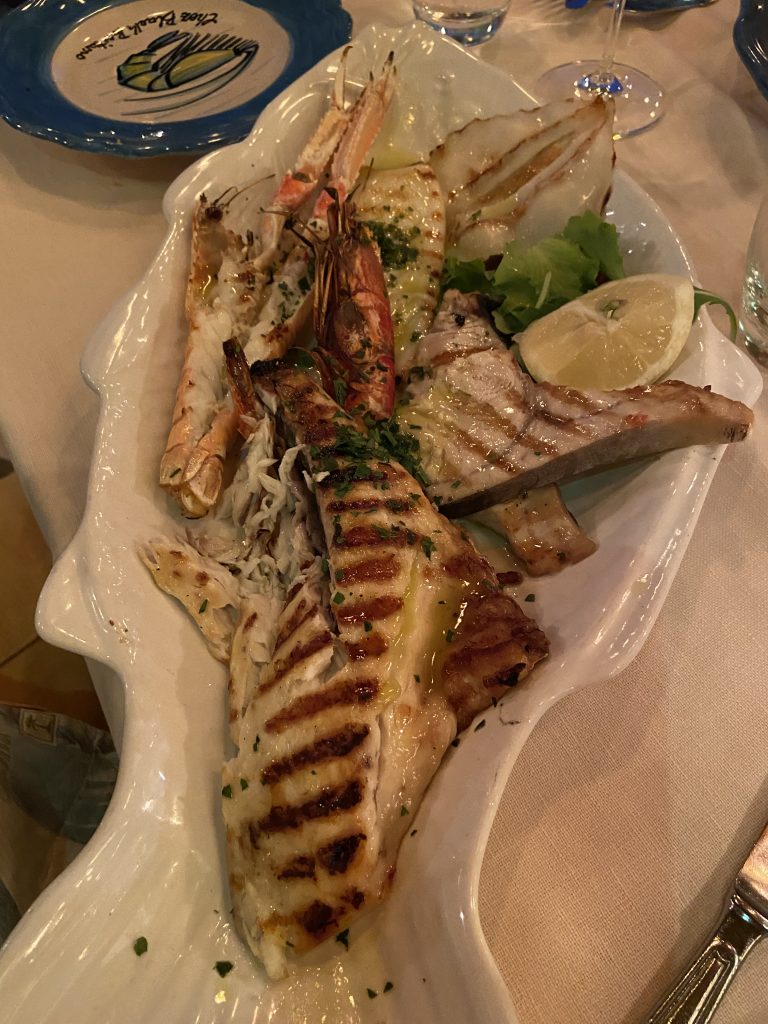 After dinner we sat in the patio bar where Luther could smoke his cigar. Pretty at night.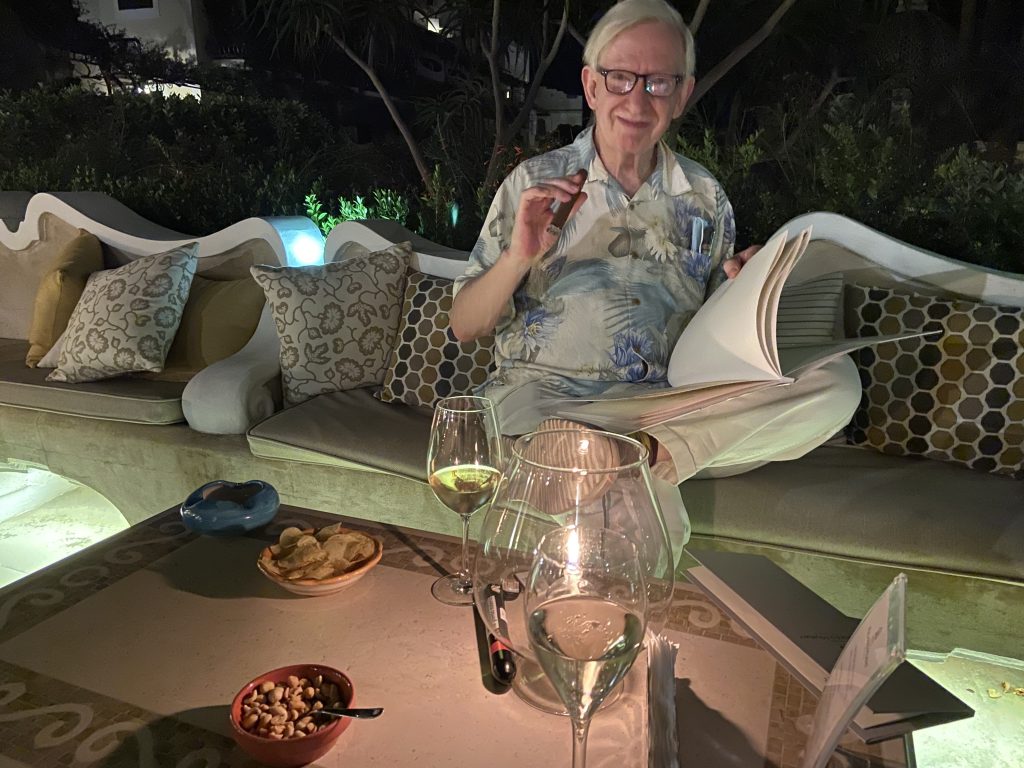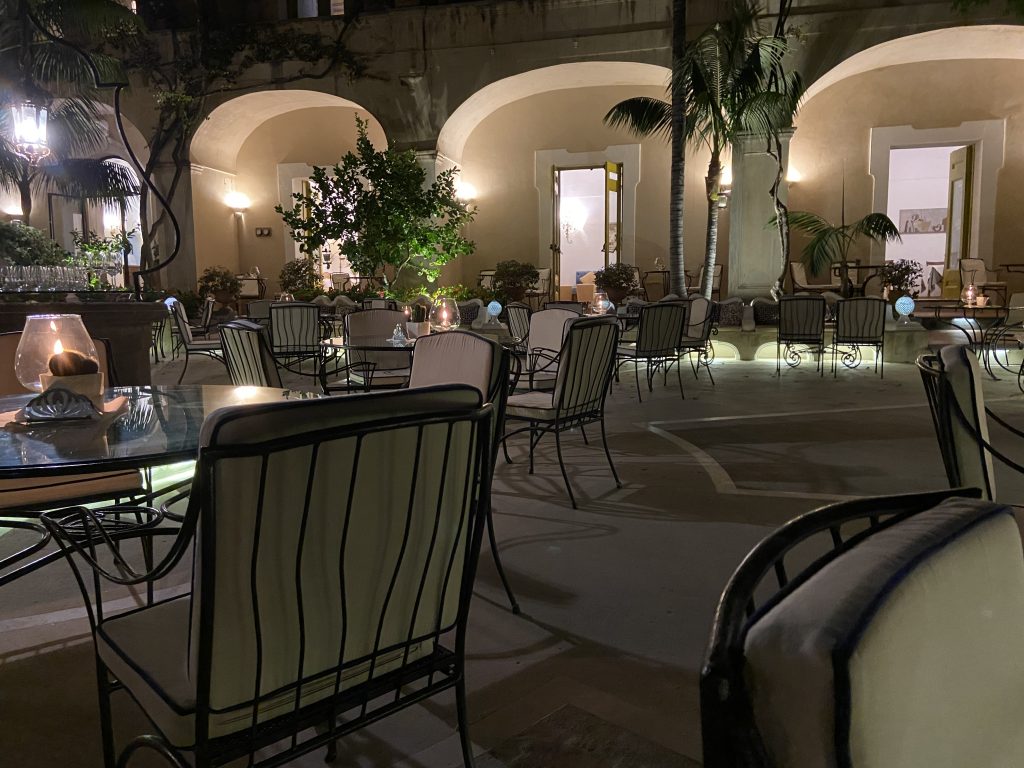 ~~~~~~
Our one full day in Positano I wanted to do some shopping. We rose and took our time going down to breakfast around 9:30. I thoroughly enjoyed it. They brought a plate of pastries and jam. And we ordered OJ (fresh squeezed – no surprise being in the citrus capital of Italy) and cappuccini. Then we ordered a la carte the smoked salmon Insalata dressed with a mustard, honey vinegrette. Very yum and light.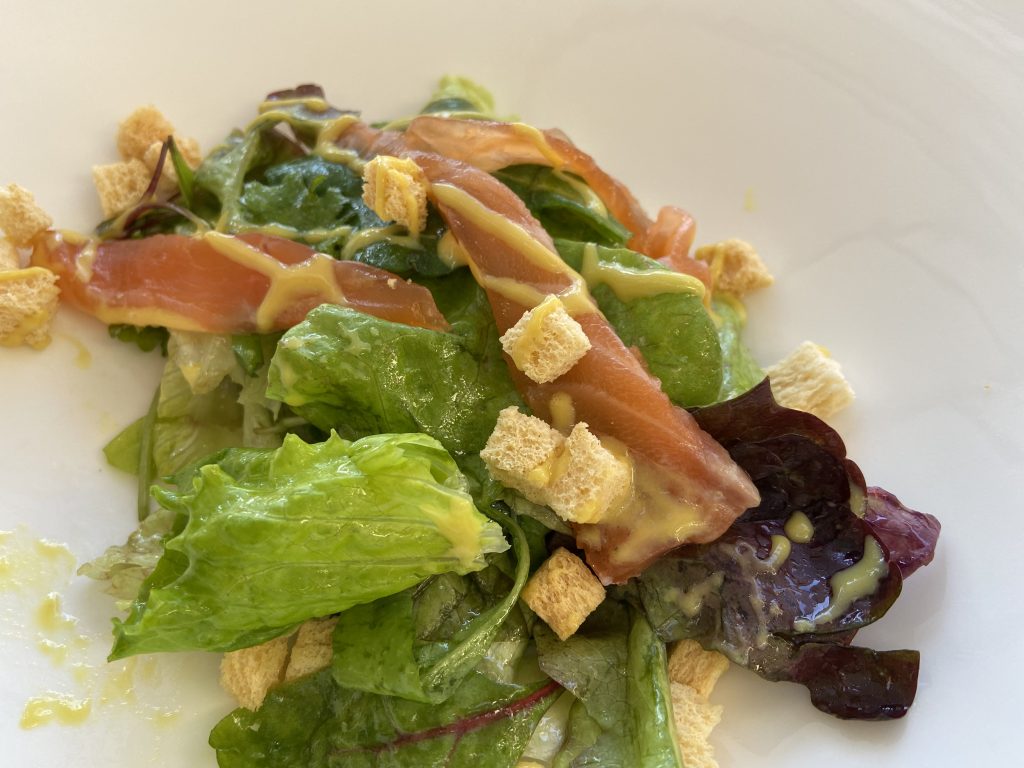 After breakfast we walked all over Positano. The shopping was not what I had hoped. Maybe when I get to Napoli. Or maybe not. I was looking for some interesting necklaces. Not expensive but kind of large with interesting colors and stones or shells or … But I found only one store with interesting things like that and they are an expensive store. I wasn't sure if I wanted to spring for that amount of money. Maybe tomorrow morning, before we leave I will go back. Or not…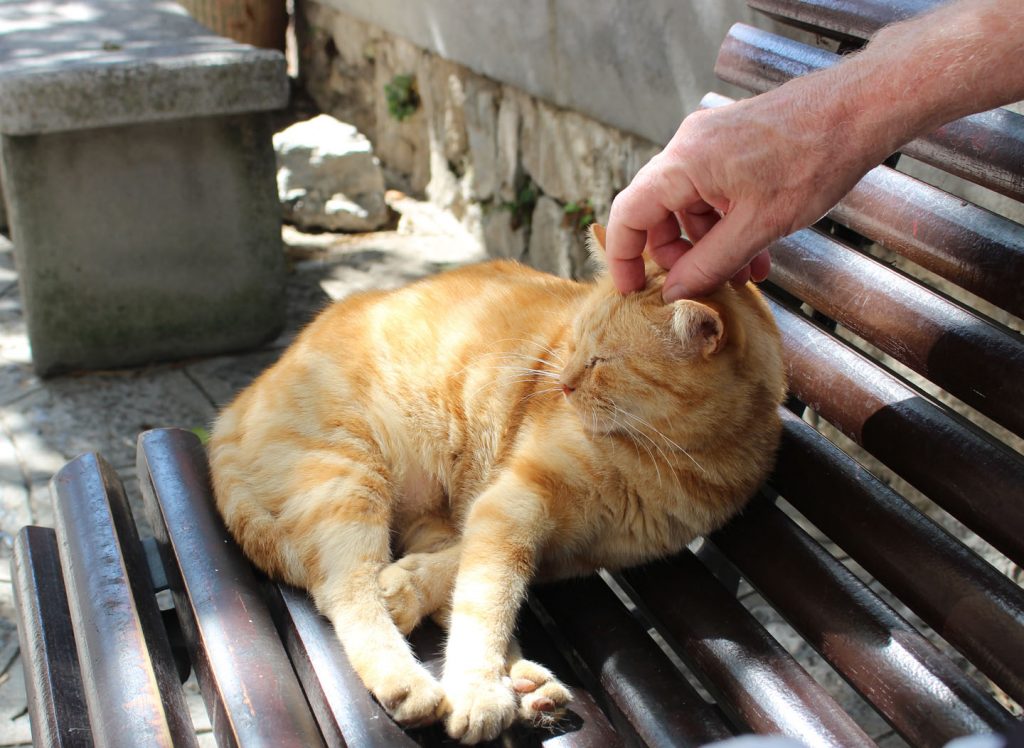 ~~~~~~~
Dinner in the restaurant at our hotel with Gary and Bill. First drinks on the patio. Such a pretty place. We just had to walk down a set of steps to the restaurant. I'm afraid I wasn't impressed with the food. We had a bruschetta gift from the chef. I had tuna with a Bloody Mary sauce. It was not notable. The squash blossoms looked good. It was still an enjoyable dinner with good conversation and companions.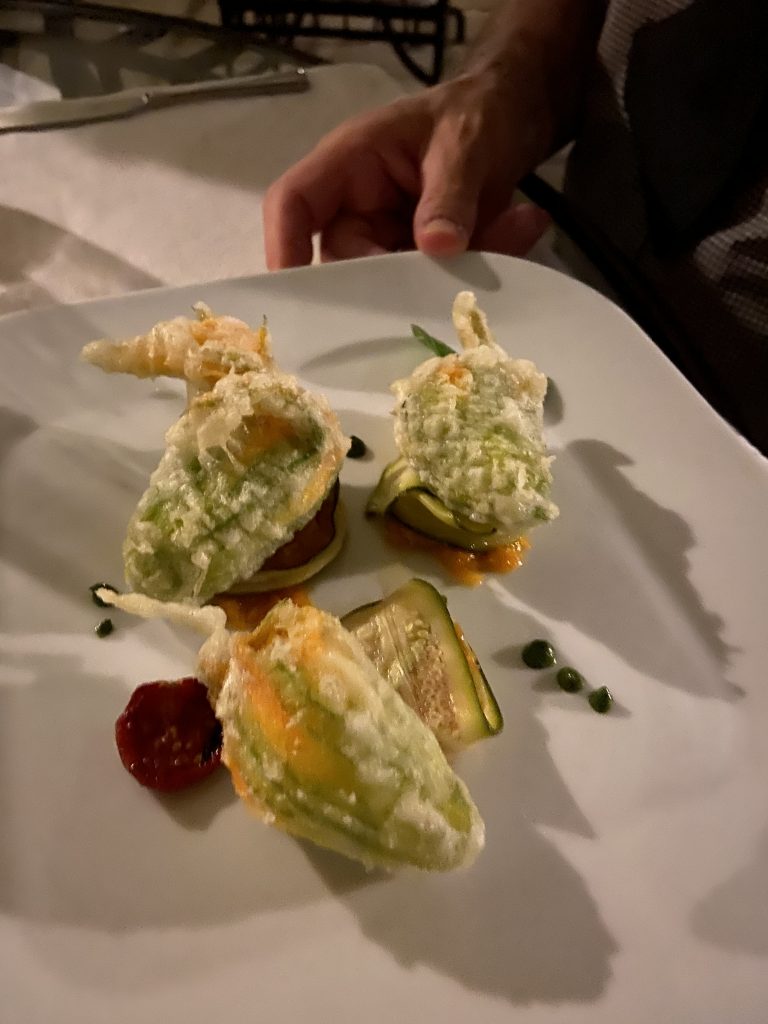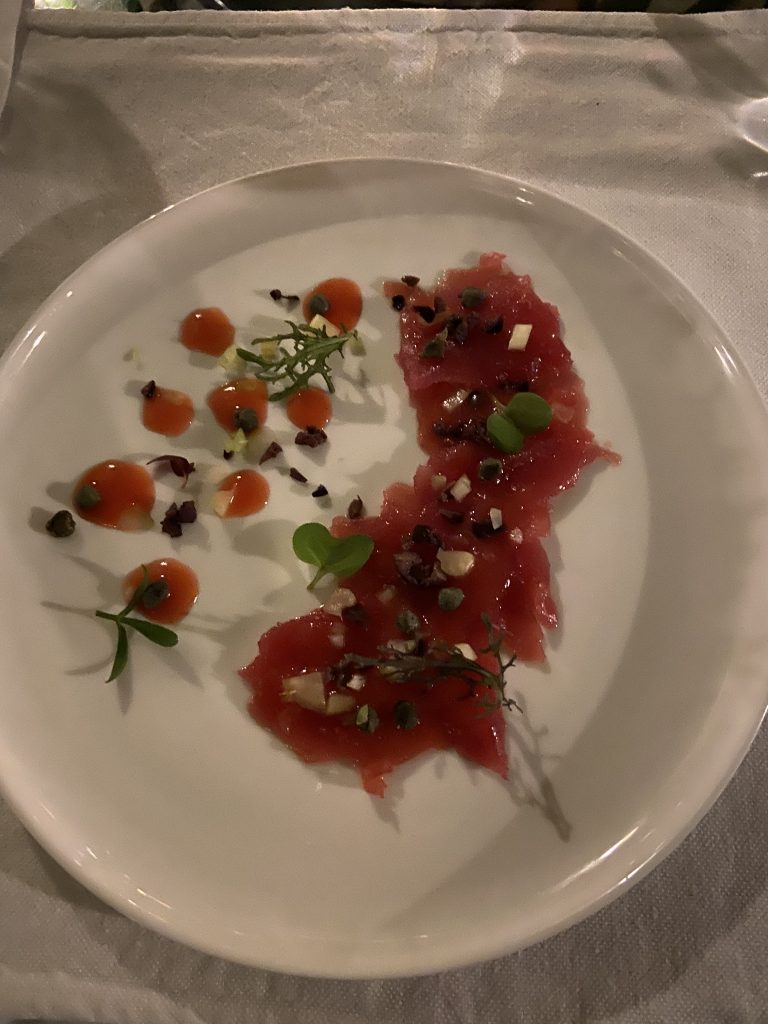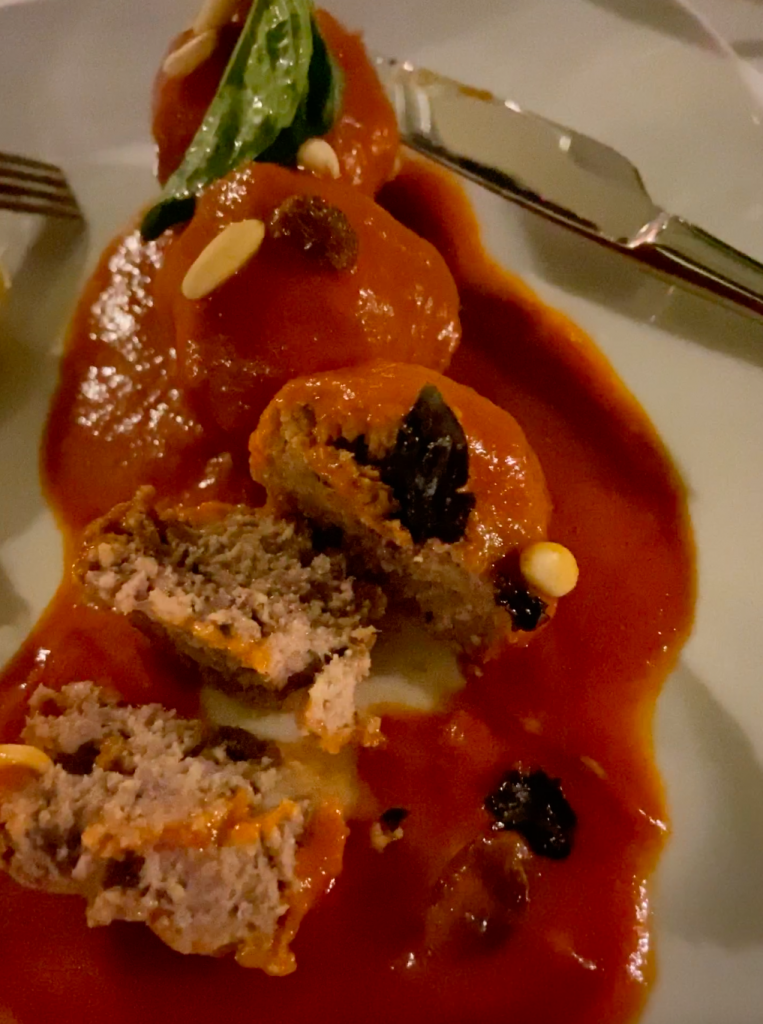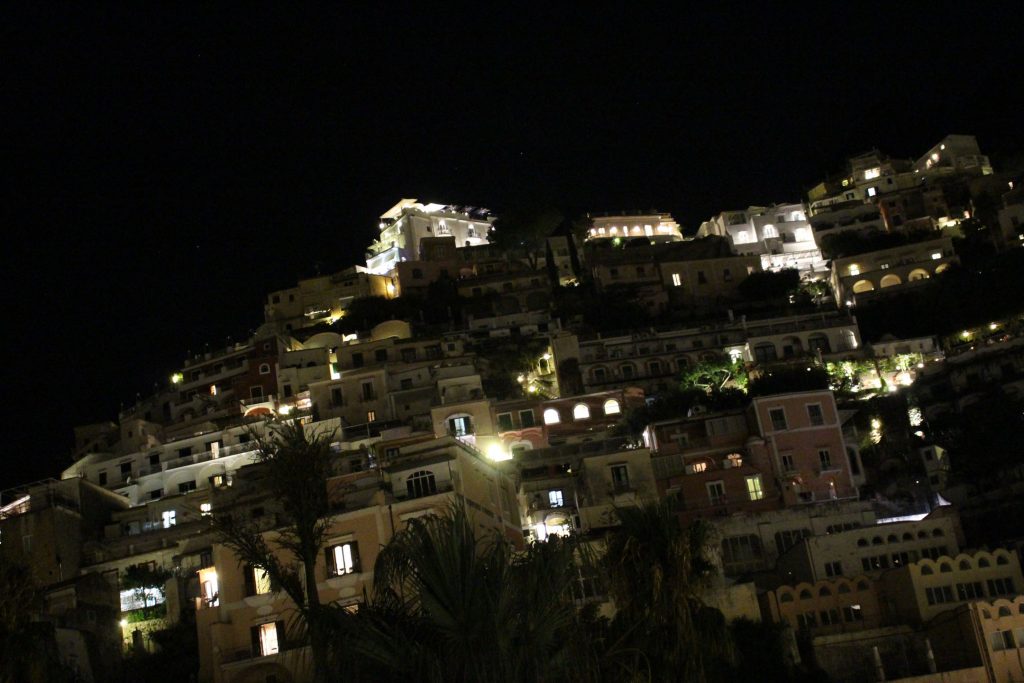 ~~~~~~~
We breakfasted and left our pretty hotel to meet our driver Vincenzo. He whisked us straight to the Grand Hotel Excelsior.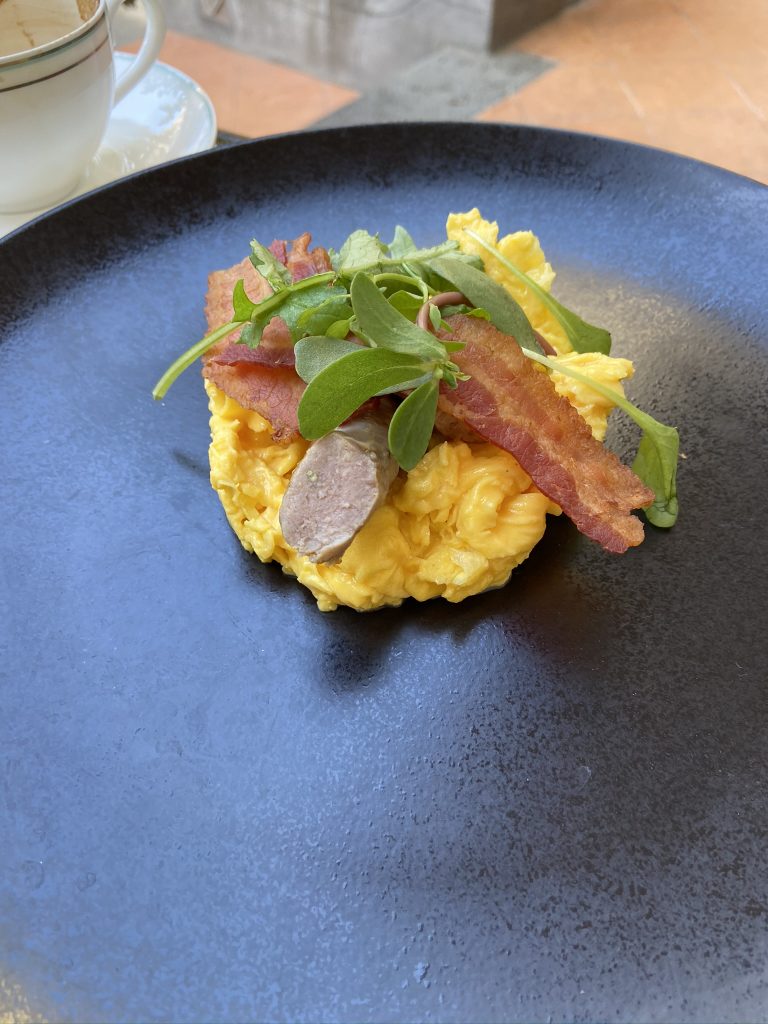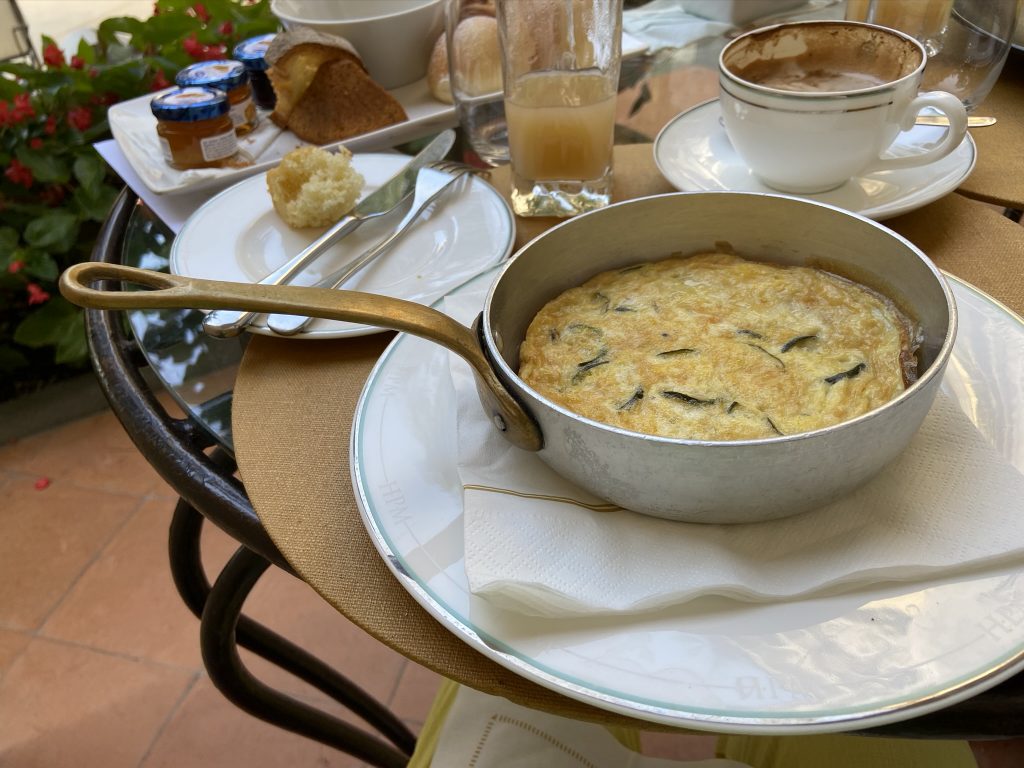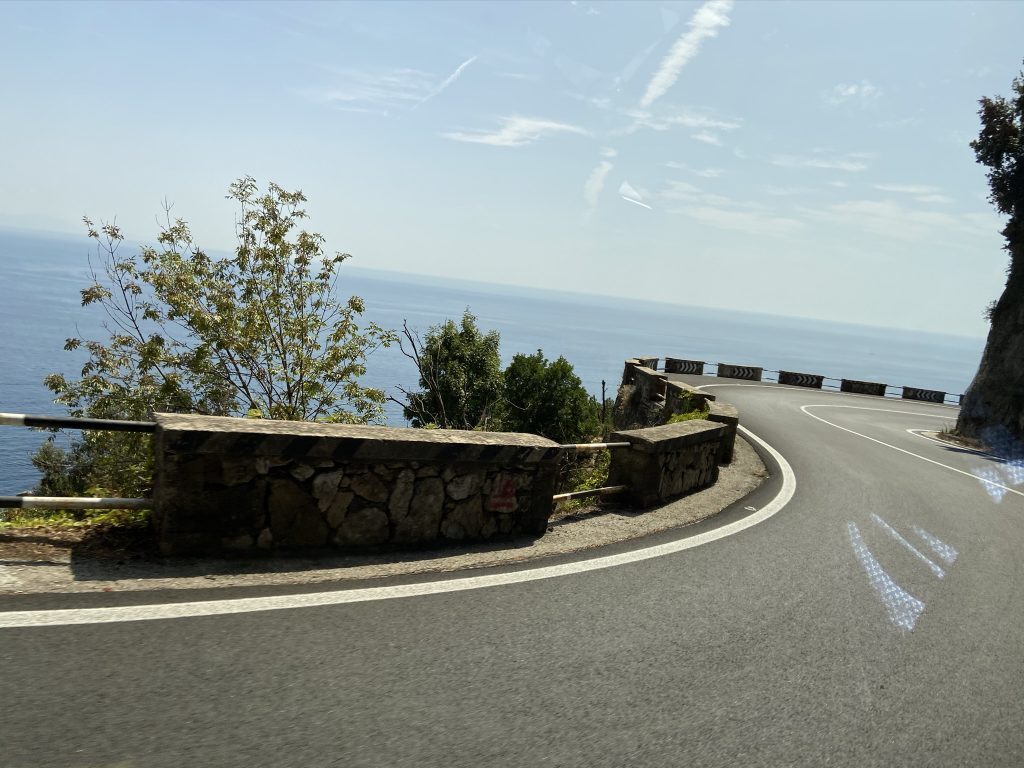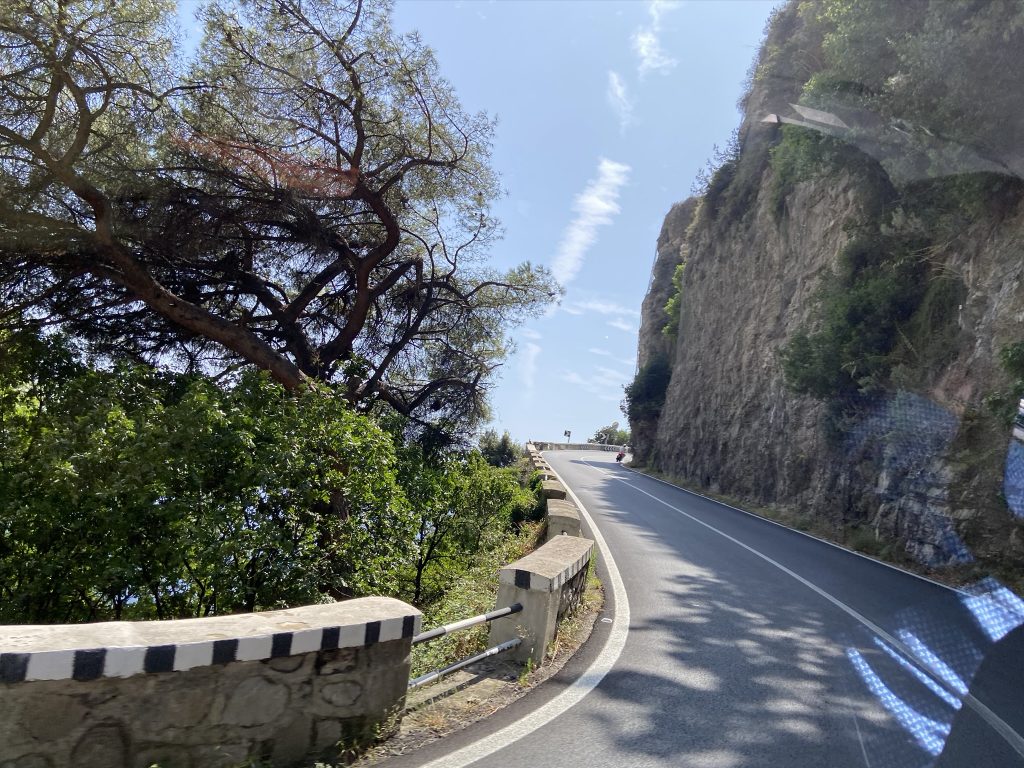 For this, our first trip to Naples, I chose the seafront. There is a row of big hotels. They sit directly across from the Castello Ovo. All around the castle are seafood restaurants. It is a quiet area compared to in the city center. Next time we come we decided it would be more fun to be in the city.

Our hotel is described as the Grand Dame of hotels. It was nice enough, if a little dated. Very large room with olive flocked wallpaper. High ceilings and a decent bath. Two big windows looked out on the sea. The room had a seal across the door indicating it had been sanitized. The hotel takes all the Covid precautions. The top floor is a roof terrace. Pretty flowers and trees around and among the tables. They serve breakfast here as well as drinks at night. The breakfasts were good.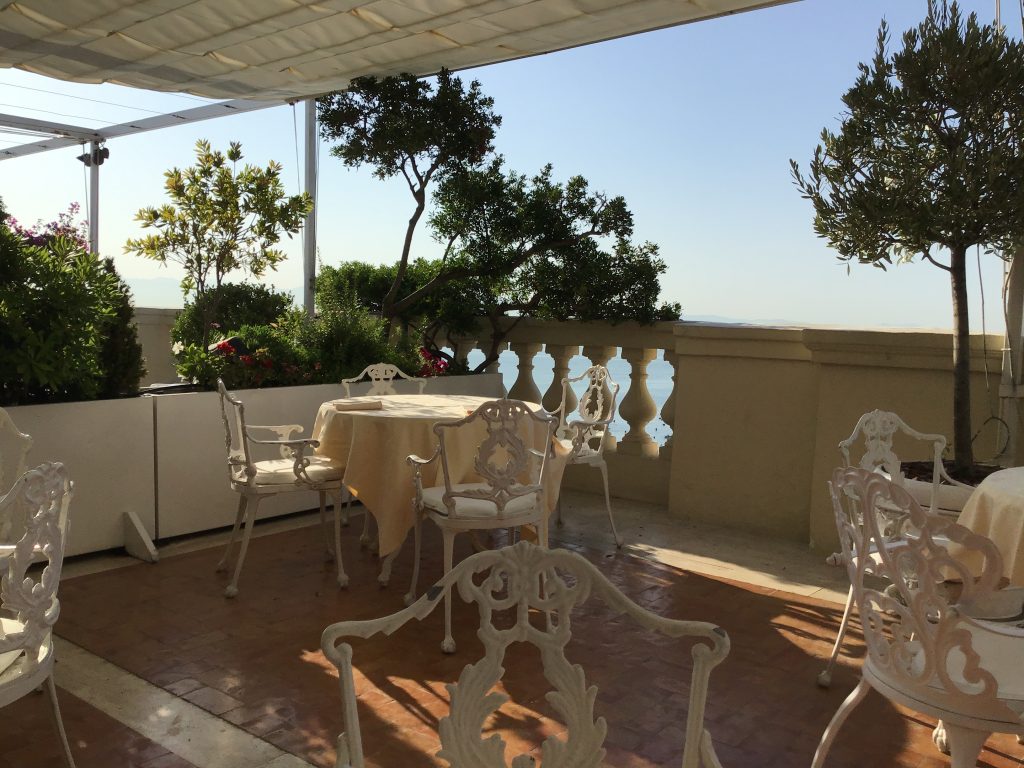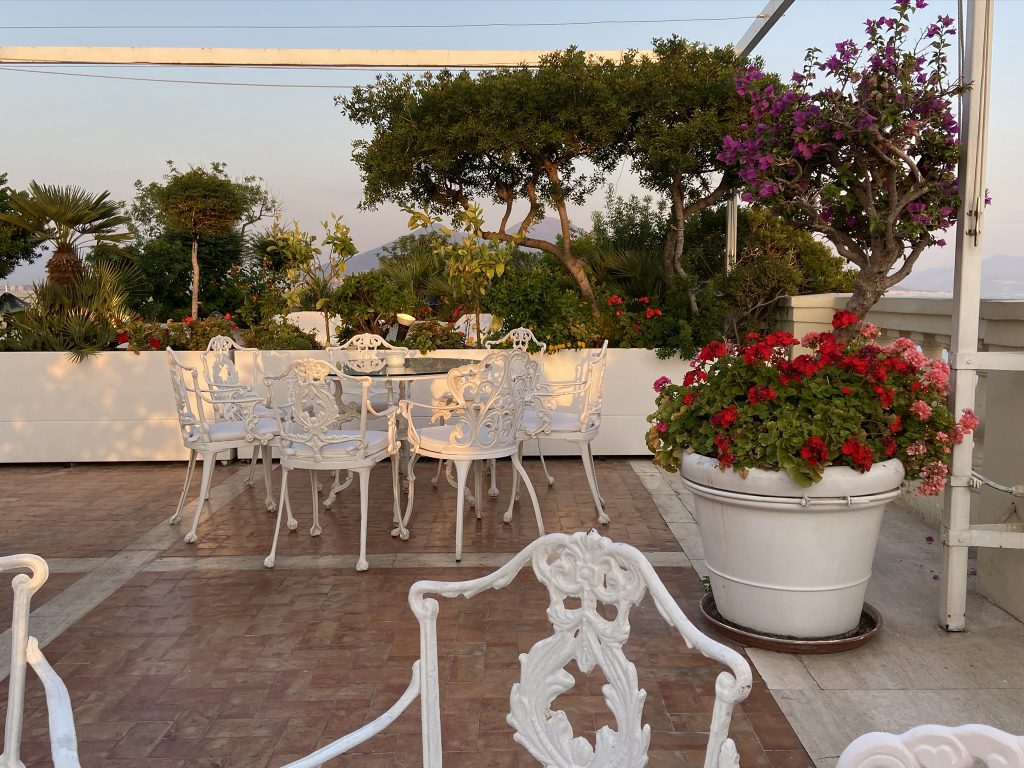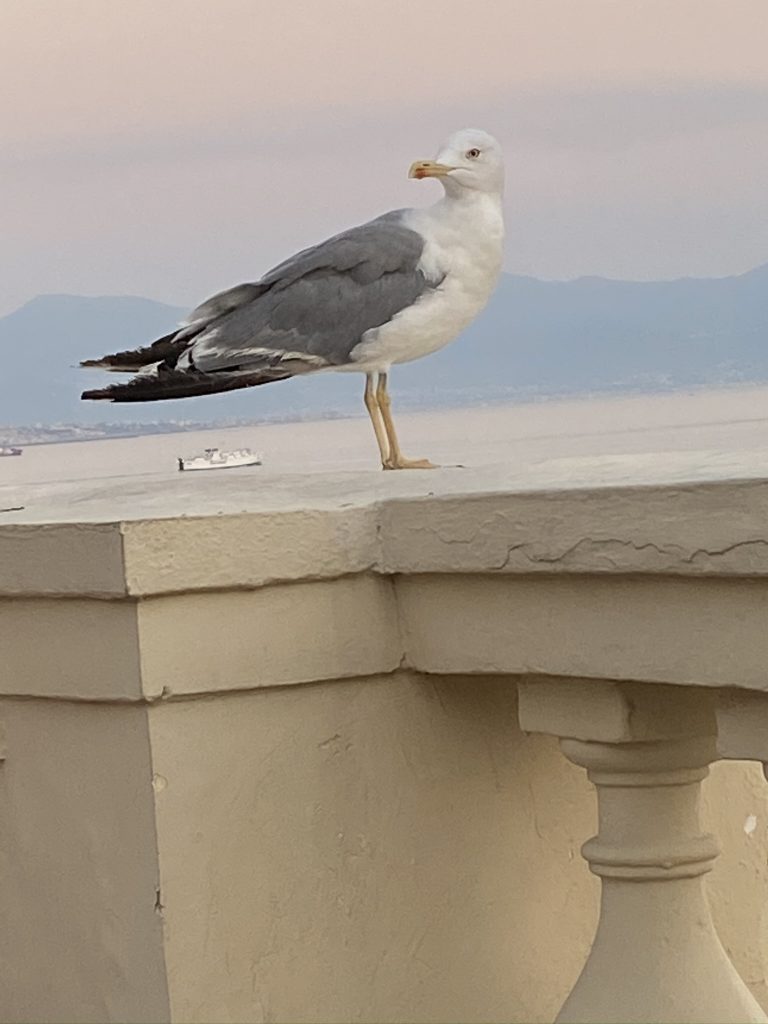 ~~~~~~
The first night we decided to have dinner at La Scialuppa. Right beside the water. Outside tables. They took our temperature and then we had to fill out a form with our contact info – document number telephone etc. everywhere we went they took our temperature. Food was good enough. I had the Caprese salad and a pasta – big tubes with a pistachio cream sauce and prawns. Very rich. I was glad I had ordered the Caprese. And we could actually see the island of Capri where the Caprese is said to originate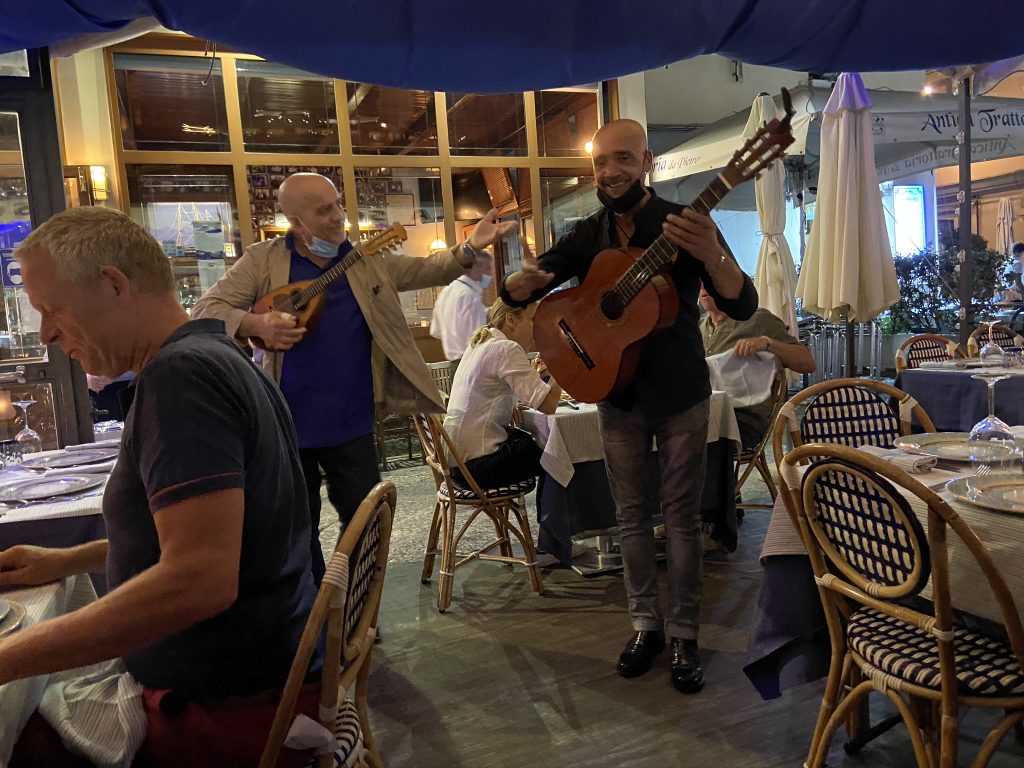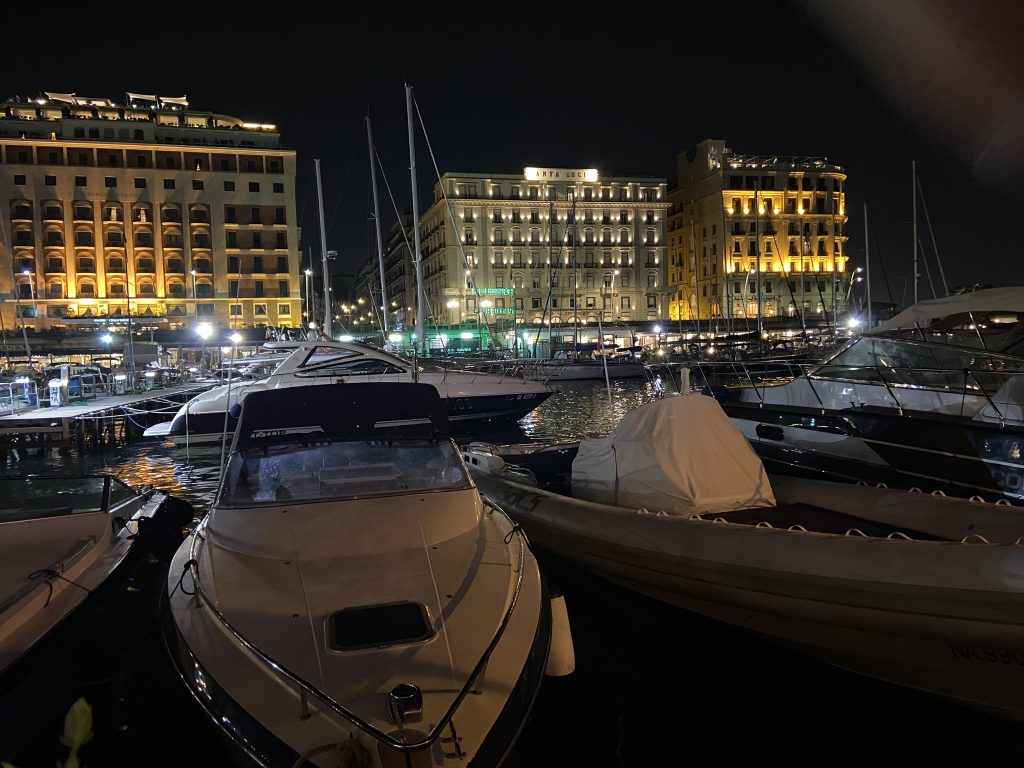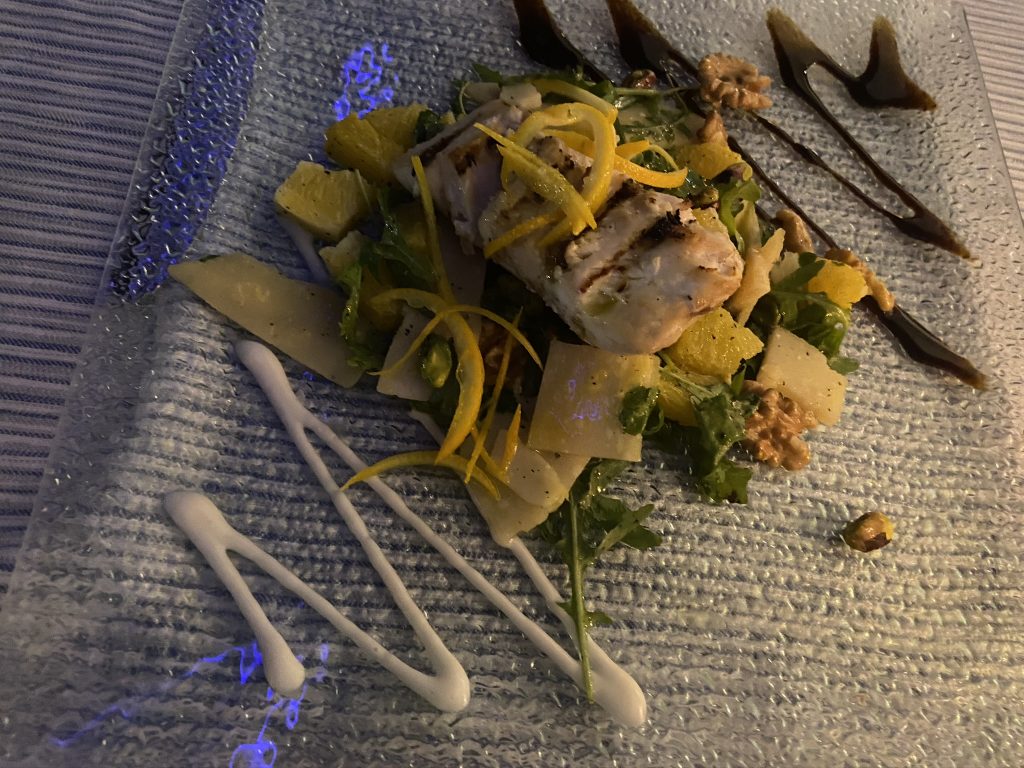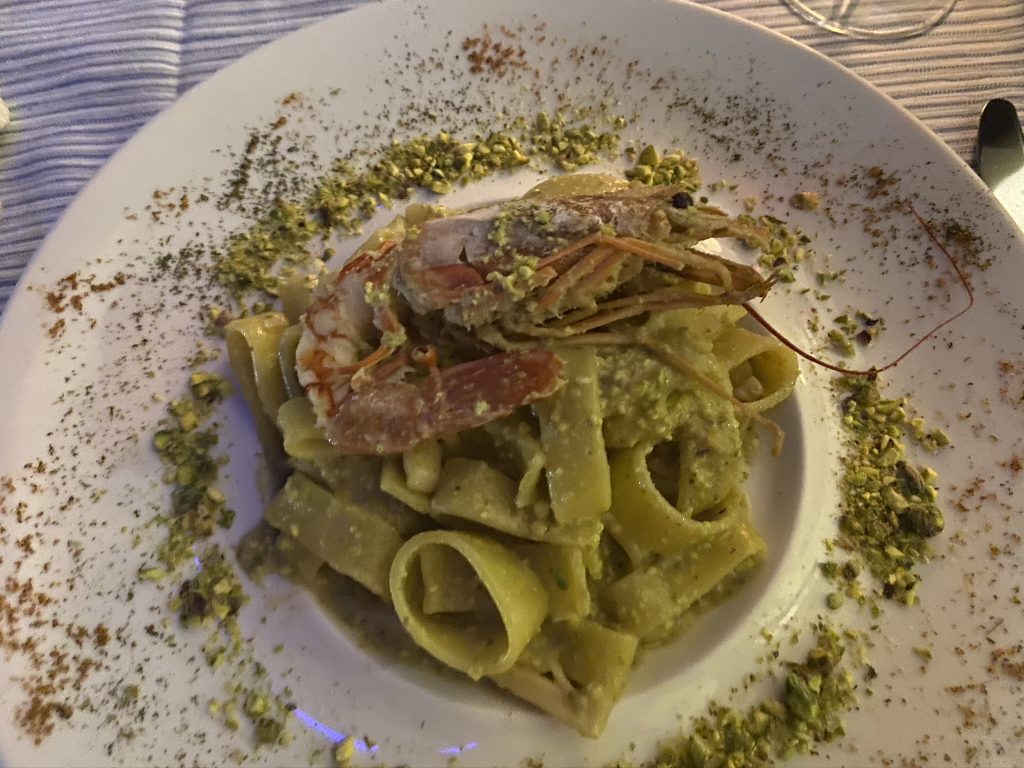 We returned to the hotel and went up to the roof terrace for Luther to have a cigar and an after dinner drink. It was very pleasant.
~~~~~~
After a good breakfast of scrambled eggs fruit and toast we grabbed a cab and went to the Museo Archeologico. The cab ride was beyond exciting. The traffic in Naples is legendary and our taxi driver was expert.

We have two full days here and today was the Museo Archeologico Nazionale di Napoli. We've wanted to visit here for years. They've got all the original Pompeii art, frescos, mosaics etc. Also Greek, Roman, Etruscan, and all the prehistoric societies in southern Italy. We toured for almost 3 hours.
The museum was really great. In it they have all the bits of Pompeii and Herculaneum that they removed. Entire walls from houses with their frescoes. Mosaics. All kinds of ceramics and pottery. There was an Egyptian section. A Roman section. An Etruscan section. A Greek section. Even a prehistoric exhibit. Lots of carved statuary. The focus is on the bottom of Italy. The heel and toe of the boot up to about Rome and also Sicily and the islands like Capri and Ischia. Excellent museum. We spent about 3 hours there.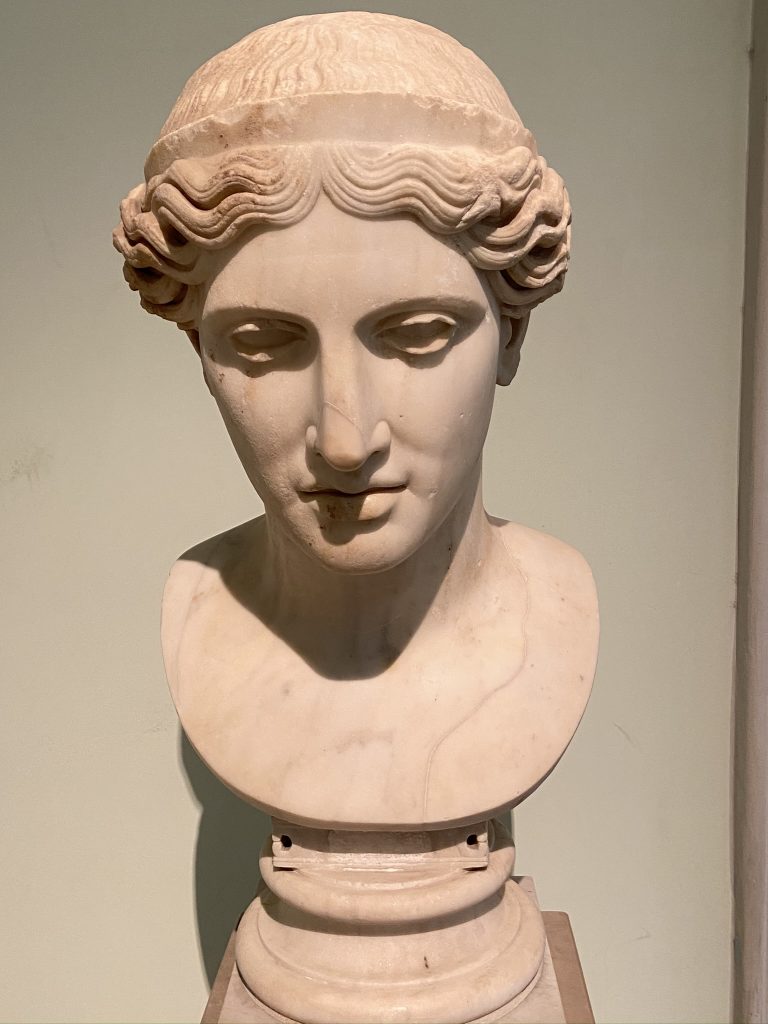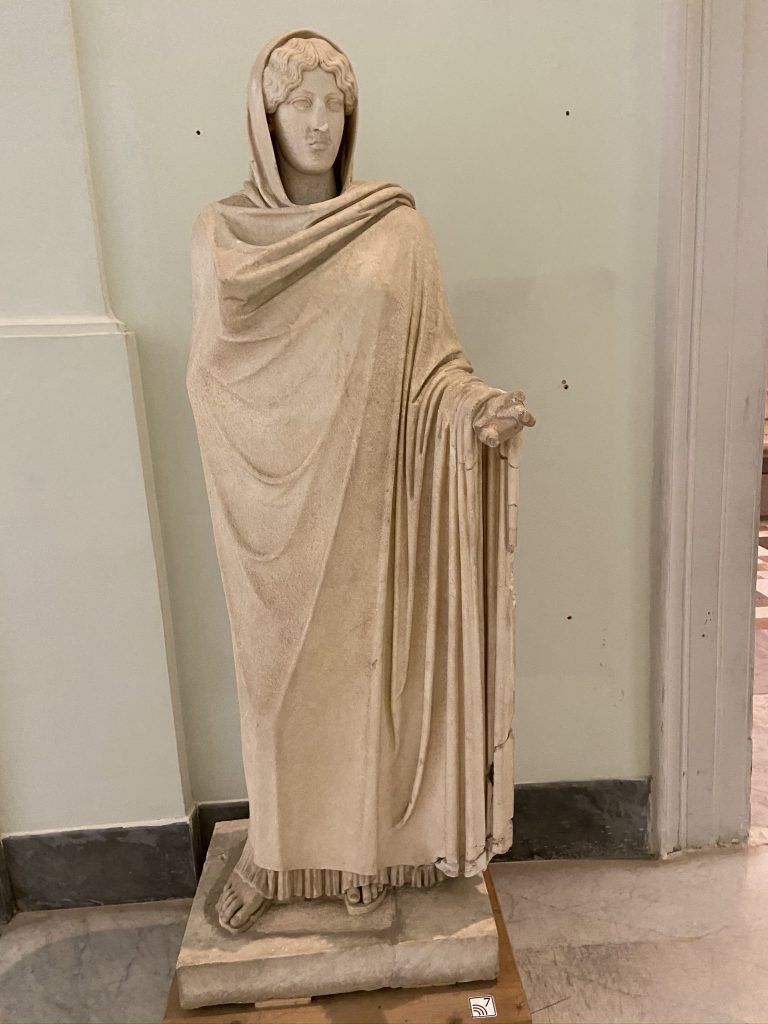 They had a cute photo installation with some of the sculptures juxtaposed into photographs. Here are just two of them.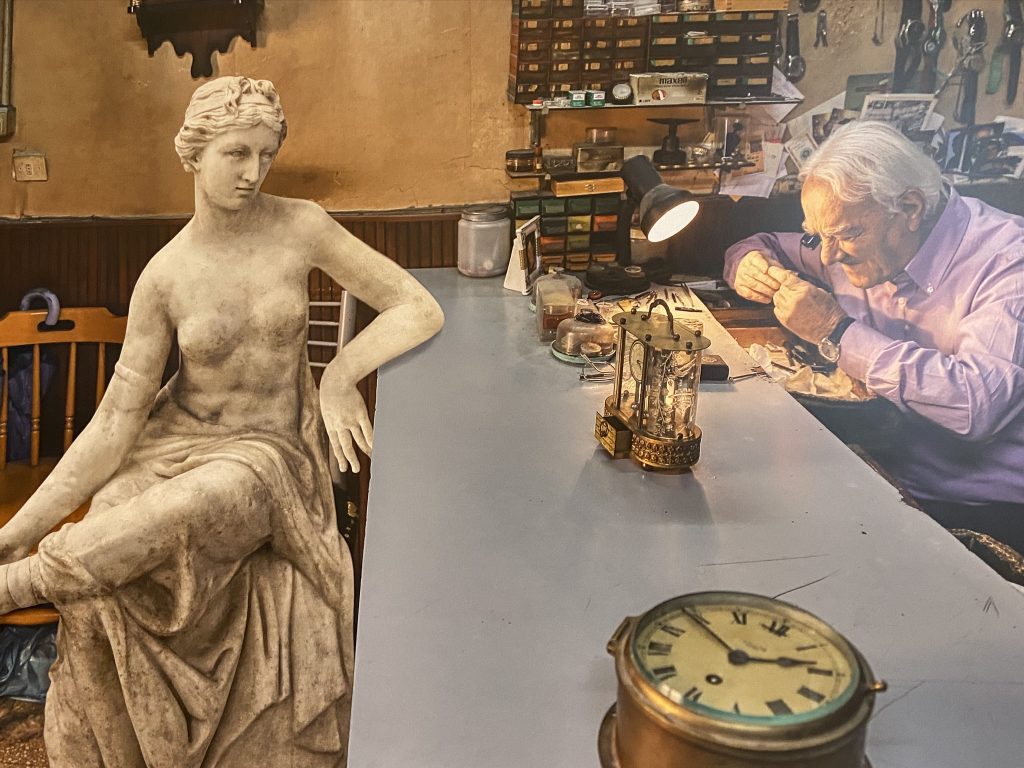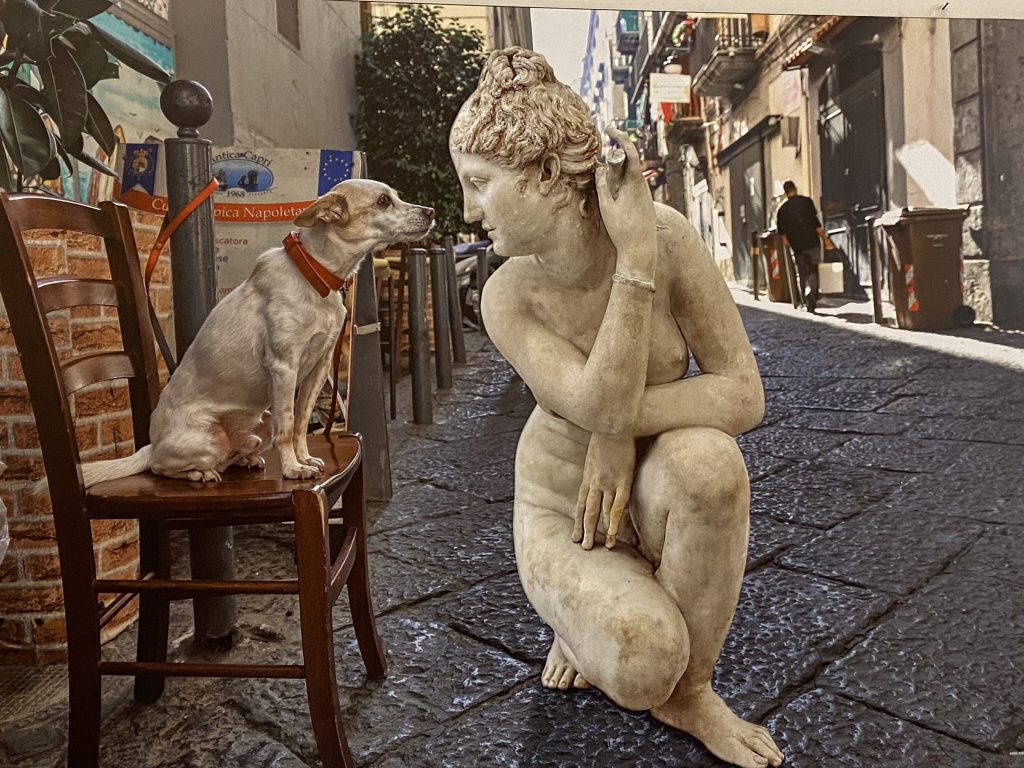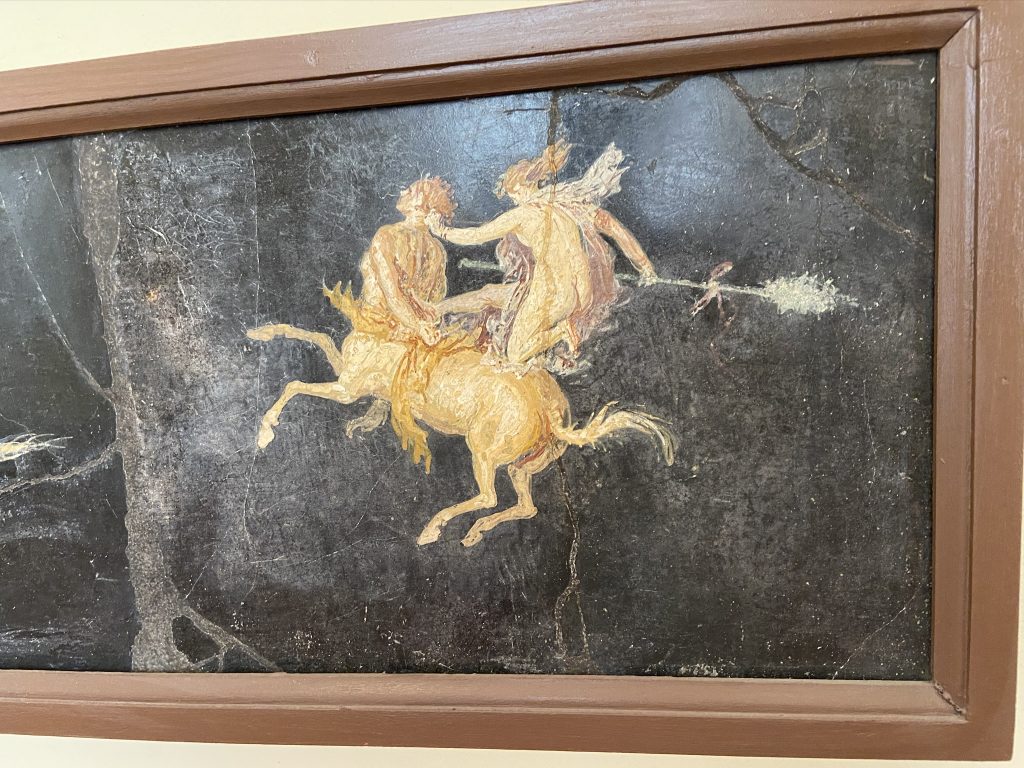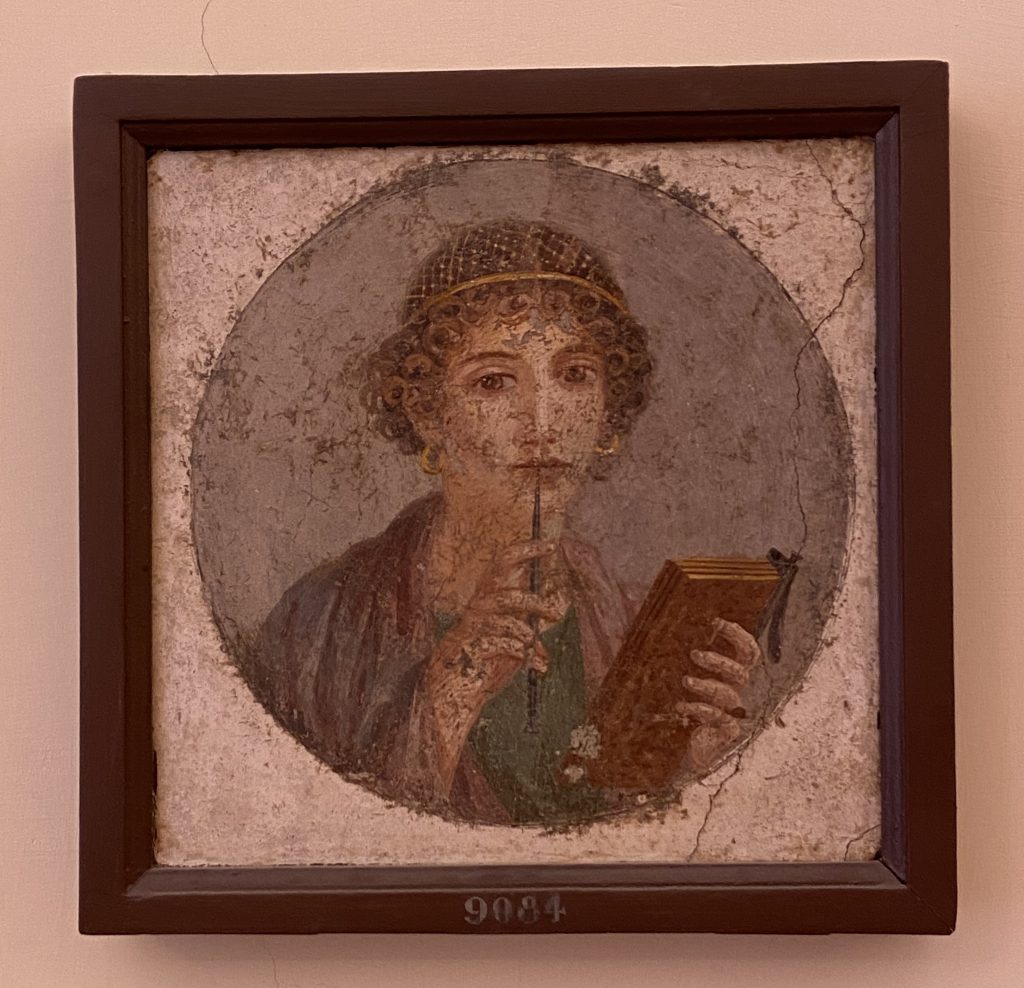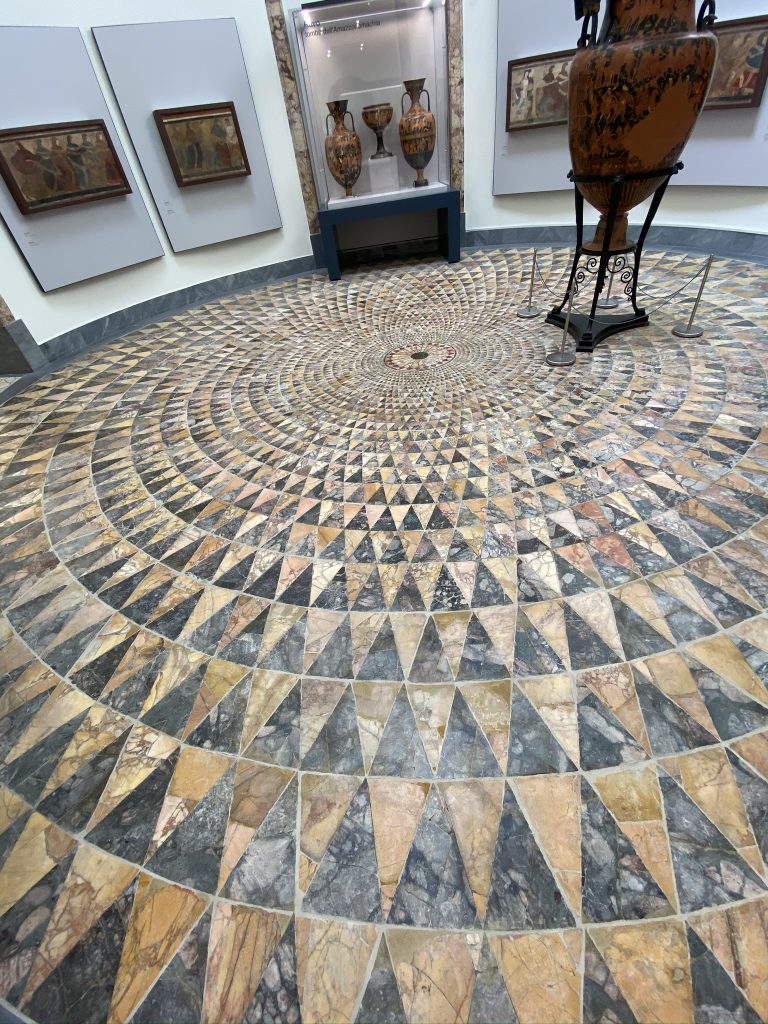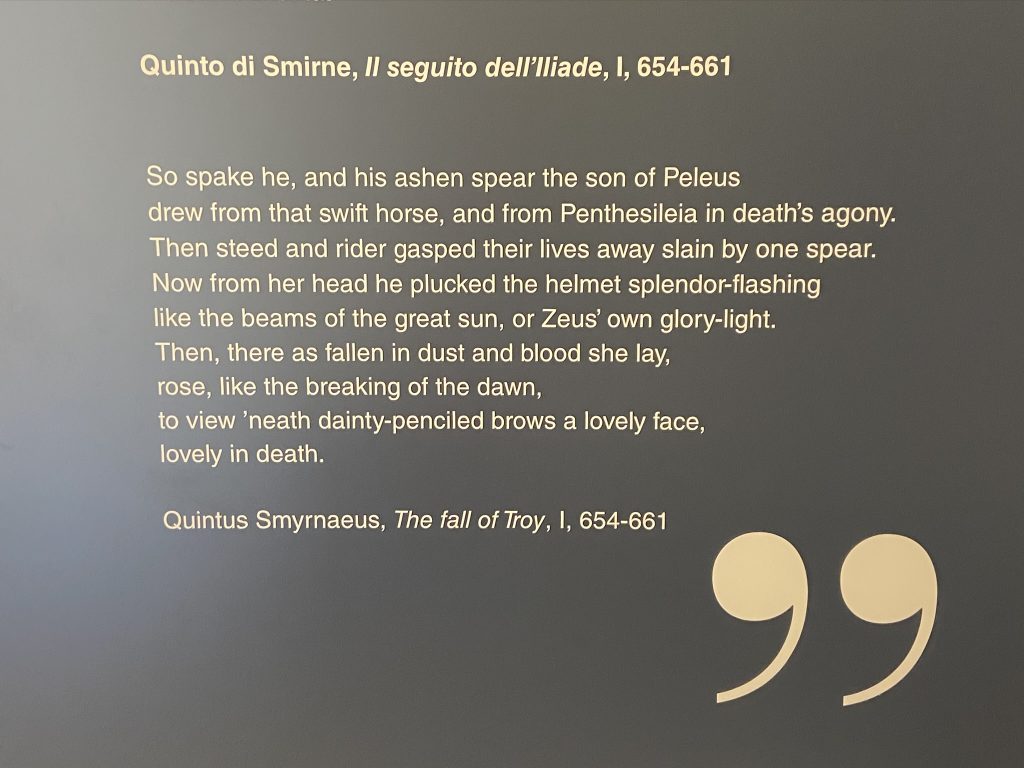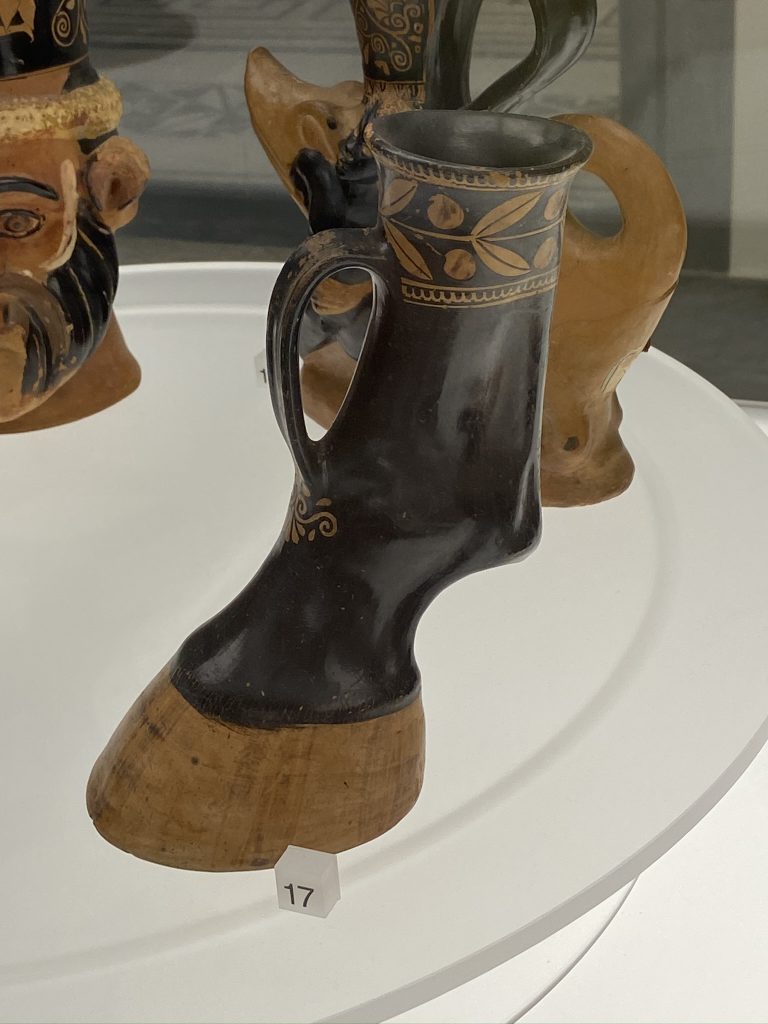 We left the museum and headed down Via Toledo. It is one of the main drags in Naples. Very busy street. We were looking for a place to stop for refreshments and to rest our feet. We found a place in Piazza Dante. It didn't have food though and we were hungry. We used the phone to find nearby restaurants and went to one called Cisterna. It was close. I ordered a wonderful ceviche with lime. Cool, light and refreshing. We were planning an outing later in the afternoon so took a taxi back to the hotel.
~~~~~~~
After resting we headed out to find the cigar store that Luther had heard of to see if he could buy some cigars. It was about a 15 minute walk but the sidewalks were very hard to walk on. Hard stones and uneven surfaces. And lots of traffic and crosswalks. Very chaotic. Not liking it. We found the store and Luther got his cigars. Then we headed to a wine bar he had found. We had a glass of wine and walked back to our chosen restaurant, 28 Posti Bistro con Gusto. I was sorry to see it was inside dining but the tables were far apart. After a temperature check and document filing as usual, we sat down and ordered. I had bruschetta with colorful tomatoes and peppers. And then a spaghetti con Vongole. Both tasty. We walked back to our hotel and I turned in. I was bushed after a very full day.
Thursday. Our other full day in Naples. The weather has been hot. And no rain. We left after breakfast. I had downloaded an app called GPSmyCity. You can pick any of eight or ten walking itineraries or custom make one. We took a taxi to the starting point at the Duomo of Napoli. The duomo is enormous. And very pretty. We started following the tour. It was nice. It told you where to go and then had nice write-ups of the sights. The second stop was the Naples Underground. I really was enjoying this neighborhood. Skinny streets, lots of shops. Lots of people shopping for their groceries at the individual food shops. One for fish, one for pasta, one for bread, one for fresh vegetables. Lots of life. This is where I'd like to stay next time.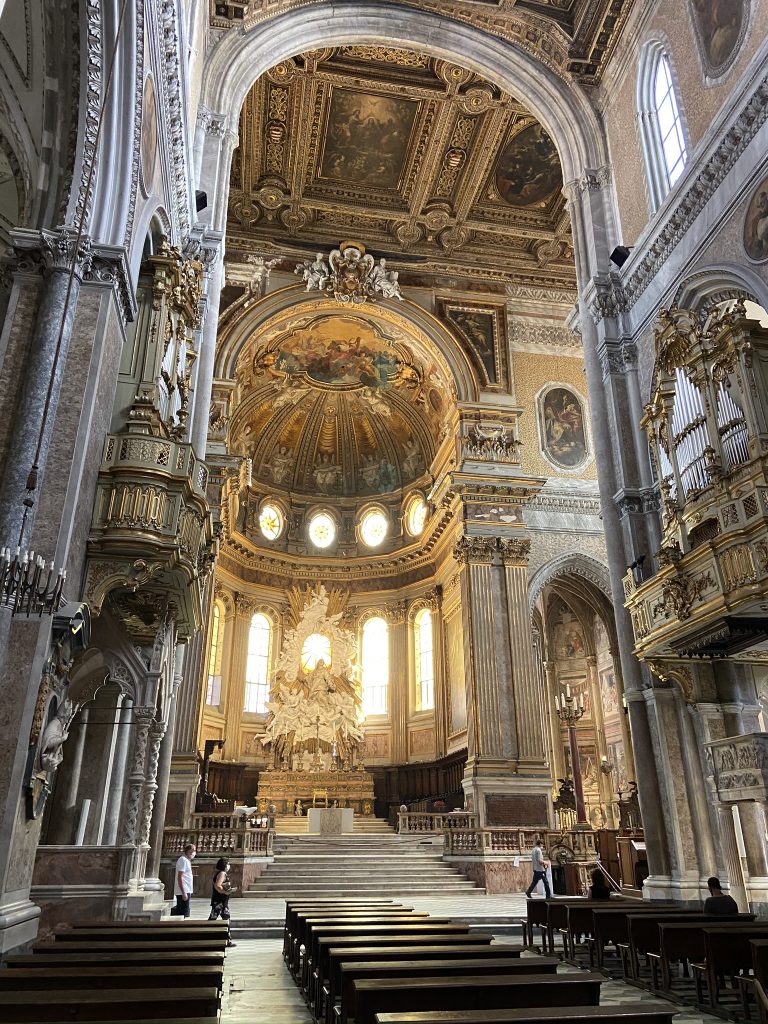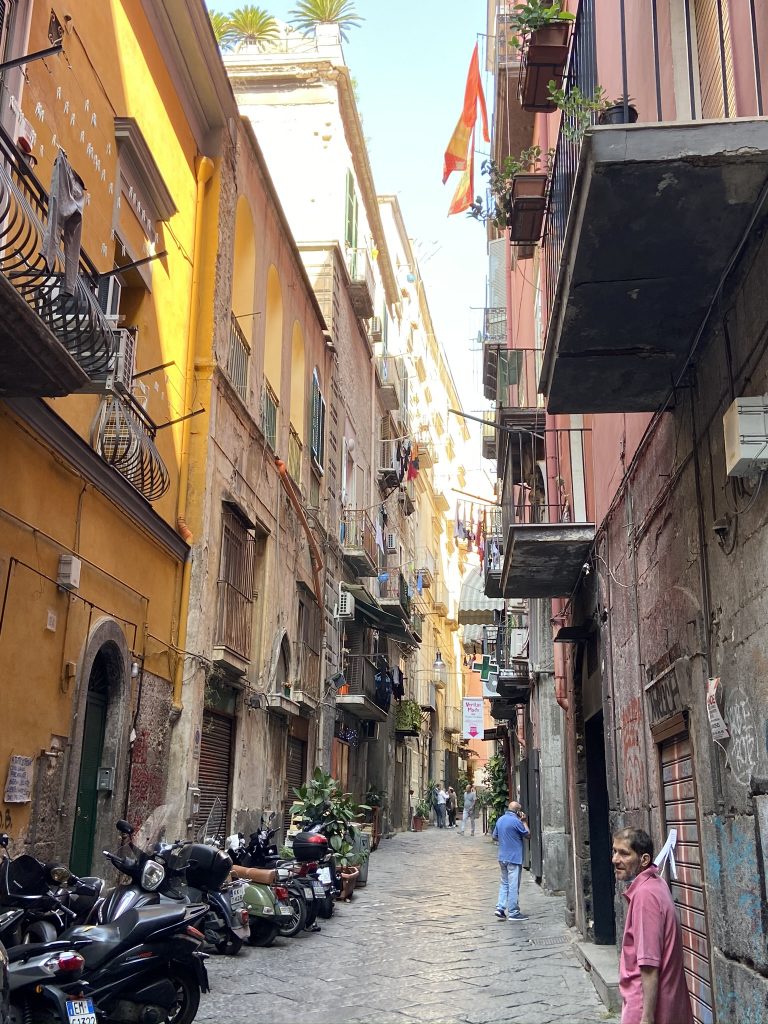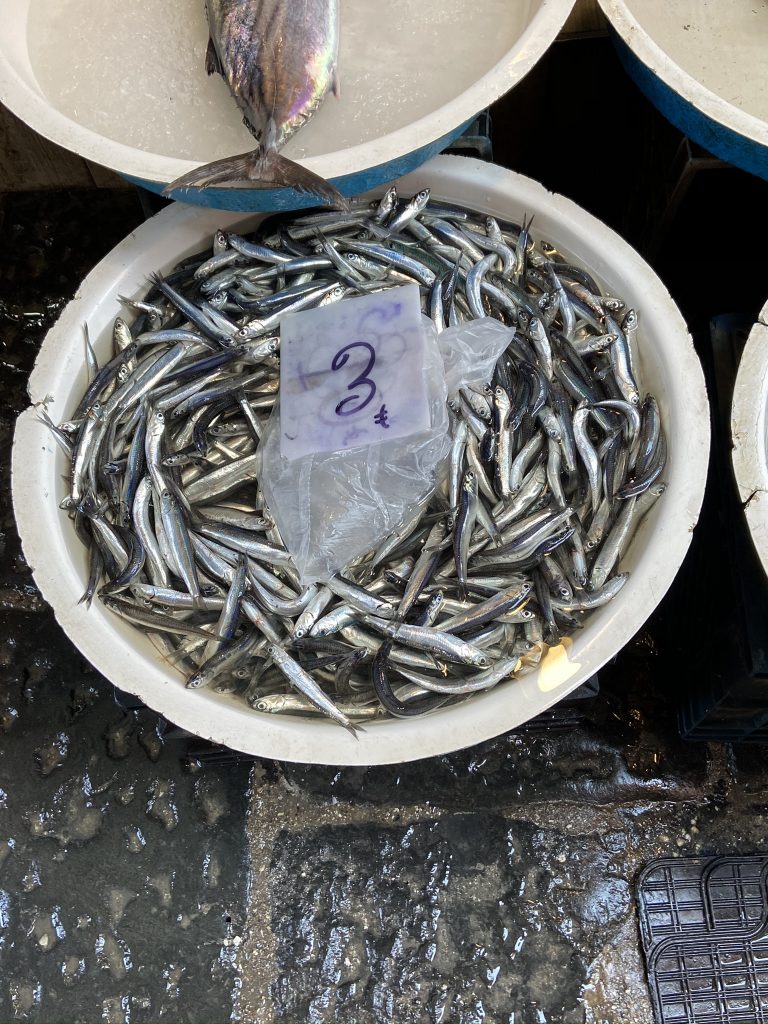 Then, there was this sign. Translates as — Top signs says, they are awarding degrees immediately. The second sign says they are hiring housekeepers who have the measurements of 90-60-90 with offers of food, accommodation, washing, rinsing, drying, ironing, massage and sex at will. Okay then….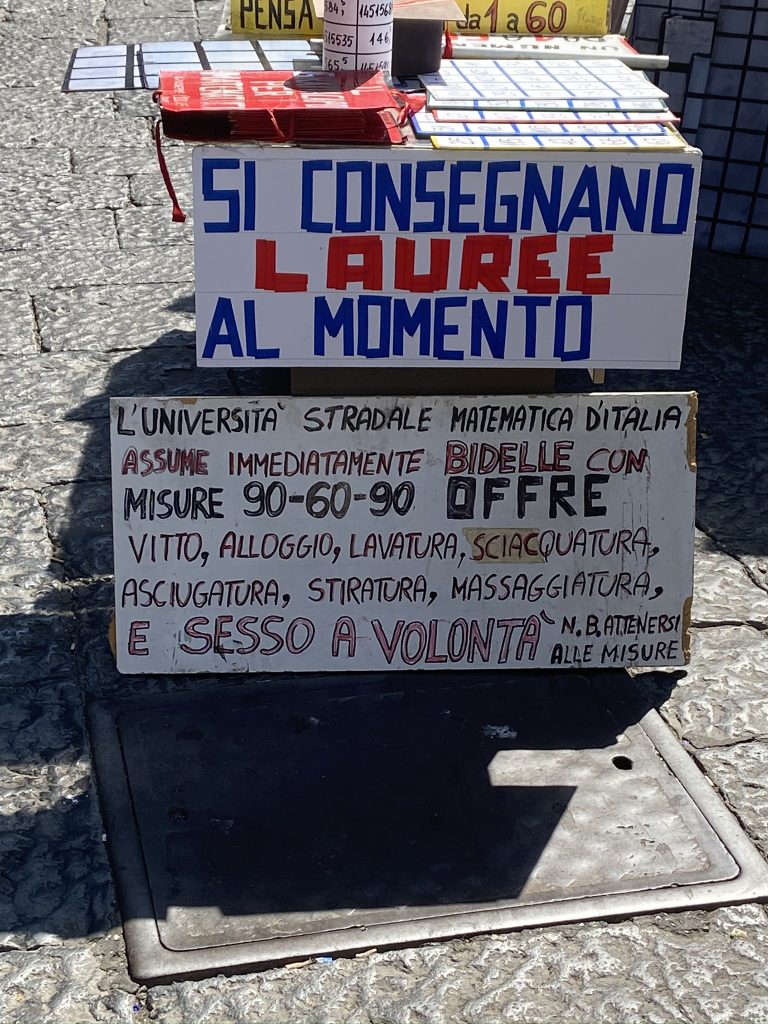 We kept going, seeing Piazze, and churches, statues, and landmarks. The tour actually ended at our hotel. We decided to stop for lunch. We couldn't find anything with outside tables. Eventually we found a cute trattoria. It didn't have outside tables but it didn't feel too cramped. They took our temperatures and we filled out the forms. They are required to keep the forms for two weeks. If anyone gets infected they can use them for contact tracing. I had Caprese insalata again. It is just so good because we are in the land of Mozzarella di Buffala. It is much creamier than what we got in the US or even in Umbria. We also noticed it is spelled Muzzarella here. From the dialect of Naples. Which is getting closer to the Muzzadell' you'll hear in NJ and NY Italian communities. After the Caprese I had another pasta with seafood dish. It had Pecorino cheese in it. It was sort of a cross between Caccio e Pepe Roman specialty and pasta with seafood. Strange. But good.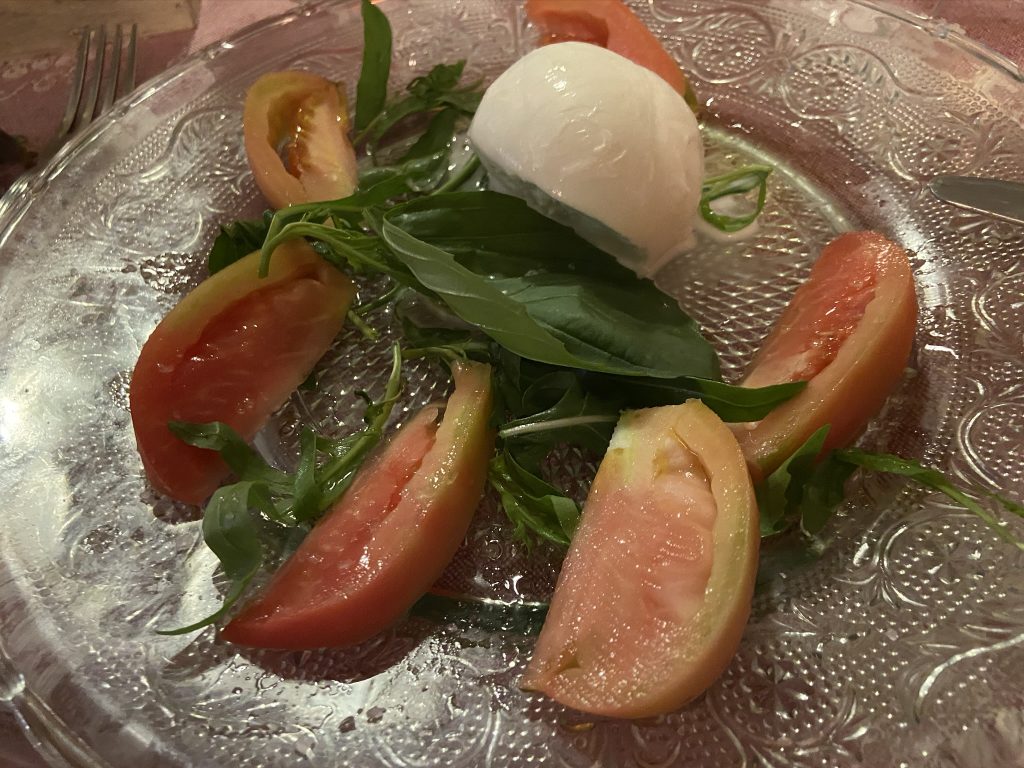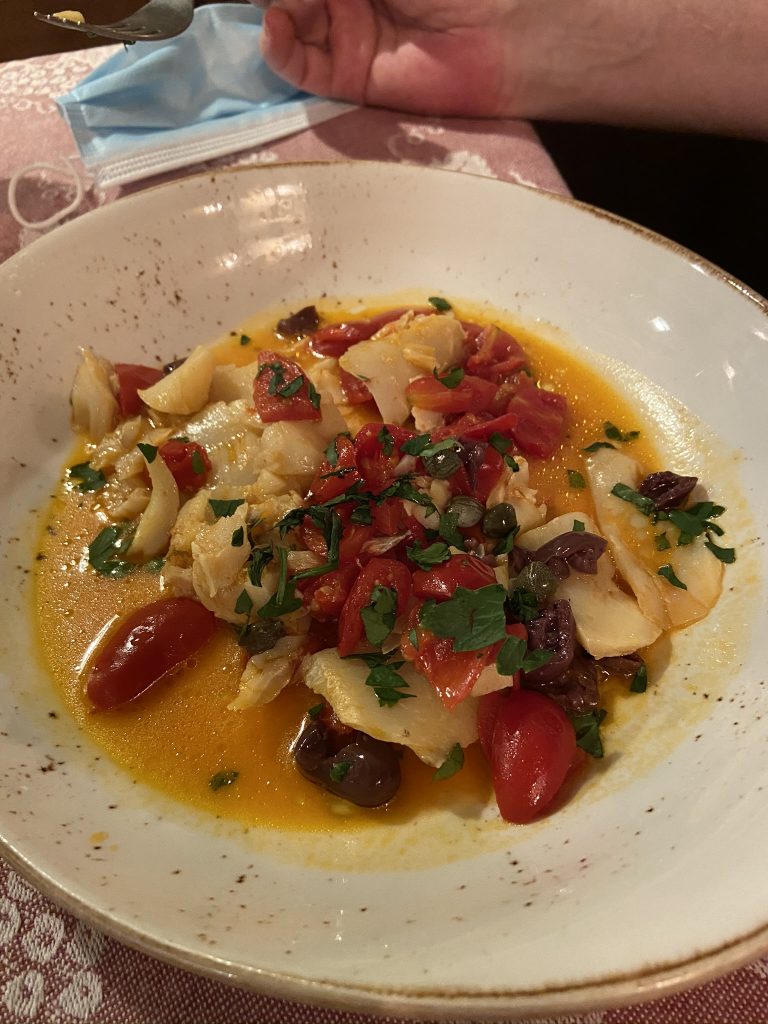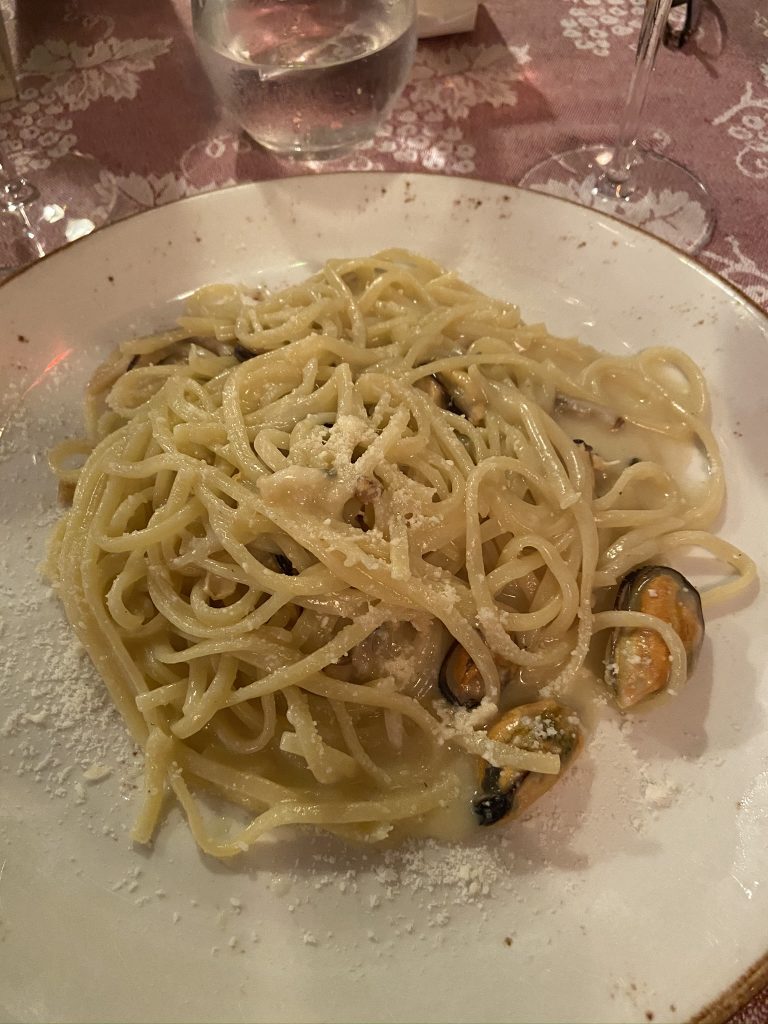 Since we had a big lunch we decided to stop by the grocery on the way back and put together a picnic. We got ham, mortadella, and two cheeses. Along with a loaf of bread and a bottle of wine. The end of a nice day.

The following morning we breakfasted and packed and checked out. We grabbed a taxi to the station and found our train was delayed 25 minutes. It meant we'd miss our connection. But we grabbed the next one so not terribly inconvenient. The downside was the train was a Regional and it was packed. Everyone put their bags and backpacks in the seat next to them, taking up 2 seats each. They had no seats marked restricted which would have helped with the distancing. But this meant that a family who got on couldn't find seats. No one wanted to sit right next to, or across from anyone. Including me!
~~~~~~~
Final thoughts. I always love Positano. Taking the private transport from the Naples station there was seamless, relaxing and painless. The town was packed on the Sunday afternoon when we arrived. I was surprised. Monday was not as bad. But still a lot of people. Masks are required indoors but not outside. The hotel Palazzo Murat is amazing. The food in Positano was not at all notable. Chez Black was the best.

Naples was as I expected. Busy chaotic Italian city in the south. Lots of horns honking. Millions of Vespas and motorcycles. Crazy drivers. But they did let you cross in the crosswalks. The neighborhood up near the Duomo was the most interesting. There are many places we didn't see of course. They don't seem to use the word Ciao as often in Naples as they do further north. The food in Naples was not notable. Not bad but not great. We didn't get any pizza. Maybe next time.