This is another trip report so please skip if you're not interested.
~~~~~~
This time I am doing something a little different. I am going to publish the report in separate posts along the way. The first leg was to the Italian Lakes. Specifically Lago Maggiore. And then a quick stop in Interlaken Switzerland.
Wednesday September 7
We left Umbertide at around 9:45. We had a long drive north. About six hours. Boring autostrade. Some not so pretty parts of Italy. We arrived at Lago Maggiore, our first destination. Our town is Oggibbio. Our hotel is Relais Villa Margherita. We arrived at 4:15. There had been an accident which made them detour all traffic off and through small towns to get back on. Probably lost 1/2 hour there.
Our hotel is lovely. These Italian lakes are surrounded by mountains which plunge straight down into the waters. This makes the towns have just one street along the lake. Very little parking. And then they build up the steep slopes some. Our hotel is up above the lake. The road up here is tiny. Not big enough for two cars to pass. We hold our breath up and down! Once up here the place is lovely. Pretty gardens, pool, lounge chairs and tables outside with views of the lake. The room is not so nice. Not pretty. No decorations at all. One chair for two people. No desk or table. There is a restaurant where we ate the first night. Food was good but not great.
After dinner we sat at a table at the bar where Luther could smoke a cigar. While we sat there a thunderstorm came through and took out part of the lights. We had to use our phone light to get back to our room.
A good beginning to our road trip.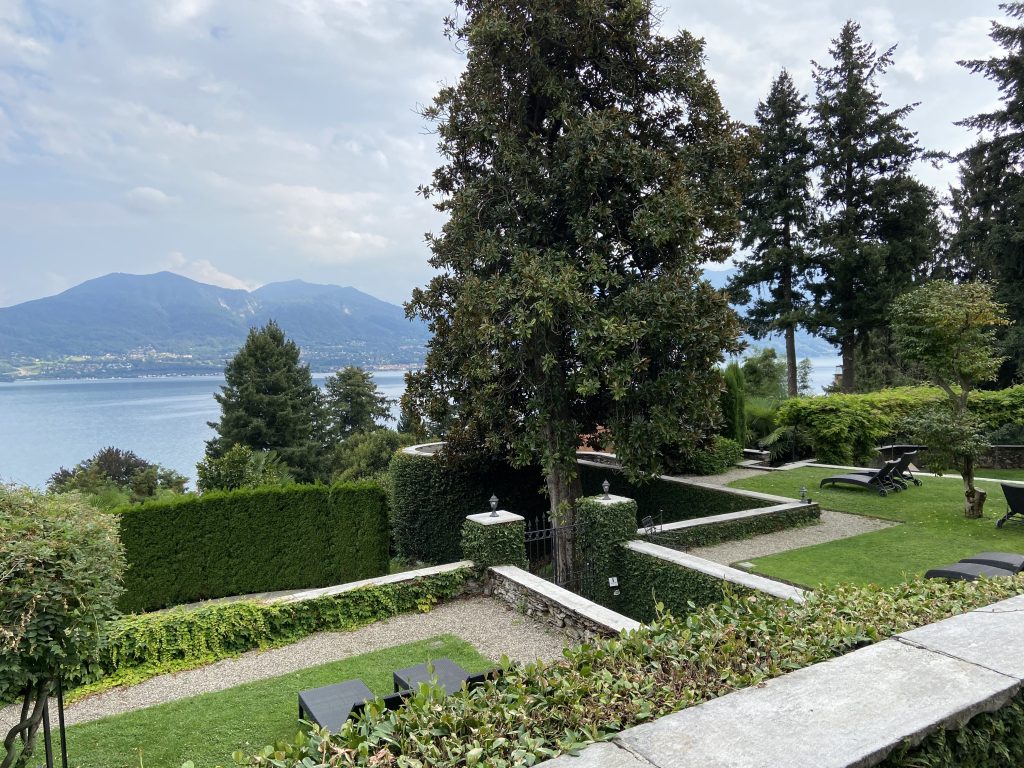 Thursday September 8
We breakfasted. Pretty good spread. Not great. We had more thunderstorms through the night. So the morning was fresh and clean and cool. Really pretty.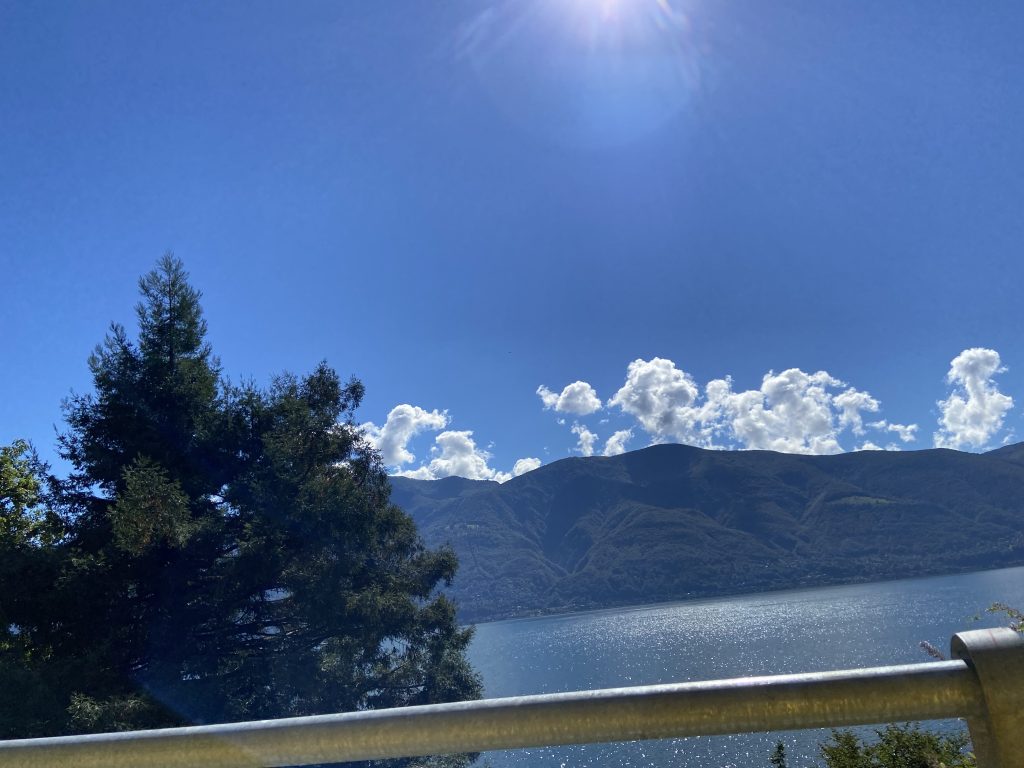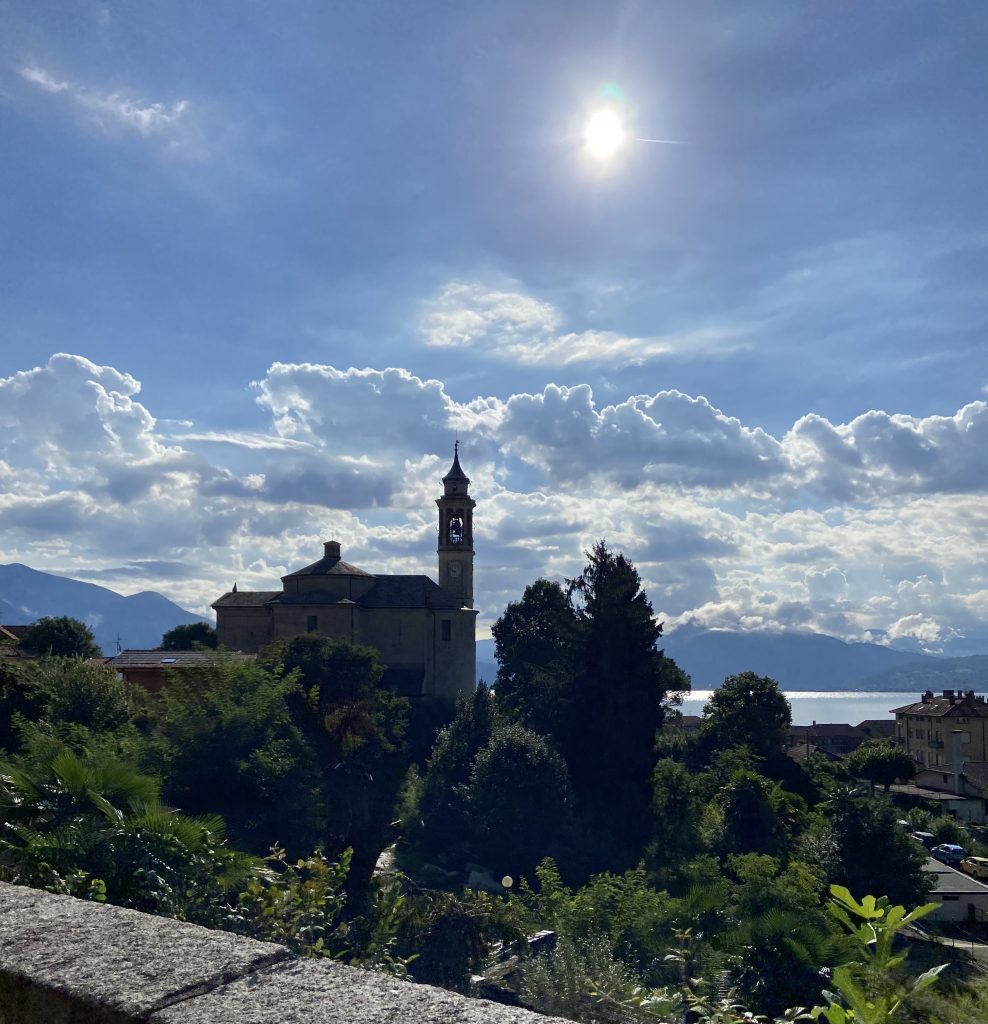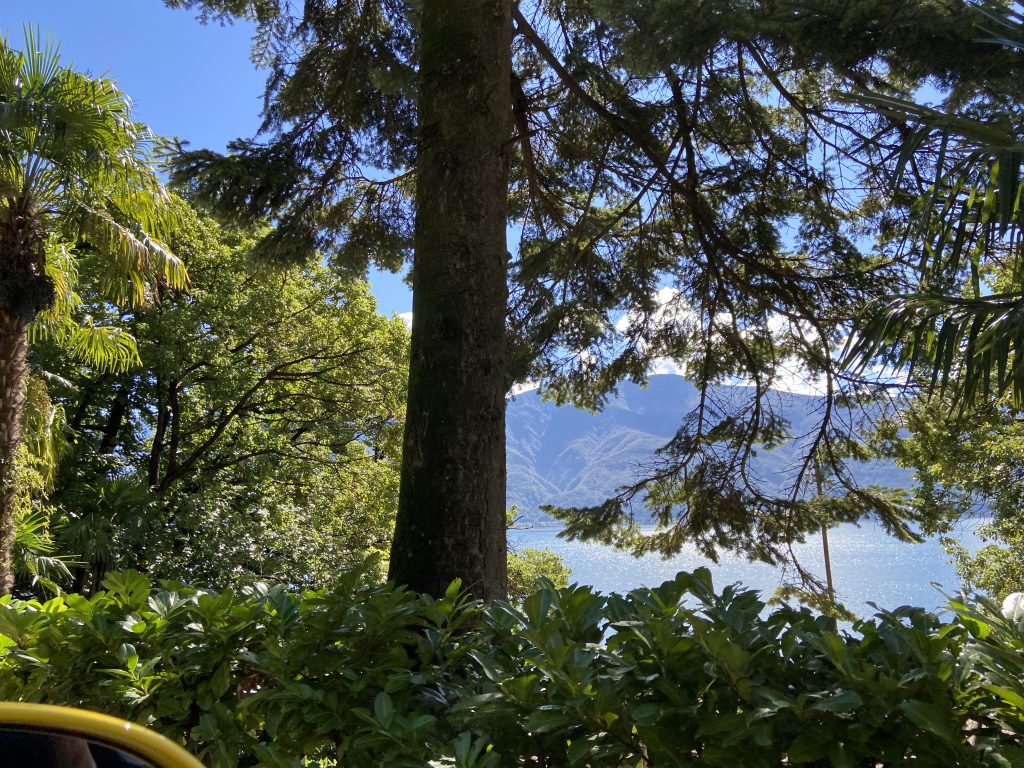 We decided to drive to Locarno Switzerland for a walk about and maybe lunch. The drive on the single road along the lake was very slow. But very scenic. We had some difficulty with parking. The street parking only took Swiss francs and we had none. We parked in a parking garage where we got stuck because the Casse wouldn't take our Euros. We had to go to the store above to purchase something so we could get our parking ticket validated so we could get out. The benefit was we got our change in Swiss francs so we had some money.
We moved closer to the lakefront promenade and parked at the train station. It was already one o'clock. They eat earlier here than we do it Italy. Lunch starts at 11:30 and the kitchen closes at 2:00. So we had to hurry. We chose Osteria del Centenario. Primarily seafood. Nice lake view. As all things in Switzerland are, it was pricy. But that is ok. It is vacation!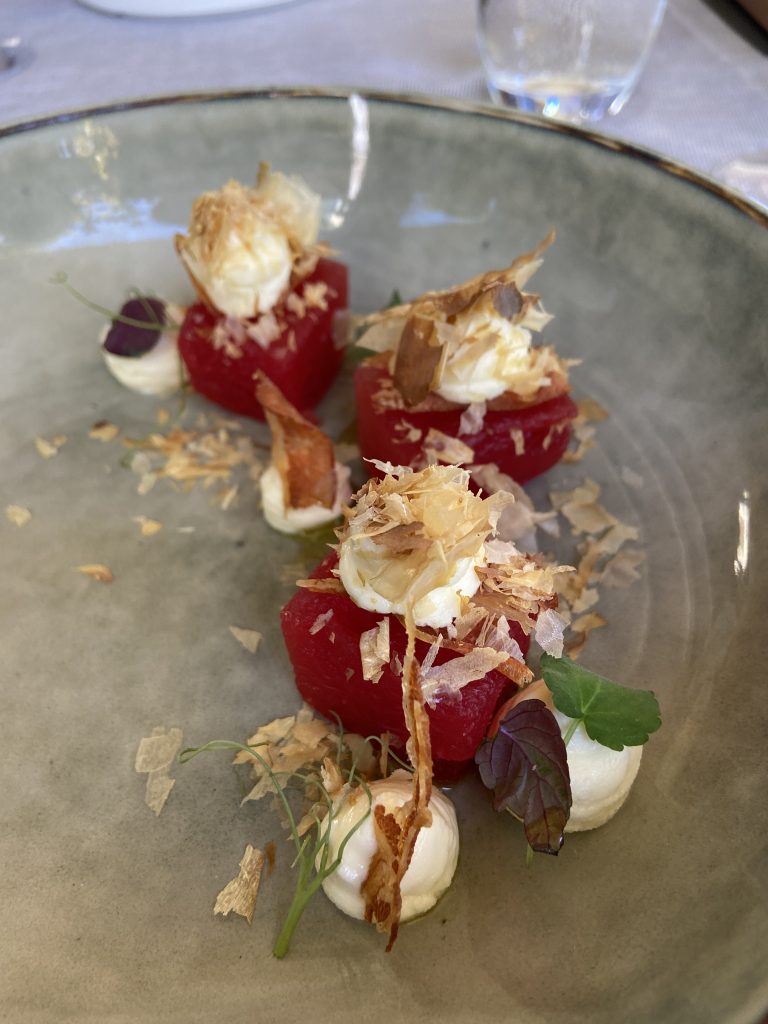 We found a Bancomat/ATM and got some francs. And I got some insect spray at the farmacia. The mosquitoes are fierce on the lake. Returning to Italy the Giallo Angelo attracted the Italian border police. We had to show all our documents. They seemed interested in how much cash we were bringing into Italy. I guess that's a big problem.
Back at our hotel we kicked back and then went out and bought an excellent picnic at the local, itty-bitty Alimentare. Two hams, three cheeses. And a little bread. Perfect because we can each eat as much as we want.
There was nearly a full moon out. We sat outside again. It was beautiful.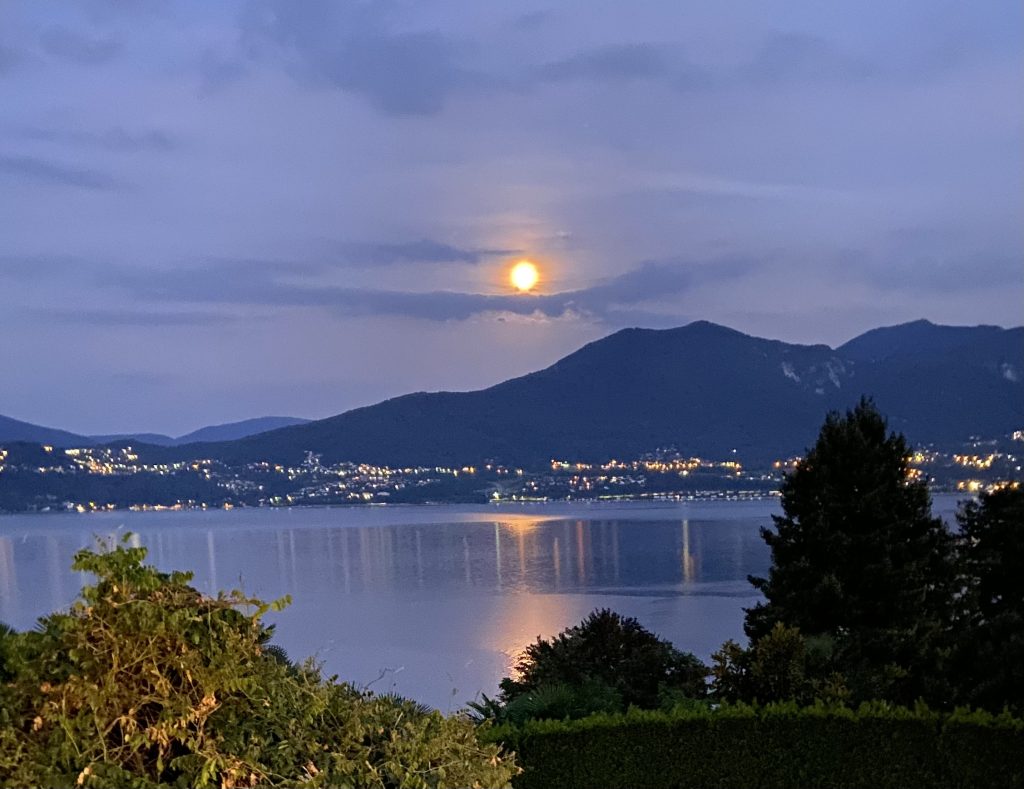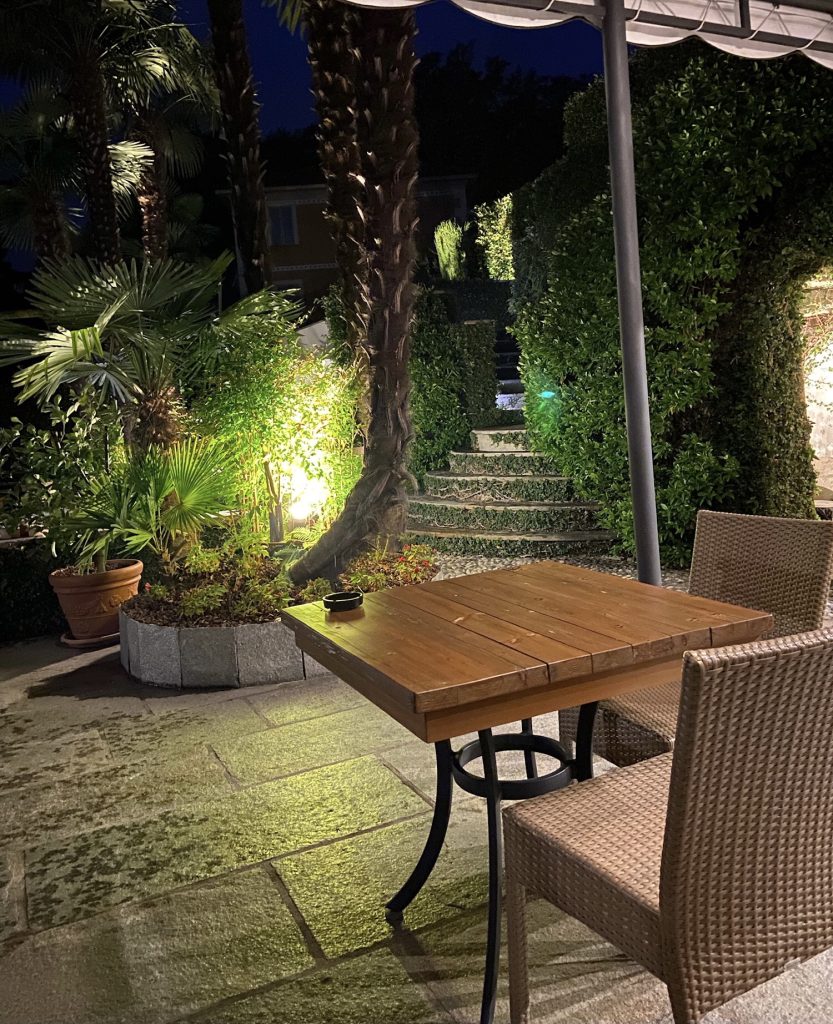 Friday – September 9
We were headed for the middle of Switzerland today. Interlaken. The name is descriptive because it is between two lakes. The three big alps the Jungfrau, the Eiger, and the Monch nearby.
The trip took around four hours with an hour break for lunch. We drove up a long valley from Locarno created by the Ticino river. This eventually reaches the Saint Gottard pass. They meter the traffic into the tunnel with traffic signals. Causes quite a back up but it's better to be backed up in the outside than in the tunnel. The tunnel is 17 kilometers long.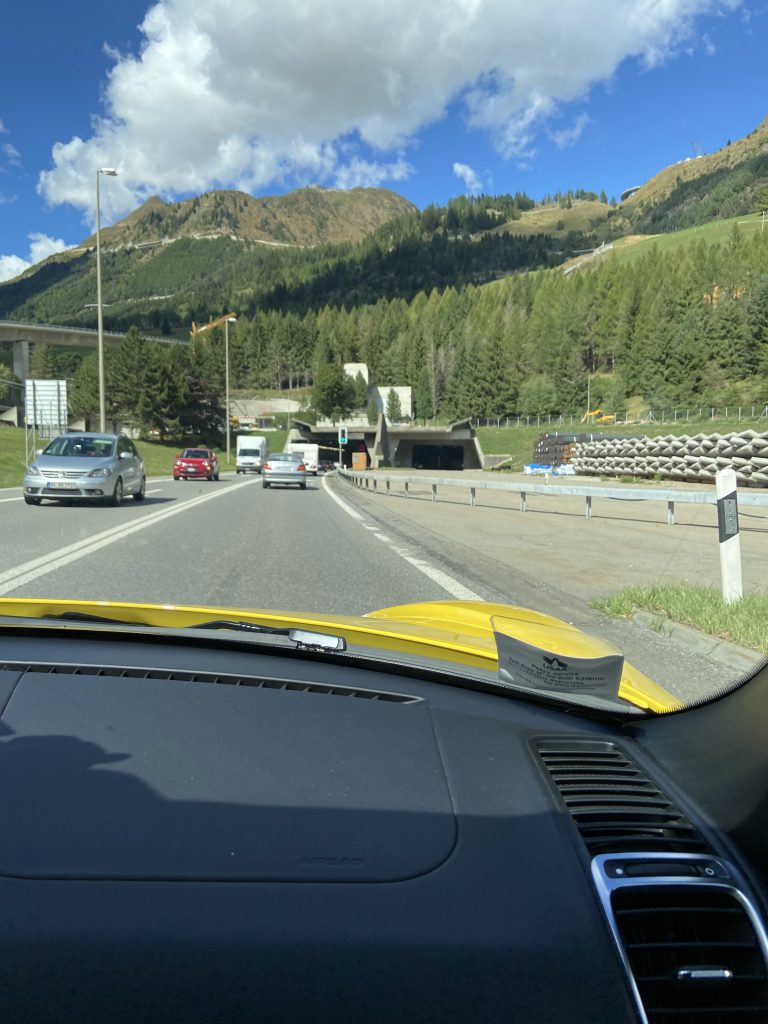 You pop out in the "real" Switzerland. You know, Heidi-land. So green. Beautiful pastures dotted with pretty Swiss houses and barns, all under towering alps. I snapped quite a few pictures for your pleasure.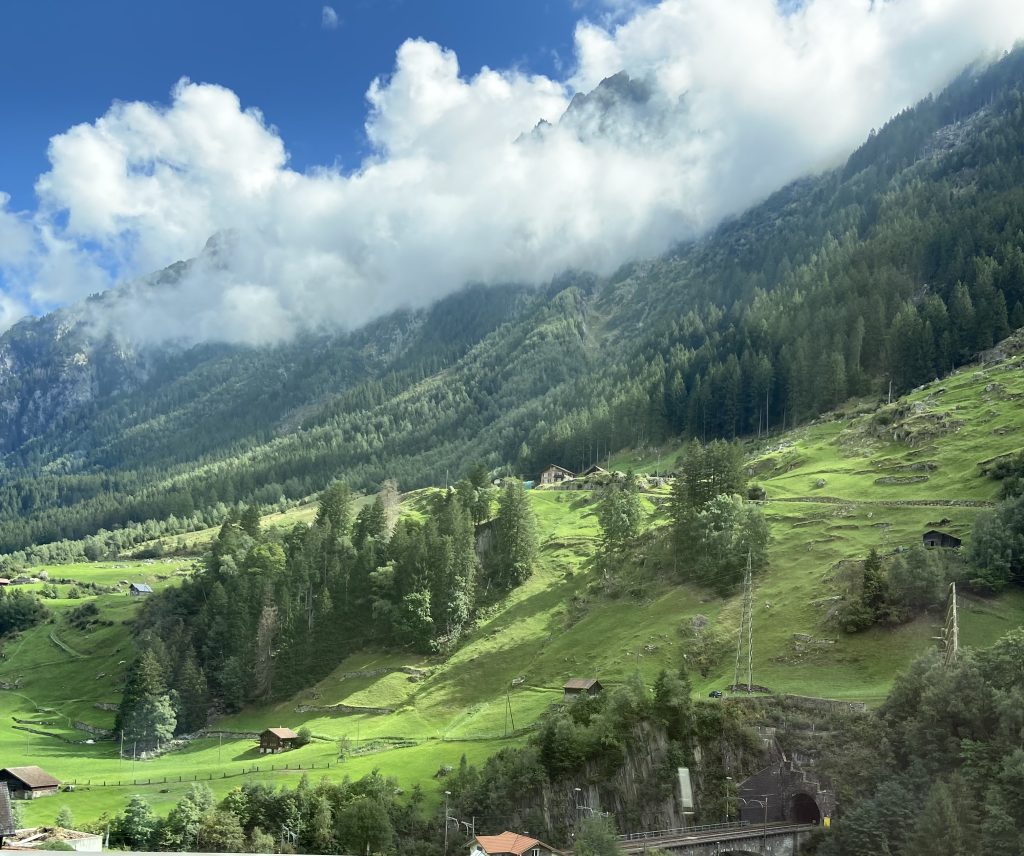 We stopped in a little town on lake Vierwaldstattersee. We lunched in a little hotel with a restaurant on the lake. I had the lake fish and a nice salad. Luther also had fish. We decided to take the smaller scenic roads to Interlaken. It added about 45 minutes to our trip. But it was just beautiful, so worth it and top down weather.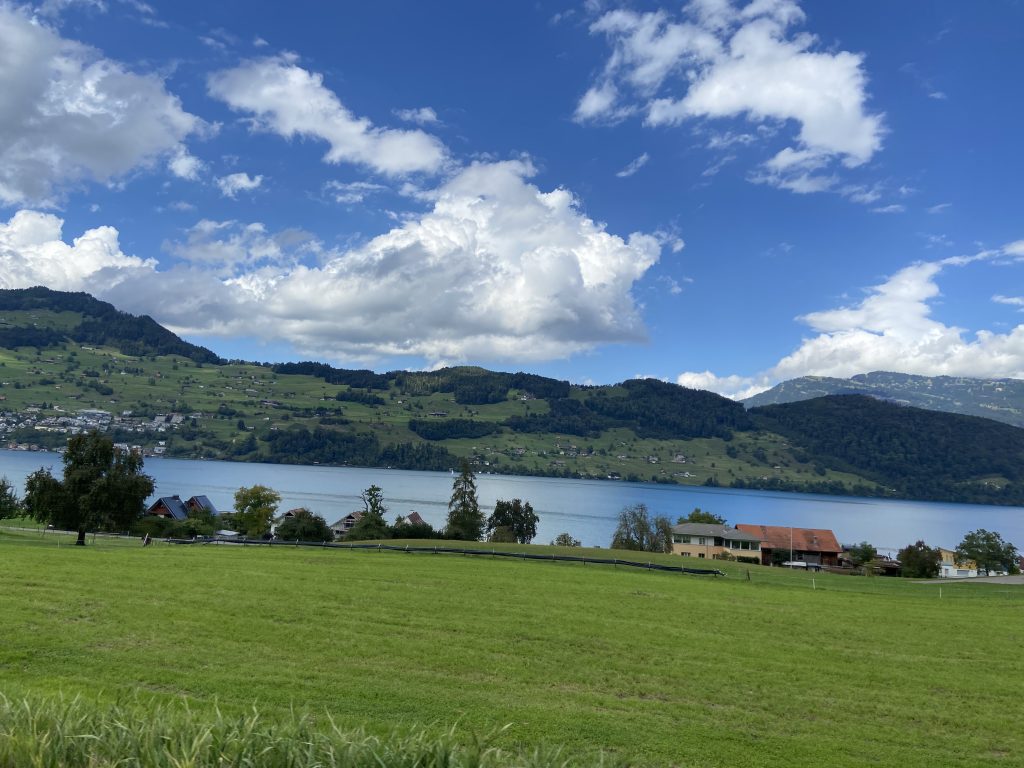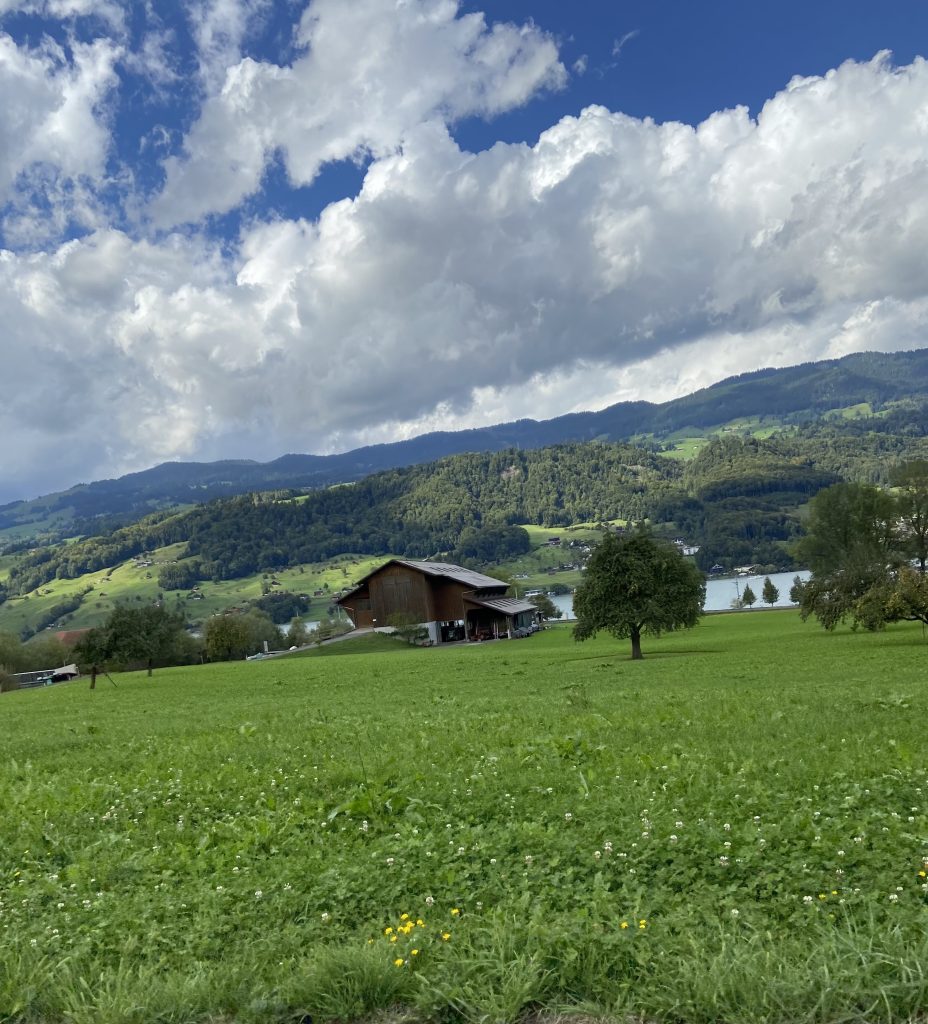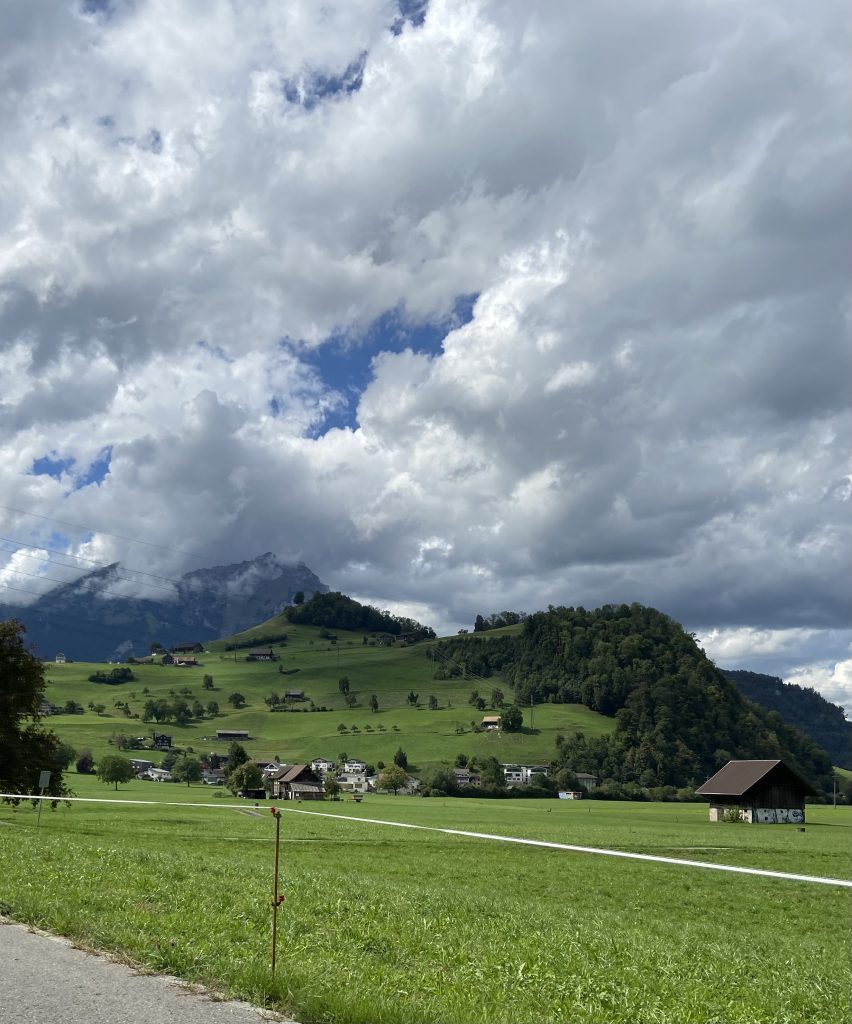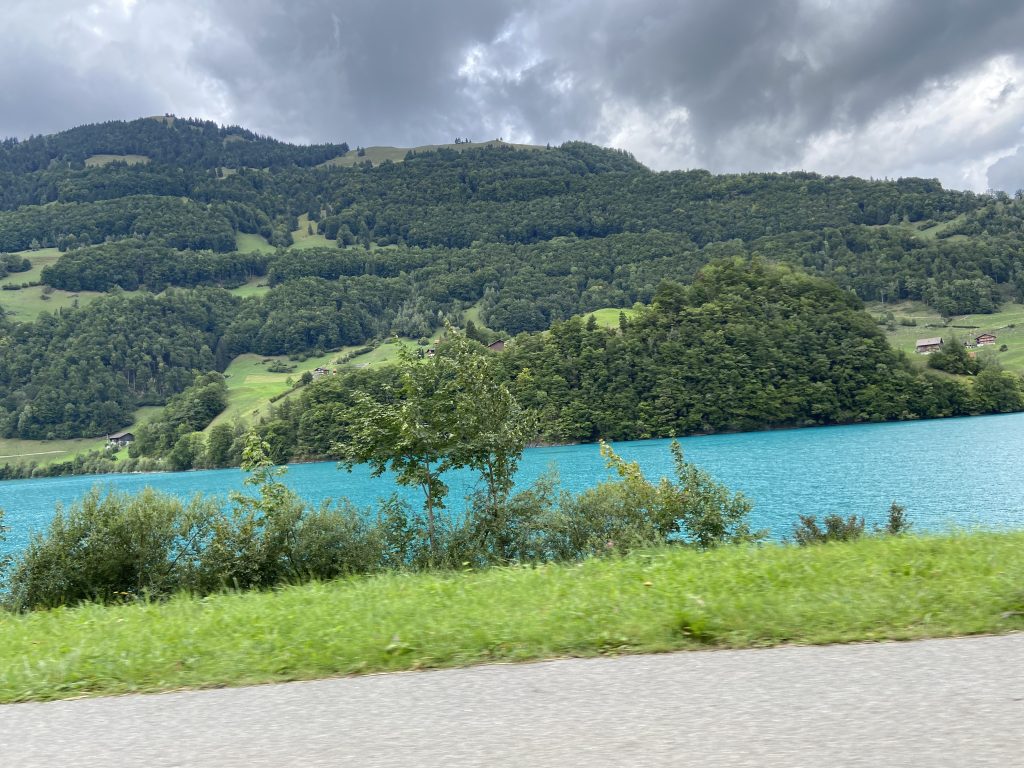 We arrived at 3:45 at our hotel in Interlaken. Very quirky. I have no idea why I chose it! For one night it's fine. There is a marathon tomorrow, from here to near the top of the Jungfrau — 4,158 meters/13,652 feet high. They are nutz!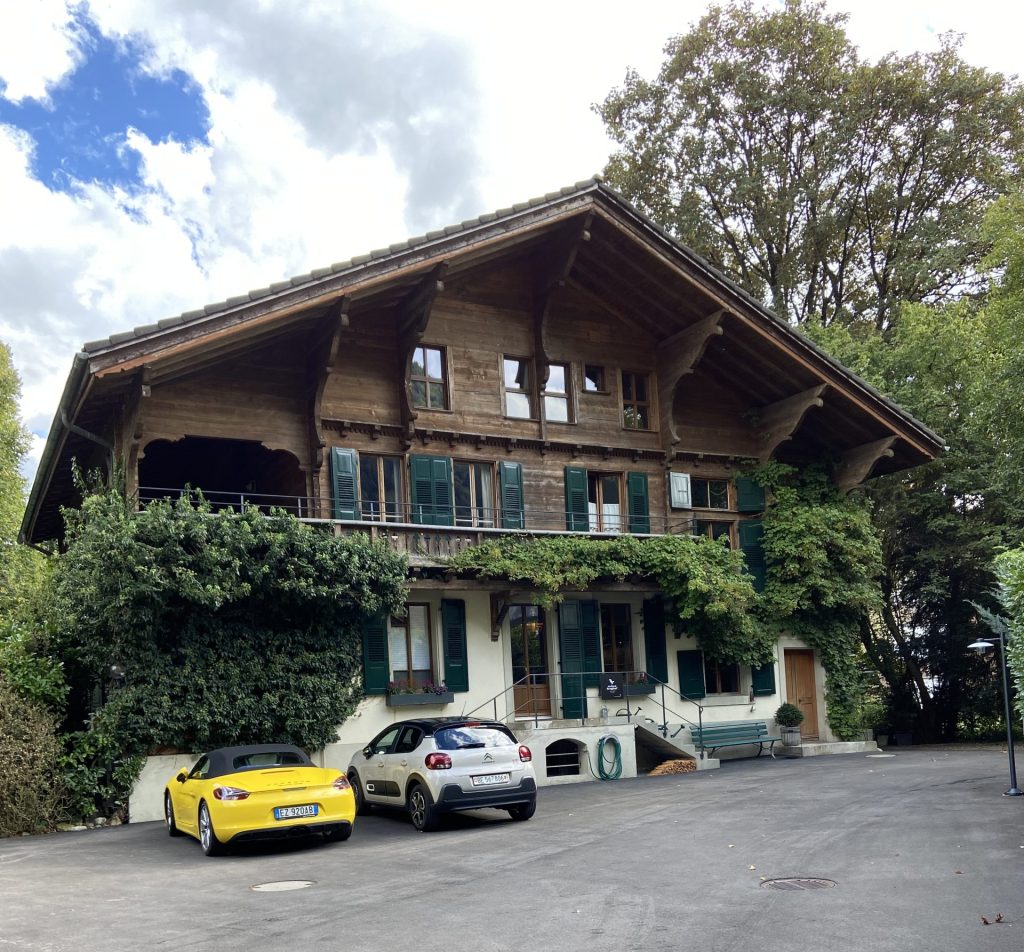 We took a walk into town to buy a picnic. I enjoyed watching the hang gliders landing in a big park. We spent the evening on the loggia watching the bats, reading, talking and having our picnic.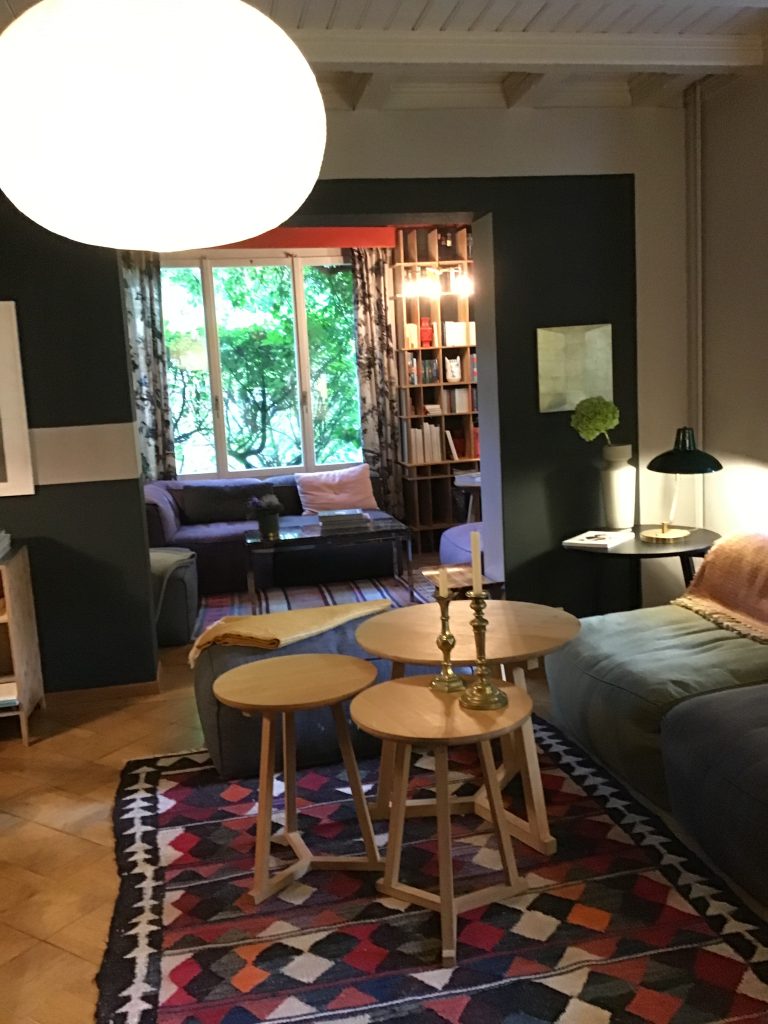 When we checked out Luther mentioned we came from Italy and our hostess said the owners of the hotel were in Umbria now. In a place called Reschio. We had to smile. It is only 10 minutes from our house. A high roller enclave with rooms €1,000 a night. She said the owners were aiming for a place like Reschio. I guess they have another place they are fixing up. It sure could never be Maison Bergdorf! 🙂
~~~~~~~
Today onward — to the Alsace France.