I bought some pretty greens for my next soup. They are called bietola here. When I put them in the translate app they say chard. But they also have what I call Swiss chard here, in red and yellow varieties which is different — chisa! Here is a picture of what I used. I am sure you could use the colorful chard as well.
I cooked a batch of dried cannellini beans yesterday. Today I used them with the greens. You can also use cans of cooked cannellini. It was a truly delicious soup. I will make it again.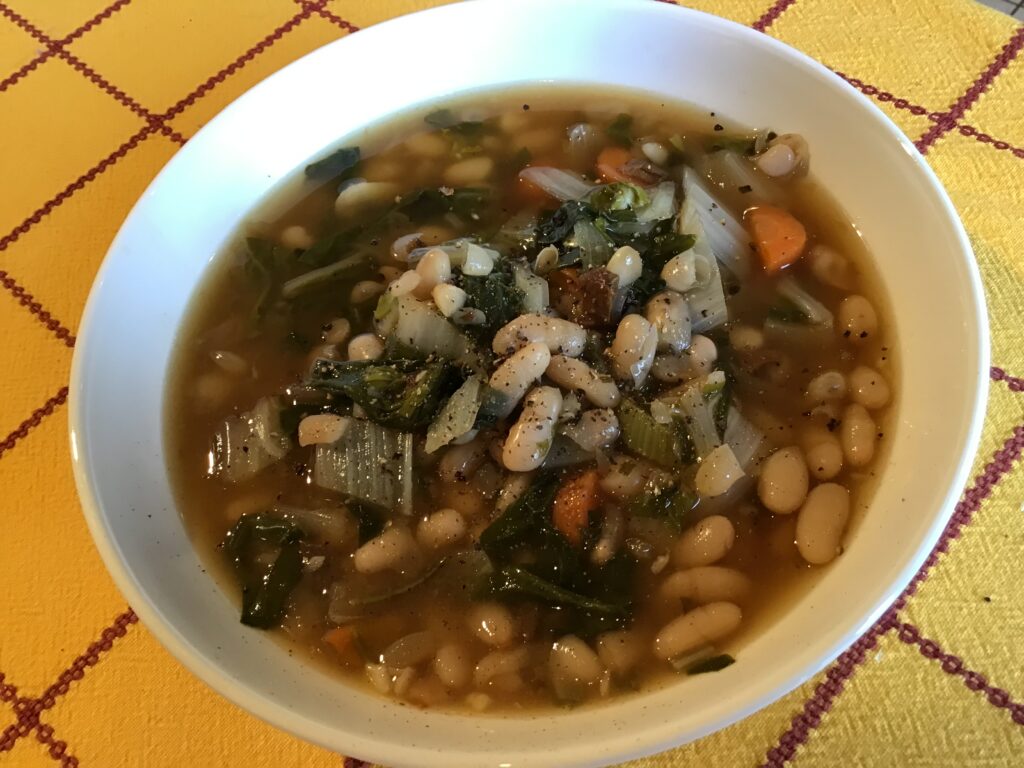 Here is the recipe which I will also include on my recipes page.
Bietola and cannellini bean soup
2 carrots chopped
1 large stalk celery chopped
1 medium onion chopped
4 cloves garlic minced
Handful of dried mushrooms (like porcini), soaked and chopped, saving the liquid
2-3 cans cannellini beans or cooked dry beans
1 sprig rosemary
1 bunch bietola, washed and chopped, including stems
Water with 1 vegetable bouillon cube or vegetable stock
Salt and pepper
A little vinegar (optional)

Sauté carrots, onions and celery in oil until soft. Add garlic and sauté for 30 seconds. Add chopped mushrooms and their water, strained for grit, beans, rosemary, bietola, water or stock and/or vegetable cube and salt. Cook 30 minutes. Taste and adjust salt and add pepper. Off heat. Add a splash of vinegar to brighten it a bit if desired. Buon appetito!