210,717 positives in Italy. Up 0.7%- 28,884 total deaths since beginning of the outbreak.
There are 1,394 positive cases in Umbria. 68 total deaths.
1,154,621  cases in the US – 67,451 deaths.
~~~~~~
You may have noticed I've changed the title of my post this time to a new marker point. The first day of Phase 2 of the lockdown. We will have a good number of new freedoms. One is we can leave our Comune (Umbertide)… But we must stay in our region (Umbria). It feels like the whole world to me! Wow.
We got our weekly delivery from Calagrana. Ely added a couple of cute little loaf cakes. I tasted in and it tasted JUST like a Fig Newton cookie! I shared the other one with Joseph and Paul, dropping it on their steps. Also got a whole bunch of veggies, the sweetest strawberries, oranges, I see a fruit salad in my future! While delivering the cake, I stopped to take a few pictures around town. Beautiful day!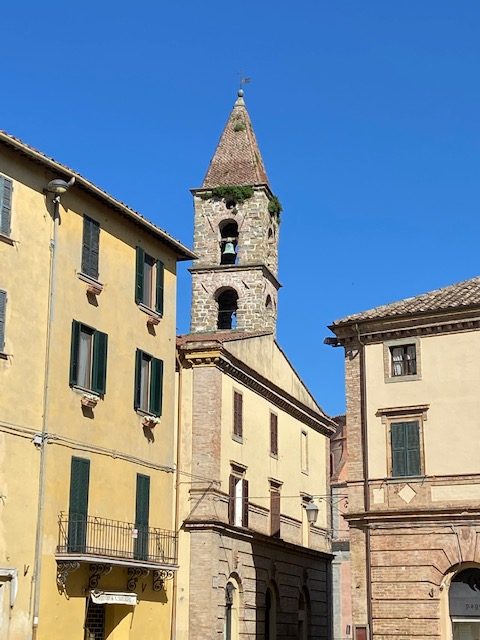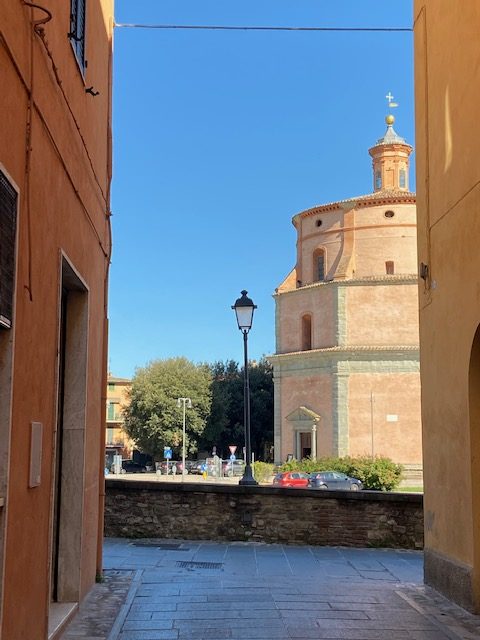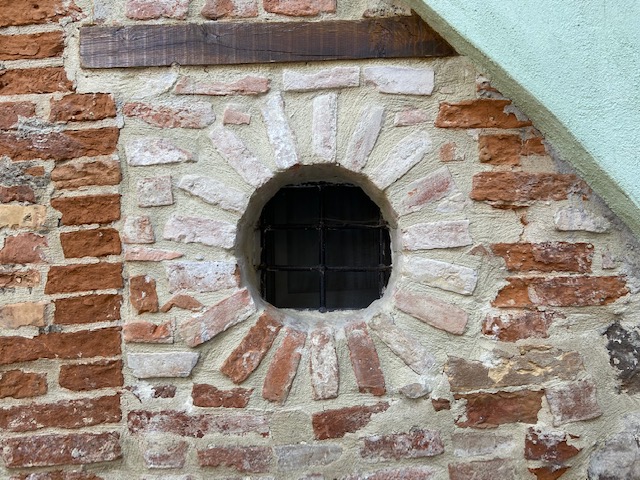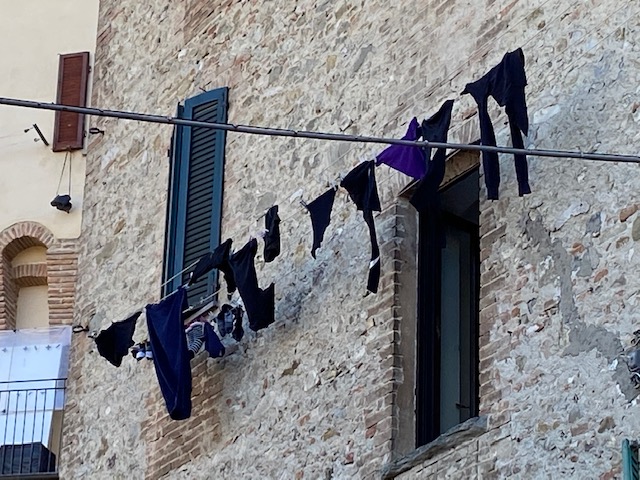 I thought this evening of having a spritz on the Piazza with Luther. A springtime ritual…and tears came to my eyes at how much we have lost 🥺 I guess in time, we will be able to do this again. Spero di si.
~~~~~~
Dinner last night. It was a new Calagrana plan. Pre-packaged ingredients to cook your own dinner. Instructions provided. We had tagliata with arugula, tomatoes with cheese shavings along with roasted potatoes. Very yum. The quality of the ingredients is key! These were excellent.
~~~~~~~~
You've probably notice I write my blogs on two days. I start right after I publish one post, and then continue with my thoughts during that day, and the next day I add anything new thoughts about the new day.
So now I am in a new day. The first day of actual Phase 2. Monday, May 4. This morning I woke to the noise of the construction equipment building some building behind us along the river. It has been silenced for these 2 months. I must say, they certainly wasted no time starting again! During the night I could hear the increased traffic on the nearby super strata. This morning, I stood on the terrace and realized how much I would miss the complete silence and the birdsong. 
There are many people out in the Piazza. We spotted joggers by the river. And walkers. The two bars in the piazza have reopened I'm told. I haven't been down yet. Luther said it's not allowed but I'm told it is up to the Comune to decide. So I guess ours said it's Ok. There is a limit of number of people coming in. 
I admit it makes me nervous. Very nervous. Is it a new day dawning? Or can we just look forward to new lockdowns with a new wave? Only time will tell.
~~~~~~
Stay safe my friends! 🌈