162,488 positives in Italy. Up 1.9% – 21,067 total deaths. Best so far!
1,321 positives in Umbria. Up only one case again! Percentage near zero. One more death.
598,670 cases in the US – 25,239 deaths.
~~~~~~
Today is the first day of week six! Our next milestone is May 5, I think.
~~~~~~~~
US news…
The battles go on about the reopening of America.
… as South Dakota's experience shows, no part of the country is immune to being ravaged by the virus. And rescinding orders that people stay at home — or declining to issue them, as in the case of South Dakota and four other states — offers plenty of peril.
Reopening the country by May is "not even remotely achievable," said TenHaken, (Mayor Sioux Falls SD)  who, like Trump and Noem, is a Republican. "We're in the early innings of this thing in Sioux Falls."
~~~~~
Italian news…
Speculation about how Italy will reopen itself. Since A big part of the Italian economy is tourism, they would like to get some of that reopened. Specifically to encourage Italians to tour Italy. The beaches in particular. Italians love their beaches. One of the suggestions is to build little plexiglass cabanas with two recliners inside. Seems ludicrous to me…but what do I know? Italians may be fine with this solution.
Sadly, it looks as though tourism from anywhere outside of Italy's borders will be a while away. It is being said the Schengen borders will, for the most part remain closed to travel for the rest of the year. The borders will stay closed except for "need". You have to have certification of this "need". For businesses, it would allow a person from, say France, to come into Italy, but only for maximum three days, for business purposes. If a person has a need to be here longer they must quarantine for two weeks. In a hotel, or, if they live here, their own house.
~~~~~~
Cold out today. But after this it will get warm again…tomorrow I will plant my flowers.
This morning we made a futile attempt to go to begin the renewal of our Permessi. The Poste Italiene is now allowing one person in at a time. So, there was a line down the block. I guess I should have expected it. We will try again tomorrow. Maybe a little earlier…
~~~~~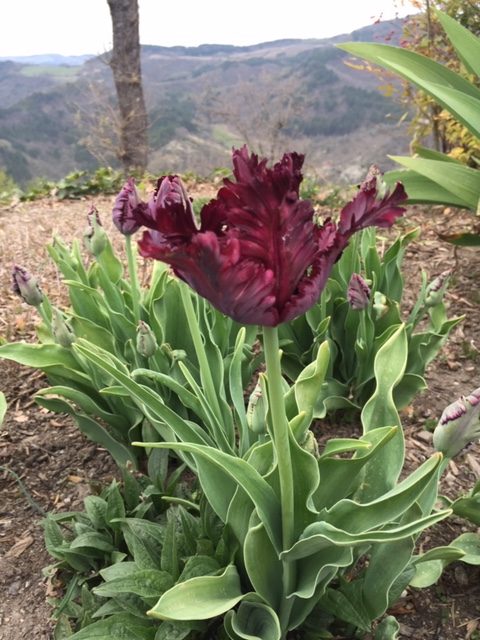 Week six and still going…but a bit of light at the end of the tunnel for Italy. I think most other countries have a ways to go. Don't give up. Stay home and safe. 🌈 Andrà tutto bene…