165,155 positives in Italy. Up 1.6% – 21,645 total deaths since beginning of the outbreak. Best numbers yet!
1,322 positives in Umbria. Up only one case again! Percentage near zero. One more death at 54.
639,664 cases in the US – 30,985 deaths.
~~~~~~
Today is the first day of week six! Our next milestone is May 5, I think.
~~~~~~~~
Today was the day. I was determined to get this damn permessi paperwork submitted to the Poste. We got up early so we could get there at opening time – 8:20am. And so we did…along with about thirty other people! Oh well. I was determined…even if Luther was not. So we joined the line down the block. Everyone had masks and kept a scrupulous 2 meter distance. An hour and a half later we walked back out of the Poste. Mission accomplished. Our appointment at the Questura is June 25. Coincidentally this is also the day our present Permessi expire. Good thing we aren't traveling anywhere. I guess.
Speaking of travel. We do have some trips planned from far before this virus became our new normal. We are not sure at all they will take place. If they do go forward we will need to figure out some way to get a temporary Permesso.
Already I will be canceling our little two night trip to Slovenia June 5. That border is still closed. I will wait until early May to cancel. Hope springs eternal.
Our big trip is to Germany in late July/early August. We are/were meeting our Australian friends there. We will just have to wait and see but I think the Schengen borders will remain closed to the end of the year. If that is so, it will also impact a cruise we had planned around Spain with my sister and her husband. It was to be our annual get together also coinciding with Thanksgiving.
So, if we can ever be released from our lockdown, our options will be limited to travel inside Italy. Which is fine with me. I'm sure most people would say we have an embarrassment of riches to explore here. There are many places I have not yet seen, and also places I would like to see again. All that said…will I really feel safe to travel? I truly do not know…
~~~~~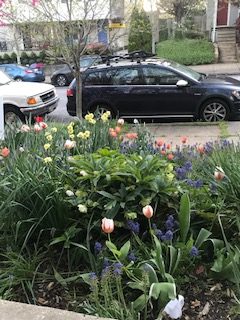 ~~~~~
Tomorrow I will share pictures of my newly planted terrace. 🌈 Andrà tutto bene…