Today I had a number of errands to do. I could hear that it was extremely windy. It was whistling around the house. It sure didn't make me feel really good about going out!

My first errand was a test at the hospital but turns out no one told me their hours so that was a bust. I will go back Monday. I proceeded to visit a friends apartment to check that all was well there as it is empty.

Once those two, less than fun, errands were done I visited my friendly Ceramica shop and then the Slow food market, Il Mercato della Terra in Umbertide, or our kilometer zero market. The SlowFood people had a booth set up. I also noticed most of the stands had taken on, as a new, temporary, employee, a handicapped young person. So sweet. I'm not sure nowadays how to say this in a politically correct way. But they looked to be mostly Downs Syndrome young people who did seem to be enjoying this new and stimulating activity. I was happy to see it.
I decided to buy a bag from the SlowFood booth. Here is a picture. It included four products which are considered rare since they are produced in small quantities with much manual work in the process.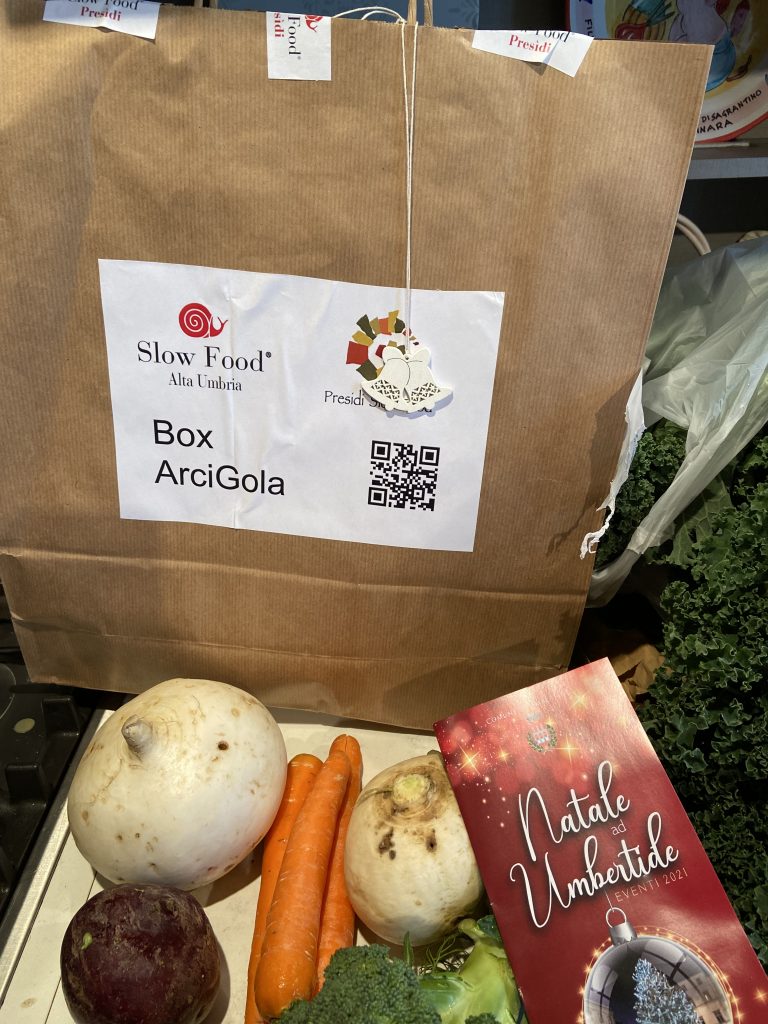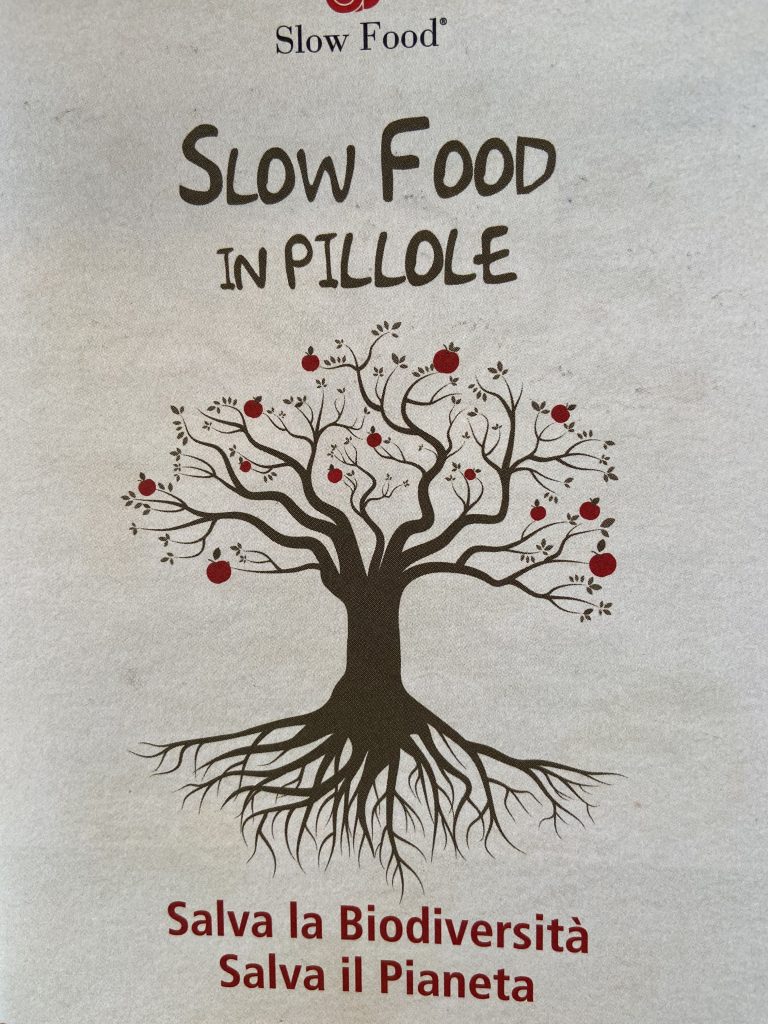 It included many interesting things to include my favorite legumes. One, Fagiolina del Lago Trasimeno. The other Roveja di Civita di Cascia. Both of these come from Umbria and the nearby Marche. Both are ancient beans. They also gave me recipes to try.
The Fagiolina del Lago Trasimeno is a very local product grown near the big lake in Umbria. It is unknown outside of the area. Once it was widespread around the lake but the cultivation and harvest is long, tiring and still entirely manual — from sowing to harvesting to threshing. The maturation is gradual. The beans must be harvested every day for a couple of weeks. The plants are brought to the farmyard and dried, then beaten. Afterwards, using sieves, the beans are separated. It is a bean with an oval and tiny shape and can be of various colors: from cream to black through salmon and all shades of brown, even mottled. When they are cooked, they are tender, buttery and reminiscent of black-eyed peas.
The Roveja is also very difficult to cultivate and harvest. It grows at high altitudes in the Sibillini Mountains. To harvest them, you have to work bent down and it takes a long time. This has discouraged the cultivation of roveja and has helped to ensure that almost no one today knows this small pea.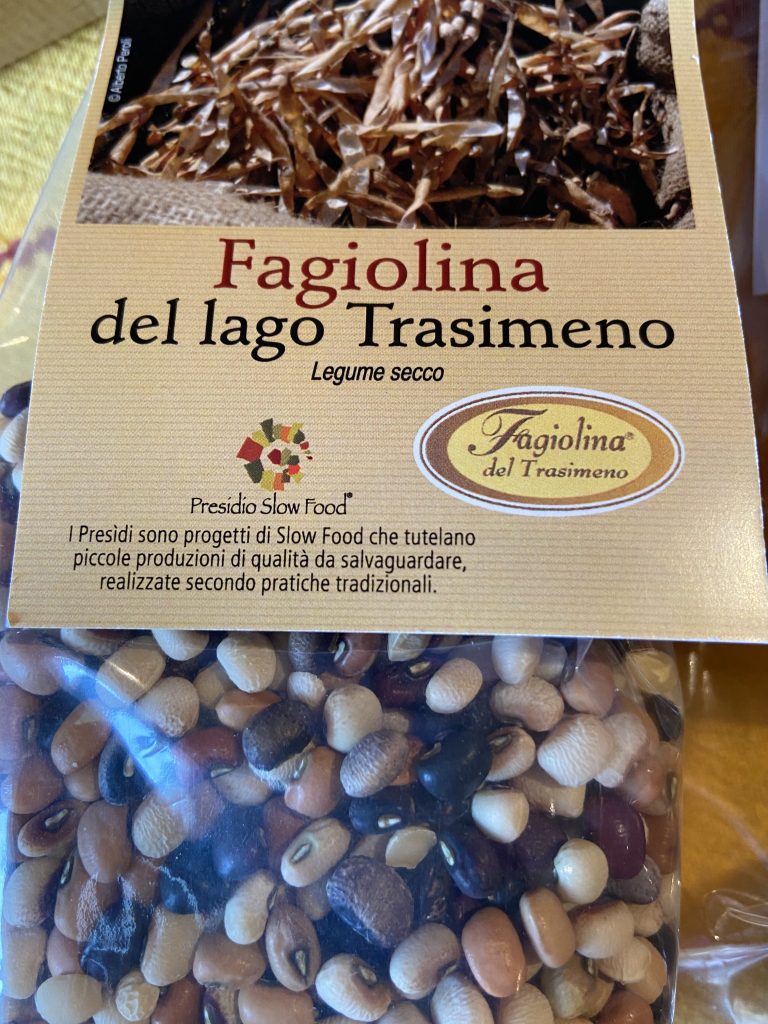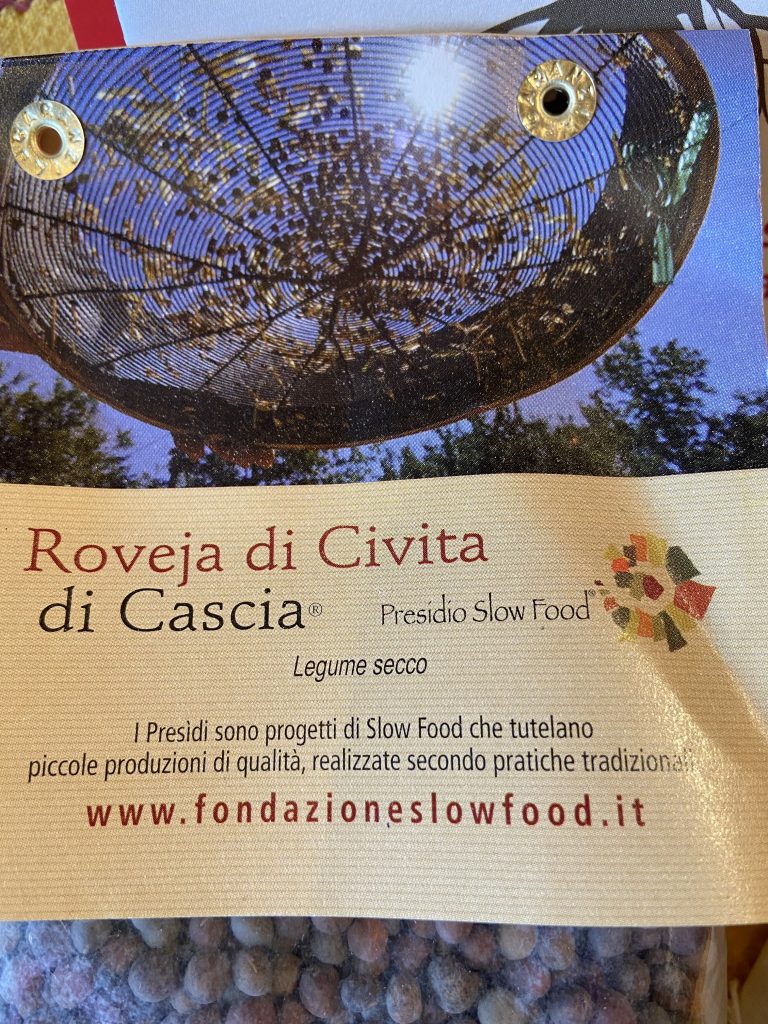 The next item, Grano Saraceno Decorticato, is translated as buckwheat. I looked up the producer. The Tamorri Vera farm is located in the Chiavano plateau which is 1000 meters above sea level, in Valnerina, on the border between Umbria and Lazio. It is family-run and in its third generation. The farm covers about 65 hectares where it grows its own cereals and legumes, in addition to fodder for cattle and sheep. The production of the products is organic and is part of the Slowfood Presidium of the buckwheat of Valnerina. I tried this out last night. I will show the result below.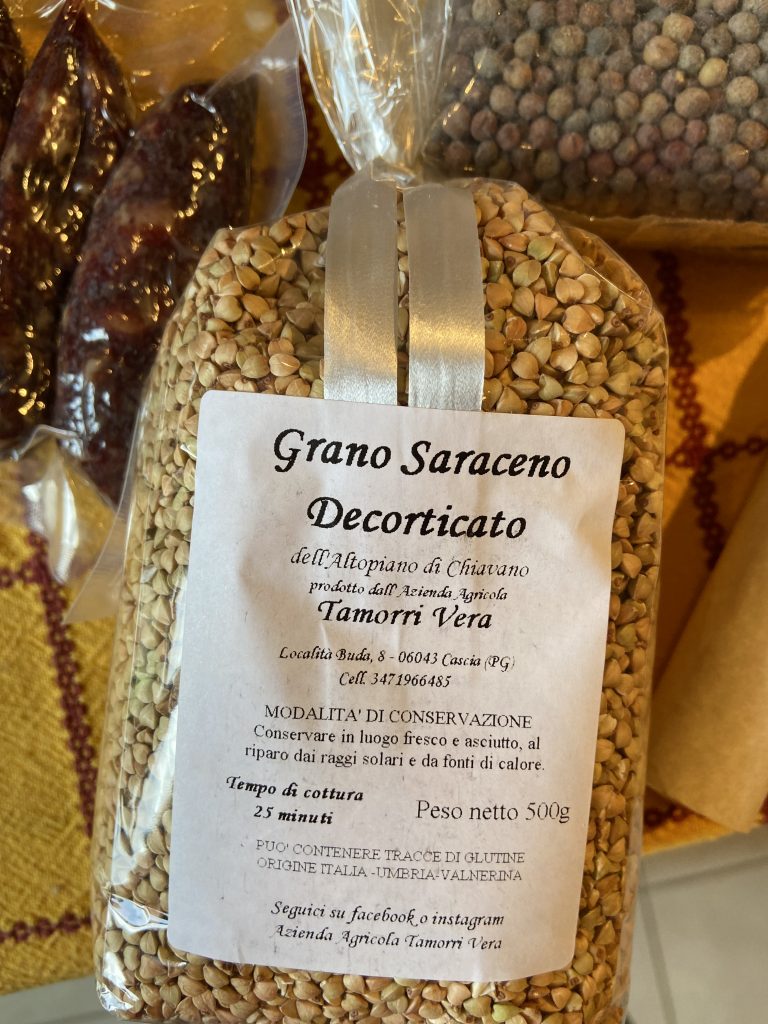 The next item is also new to me. It is produced at Macelleria dell'Allevatore in Trestina, a town very nearby. It is a cured sausage. The word fegato means liver. So I assume it will be a liver sausage. I will have to report back. I do like most liver, Luther does not, so we will have a taste test!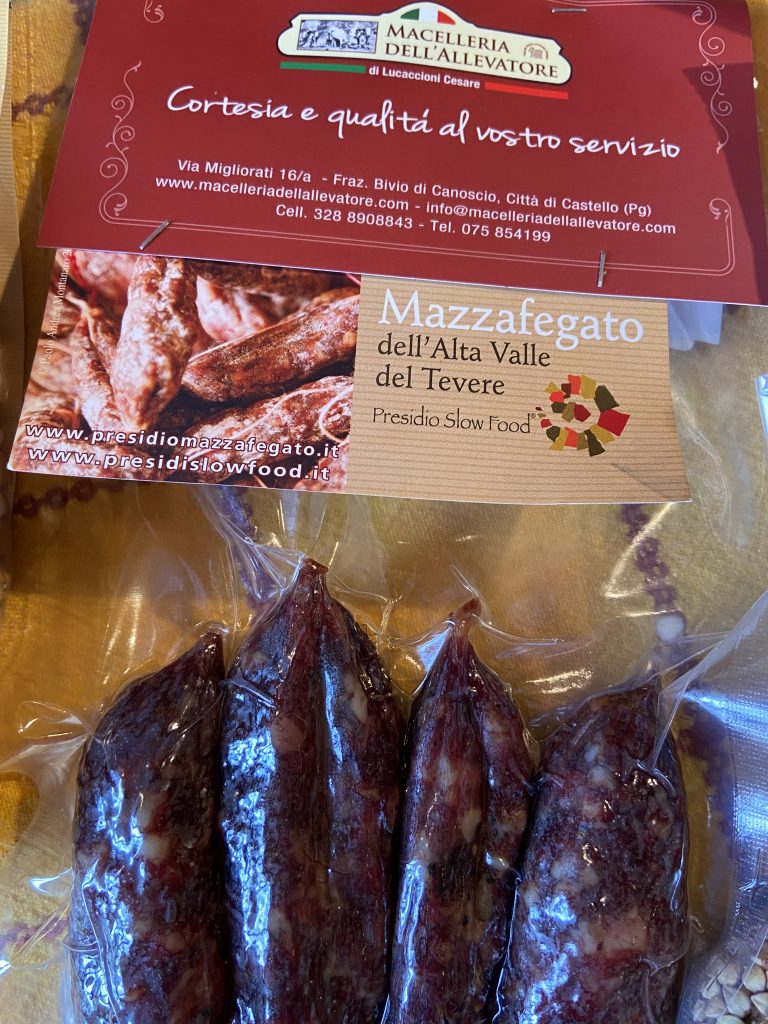 I also picked up some fresh produce. As usual, I'm planning a hearty soup. I found turnips! Not a usual product.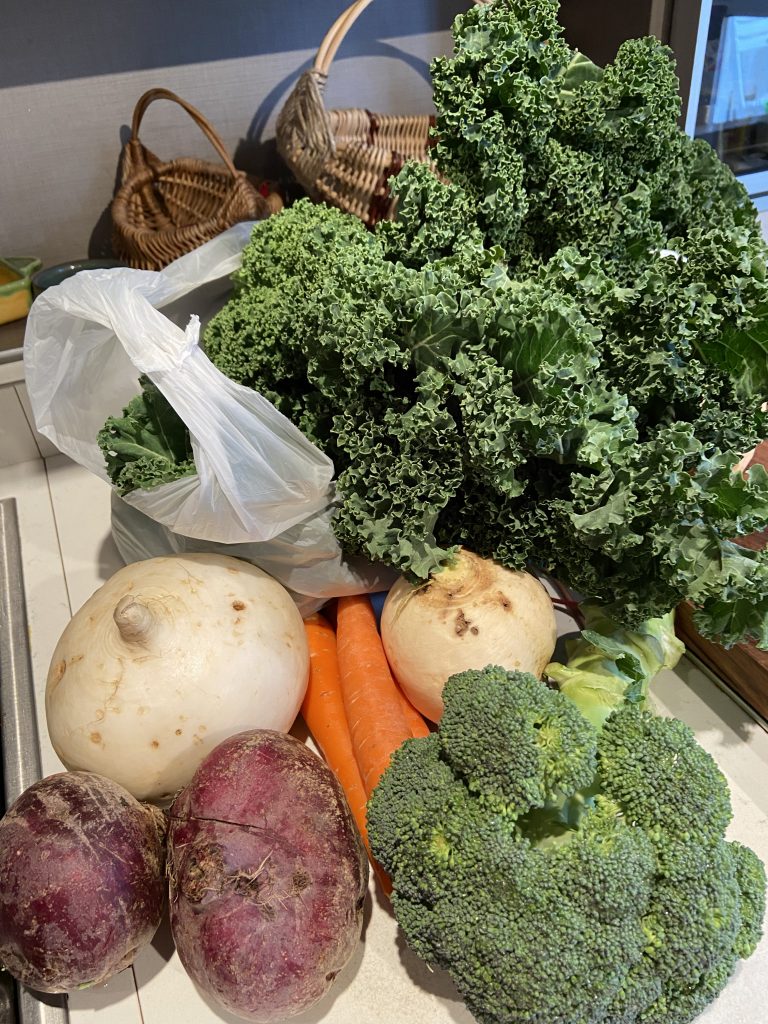 My side dish for dinner last night was made from the buckwheat. I cooked half a cup in a cup of water for 20 minutes. It absorbed the water and got a lot bigger. I steamed some broccoli until crisp tender. Next I smashed and peeled a garlic clove and put it in olive oil until browned. Then discarded it. I sautéed mushrooms in the oil, then added the broccoli and last the buckwheat. To serve I sprinkled it with grated pecorino cheese. It was quite good. The grain has a distinctive flavor which I remember from Normandy France where it is a very popular product. It also is gluten free for those folks who don't eat it.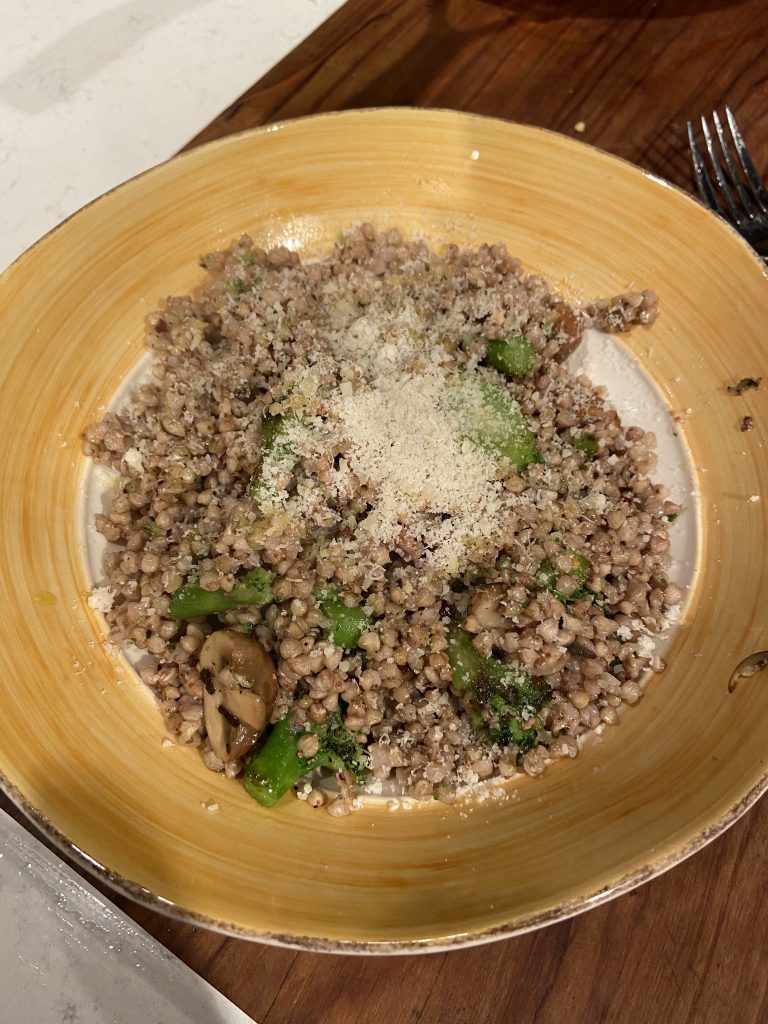 This is a different Christmas than last year, which was a very sad and lonely Christmas. Everyone seems to be happy we are free to gather and do some of the traditional activities common to the season. Of course caution is advised so we all wear the masks and we do much outside. I see there will be many concerti and choral groups in the churches and museums around here. Ho Ho Ho!