In Italy, there is a word they use often, "Lo stress". Yes, it means exactly what it sounds like – The Stress. Today, we are dealing with lo stress of dealing with the Italian bureaucracy once again.
If you've been reading this journal for a while you know of what I speak. For those who don't know — a short recap. When you move to Italy, after you get your Visa, the first thing you need to do is apply for your Permesso di Soggiorno (Permit to Stay – PdS). It should be done within eight days of your arrival. I won't go into details of how you get one but suffice it to say it takes time, several appointments, and money. In Umbria, one must apply to renew it every year before it expires. The process can take a year and then you begin again. The light at the end of the tunnel is the possibility, after five years continual residence, of getting the Permesso di soggiorno UE per soggiornanti di lungo periodo (ex carta di soggiorno) – elective residence. This is a permanent long term permit to stay. Need I say this is a coveted thing?
We will have lived here eight years in June. We are past due for this card. Covid interfered with us pursuing this. We tried last year but two documents were expired. So this year, we try again. Today was our appointment at the Questura. We expected to find out if we would be getting the Card. I bet, no matter how thorough you try to be when you apply, they will find something that you missed. Today, we found out the two things that we are missing.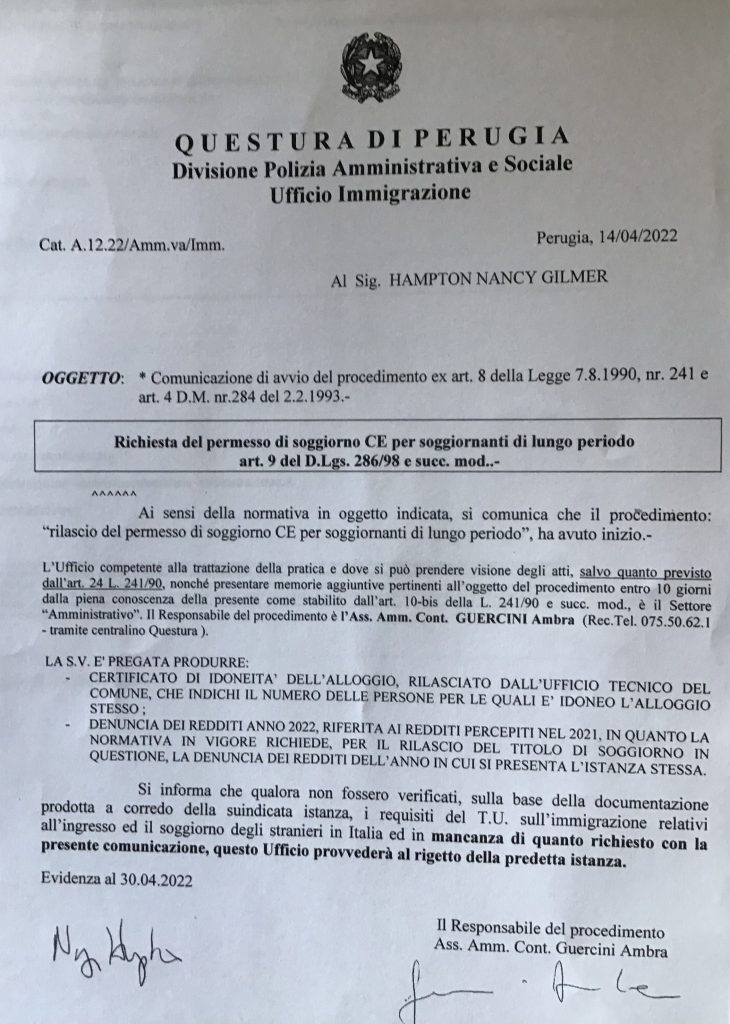 One item is a document from our Comune which attests to the fact that our house meets the standards for two people to live here. We had our Geometra do the assessment and we included this in the packet, apparently, they need this other form. We visited the Ufficio Technico where we found out what to bring to get this document. Fifteen minutes later we returned with said papers and the office was locked. We checked the hours. They were supposed to be open. Sigh. Happens all the time. We will try again tomorrow. Comically, I can look right into this office from my Living Room window!
The second item is a 2022 tax form certifying our income from 2021. We contacted our commercialista – she said the form does not exist until June. And that the 2021 form is in force. Sigh. I think we should just take the email we got and the form for last year back to the Questura. Luther says he will call them.
To be honest, I think this is not too bad. It looks like we will, eventually, have these two items. The only issue is when…and whether, in the meantime, those two time sensitive forms will expire — again. It is always something!
~~~~~~
Let's talk about something more fun. I am a notoriously poor baker. But I threw caution to the wind and decided to make a quiche for dinner last night. First hurdle was making the crust. I tried a recipe I had and miracle of miracles, it came out perfect! Then I used another recipe for quiche I but substituted the vegetables, using some things I got at the market yesterday. I used leeks, mushrooms and broccoli rabe. It called for cheddar cheese but that's very hard to come by around here. So I used the cheese most common here, pecorino fresca. I added an extra egg and a little more cream because the eggs here are not graded by size. No such thing as extra large eggs. These were fresh eggs from local chickens. Anyway, the quiche came out perfect and it tasted great. I served it with a green salad…a perfect dinner.