We were so happy to welcome Luther's brother Mike and his wife Anne. Along with their daughter Rachel and her husband Alex. They had not managed to visit since we've been here so it was great to show them around. Their trip was only for five nights here so a whirlwind visit. They brought gifts! Hominy in cans for me and some beautiful spices. And a couple of boxes of cigars which Luther sent to his brother before they came.

Our normal strategy with guests is to do a mix of things but lunch is always the focus and the big meal of the day. We try to choose from our favourite restaurants to give a variety of foods from basic Umbrian cuisine to more adventurous chefs. We were blessed with pretty much perfect weather almost the entire time.
WARNING: there are a LOT of food pictures on this post .
As always, travel is fraught with uncertainty. They were booked to fly from Washington DC to Montreal to connect with a direct flight to Rome. They missed the flight to Montreal so were re-booked through Paris. This put their arrival around six hours later than planned. But still they managed to get here in time for our pizza night dinner at Calagrana. Always fun and the pizza is the best. We headed back home to put them to bed. Speaking of that, we have three bedrooms but it felt a bit crowded so we rented an apartment at Borgo Fratta, a new vacation apartment property here in Umbertide, walking distance from us. It turned out to be an excellent choice. Mike and Anne were very comfortable in their own space and we had Rachel and Alex with us.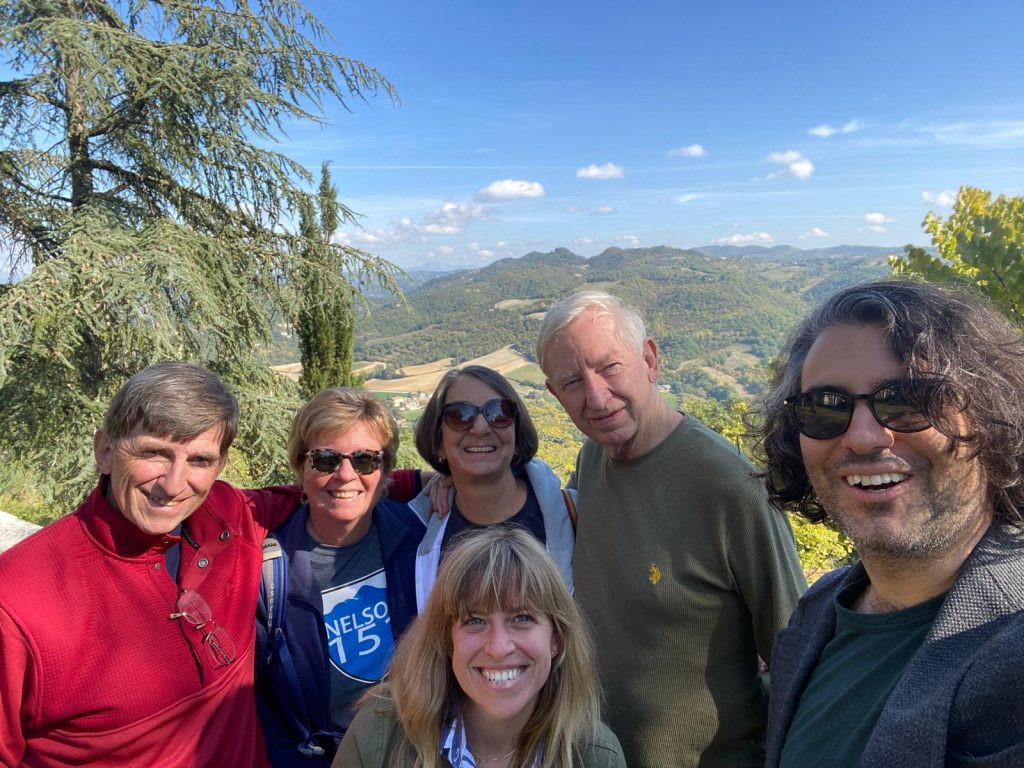 Monday. Our first day and we had an appointment at a winery in the Montefalco area. Cimate, a winery new to us but they could give us a tasting and tour so we went with that. It turned out to be an excellent choice. Paolo is the owner and he took us around. At the end we had a tasting and a lovely plate of cheeses and meats that complemented the wines.
The winery had beautiful views.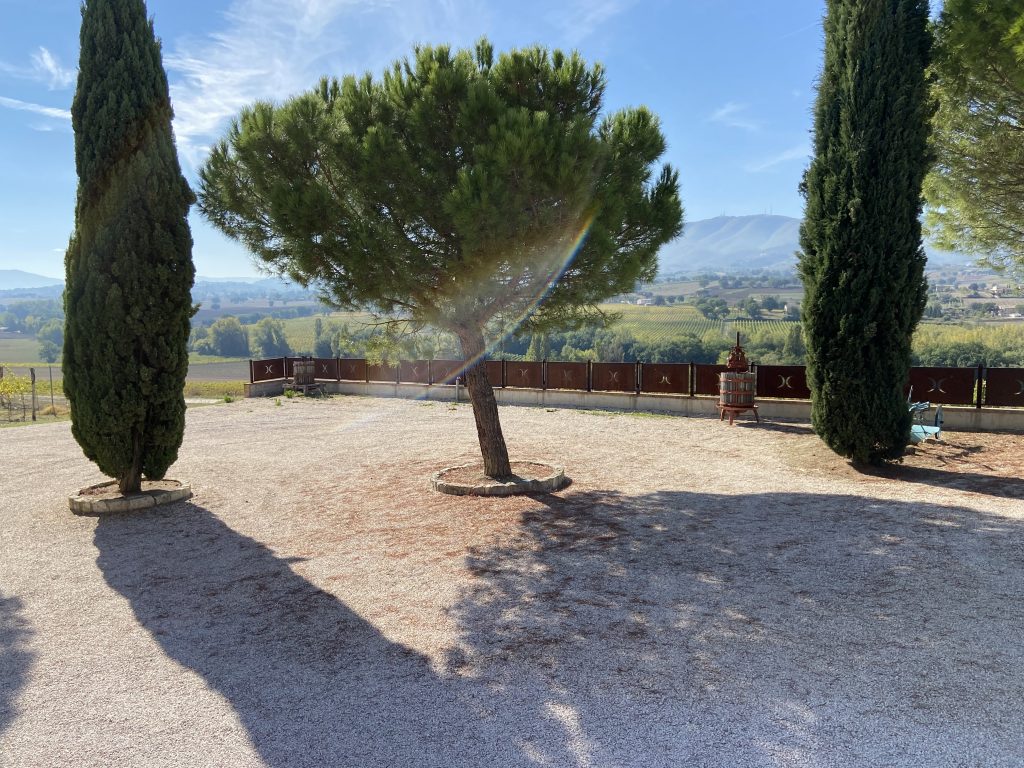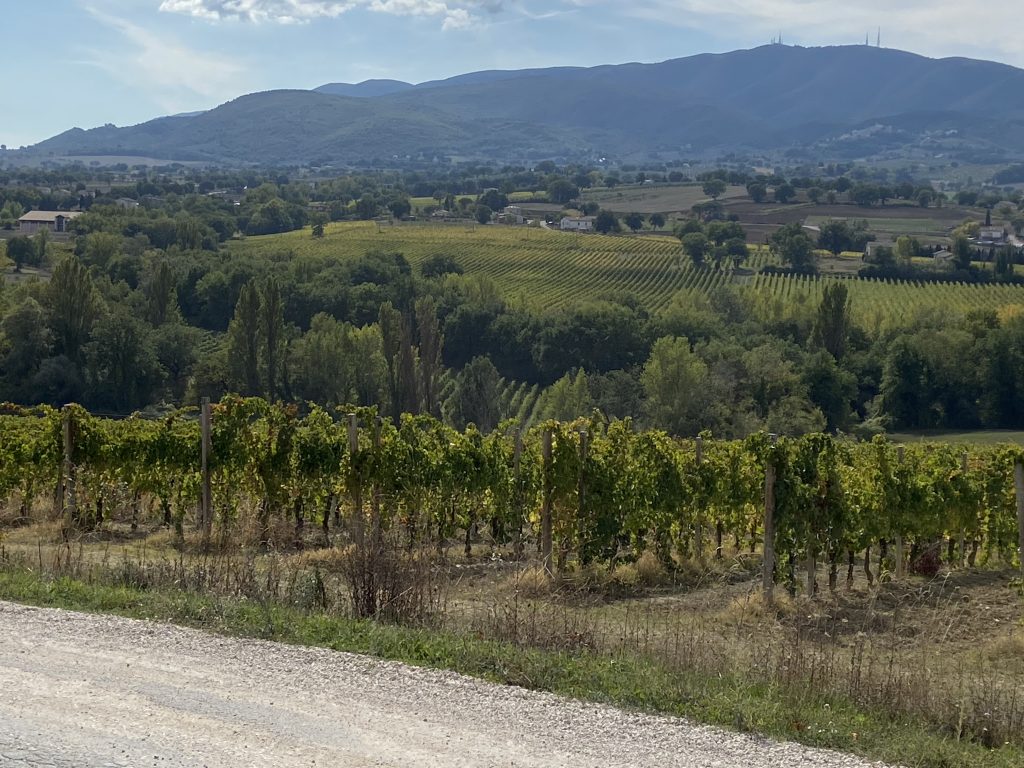 Here are our tour and tasting pictures. This was the first winery who "raisins" their grapes, or part of them, prior to making the wine. This increases the sugars and reduces the juice. The sugars become the alcohol in the wines so this doesn't mean the wines will be sweet. The first three pictures are the racks and the grapes drying.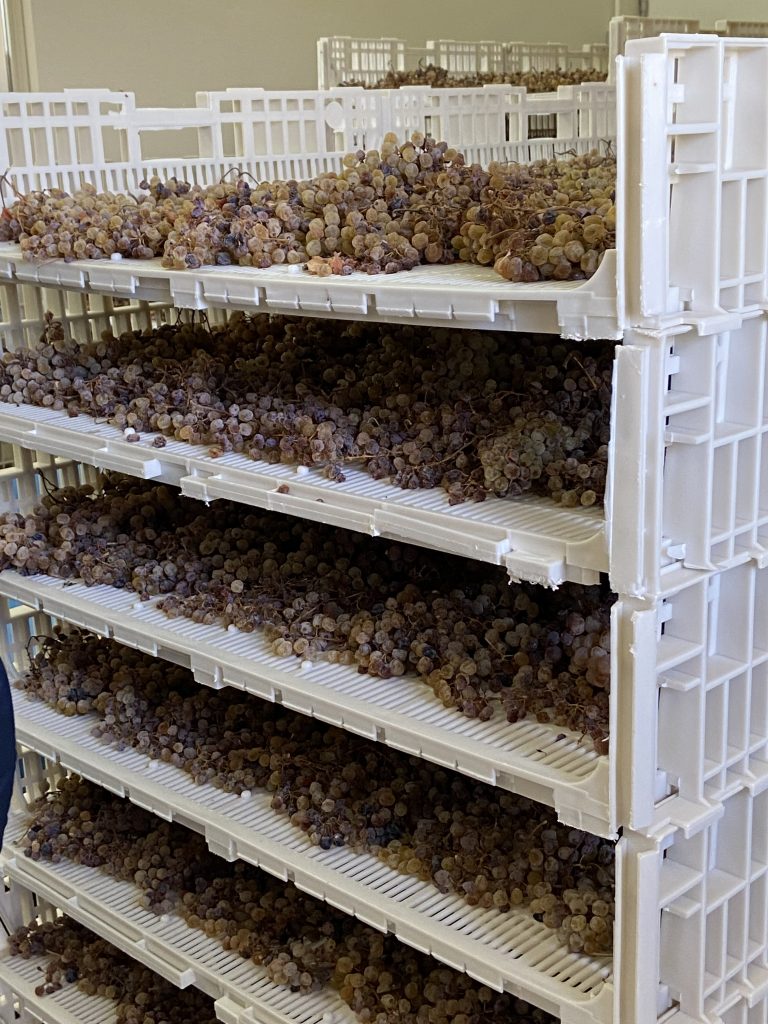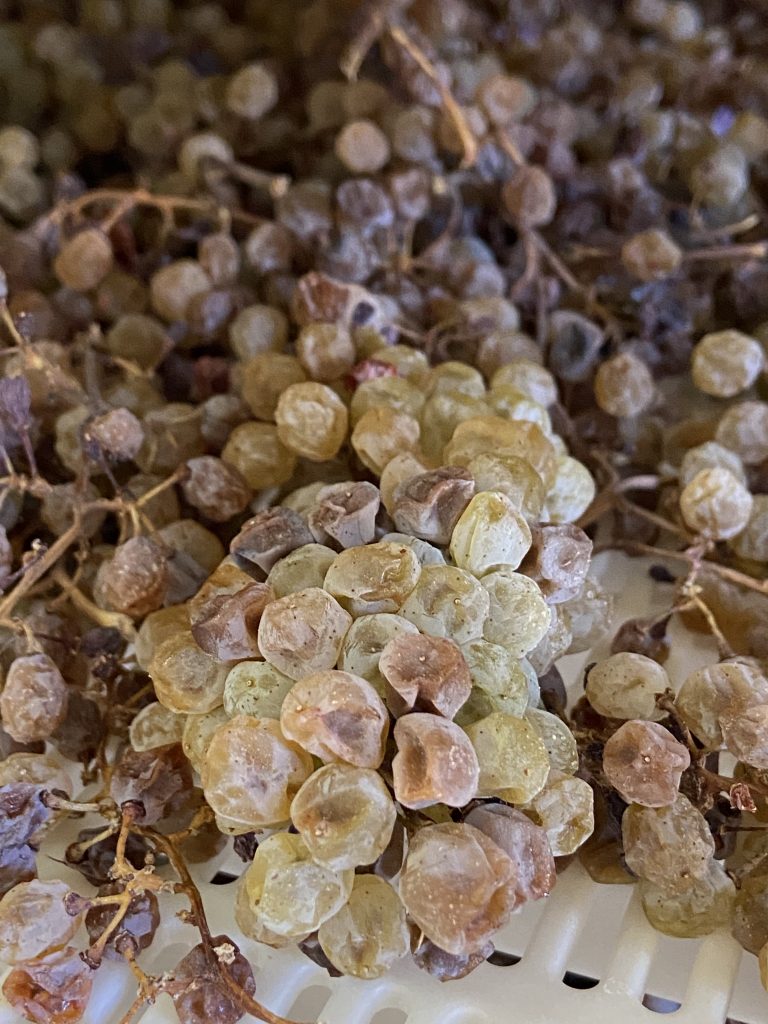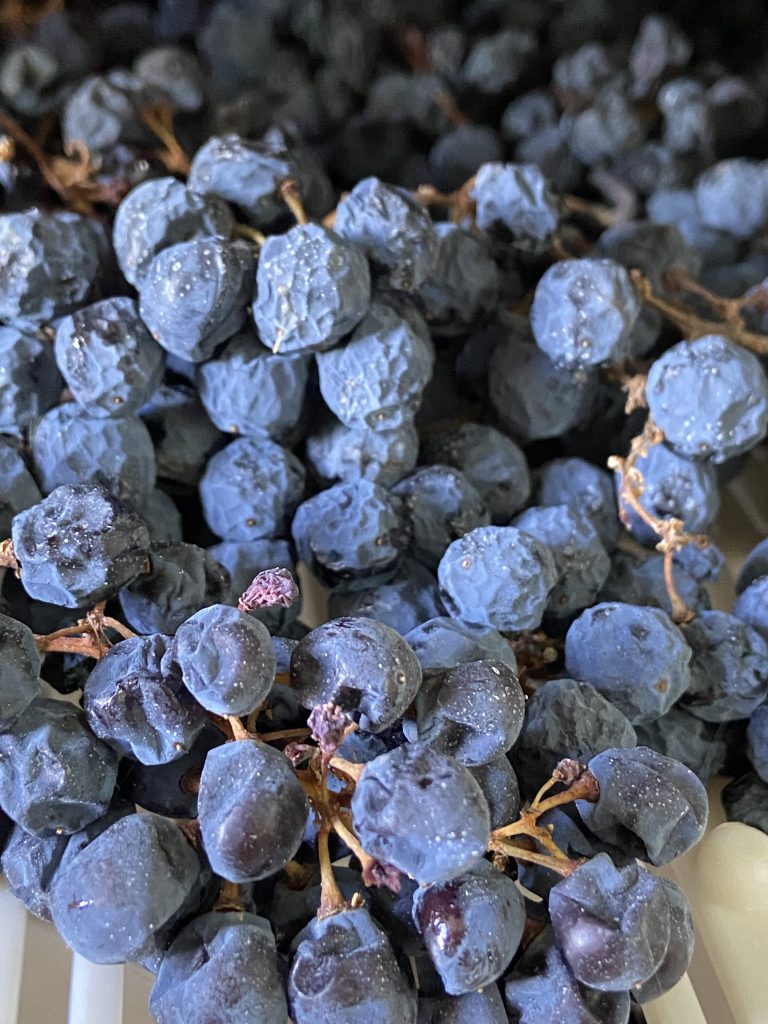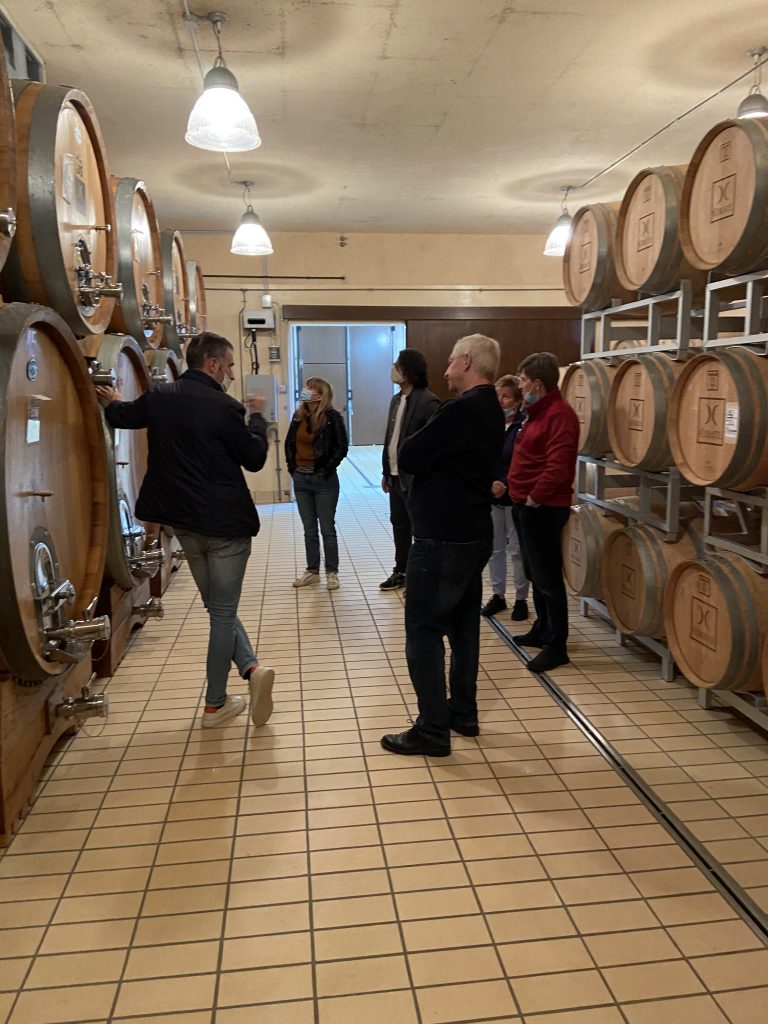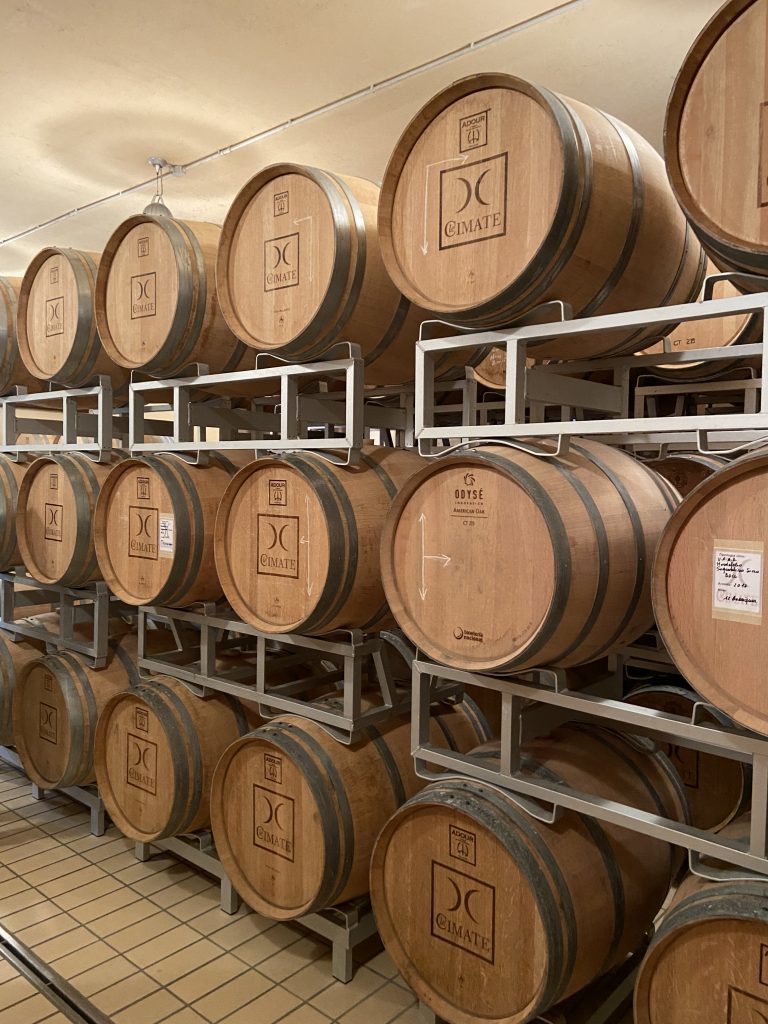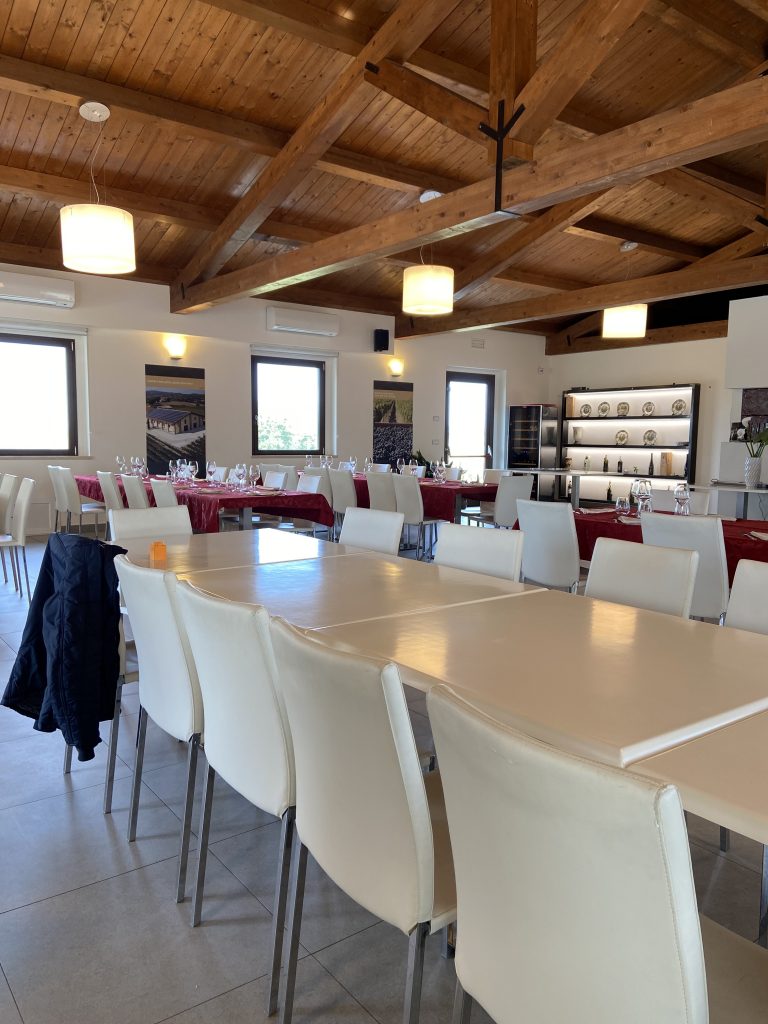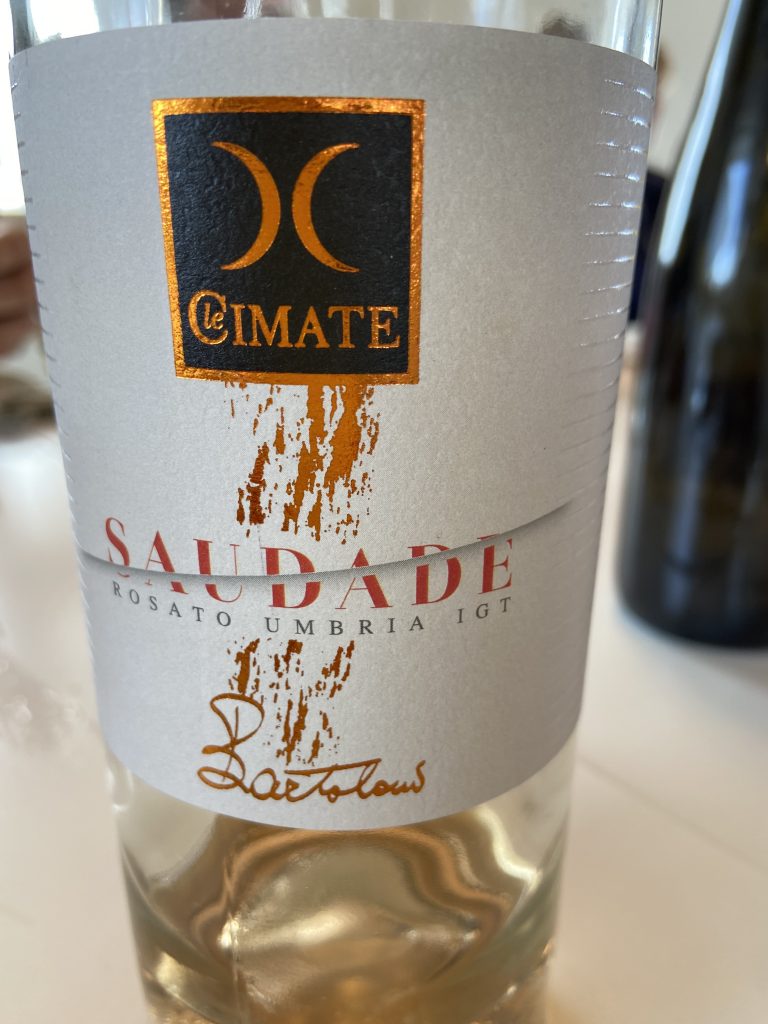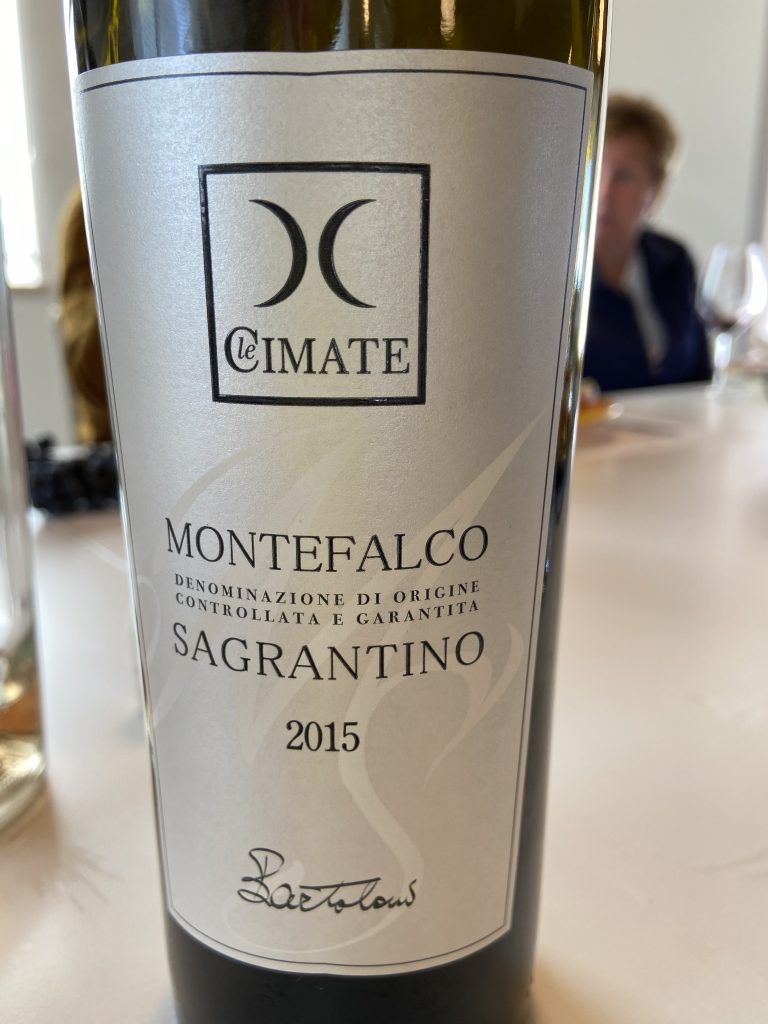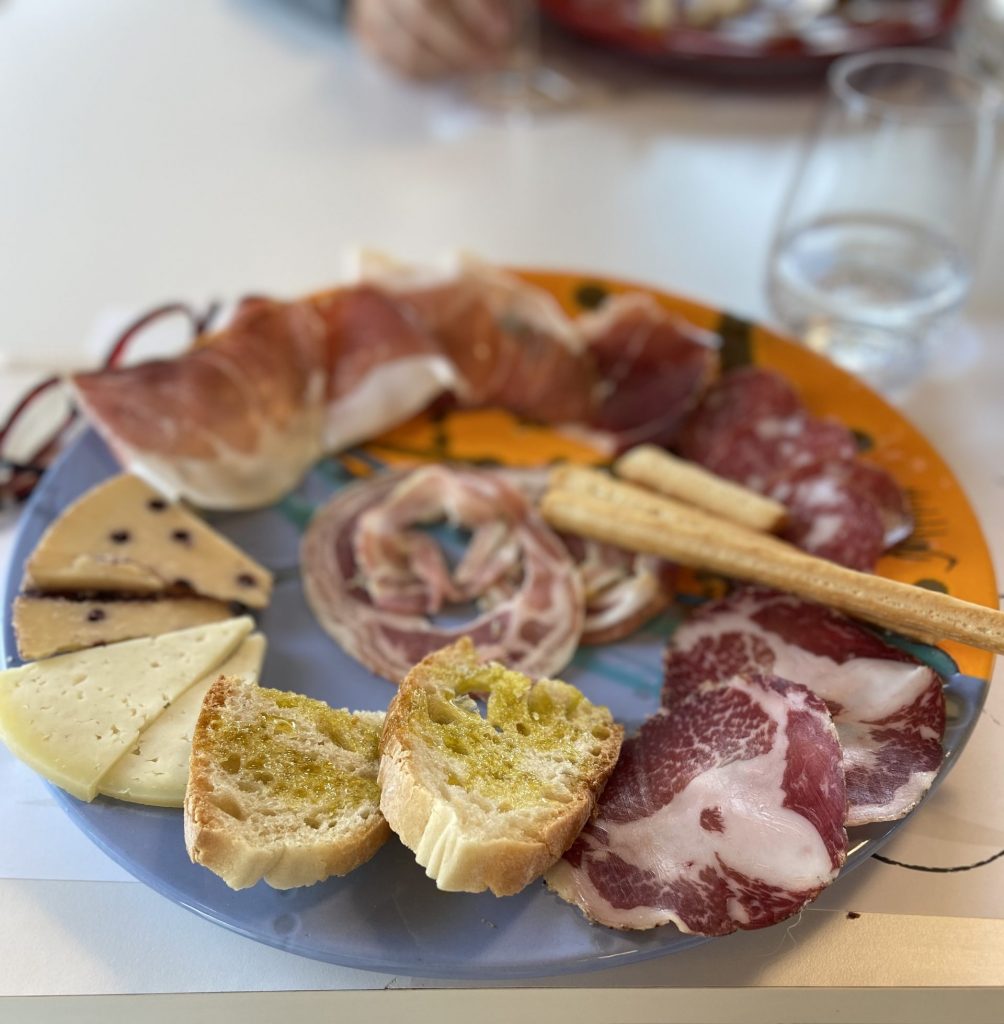 We headed to explore the small town of Montefalco and had lunch there at l'Alchemista. It is situated in the unique piazza which is in the hill top and a round, rather than square space, with all the streets radiating like a wagon wheel. It was sunny and warm and wonderful. This happens to be the time of year for Sedano Nero, or the black celery only grown in Trevi, a nearby hill town. It is a Big Deal here. l'Alchemista always has menus featuring these local ingredients. This top picture is of my Sedano Nero appetizer. Very reminiscent of lasagna but with celery instead of pasta. Nice and light.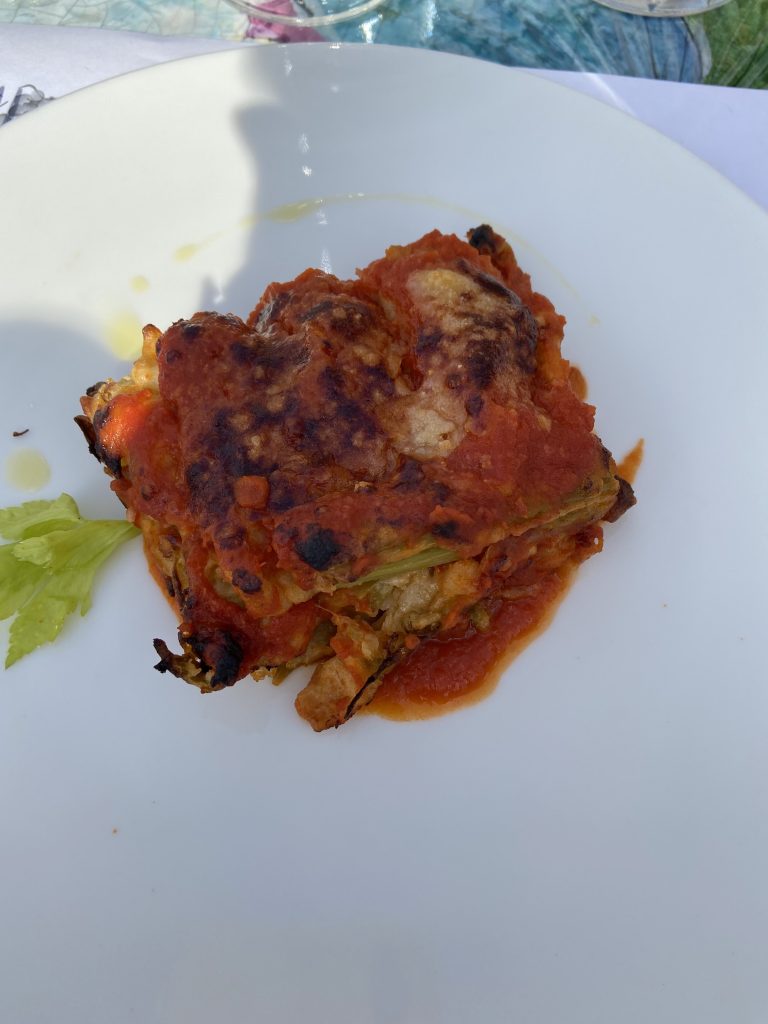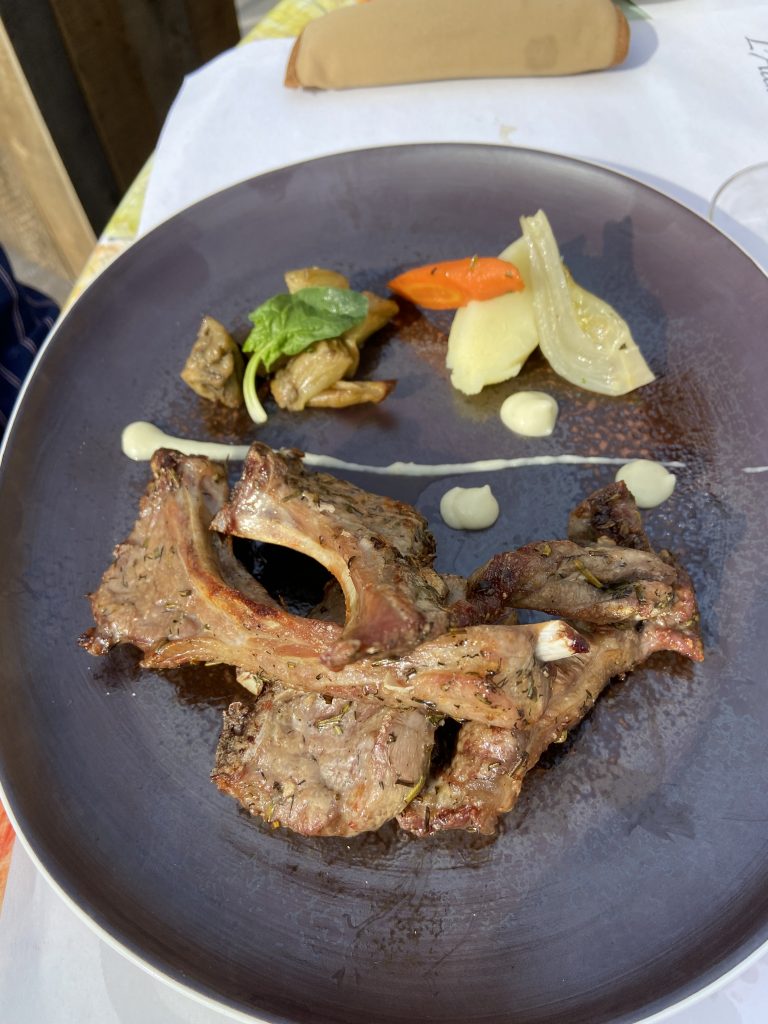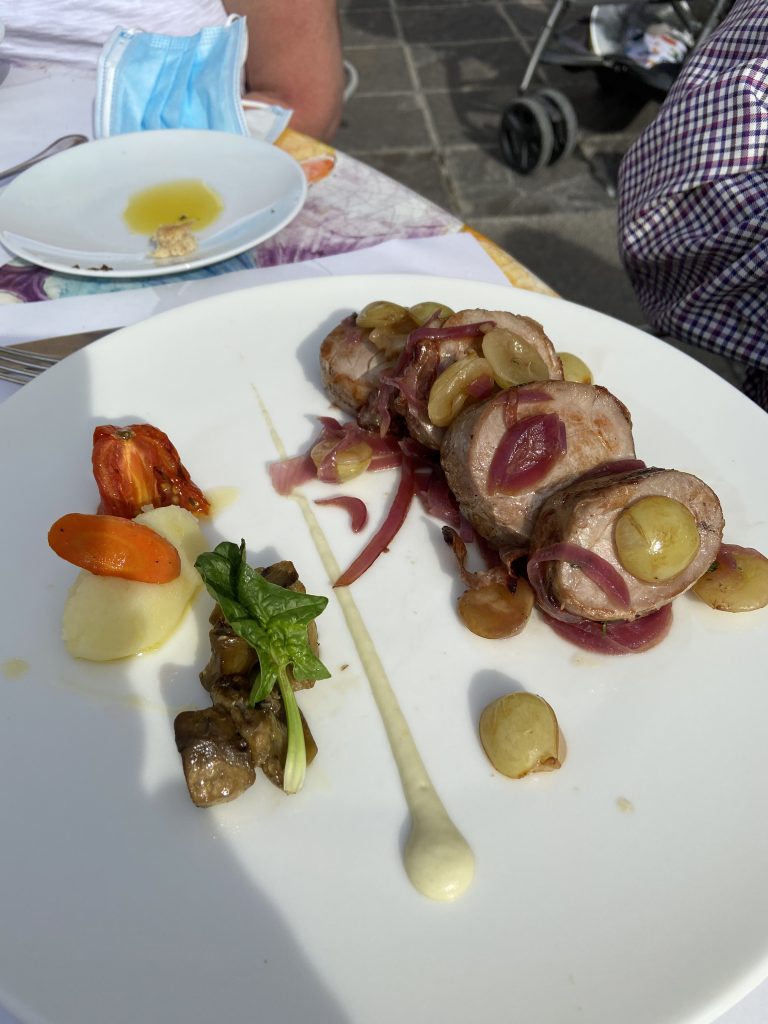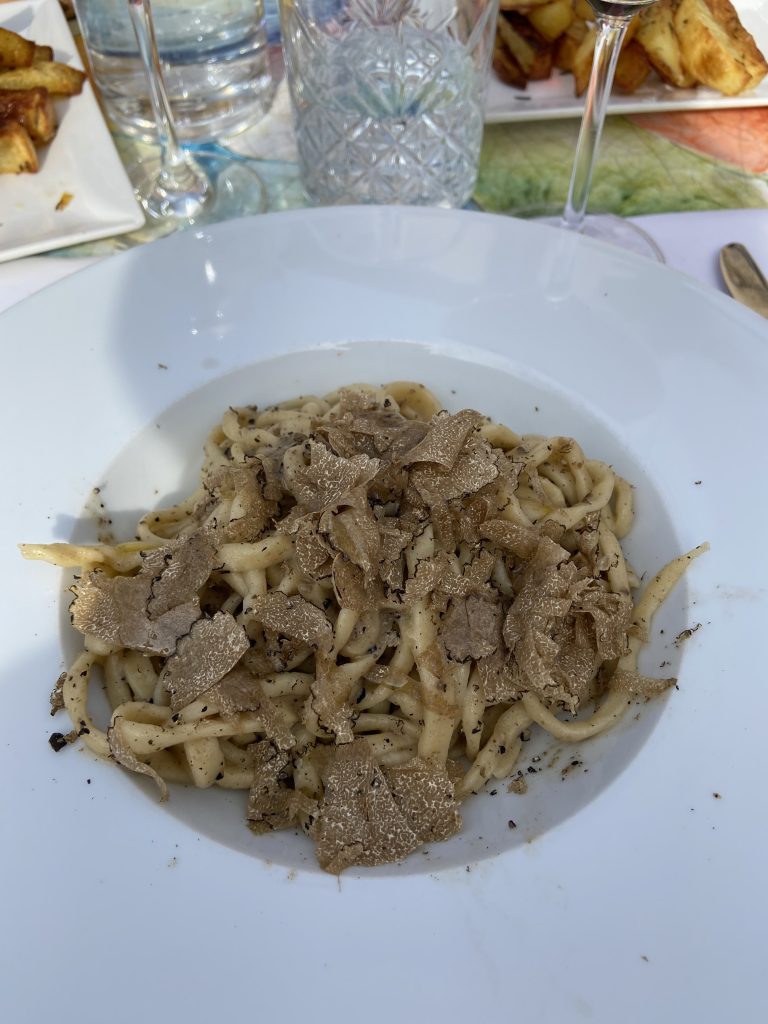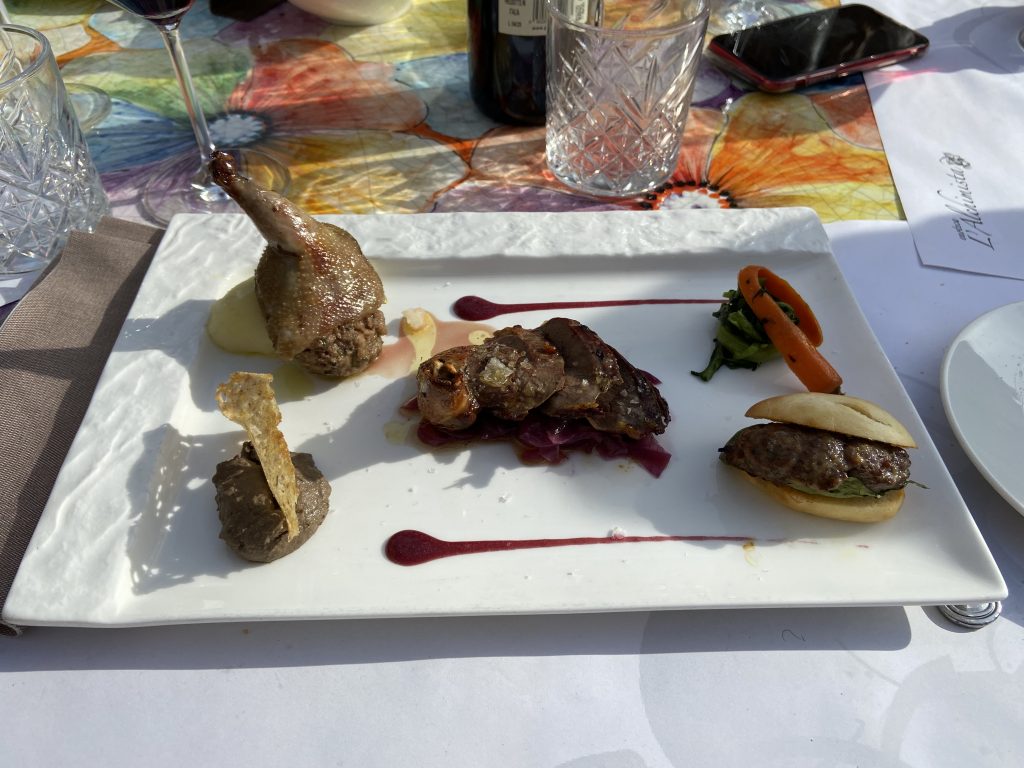 I made a Stuzziccheria for us for dinner. It was meats, cheeses, and fruit. Then we had a big surprise for dessert – Luther noticed they had just brought in Panetone Christmas cakes, the very first of the season, at our wine store, so he brought home a caffe and cream one. Yum.

Tuesday. We planned to go to Assisi today. Always a treat. I never tire of this town.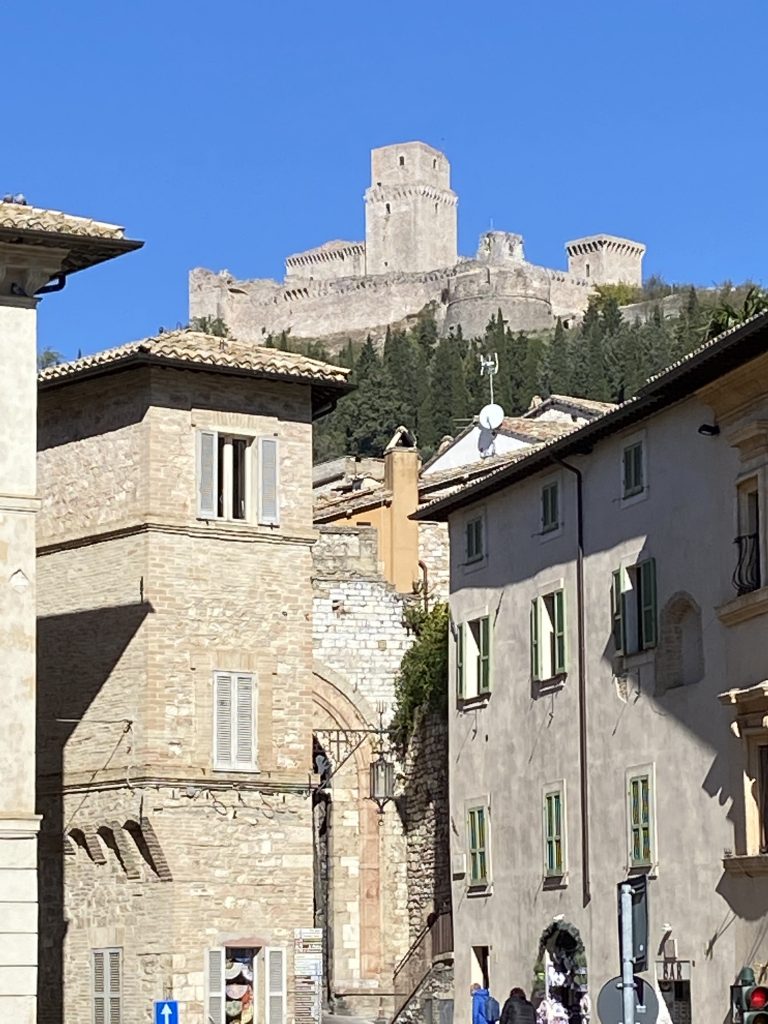 We visited the Basilica di San Francesco. They seem to be forever changing how you can visit. This time we entered the lower church, visited the crypt and then ascended to the upper church. It was empty. There were not the throngs of the past.
Then we wandered up the shopping street and settled in at Osteria Piazetta della Erbe, one of my all time favs. It was shady under our tree once we switched with a group of women. This restaurant has a "traditional" and a "fusion" menu. Both so good. But for me it is fusion all the way!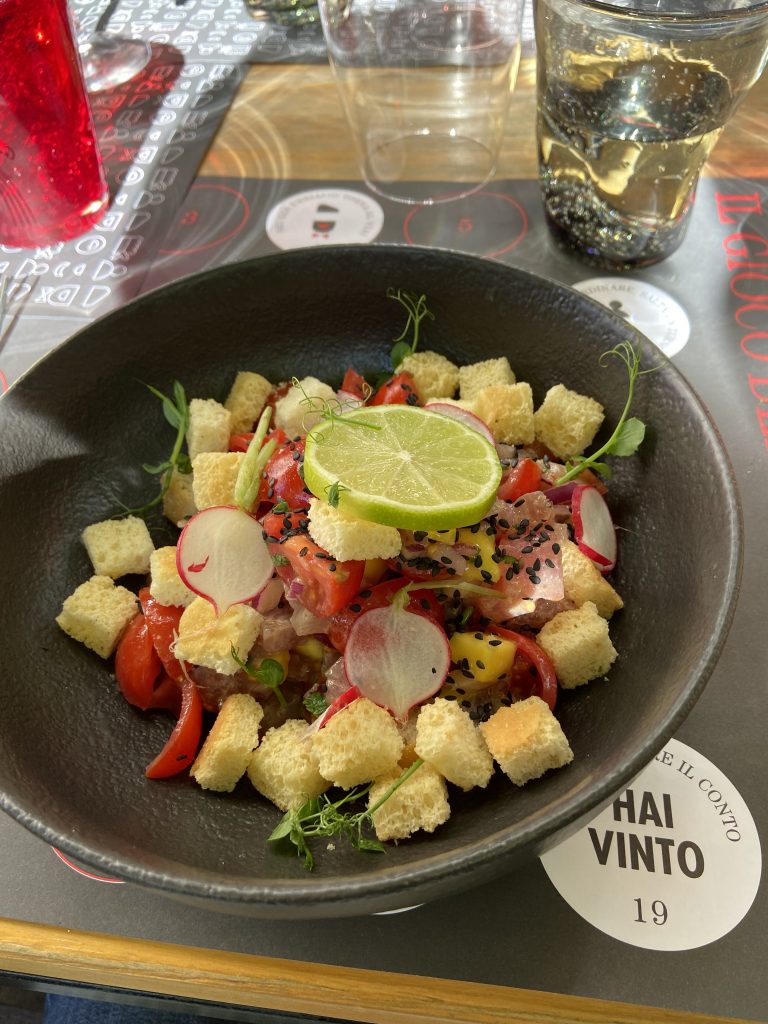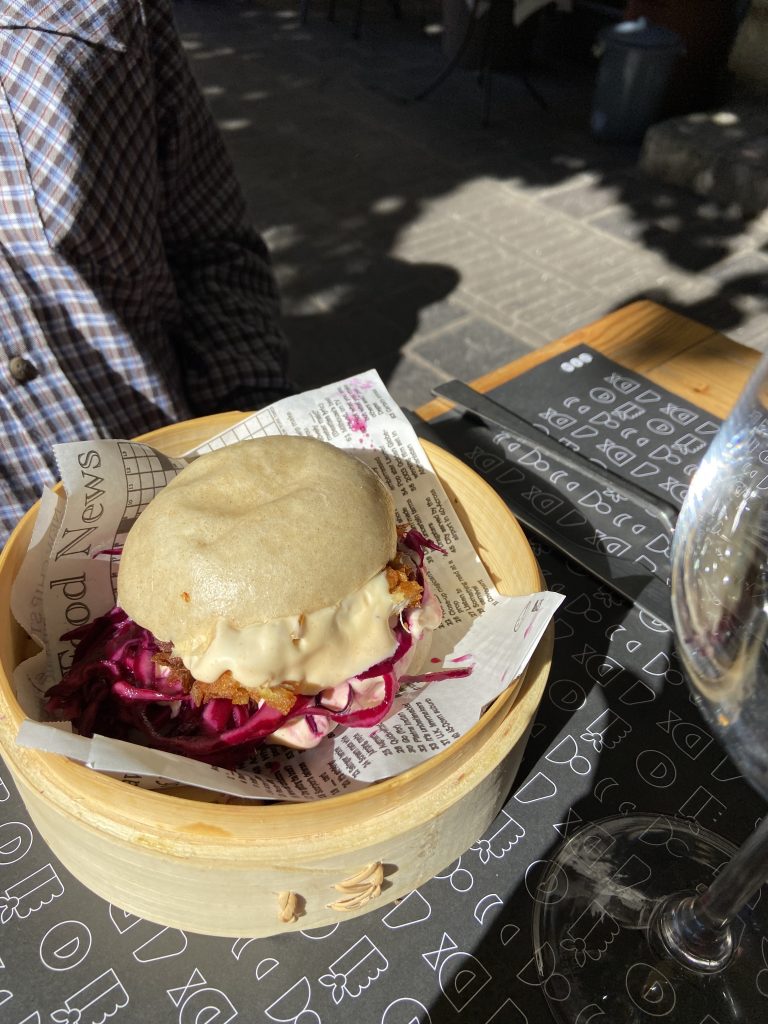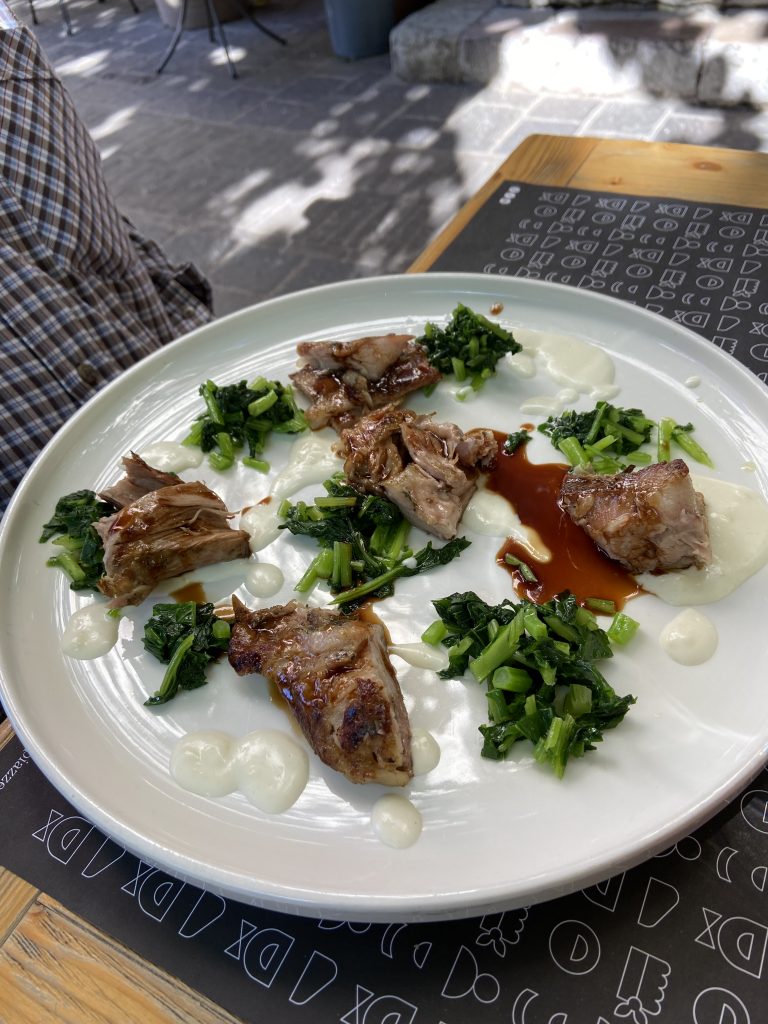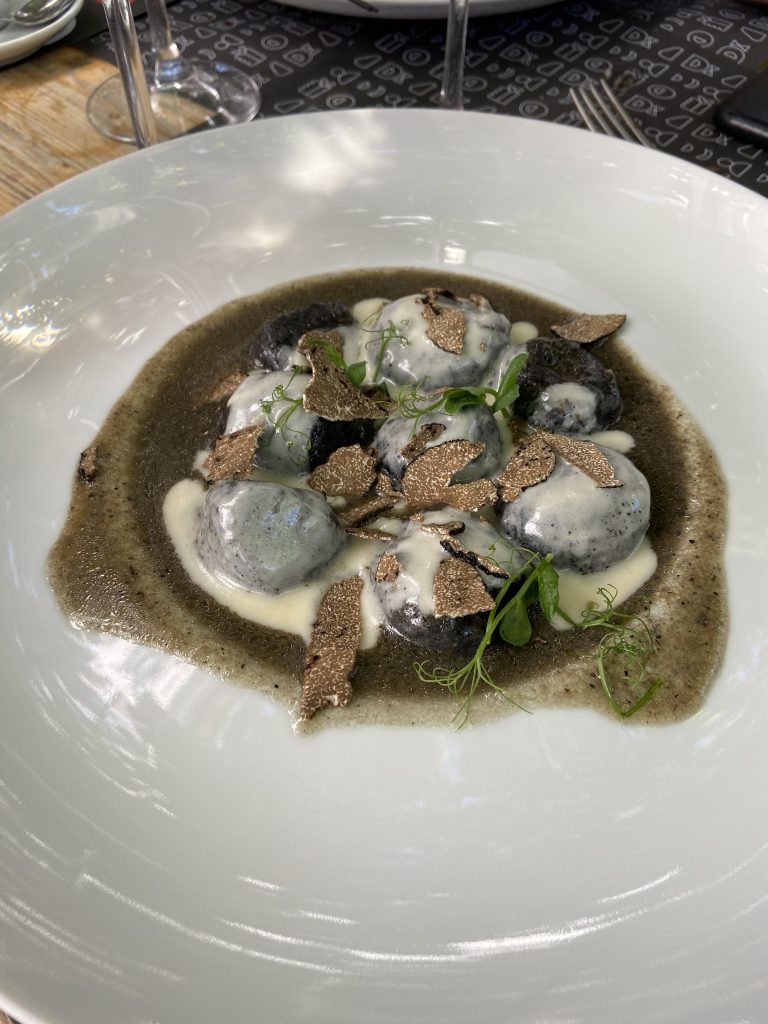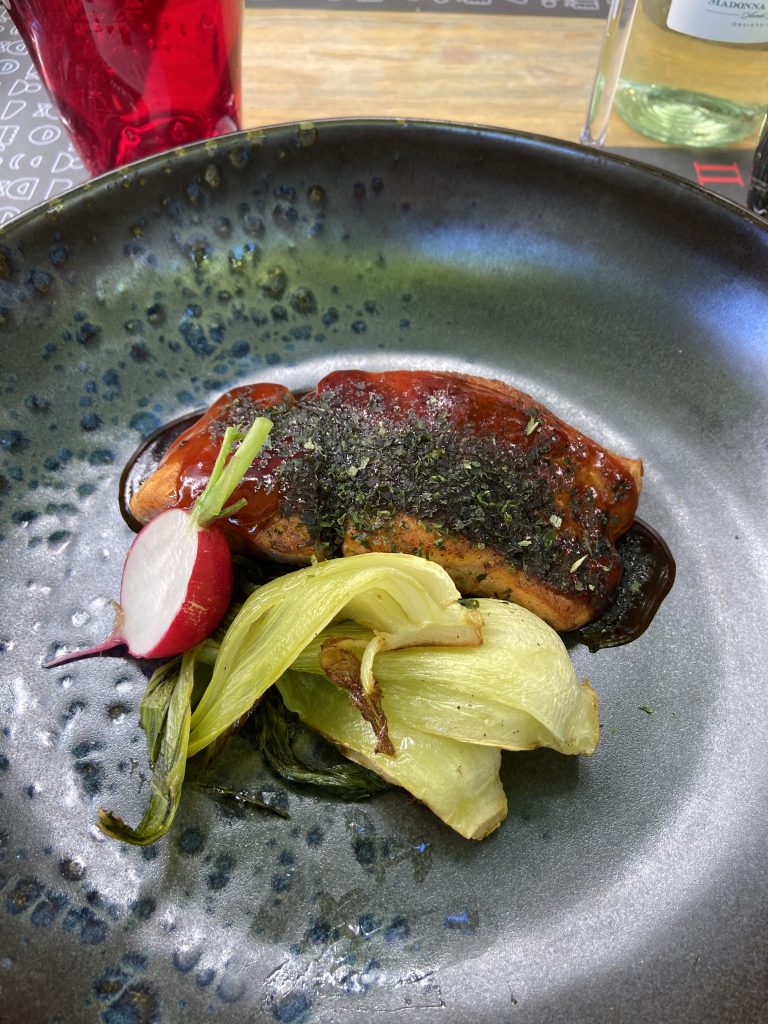 After Assisi and lunch we headed to Deruta for ceramic buying. Everyone found things they liked. This night we had Tagliatelle with Bolognese sauce at home for dinner.
Wednesday was a designated "down" day. No long car drives. First, cappuccini at Bar Mary, and people watching in the piazza. The big market was in Umbertide this day, so we explored the market. We picked up some Porchetta pannini and explored a little of our town. Rachel and Alex bought a plaque from our local Deruta ceramics shop, for their front door with their house number. It will be sent to them when it's completed.

We then drove to Montone. It is just ten minutes away and a lovely little hill town. We took in the views of the mountains and fields and wandered the small streets. Then we went to Antica Osteria for lunch.

During our lunch there was a funeral right in the piazza. Here, when someone dies, they lay in state in their home and all their friends and family come and pay their respects. Then they transfer the body to a casket and they remove it to a hearse. During this time the funeral bells ring and the onlookers watch respectfully.
Our lunch.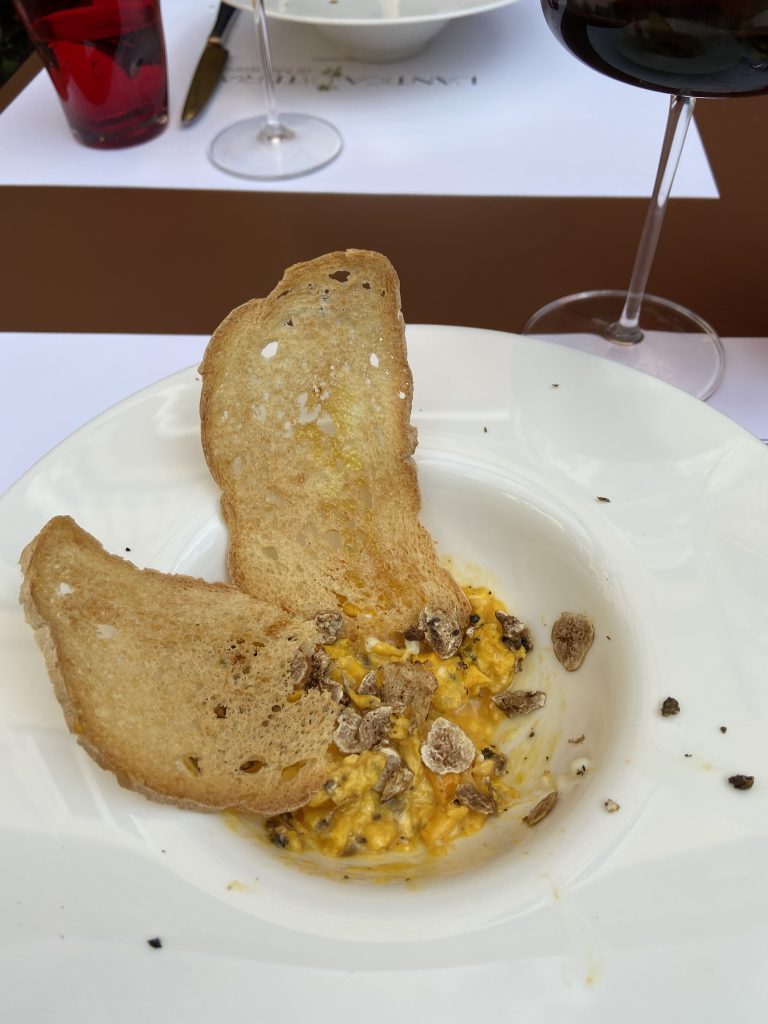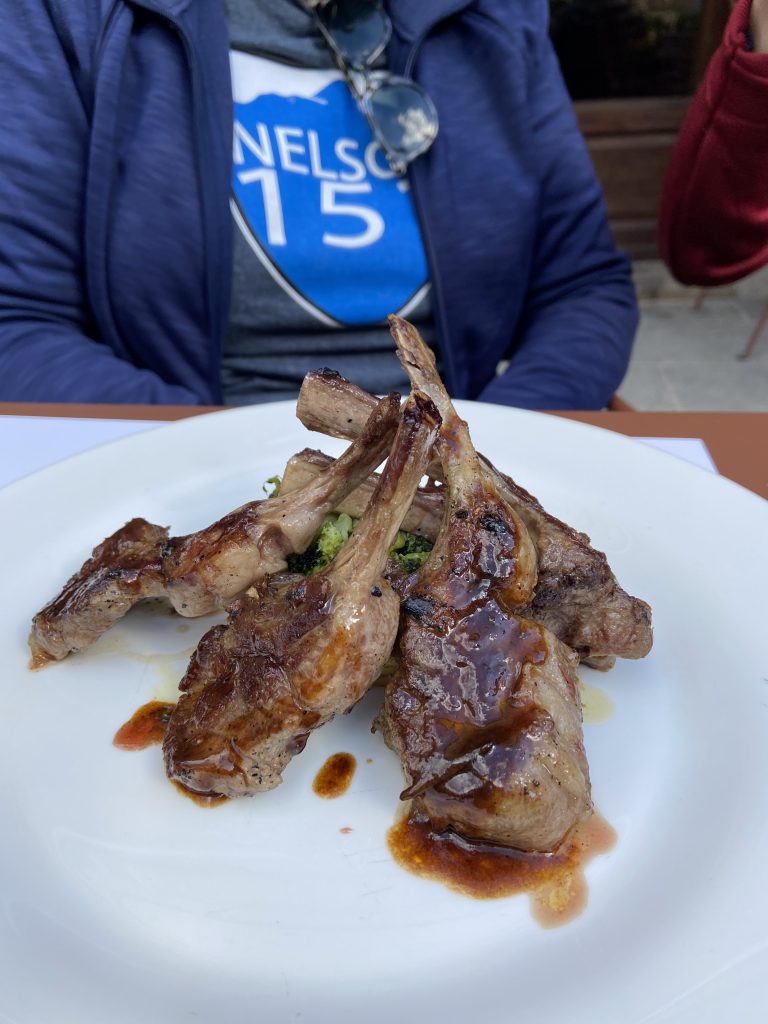 We stopped for gelato for dessert after our dinner. We got chocolate, pistachio, and cherry. Tonight I made pasta e fagioli. We practiced at playing Briscola, the Italian card game. Interesting.
Thursday. Today it was off to Gubbio. An excellent medieval city not far from us.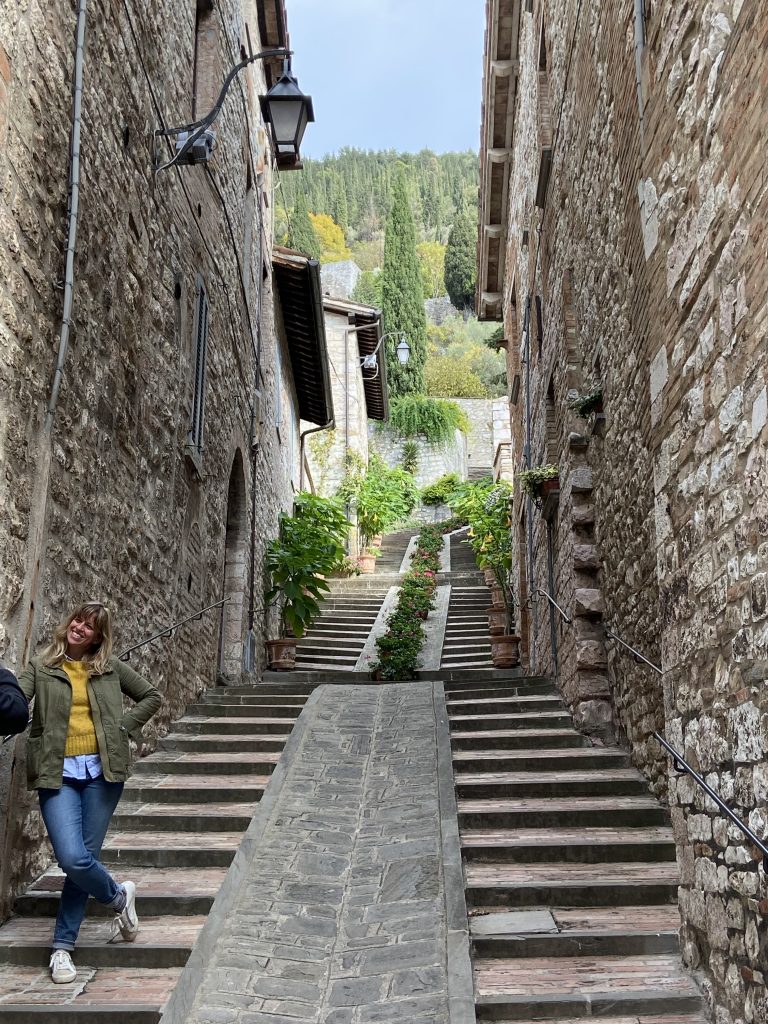 After visiting the church at the top of the town we headed back down, and winded our way to the Funivia. A method of transport to the top of the mountain to visit the church of Saint Ubaldo, patron saint of Gubbio. This method of transport is a lift composed of individual cages holding two standing people. It is a bit scary for most so only Rachel and Anne went up.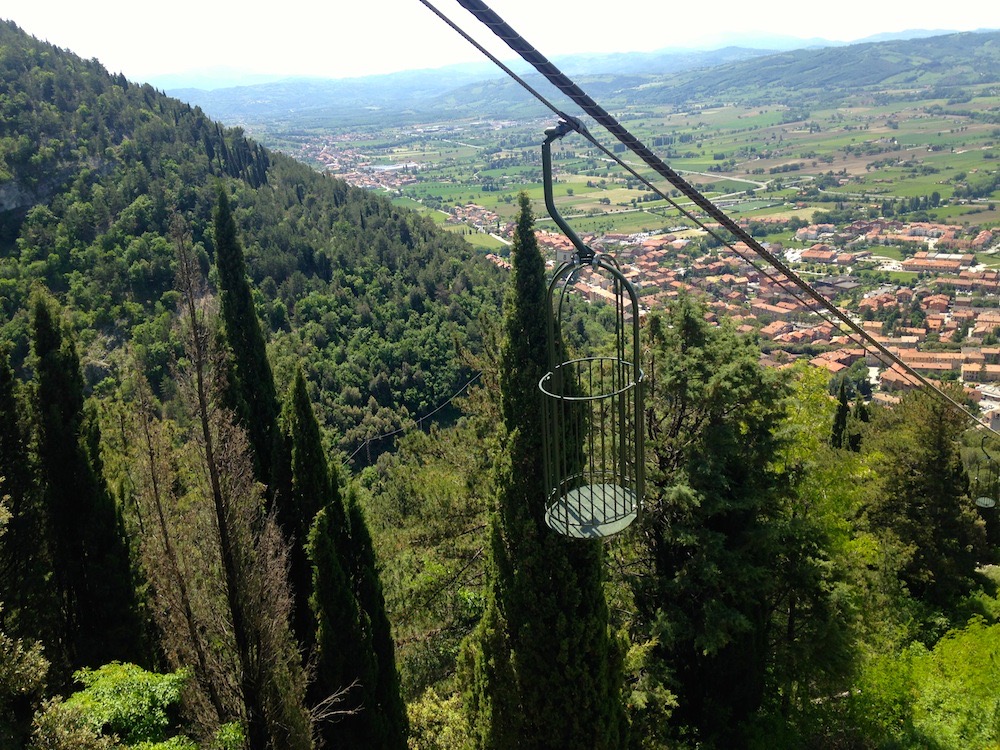 Here is the video of their descent. https://youtube.com/shorts/VCO6GV3GptA?feature=share
Then we had lunch at Il Lepre (the rabbit). It was pretty good. Mike really loved his pork.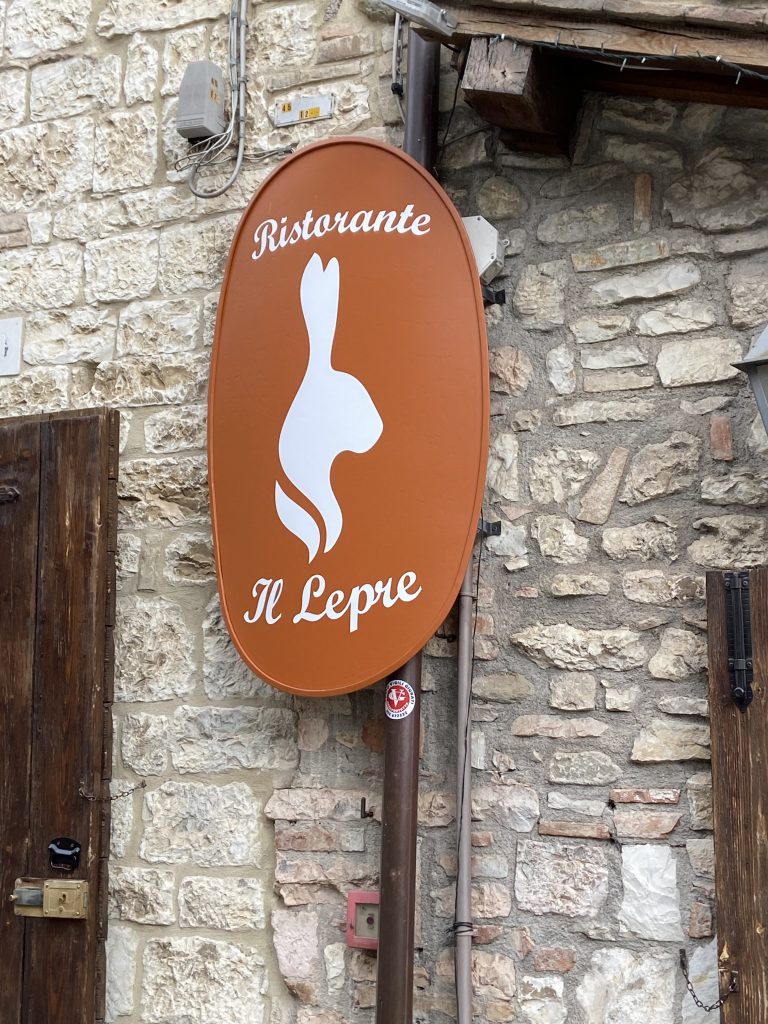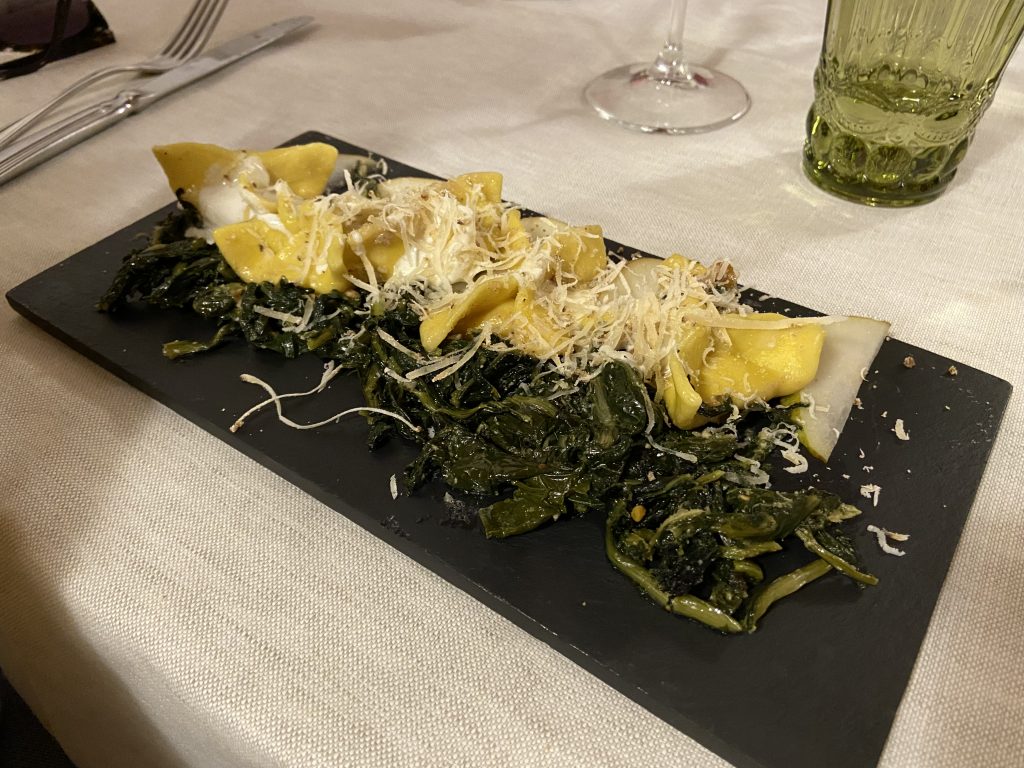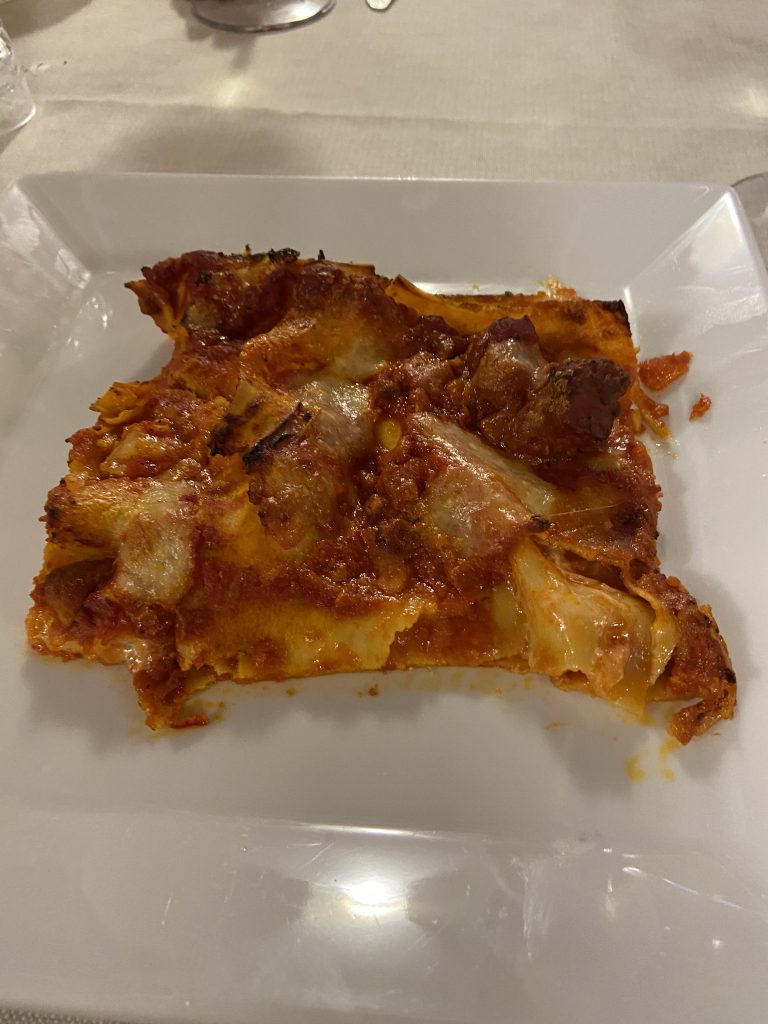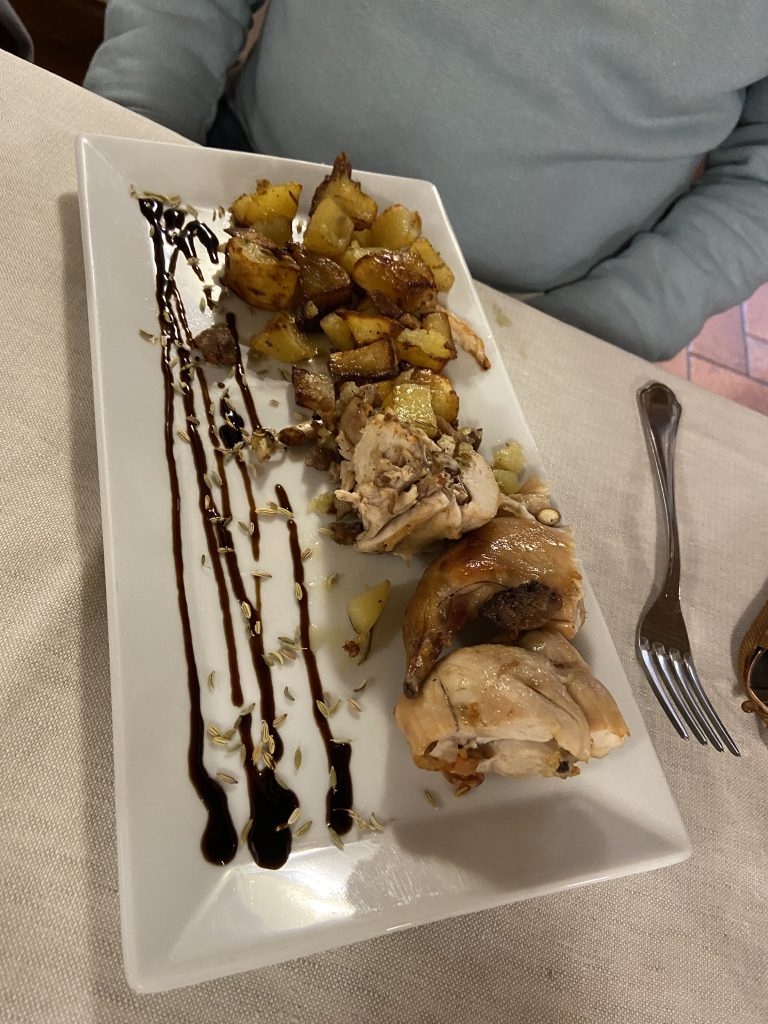 After lunch we tried to visit our local Frantoio, or olive mill to show them the process. Alas, it was closed. There just are no olives around here this year. Then we drove to the Chiesa di Monte Corona, an ancient church near Umbertide. It has a crypt built in the 1000s and an upper church consecrated in the 1100s. It is to me a place of calm, but also power. There is a monastery up on top of the mountain with monks who tend the church. this night we had Pici con Ragu di Cinghiale. Pasta with wild boar ragu which I had made prior to their visit.

Every night we had all watched L'eredita, a game show which we've been watching for years on our own visits here. It is helpful for learning Italian. Lots of words. It is funny how people get into this game even if they can't speak Italian. We've initiated many, many of our friends and guests to this show and it is always a hit. It comes on RAI1 every night at 6:45. If you want to watch it you can stream it on RAI on your computer from anywhere. Do the time conversion. It is good to help learn Italian too!
Friday. This was their last day with us, and the day they head back to Rome for their early flight on Saturday. We decided to caravan down to Orvieto to visit the town and famous cathedral and then have a farewell lunch and launch them on their way home. We ate at Trattoria la Palomba, a very traditional place with great food. It was a short visit that flew by but we all had fun, I think.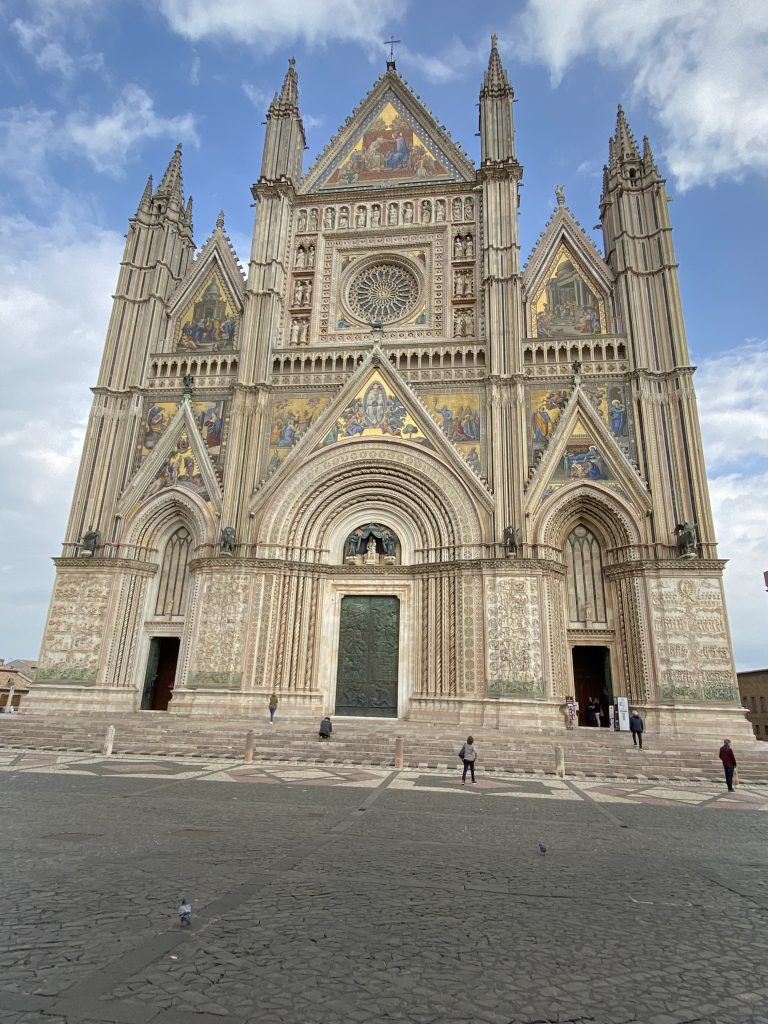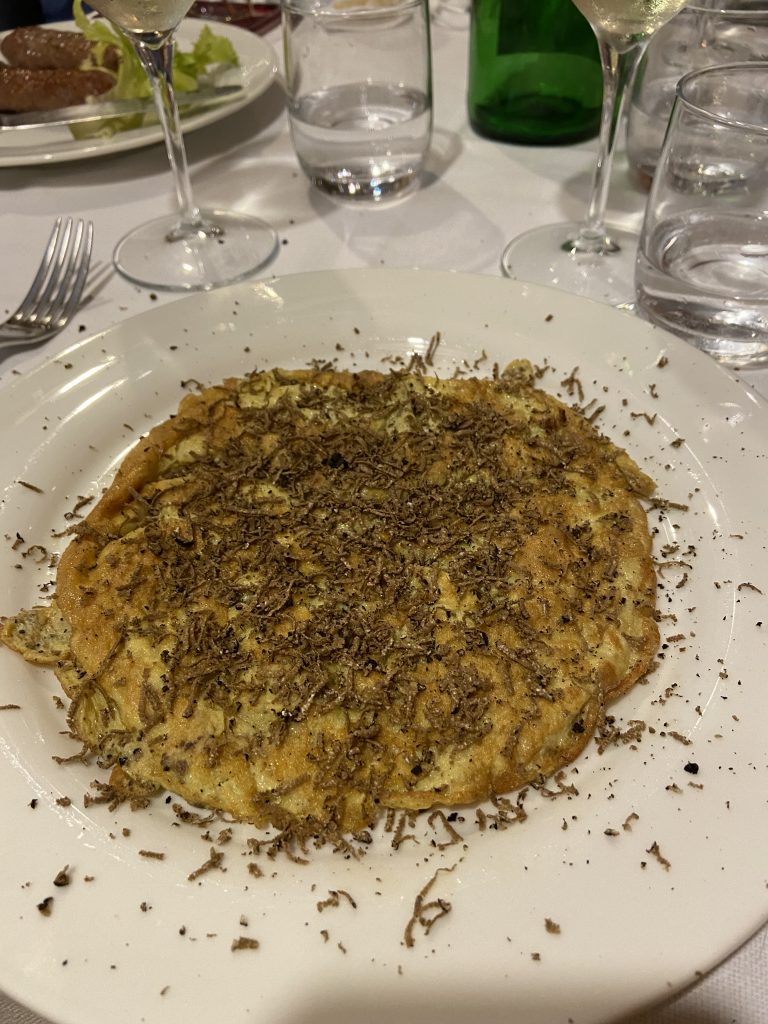 All good things come to an end. At the moment I write this they are near to landing back in the US. I sincerely hope they can come back soon. Next time we will go somewhere together as a group and rent a villa. Maybe in Puglia. It will be fun! Thanks for coming to beautiful Umbria and we will see you soon! 💕
I am so happy to have had this return to normalcy and I hope this continues. My niece Rachel, a nurse, spent a long year working the Covid wards at John's Hopkins. A very hard thing to do. She is our hero!
Ciao ciao ciao! 💕