Sunday, June 28
It was a birthday celebration. The plan was simple. We were driving on our first road trip from our house in Umbria to a hotel on the Mediterranean coast to a town called Castiglione della Pescaia. It would not be a long drive, only 2-3 hours.
We drove the Angelo Giallo for the first time since lockdown. We had taken it to the dealer for it's annual servicing and it had a coolant leak. So we were all set. We left at 1:30 and drove from our house to Siena on the decent four lane road and then went south and slightly west to our destination. A pretty and interesting route.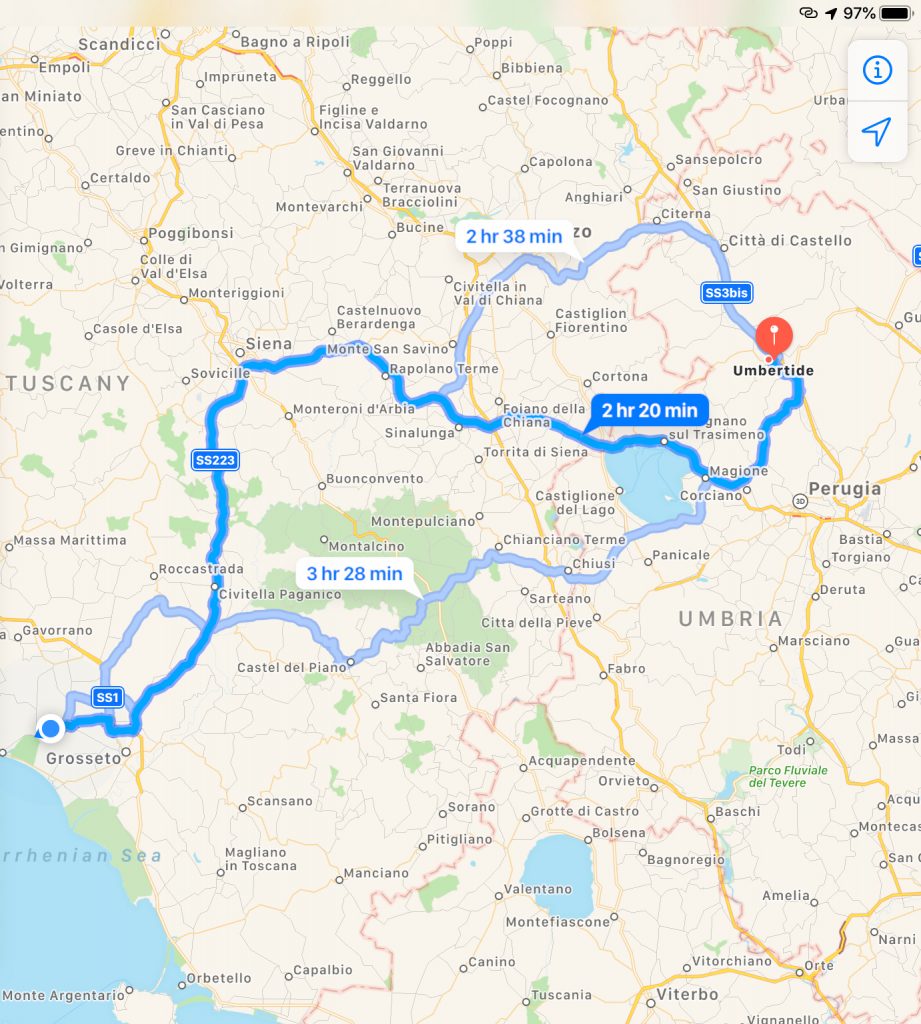 We arrived at about 5pm, just after our friends Susan and Gary. It was Susan's birthday trip and Luthers birthday is July 5 so kind of a piggyback. Hotel L'Andana is a few kilometers from the coast. From certain parts of the property you can see the sea. It is over 500 acres of land. They have hundreds of olive trees, all regimented and perfectly shaved. They look like they have all had the exact same flat-top haircut.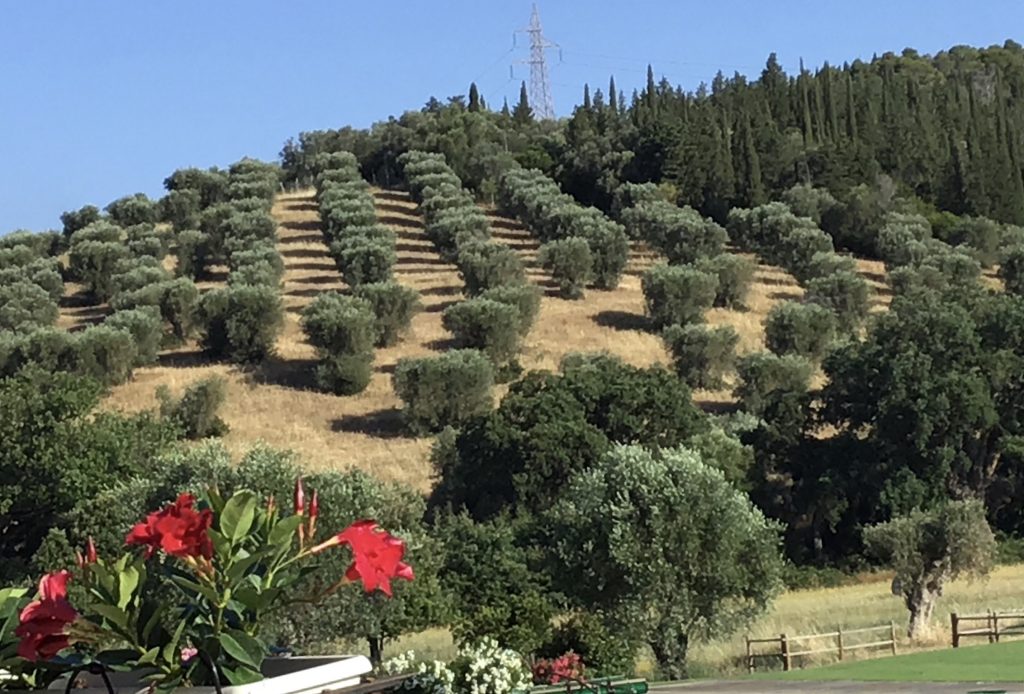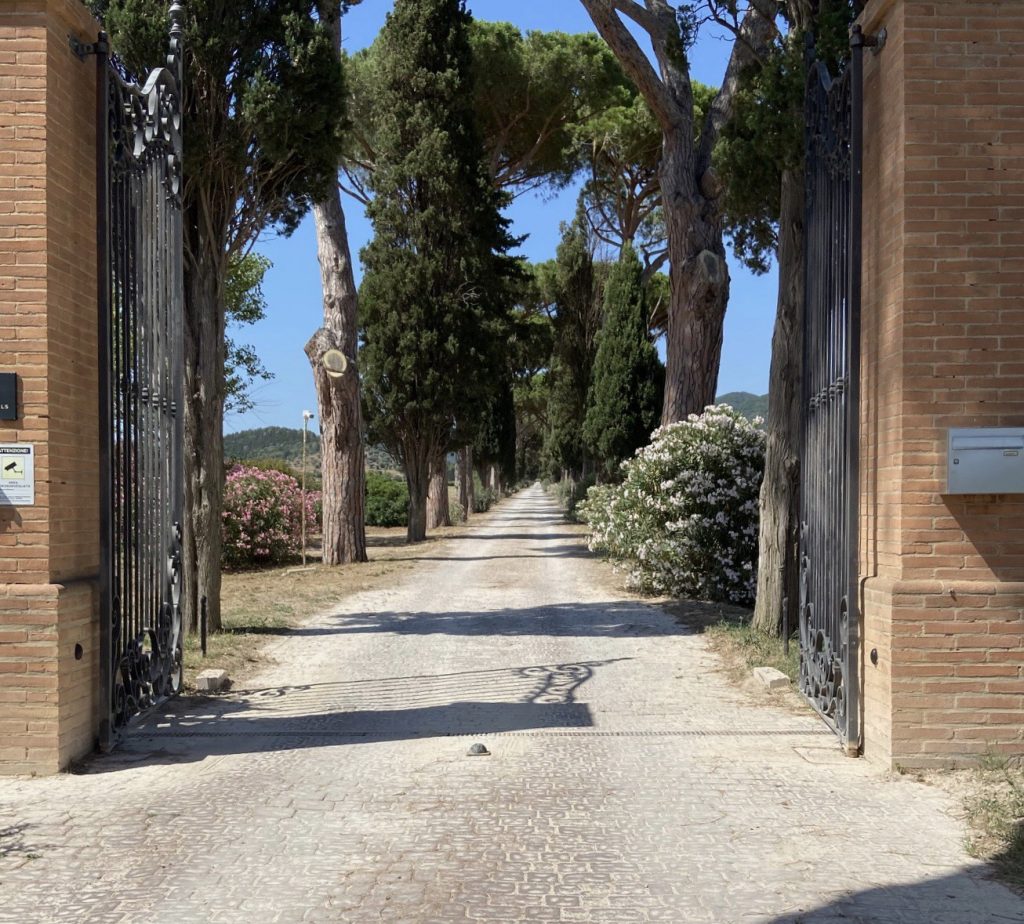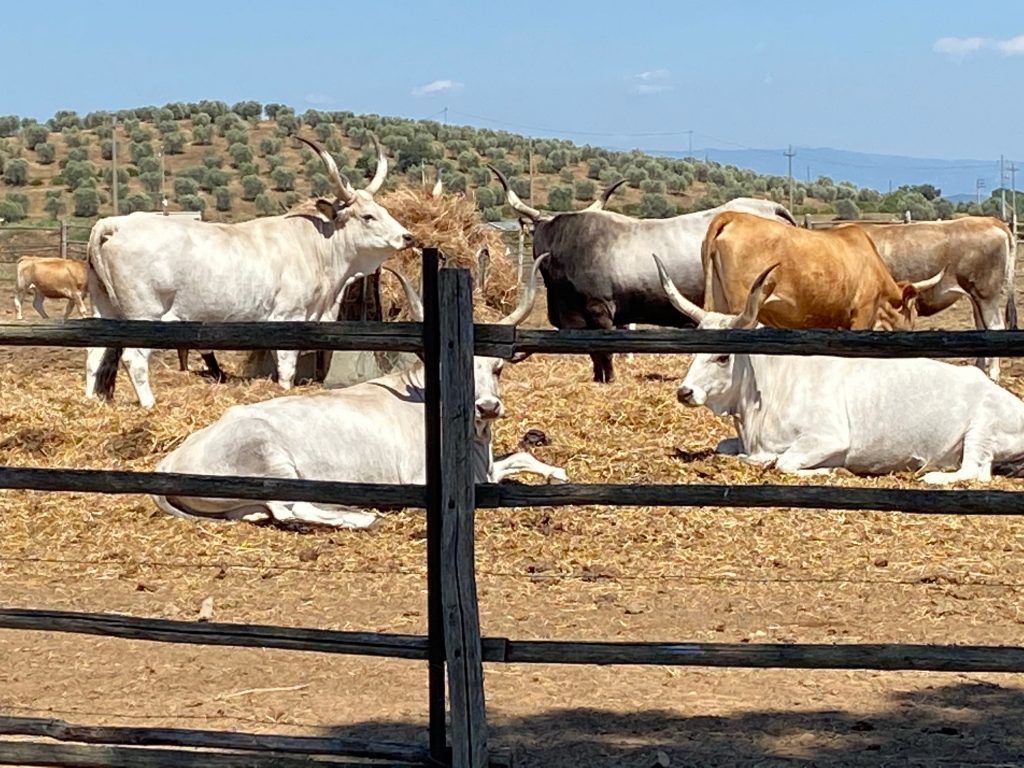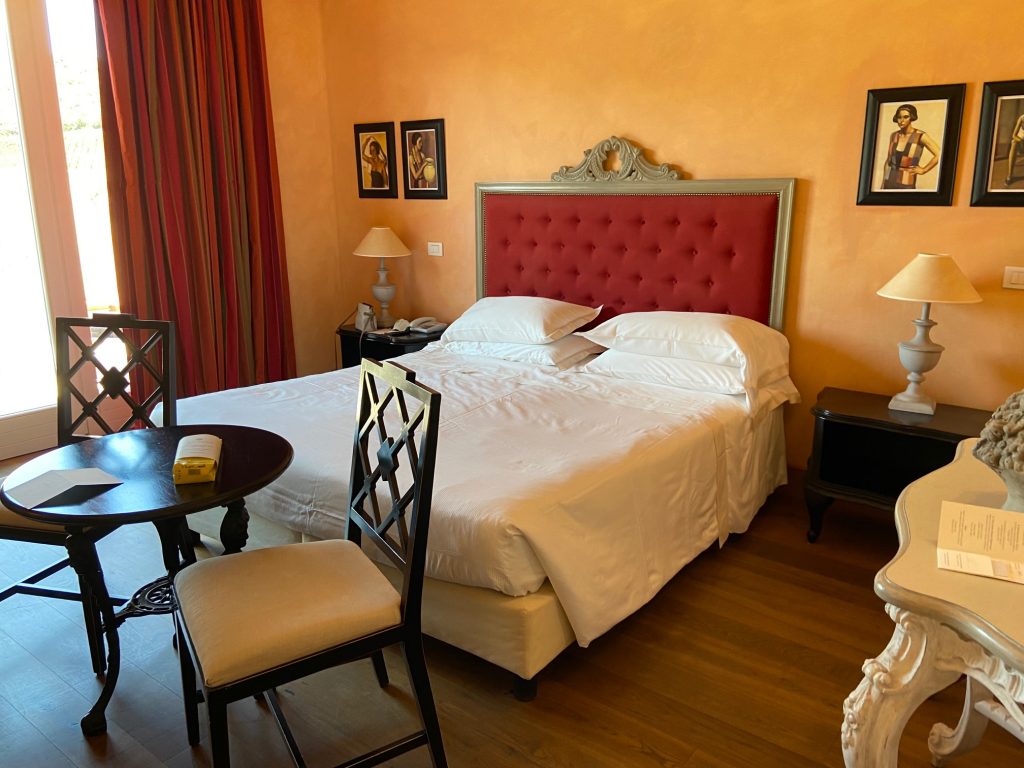 The next two are pictures of the property.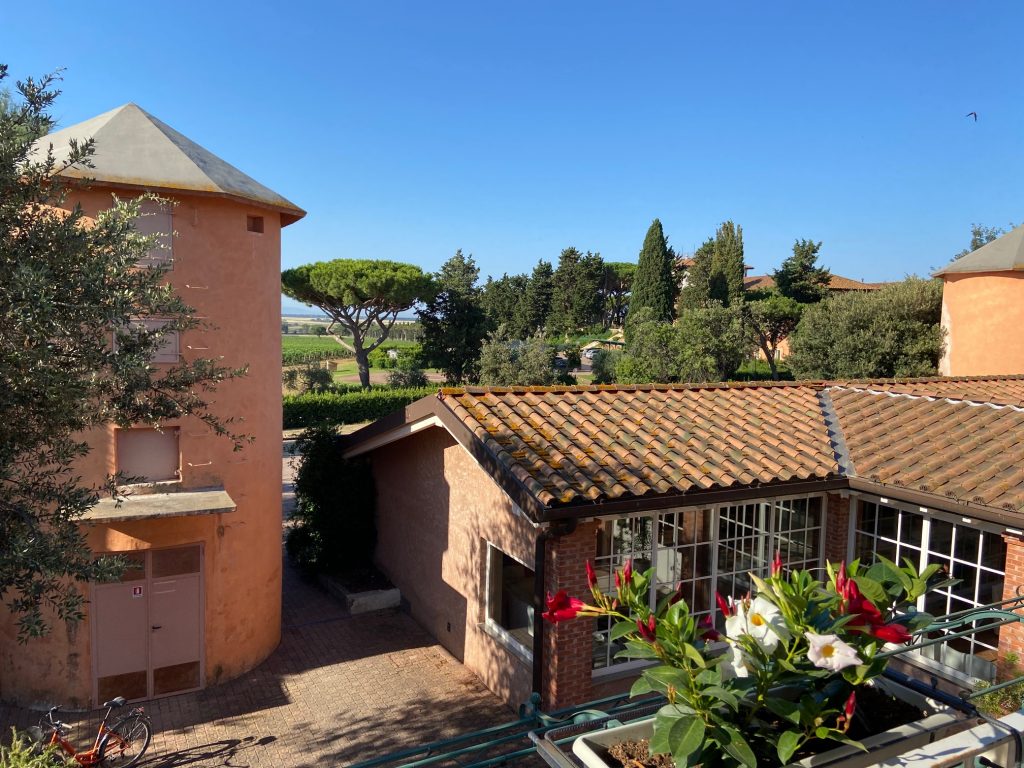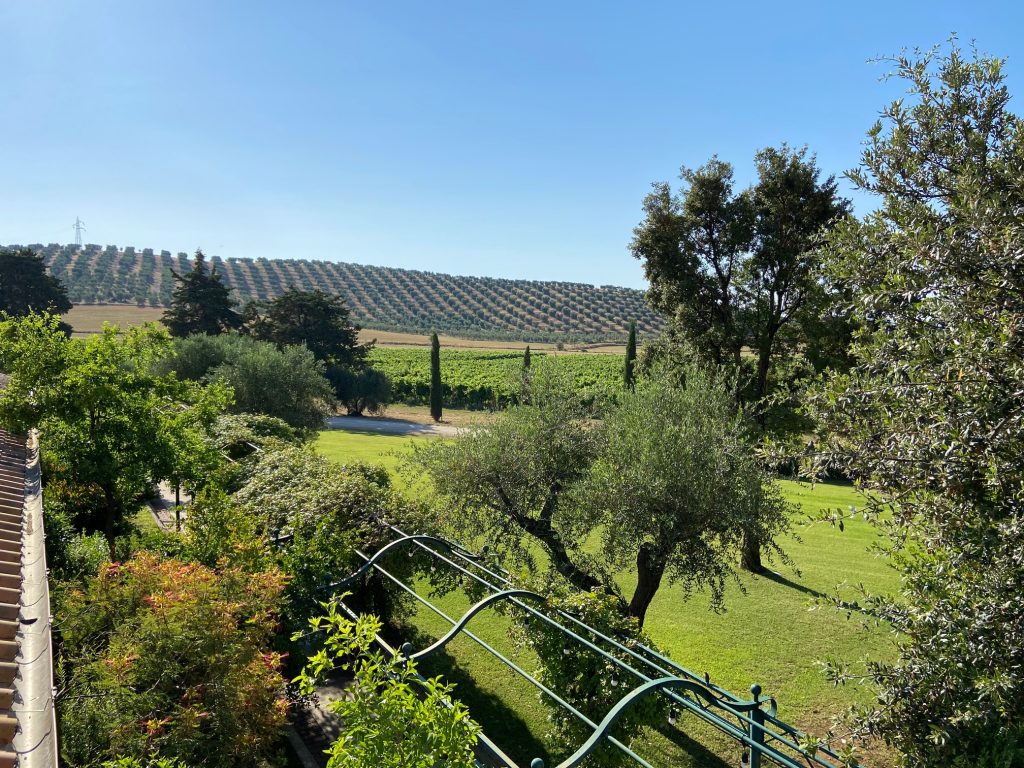 We rested and changed for dinner at the hotel. They have two restaurants, only one of which was open. The more casual of the two. Nice spot outdoors. Lots of spacing between tables. Everyone wore a mask. Unfortunately for me my main course was inedible. Grilled octopus on mashed potatoes. The octopus was a Goodyear retread tire. Almost impossible to chew. I rarely have an experience like this, and never in Italy. So I sent it back and got chicken. Susan and Gary got the Branzino cooked in a pouch which they loved. So, it was a mixed result. I might also mention, this restaurant was EXPENSIVE.

Monday, Susan's birthday. And today was to be her day. Beautiful sunny weather but would be hot. We had breakfast outside under the trees. Near our dinner spot from last night. They've got loads of help here, so service was great. Not always experienced, but always someone there. I had scrambled eggs. There was a big buffet but they had to serve us. Buffets aren't allowed since Covid. Luther had smoked salmon. There were croissants and bread and butter, yogurt, freshly squeezed OJ. Eggs, any way. Just fine.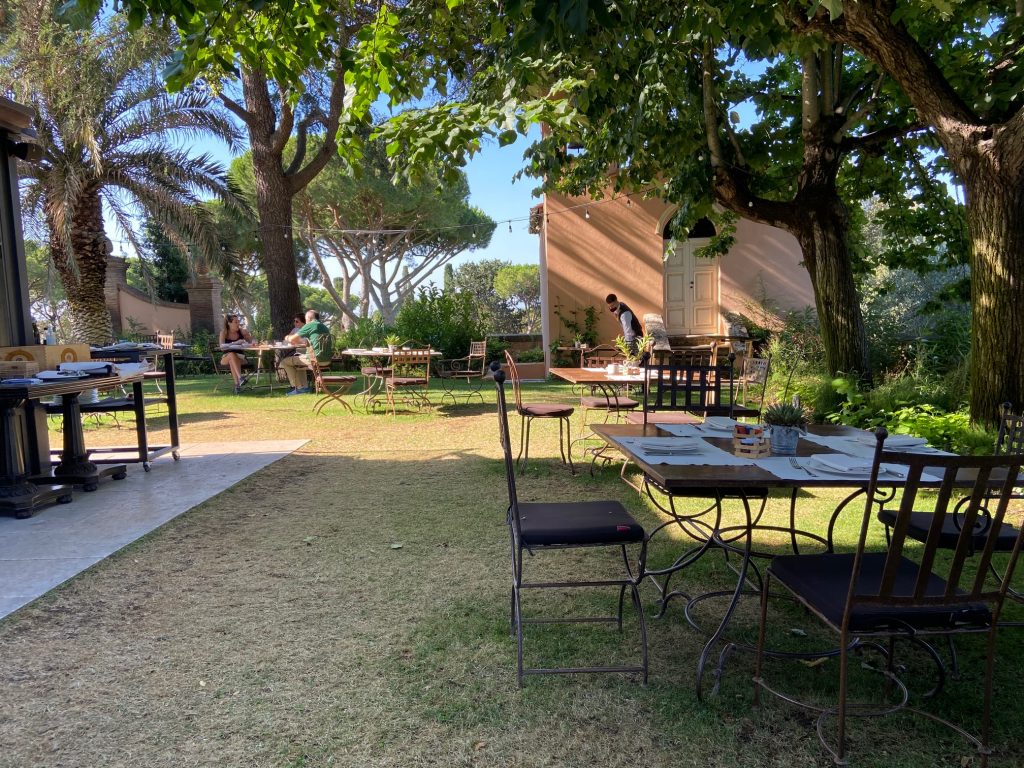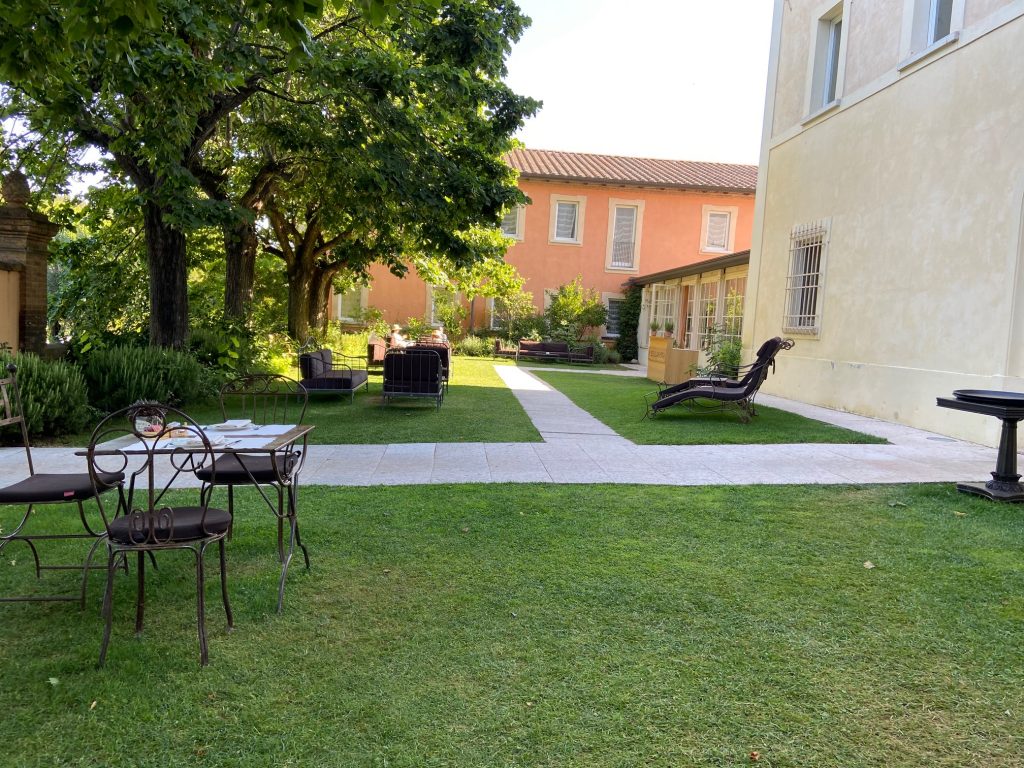 We left after breakfast and headed for the beach. Castiglione della Pescaia is the pretty town nearby. We drove through, turned towards the beach and ended at a dead end. Finally extricated ourselves and headed down the main highway that parallels the coast. We drove through a big park. It was a huge forest of umbrella pines. Quite amazing. Campgrounds were in and among the trees. At the end, I saw there was a town called Marina di Grosseto. I peered down the first road we came to and I saw umbrellas and a big parking area under the pines. Not looking a gift horse in the mouth we parked and walked to the beach. Tre Stelle, a little Bagno, or beach restaurant with its own umbrellas out front. We rented two, and four chairs and even finagled towels. The beach was beautiful. Maybe 40% full. Lots of empty chairs. And all the umbrellas were well spaced with at least six feet between them. Felt very safe. Nice breeze. Susan got her birthday wish to sit on the beach, go in the water. I did too but since I had no suit I got my pants good and wet but didn't swim. The water was a perfect temperature.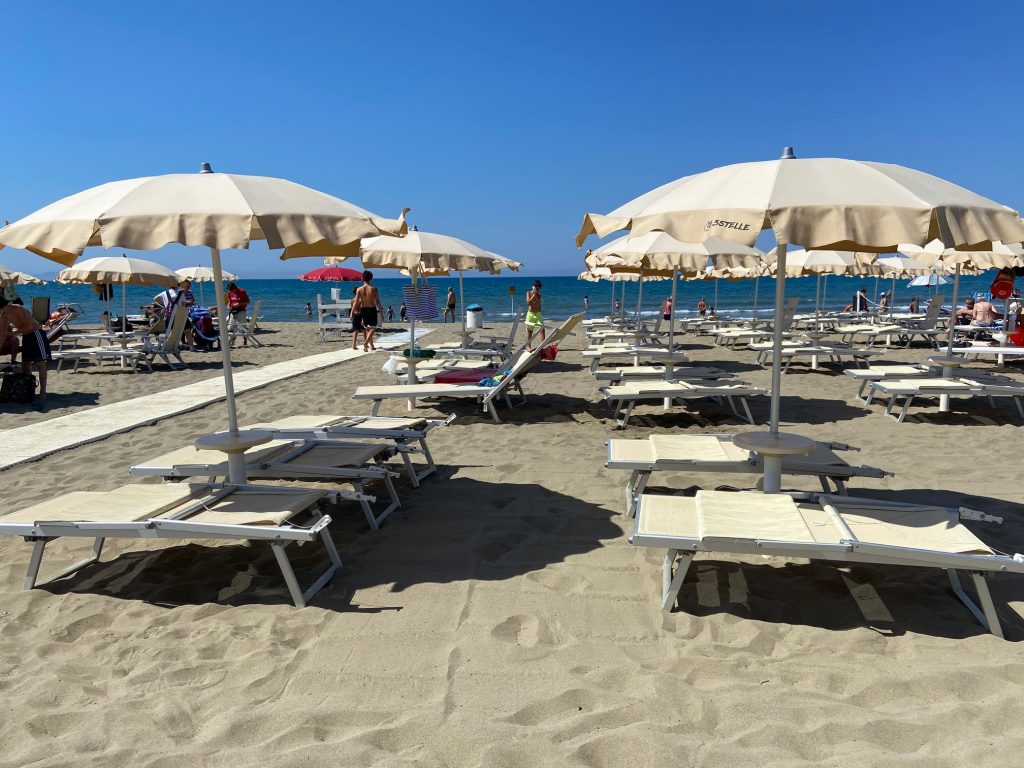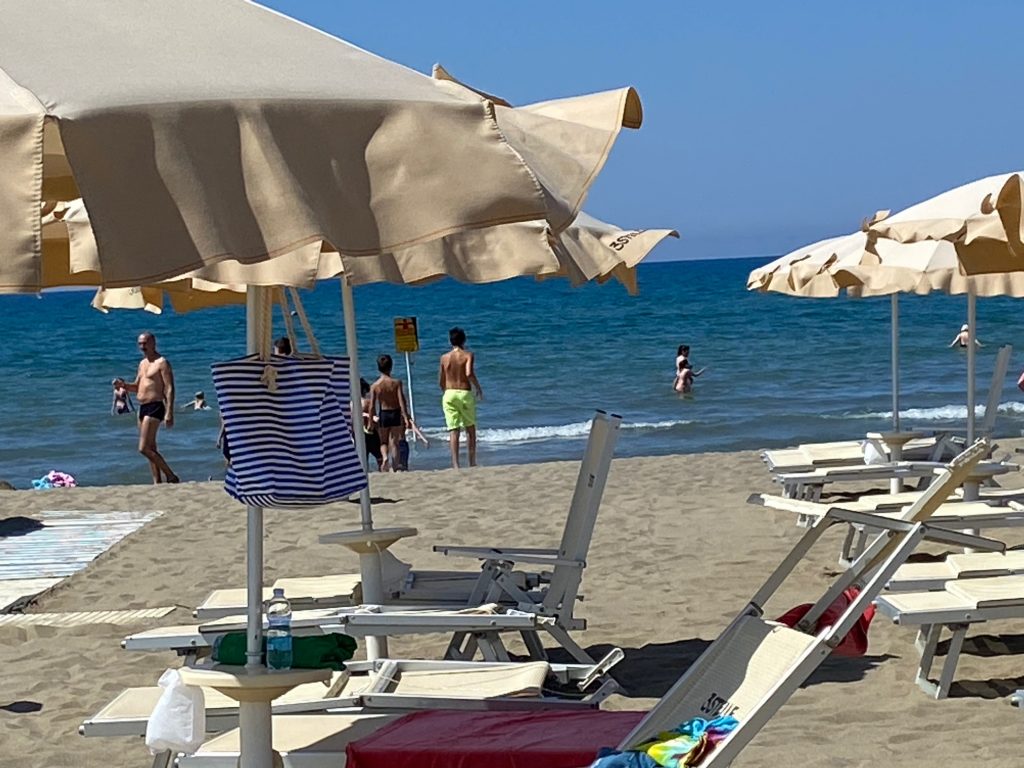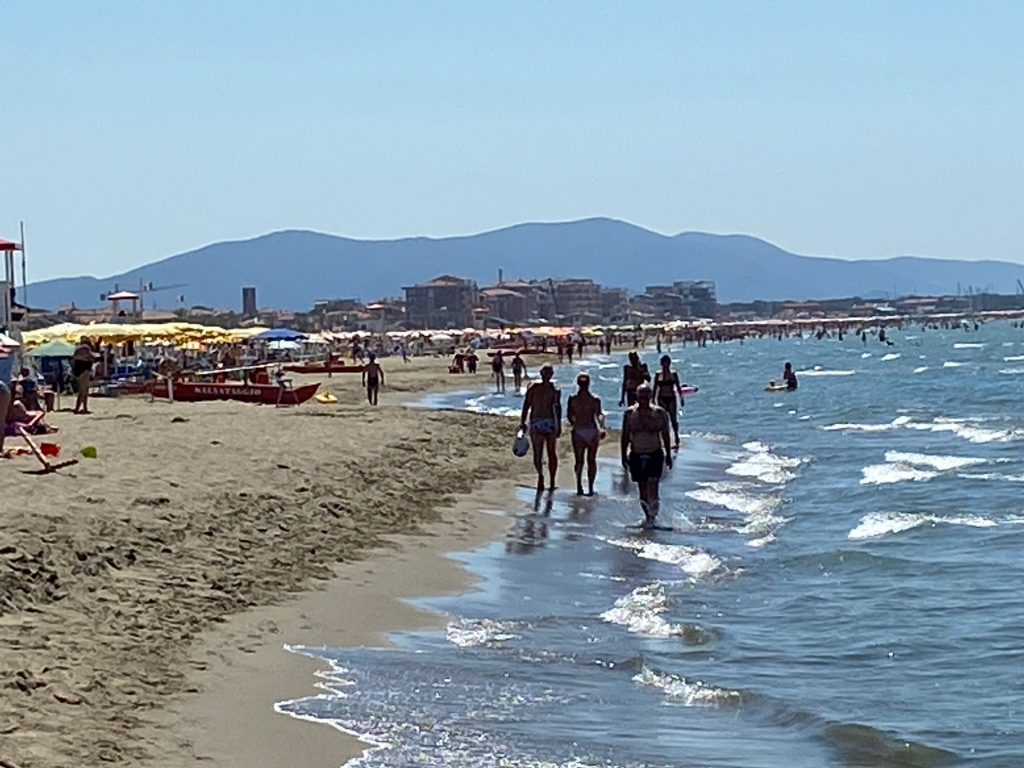 After a few hours enjoying the beauty. We headed back to Castiglione della Pescaia. We had reservations at Bagno Tito. Right on the beach. We found a free on-street parking place and walked to the beach. Just 3 blocks. It was a really nice little beachy place. We sat under umbrellas on the beach. The food was good enough. Not great but fine. We had nice local wine. A nice breeze. What else could you wish for.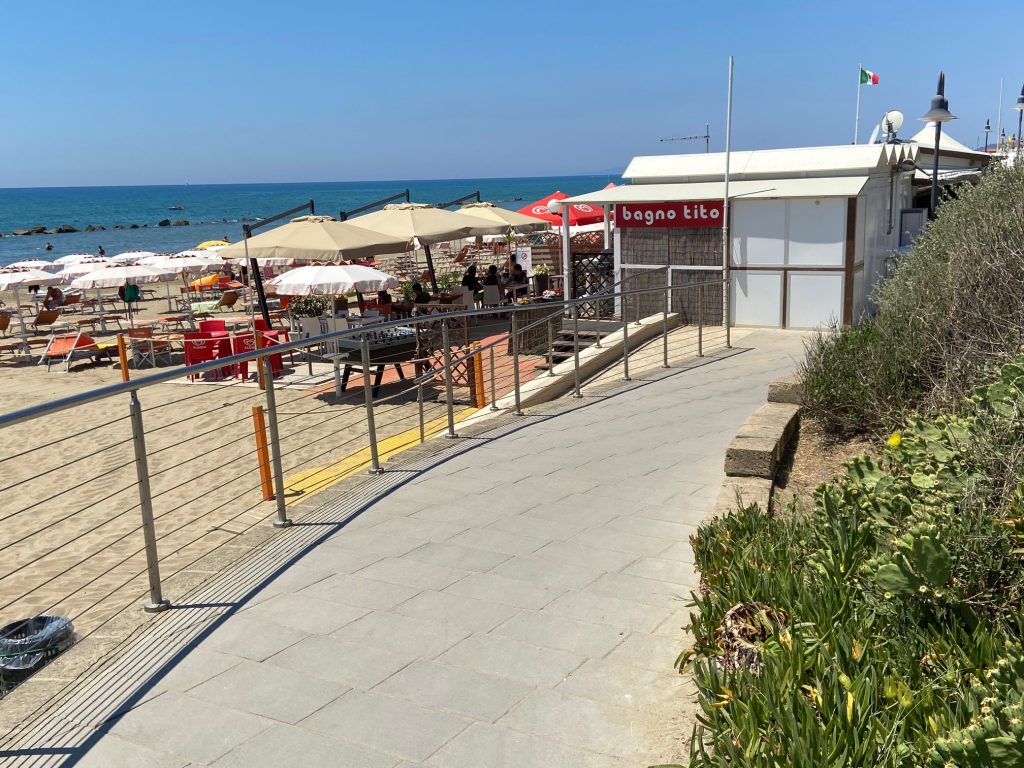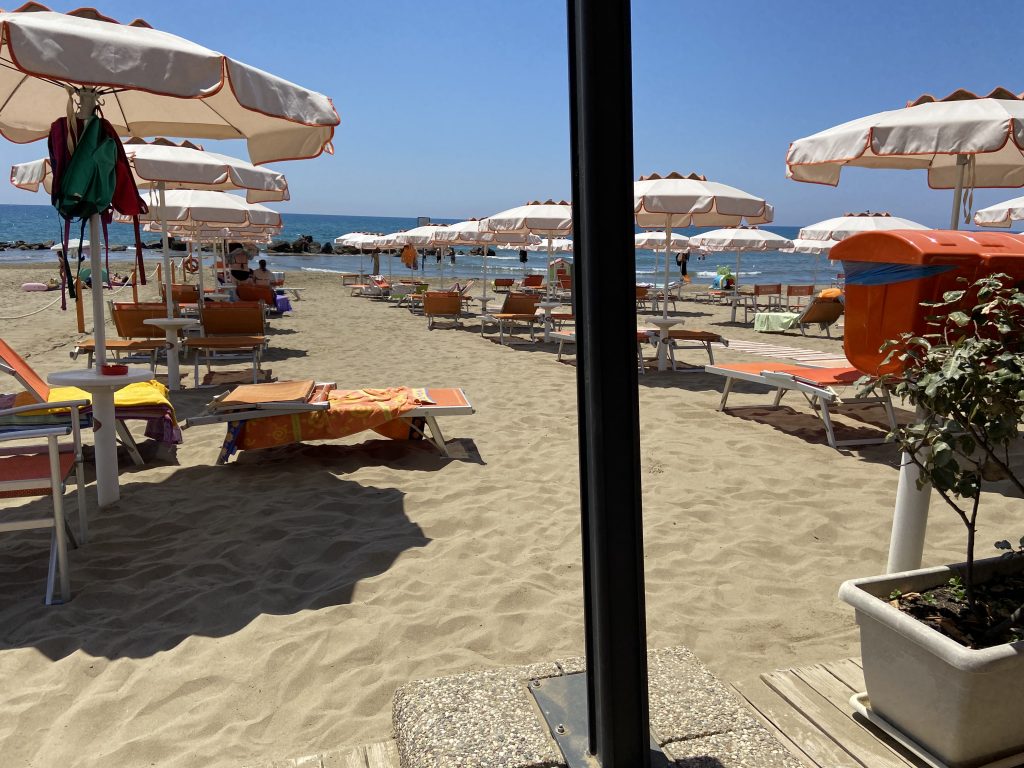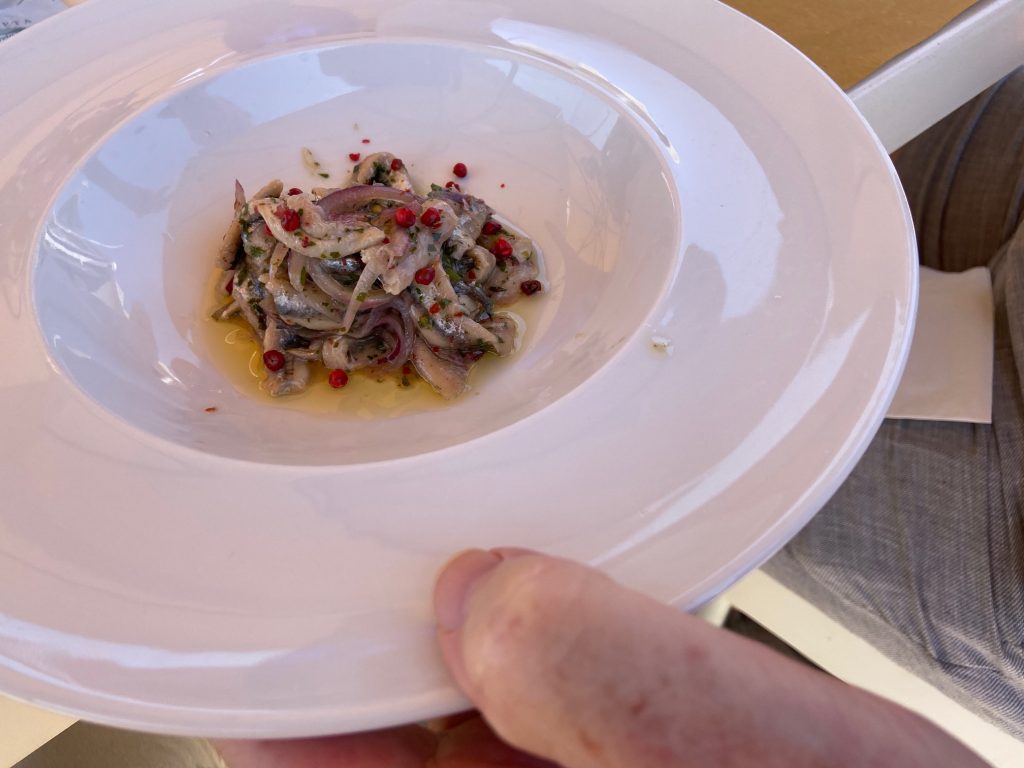 We visited the local Coop grocery store where we bought food for a picnic in the room. Then, back to the hotel for showers and a nap. The picnic was fun. Nice conversation. Later, Luther and I sat outside while he smoked a cigar. I listened to the night noises. Owls maybe? Or small creatures? Horses neighing. Long soft sunset like we get during the longest days of summer.

Tuesday — We met for breakfast at nine. More scrambled eggs with salmon. A good breakfast. We had to get out by ten because we had an appointment to taste Bolgheri wines an hour away, up the coast. A place called Fornacelle. As always it was a wild goose chase to find it but we persevered and with the help of google maps finally found it. These wineries are all on the flat lowland between the beach and the bluff rising to the mountains. And the area is networked with little one lane roads.

Our hostess, Sylvia, was a member of the family which owned the winery. A small operation. She showed us the cellaring room with the oak barrels. And an art installation along with art upstairs in a gallery. They use this on their labels. We finally settled on a pretty patio outside to taste. We had a 100% Vermentino Zizzolo white, a 100% Semillion white (aged in oak), a Rosso Zizzolo blend of Merlot and Cabernet Sauvignon. These two are named for a small fruit tree which produces an apple-like fruit. They had a tree next to the patio. Next we tried a Red made from Merlot, Cabernet Franc and Cabernet Sauvignon. And finally a 100% Cabernet Franc called Erminia. This last one was a beautiful wine. My favorite. She brought crostade with their good oil. A very fun tasting which lasted longer than expected. We had a second appointment but couldn't keep it and make our lunch reservation.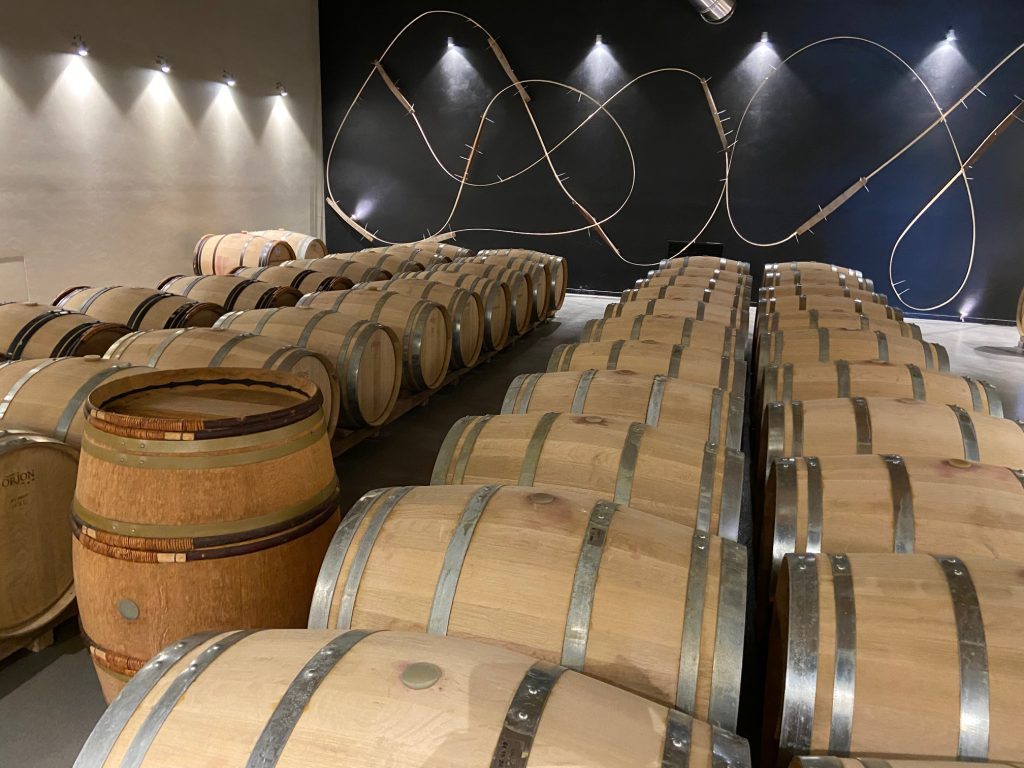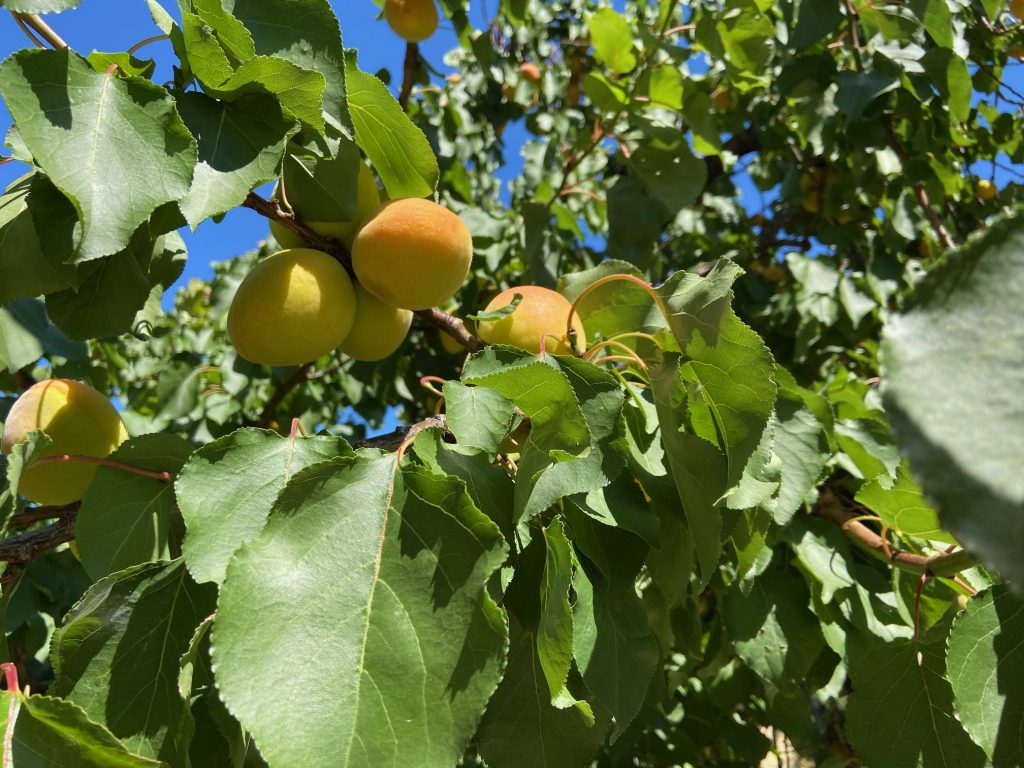 Next few are of the patio where we tasted the wine and some of the wine bottles we tried.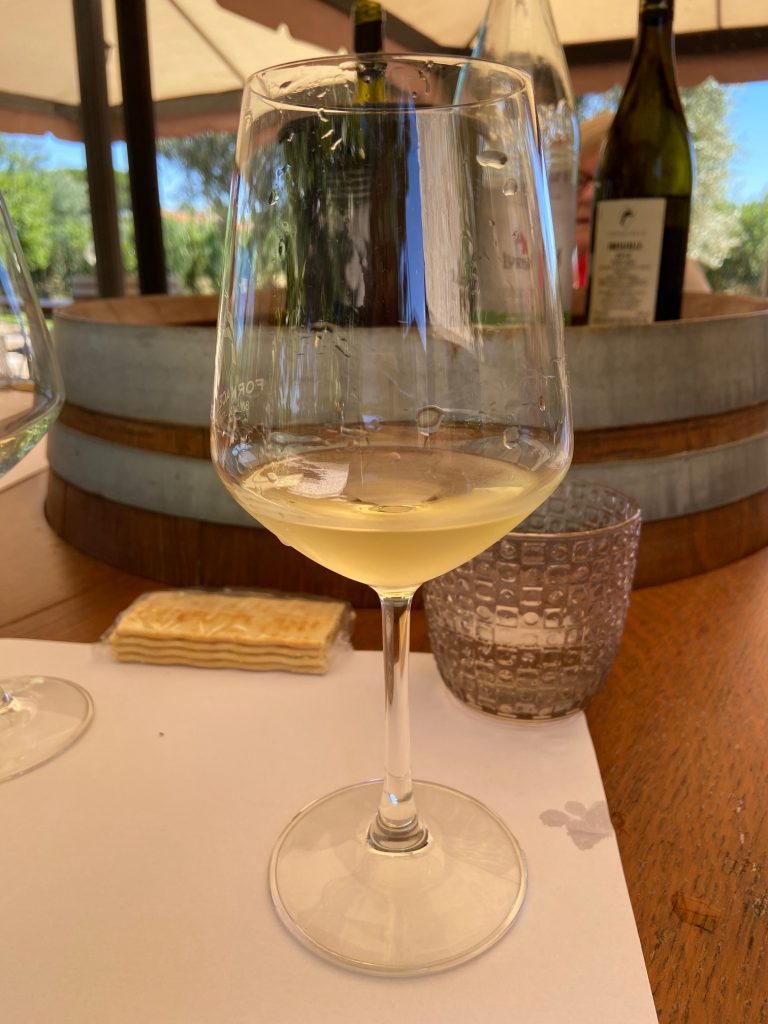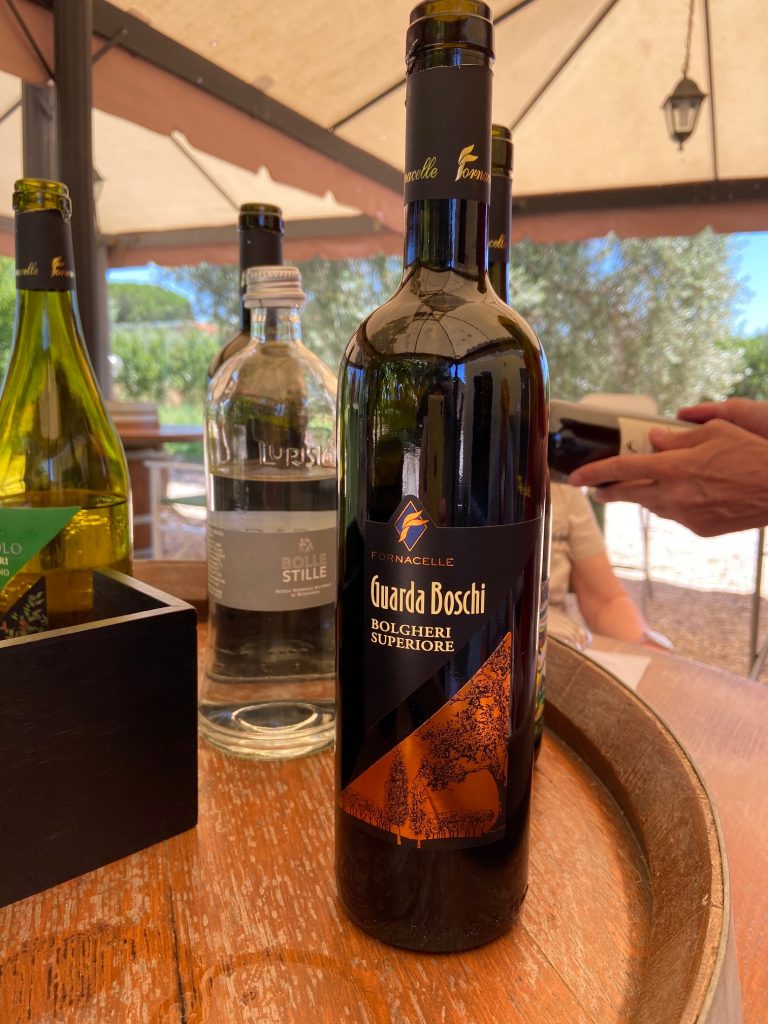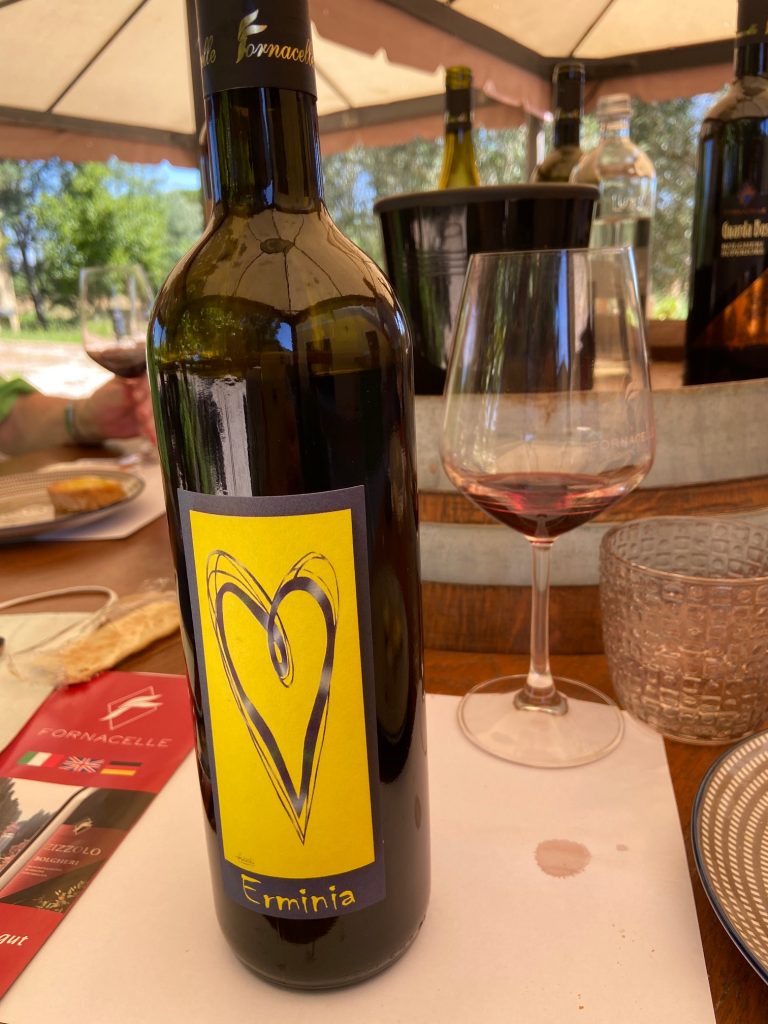 Off we went to Agriristoro La Cesarina. Another exciting adventure in tiny one lane roads, eventually going up the bluff to the top where the restaurant was situated. What a view. Small, casual, place. Obviously their home as we interrupted their lunch. The whole family was there. Turns out Nonna was the cook. Very traditional Tuscan cuisine. But all good. We had antipasto for all four of us plates of meats with melon, cheeses with figs and fig jam. Bruschette – red pepper and liver. All good. Then we had main courses. All the choices were very long cooked meats. A roast pork with carmelized onions. Roast cinghiale, roast beef. Everyone liked theirs. The wines were Bolgheri wines and good.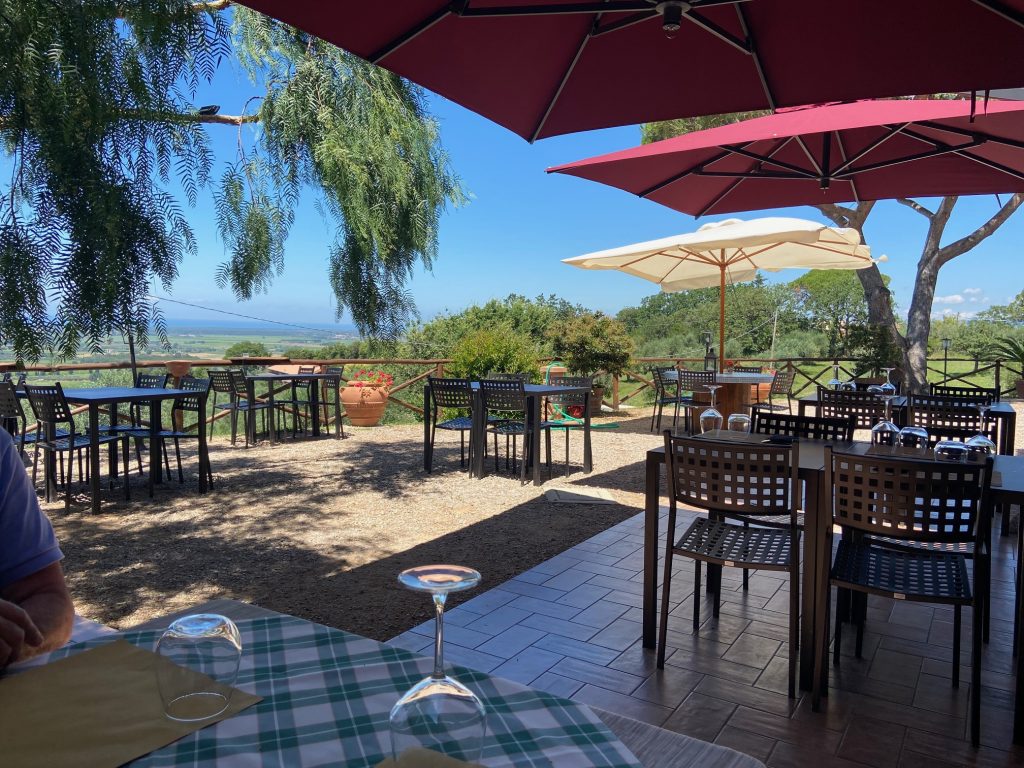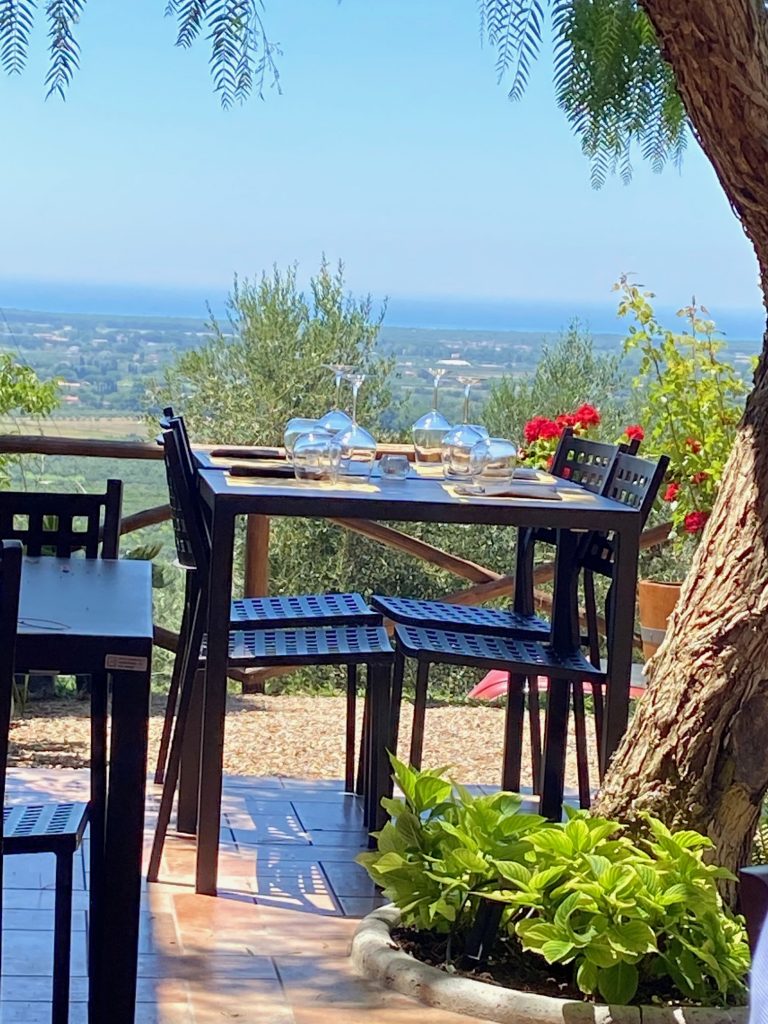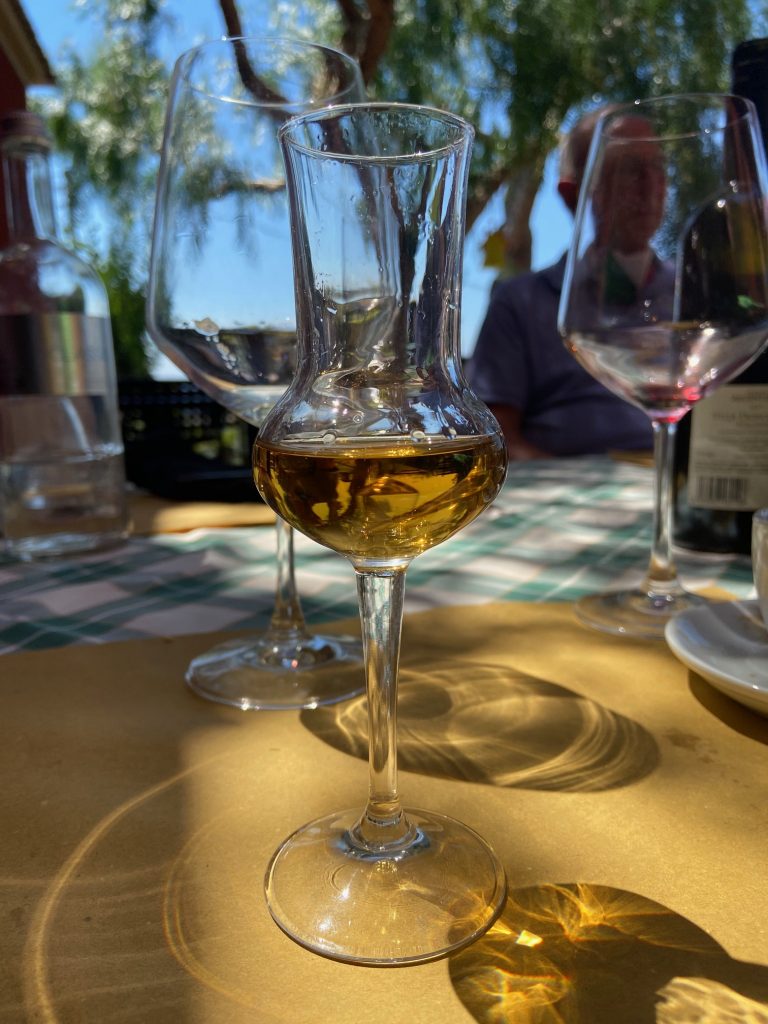 Driving home was another hoot. Up and down the mountains through the valleys. But we got home in time for Susan's conference call.
We again gathered for snacks. Watermelon, a little cheese was left and some mortadella.

I rose a bit early and tried to sit outside but the humidity has risen and there are millions of gnats and tiny bugs. So I had to retreat. I did take a shot of the long morning shadows which I thought was pretty.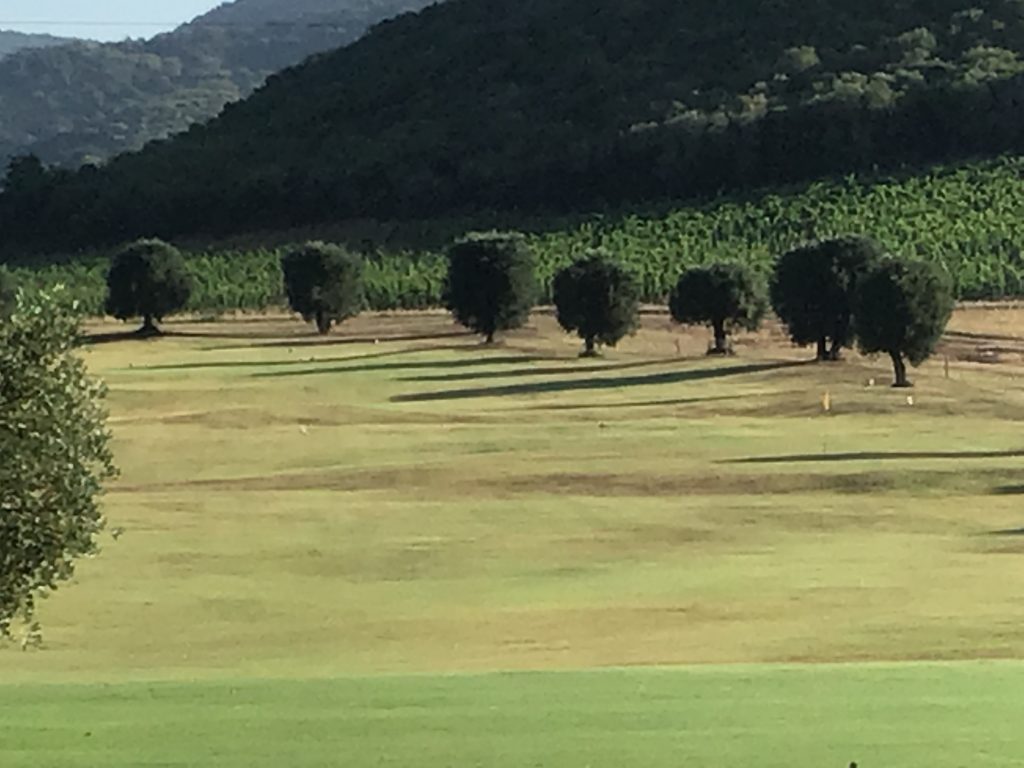 We breakfasted and got on the road. Home in 2 hours 10 minutes.
~~~~~~~
Impressions for our first trip. Restaurants were generally doing well with good distancing. Bagno Tito, the beach restaurant had no paper towels. That was bad because after you wash your hands you don't want to touch handles etc. All other places had immaculate and fully equipped bathrooms. The hotel was very nice, clean and had great beds and linen. No worries there. The two beaches were sparsely populated and all umbrellas and chairs widely spaced. Unless in the great out of doors, everyone wears masks. So I'd give Italy an A.
During the trip we saw 2 German tags, 3 Swiss, 1 UK, 2 Monaco, 1 Lichtenstein, 1 Netherlands, and one Austrian. Every other tag was Italian, so Italians far out numbered everyone else, very few crossing the borders.
~~~~~~~
I see things aren't going so well in the US. The EU decided not to let travelers from the US into Europe. The benchmark scientific metric used was new cases over the past two weeks per 100,000 people. The average among the 27 European Union countries was 16 in mid-June; in the United States, it was 107.
Please everyone, wear your masks when not in open countryside. It would slow the virus to a crawl and the economy could come back without drastic shutdowns. It's really not hard…I hate the masks, but I wear them.🌈