My friend in Virginia sent a recipe for this stew that is from the NY Times. I am a big lentil fan and even though I make soups with lentils often I thought this one sounded a bit different.

And how! It was it different. The key ingredient is the smoked paprika. It adds a big smokey taste. I made it today for lunch and we both loved it. I will make it again as a dinner meal and add some sausage. It is a perfect winter-time stew.

I made quite a few changes to the Times recipe. First off, I simplified things. For instance they used three (!) pots to make it…I reduced that to two. I didn't put the onion in with the cooking lentils but added it in with the leeks. I totally took out the saffron. It was such a small amount in a huge and highly spiced stew. You never could've tasted it and besides, it is an expensive ingredient. Waste. I sautéed the spices in with the leeks and in the oil to bring out their flavor. Anyway it was a hit with us! I put the recipe in the recipes in the top menu bar. Tap the title twice if it doesn't come up with only one tap.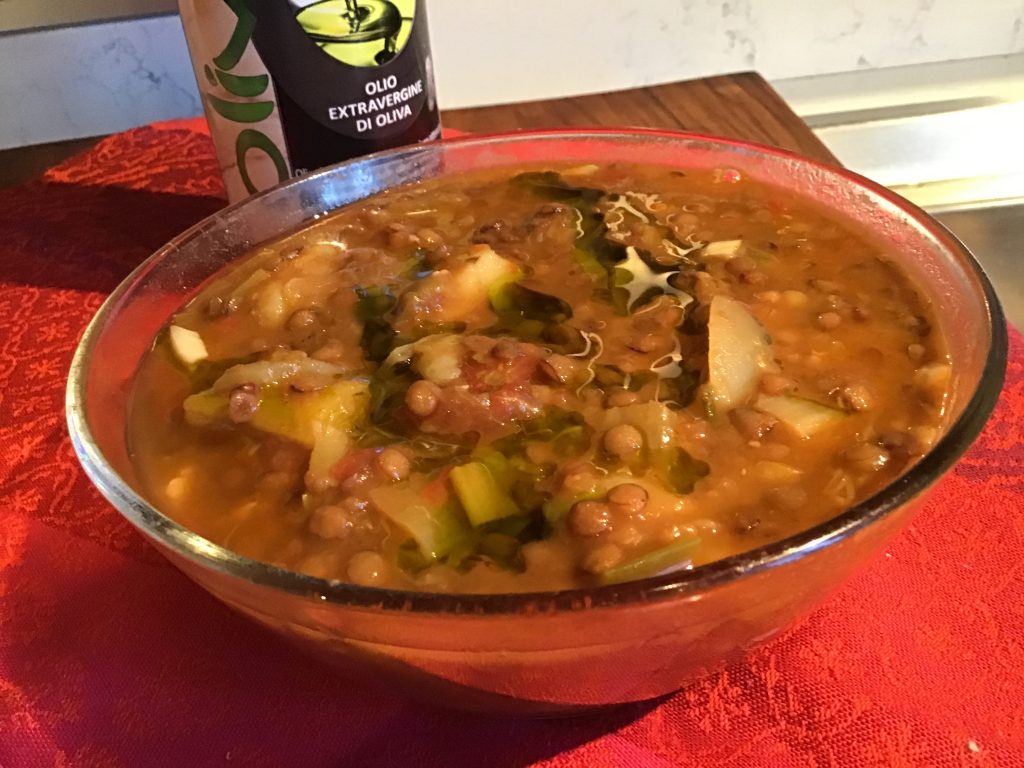 ~~~~~~~
We've also gotten some much needed errands finished. Every January we have to renew our enrollment in the National Health. It involves obtaining a stamped and signed statement from the Social Security office in the American Embassy in Rome. I wrote in early December and received the statements. We had to call the health department for an appointment this year because of Covid, and that was on Monday at 9AM. Before we went though, I had to copy all of our cards and documents. That included our expired Tessere di Sanitaria, our Codice Fiscale, our Permessi di Soggiorno, our Carta d'Identita, our passports, make an extra copy of the social security statement, convert the amount to Euro and then compute the amount we owe for the year and print that out. Whew. At the appointment we met with Laura. Once our nemesis, she either has gotten used to us or she has mellowed. So she isn't quite as scary as she used to be. She took all the papers and checked our calculations and sent us off to the Poste to pay for the coverage. There were about 8 people ahead of us in line where we all waited outside. Did I say it was frigid? Well, it was. Finally we got that done and returned to give Laura the receipt. She had everything done and we signed multiple times and – tada! We were finito. Of course they would only give it to us until April because we are STILL waiting for our new Permessi from the Questura. Seven months and counting. When we get it we visit Laura again and get the Tessere extended…to June. Which is when our NEW cards expire AGAIN and then in June I am sure we will have to go and get them extended to the end of the year…eyeroll. We pay for the whole year in January. They know we are getting our Permessi, so why not give us the card for the year? So much less work for us AND them!

Today, we took the VeeDub to the shop to get its oil changed and get its every other year inspection renewed. We will pick it up tomorrow. So the beginning of the year errands are sorting themselves out slowly.
~~~~~~~~
A friend asked me to include a sentence in Italian with pronunciation with my blogs. So I am starting that today. Here goes! "Abbiamo fatto le nostre commissioni!" It means "We have done our errands". Pronounced abbey-yamo faht-toe lay noh-stray com-miss-see-oh-nee 🙂
~~~~~~~~
Stay safe everyone. Andrà tutto bene! 🌈