As you may remember, we are in the midst of many chores. I mentioned to Elizabeth I still needed to send our ballots and she volunteered to take me to Mailboxes Etc. She had something to mail as well. We drove to Citta di Castello and in the industral outskirts found the shop. Formerly it had been in the city. This is much more convenient with parking right out front. Ca-Ching! Sent our ballots UPS, should be there in two days.
While we were out Luther was running errands too. All told, between the two of us we got the ballots mailed, duplicate trash can keys made and more floor polish for Vera.

But life is not all about errands! Elizabeth and I went on to visit a ceramics place I've had on my list For-ever to visit. It is called Bizzirri. And wow. It is a great place. Beautiful and very different from Deruta ceramics. I would bring guests here. Very nice. I bought, in their giant seconds room, a little yellow bowl, and I got a nice trivet, which I've been on the lookout for.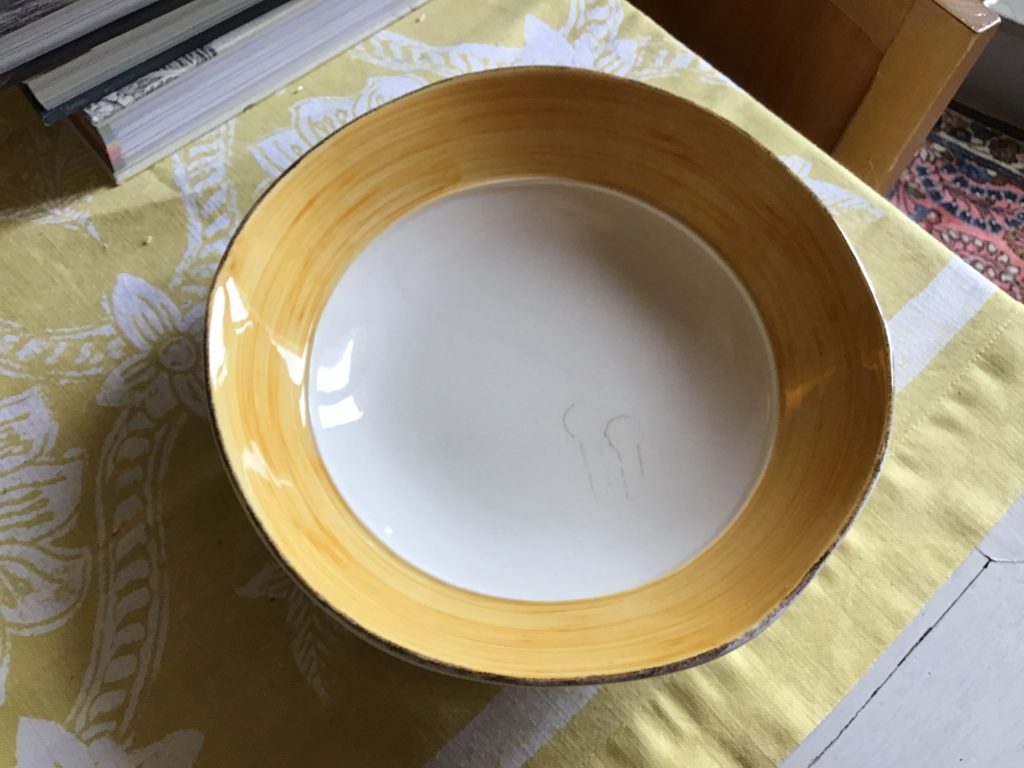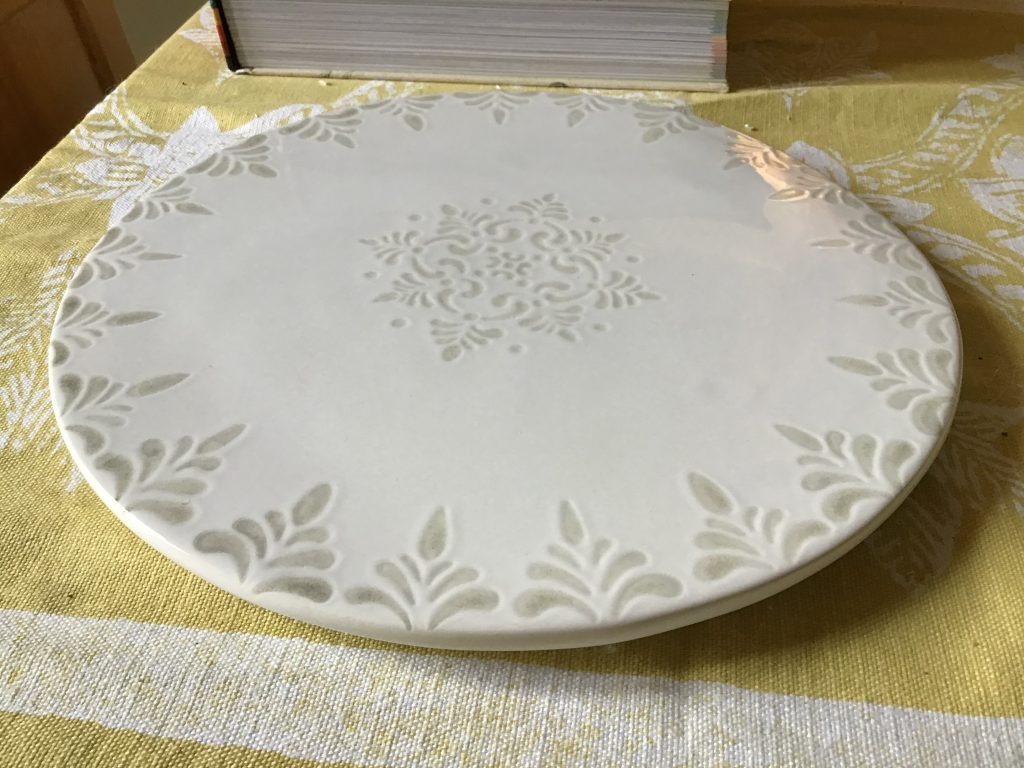 After that we headed for a farm which specializes in truffles. As you probably know, truffles can't be cultivated so they don't "grow" the truffles, rather they search out and harvest the truffles with specially trained dogs who sniff out the fungi. But Tartufi Bianconi is much more than that! They host truffle hunts for people who are interested, they offer cooking classes, and they process and sell their own products, along with other artisanal products from the area in their shop. They even have a truffle museum! Among some of the famous people who have come and participated in a hunt here is Gwyneth Paltrow.

Sadly, the Corona Virus has severely affected their business. They are struggling to keep their six employees paid. They hope maybe 2021 is a better year. I do too.

When we walked into their little shop, we were inundated with the earthy aroma of truffles. It is such a heady smell. I often think the truffles smell better than they taste! In the museum, I learned a few things about the truffle seasons in Umbria. Umbria is famous for both its summer truffles (black) and its winter truffles (white). The best IMO are the winter white ones. They have just begun to come in for this season and will be better in November and December. White truffles can be sold for €2,000 a kilo. Bianconi also exports to the famous Alba truffle market in the Piedmonte.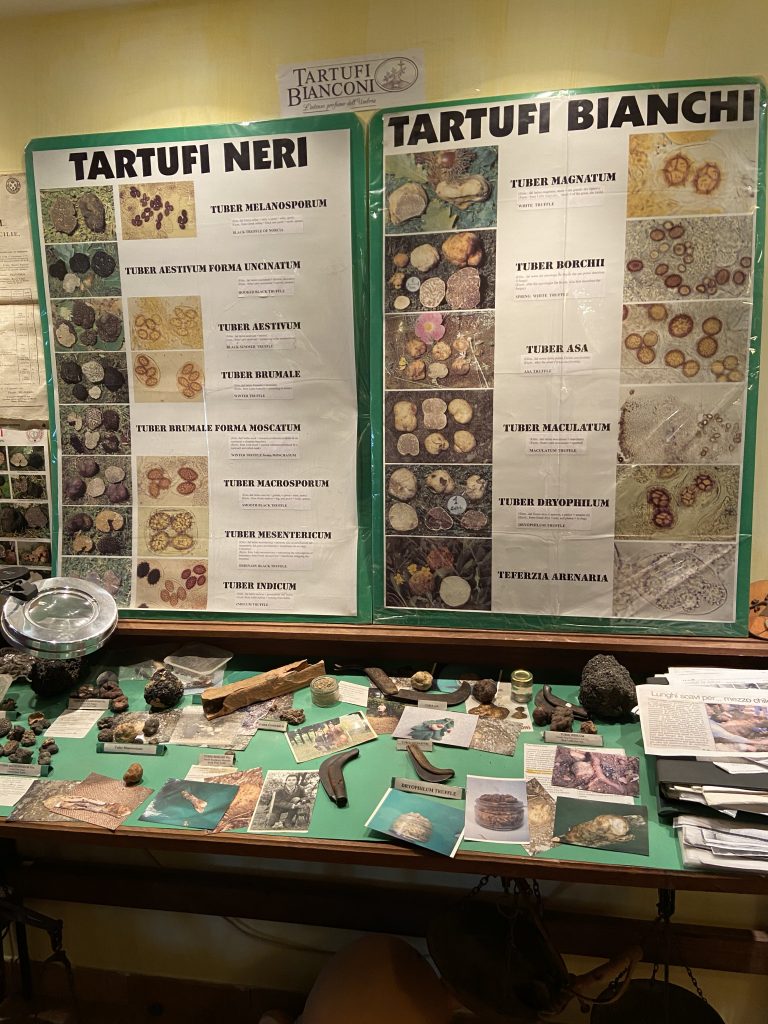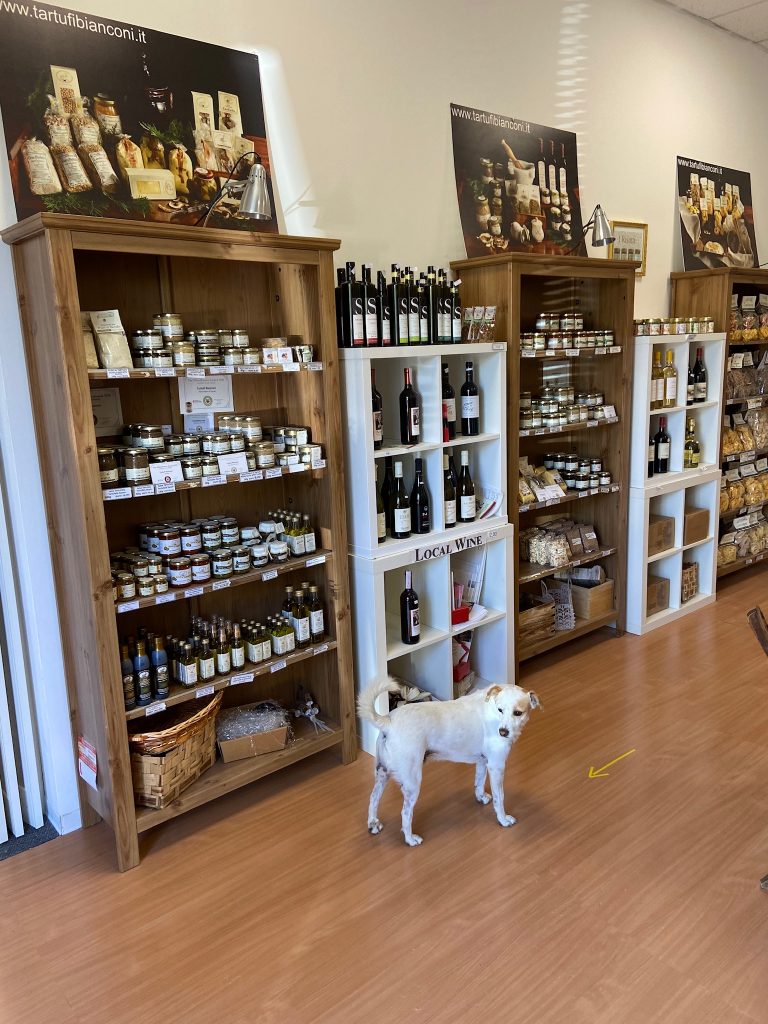 Below are some of their products.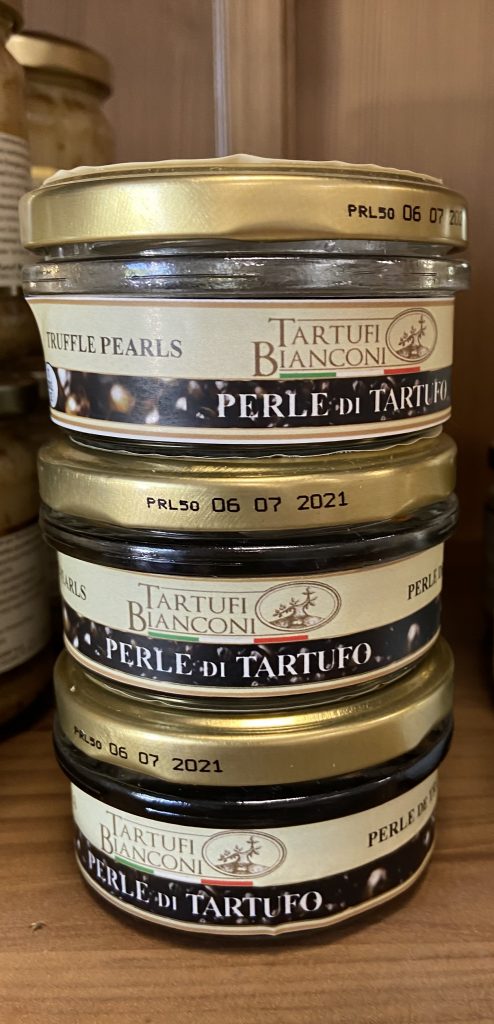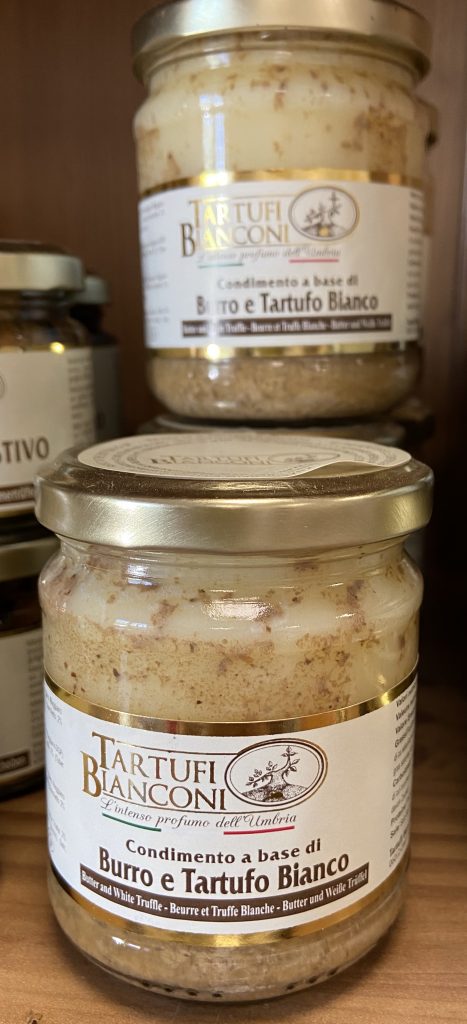 Here are some of the gigantic fresh white truffles they have found. WOW.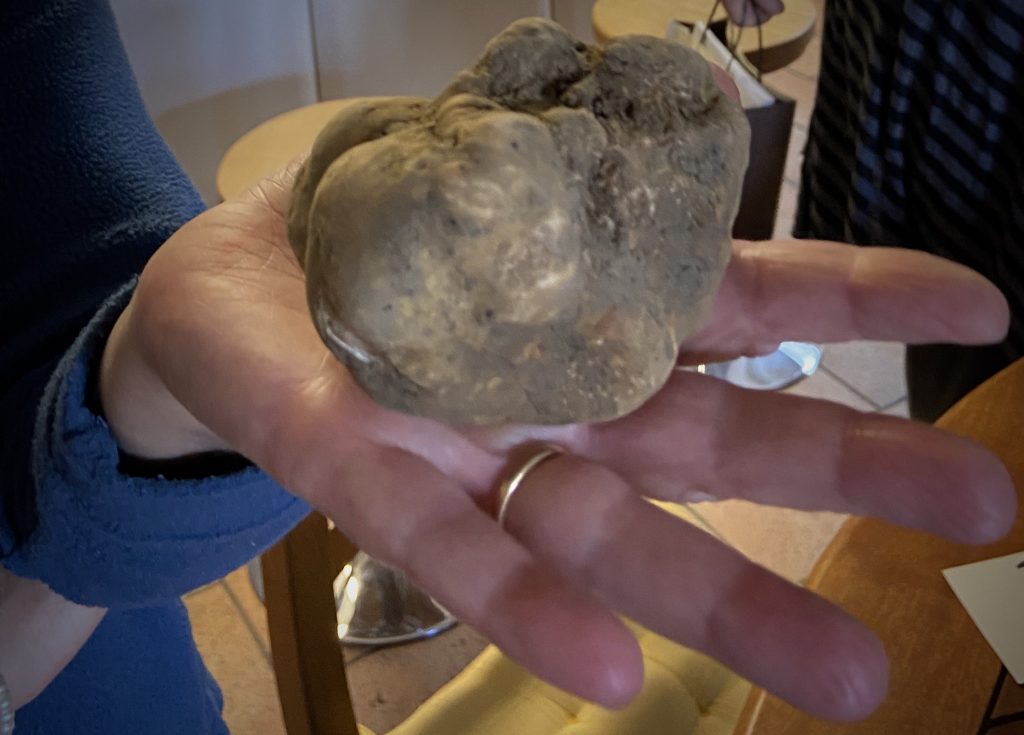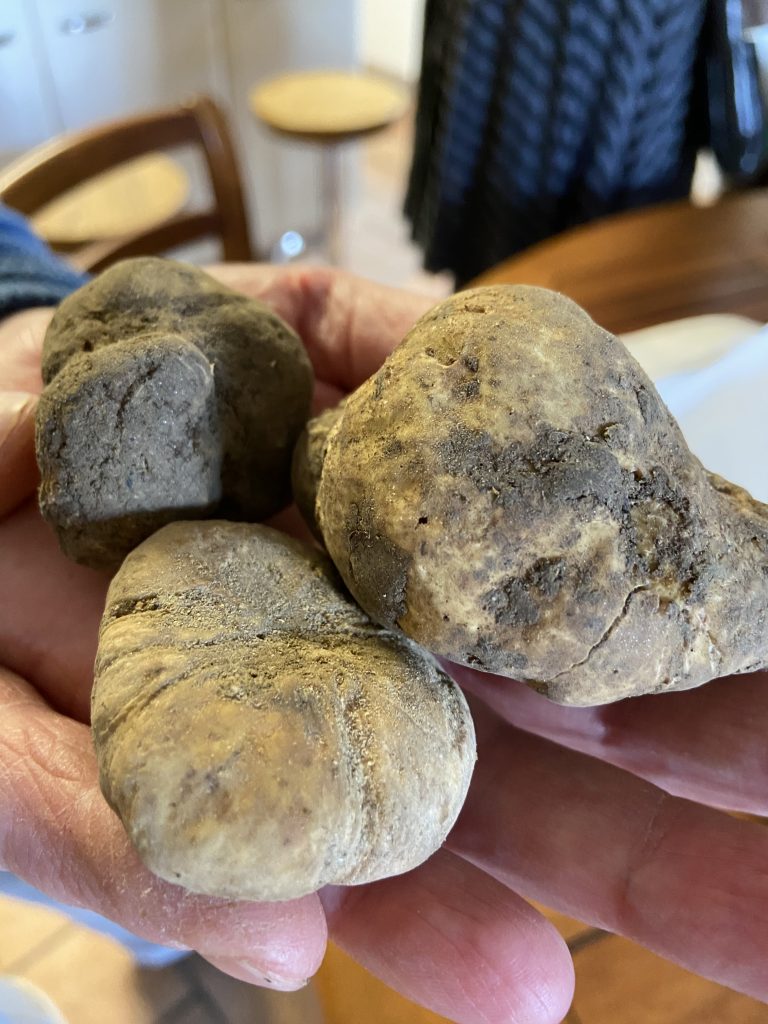 This is Gabriella.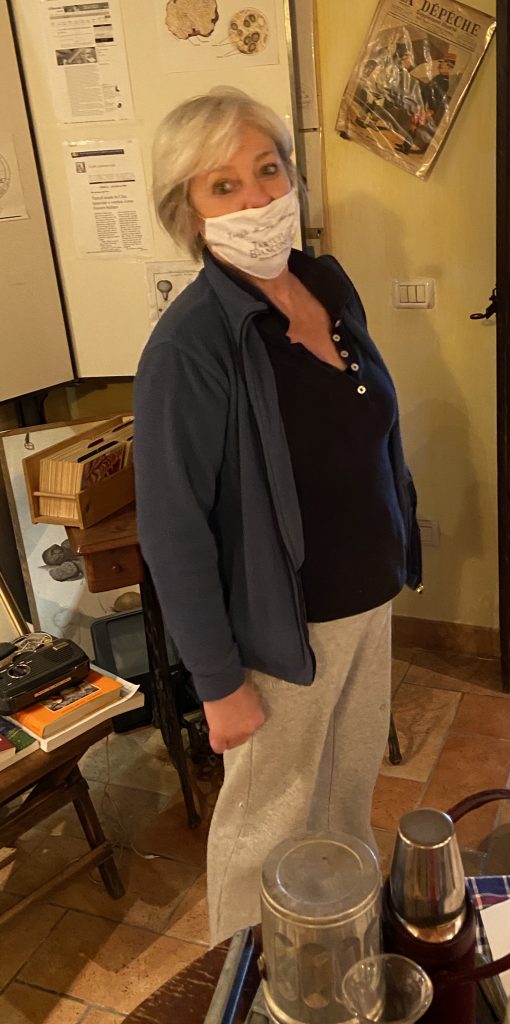 I am thinking this is a bucket list thing…yes! Go on a truffle hunt. I hope some of my readers may want to do this as well in the future. Please keep Tartufi Bianconi in mind.