High summer is time for our favorite salad — Panzanella! This salad is ONLY made with fresh, farm stand tomatoes so it is best in July and August. For us, we get them from my favorite stand in the Saturday mercato. For some reason, his tomatoes taste like summer itself. Brilliant red and juicy. Just like I remember the "home grown" tomatoes of my childhood.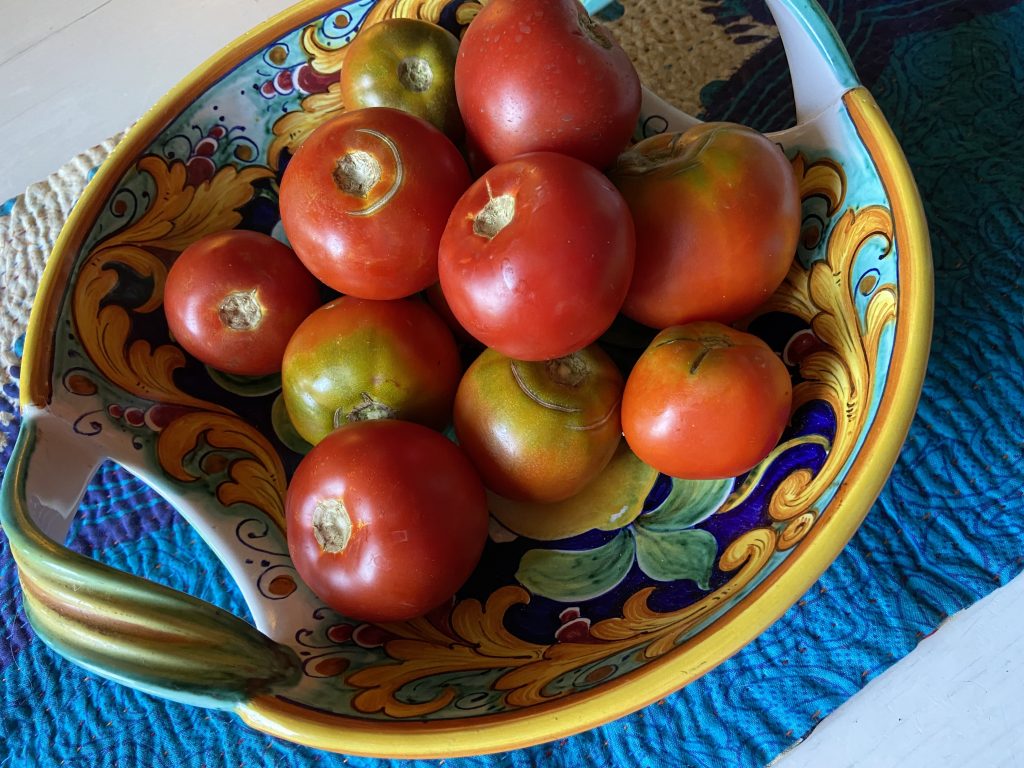 Tuscany tries to take the credit for this salad but many regions of Italy, and the Mediterranean, make a similar salad and have been doing so since tomatoes were introduced from the New World in the 1500s. It was not only delicious, it was a way to use up stale bread so it wouldn't go to waste. Even before the tomato was introduced a form of this salad with whatever fresh summer vegetables were available was common. The main unifying ingredient for all these salads is the stale bread.
I initially wanted my Panzanella to be the classic recipe so I went looking at the many recipes online. As with most things I make, I used bits of a couple different recipes. The best thing I found was a method to salt and encourage the cut up tomatoes to give up some of their juice to use in the vinegarette. I'm not sure why since either way the juice gets into the salad but somehow it enhanced the tomato flavor to whisk the juice with the oil and vinegar. Essence of tomato! Otherwise I decided to toast the stale-ish bread for better texture and soaking ability. I also added a seeded cucumber for a bit of crunch. This isn't in the classic recipe. But, really, if you've got fresh flavorful tomatoes and a good, fairly dense bread then it's Panzanella to me!!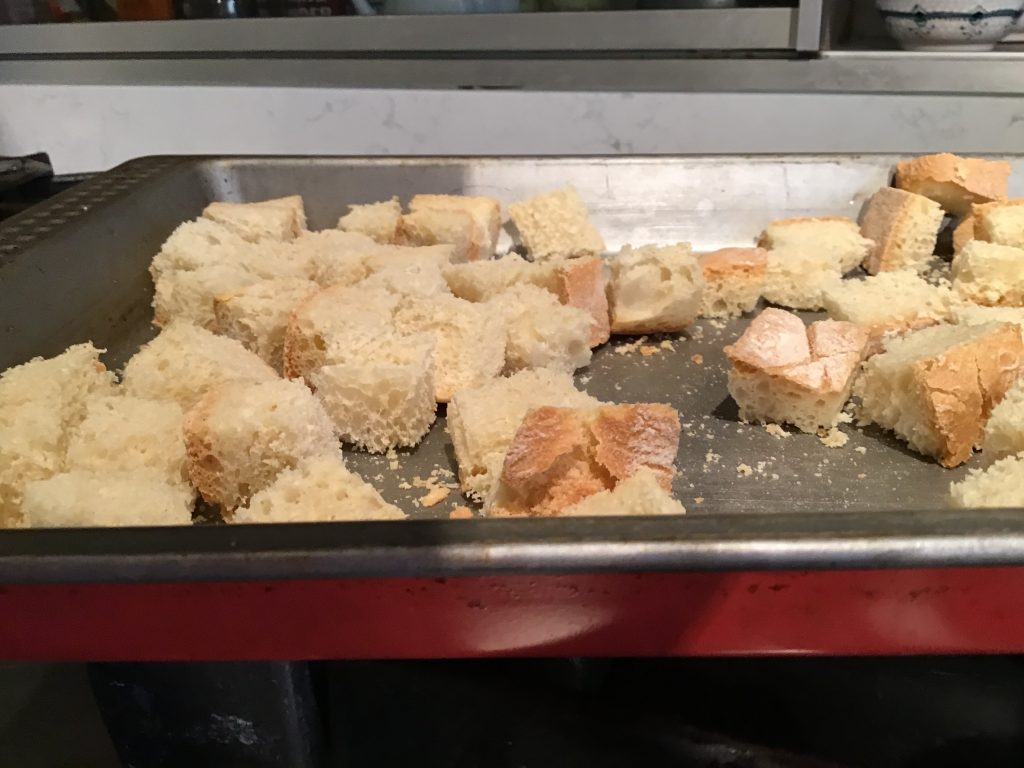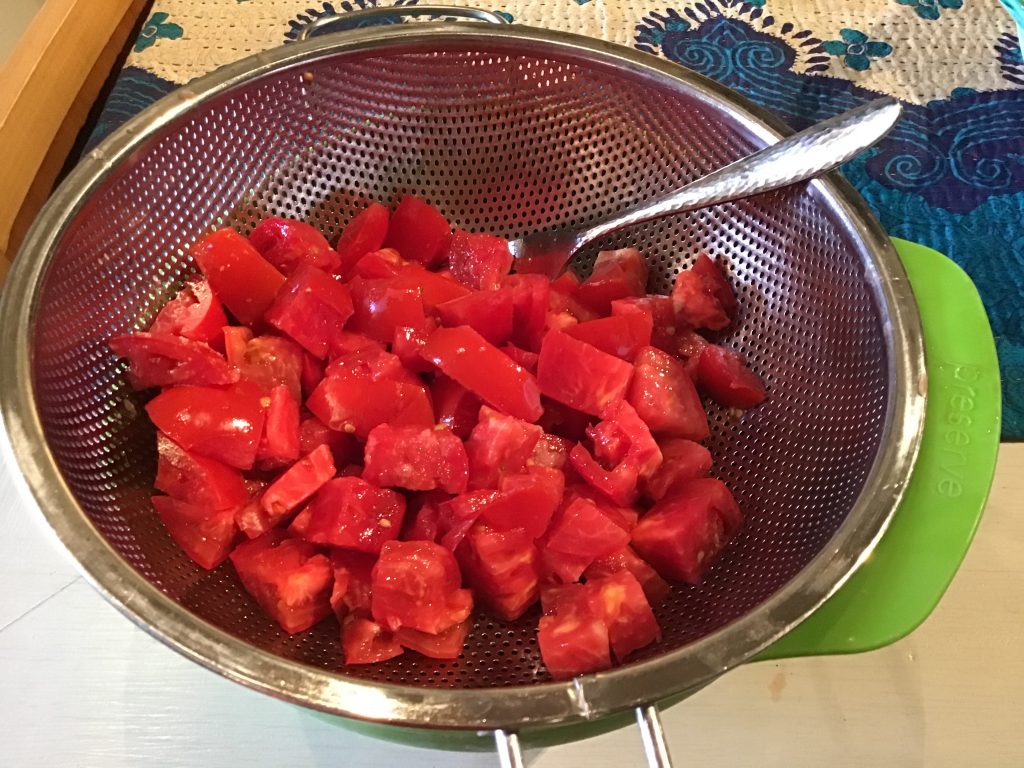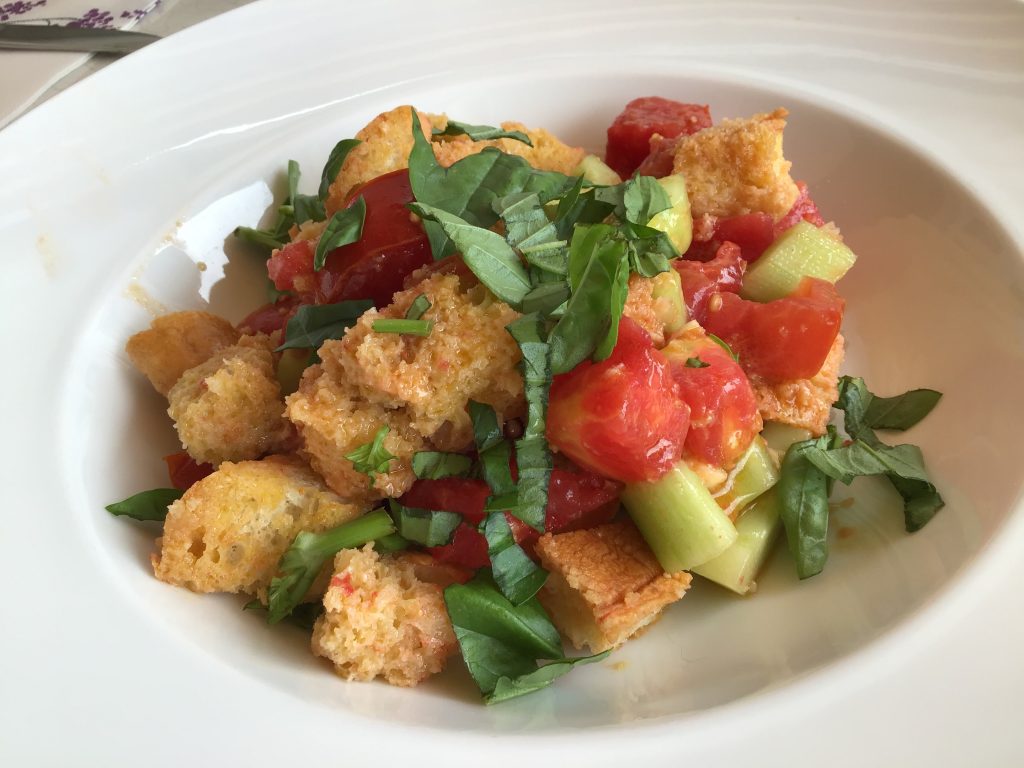 Panzanella Salad – 4-6 servings
2 1/2 pounds (1.1kg) summer tomatoes – can be mix of regular, Roma, grape or cherry and heirloom
2 teaspoons (8g) kosher salt, plus more for seasoning – only use kosher or check for saltiness
6 cups (340g) firm bread, cut into cubes
1/2 cup (120ml) extra-virgin olive oil
1 very small, mild onion, or 1/2 of one minced
2 medium cloves garlic, minced
1 teaspoon Dijon mustard (not in classic recipe – optional)
2 tablespoons vinegar – I used sherry vinegar because if find it slightly milder. But you can use white or red wine vinegar
Freshly ground black pepper
1 small cucumber seeded and chopped (optional, not classic)
1/2 cup packed basil leaves, roughly chopped
Toast the bread cubes at about 300F for 15 minutes. Set aside. Chop tomatoes into bite sized pieces and put in colander over a bowl to catch the juice. Salt with 2t kosher salt and toss. Let sit for at least 15 minutes.
Mince onion and garlic. Whisk tomato juice from tomatoes and vinegar. Add garlic, mustard and onion. Whisk. Add oil in a stream whisking. Alternatively you can put the juice, onion, garlic, vinegar, mustard and oil into a jar and shake vigorously to emulsify.
Toss tomatoes, cucumber and bread with the vinegarette. Let sit at least 30 minutes. Add chopped basil leaves and serve.