My new, favorite Italian word is….telecomando. Somehow it makes me feel like the captain of a Starship. What power I have here in my hand! I won't keep you waiting, it is the word for remote control. I guess I'd heard it before, but now I've got fans with telecomandi — I assume that's the plural(?) — so I'm feeling mighty powerful 😁
It's still hot but it will be slightly less for the weekend. Then it goes back up to 39. But happily, after that it is a more livable 32ish. My salad last night was a burrata tomato salad. Burrata is a cheese made from the byproducts from making mozzarella. To me it is richer than mozzarella. I served it with cold cannelloni beans.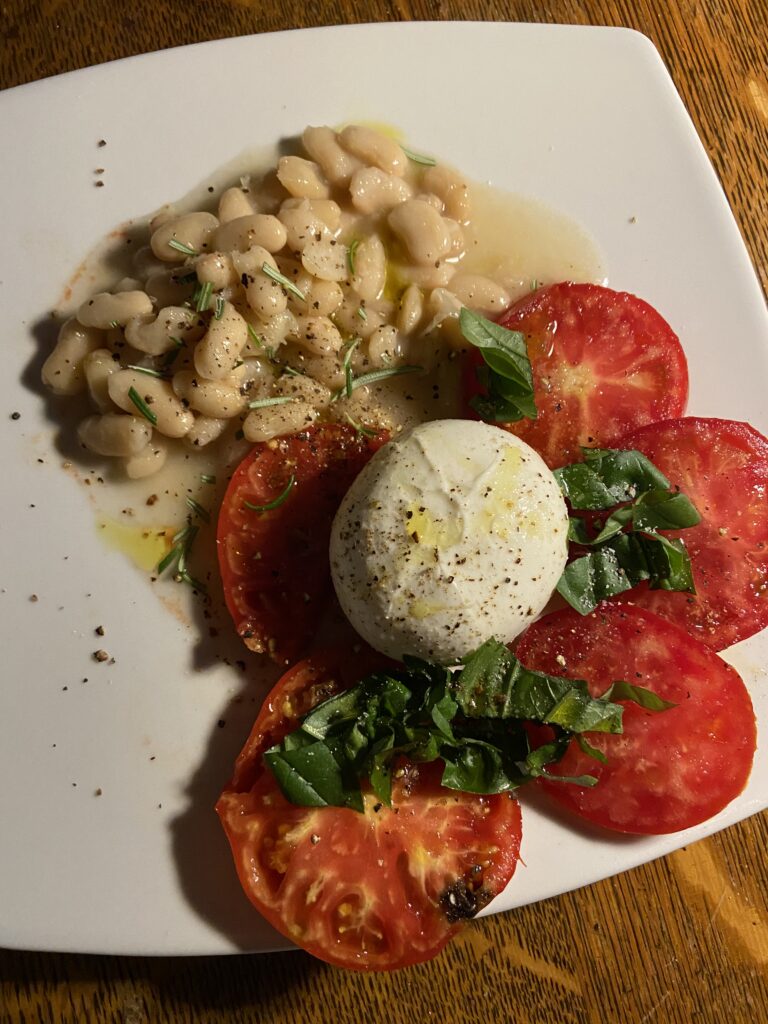 My next salad project will be a Panzanella, probably for tomorrows dinner. It is a classic Tuscan salad which uses up stale bread. Frugal, those Tuscans. It is only good when the tomatoes are at their tip-top in high summer since they are the star ⭐️ in the dish.
I have invited our old friend Vera and her family for domenica Pranzo. We havn't seen her since maybe February? Vera and I love to cook. I showed her how to make American style ribs and how to cook a whole turkey. I have made Mexican and Indian for them as well. The whole family are very adventurous eaters. This is not the norm for Umbrian Italians. Due to a lack of a convenient upstairs kitchen I'm doing an American style BBQ. We will start with Salsa and chips, one spicy, one mild. I can make pulled pork in the slow cooker ahead of time, which won't heat up the house. I'll grill hot dogs. I made homemade BBQ sauce (hard to find here), and then we will have some salads, coleslaw and potato, and finally, a new-to-me fresh peach tiramisù. I'll try to take pictures. I hope it isn't terribly hot upstairs. 🤞
Buon fine settimana a tutti.