Yesterday, the government in Italy issued the rules we will follow for the Christmas, New Year, and Epiphany time period. They are ridiculously slow about these proclamations. For days before they "sign" it, we get all kinds of conflicting information. I've come to ignore the whole thing until the pen is on the paper.

Our three zone system here in Italy has managed to help reduce our new case numbers by almost half, and our positivity rate to below 10, which is the goal. But, as we all know from human nature, and also from concrete examples over Thanksgiving in the US, people feel a need to gather on these holidays. Natale in Italy is a family holiday. It will be very hard for people to not get together with their families. I completely get this. But if they do, they will inevitably spread the virus to their friends and families. Best to bite the bullet and stay home this year…for everyone's good.
Here is the diagram showing what we will be doing here for the holidays from Corriere della Sera. Yellow means the restaurants and bars are open in the daytime until six. There is a curfew from 10pm-5am. We can travel between other yellow regions. Orange means bars/restaurants are open for take-out only and we are restricted to traveling in our region only (Umbria). Same curfew. Red means we must stay home unless for buying food, medicines, for medical reasons, or necessary work. Shops are closed. We are allowed to have two people visit in our home. This is our calendar.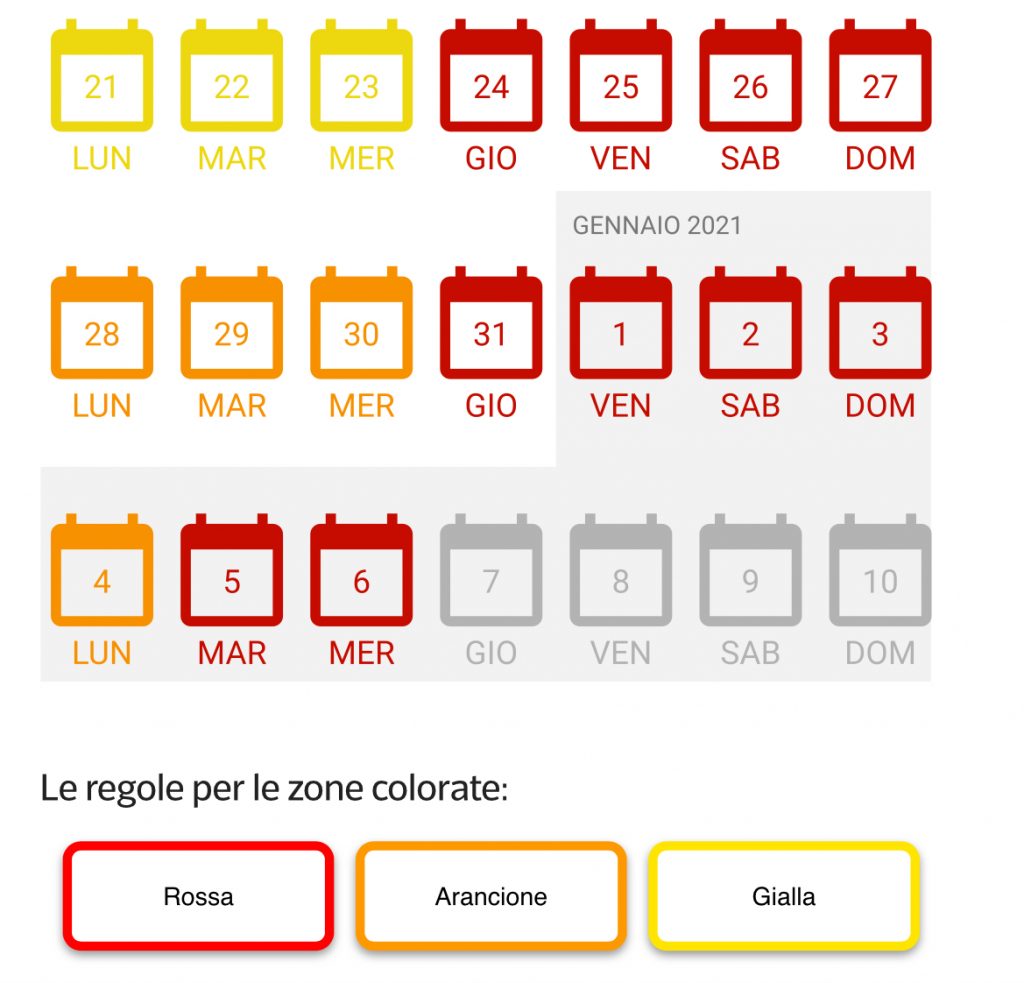 I am happy to comply with these rules. I don't feel anyone is infringing on my rights. I am appreciative of the Italian government for trying to control the virus. After all, the vaccines will be available to us all in the next six months. We merely need to wait and stay home. For everyone's good. As I've said before…there is always next year. We just need to do this for this one year. How hard is that in the grand scheme of things?
~~~~~~~~
Stay home. Stay safe. Stay well. Stay alive. It will all be better soon. Andrà tutto bene 🌈