The weather is still vile. Not terribly cold, in the 50s in the daytime. Not cold at night. We did get down to 3C last week. I see next week it will become a deep freeze with temps to -3C at night. Time to cover the lemon tree!
We have been entertaining (!) ourselves getting some needed things done as you know from the last post. Yesterday we went to Città di Castello to Mailboxes Etc to mail a package to my sister and send Luther's Passport off to the Embassy in Rome for renewal. What an ordeal. The instructions were to specifically "go to Mailboxes Etc" to mail and get a return envelope. The woman at the shop had no idea how to do this. Doesn't seem they actually "have" return envelopes! So why would the Embassy website specifically instruct us to go to Mailboxes Etc? We hope what we did will work. Hopefully the embassy will call us if there's a problem. We can always go to Rome to pick it up.
Then we drove past the Poste again, and it was again very crowded. So we skipped that. Finally we stopped at the little shop which does stuff for cars and drivers licenses etc. My license will expire on December 28 so I got the ball rolling to renew.
Later in the afternoon we were off to Perugia to have an adjustment done on Luther's new hearing aids. They do seem to help. It is bad enough when you can't hear well, but not hearing well in a foreign language sure doesn't help with comprehension! We drove back along the E45 super strada. Bad traffic jams. Rain and dusk and road construction didn't help. After we broke free we admired the trucks as they approached us on the other side of the highway. Some of them are amazing with all kinds of lights. A lot have lights in green red and white of the Italian flag. Many have the drivers name in neon lights in the front window. We oohed and ahhed. Luther said it was like looking at Christmas lights! Hah! It was!
~~~~~~~
Now for the BIG news…we got our closing date on the new house. January 23. A little longer away than we thought but it will work out ok. Now at least we can DO some things to prepare. We contacted the moving company and they gave us dates of 23-25 January to pack and move us. I decided I cannot pack the entire house myself. They will pack for us but it is an extra cost. So we opted for that and now I will stop packing. I sent out a request to reserve a place for us to stay for a couple days during the actual move. Someplace to take the cats where they will be out of the way and safe. And we need to order two beds and a mattress from our old friend Mr. Tiziano. We bought quite a bit of stuff from him when we moved here in 2014. If we've got beds, then at least we'll have a place to sleep. It feels better that I can start working now!
~~~~~~~
They put the lights in the Christmas tree on Monday. Now it awaits it's grand lighting ceremony tomorrow on L'Immacolata.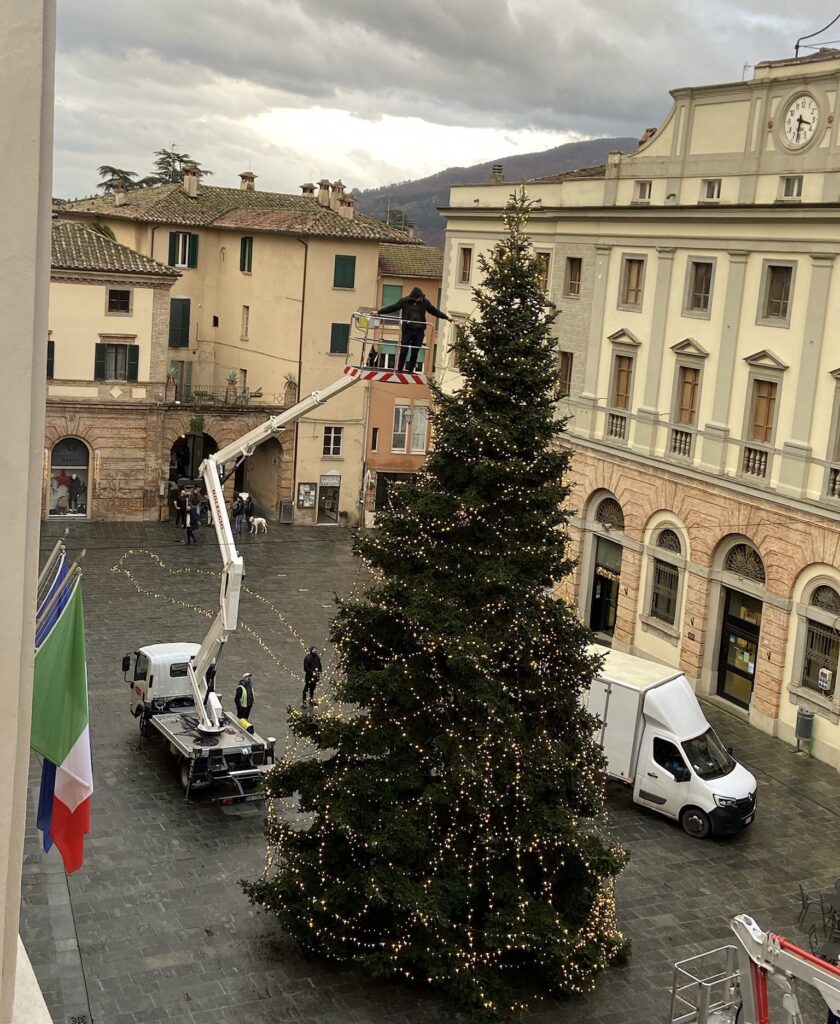 Lunch today was my old friend Zuppa di Cicerchie . You may remember this pea from previous posts. Here is what Wikipedia says about it: "Lathyrus sativus, also known as grass pea, cicerchia, blue sweet pea, chickling pea, chickling vetch, Indian pea, white pea and white vetch, is a legume commonly grown for human consumption and livestock feed in Asia and East Africa."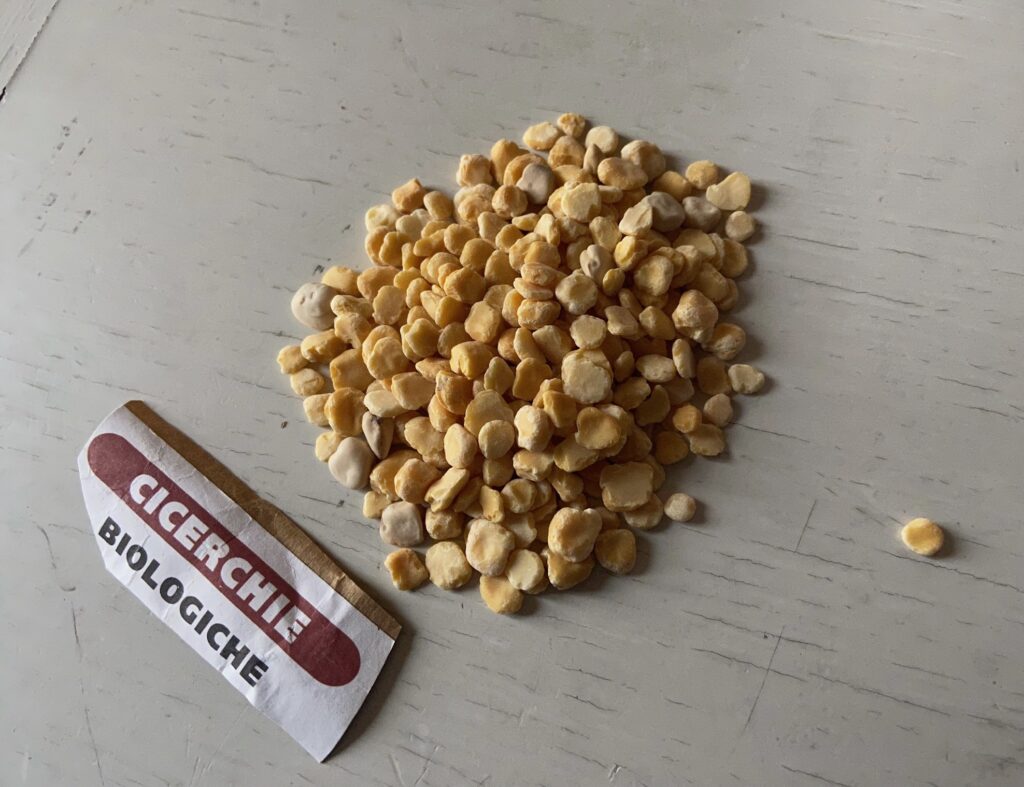 Who knows how it came to Italy. It is common in the central Italian areas of Tuscany and Umbria, parts of Lazio and Abruzzo and the Marche. It fed the poor when nothing else was available. It is essential that it be soaked for at least 24 hours and the water be changed several times. It removes the toxins in the grain. It does make a delicious winter soup!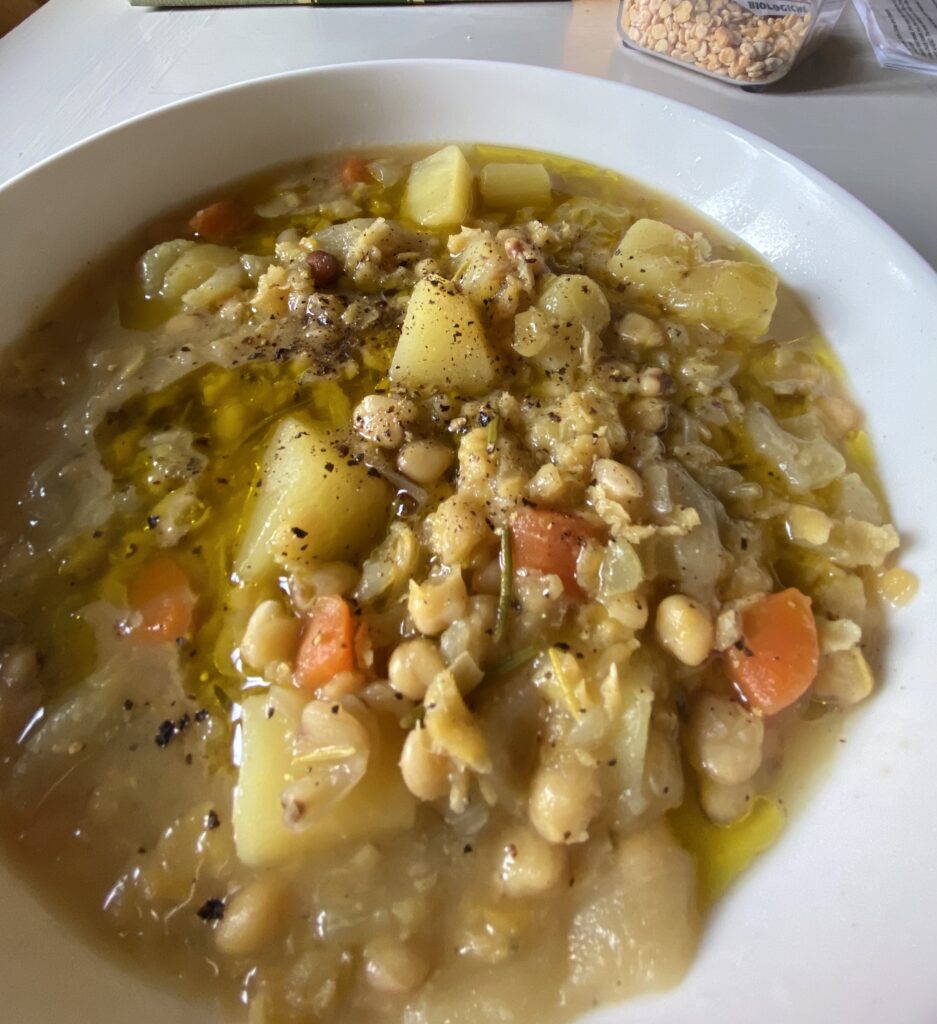 Alla prossima! 💚💚