One of the things I see most discussed among people who aspire to move to Italy, is Visas. I showcase the different types in my page So You've Decided to Move to Italy. The latest news is about Italy's recent adoption of the Digital Nomad Visa. The final requirements aren't ironed out but this is my updated write-up of what's known now.
Digital Nomad: (DNV) At the end of March 2022 Italy passed a bill allowing Digital Nomad visas. This is for highly skilled professionals who will work in Italy for themselves or remotely for a non-Italian company.  The Visa will be good for one year with the possibility of extending for one more. As of this writing the requirements have not been firmed up. What I read though, is that the individual consulates will have major discretionary powers, as to whether they issue or don't issue a DNV. The applications will need to be completely bulletproof like those for the Elective Residency Visa. It may require the official recognition of one's professional qualifications. An applicant may need to show an advanced degree, proof of operating in the field (probably for several years) for which they want to apply for the DNV, a tax return from their home country, and health insurance. It has already been announced that they will need to be completely tax compliant in Italy, so applicants are advised they should consult a tax expert in Italy, if they want to apply for this visa.
I will update this as I learn more. It seems many people think they can move anywhere with no real limitations. But people should ask themselves, would the US let just anyone in with no limitations or requirements? I think not. And it works the same for all countries. You need to get the proper permissions.
Even after nearly eight years here we also have to continue our responsibility to update/renew our permissions to continue living here. As some of you know, we are working to get our permanent residence permit. We have two new, required documents to obtain that the Questura has asked for. The first one is the Certificato d'abilita'. We had already gotten our apartment assessed by our Geometra last year. We mistakenly thought this was what was needed for the long term permit, but it was not. Turns out the steps to get the certificato were many. First we had to buy a Marca da bollo at the Tabaccharia for €16.00. Then we had to make an appointment at the bank in the Piazza (not our bank) and pay a fee at the teller. Then the form had to be returned to the Comune this time to the Protocol office. They told us we had to get ANOTHER Marca da Bollo, then return to the very first guy who would issue the certificato. I am happy to say, last Friday, we got it! Who says things are hard to get done in Italy! 😁
We are now halfway there! We must wait until June so we can file our taxes for this year. Then we can provide the requested tax form. I sure hope after all this we get the cards! Piano, piano…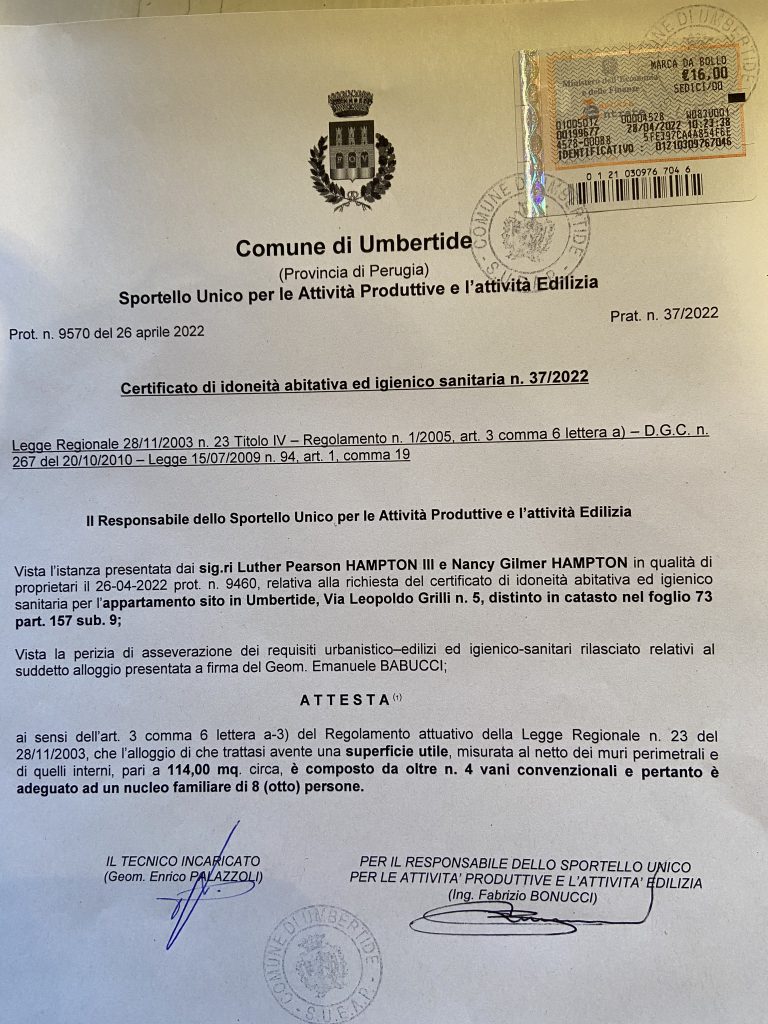 As a reward we treated ourselves to the seasons first Spritz!