Our Christmas was special in so many ways. Although we were alone, physically, we had several wonderful FaceTime or Facebook calls with friends and family.

First call was from good friends in Florida. It was really nice to see their smiling faces and catch up.

Then my sister called. The ability to chat with her happily and without constraints is liberating. Like we are actually together. Not as good as being there, but pretty good.

Then a call from Luther's family. Oh my! This made my day. This family is special to us. We don't have children so seeing the nieces and nephew and Luther's brother and his wife, Anne made us happy. We love those kids! So much happening with them. We miss out on all that. Rachel and her husband Alex. Rachel is a nurse at Johns Hopkins on the Covid wards. Dave and his wife, Shira who is "roundly pregnant". I love that descriptor! She is due to give birth to our grand nephew, Daniel, in late January. And Sarah, the youngest and a free spirit. 🙂 It was happy-making for us to see them all and catch up. They were all coming last year to see us but Covid nixed that. Maybe this coming year they can come…but even if they all cannot, I hope Rachel can come for some much needed RnR from the sadnesses she must have seen. If anything can help her heal…Italy can 🥰. The good news is, she is changing jobs in the hospital and will no longer be working on the front lines. And she will have regular hours. She is also getting her Covid vaccination next week..yay!
~~~~~~~
Christmas dinner. Peking duck. Spectacular fail! I cooked it using a recipe I've used before. But this time the meat was pretty desiccated. I was able to salvage enough from the underside of the duck for our dinner. The pancakes I made were pretty good. I made the hoisin sauce which was nice and spicy. Here is one of our pancakes. So, although the duck was mostly a loss, our Christmas dinner was good enough. Win some, lose some!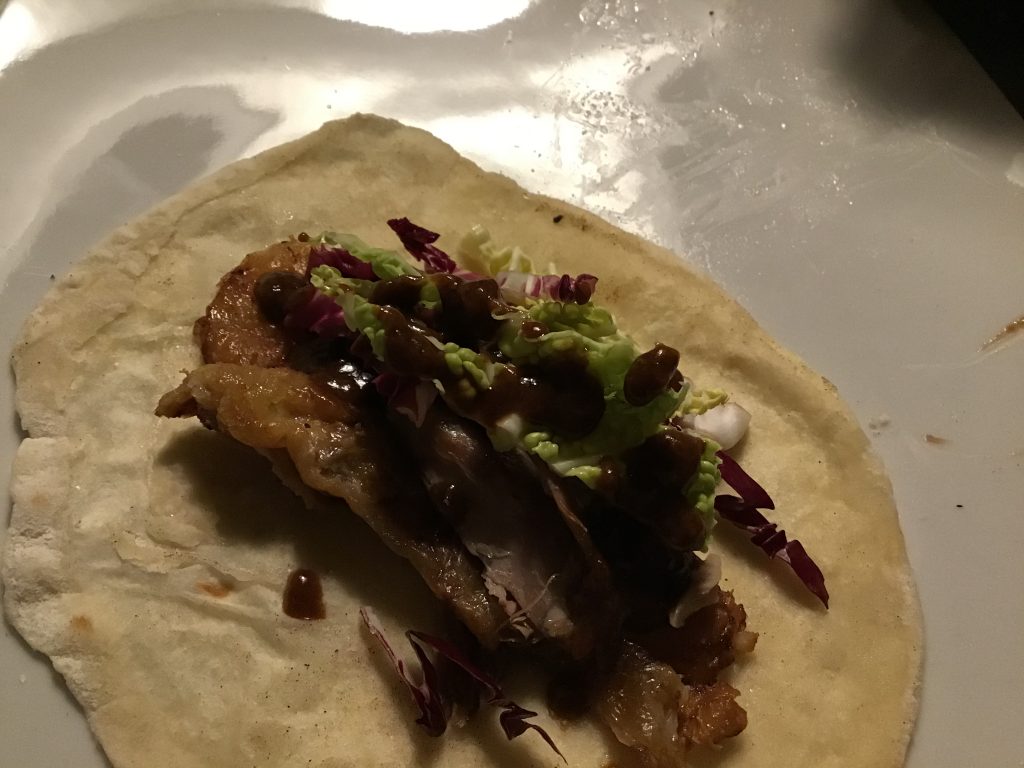 Stay safe everyone…andrà tutto bene….🌈