We were fairly busy with fun things this weekend. It was one of the prettiest, weather wise, I've ever seen. I guess the temperatures were in the 80s. There was a beautiful breeze. The sky was brilliant blue with puffy clouds moving across, creating an ever changing vista. I don't care what you were doing, the weather this weekend would make it better. Even chores! I was happy to be alive and free enough to visit friends in person. We ate outside at both places and tried to socially distance.
We were invited to pranzo at our friends Stuart and Jill. They are such nice folks. They live in a place that is a bit hard to reach. They don't think they are remote at all, but to us city mice, it is! Once you get there it is a piece of heaven. Up high on a hill with views of the rugged mountains and a distant hill town. It was a ruin when they bought it but now it is an amazing home. If I were making a house, this would be it. The flower pictures in my blog were mostly from their garden. It is their favorite pastime. It must be a lot of work. We sat outside under the retracting tende di sole, in the shade, facing the view. We had tomato bruschetta and crispy garlic toasts as nibbles. Then we had bowls of a cool gazpacho soup. Next a roulade with cheese and veg inside and a small salad with home grown beans and potatoes. Dessert was an apricot tart with a cheese plate and watermelon. Very nice and perfect summer lunch. Thanks Jill and Stuart. My only regret is that I didn't take a picture!
~~~~~~~~

Sunday we were invited to another lunch. This time on a different mountain overlooking Lago Trasimeno. It is the biggest lake on the peninsula of the "boot". We were guests of Oley and Krystyna who live in Colorado. They also have a home in Puerto Rico. They had gotten trapped in Puerto Rico by the Virus and returned here only a month ago. They had to quarantine for two weeks. Also invited were Vera, Graziano, and their two girls.
We had a lovely, very long lunch. Starting at 1:00 and we left at 6:30. They had magnums of Veuve Clicquot champagne to begin. We had chips with guacamole and salsa, Stuffed mushrooms, and a vegetable plate with two dips. We got to chatting about this last thing. Something so common in the US on every party table is totally unknown here in Italy. They are confounded by it. Next we had a fish dish in the Greek style. Then a plate of beautiful stuffed peppers. They were stuffed with ground pork and sausage and rice. The main course was beautiful steaks on the grill with potatoes and salad. Last, profiteroles and a Tokay slightly sweet dessert wine and grappa. We had several lovely red wines from Umbria and Tuscany. We sat outside under a rattan roof surrounded by roses on trellises and watched the clouds pass over the lake across the infinity pool . They have hundreds of lavenders planted and the scent was beautiful. Another little piece of heaven and we had a nice time. Thank you Oley and Krystyna.

This time I did take pictures. The first three are of the view across the lake. The last is the table.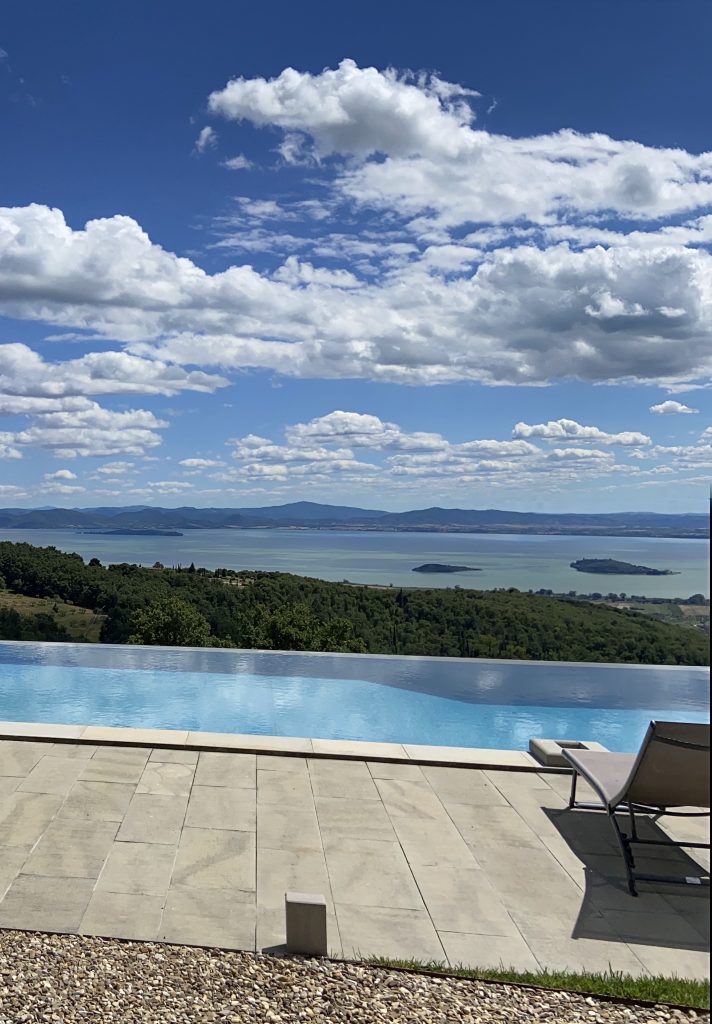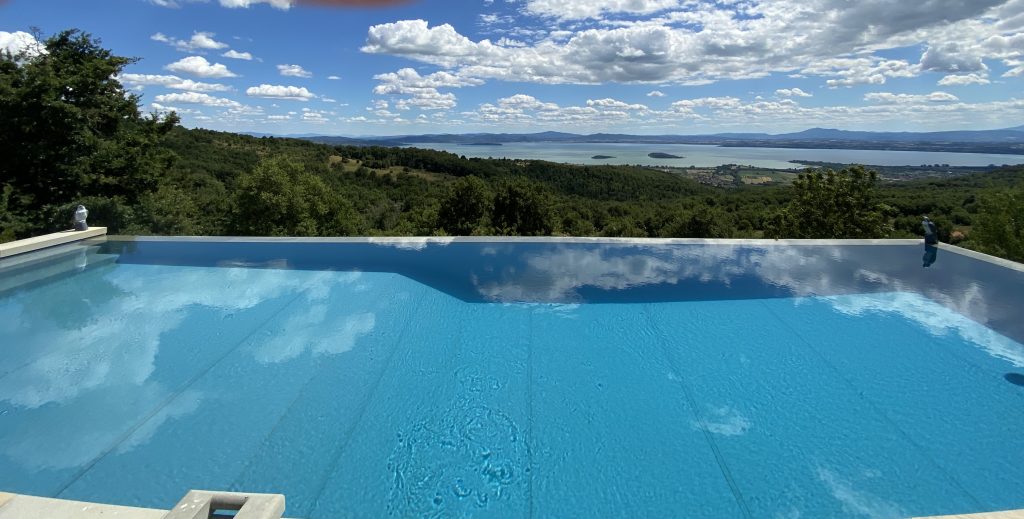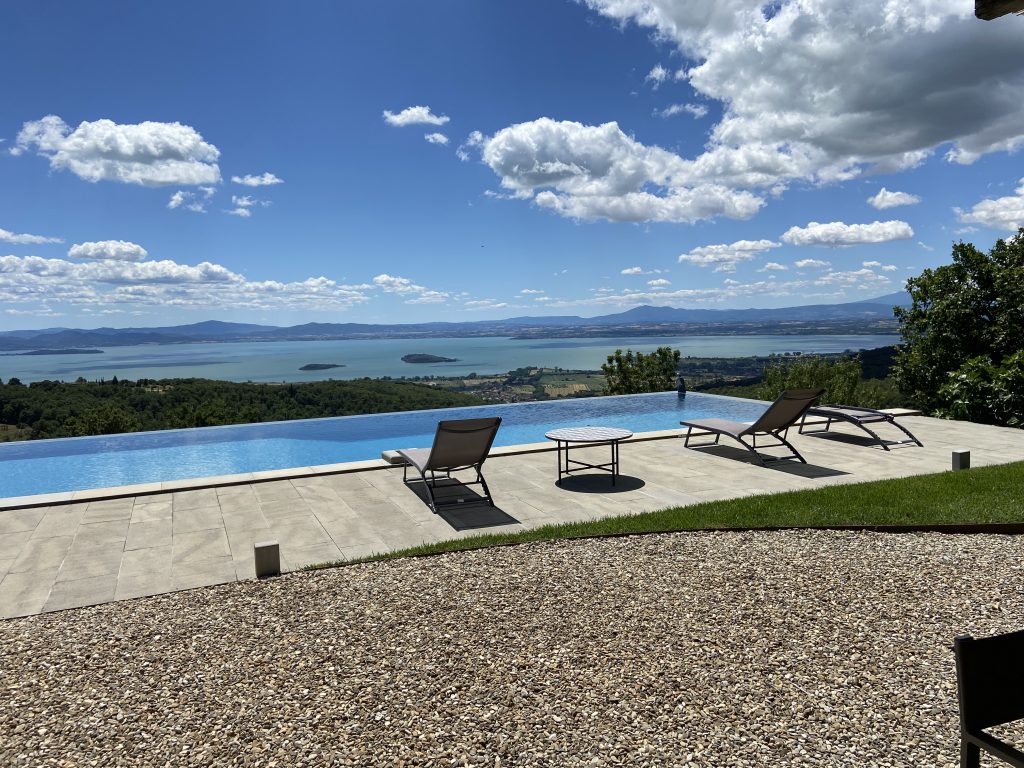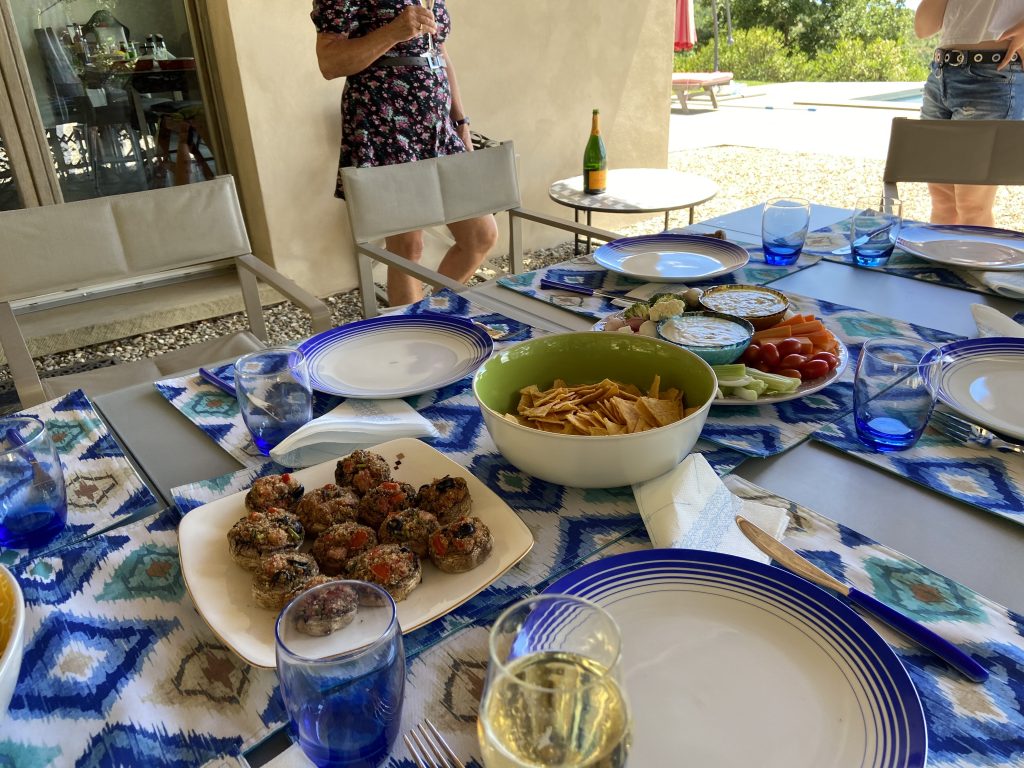 ~~~~~~~
I'm watching the scary numbers in the US . The virus seems to be exploding! Please stay home and safe everyone 🌈.