Here's a picture of the new stufa. A pellet burning stove. Should keep it nice and toasty inside. So far, four days in, it is super efficient. Much more efficient than our old stove, and it is completely silent. This was very important to me. Happy with it.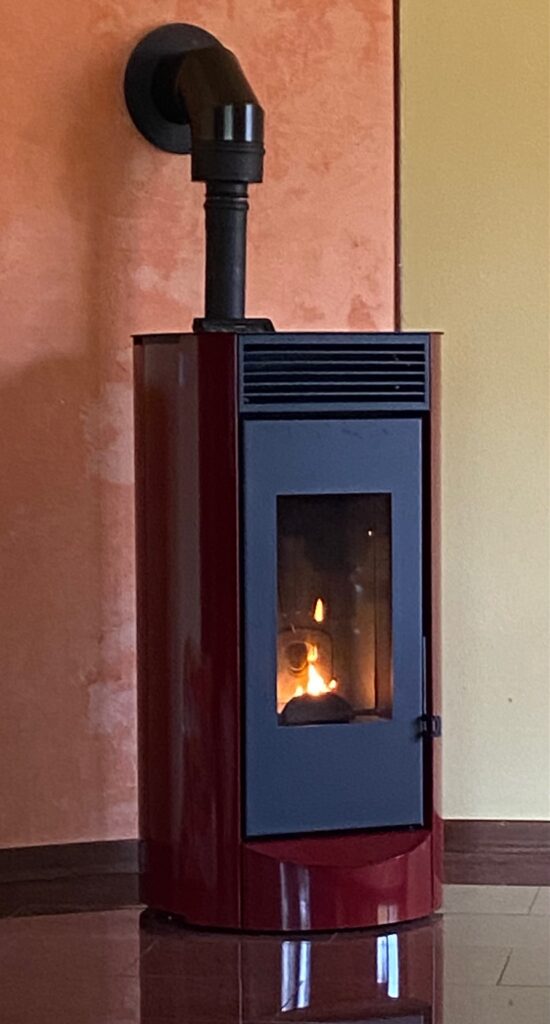 Even though we are dealing with all these details to get ourselves moved we still have to deal with other things we need to get done. One was to get our VeeDub serviced and the bi-annual inspection done. This we accomplished this week.
Our house has two garages but one is still in use by our sellers, until the end of March. It is the larger garage and easier to park in. Right now we have a smaller garage without a straight shot into it. But between me driving, and Luther directing we are getting the hang of it.
I also drove the 20 miles north to Sansepolcro to get my hair cut. I feel I have put myself on the back burner and my hair was a real mess. So I got it cut. It feels great to get it done.
Today, Saturday, is market day. We had a few things to get done, first we went to the stufa seller and paid for the stove. Then we drove to the Centro to get the two bags of pellets we had left there. I also got my cleaning supplies I had left. Then we parked. I had some things to donate to books for dogs which I dropped off. Next we went to see Angelo in his Alimentari. We bought a few necessities and went to the market in the piazza. I got ingredients for another soup. Finally I visited the farmacia and Luther went and got his haircut appointment. We got much done. But I really miss having all that within steps of my home. 😥
Once home I made a soup for my/our lunches. I got bietola at the market so I made the cannellini soup with bietola in the instant pot. (Recipe) Worked out fine.
At 2pm our potential house painter, Luca, was coming with a preventivo (estimate). It was eyewateringly expensive. But this house is really big so I guess it wasn't unexpected. We are going with him and he will be our roommate for the foreseeable future I am sure. I like him and he came highly recommended by a good friend.
Tonight I tried pasta in the instant pot. I tell ya, we'd be toast without this pot. We went last night to the Indian takeaway and the Piadina we got was, to me, inedible. The food in the rosticcerie down stairs is much the same. Keeping us fed is up to the Instant pot. There are other rosticcerie so maybe we will try them next week.
Tomorrow, Sunday, we are going to the first Calagrana lunch of the 2023 season with three friends. Something to look forward to.