Luther subscribes to Doctor Wine, an Italian wine and food site. Often I will find, in my inbox, a recipe he has forwarded that he has decided I should make. Every now and then I decide to make one and yesterday I did. This one was called Busiate al pesto di pistacchio e salmone affumicato or Pasta with pistachio pesto and smoked salmon.
Busiate is a fat long shaped pasta. It is made by wrapping maccheroni around a stem of a plant called Busa which grows in Sicily. This makes it a long twist of pasta. The pasta is a special shape from Trapani province on the west coast. It is traditionally served with a pesto made of almonds, pecorino cheese, garlic and olive oil.
I didn't have Busiate so I used a fat spaghetti noodle. I have since found I can get the Busiate from Eataly. I will probably order some. Here's the finished product. It was very tasty.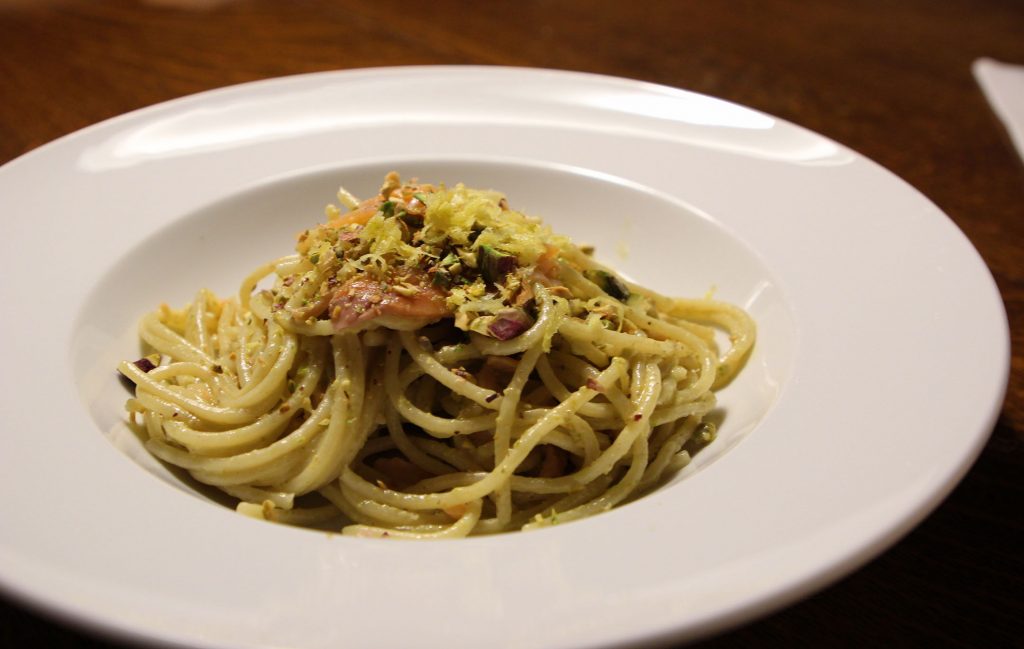 If anyone wants to try it the recipe is in the pull down menu [Recipes] at the top of the page. Also at the bottom of this page.
~~~~~~
Italian sentence for today. "Ho mangiato bene!" In English, "I have eaten well!". Pronounced — oh man-gee-ah-toe ben-ay! You can say this after you've eaten in a restaurant and it will make them happy.🙂
~~~~~~
Stay safe all my friends! 🌈
Busiate con pesto di pistacchi e salmone affumicato
Serves 2
250 grams Busiate or fat spaghetti (about 8 ounces)
200 grams pistachios shelled and peeled (7 ounces)
50 grams olive oil (1/4 cup)
Salt
100 grams smoked salmon (3.5 ounces)
50 grams pistachios chopped (1.75 ounces)
1 teaspoon grated lemon peel
Olive oil
~~~~~~~~~~
Blend the pistachios with extra virgin olive oil and a little tepid water to obtain a soft cream. Adjust the salt. (I used an immersion blender to make the pesto.) Set aside.
Chop the smoked salmon, leaving 2 whole slices aside for decoration. Set aside.
Cook pasta in abundant, well salted water. Cook until barely al dente. Save a cup of the pasta water and put the drained pasta in a big roomy pan. Add pesto and chopped salmon. Toss over heat, adding some pasta water (not too much at first) to make a nice sauce in which to finish cooking the pasta. Add more water as necessary. When the water is absorbed and the sauce looks creamy, serve with the decorative salmon strips, the chopped pistachios and the grated lemon peel on top. Garnish with good olive oil.