Today, Saturday, dawned gray but cleared by midday after rain all night. Last night the young people partied into the night at Cafe Centrale. The rain made them pack into the cafe. Maskless. I guess we wait a week or two to see if we get spikes in the virus.
I had errands. First, we visited the market where I bought fave beans, tiny zucchini, the crisp cucumbers, rucola, and fresh eggs! The last five uova! I also took some pictures. Then we paid a bill for my friend. On the way back we visited the newly opened, Carrefour supermarket for the first time. There were far too many people in there. All masked but still… I didn't feel very comfortable. The store itself is OK. Better than the old Conad but still nothing much different than all small Italian supermarkets. It does stay open all day, unlike the old Conad. We recognized all the checkout women from the old store 🙂. Finally to the farmacia. So much for our errands.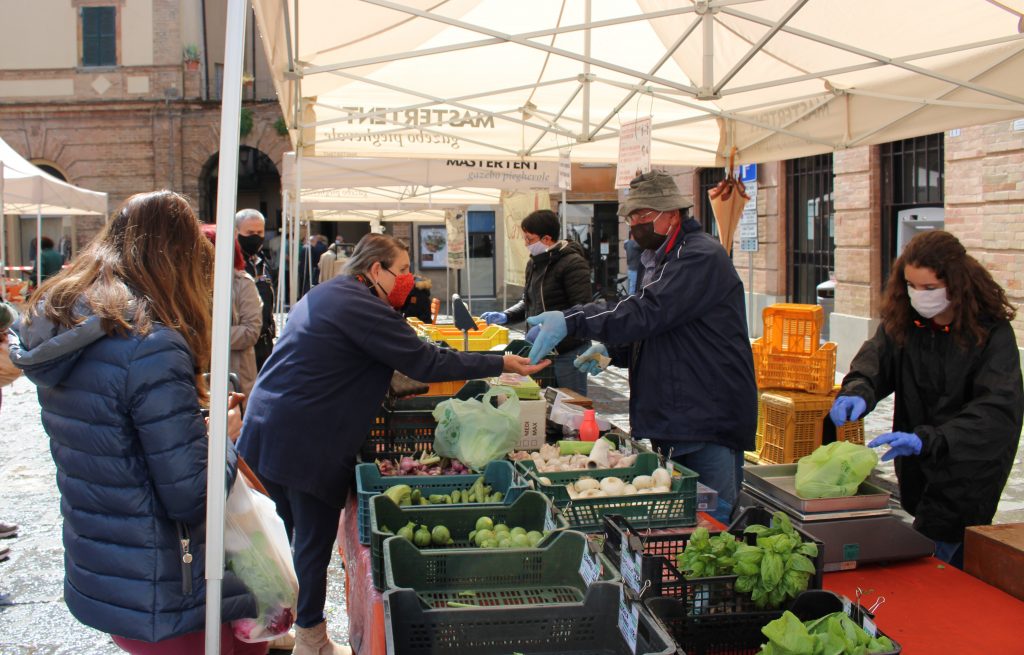 The last thing was to see if the Porsche would start after it's dead battery issues. We had received our battery charger a couple days ago and it had been hooked up and charging for a couple days. Crossing our fingers we started her up. Vroom! We took a spin. Luther added air to the tires. All is well. It is due for a servicing so that's next.
~~~~~~~
We went to Bar Mary for Aperitivo. I complemented Irene on her pretty flowered mask. She said she got it at the Tabacchi. Next thing I know she had bought me a mask…just like hers! She is so sweet. We are gemelli! Twins.
~~~~~~~~
Tonight we are having a pasta primavera. Sautéed pancetta, peas, asparagus, fave. Mmm perfect for this time of year.