FINALLY! A Trip Report! If you're not interested just ignore.
~~~~~~~
For our anniversary we decided we needed a short trip to celebrate. First trip since last September. Long, long days of lockdowns and restrictions. We decided to go to the Mediterranean coast. North of the Cinque Terre and south of Genoa. We haven't explored this area before.

We left Umbertide at eleven. It's only around a three and a half hour drive. We stopped for a picnic. They don't make that easy in Italy. They have rest stops but they seldom have a picnic area. I think we did see three places with a parcheggio and tables but two of them were too early and the one we thought was perfect was closed! So we kept going. Finally by 2PM we found a rest stop with a few picnic tables in front of a shop. We decided to just go for it. I'd brought some pasta pesto salad and some fried chicken. Can you say picnic? We also had some wine. So it all worked out.
We continued and arrived in Sestri around three. We were staying in the Hotel Vis a Vis. Way up high above the town. As always, the parking and access are ridiculous. The hotel assured us there was parking. And I guess technically there is. The drive up to the hotel was several very sharp hairpins and super steep. We negotiated it OK but, not having ever been here before we didn't know what we were headed for. We were nearly at the top and a woman waved us back. So we backed up and got out of the way…two cars cannot possibly pass each other. The woman helped her husband to get out of his parking place…no easy feat. We figured we would continue on up and we took his parking place. Luther said he didn't fancy taking the car back out so we will probably just hang around the 'hood and see what's to be seen. At least for tomorrow.

Reception checked us in and took us to our room which wasn't quite finished so we went to the rooftop bar for a drink. Beautiful space. Views to die for. I forgot my big camera but this one is from my phone. It's the view. And the bay is called the Bay of Silence. Isn't that a pretty name?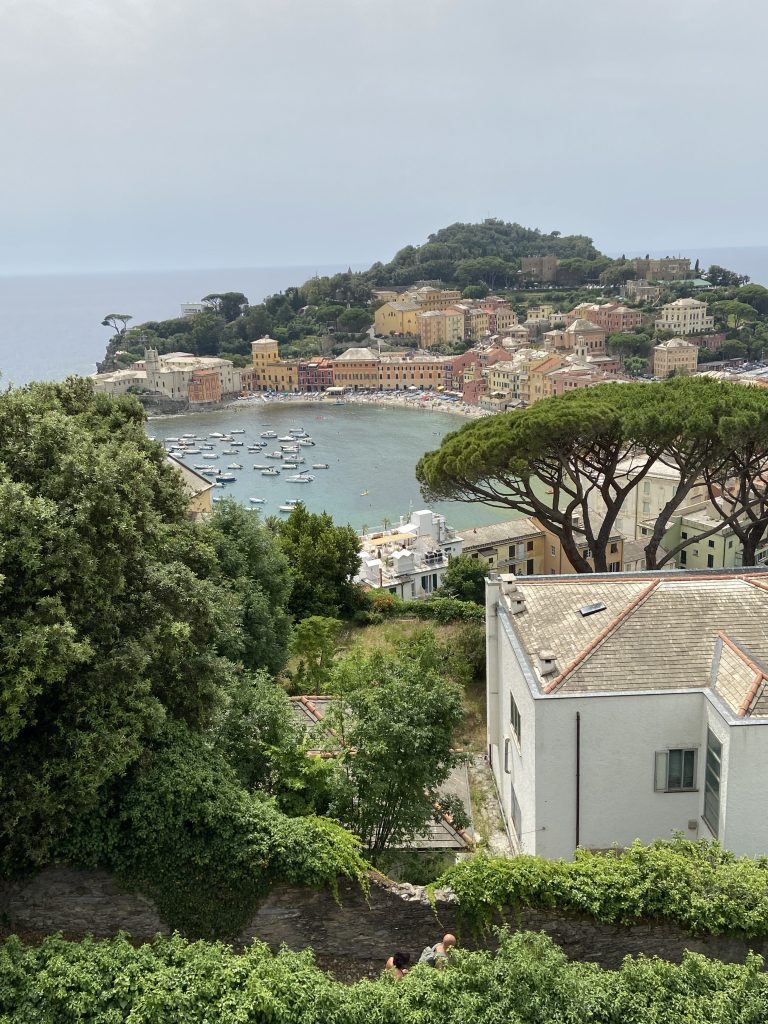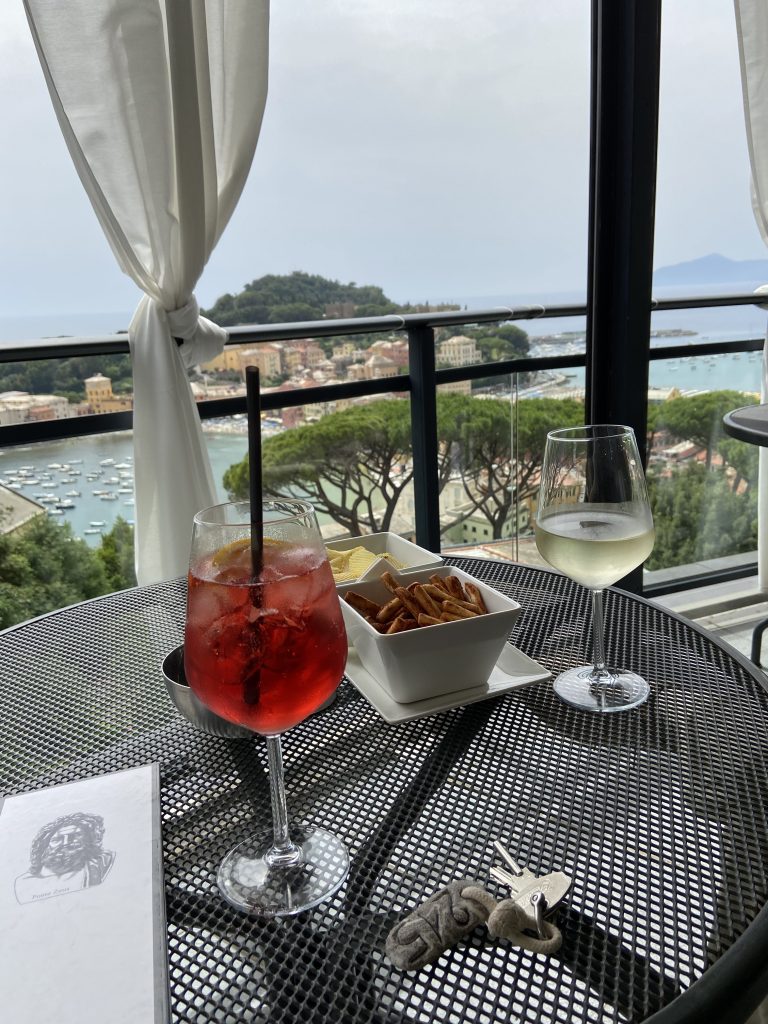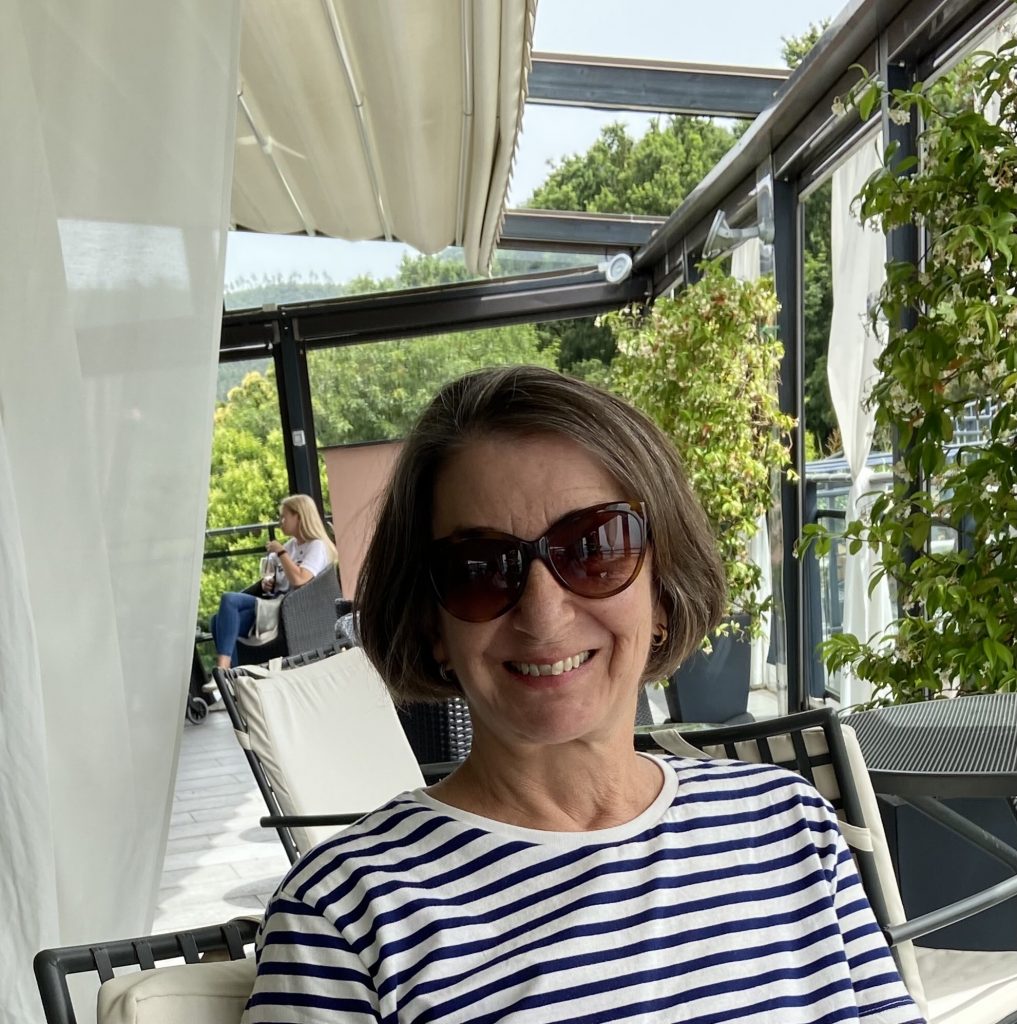 After relaxing and getting cleaned up we enjoyed the bottle of champagne and strawberries we had in our room while watching the football match — Italy/Wales…Italy won 🙂. Then we headed for dinner. The restaurant in the hotel is Olimpio. On the fourth floor with glass walls all around. Good table spacing. It was my first time eating inside a restaurant since last fall. The sunset was gorgeous.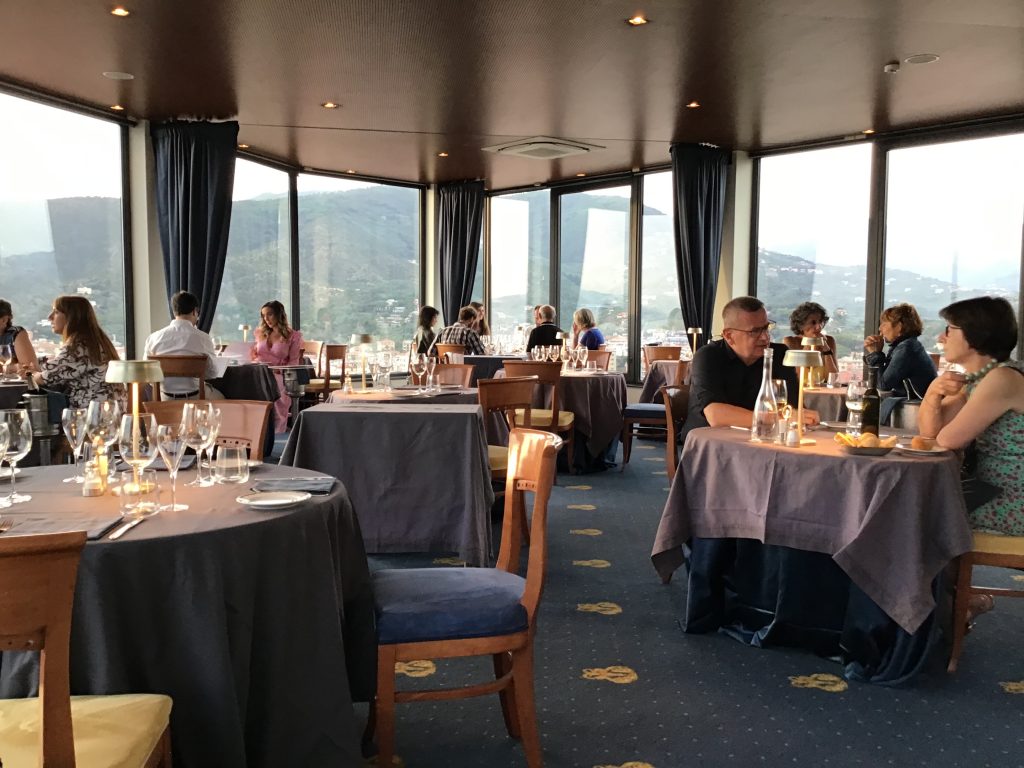 The meal was good. I had oysters again. And we split the Dorado catch of the day. It was baked in a salt crust and beautiful and tender.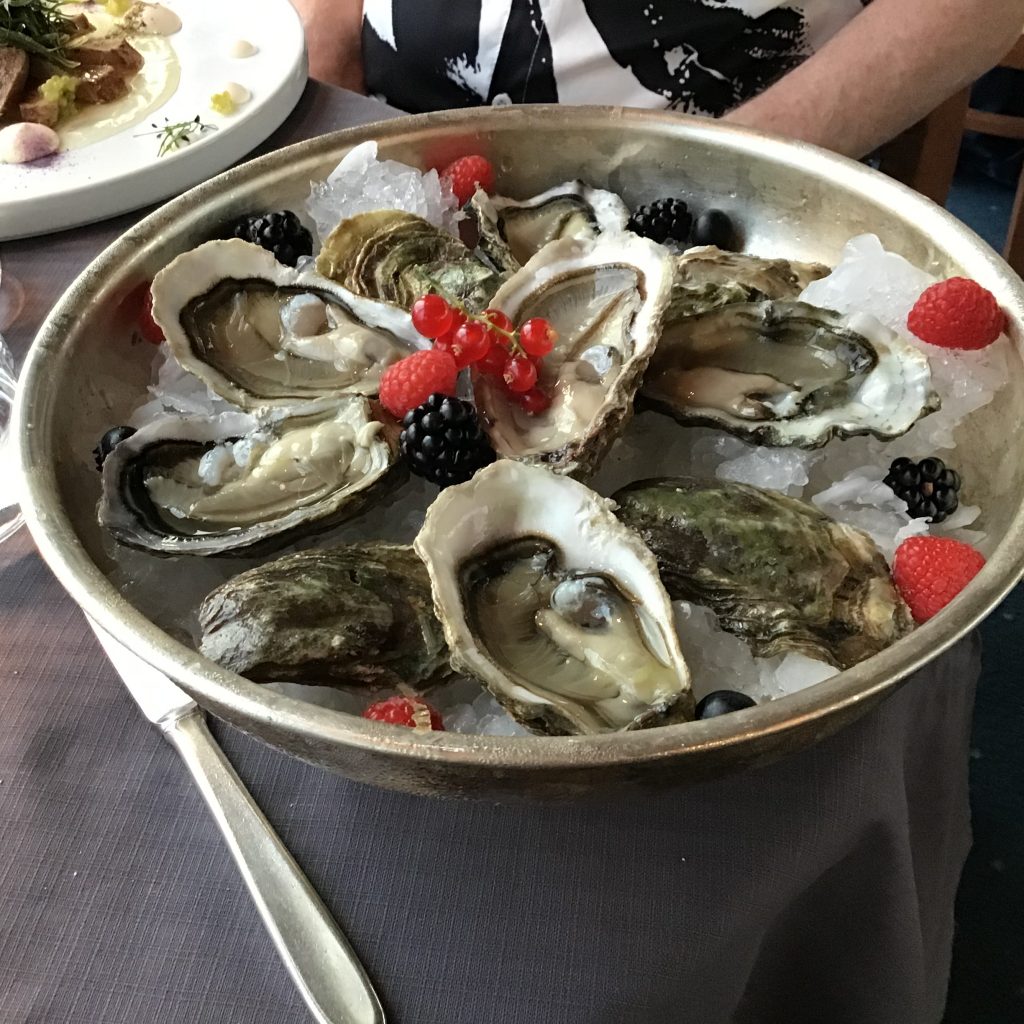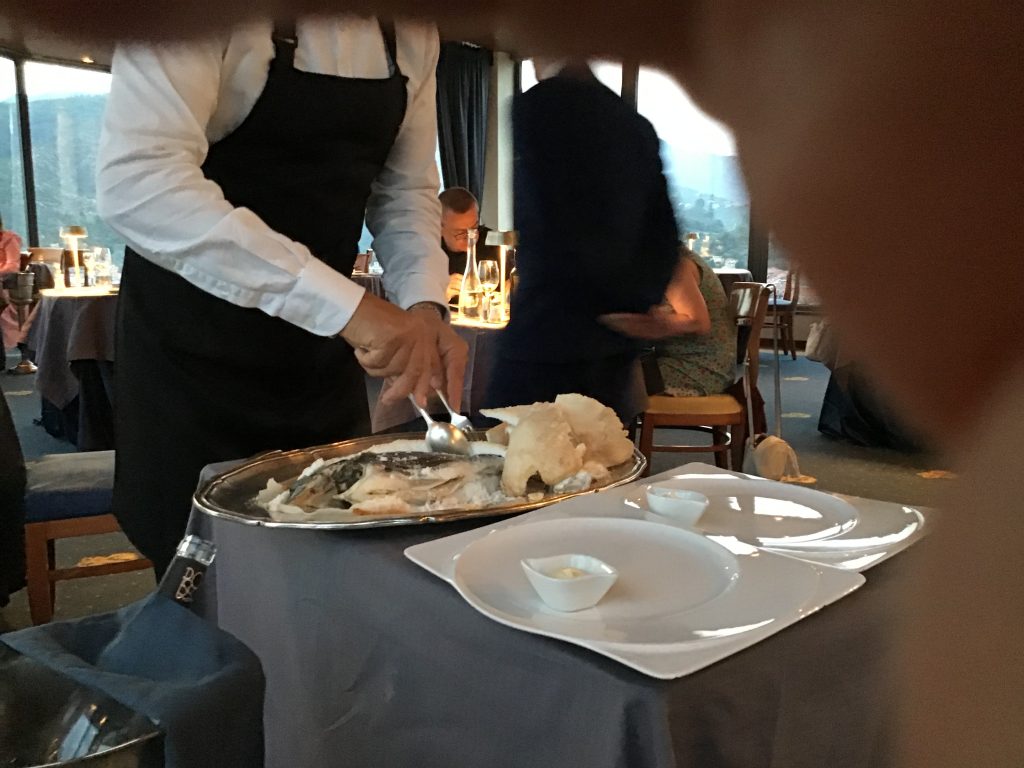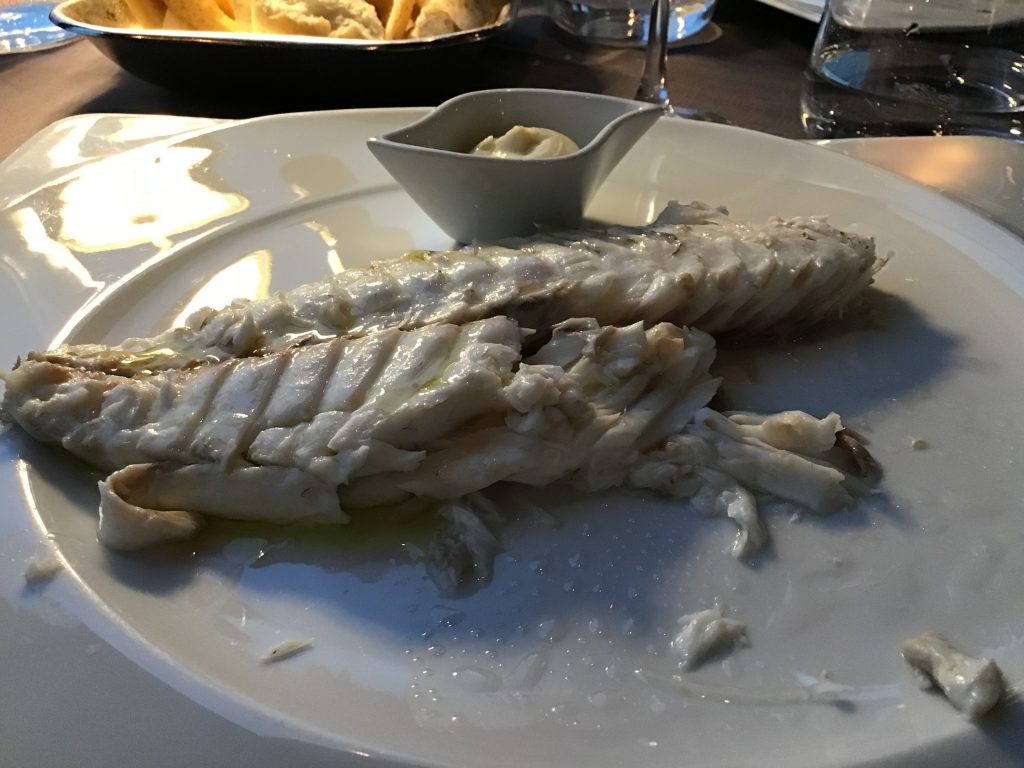 Monday
Morning and it is our actual anniversary. First to breakfast. They have it in the dining room and there is a nice outside garden space. Typical Italian breakfast with many breads and pastries, yogurts, ham and cheese. Also available were hard boiled eggs and toast and cereal. For extra money, you could get eggs anyway or a whole list of omelets.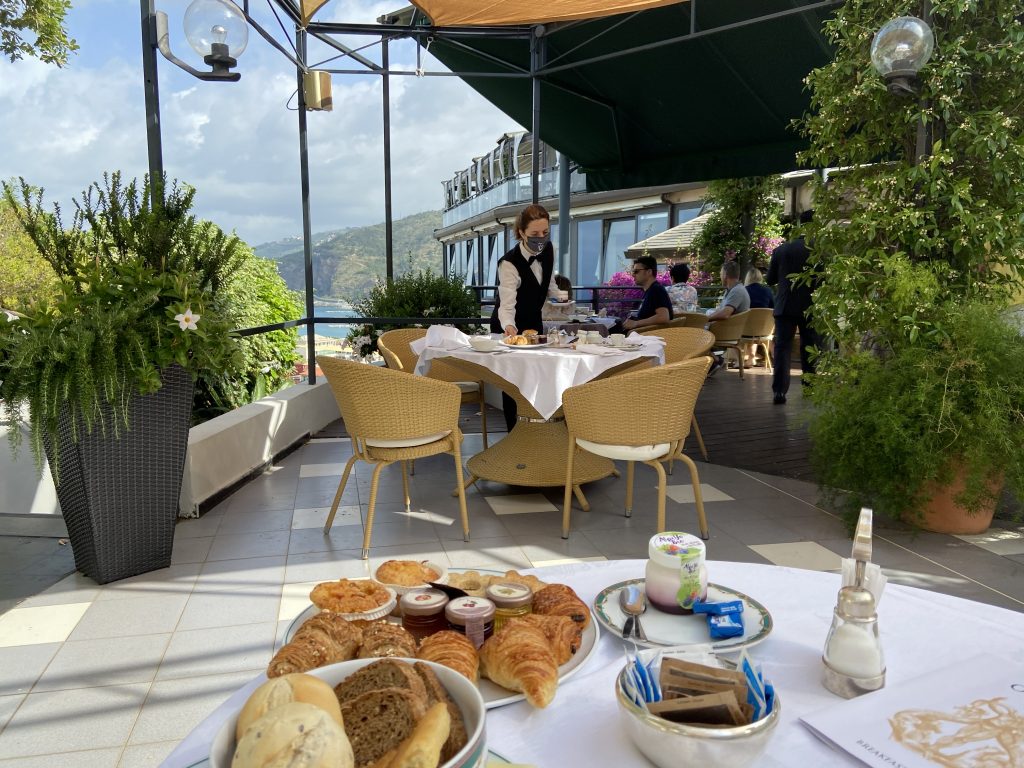 Today we planned to explore the town and do a walking tour. So by around 10am we were off. The hotel has this cool elevator that goes right down through the mountain to the street level below. Makes for easy access to the beach and the town. The first thing I noticed was the brightly painted houses. And many, many trompe l'oeil facades. This yellow house below has a flat wall. The 3-D affects are painted on. Very well done I say. If you click on the photo and look closely on the right side, I'm pretty sure that the house painter actually signed her work. There were many, many more in town painted like this.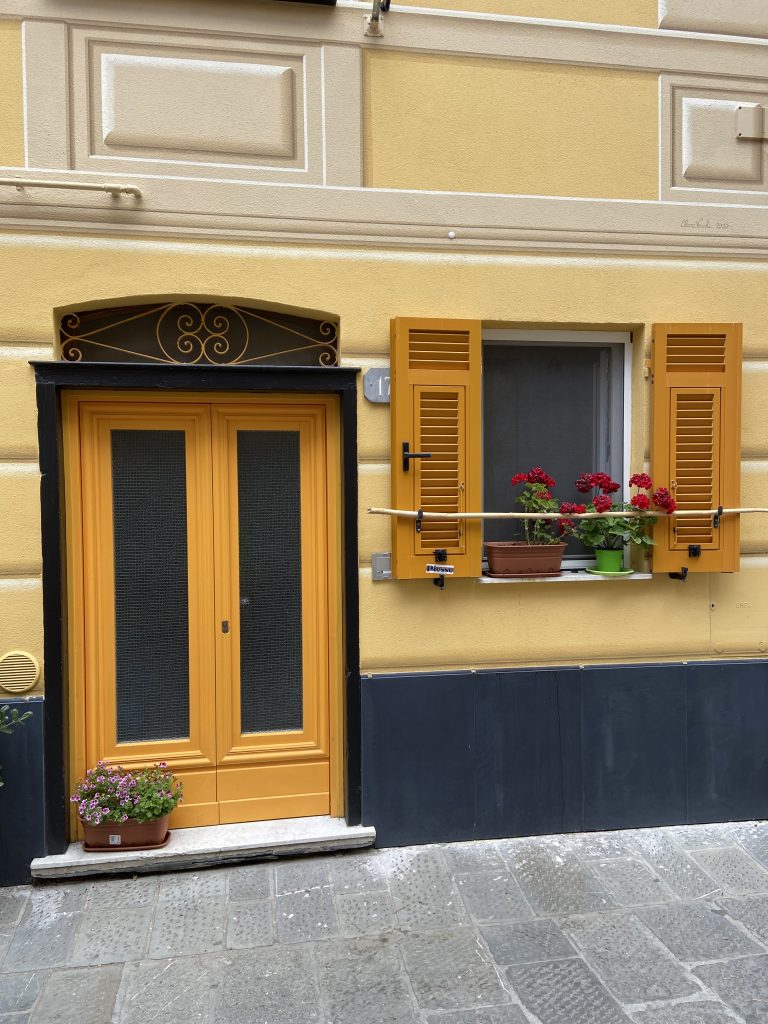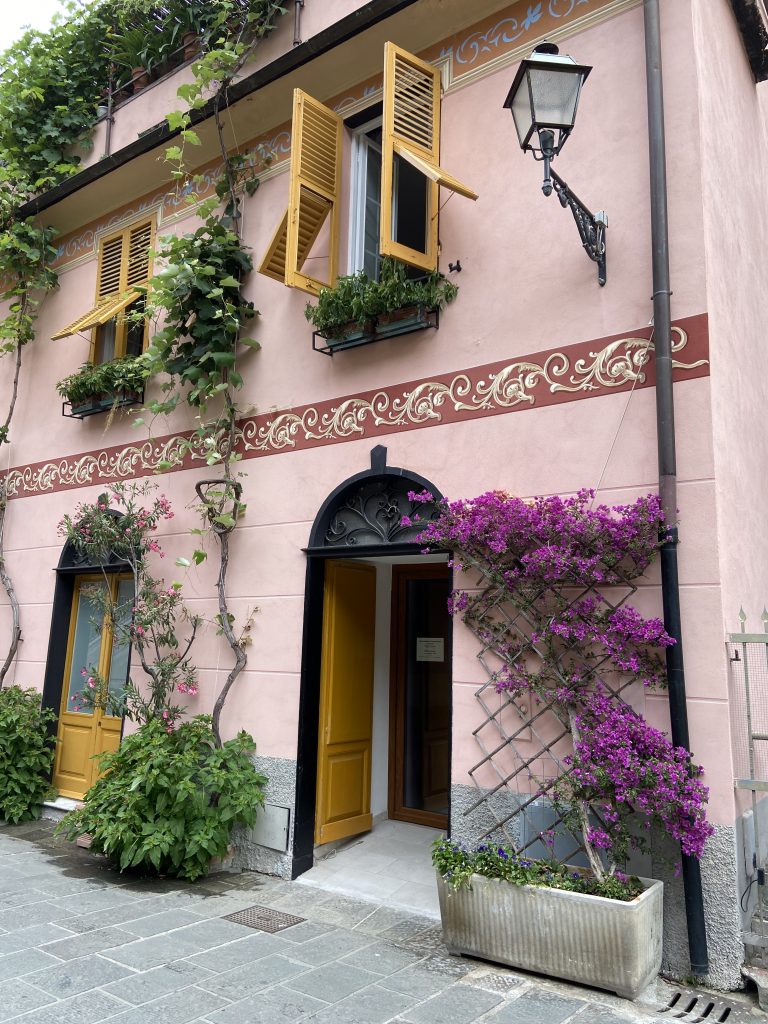 We walked down to scope out our restaurant choice for tonight. It is on the Bay of Silence, named Portobello and owned by our hotel. The bay of silence has a breakwater and is quite small.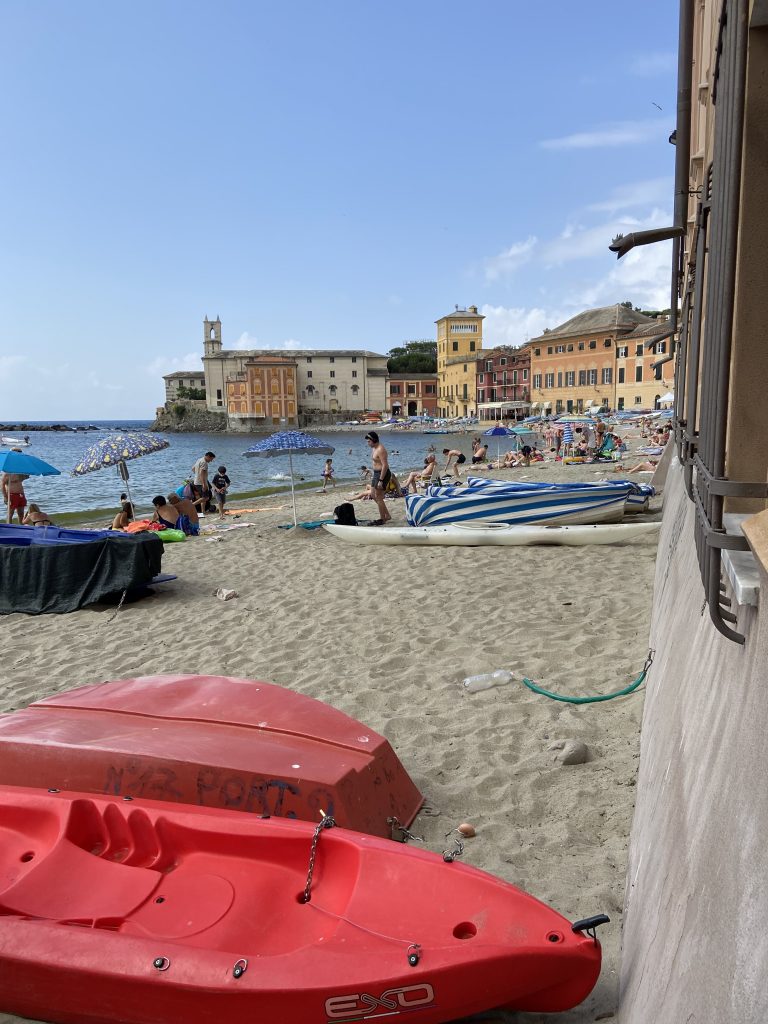 We did a lot of walking. It is pretty touristy with small streets. We stopped for refreshments. Here are some pictures.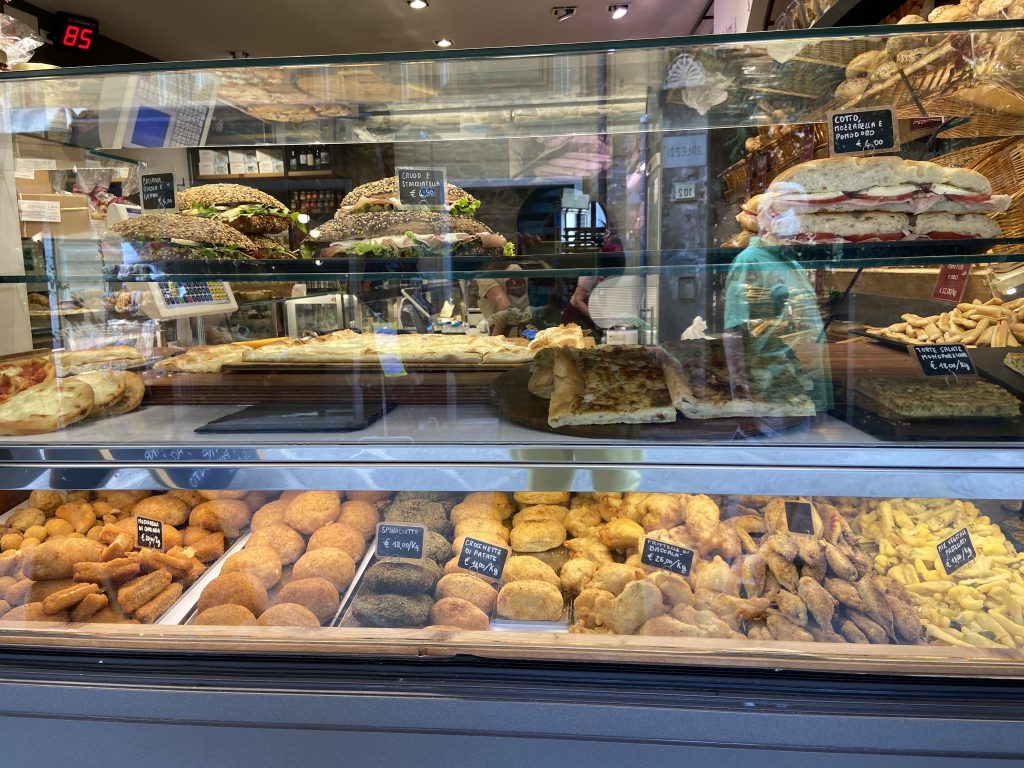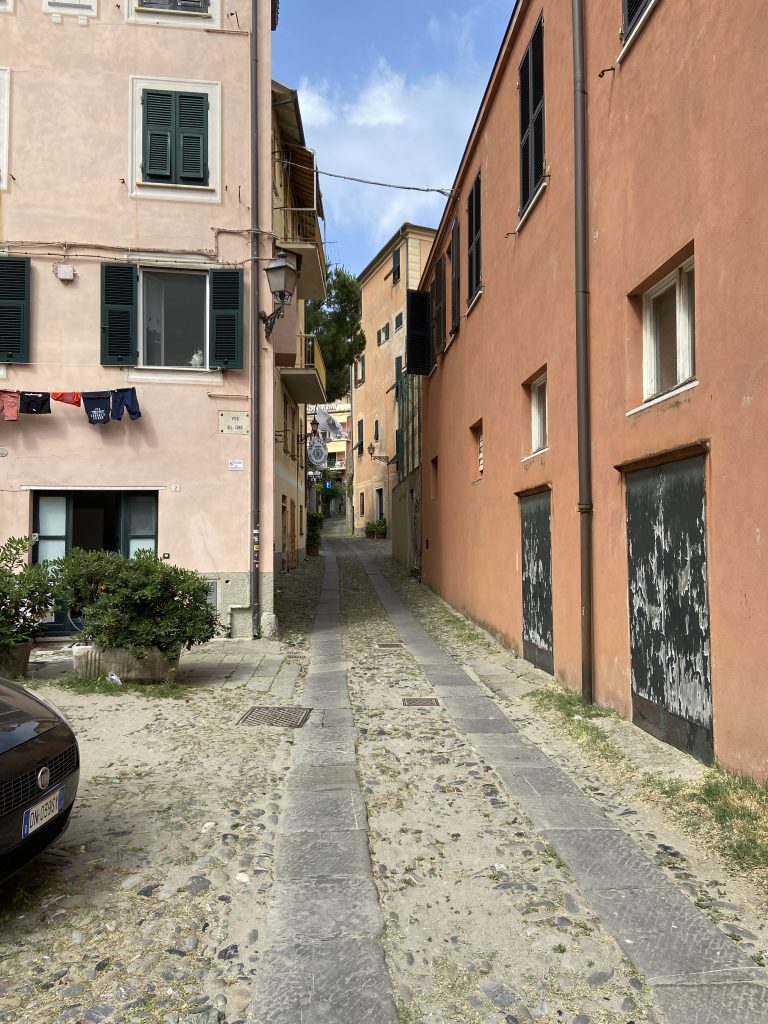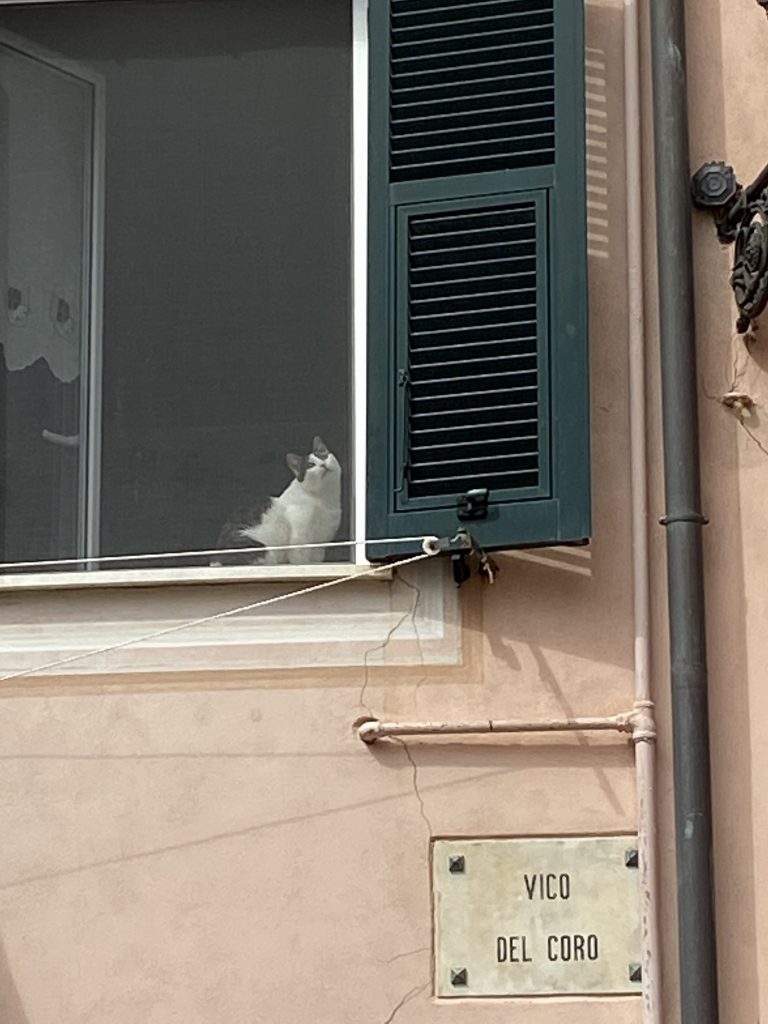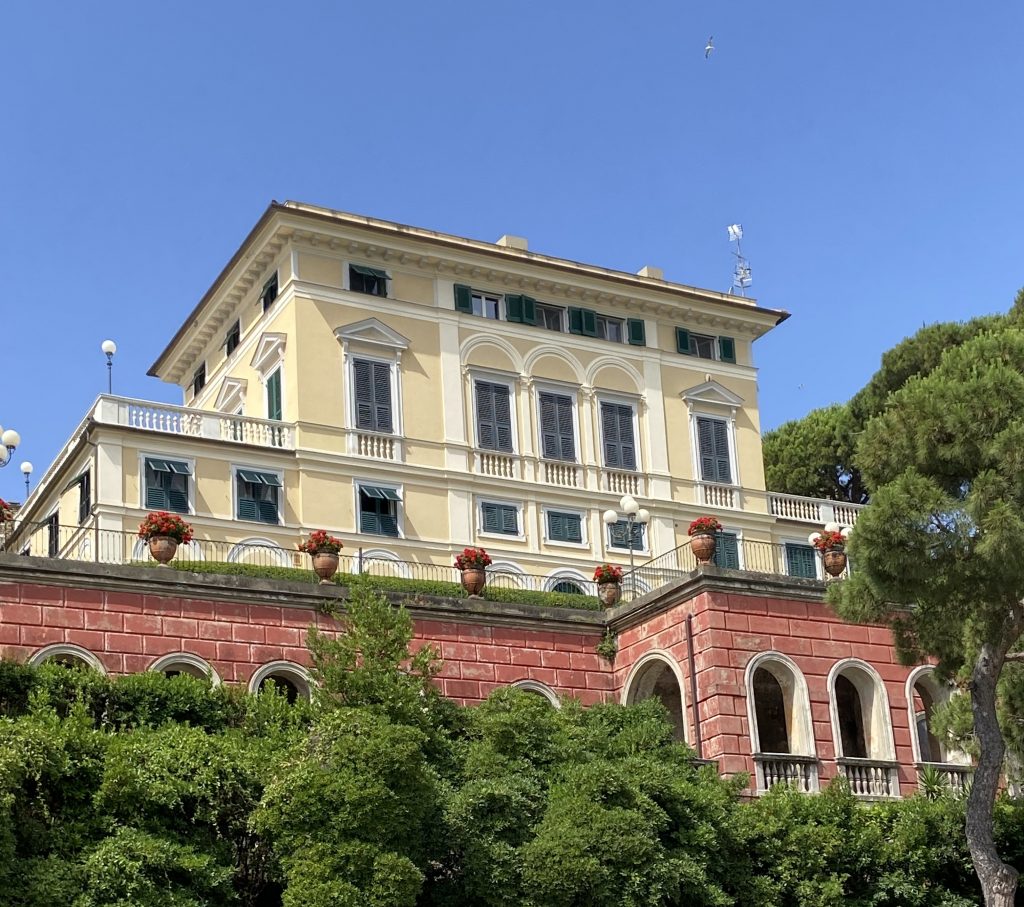 We returned and rested and cleaned up and headed for dinner. Portabella was a nice place right on the beach with much to watch. Little kids were still out playing on the beach. Adults were swimming. Boats were returning.

Liguria has very different food from our part of Italy. It is almost completely seafood based, but what is the biggest surprise is the prominent place potatoes play in so many dishes. When we were here a couple years ago I had octopus which was served atop a pile of mashed potatoes. I was surprised. But now I see it was not unusual. My pasta dish was a thin twisted pasta served with a sauce of cooked diced potatoes, green beans and pesto. Of course, everyone knows pesto was invented in Genoa so I had to try it. It was a strange dish. But very good! Luther got stuffed anchovies. They also use a lot of olives and tomatoes in their dishes so it had that. For his main meal he had a seafood dish with a prawn, mussels, a scallop, and a little tower of fish, potatoes and other things. I had a filet of Ombrina. They called it Croaker in English but it sure wasn't anything like the Croaker I've had in Virginia. Very dense and thick white fish. I finished with a scoop of sorbet. A nice anniversary dinner.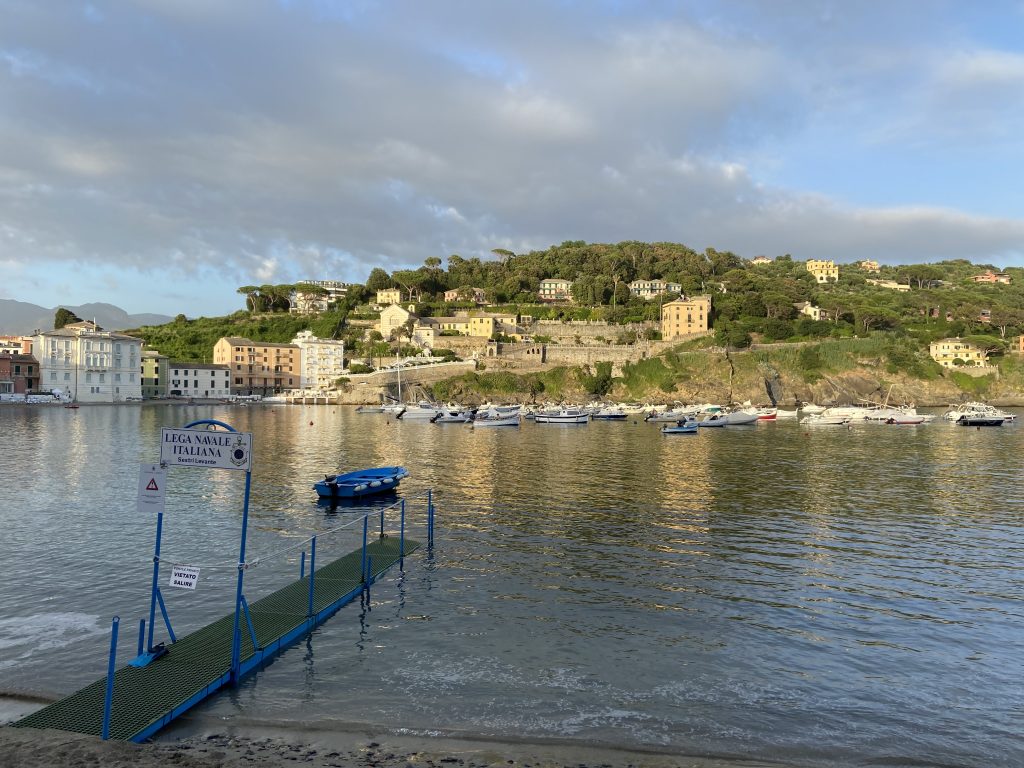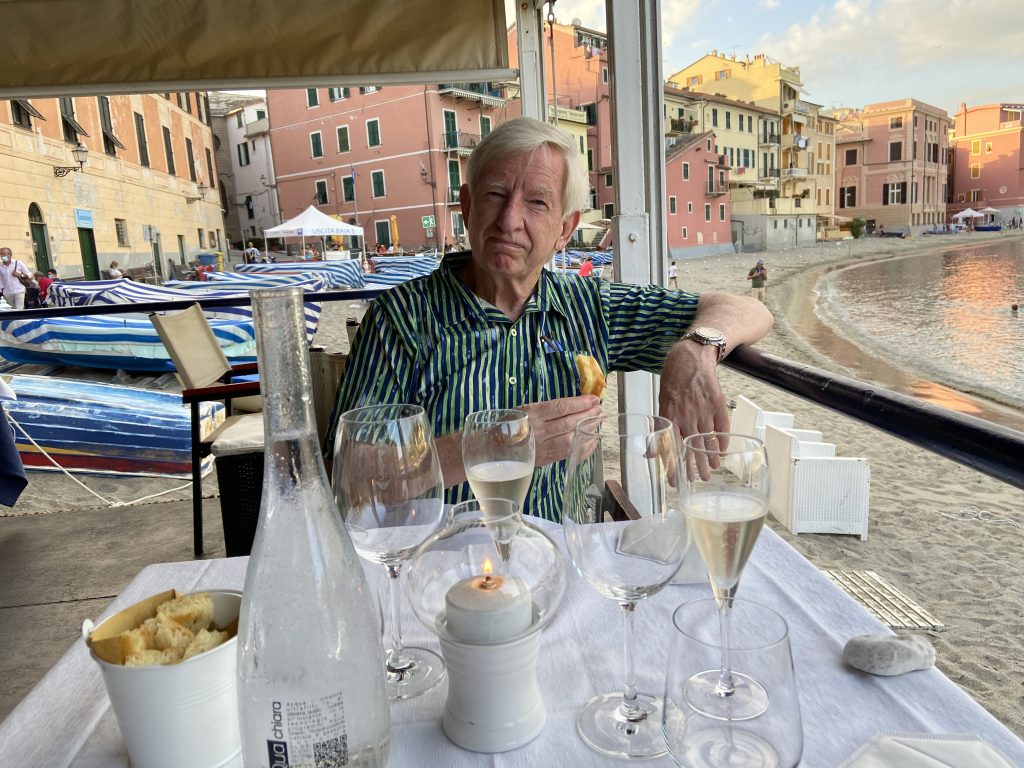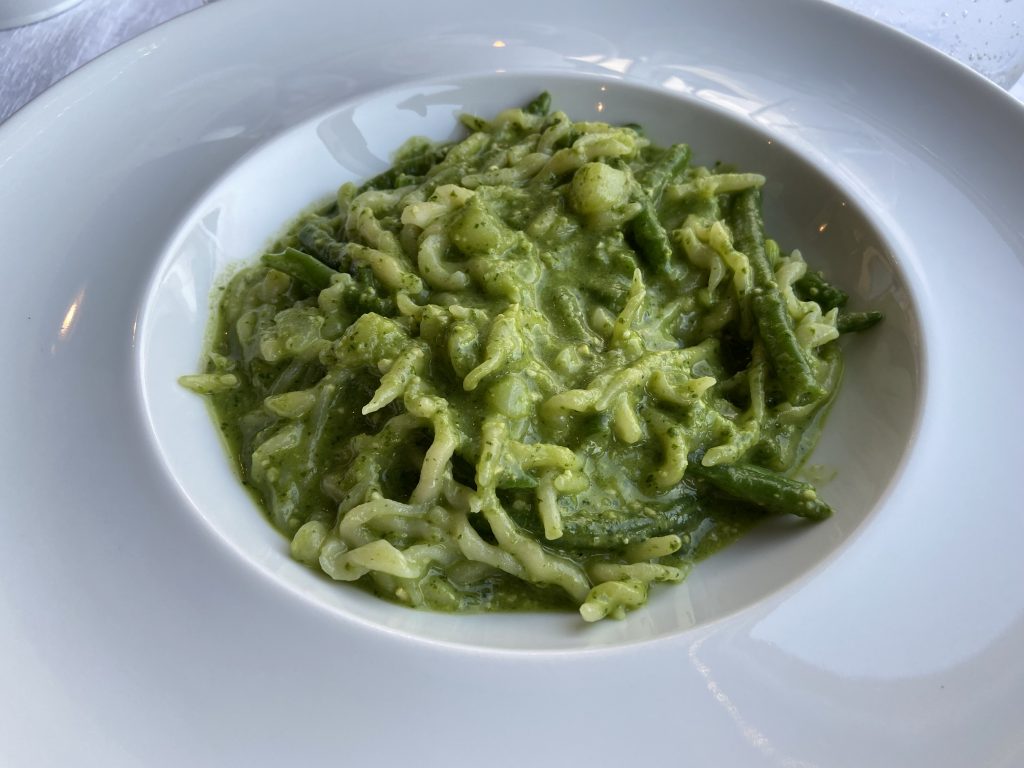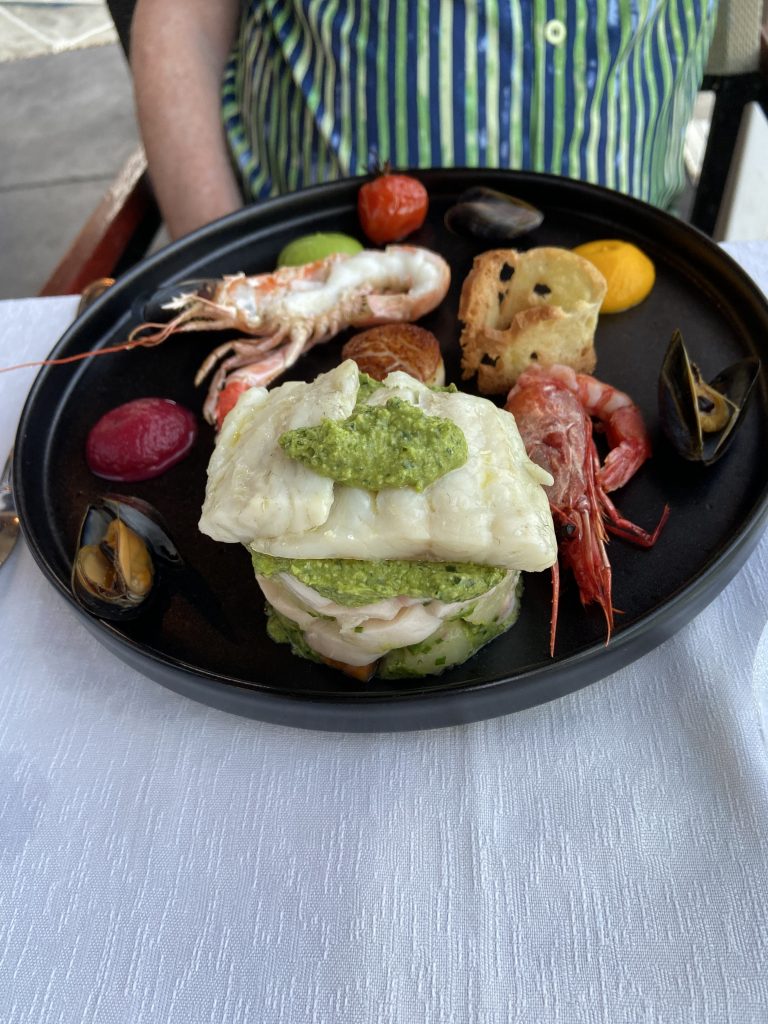 Tuesday
We have two nice balconies. One faces the town. One faces the water. Every morning and evening I spend a lot of time out there.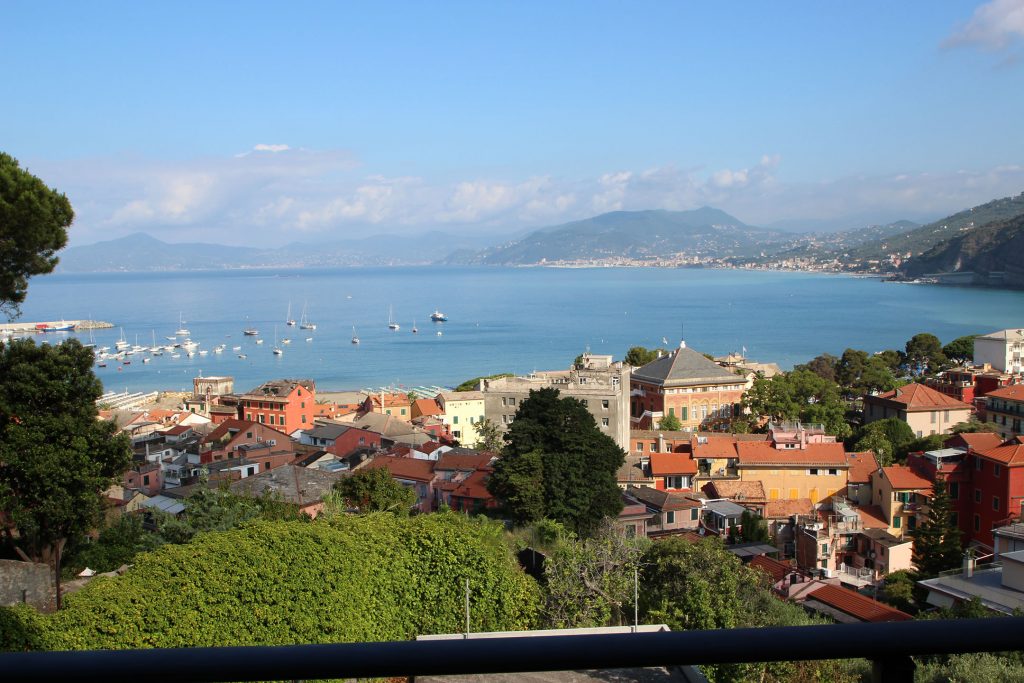 We decided to explore the coast north of Sestri this day. This meant we needed to move our car 😳. Just kidding, it wasn't too bad. Our parking spot was better than most, believe me! It's like sardines here. Once we got out , we held our breath that no one would be coming up the driveway. It is not big enough to pass.
We headed for Portofino so we could say we had been. It was a bit of an ordeal. Driving there is not recommended. Judging from the number of people we saw walking along the road I'd guess most people get there on foot. We did make it and as anticipated there was no parking. So we returned to Santa Margherita Ligure, the town just next to Portofino. I did manage to snap a nice picture of Portofino on our way out.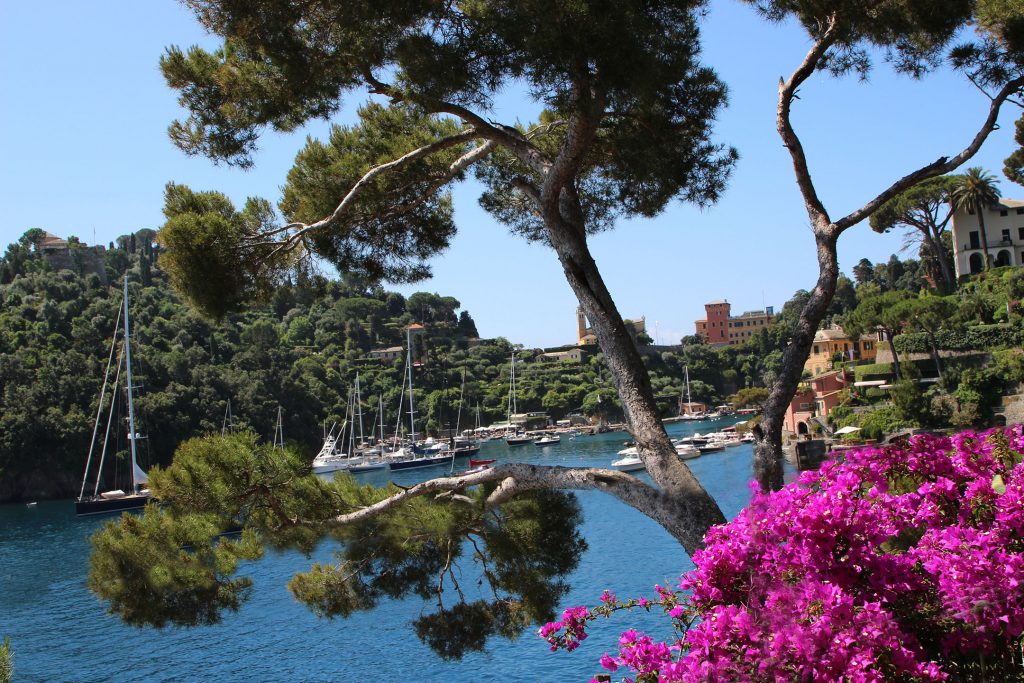 Turns out there was quite a lot of street parking in Santa Margherita. The Angelo Giallo.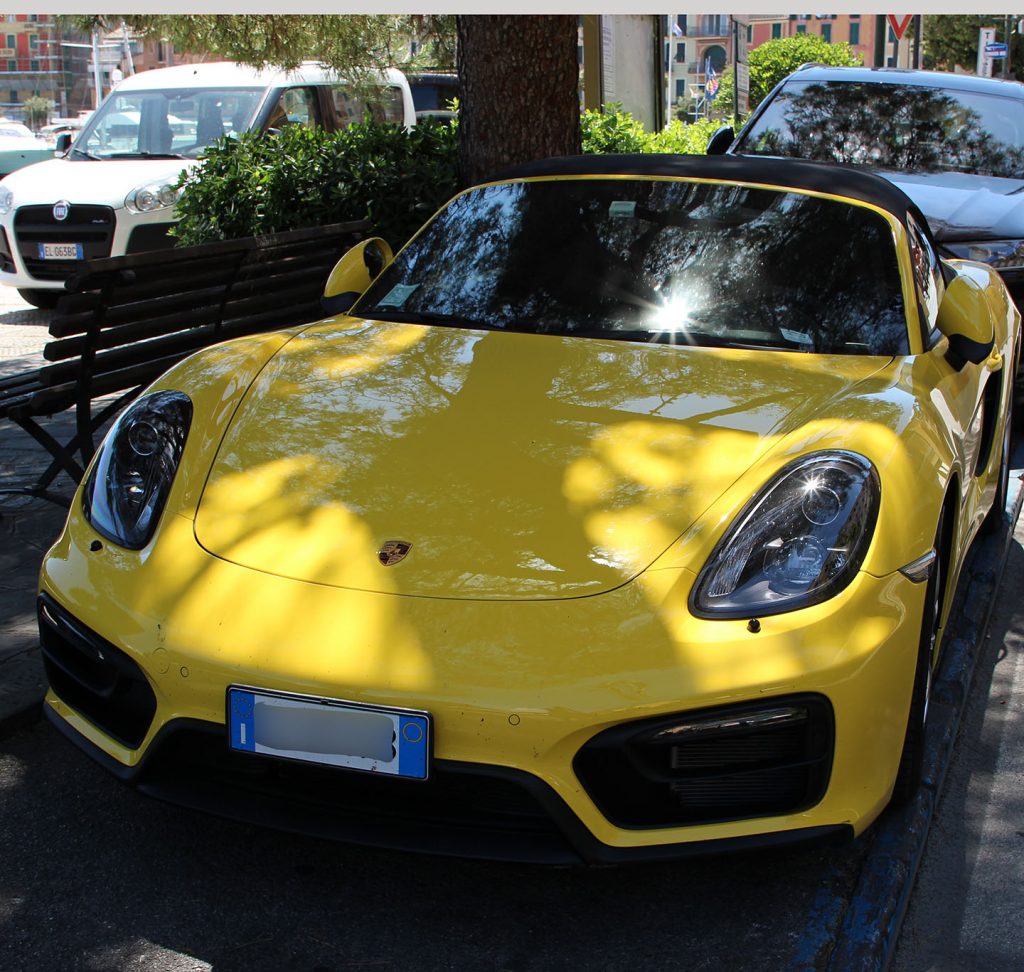 Once parked we wandered the town. It's very cute and has a lot of small streets and nice shops, restaurants and bars. We stopped for refreshments. I tried a spritz made of St Germain, Prosecco, ginger ale, ginger and mint. It was refreshing.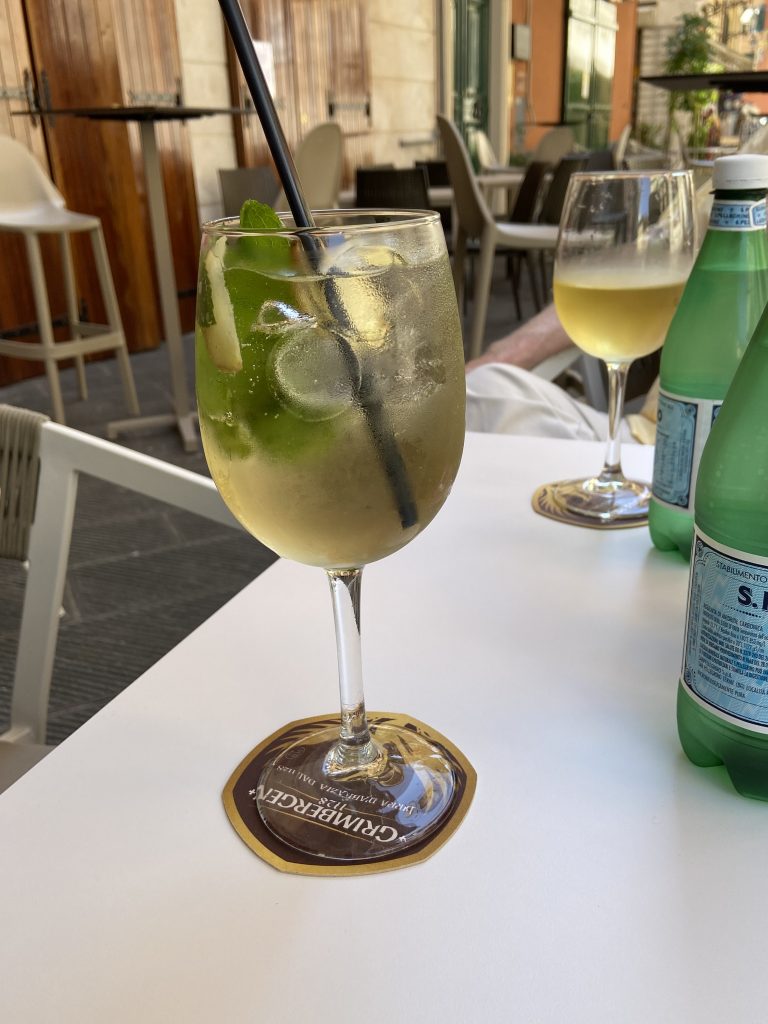 We found a lunch spot, Il Patio, and had a tasty lunch. I had spaghetti with vongole, spaghetti with clams. Luther had a fish Ligurian style.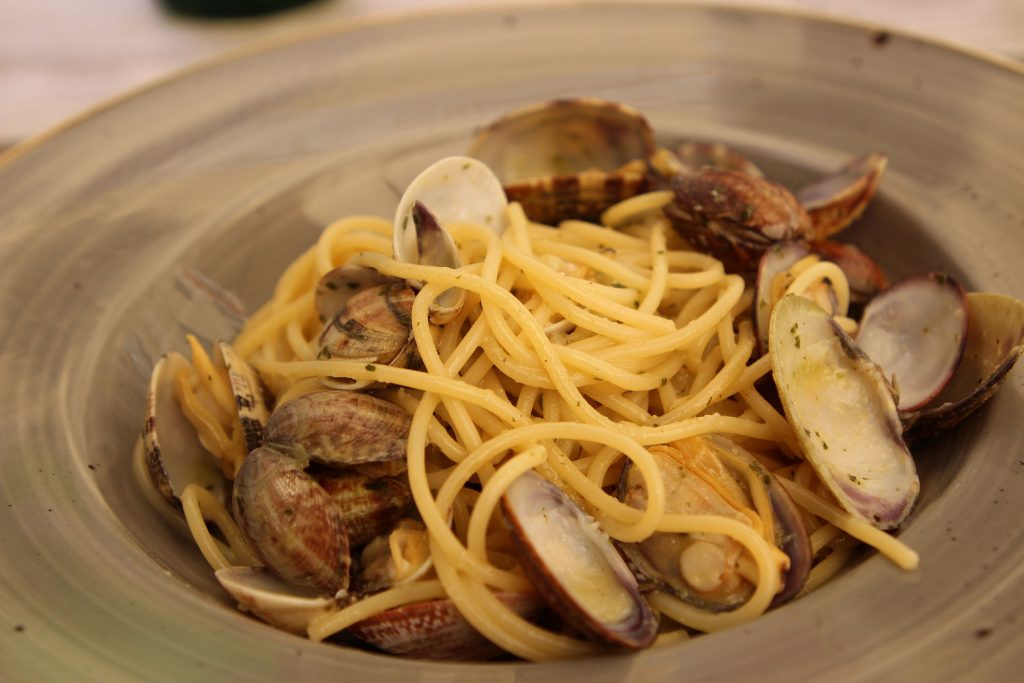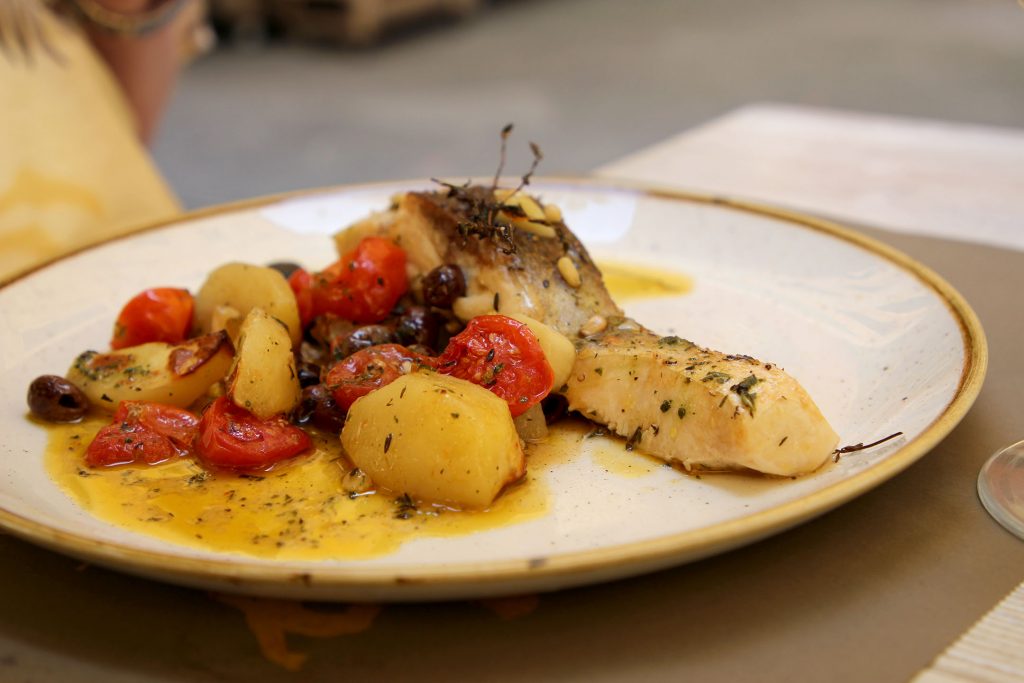 While we were eating a blackbird found a treasure just across from us! A cherry. He had a good time pecking and chasing it and pecking it again. I got a pretty good shot.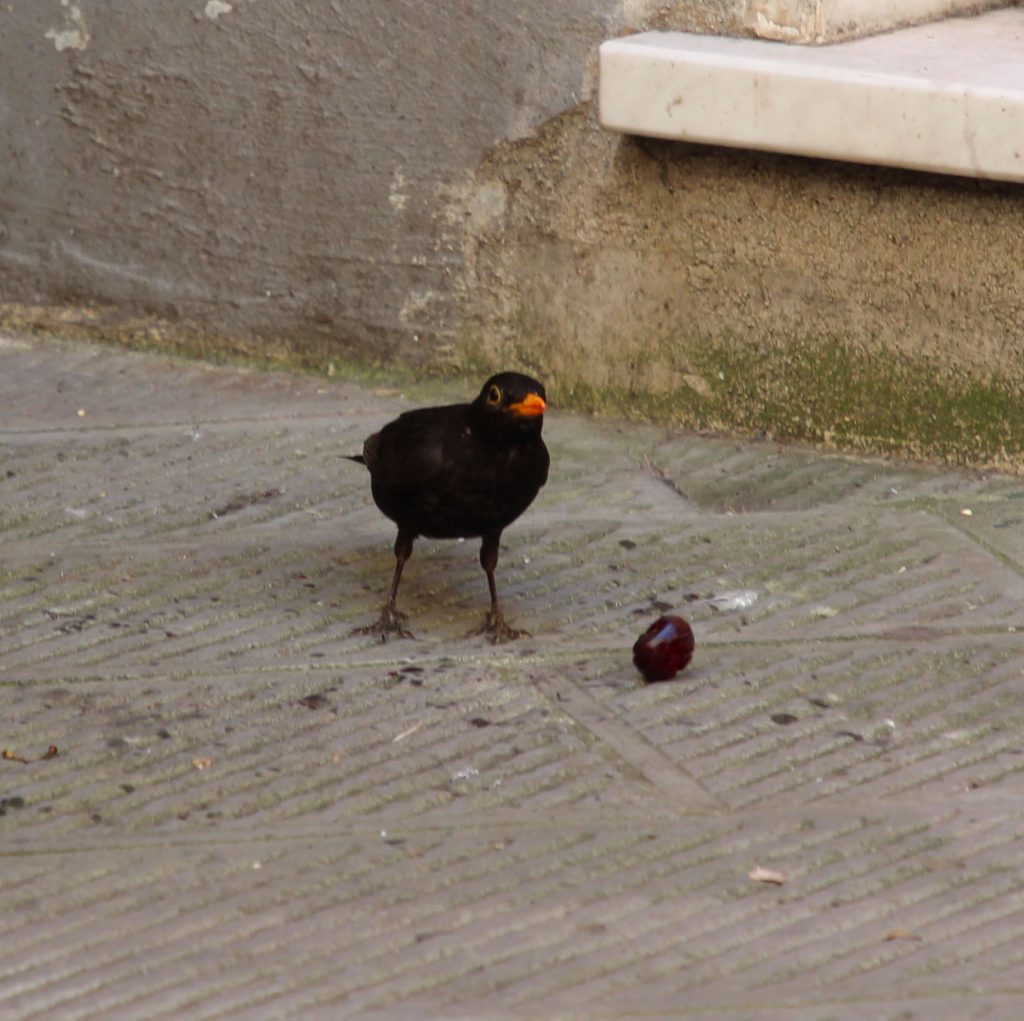 Pictures of some of the streets.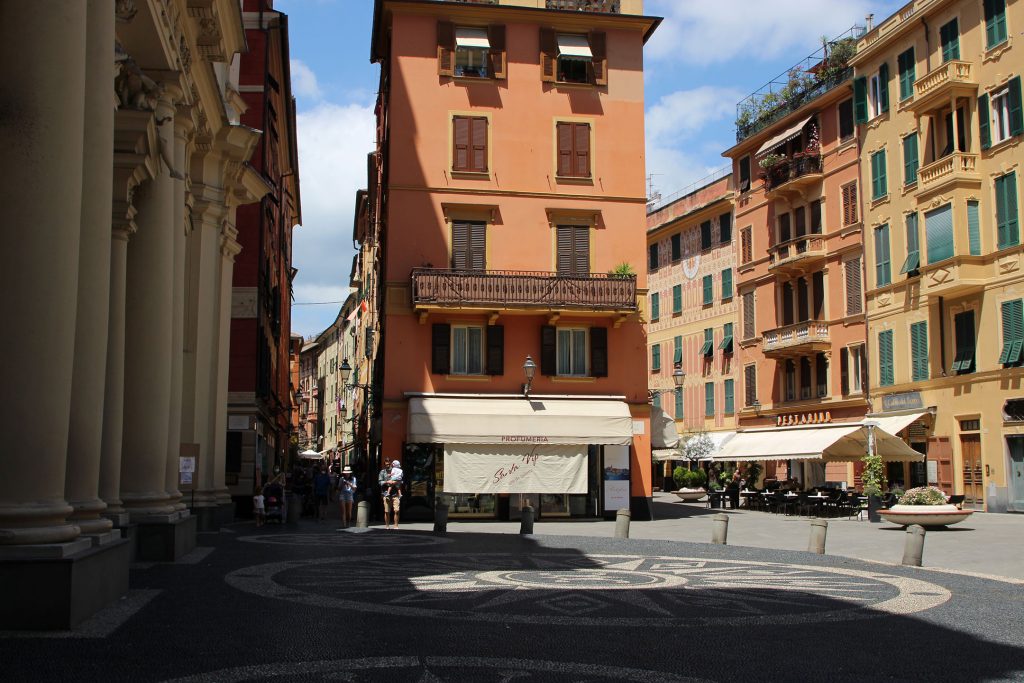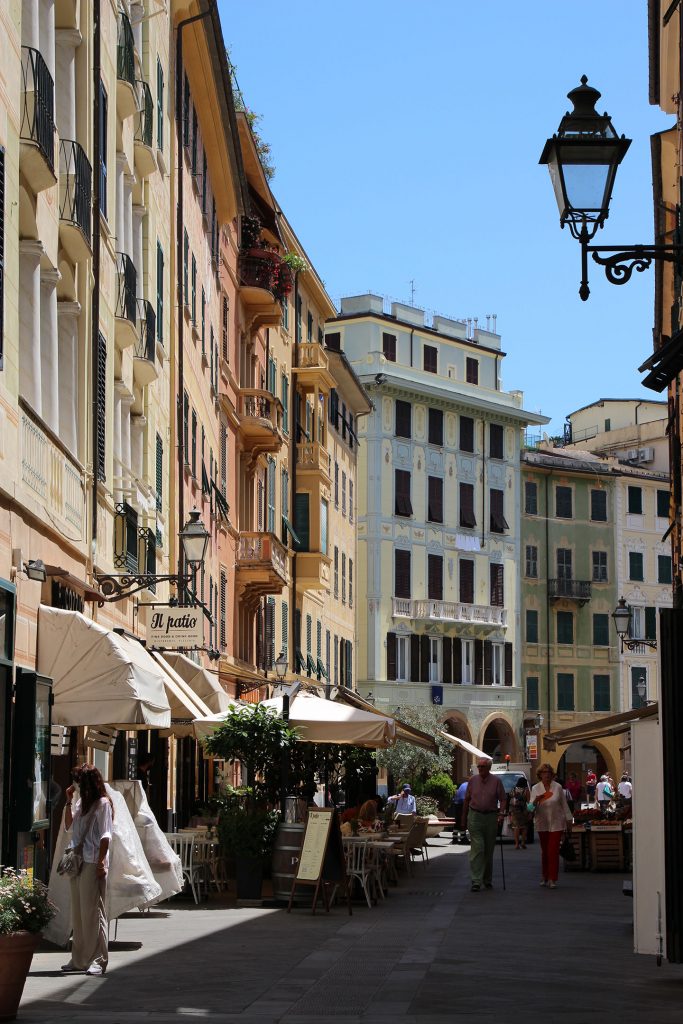 They had a pretty and very baroque church.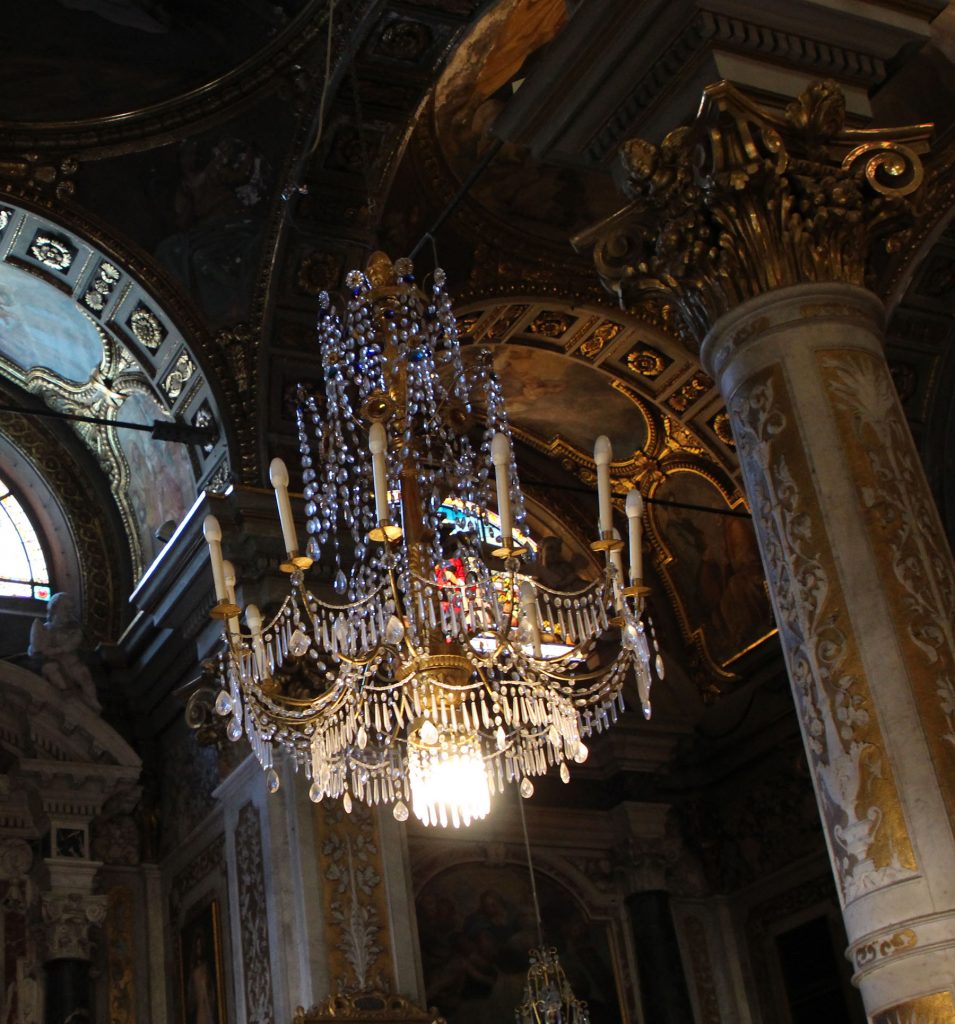 We returned to Sestri and stopped in the supermarket to buy a picnic for dinner. It would be beautiful to sit on the balcony and watch the evening come. But first we wanted to go to the roof top bar one more time before we left. It is a beautiful place.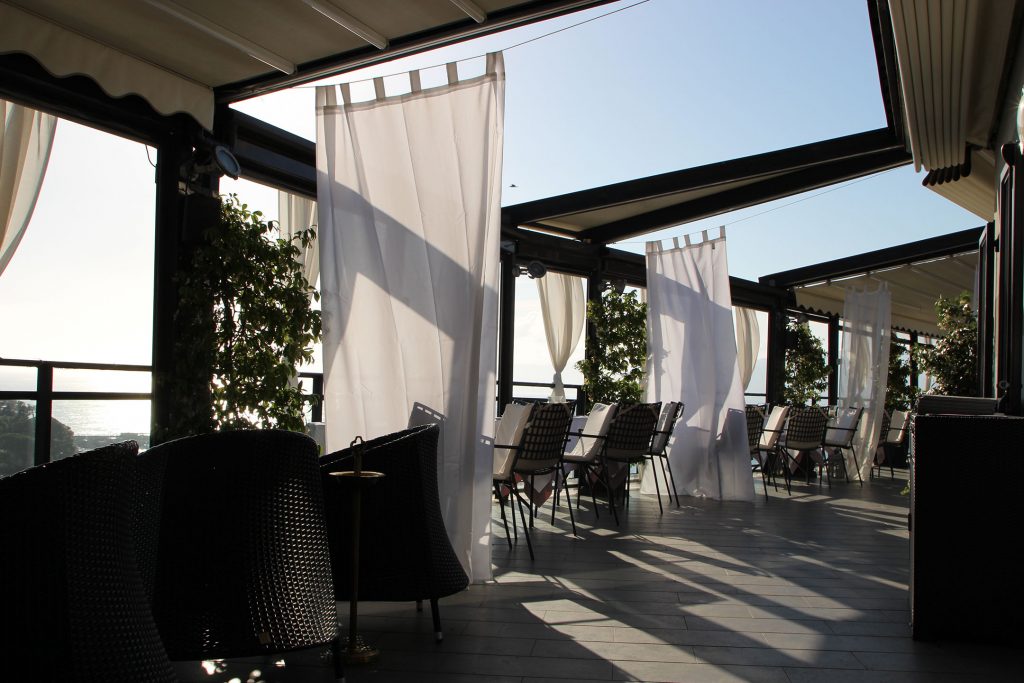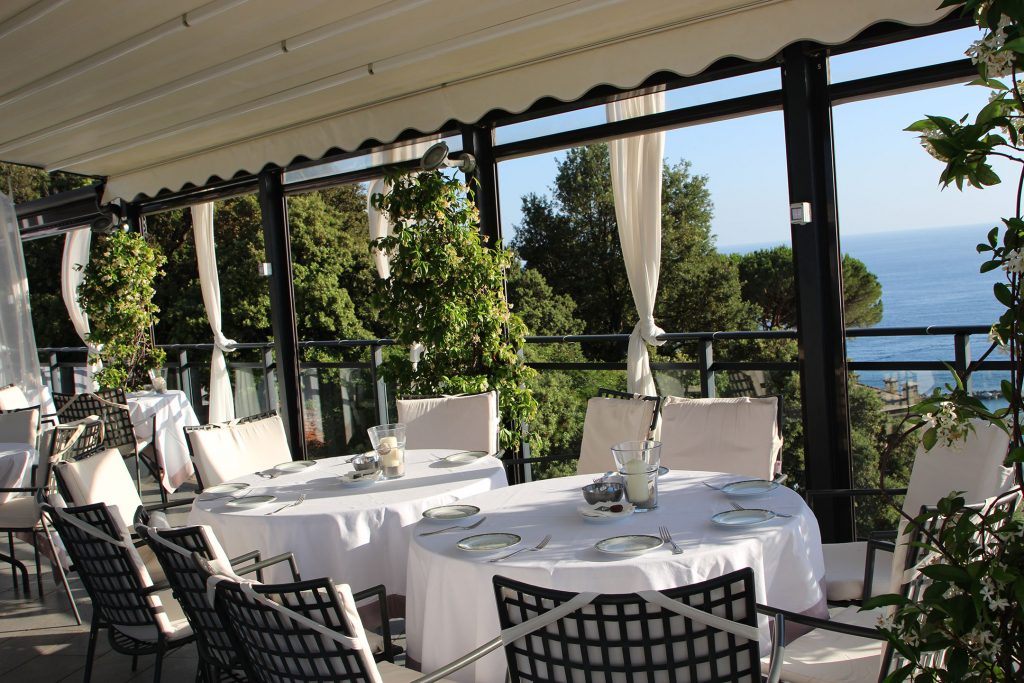 We had cocktails. I had a Mojito. Luther a spritz. They always bring a nice plate of munchies to go along with any drinks you order in Italy. It is not done to drink without eating.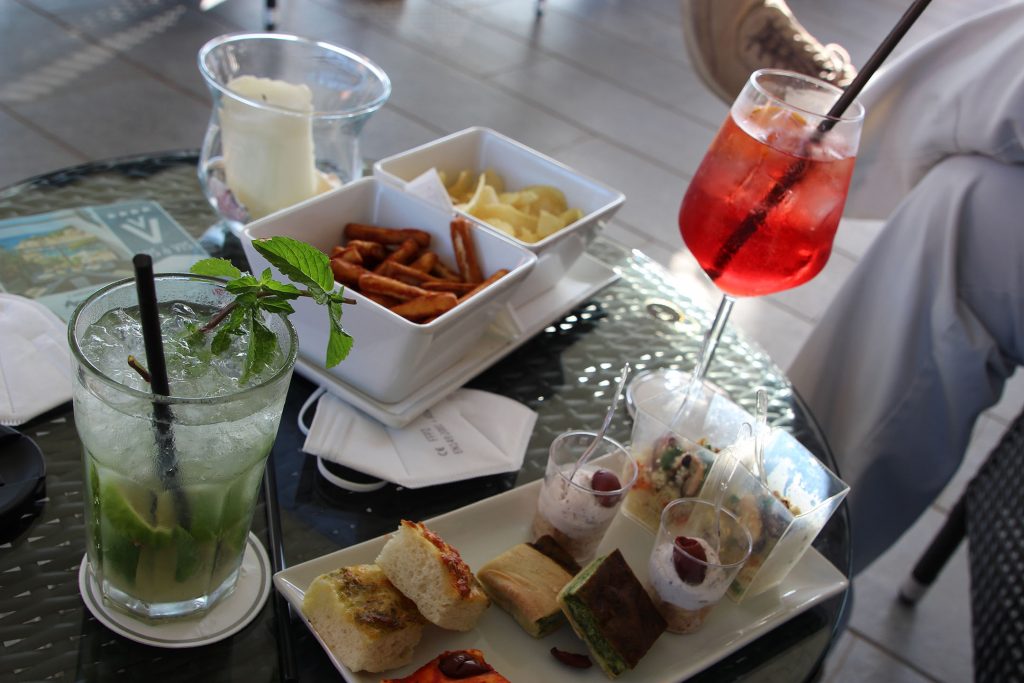 We enjoyed our picnic of cold meats, cheeses and fresh sweet cherries. The weather was wonderful.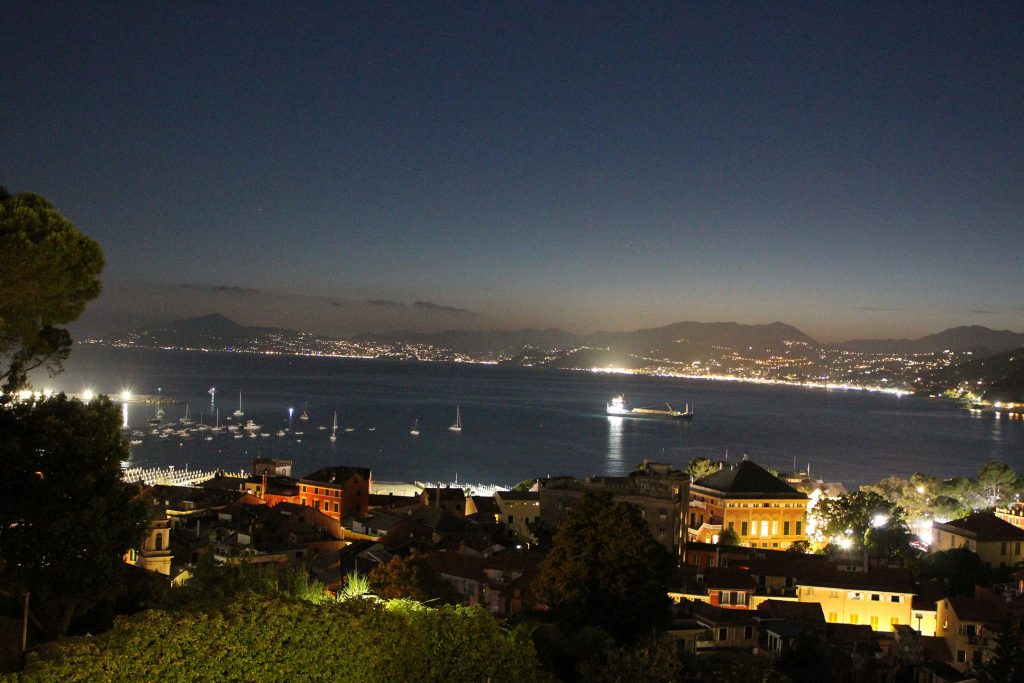 All in all it was a nice and relaxing trip. I would go back to this area again. It wasn't my favorite beach but the town itself was nice. The hotel Vis a Vis was not quite the cruise ship it tried to be. It had lots of good things going for it. They just need to up their game on a few easily fixed items in the room.
We left at around 10:30AM and got home by 2PM. It is ungodly hot in Umbertide. Like a blast oven. It makes me want to go RIGHT back to Sestri!
Ciao for now!