I am happy to report that the numbers in Umbria are holding very steady. Since I stopped posting the daily numbers three weeks ago, there have been 6 new infections, and 2 deaths.
As of yesterday, June 15, we have entered Phase 3 here Italy. This means that; Cinemas and theaters will be allowed to re-open from June 15th. With a limit of 200 people. Amateur contact sports, including team sports, are allowed from June 25th. Nightclubs – either indoors or outdoors – will be authorized from July 14th.
But many of Italy's regional authorities have brought in their own rules on reopenings which could be different from the national rules.
The decree confirms obligatory quarantine for visitors arriving in Italy will continue, except for those entering from the EU and members to the passport-free Schengen zone.
Social distancing and face mask requirements will be the same. You must wear them in enclosed public spaces. Schools will not open until September.
~~~~~~
One thing that has gone by the wayside is any semblance of spontaneity when traveling. We are planning a road trip in two weeks. Normally, Luther and I would toss the suitcase in the car and off we'd go. We'd see a likely trattoria beside the road or a cute village where a nice place to eat is likely, and we would stop for lunch. No more. Now, I've got to know what time we will leave, so I can calculate where we will be at lunchtime. Then figure out what is nearby, find a restaurant, determine if they are open (many did not reopen) and then obtain a reservation, which are now mandatory. When en route, you can't just stop if you see anything interesting along the way because it will impact your progress, perhaps making you miss your lunch! A sad thing. Alternative would be to pack a picnic 😁. Might be easier.
~~~~~~~
Market day. Today, I was in search of cheap cotton clothing to make masks from. I found out those house dresses the old Italian women wear are not cotton, but some sort of nylon material. Wouldn't breath. BUT, I found the cutest pair of capri pants.😍 All cotton, nice waist with a really well made sleeving for the elastic. They have drawstrings. I brought them home and tried them on and they fit nicely. I love them so much I must go back next week to get more! Thing is there is no guarantee any will be left. They had lots of colors and patterns. Hope they still have them next week.
Otherwise, I did my errands. Dropped by the farmacia. And shopped and bought in Libri ai Cani. Books for Dogs. They have been doing well since re-opening. Good for the rescues they support. Of course I bought some produce. It looked very nice.
Pictures below are the non-food part of the market. It has been dispersed in a larger area so the tents are not too close. But the competition could be fierce for the bargains! This first table had nice things for €3 — anything on the table.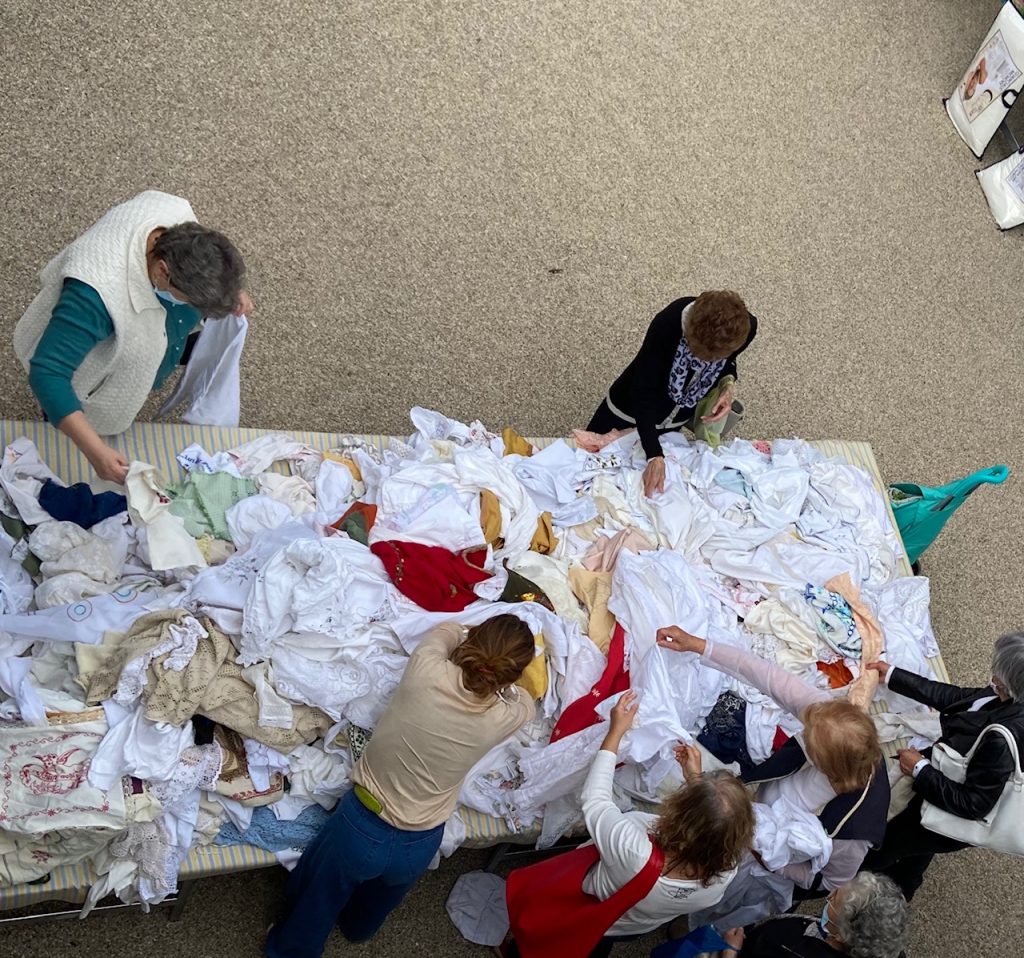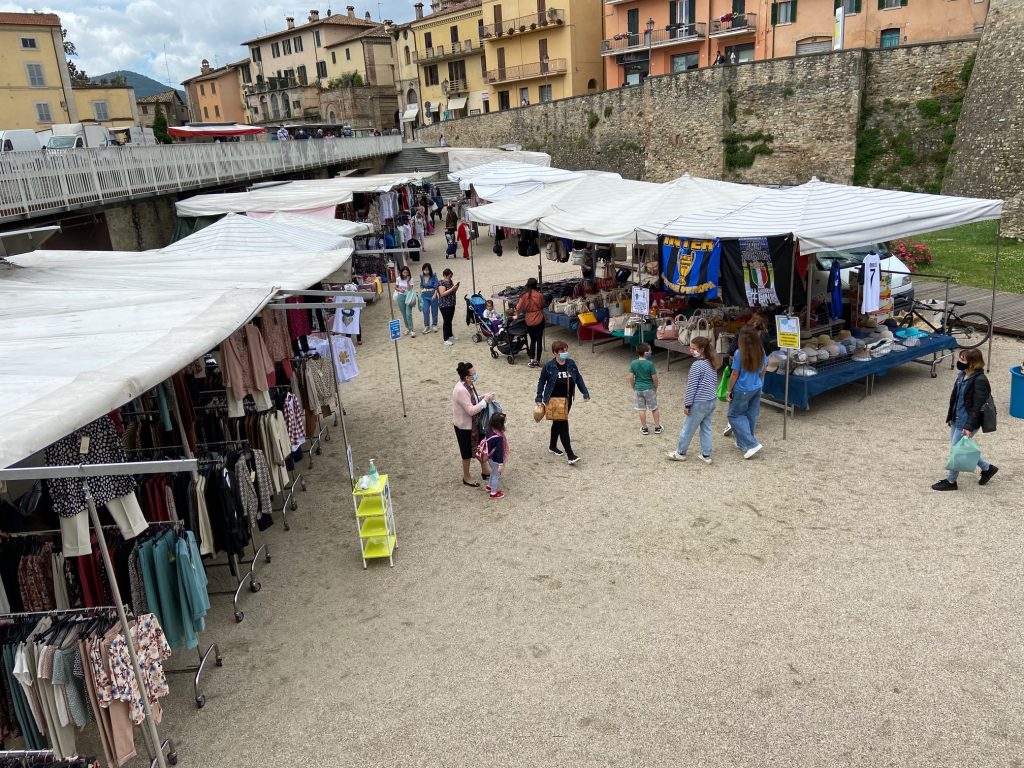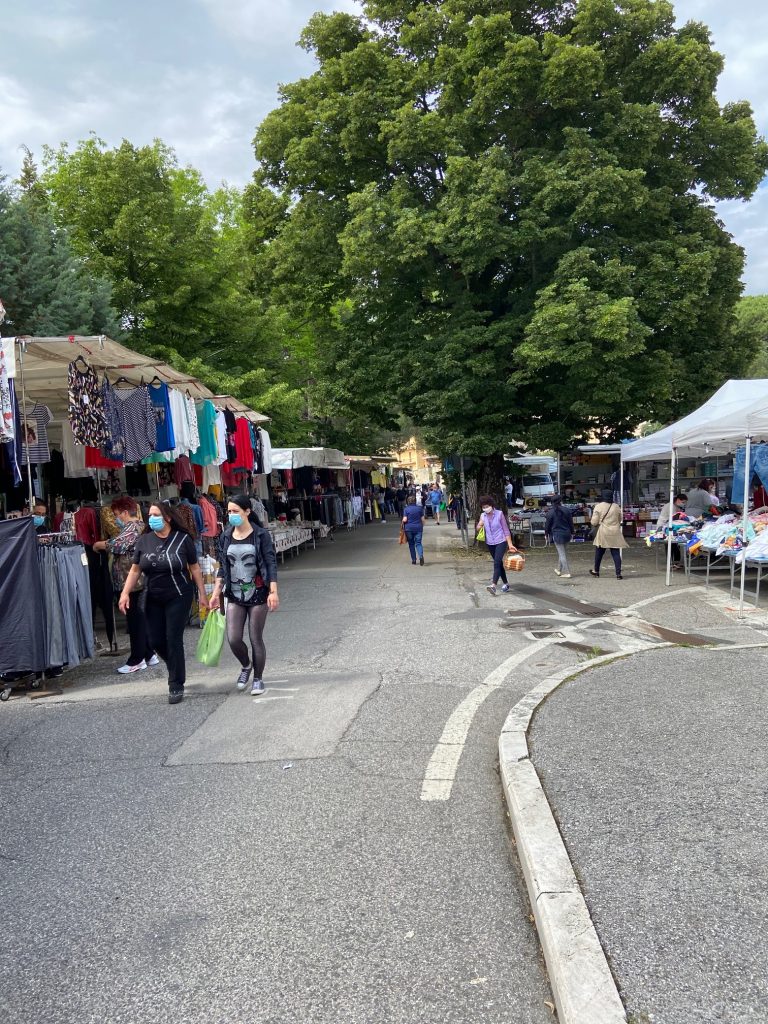 Til next time…stay safe miei amici 🌈