We have had visitors for the past few days so I haven't been posting anything but I have many pictures. Let's start with Pasquetta lunch. This is the Monday after Easter and everyone goes outside or has a big lunch with friends or family. We had been invited to a lunch to see old friends who were selling their house. It was a lovely fixed menu, all seafood. I took a couple of pictures. First one is the antipasto course. A salad of faro, cherry tomatoes, artichokes, calamari and shrimp. Delish. I missed the primi but got the secondi which was salmon Wellington. Quite nice and now I am being hounded to make it by Luther!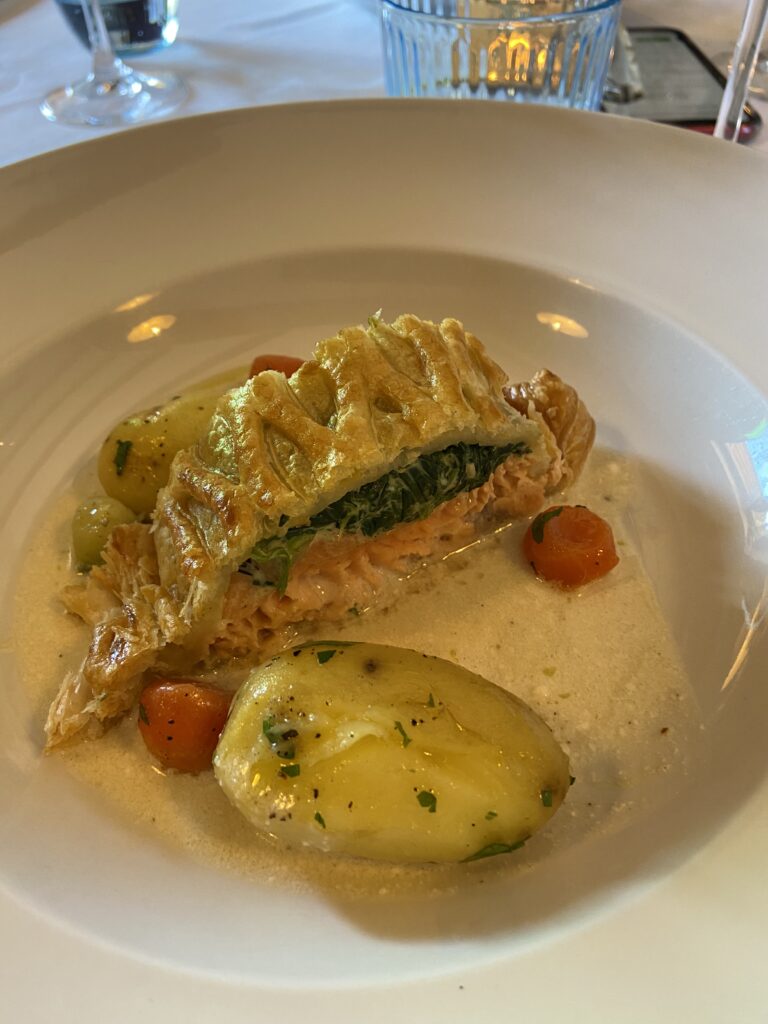 On Wednesday our friends arrived from Colorado. They have a great trip planned and started with three nights here with us. How nice. We had a dinner out together the first evening. They held up well after their overnight flight. They had requested Calagrana and it just so happened that Ely and Albi were doing a Milanese menu from Albi's childhood and early years in culinary school. The menu was:
Consomme Marie Stuarda, a chicken Consomme garnished with peas, carrots, zucchini
Orecchio di elefante with roasted vegetables
'Ris e Lach'
The first course was a consommé which Albi learned in cooking school that takes hours and needs to be clarified until it is beautifully clear. The vegetables were raw but were cooked by the hot broth. The chop was pork cooked a La Milanese. I think the Milanese claim they invented it but it is truly a schnitzel and is everywhere in Germany and Austria. The last course, written in dialect, means rice and milk. It was a rice pudding, and it was delicious.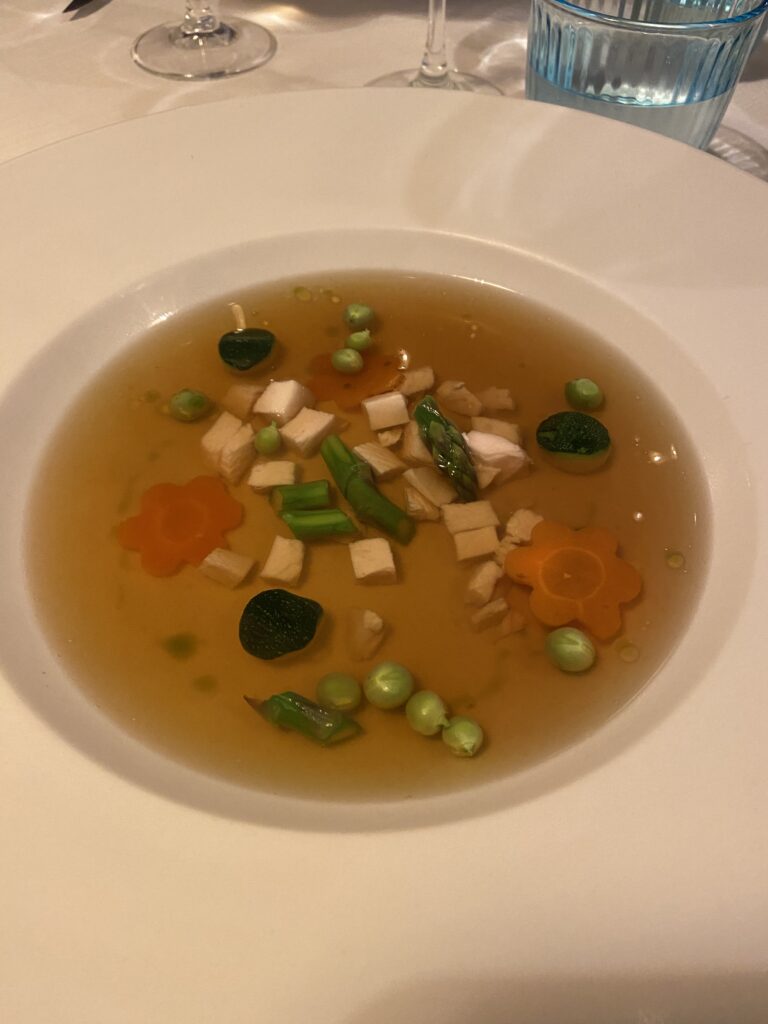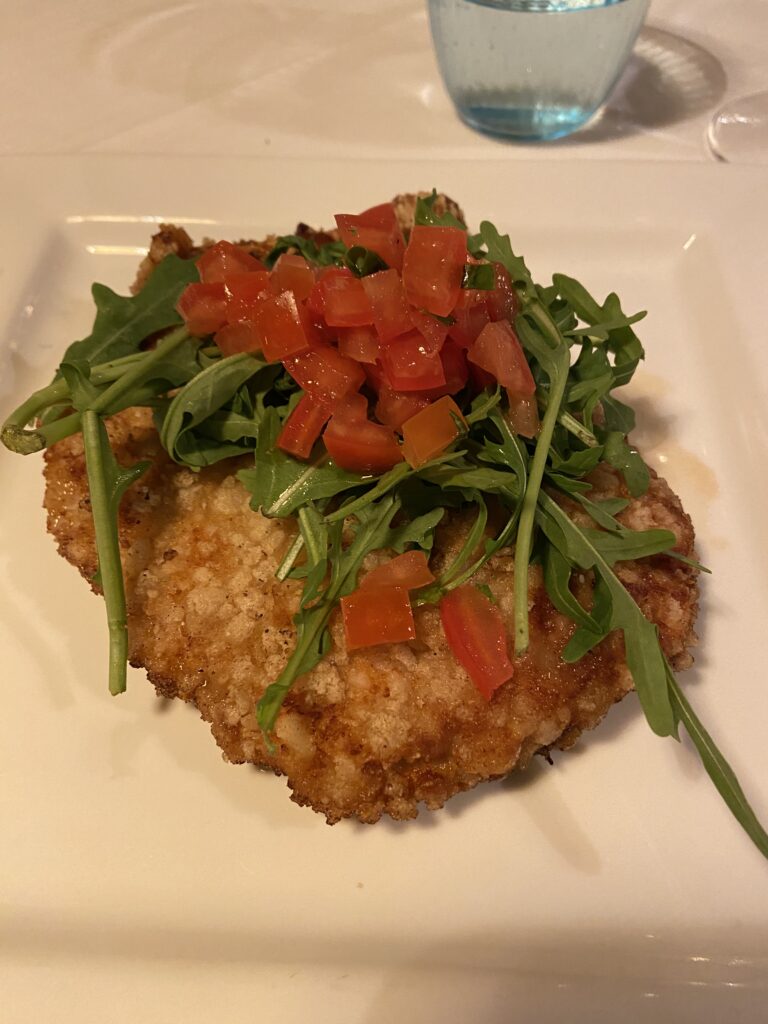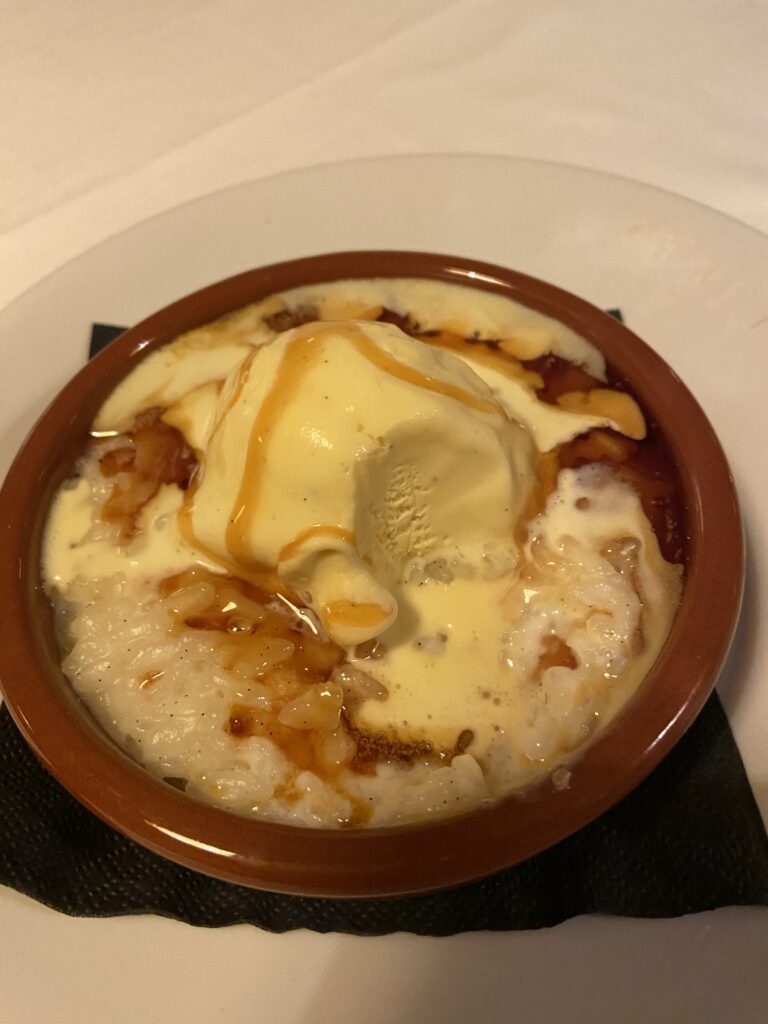 The next day we went to Cortona. Sadly it was a vile day, weather wise. Cold and rain. Cortona is a ridiculous place. Here it is, mid-April, and terrible weather and there was not a parking place to be found. We circled the walls, driving through each lot in turn. No dice. Packed. We turned around at the top and returned back through each in turn. Finally we found a spot that was more invention than spot. That is the Italian way. But as we walked away from the car we saw someone pull out. We all three stood in the spot while luther ran back and moved the car. We felt better having a legal spot since we were having lunch.
We walked up, up and finally got on a shopping street. My friend found the purse she was wanting. We walked around some but the cutting wind was freezing. We went into a bar and had coffee and wine and then walked to our restaurant with thunder rolling about the hills and the sky black and threatening.
The restaurant is Bocaccia, a very traditional Tuscan place, well rated. The owner was one of those that is very ebullient and kind of over the top. He was nice enough and we loved the vaulted dining room. We all liked the food very much. I chose the rabbit tenderloin marinated in lemon. It was served on a crisp salad of mache with carrot and cucumber. It would be particularly good in summer because it was served cold.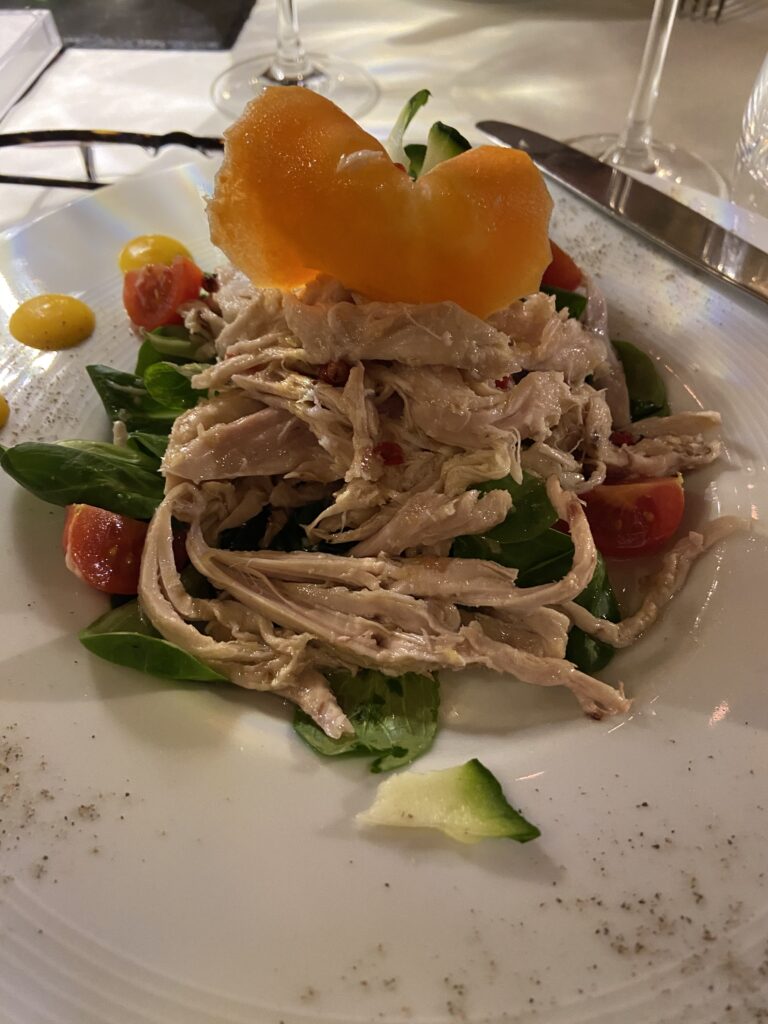 Then I had the pici, which is hand made very fat spaghetti type pasta with a tomato-y sauce. I liked, and wondered about, the very hot pepper in the middle.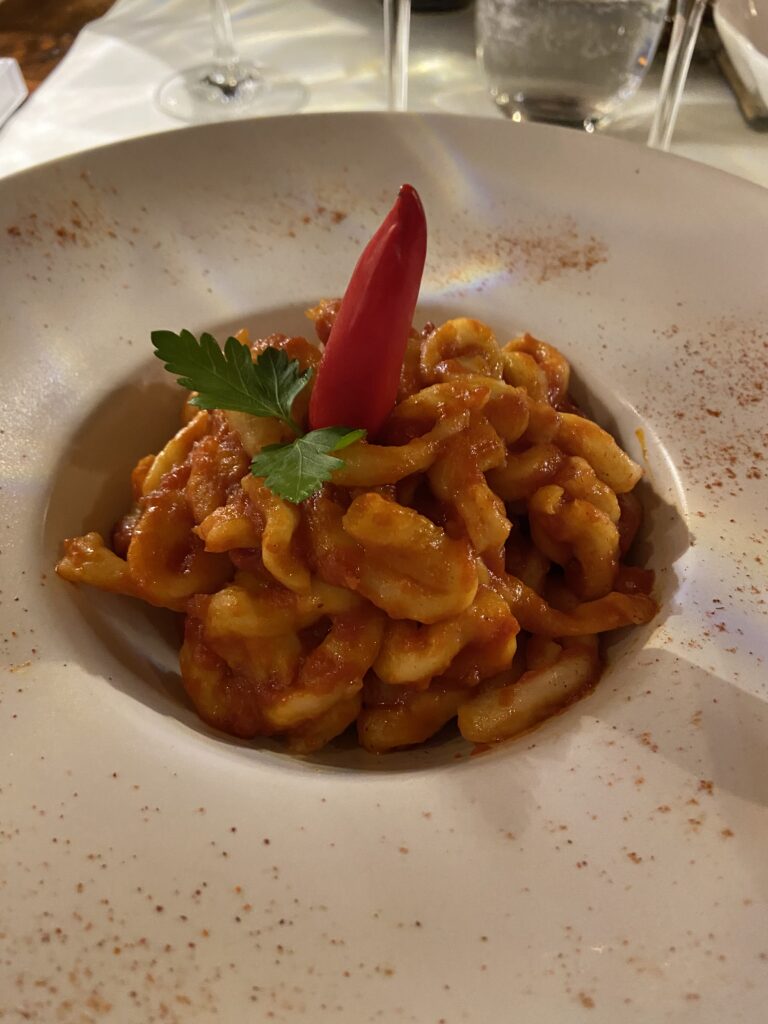 Today, Friday, was cold and not raining anyway. We had decided to visit a nearby winery called, Vineria del Carmine. It is a beautiful property owned by a wealthy British couple named Sinclair. They had owned a home high above the valley and a large parcel was going to be sold. The vintner said the entire valley was going to be sold. The Sinclairs bought it to preserve their view and then decided to develop the existing vineyard. They are putting a TON of money into the place. They have six wines to taste. A trebbiano (white), two rosés, and three reds. All were very good. My least favorite are the rosés. That's surprising since I am a big rosé fan. 
We got the small tasting which came with freshly made breadsticks and two dips. One a mayonnaise onion and the other truffle cream. Both very nice. Then they brought fresh focaccia, warm from the oven. It was fun. The people are very friendly.
The property is pretty darn spectacular. The valley, brilliantly green with new wheat and budding trees. There were angry looking clouds above the hills which only enhanced the green.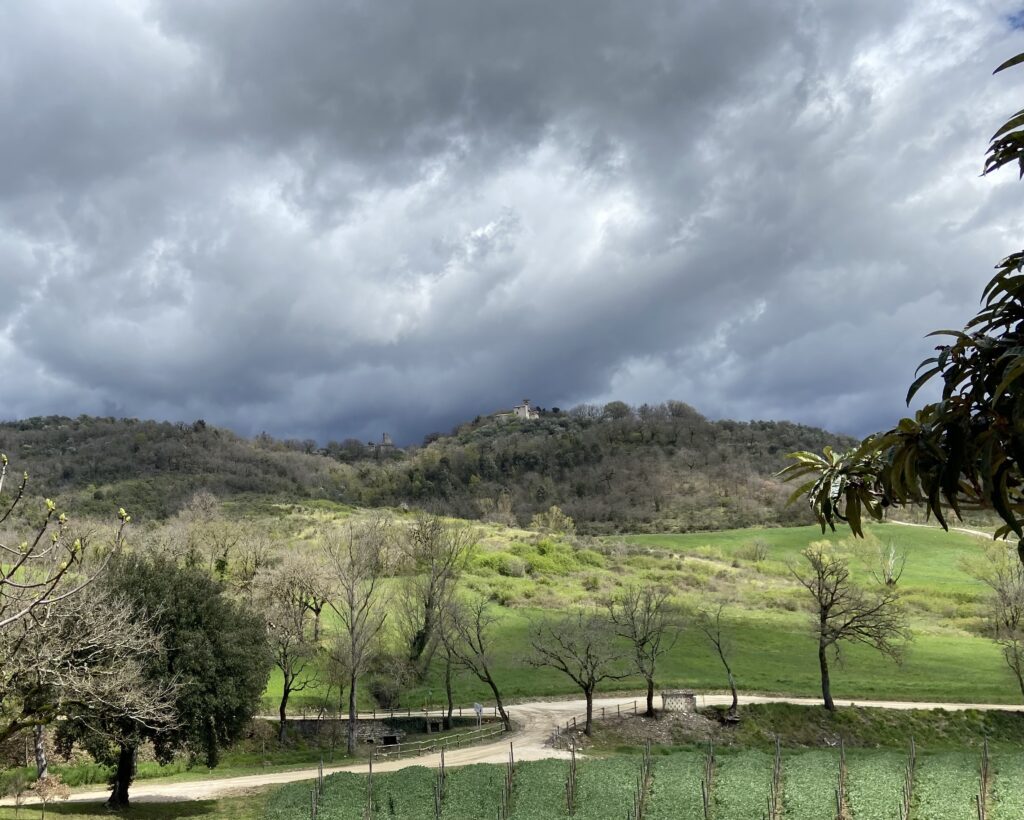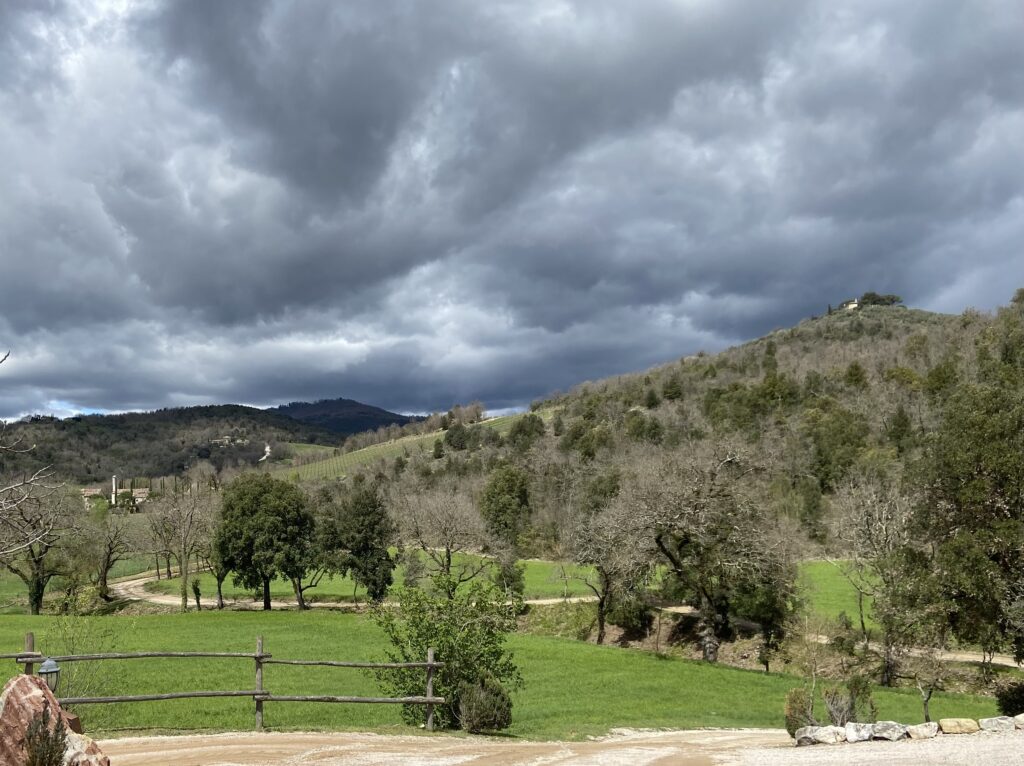 We had lunch in Grace which is on the edge of the old part of Umbertide. It was really good. An excellent day was had by all.