Since I retired I never get up early if I can help it. I normally rise at a respectable 8 am. But I needed to take a sample to be tested at the hospital. They require you to drop it off between 7:30 am and 8. It is inhuman! I had been putting it off for two weeks. Finally I told myself, today is the day, and I roused myself by 7:15. The hospital is about 10 minutes on foot from our house. I looked at the temperature…-1C…ouch! I almost jumped back into bed. Dressed warmly, I headed out. Just outside of our door across the road, is a little tunnel that goes through to a small piazzetta. We use it a lot as it leads to some bins for recycling cardboard. Today, at that hour, the rising sun was aligned to shine right down the tunnel.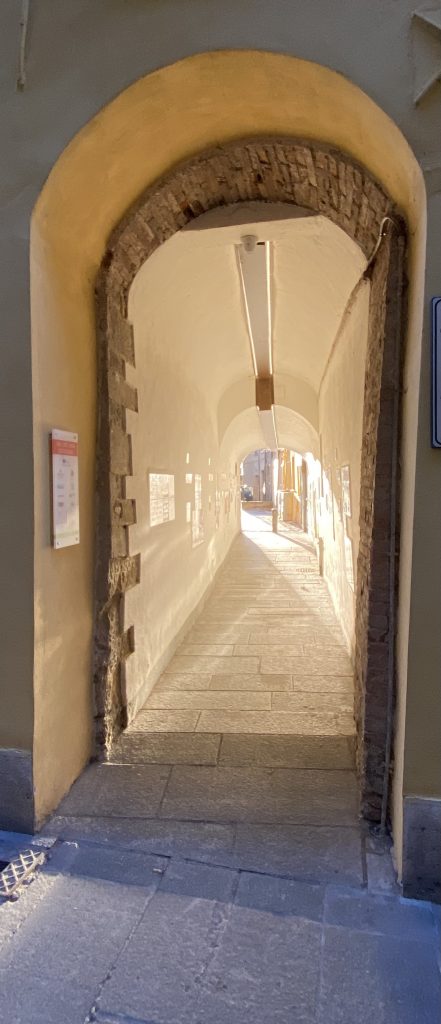 I arrived at the hospital drop off place which is the same place as you go to get blood drawn for testing. The way it works here, people get a prescription from their primary doctor. Then they take it to the pharmacy and get an appointment. This particular test doesn't require an appointment. But most of the people there are getting blood drawn and that *does* require an appointment. So I queued up with all the other early risers. We all are required to fill out a form for future contact tracing in case someone has Covid. I dropped off the sample and he gave me a paper with a PIN. In a week when the results are ready, I can download my results. Works well. Some people go to private clinics for this but I see no reason.
When I got back the weekly market was slowly opening, so I did a little shopping and headed home.
~~~~~~
Last Sunday we had lunch at Calagrana. They have just reopened after a month and a half. There has been some new decorating and it looks really nice. I love the chocolate accent wall. Very dramatic.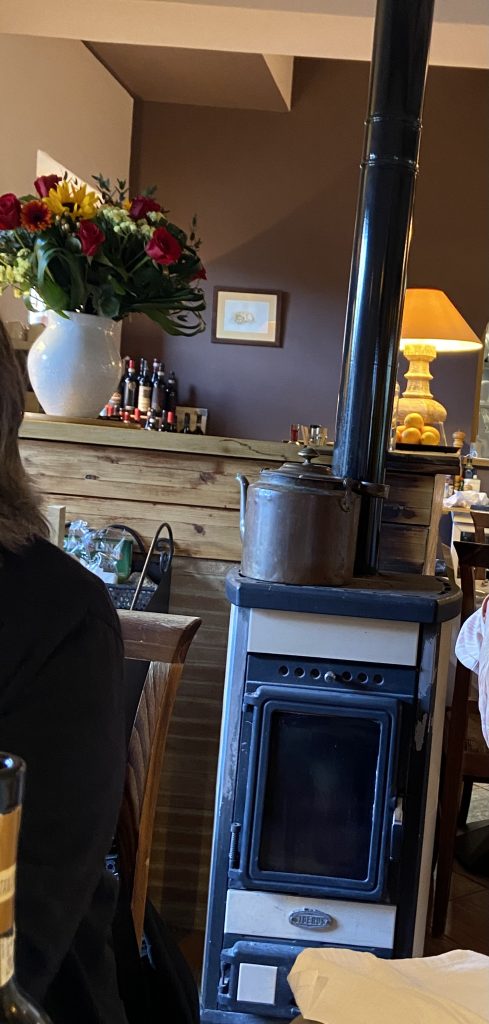 My antipasto was a new dish. Called Cipolla al forno, melanzana arrosto, formaggio di capra, salsa verde e pinoli. Which translates as baked onions with goat cheese fondue on top of roasted eggplant with pine nuts and green sauce. It was brilliant!