This is another Trip Report so skip if you're not interested!
Wednesday May 11
We decided to go to another city in Italy that we had never visited. Verona, city of lovers. Romeo and Juliet and all that…Shakespeare wrote plays based in Verona but he never visited.
We decided to drive mainly because it's hard to reach by train. It would take six hours so we decided to drive. This presented its own set of problems because we wanted to be in the old city and parking is hard to find. I found a property with only 5 rooms but it had its own parking garage. It is an old Palazzo right in the Centro Storico.

The drive was about 4 hours. Almost all on superstrade – the big highways with tolls. That is, once we got out of Umbria 🙂 Boring drive. We drove north up the Tiber valley into Tuscany and to the head of the valley where the mountains start. The highway is a real feat of engineering. It is raised on pilings the whole way. Under it, or to the sides, runs the old Roman route, still used for local travel. The mountains are very rocky, old and eroded with barren cliffs. Lots of evidence of past seismic activity. I am sure it is still active. There are also Terme – or thermal spring towns along the way. Old Roman baths and spas are still in use. I wish I knew more about geology and rocks.
We popped out of the mountains and we were in Emilia Romagna, said to be the best food in Italy. Home of Balsamic vinegar, Parma ham, Parmesan cheese etc. It is flat, flat, flat and quite industrial but also has acres of fruit trees. Bologna is the biggest and best known city.

We got into the Veneto next, home of Venice. Passing through Padova/Padua and finally we arrived in Verona. By now the landscape had changed into hills and small mountains, Lake Garda, the largest lake in Italy is just nearby. And there were grapevines as far as you could see. Valpolicella comes from here, Soave, Prosecco, and one more Lugana.
The city of Verona has a lot of not so pretty suburbs, normal for Italian towns. They do have a good number of parks and green spaces. The Adige river flows through the town and there are numerous bridges. Our GPS took us into the old town, lots of people everywhere, and narrow streets. We found the hotel with only one wrong turn.
Palazzo Monga is beautiful. We were met by Jakub. It is a boutique hotel so there is no front desk always manned by people. We had to give them an arrival time so we would be met. Jakub wore a nice black suit, white shirt, tie, and bright white tennis shoes. His hair, dark, his smile, welcoming and his stubbled chin, perfect. The suite is large with a living room with dining space, big bedroom, large bath and large dressing room. The room has the biggest chandelier in the universe. I can't figure out how they clean that thing! The ceilings are probably 18-20 feet high. Quite the place. Jakub brought us welcoming Prosecco's and we left it to him to stow the Giallo Angelo in the car park.
We headed out for a walk and look-see. Pretty city. Great shopping. We stopped for a spritz. On our way home we found our restaurant for the first night, Trattoria Pompiere just a few blocks from our hotel.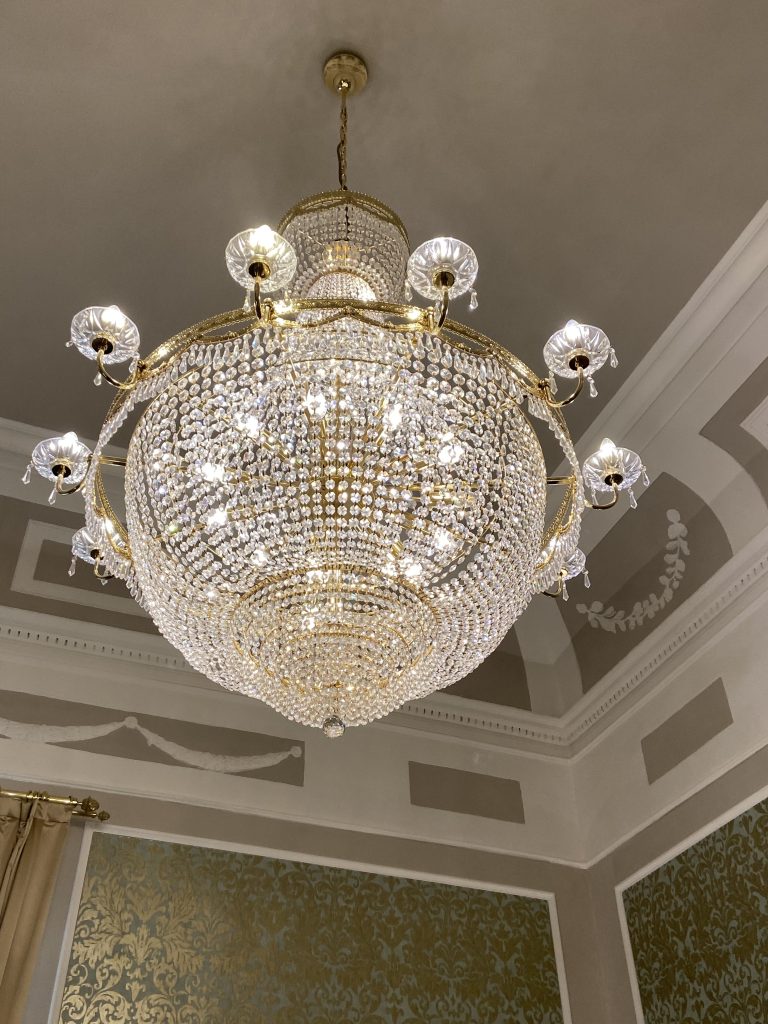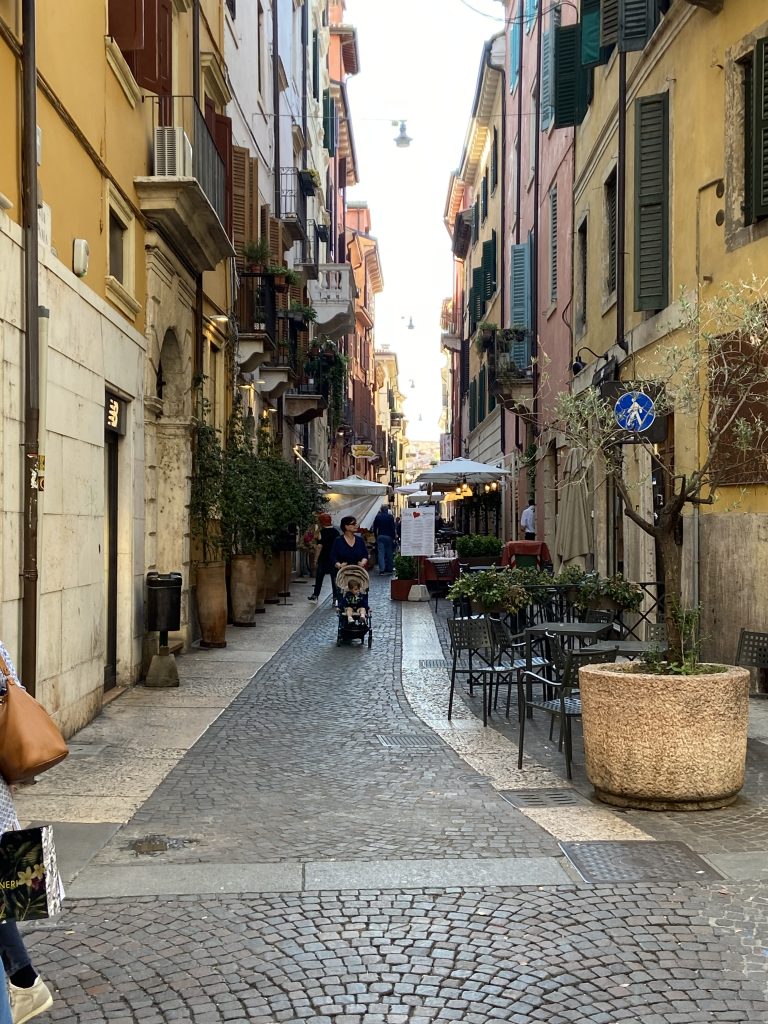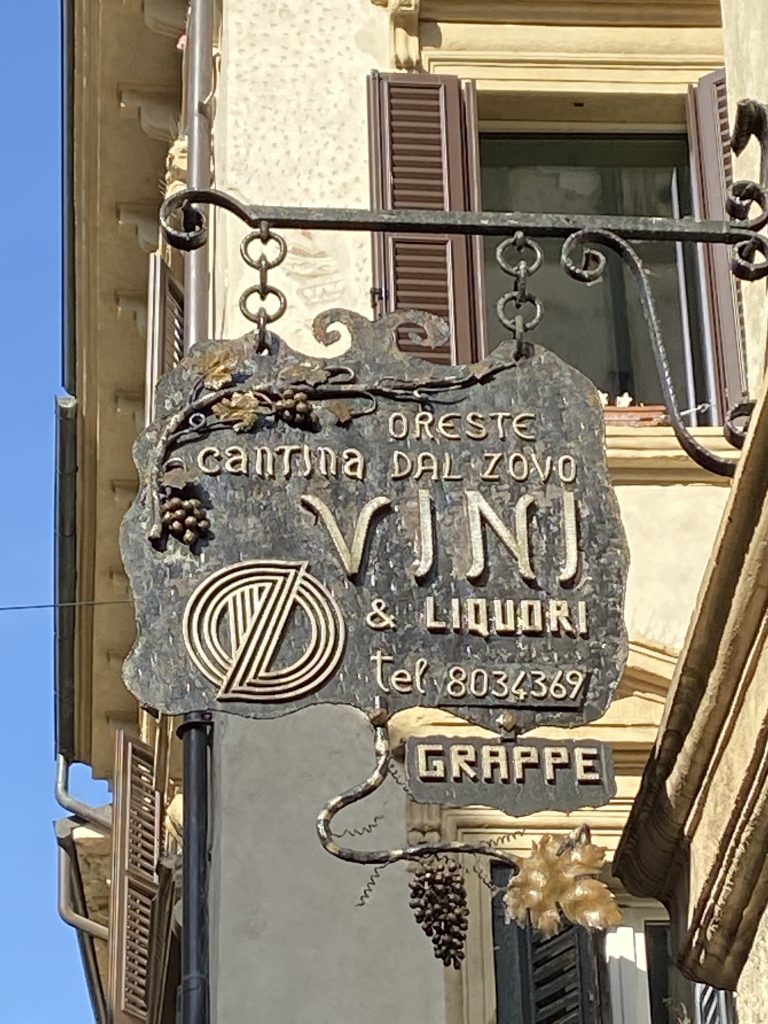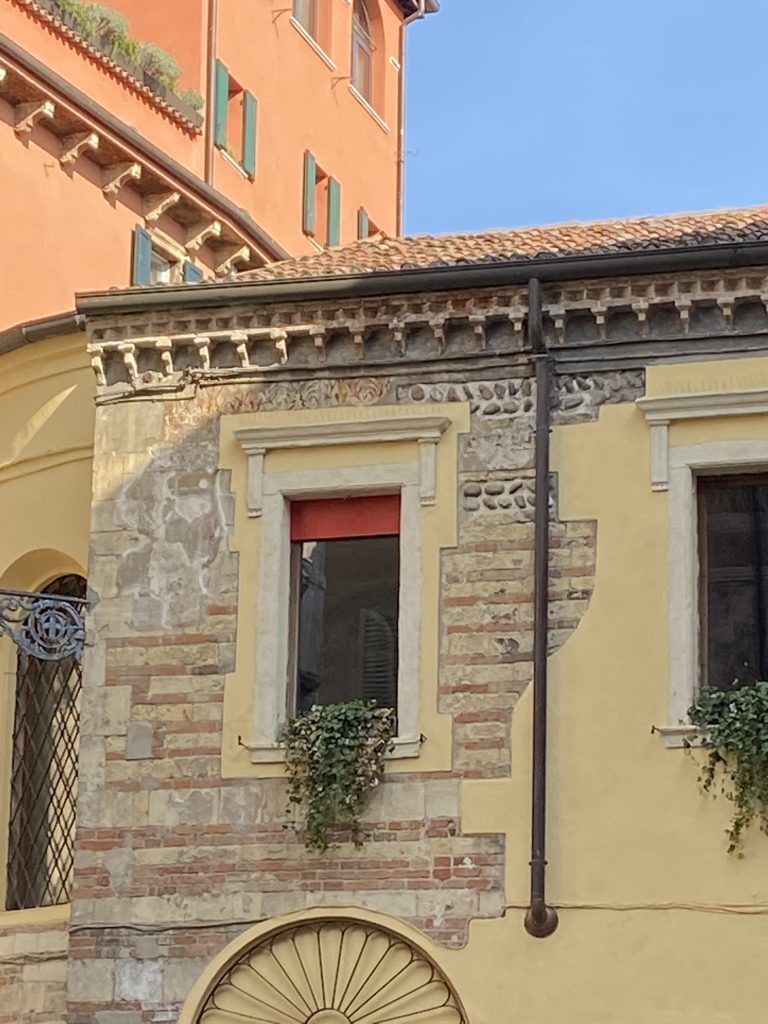 After showers we headed to dinner which was really fun. The trattoria has been around a long time since the early 1900s. It is known for its meats and cheeses and traditional Veronese dishes. I was looking forward to the asparagus dishes. This is asparagus season and the region grows the famous white asparagus. I have loved what I call Spargel ever since we lived in Germany, many years ago. So I was over the moon with happiness. The white asparagus does not get south of the region.

My appetizer was white asparagus with ham wrapped hard boiled eggs. Quite yummy. And I ordered the Pappardelle with beans. Special to the region beans called Bala Rossa. Luther got the Pappardelle and then Stinco di Maiale. We had a bottle of really nice Valpolicella. I got a scoop of pistacchio gelato and Luther got a grappa, which they told us were on the house. A fun dinner.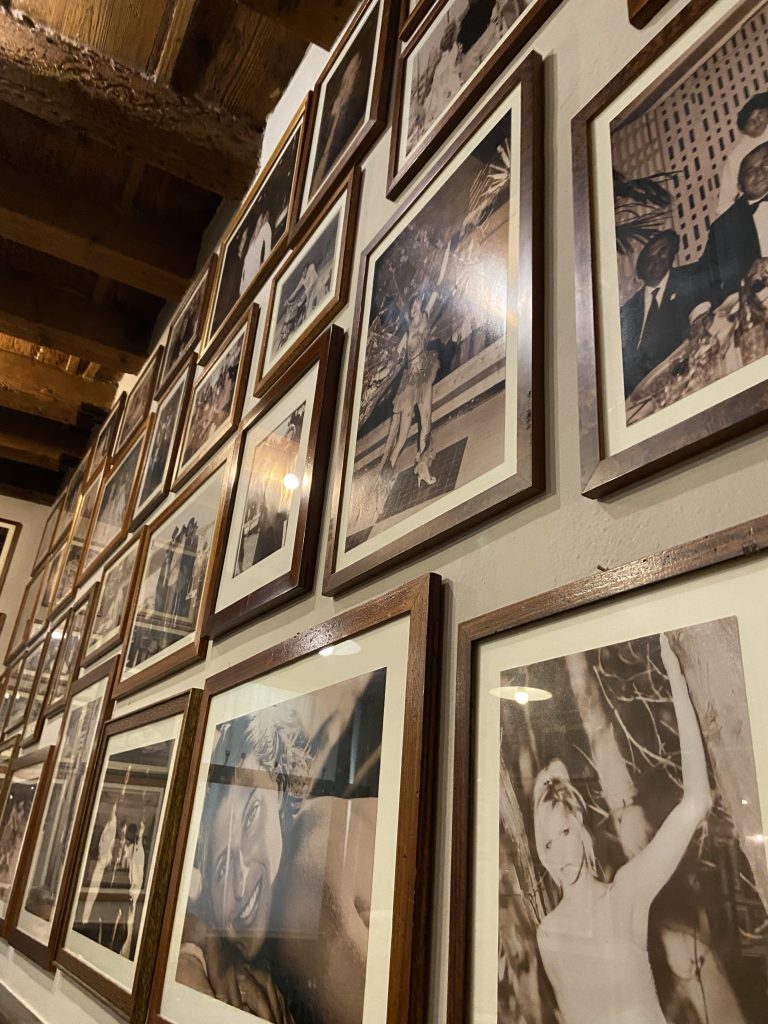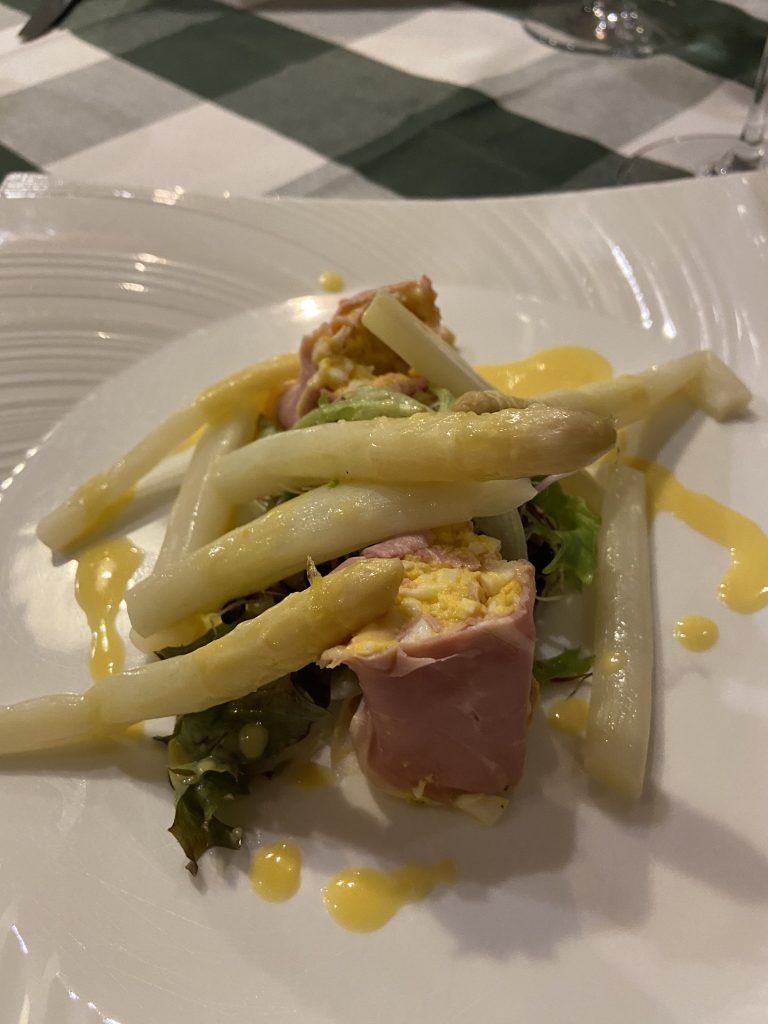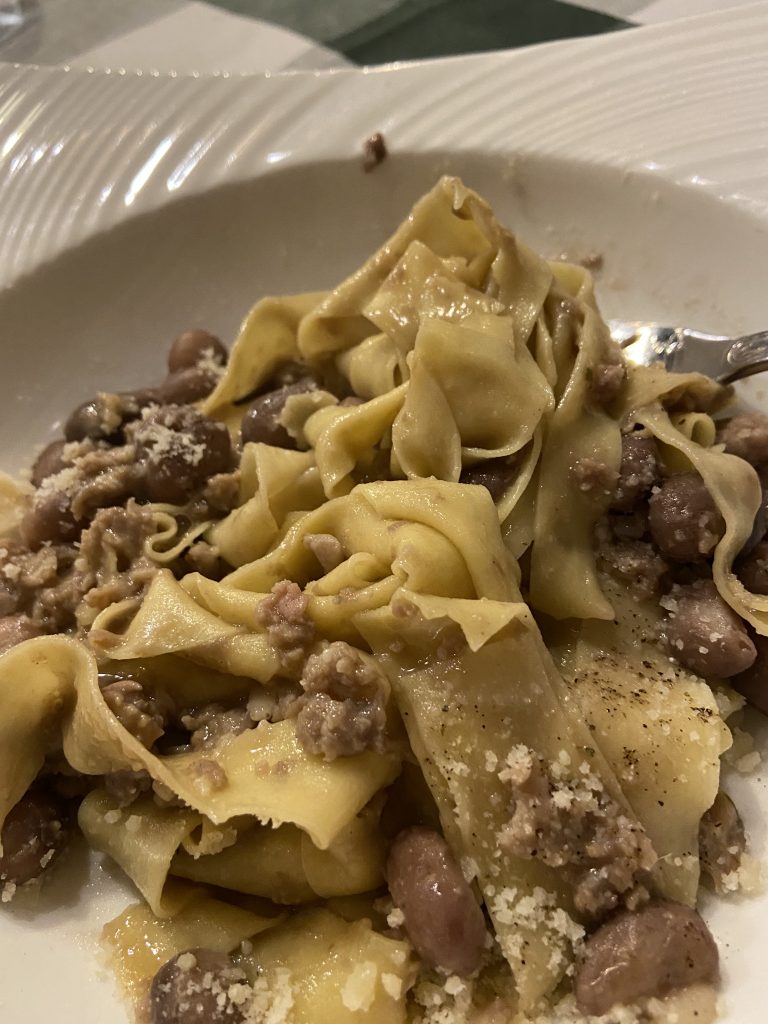 Thursday May 12
We sprang for the breakfast this morning. It is ordered a la carte, delivered at the time you specify and you can order as much as you want for the price. Of course we ordered more than we could eat😁 so we have plenty left over for tomorrow. It will work out well.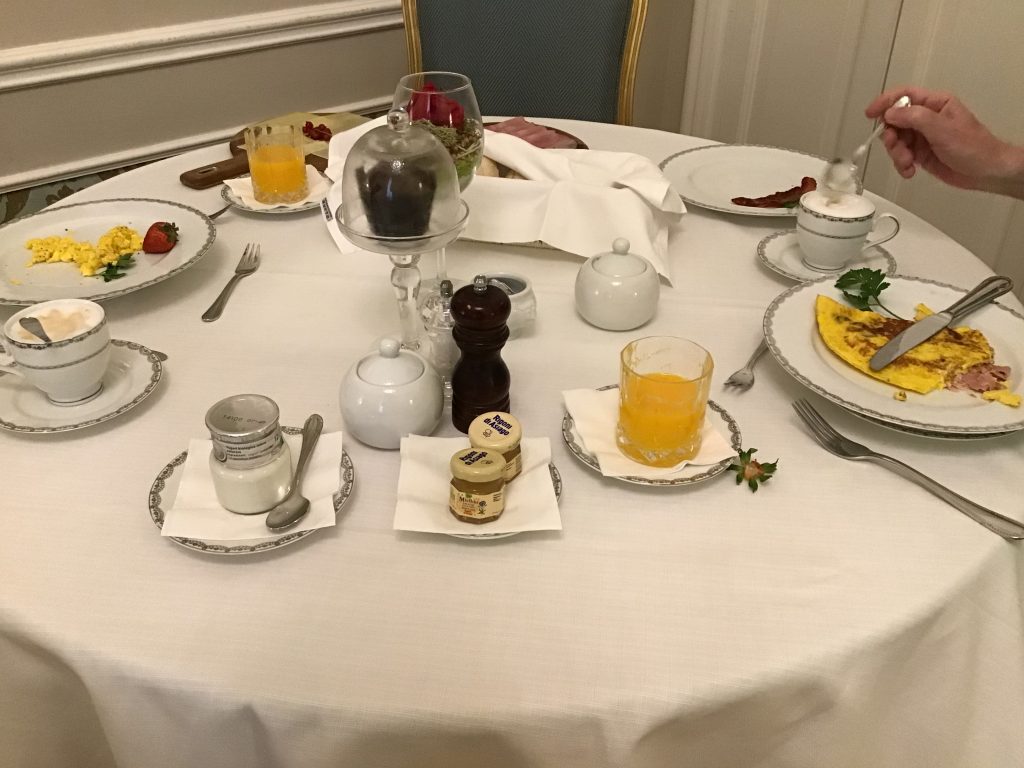 We headed out for our walking tour of Verona. Luther was our tour guide. We started by going to Piazza Erbe. It was originally a Roman forum. The name erbe means herbs and it was known for various aromatic spices, herbs, coffees etc. imported from Venice where they had come from all over the world. There are many notable buildings and an impressive bell tower. The buildings span varied architecture, Romanesque, Neoclassical and Baroque. I will try to put in the captions below the pictures what they are (If I can remember!)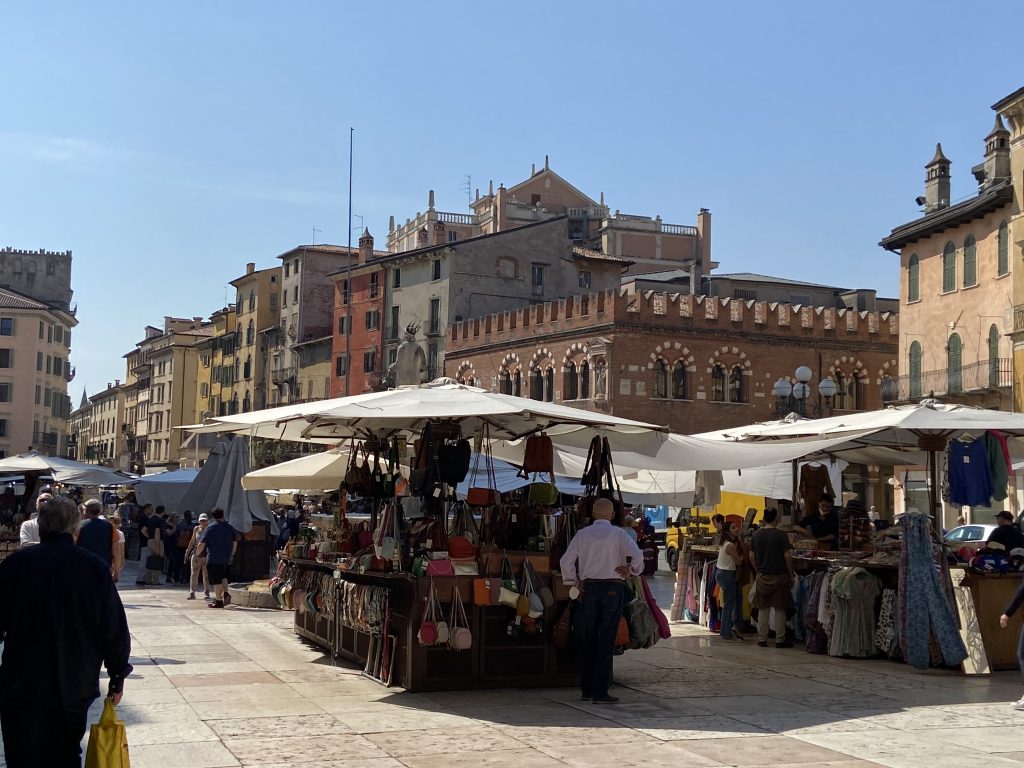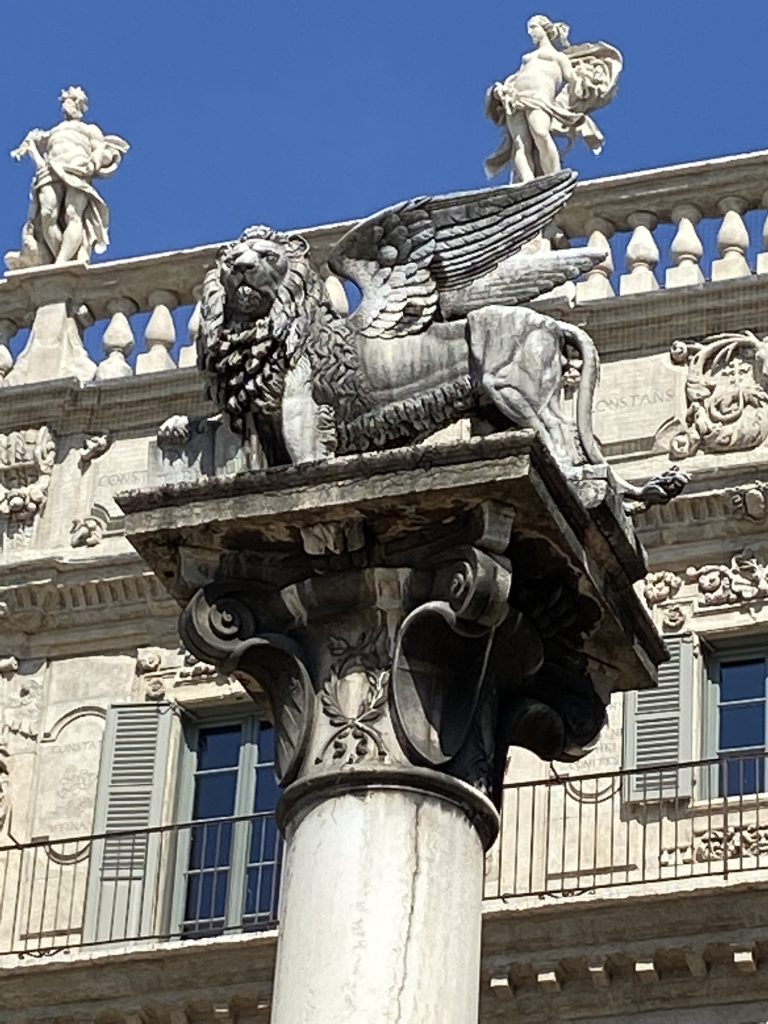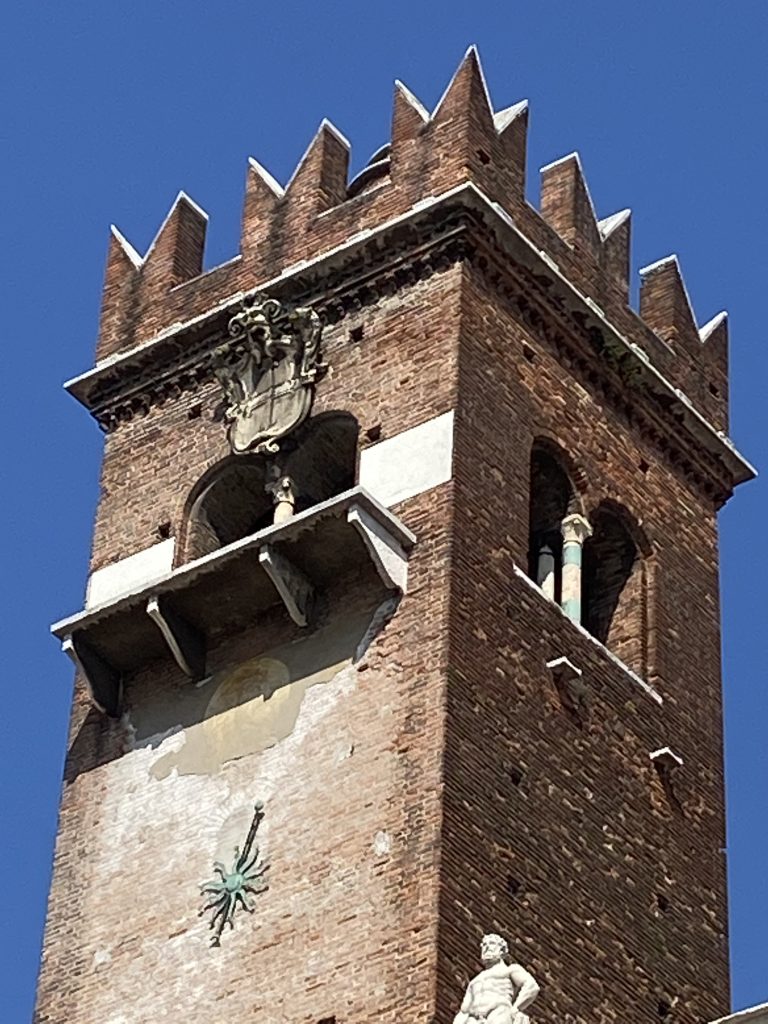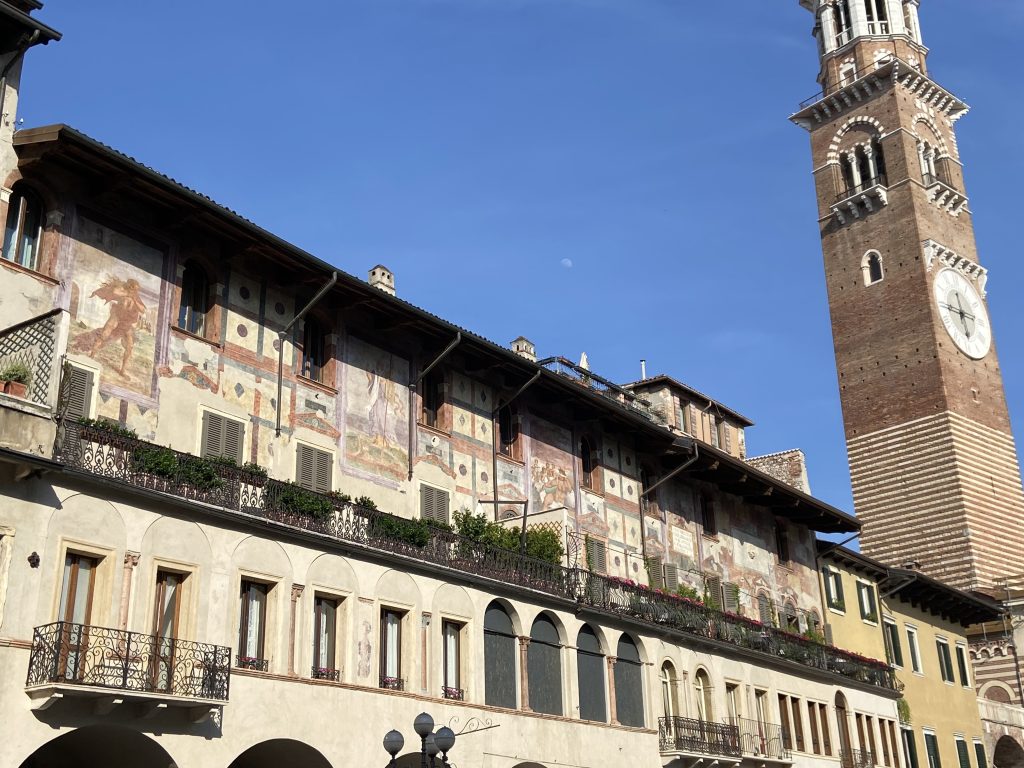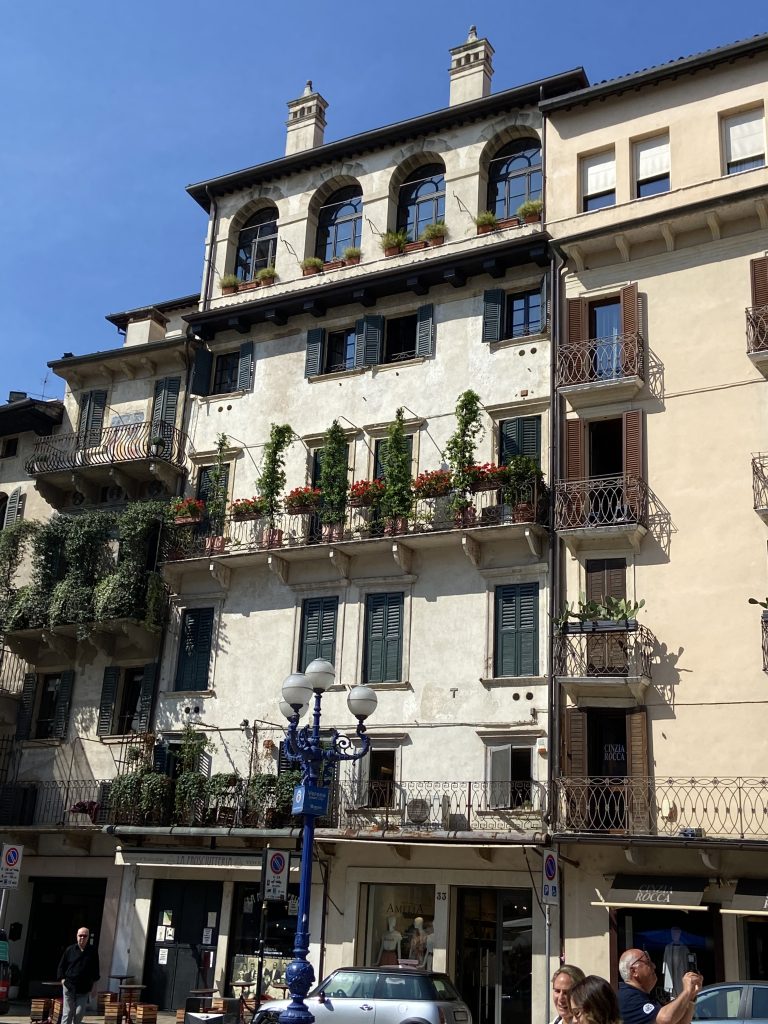 Behind Piazza Erba was Piazza dei Signori, or Lords Square. This square has a strong connection with Shakespeare's Romeo and Juliet. It was the setting where Bartolomeo della Scala banished Romeo to exile. Just past this piazza was Arche Scaligeri and the Scaligeri Tombs. Very impressive. I loved the horse and rider atop the church.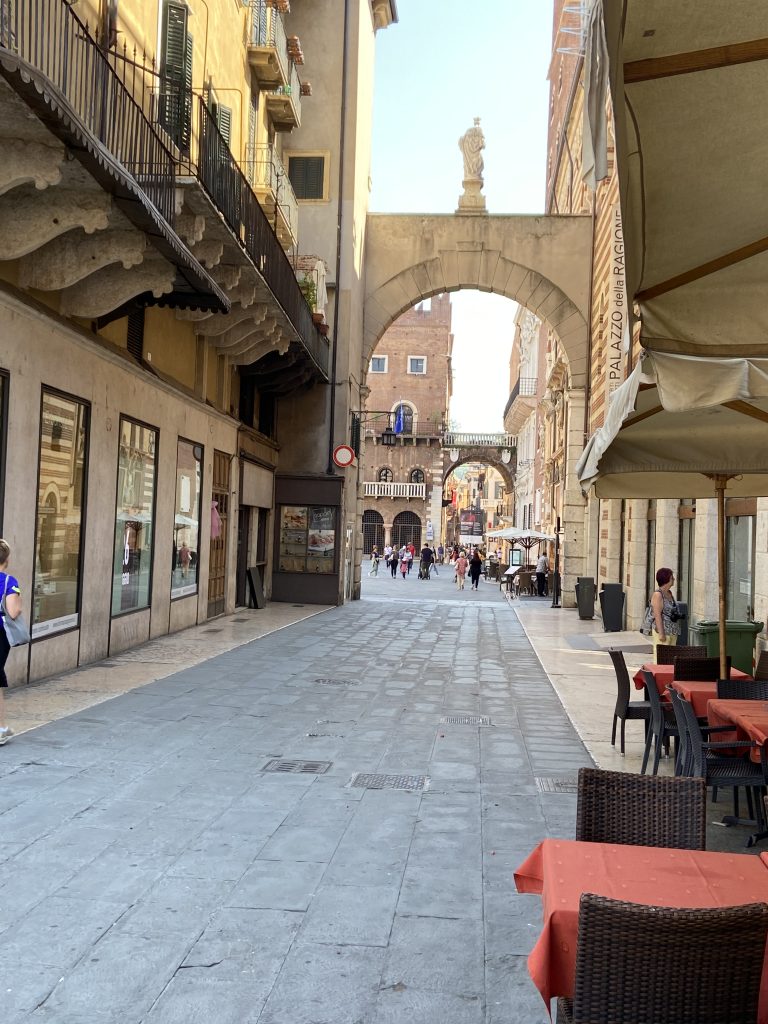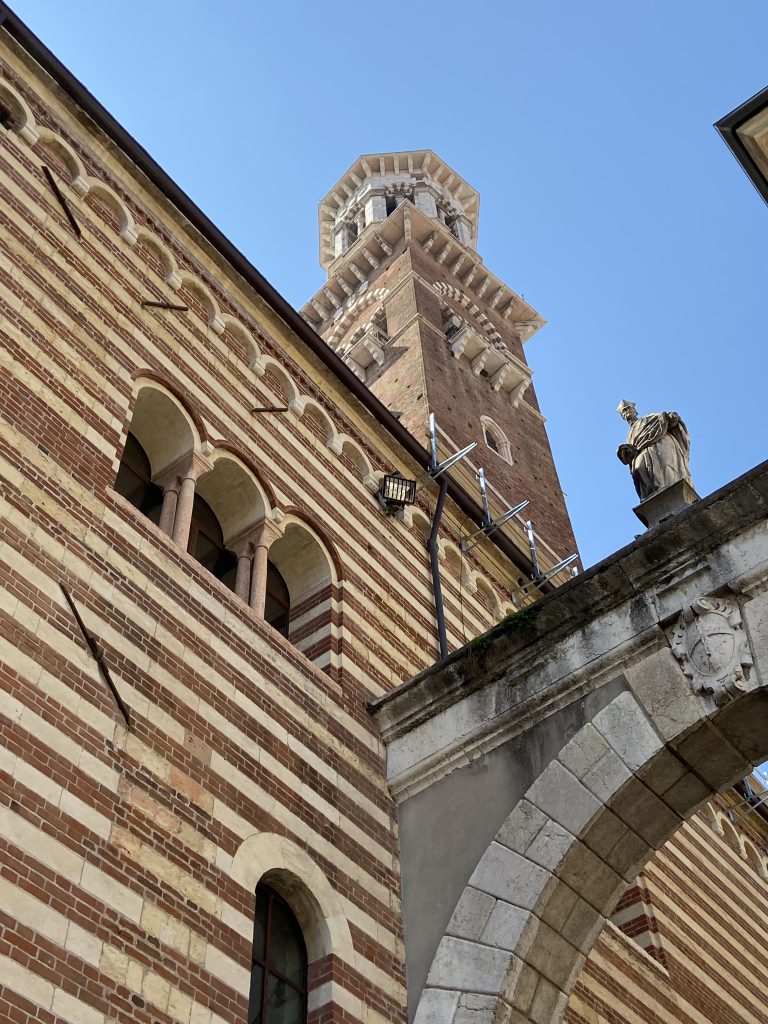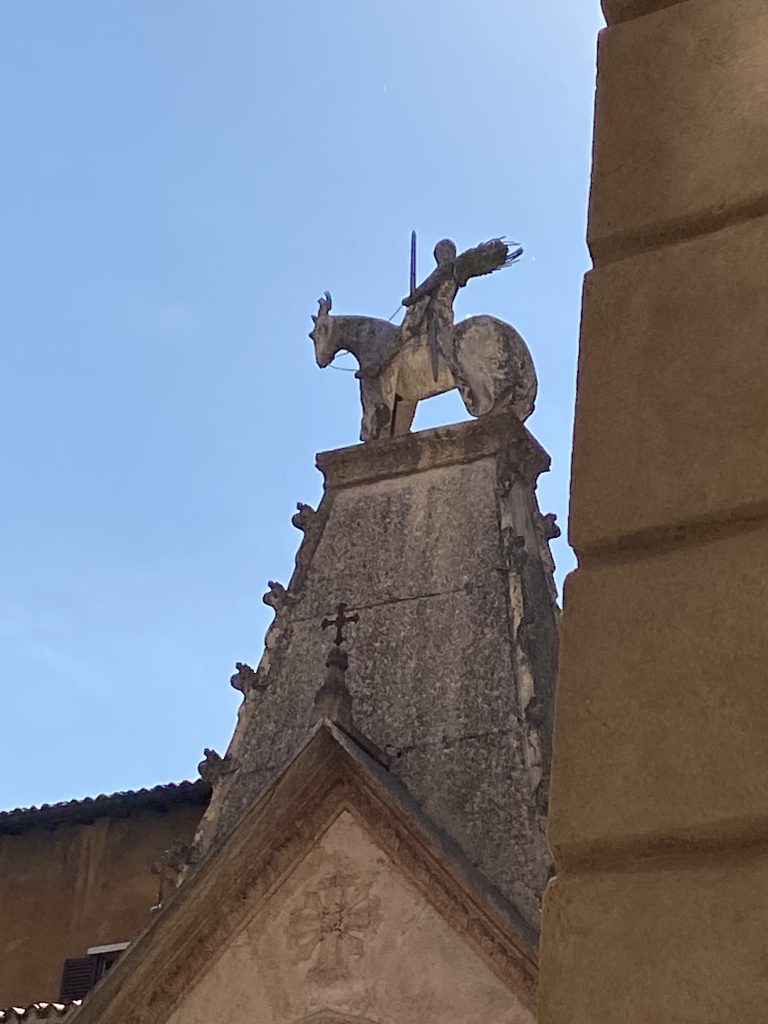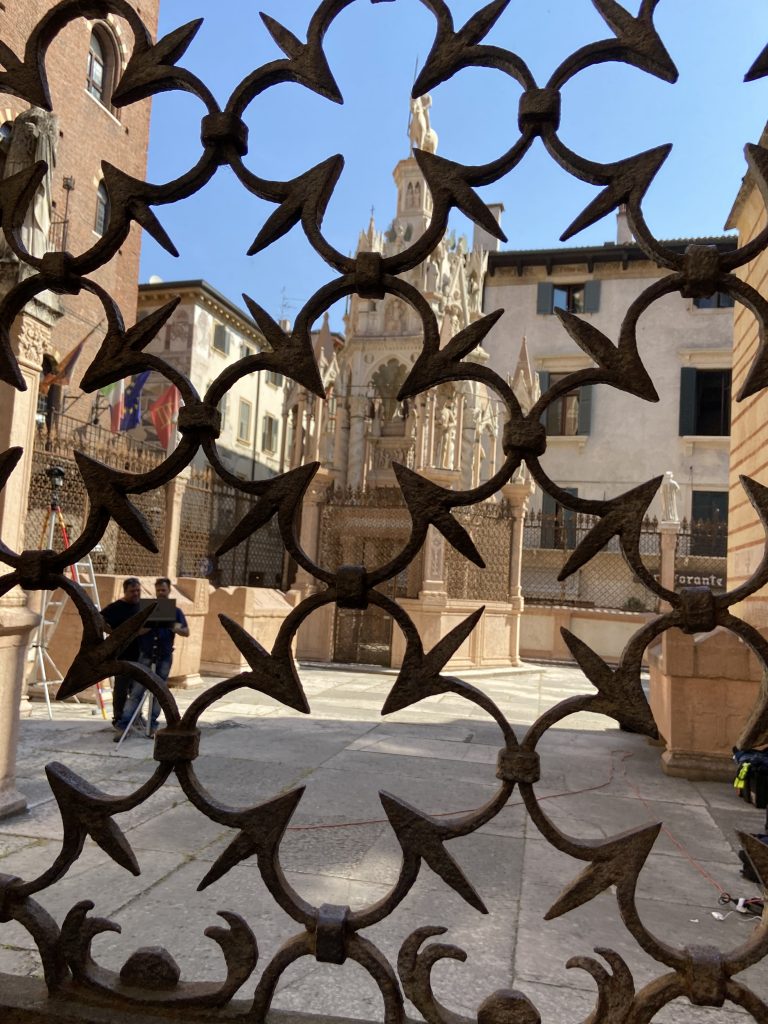 Of course we had to see Juiliet's balcony. It can be a madhouse full of tourists with long lines to get into the small piazza. We lucked out and it wasn't too bad. Of course, it isn't really Juliet's balcony it was only addd in the 20th century for tourists, but thousands come every year to see it.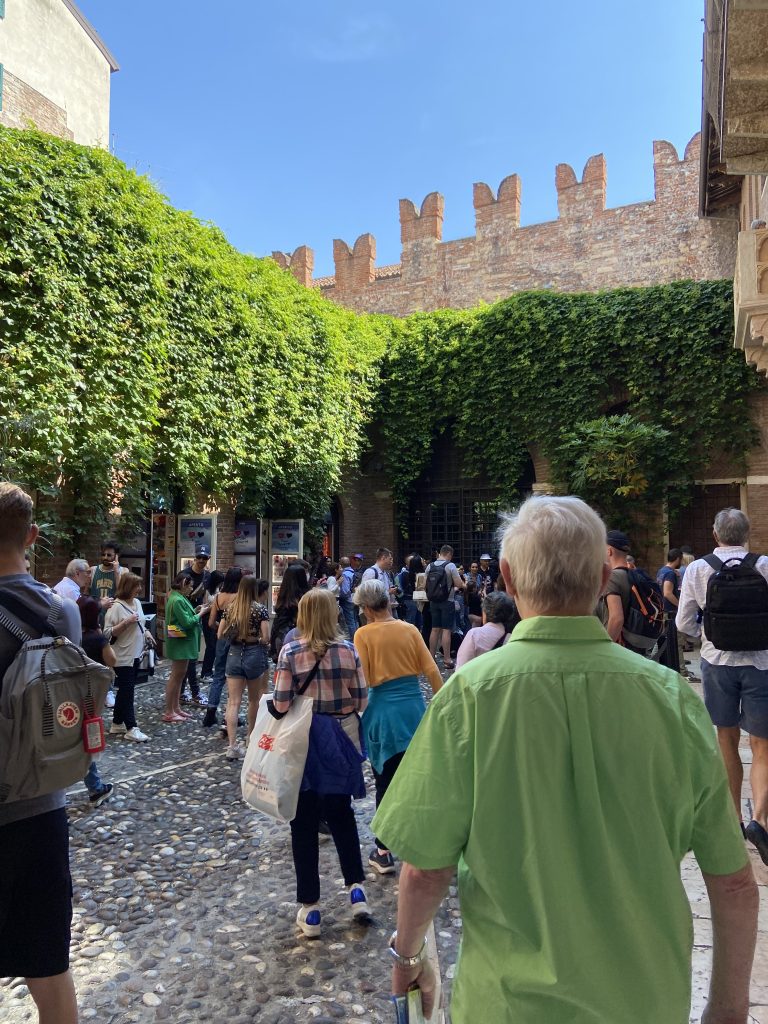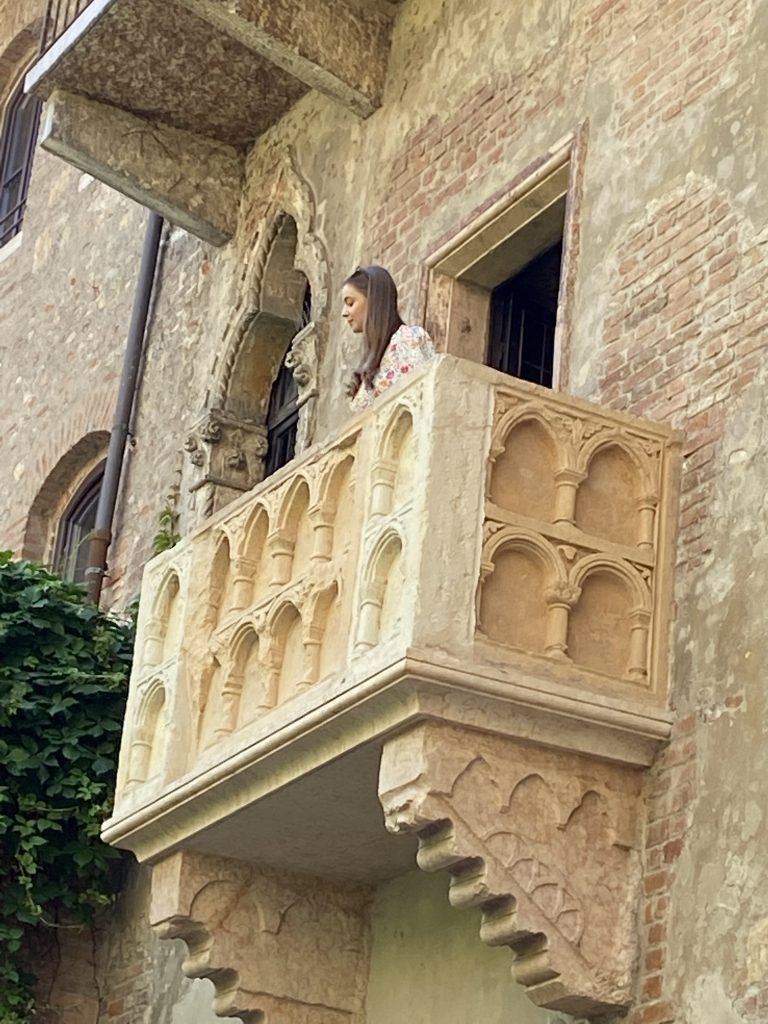 We walked on down to the main shopping street. along the way was this beautiful bougainvillea on a balcony.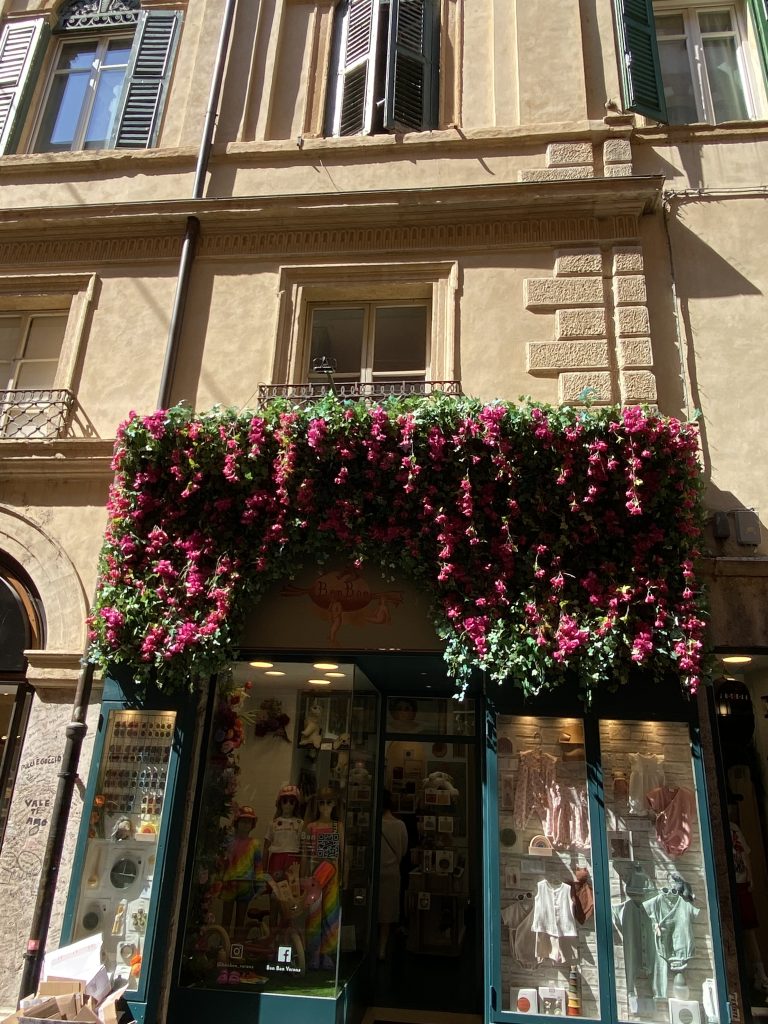 On the shopping street I snapped this door handle on a dress shop.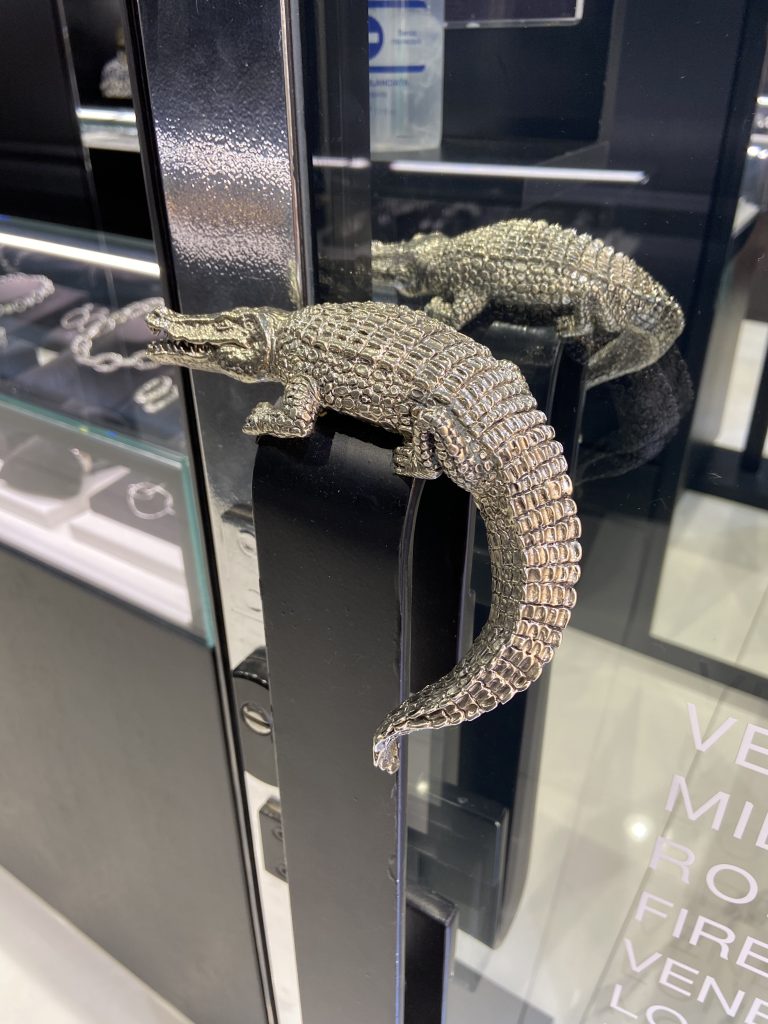 Next we visited Piazza Bra. The biggest Piazza I've ever seen. It is home of the famous Arena di Verona. The arena still has opera and concerts of all types. It holds 15,000 about half of what it held during Roman times. I was a little disappointed that only one part of it is actually from the Roman era. We sat down for a glass of wine and for some good people watching. There were scads of school groups EVERYWHERE today. It is the season for field trips.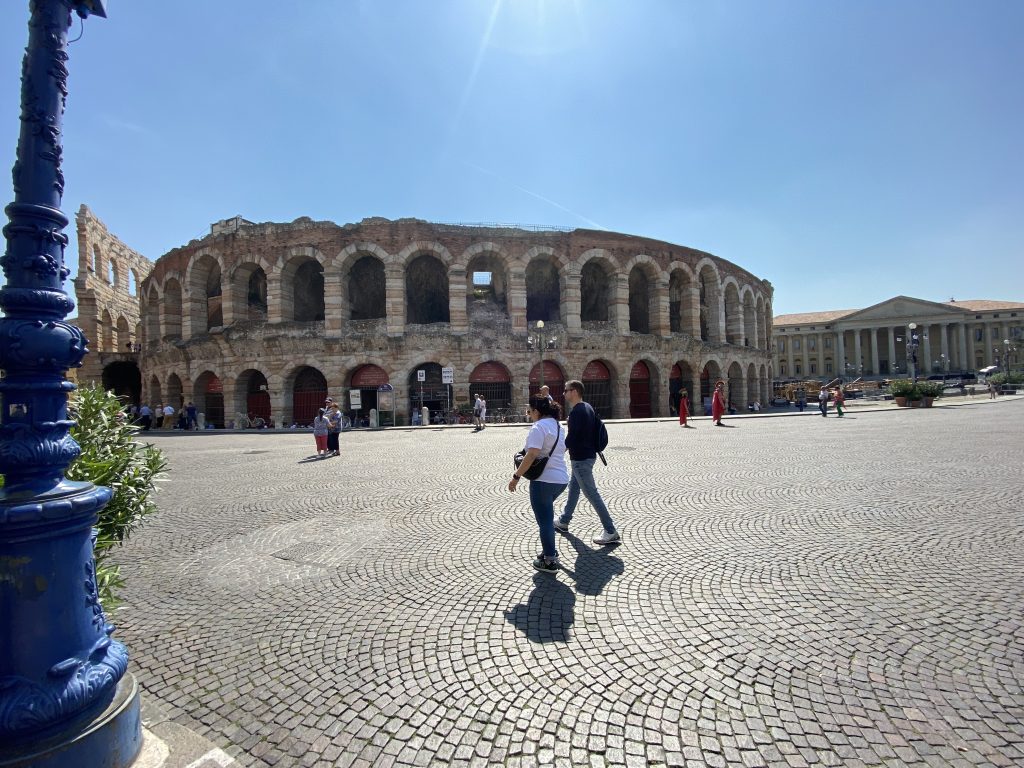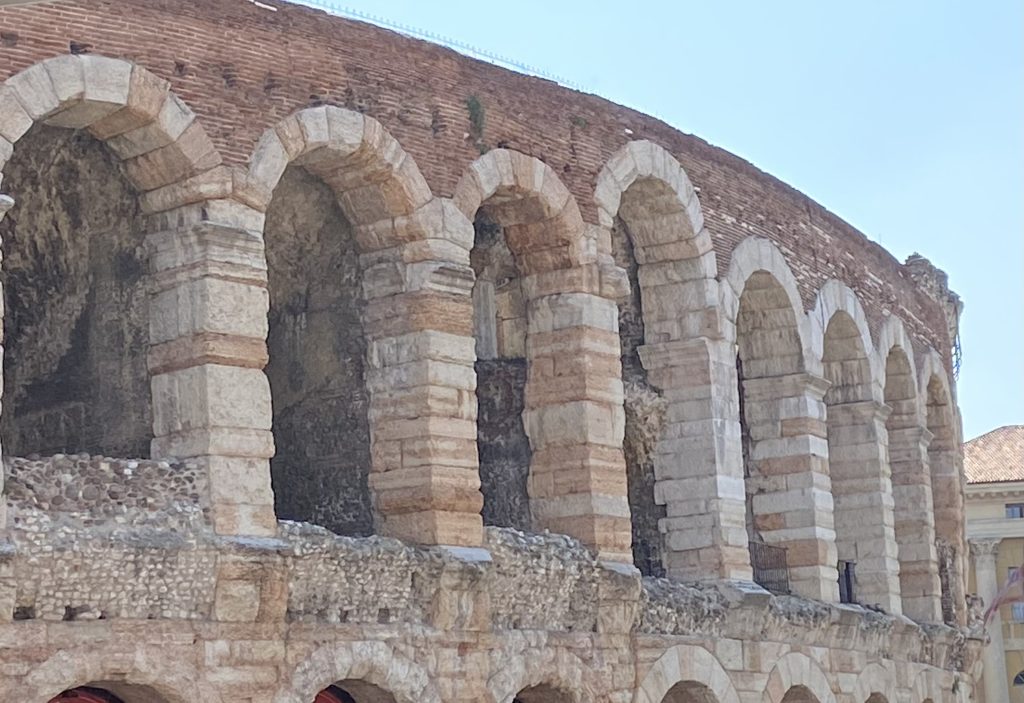 Next we crossed the Adige river, clear and fast moving and shallow. There were many what looked to be River Trout easily spotted. We used a medieval bridge called Ponte di Castelvecchio. Pedestrian and made of bricks. Once across we followed a pleasant walking path along the river. There were some very beautiful apartment buildings with pretty apartments with amazing river and old town views. Bet they'd set you back a bit. Crossing back over the river we were just near our hotel.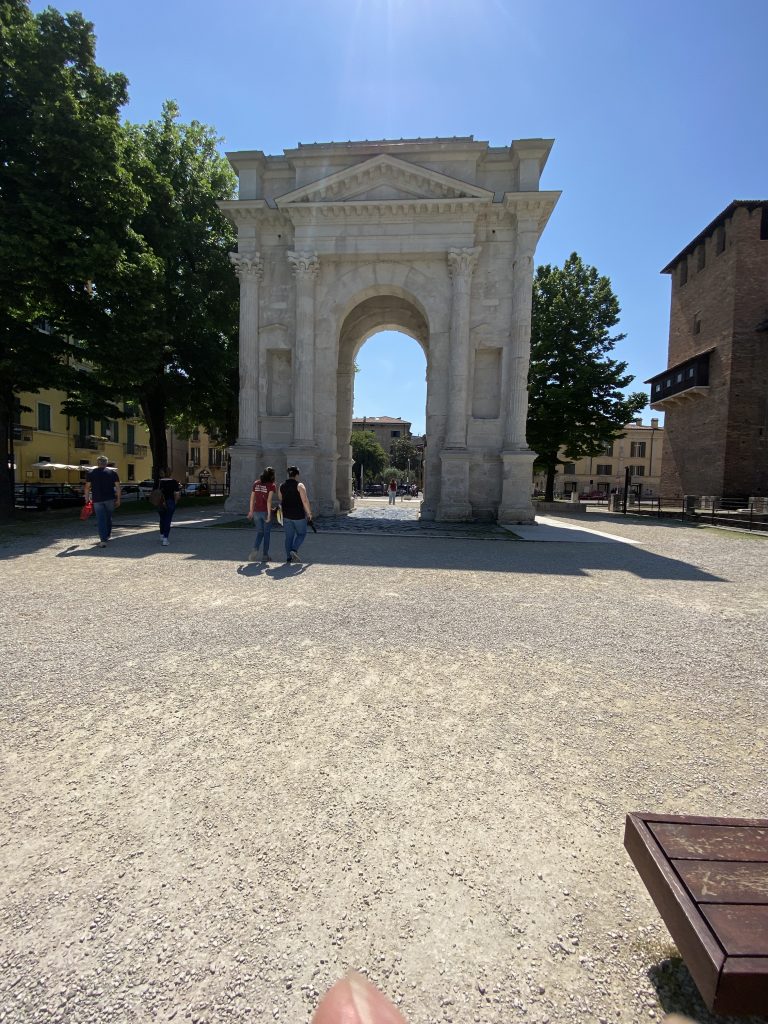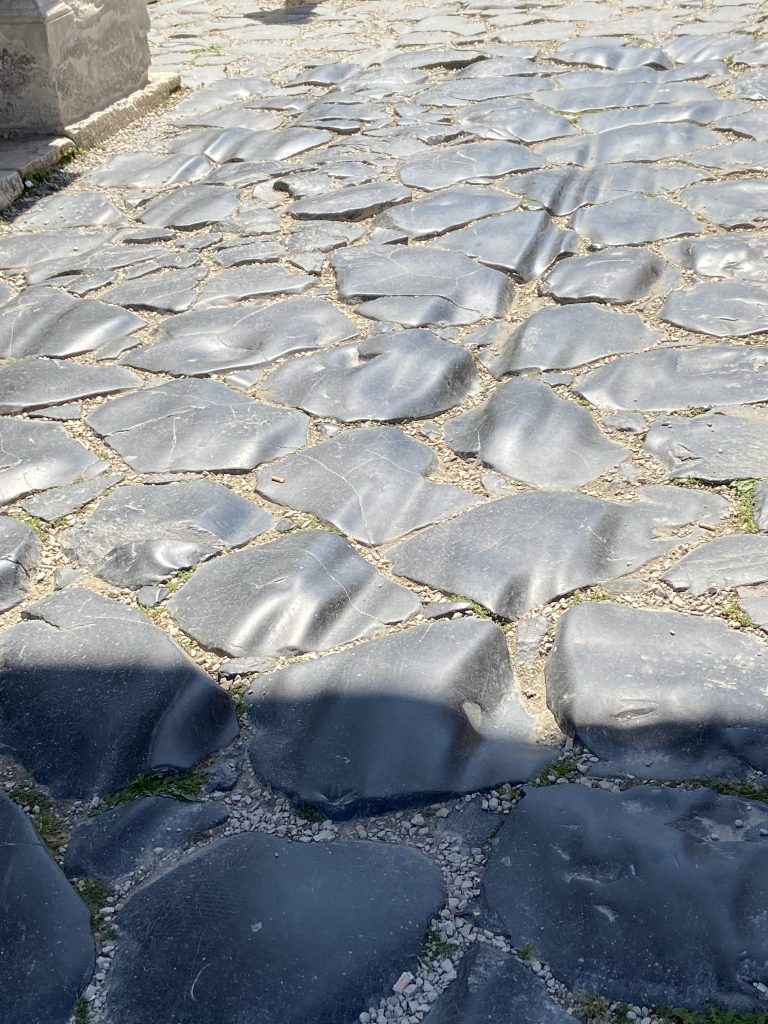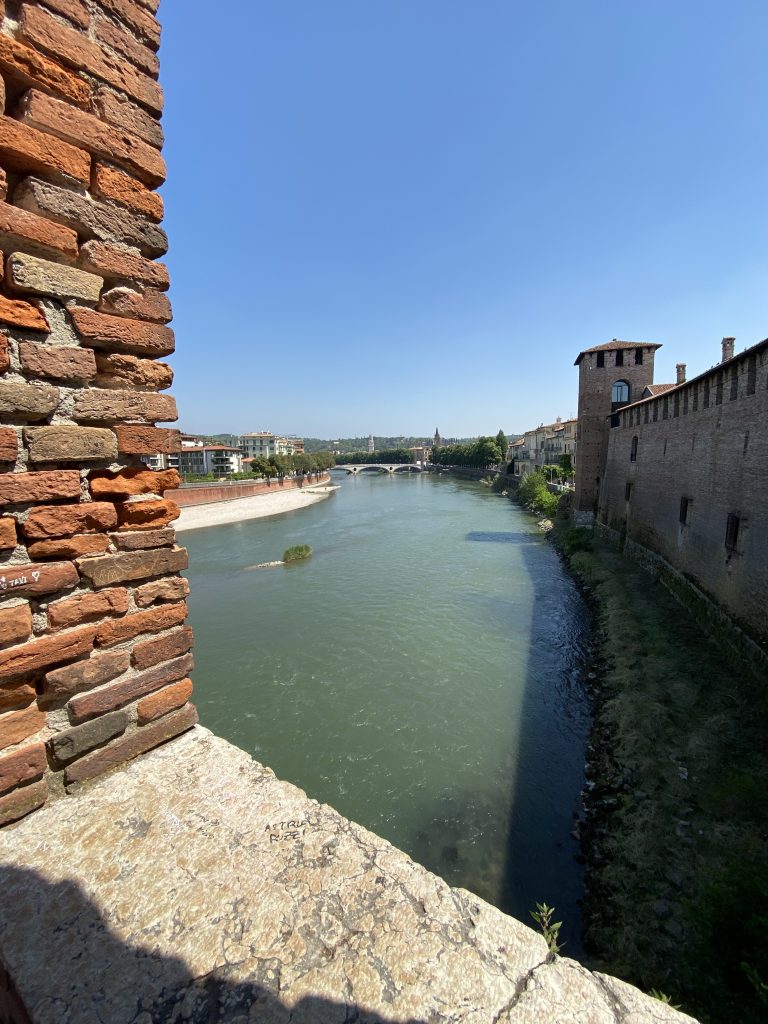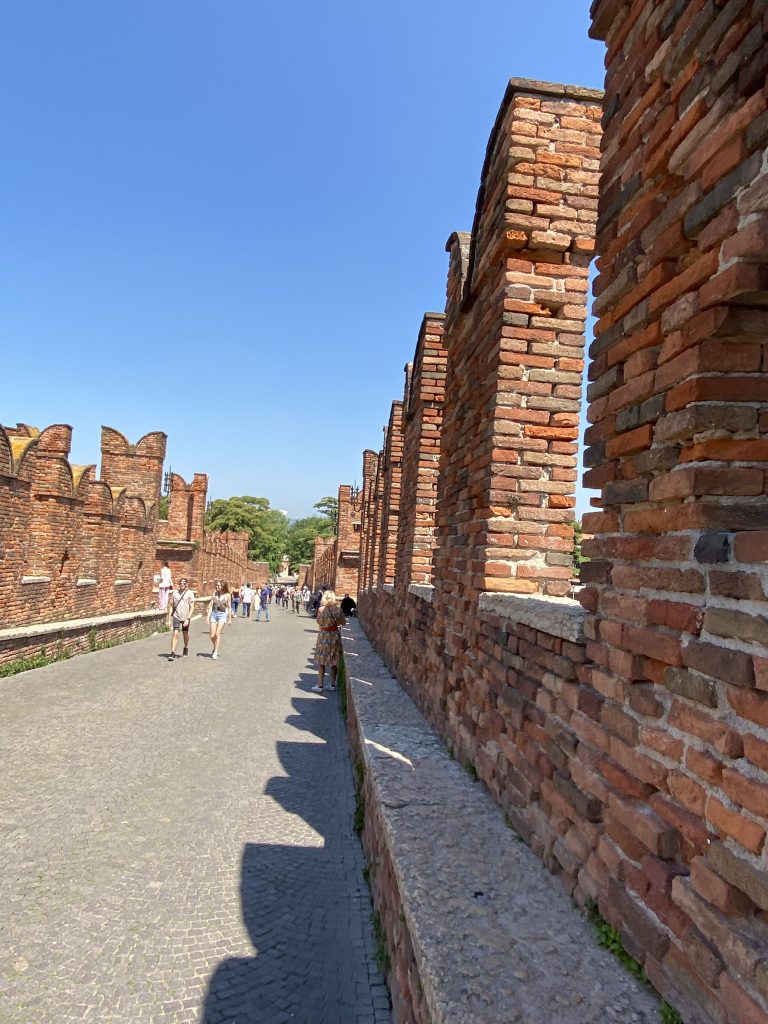 We went looking for a place for lunch, which was harder than I had anticipated but we found, on a small side street, Osteria "Le Vecete". It was perfect. We sat outside and had a light lunch with wine. I had Spaghetti with pomodorini, buratta and basil. Luther had the octopus salad with olives, tomatoes and potatoes. Both were very good.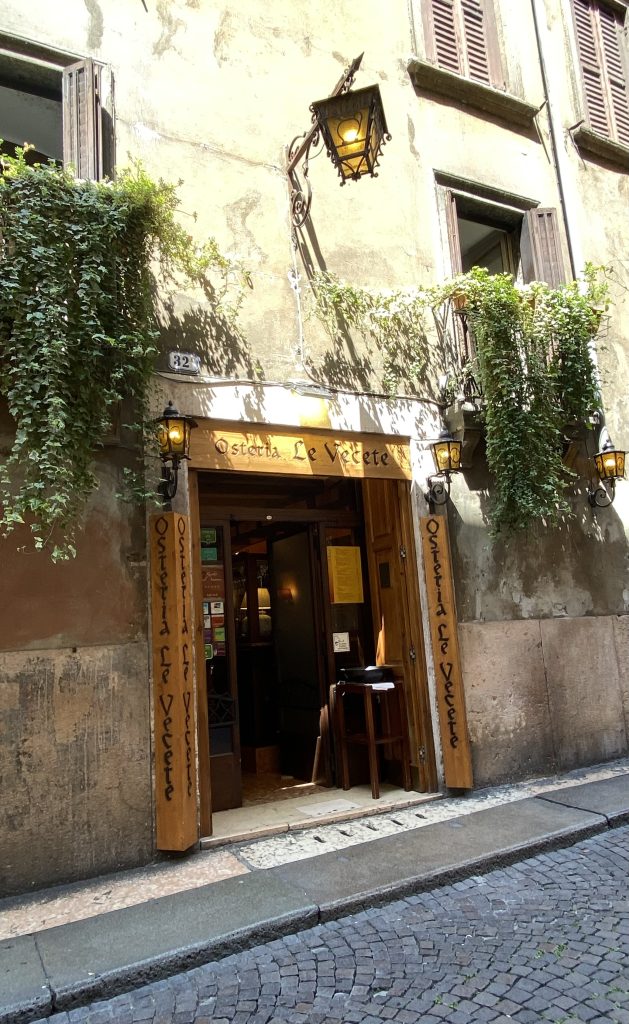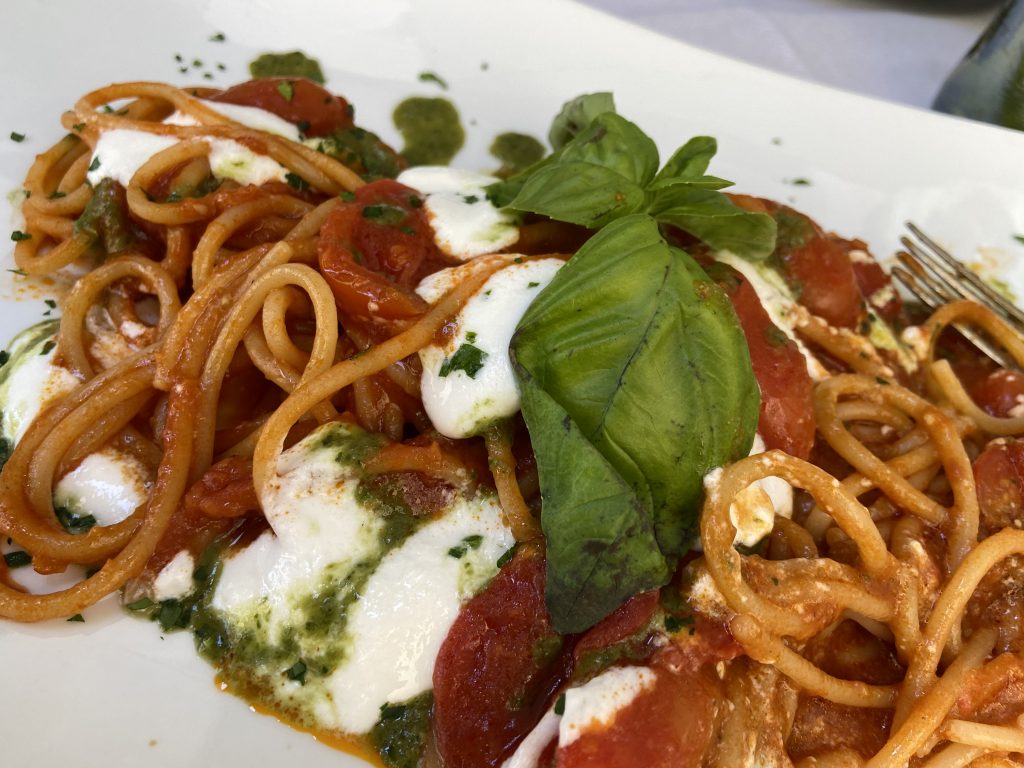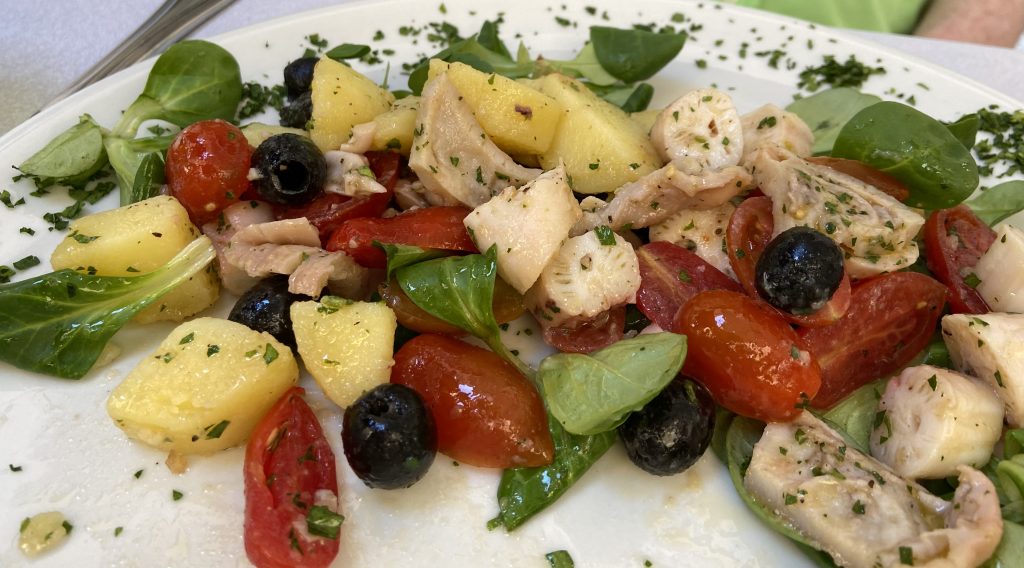 Dinner at L'Oste Scura. All seafood. We decided on trying three oysters on the half shell each. I had some misgivings about ordering them since the last three times I did I got sick. Then we had the mixed seafood crudo and I had Scallops and Luther had Amberjack. The place was lovely. We sat outside and it was warm and low-lit. The service was great.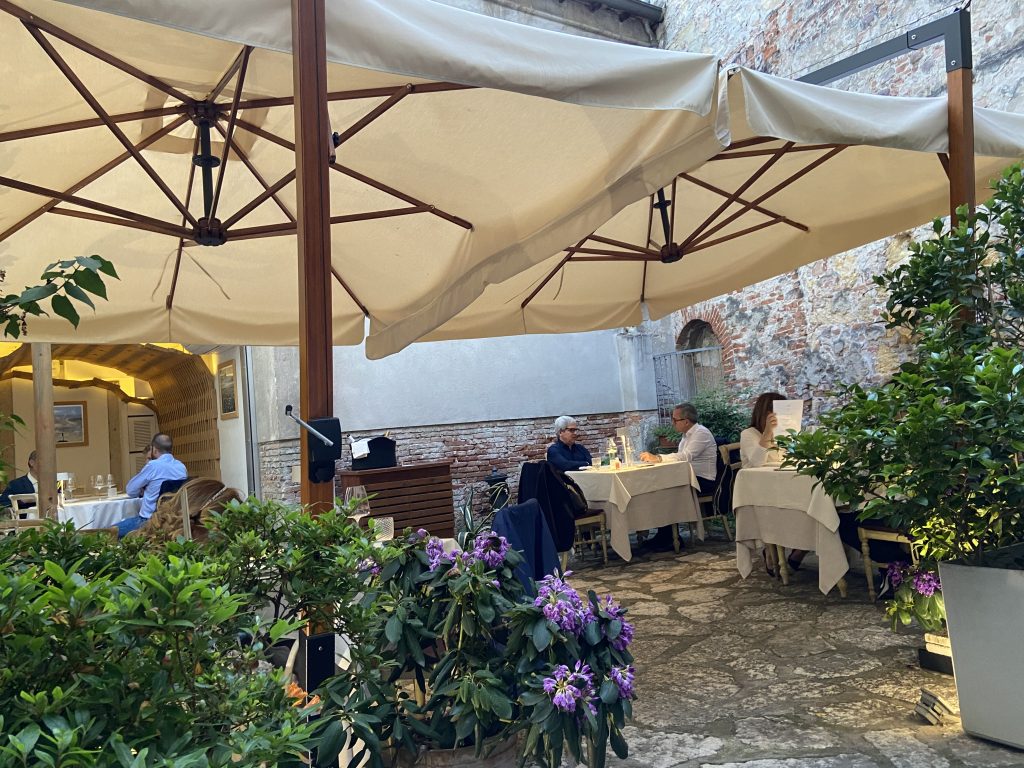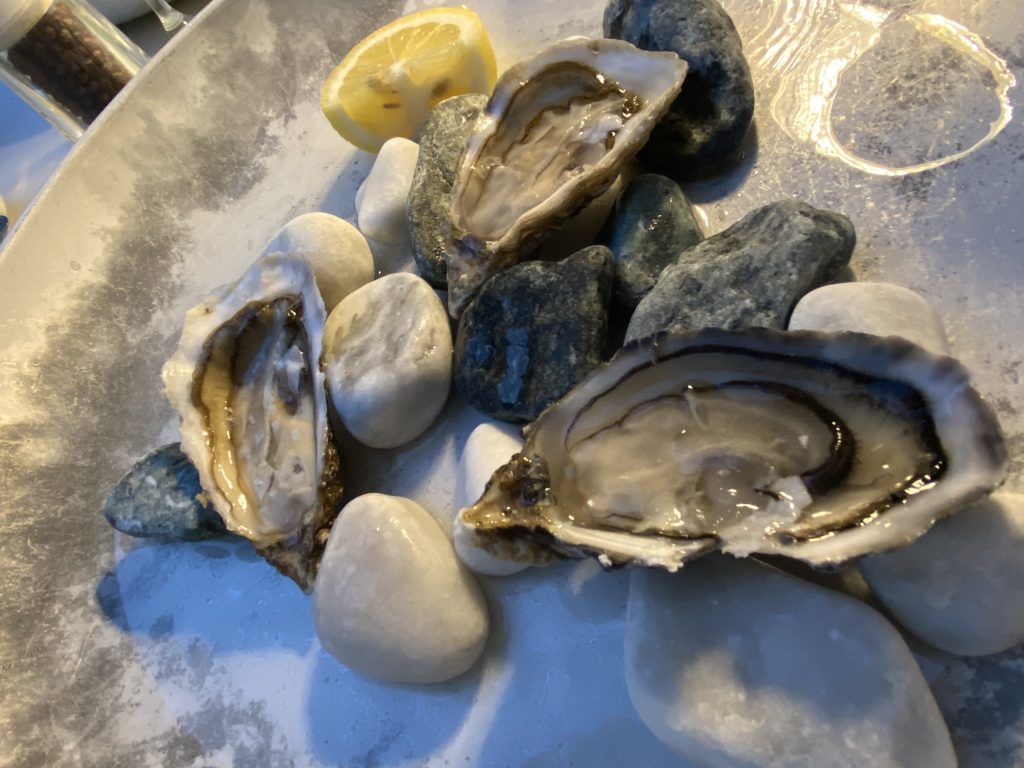 After dinner we walked back to our street. We passed the below restaurant, super old fashioned looking but very cool. It was completely empty save for a lone waiter. We went to a small bar with tables outside so Luther could smoke a small cigar he bought. A fun evening.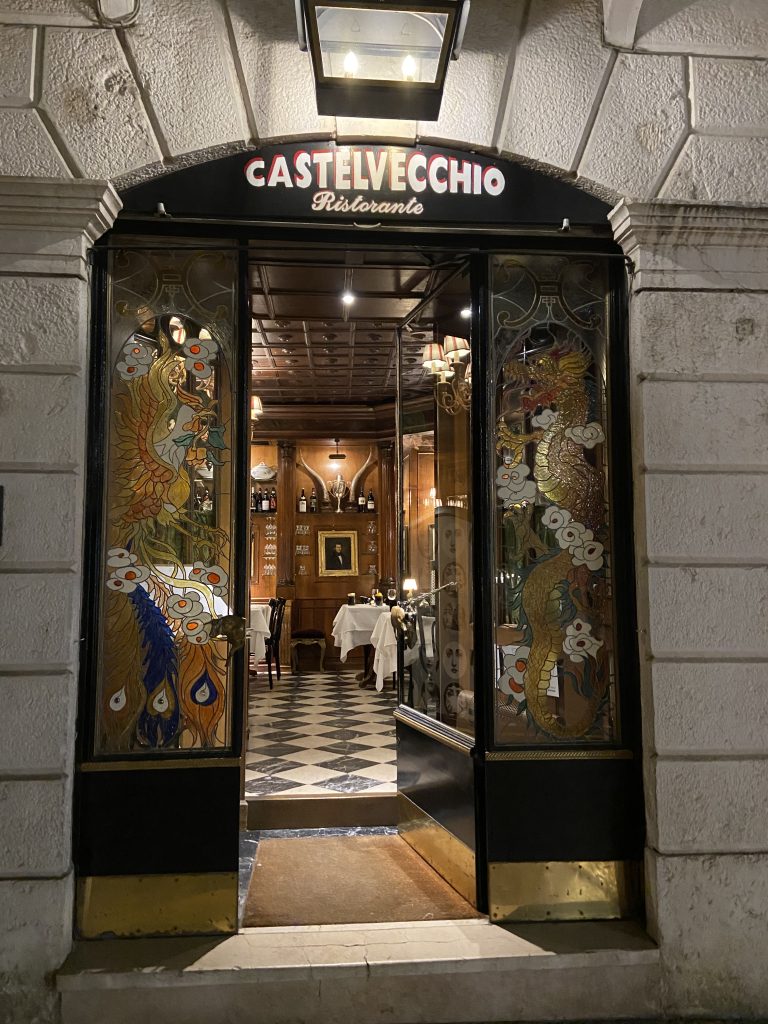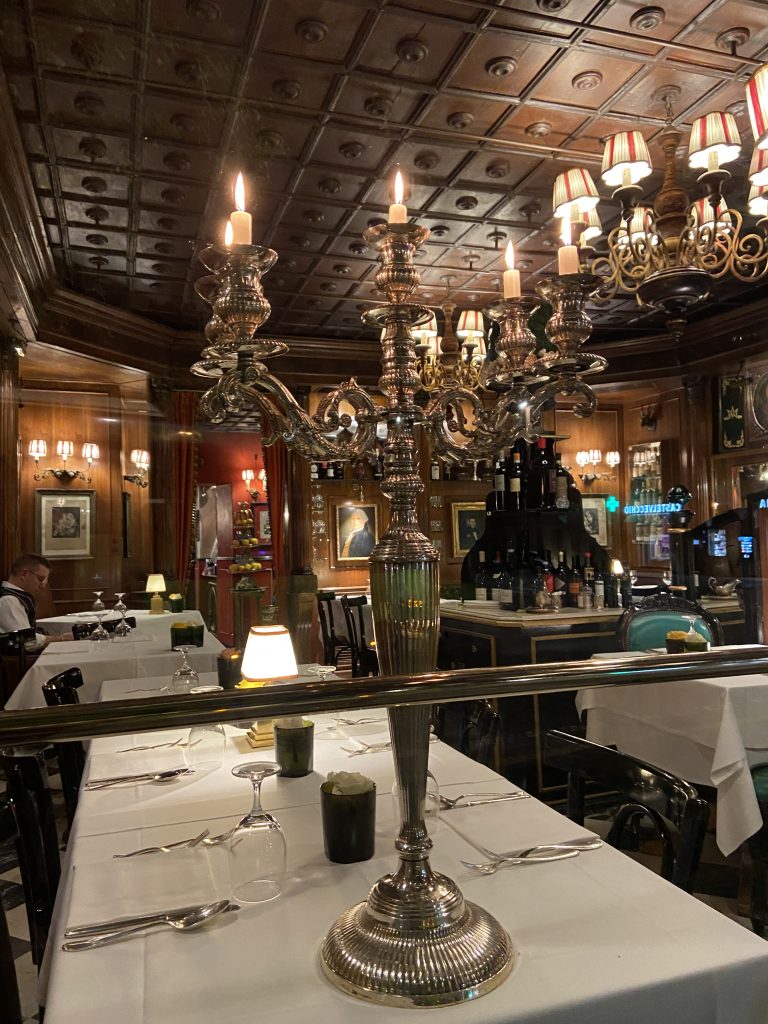 Friday May 13
All good things sometimes come to a premature end. And they did for this trip. I did indeed get sick again during the night. I must have developed an allergy to Oysters. So sad as I did/do love them. They just don't love me.
In the morning I didn't feel I was up to sight seeing so we decided to head home early. I am very sorry not to finish our visit in Verona. We had planned to see the churches and then a Roman amphitheater with views of the town and then maybe the modern art museum. But we saw a lot and if you only have one day then our walking tour was perfect.
~~~~~~
I had to take photos of the coolest bidet I have ever seen. It was in our hotel bathroom. Such a good space saving idea. Bathrooms are required to have a bidet in Italy. In your home you must have at least one bidet, in one bathroom.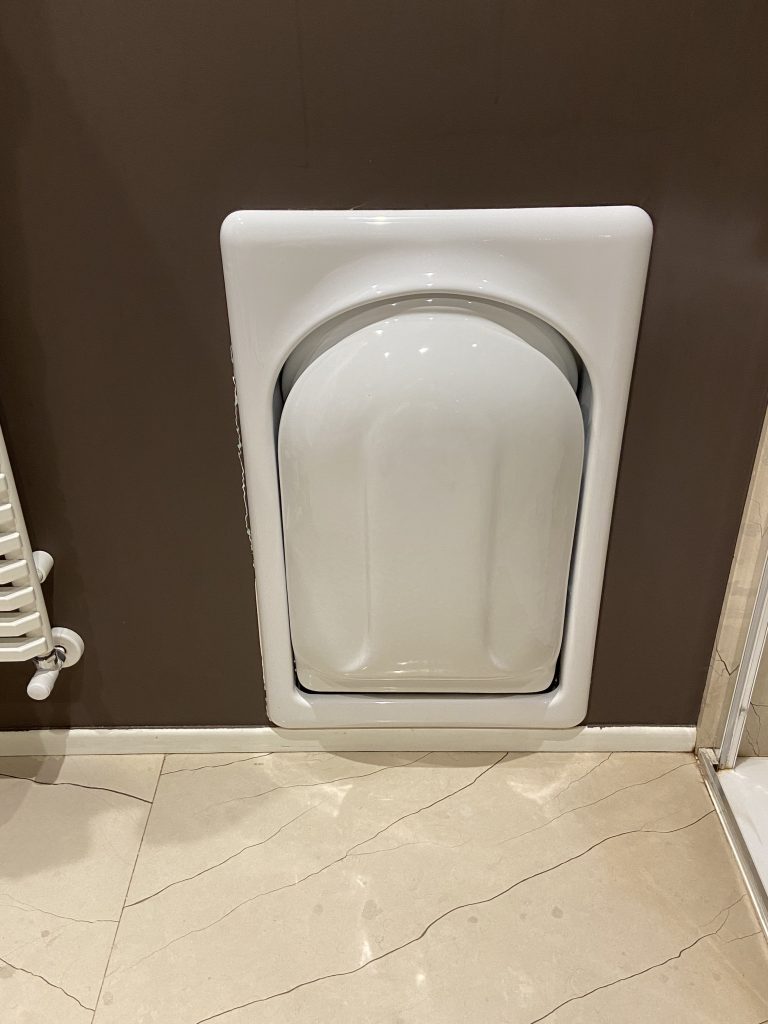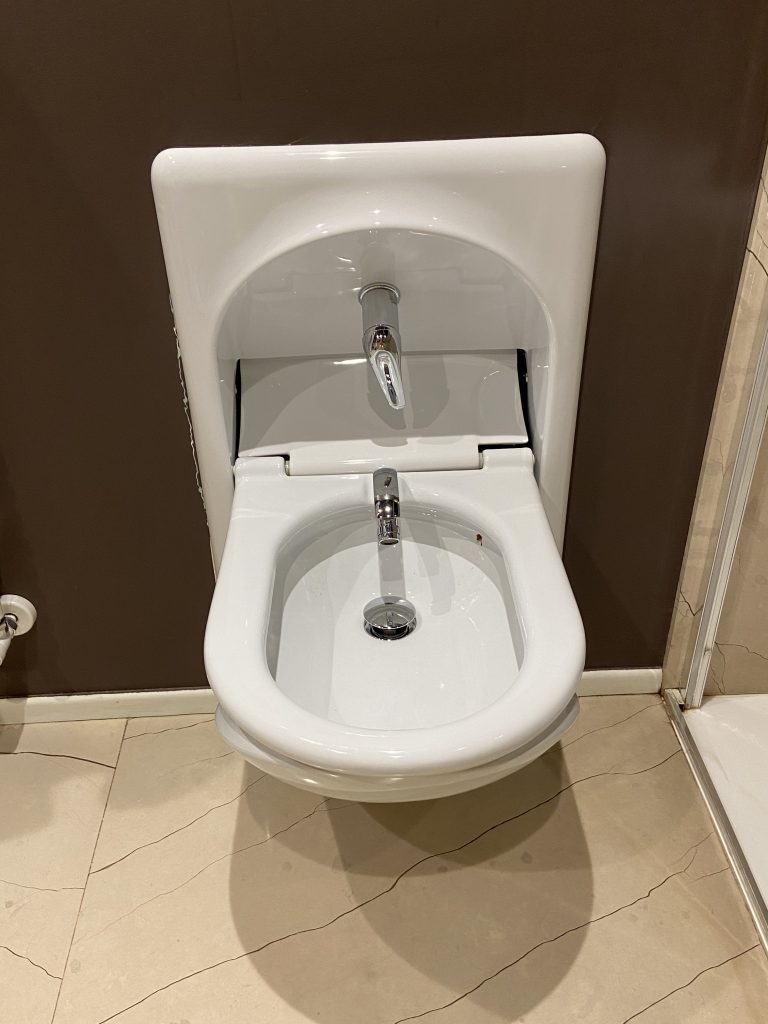 I did buy myself a souvenir yesterday but you all will have to wait until my next post to see what it is. 🙂