On to one of my favorite foods…asparagus in any form. And now is the season when it is plentiful. Happy days!
I am much better now, after a good nights sleep. I went out to the Saturday market for foraging. It happened again. I was standing, awaiting my turn at a vendor with eggs in a big bowl. I watched as each person ahead of me bought the eggs. When I arrived, there were none. The man said to me "niente frittata oggi". No fritatta today. Oh well.
But I did get a bunch of asparagus. I cooked it so it was still crisp and I had it for lunch, with, yes, an egg.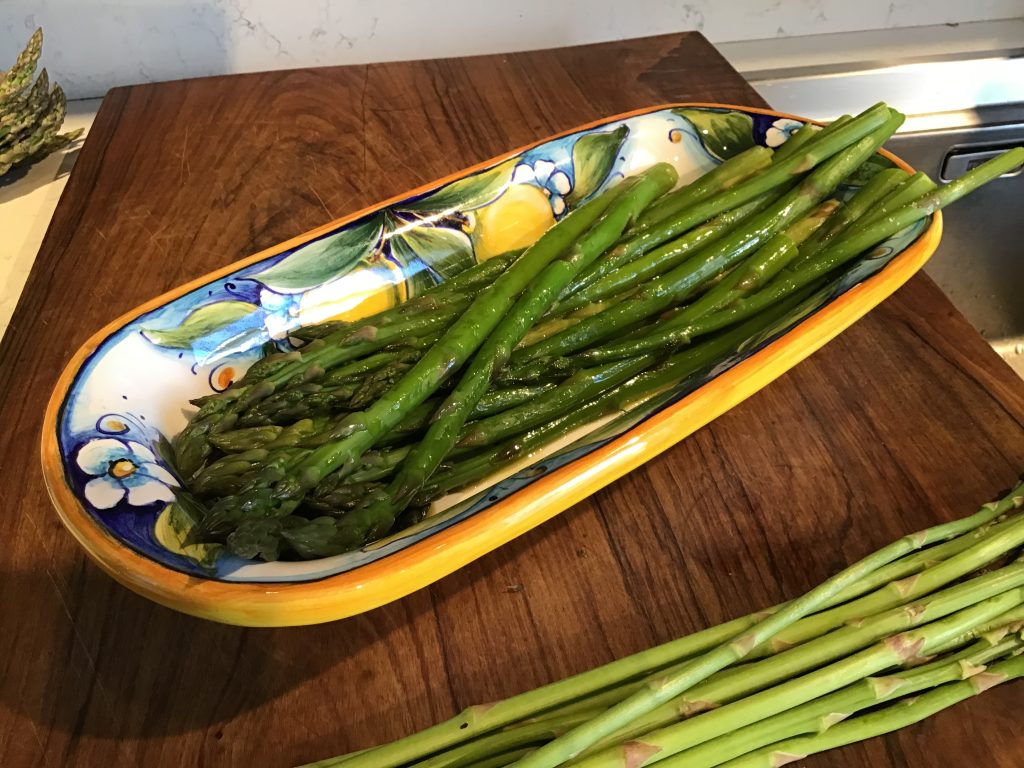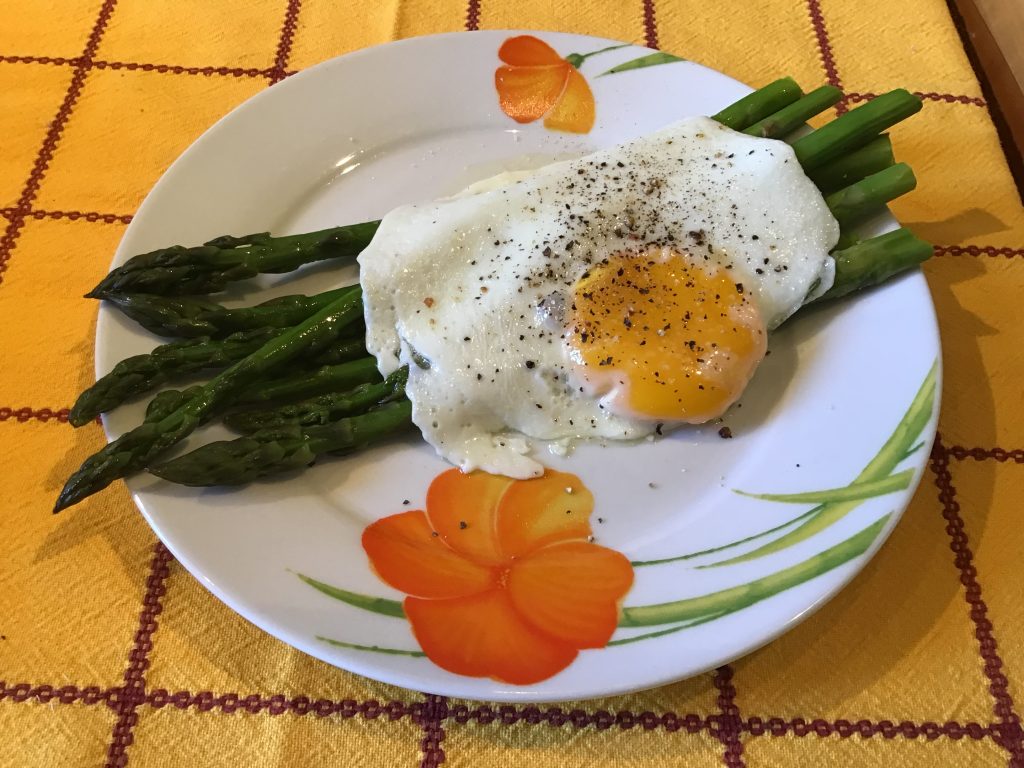 So, I promised I would tell you what I bought myself in Verona. You may have guessed already 🙂 asparagi bianchi. White asparagus. Spargel! Here it is! I bought a smaller bunch when we were recently in Milano in a swanky grocery and I paid – gasp – €23 for it. This was a much larger bunch and only €13. Plus the more desirable thick spears.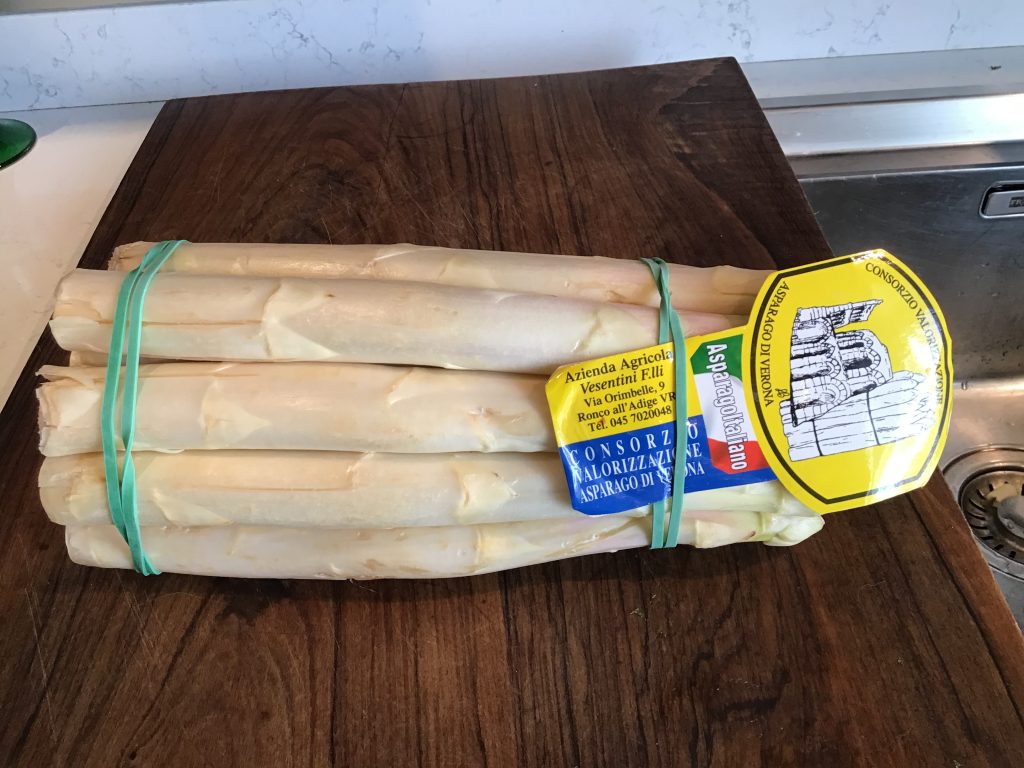 As you may know, we lived in Germany for 6 years in the 1990s. Our little dorf was called Worfelden. It was situated in the middle of extensive white asparagus (spargel) fields. We moved there in January, not exactly the growing season, but as time when on we observed some very strange farming methods. The sandy soil was hilled up higher and higher until it stood about knee high, and very smooth. We finally got clued in to the Spargel grown there. It is labor intensive. Harvested by hand. They walked the mounds looking for cracks which indicates a spear breaking through. They cut it off down low in the mound and pull the spear out. Then they re-smooth the soil. The spear must never see sunlight or it will not be white.
Springtime is known as Spargel Zeit in Germany. The vegetable is almost holy, the most revered of all vegetables. There are entire menus built around Spargel. The normal way to cook it is to simmer in water and butter until tender. It must cook for longer than green and has a more earthy, less grassy flavor. It is served with new potatoes and sometimes ham or fish with hollandaise sauce. Here is a picture of a spargel field in the harvest season.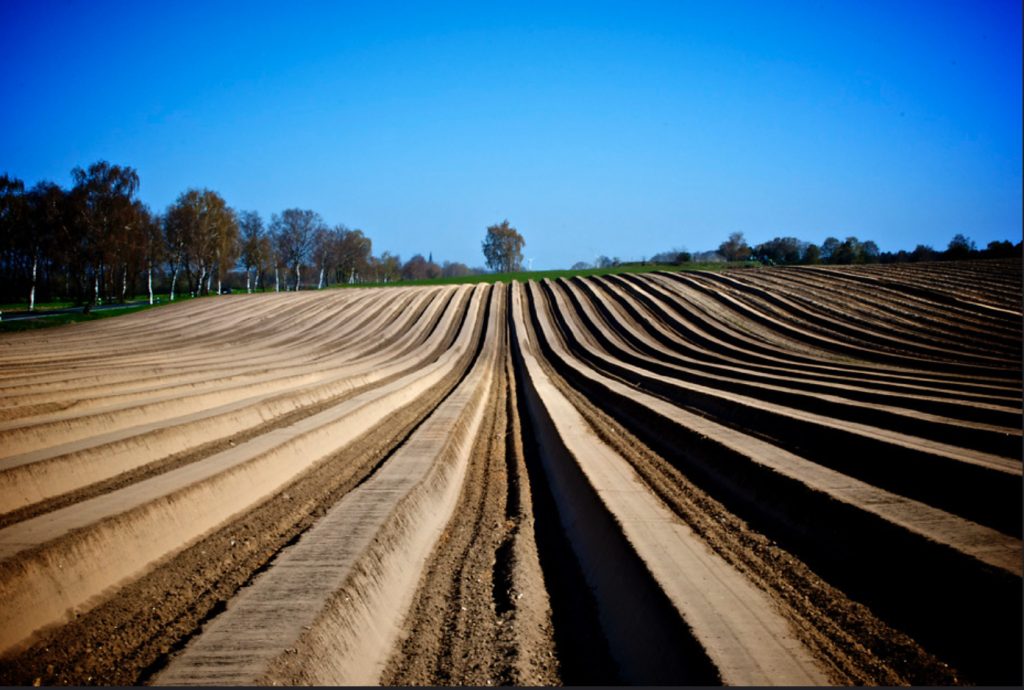 Anyway, maybe you understand my love of the vegetable a little more. I miss it.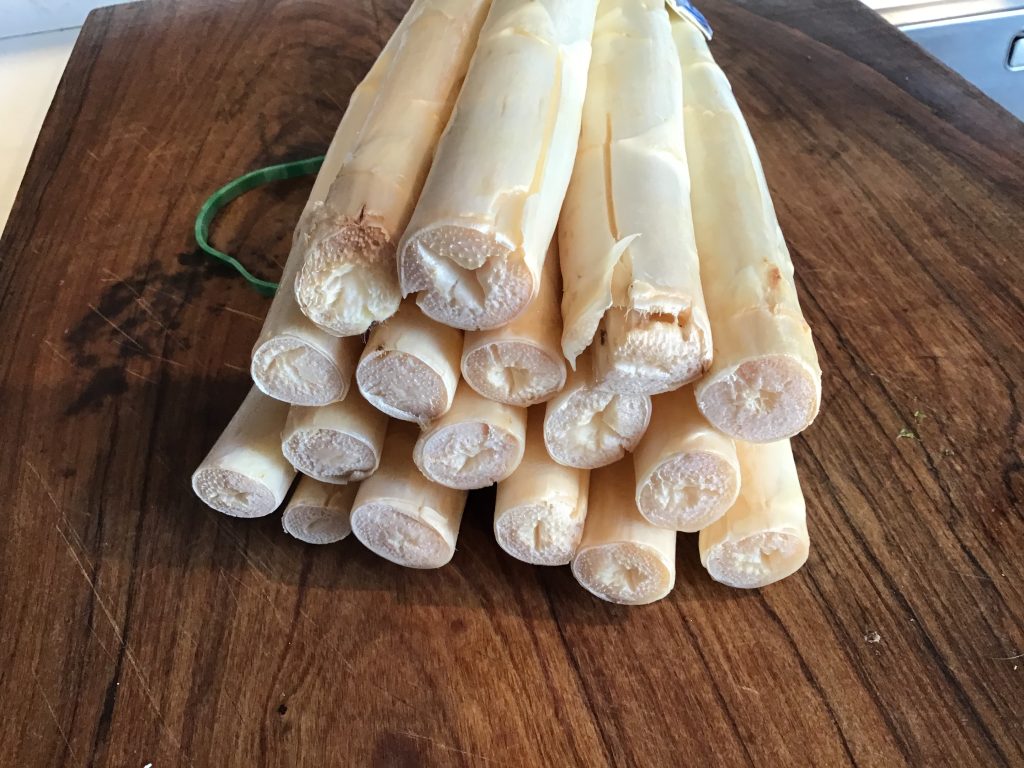 Unlike green asparagus, the thicker the better as it must be pealed. The outer part is inedible. I have carried around my peeler especially made for white asparagus all these years.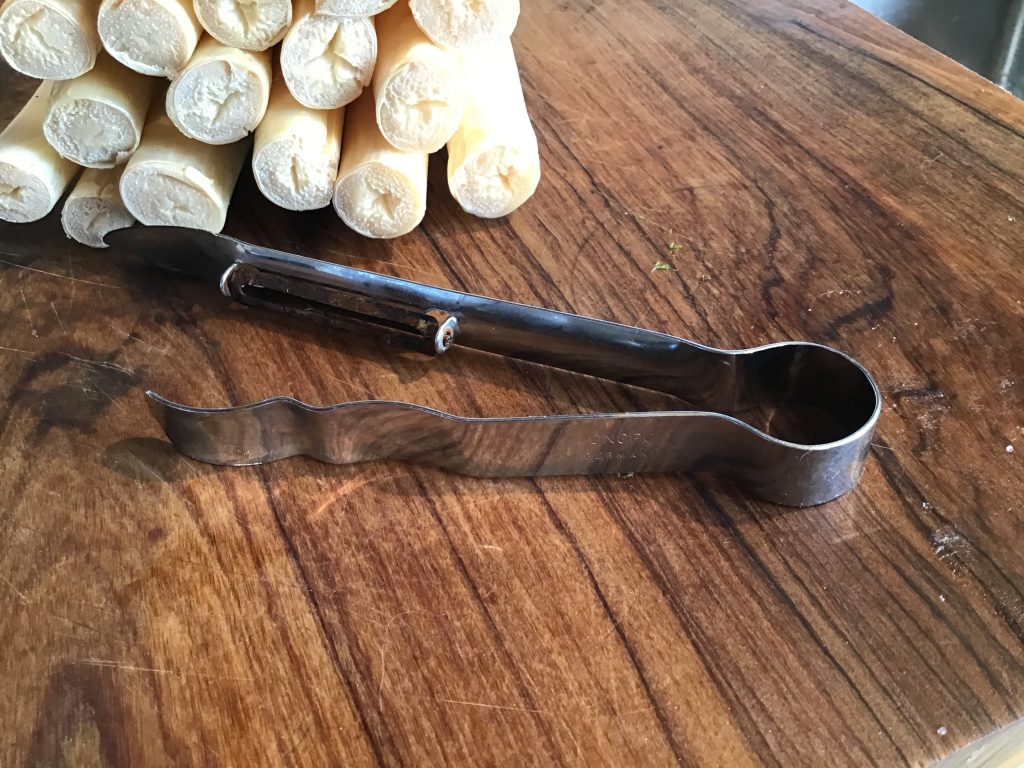 You just hook it around the spear and go down the stalk and a thin layer is removed.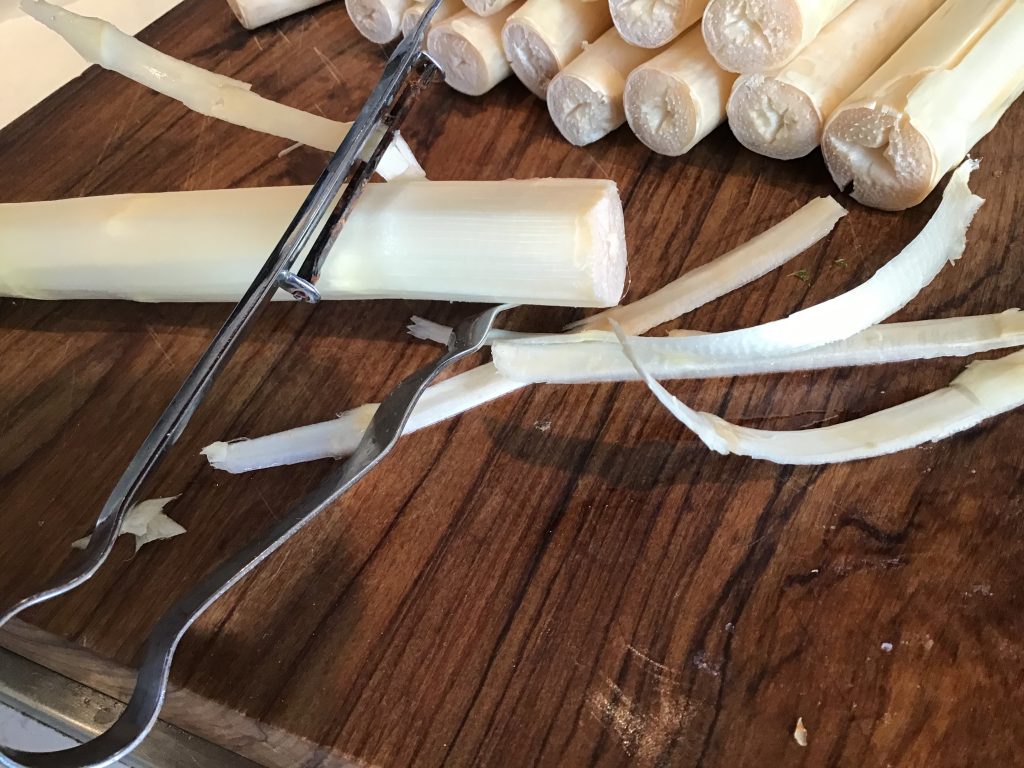 This was our dinner. It was good.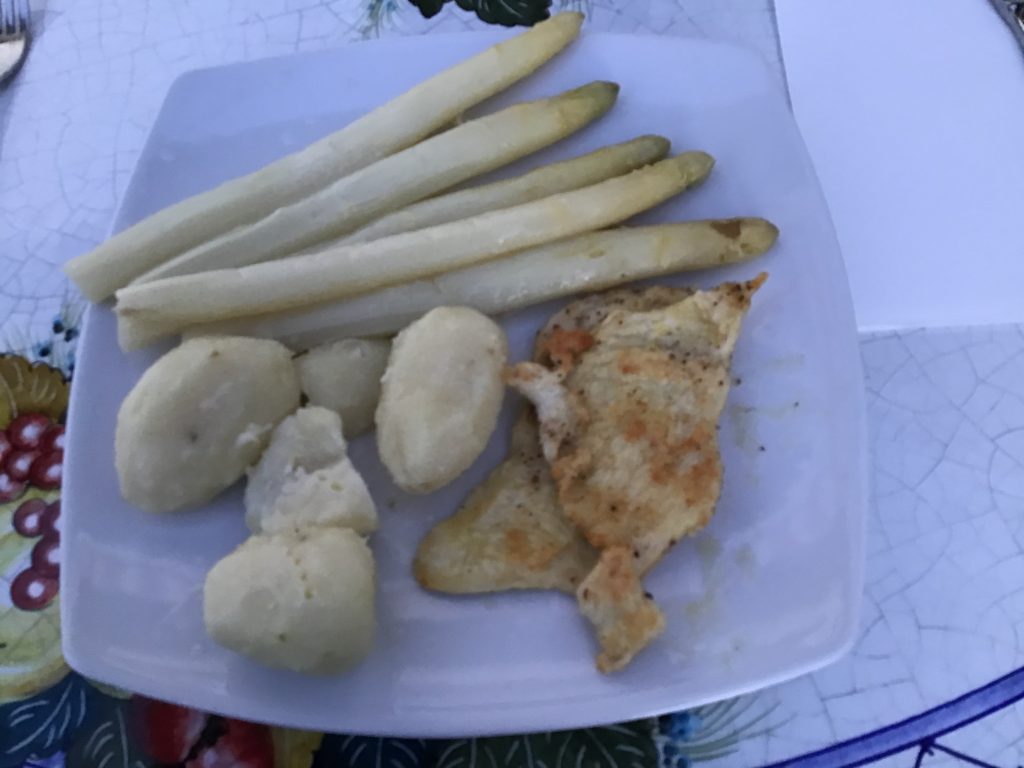 Buona domenica to all. Our weather is amazing right now but I hear a heat wave is headed our way(!)