223,096 positives in Italy. Up 0.4% – 31,368 total deaths since beginning of the outbreak.
There are 1,420 positive cases in Umbria. 73 total deaths. Up one.
1,405,961 cases in the US – 85,194 deaths.
~~~~~~
I read this yesterday…"The simple act of speaking can emit small droplets that linger in the air for at least eight minutes and potentially much longer, according to a new study. This could help explain why covid-19 cases cluster in places with poor air circulation, such as nursing homes, households and cruise ships. It also shows why face coverings are so important to prevent the spread."
For those who don't want to wear a mask…please consider this.
~~~~~
It is hard to compare different countries and the progress of the virus. For instance, the Johns Hopkins site lists all the different countries and the number of deaths per 100K of population. So, using this, Italy has about 50 deaths per 100,000 people. The US has about 25 deaths per 100,000 people. But, this is a false comparison since it doesn't take into account the length of time the virus has been growing. Italy is ahead of the US by at least a month and probably more. Therefore Italy is farther along on the timeline meaning it would have higher percentages of deaths related to population right now. To even up the comparison between Italy and the US you'd have to wait a month or more (for instance) from now and compare those statistics in the US with the Italian statistics today to get a more correct picture.
At any rate there are numerous things to skew figures like how much testing is done. Percentage per capita, Italy is way ahead of the US In testing. Also how the deaths are reported makes a difference. Some Covid deaths are attributed to an underlying cause which makes the death rate "appear" lower, again skewing the statistics. In the end, we will need to wait a year or more to get the true facts.
Finally, how the two countries are perceived to be handling this crisis is also important. Italy, for the most part is getting good grades for its unified approach to the shutdown and eventual reopening. The definition (by most of the world) of the way the US is seen to be handling this crisis is —- chaotic.
~~~~~~
Umbertide news…
Big doings all around town as shopkeepers are sweeping the sidewalks and sprucing up their storefront displays. All, to get ready for the Monday, May 18, reopening of all shops here in Italy. Happy days for our merchants.
We took a walk around town to see all the hustle and bustle. One thing I was wanting to see, was the progress on our nearby grocery store, which was shut down at the first of the year. It was formerly 2 spaces; one was our large macelleria, or butcher shop. The other was the Conad City, a very small grocery store. I used it for necessities but many towns people relied on it exclusively. So, these two spaces are being combined into a new Carrefour store. It is a French chain very prevalent in Italy. The renovation was delayed by the shutting down of all non-essential construction projects during our lockdown. I am told it will open May 27. My assessment yesterday was that it was nearly finished. They were installing the big freezers and the ovens for rotisserie cooking. And all the shelving for the products. I'm pretty excited to get a convenient store back. And I'm hoping it will be better than the Conad. That is setting the bar pretty low! Believe me!
~~~~~~~~
Just LOOK at these Irises! Amazing flowers. We have an amazing iris farm near here — Iris Umbria. I have never seen such beautiful varieties. Jill has some from there in her garden. I'm saving the other two pictures for tomorrow 🙂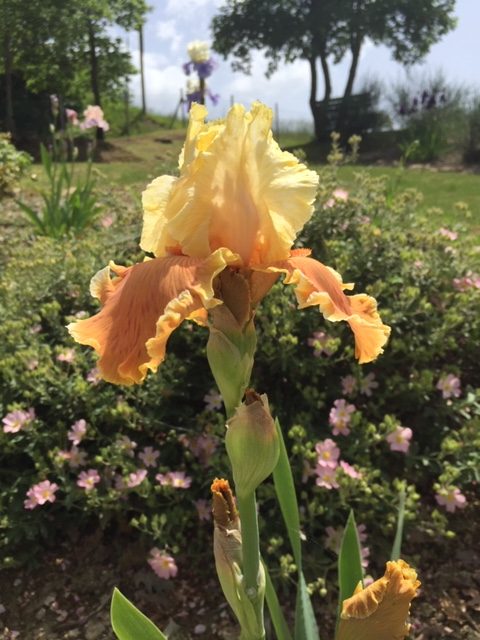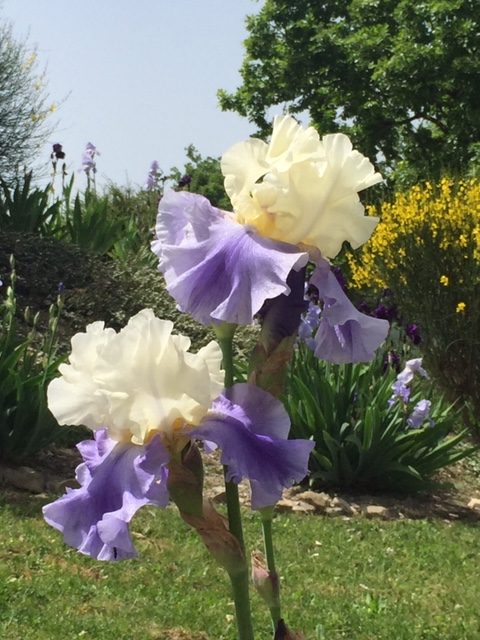 ~~~~~~
Have a good, and safe weekend everyone! 🌈