Links to trip parts
Part 1. Amsterdam
Part 2. Stuck in Amsterdam
Part 3. Rouen France
Part 4. Le Havre and Honfleur
Part 5. Caen and the D-day beaches
Part 6. St Malo
Part 7. Lorient
Part 8. La Rochelle
Part 9. Bordeaux
Thursday August 24 – embarkation day on the Star Legend
We had plenty of time until the 1Pm boarding so we went to a little cafe for croissants and coffee. Excellent croissant. Hot and flakey with butter and jam. Perfetto! We did some wandering about and later went out for a quick lunch because who knew when we could eat on the ship. The weather has turned rainy as was predicted. We went back to our hotel and retrieved our luggage. They called a cab and we were off to the ship.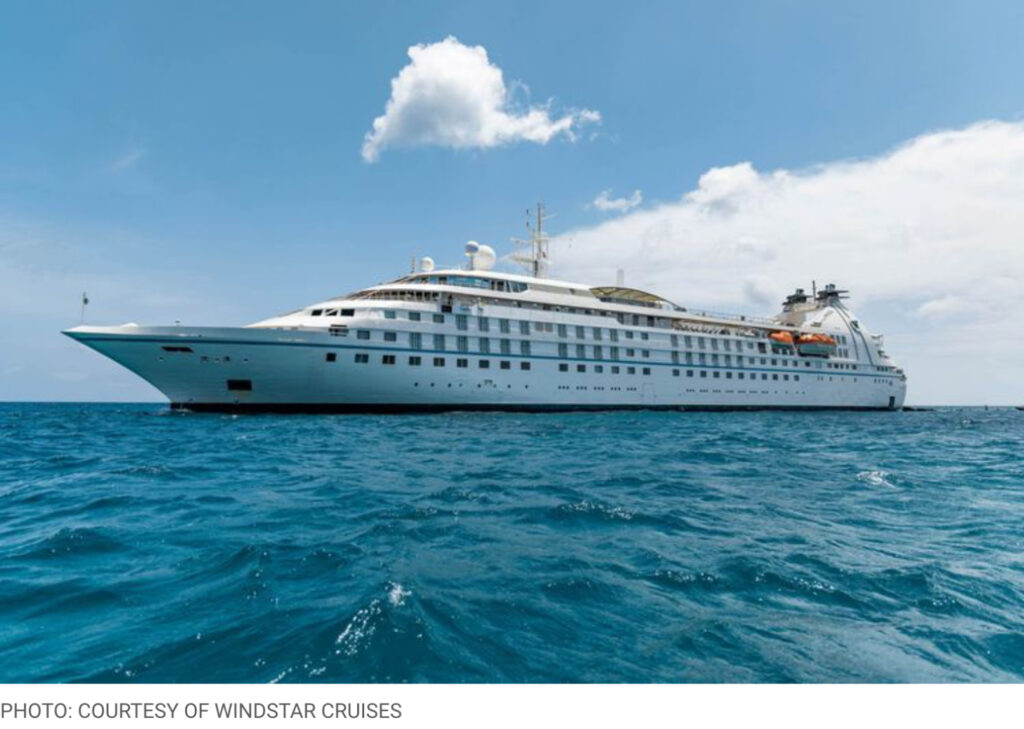 The Star Legend is one of three identical yachts in the fleet. They hold 300 passengers. We boarded uneventfully and found our cabins. Then headed to the top deck for a welcome champagne. It had stopped raining but remained gray. We were required to muster at 4:15 to be briefed on emergency evacuation procedures. But at this time we were informed we would not be sailing that evening as planned. There was a problem with the ship which needed to be investigated by a certified scuba diver!
This is a disappointment. It means we will have to alter our cruise destinations. IF we sail out we will still miss seeing Bruges Belgium which was to be our first stop.
In the meantime we eat! Dinner in the main dining room named Amphora, was ok. We had a great wine steward. He kept the wine flowing freely. I enjoyed my entree of spicy shrimp on polenta. We watched a little of the news together. Todays big story, Trump turns himself into the Fulton County Jail in Georgia.
Next morning we listened to the Captains announcement. He said the divers were beginning work. We found out there was a repair needed on the inside of the ship but to get to it there was a pipe that needed to be welded outside the ship, underwater. He said we should get underway by mid-day.
I had maple French toast for breakfast. A rare treat for me.
~~~~~~~
At 12:30 we did manage to get underway. We sailed out of the estuary in the rain and sailed all day and all night and most of the next day because we had to skip our intended first stop. It was pretty cold and pretty wet. This ship was our next door neighbor.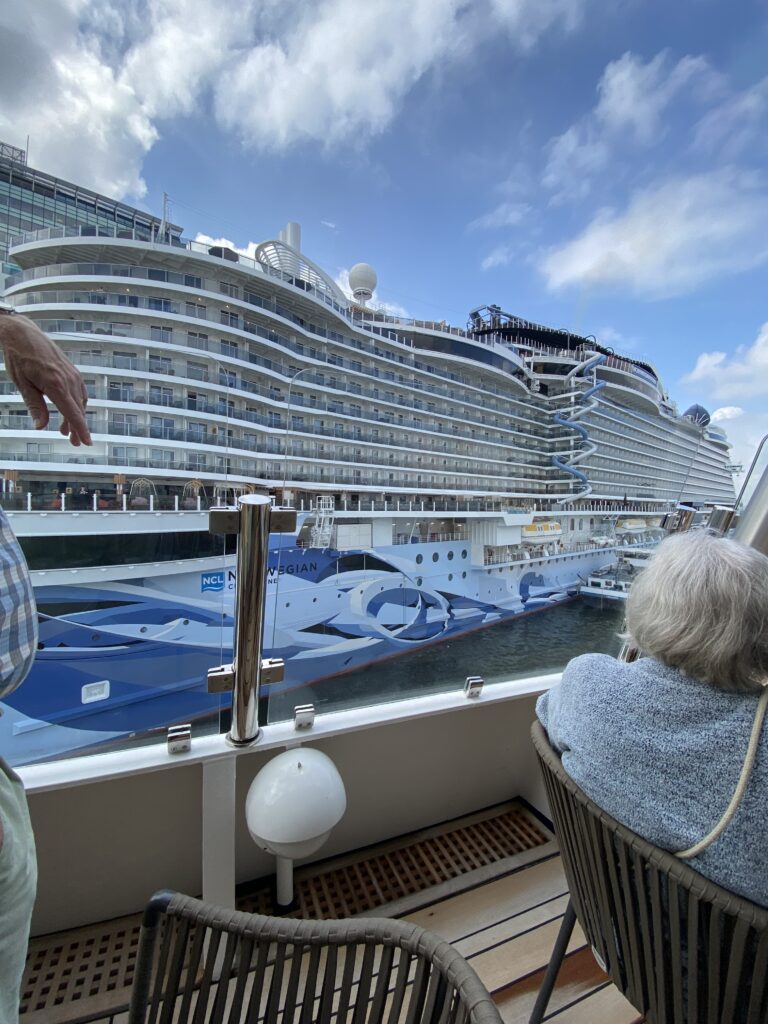 These were along the estuary and while we were at sea.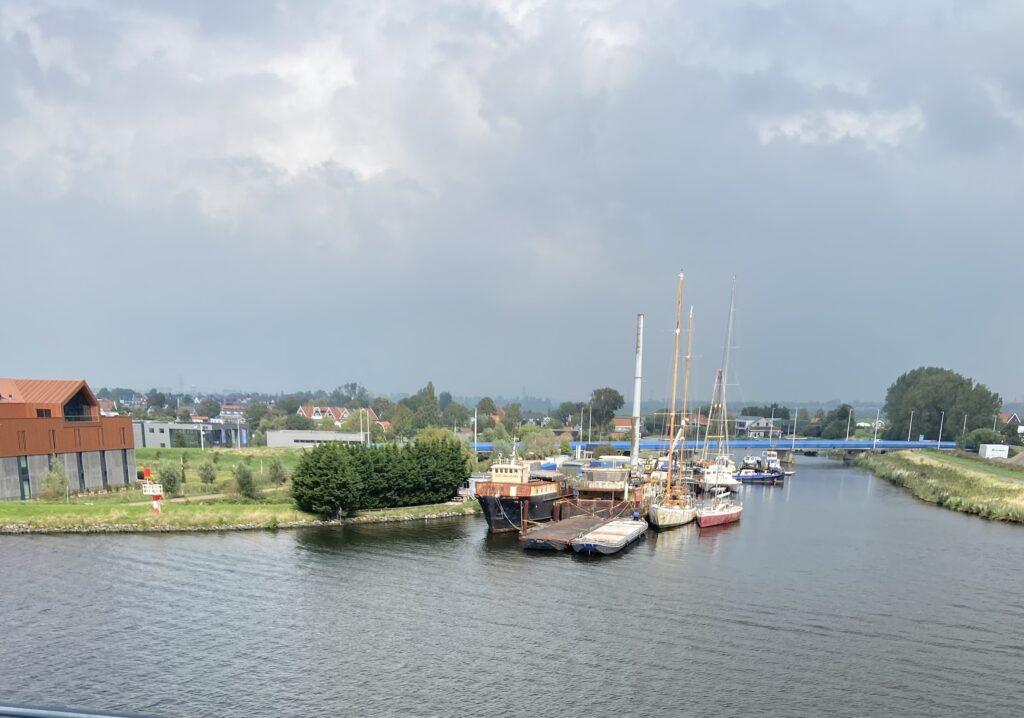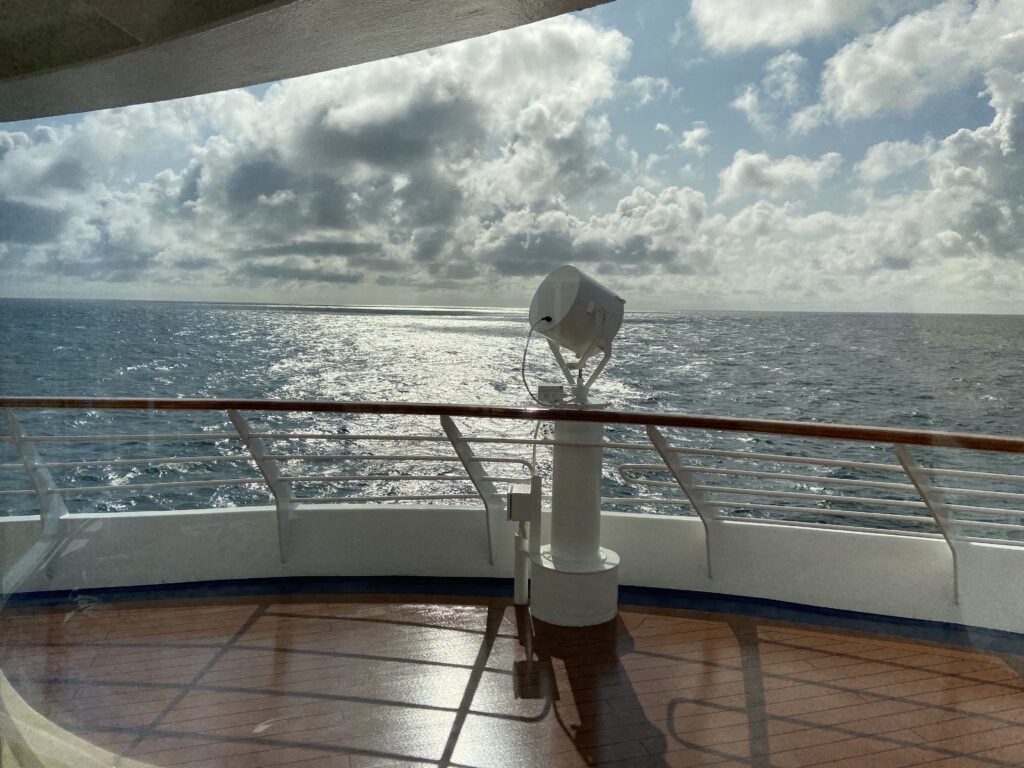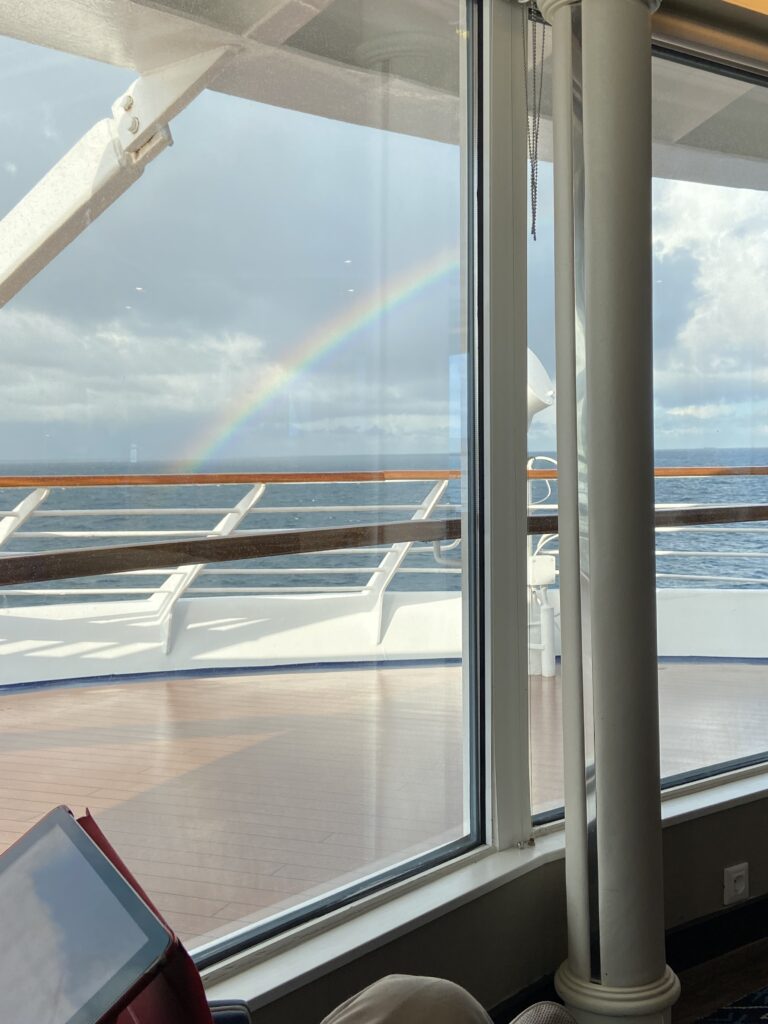 After sailing for two whole days and having no internet we were very happy to finally see land and get some dots back on our phones. We had sailed along the coast and through the Straights of Dover, the narrowest part of the English Channel. Now we turned into the mouth of the Seine. It took over four hours to sail up to Rouen. At first it was very industrial with many refineries and tanks of oil I presumed. But eventually it started to get very picturesque. Lots of pretty quaint towns and even more interesting old French style houses. Lots of half timbering and even some thatched roofs. There are a lot of these but you can skip if you like. And you can click to get a bigger version of the pictures to see more details.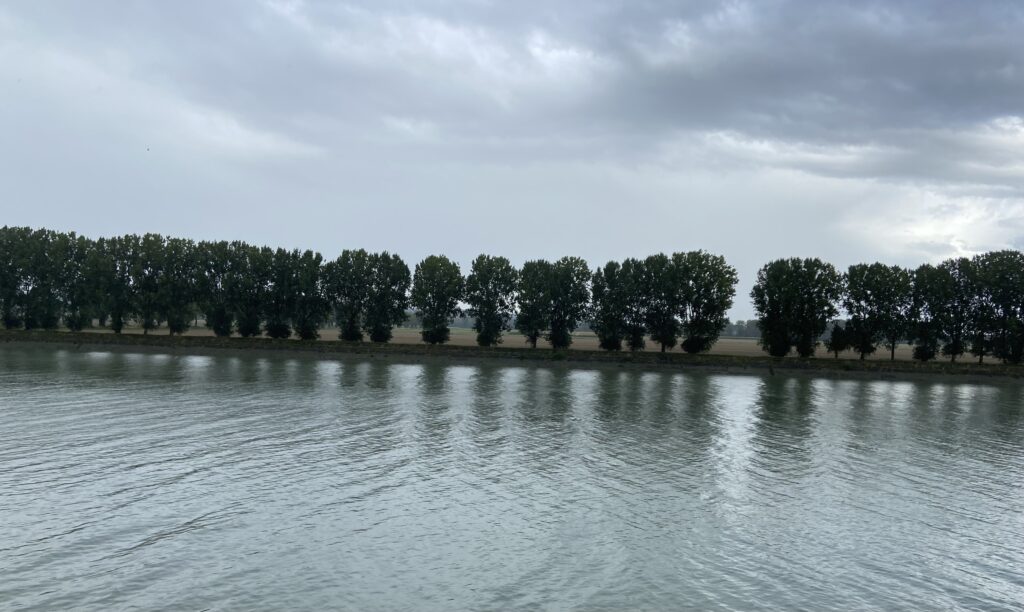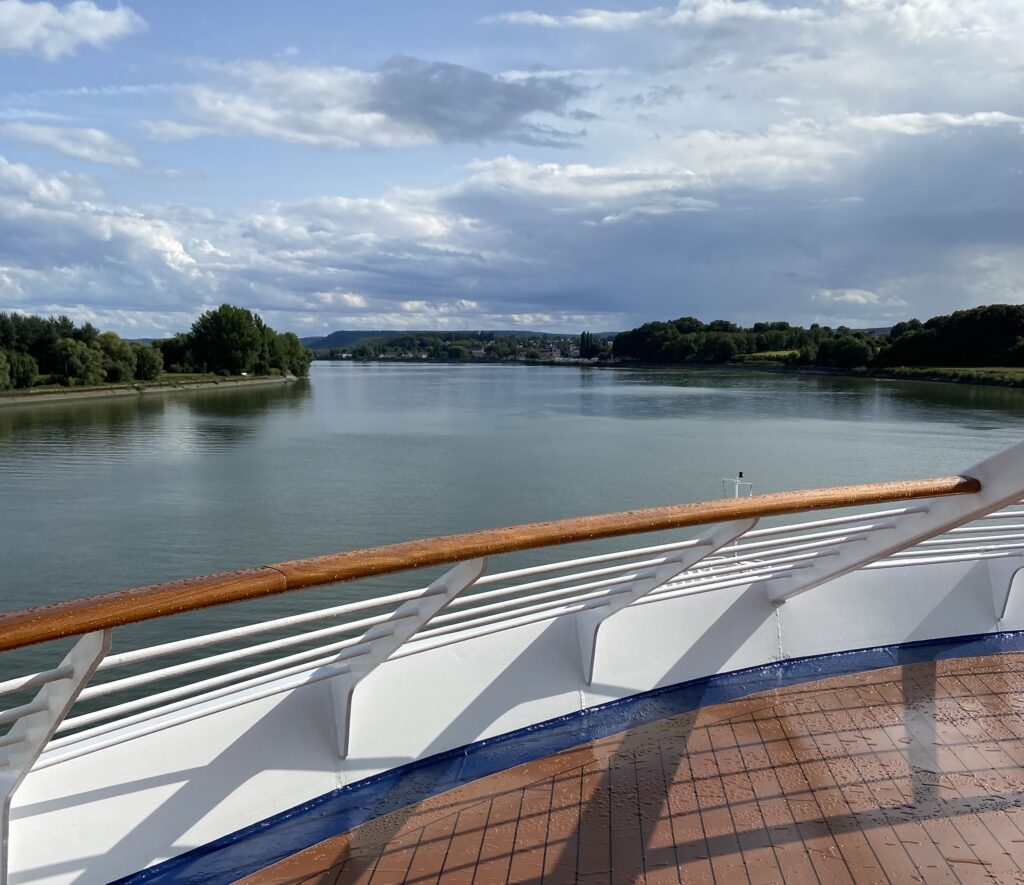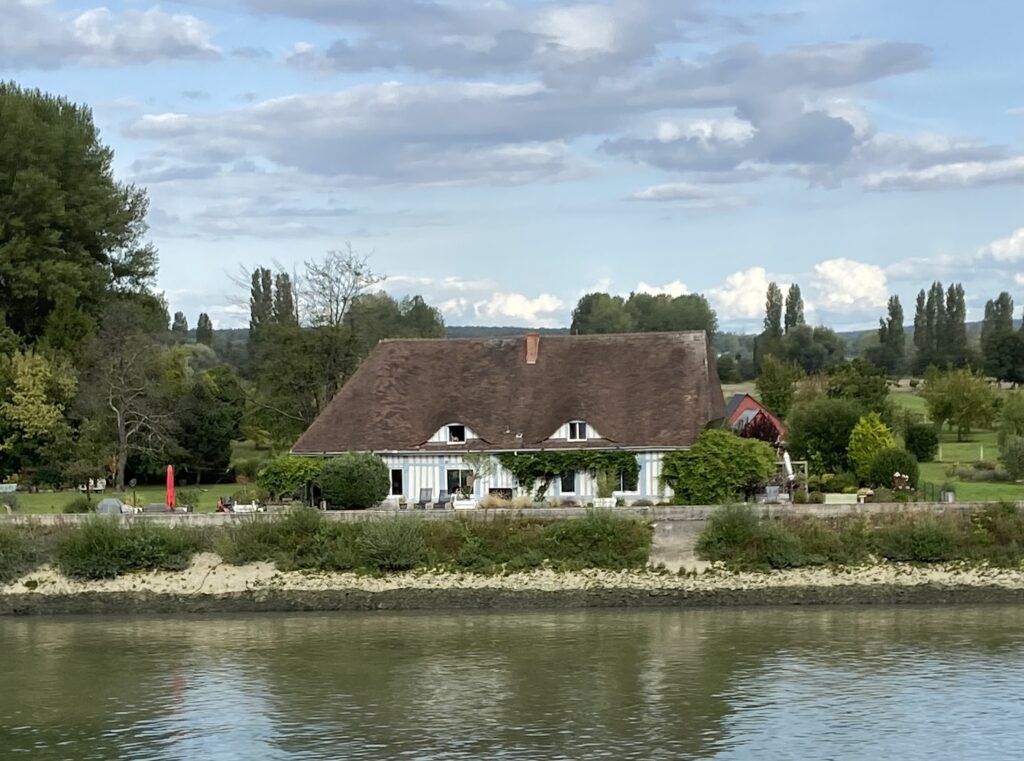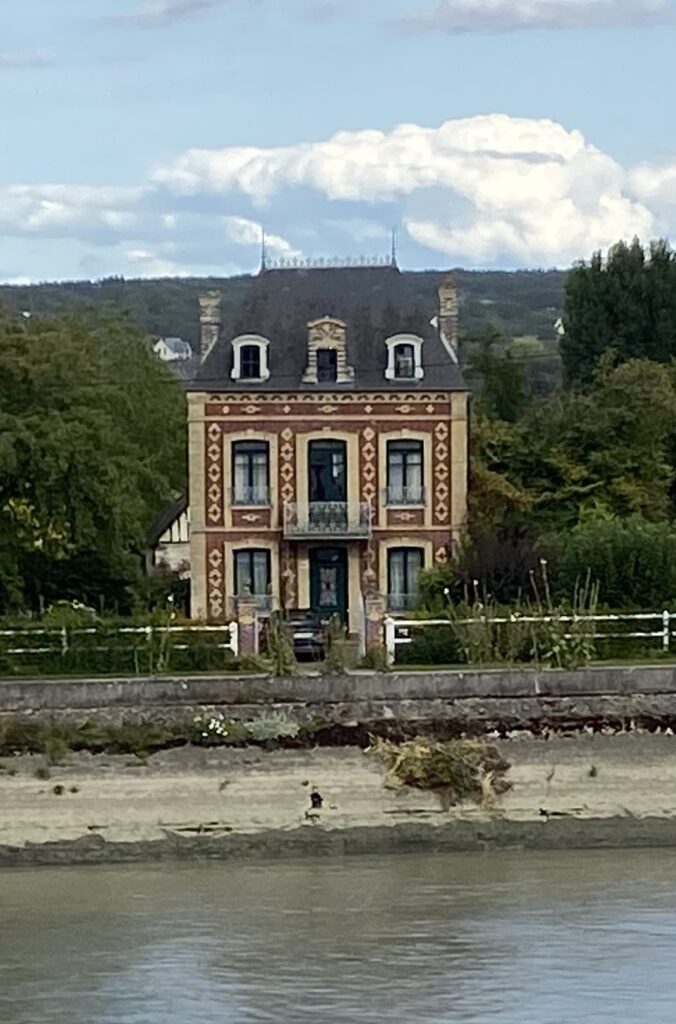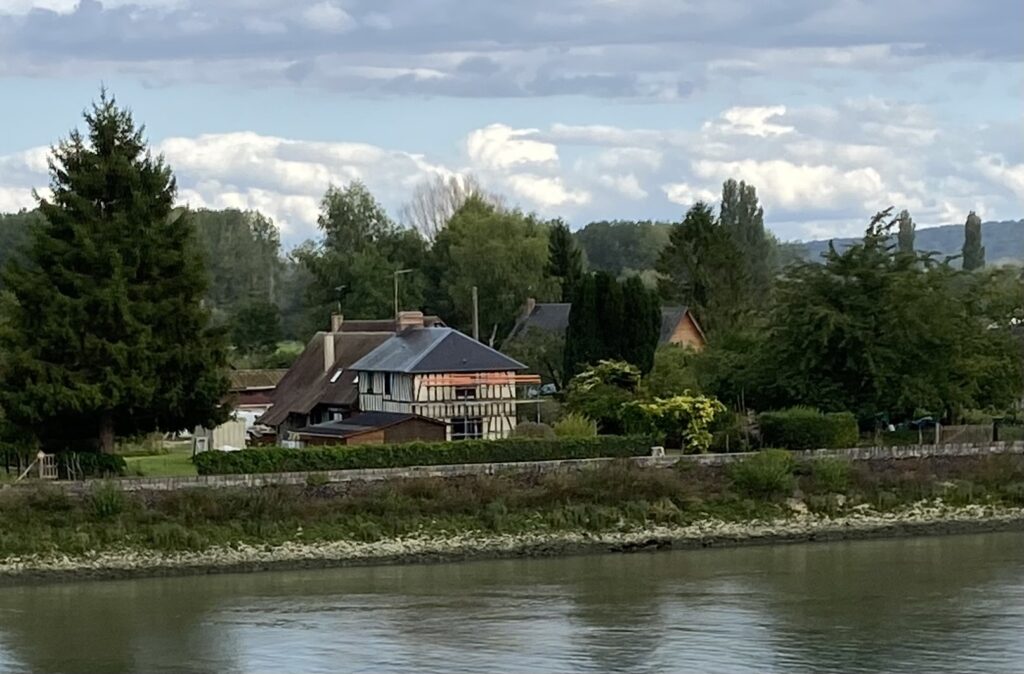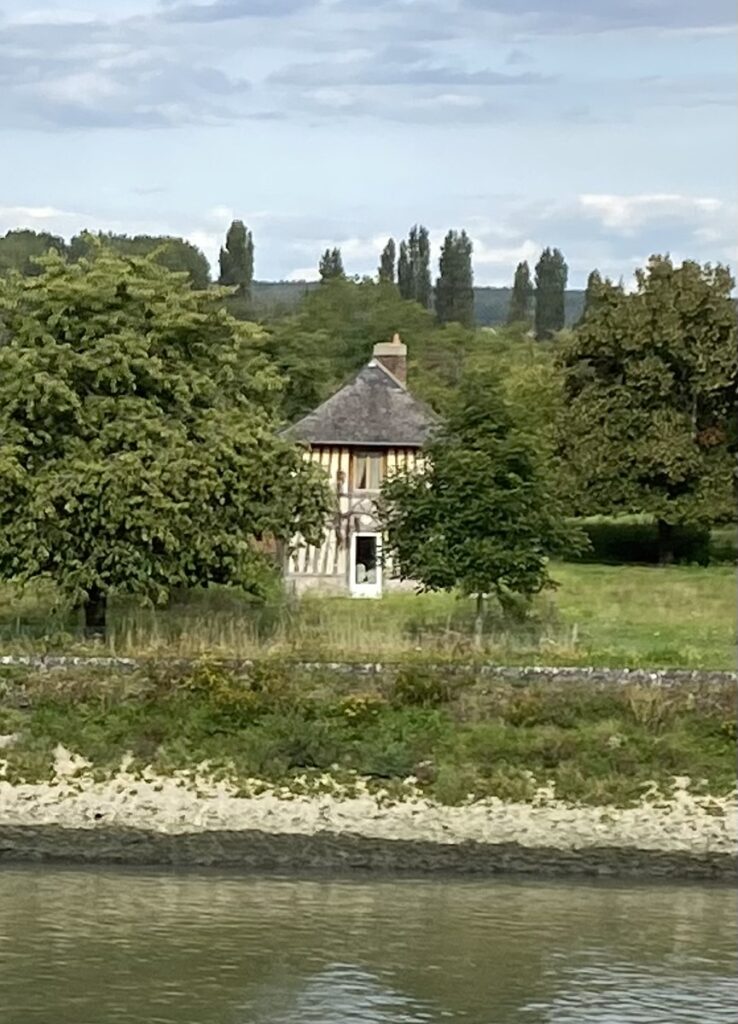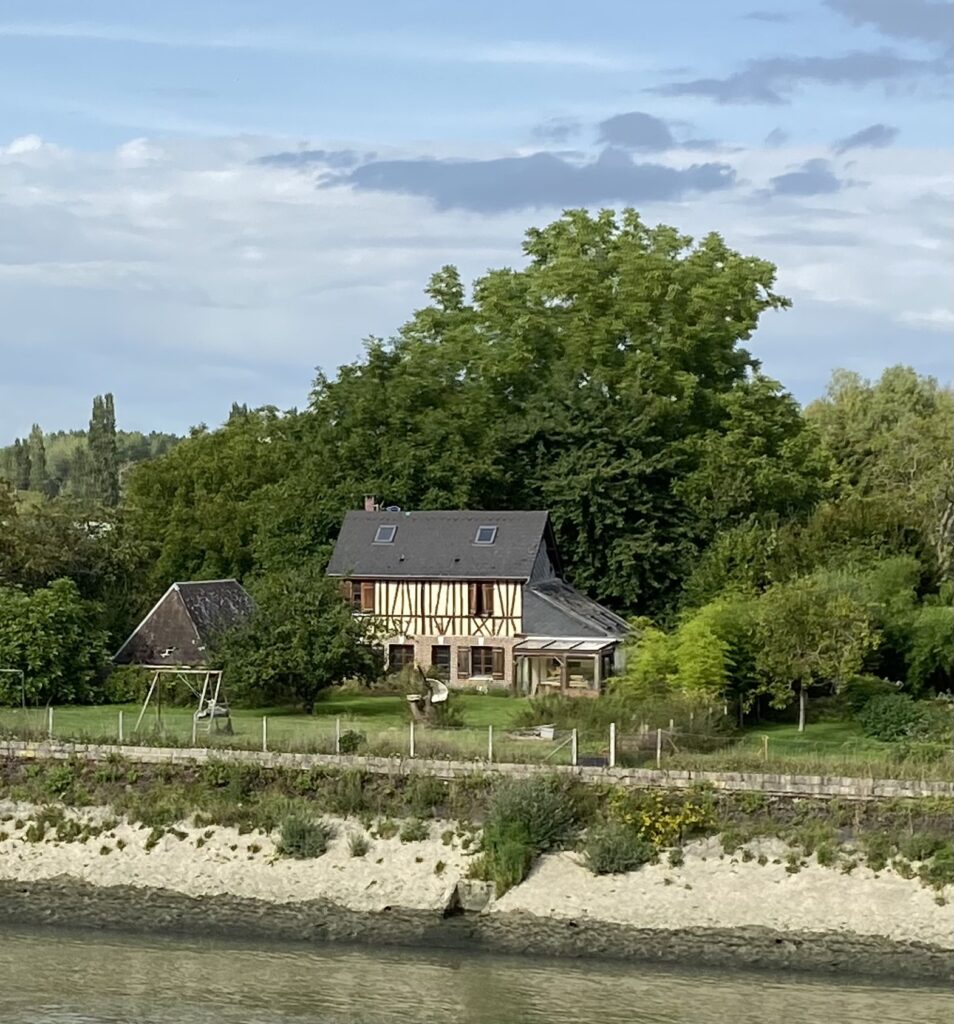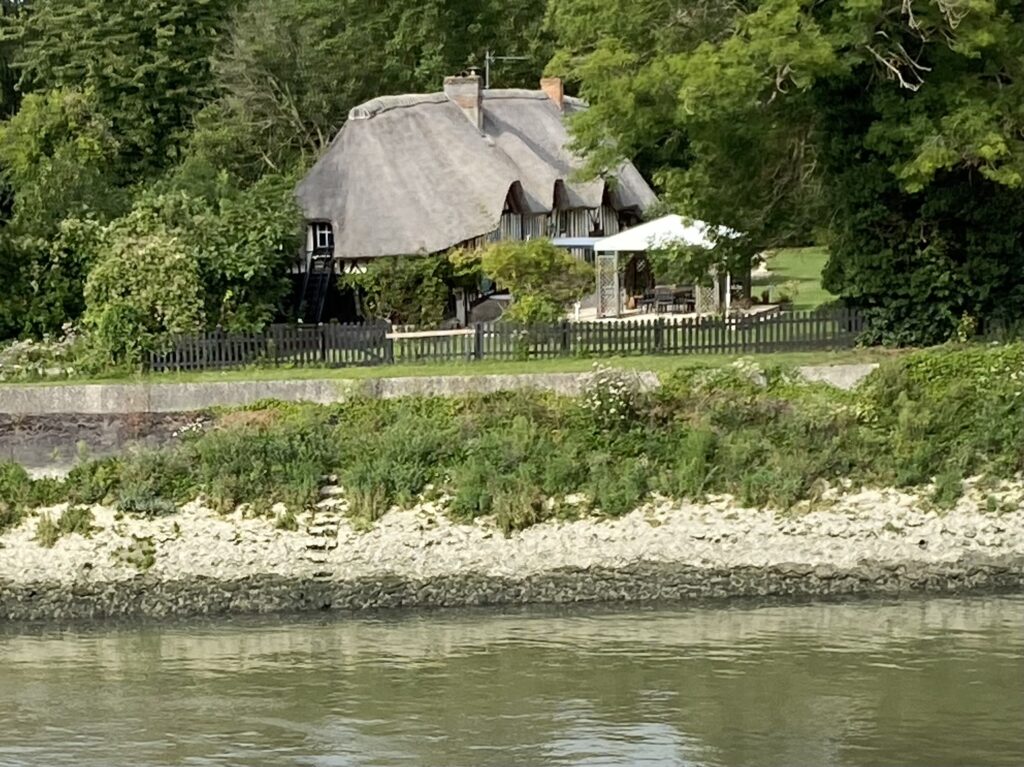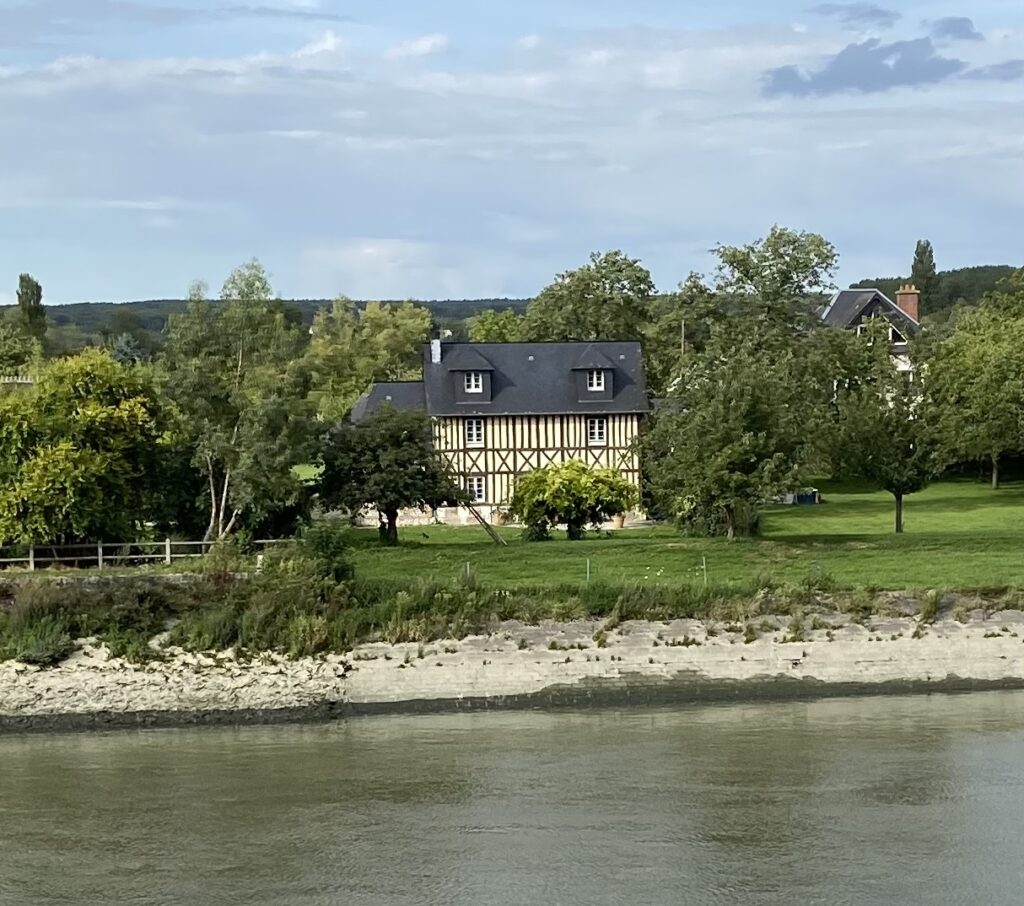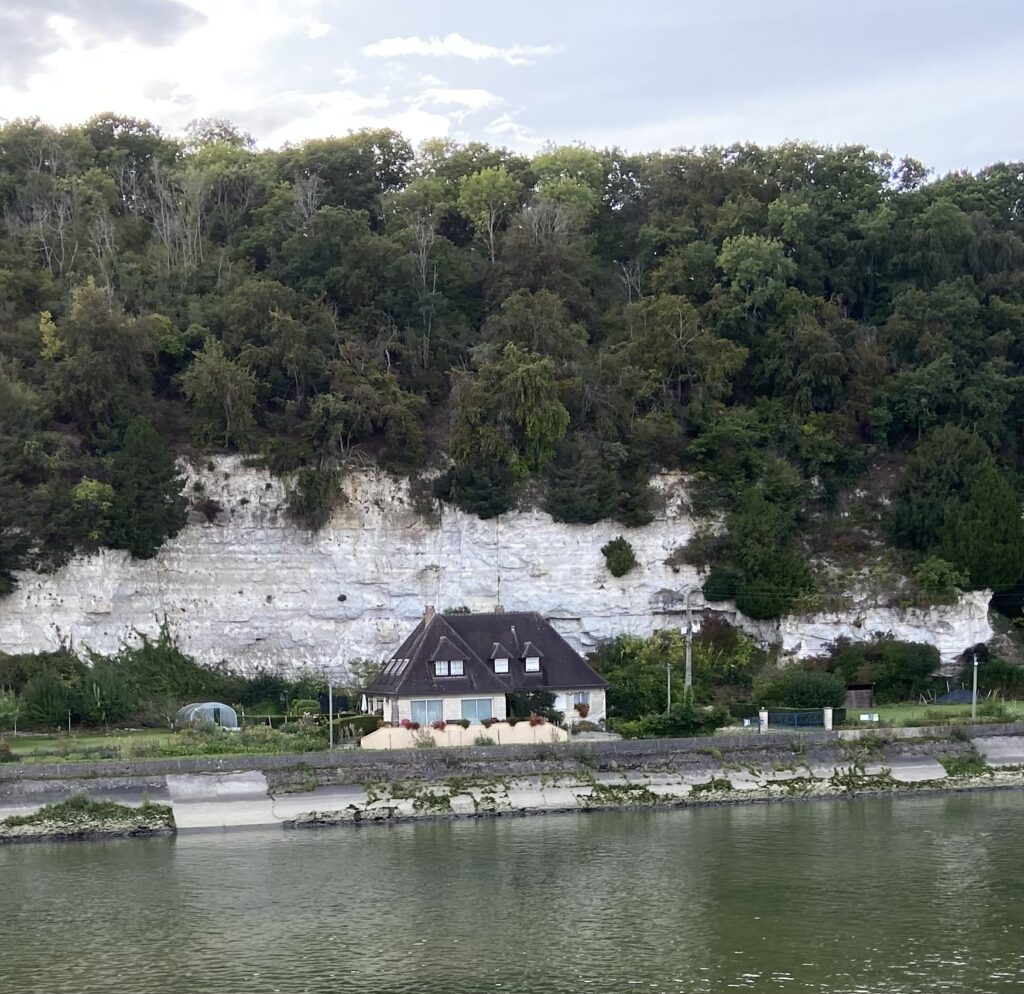 By the time we docked we were having dinner. It was a long time to be at sea! Tomorrow we tour around Rouen. It has a beautiful old town and Cathedral and we will lunch in La Couronne where Julia Child ate her first French meal.
Stay tuned for pictures of Rouen.
Links to trip parts
Part 1. Amsterdam
Part 2. Stuck in Amsterdam
Part 3. Rouen France 
Part 4. Le Havre and Honfleur
Part 5. Caen and the D-day beaches 
Part 6. St Malo
Part 7. Lorient
Part 8. La Rochelle
Part 9. Bordeaux