Links to trip parts
Part 1. Amsterdam
Part 2. Stuck in Amsterdam
Part 3. Rouen France 
Part 4. Le Havre and Honfleur
Part 5. Caen and the D-day beaches 
Part 6. St Malo
Part 7. Lorient
Part 8. La Rochelle
Part 9. Bordeaux
These next few posts will be about our trip. I will be breaking it up like I did on our German trip last year since people seemed to like that.

Tuesday August 22. Departed Umbertide for Amsterdam, Netherlands
We drove ourselves and our cat sitters down to Foligno station to catch the Frecciabianca – fast train to Rome. We left them with the car so they could take in the sights. They are Sue and Bev, one lives in Canada, the other in Michigan but both were born in Canada. They have known one another since childhood. They came recommended by Liz one of our previous sitters. I am sure they will have fun. This week they will probably lay low because it's hitting 38 degrees Celsius which is 99 Fahrenheit for a couple days. Hot! But next week cooler.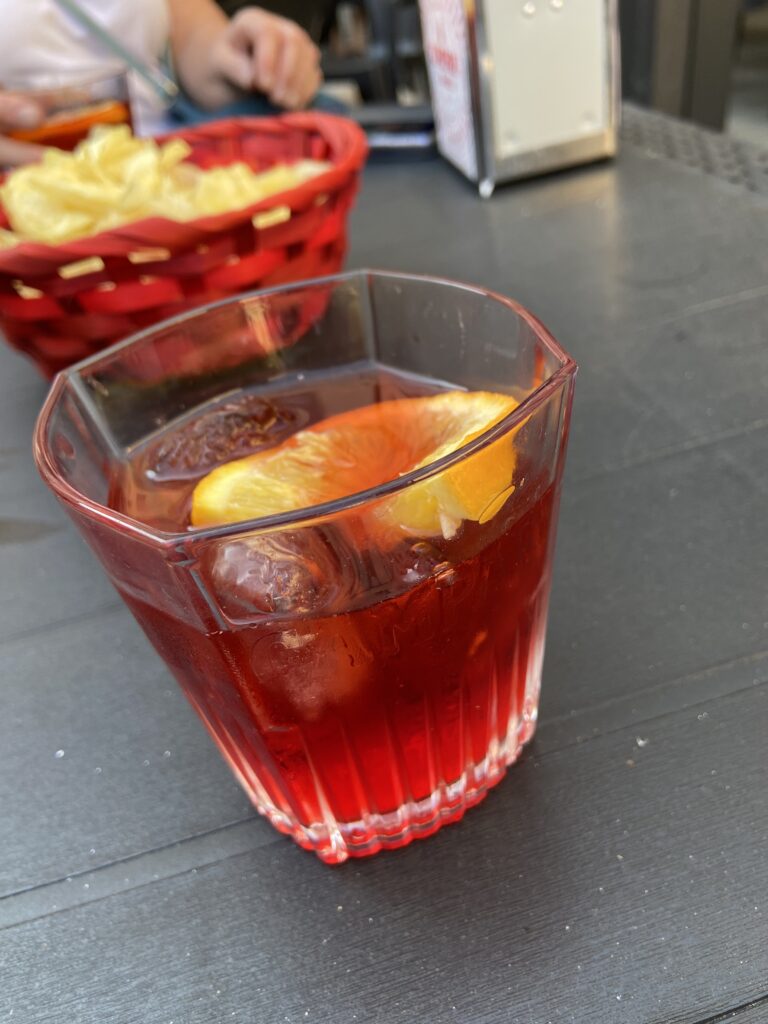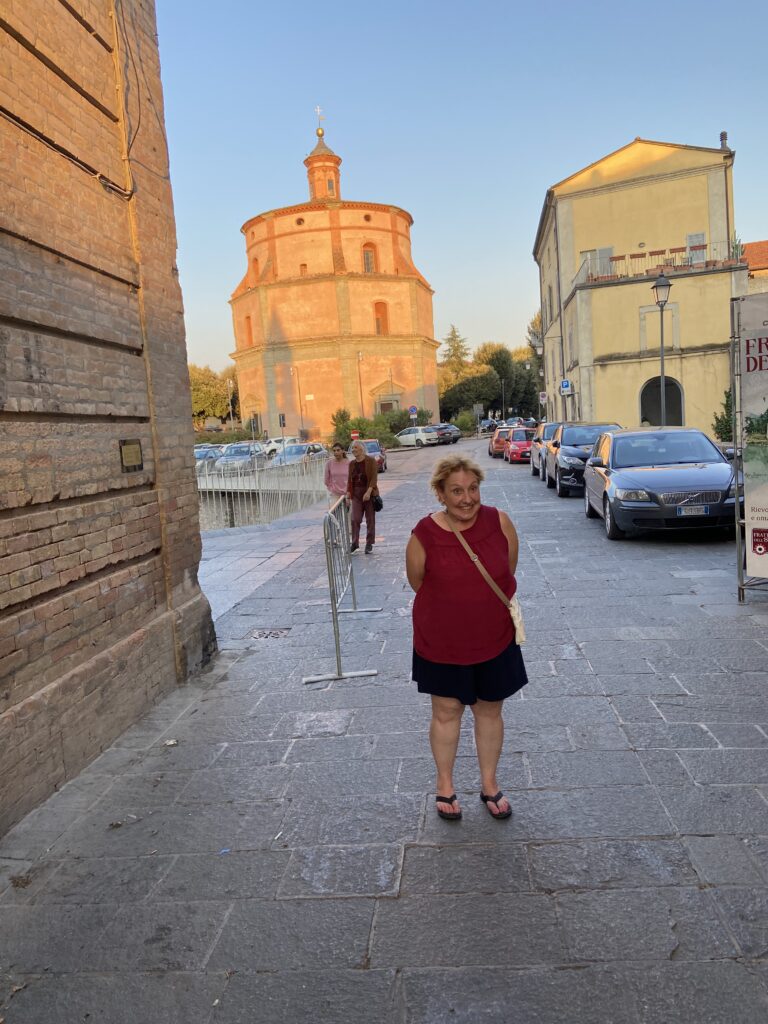 All went well on the trip. Train to Rome, caught the DaVinci express to Fiumicino airport. ITA Flight (formerly AlItalia) was 25 minutes late getting off. Miraculously we landed on time in Amsterdam. It is refreshingly cool in Amsterdam, just 22C or about 74F. We had arranged a driver who took us to L'Ambassade hotel. It is on Herengracht canal. Beautiful area. Nice hotel. We spent a night here in 1984 on our first trip to Europe. It has changed a lot! View from our window.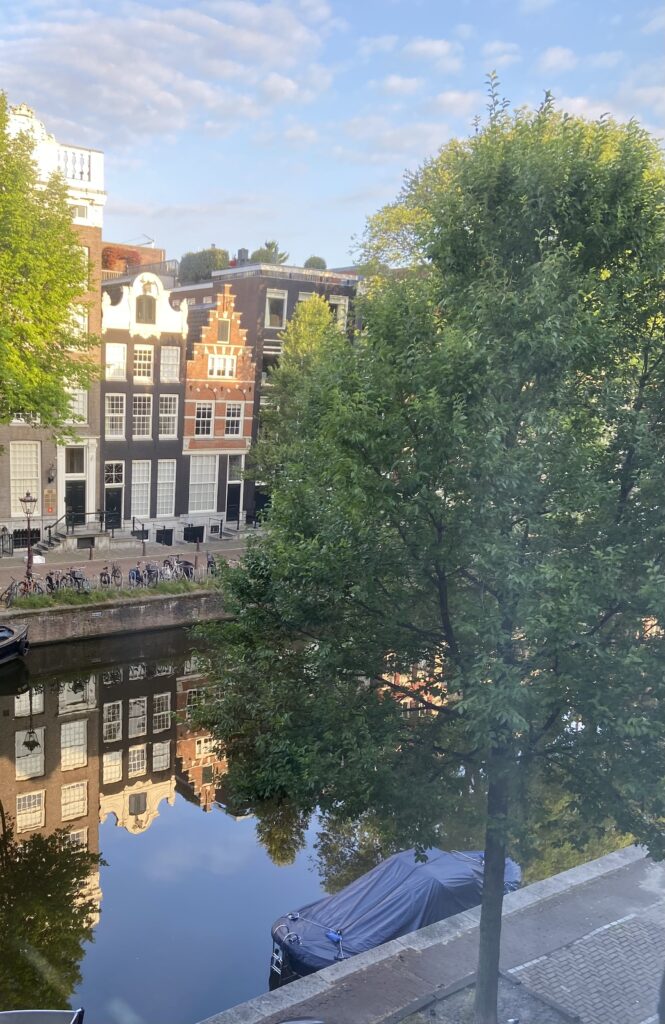 After refreshing ourselves, we met my sister Cindy and her husband Bill for dinner. This is our annual trip so we get to see each other once a year. So great to see her! Off to dinner at 't Zwaantje. Dutch food. It was busy and popular, but the food was not so much.
We walked back to the hotel bar for night caps. Cindy & Bill had arrived from the US that day and did the usual, stay awake all day then crash. Next day you are mostly over the jet lag. They made it almost to 10pm.
Wednesday August 23
Big day! We met up at 9am for our ticketed visit to the Van Gogh Museum. It was about a 25 minute walk. It is hard to walk here. Narrow brick sidewalks slope toward the street. There are millions of bikes traveling at speed. It seems like they couldn't possibly stop if someone walked in front of them but my sister accidentally tested that, and damned if he didn't stop in time. The motto here is, don't be a squirrel. Like make up your mind in what direction you're going and stay the course. And always look before stepping to a street. They say 63% of Amsterdamers travel by bike. Some pictures.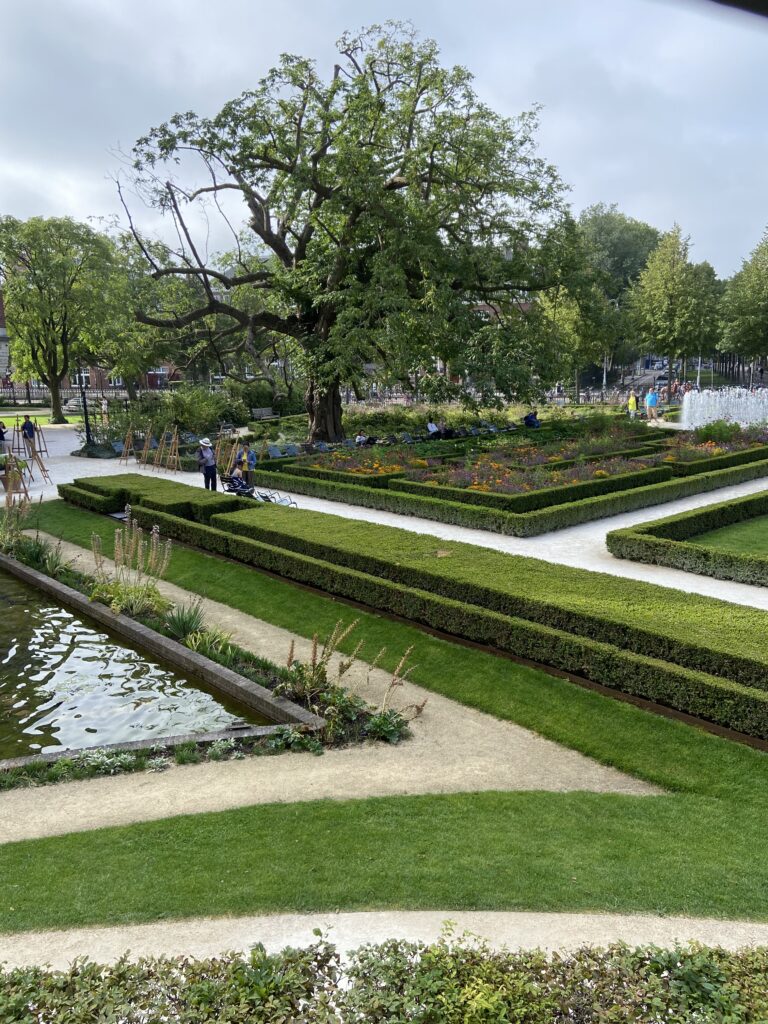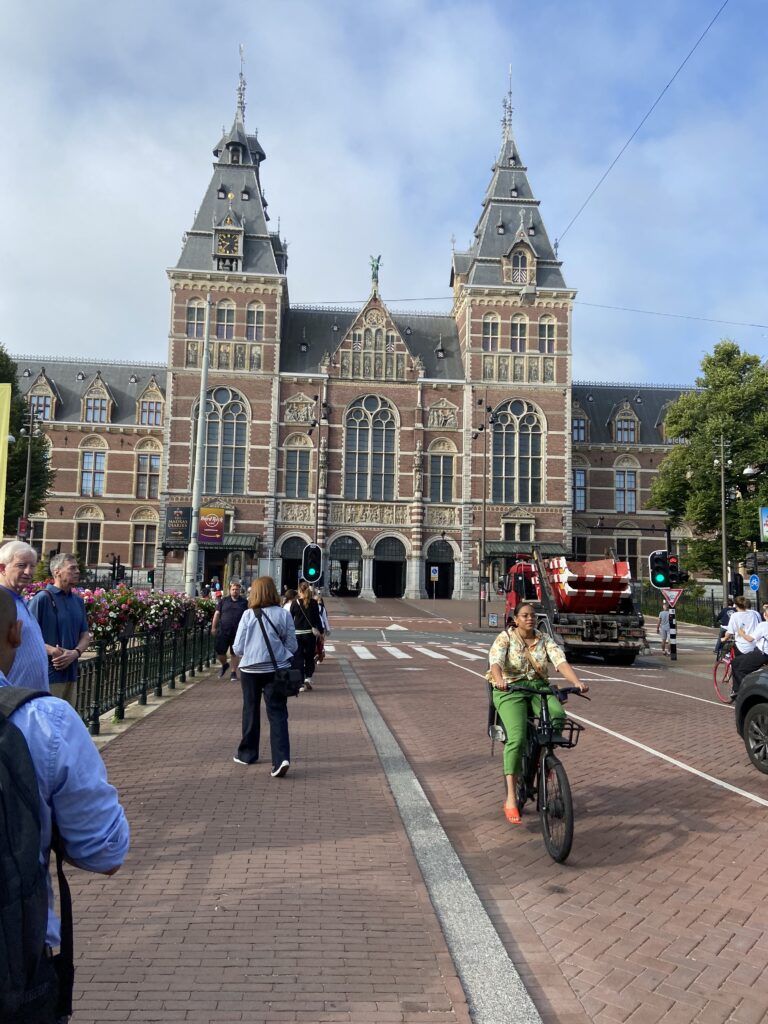 The Van Gogh museum was very good. Many floors. A permanent and a temporary exhibit. I took a lot of pictures of the art. It was interesting with many short write-ups about the art and about Van Gogh. Such a troubled man. Only 37 when he took his life. The last room was dedicated to suicide prevention which I thought was interesting. Just a few of the paintings I saw. I took a lot more than this! This first one was one of my favorites. Almond blossoms to celebrate new birth. It was on the occasion of the birth of his brothers baby, Vincent. Treasured by the family, especially after his suicide.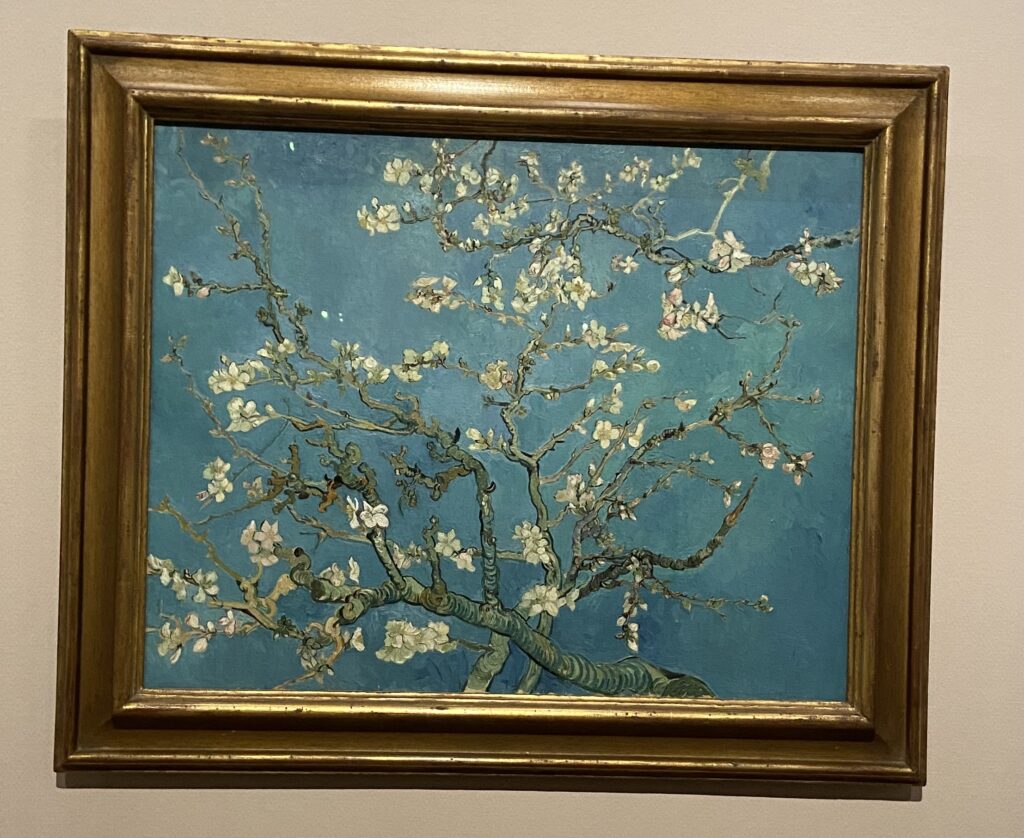 All of the next ones were painted just before he died. Most of them in the two months before his death and in that two months he painted 75 paintings. More than one a day.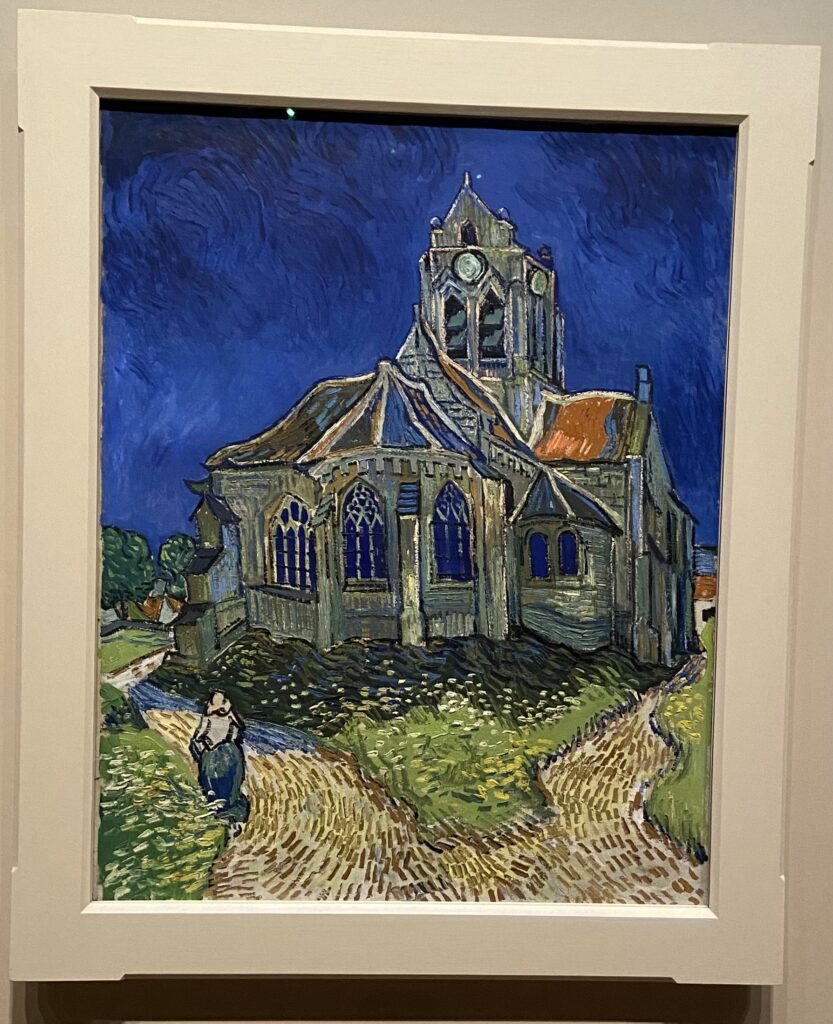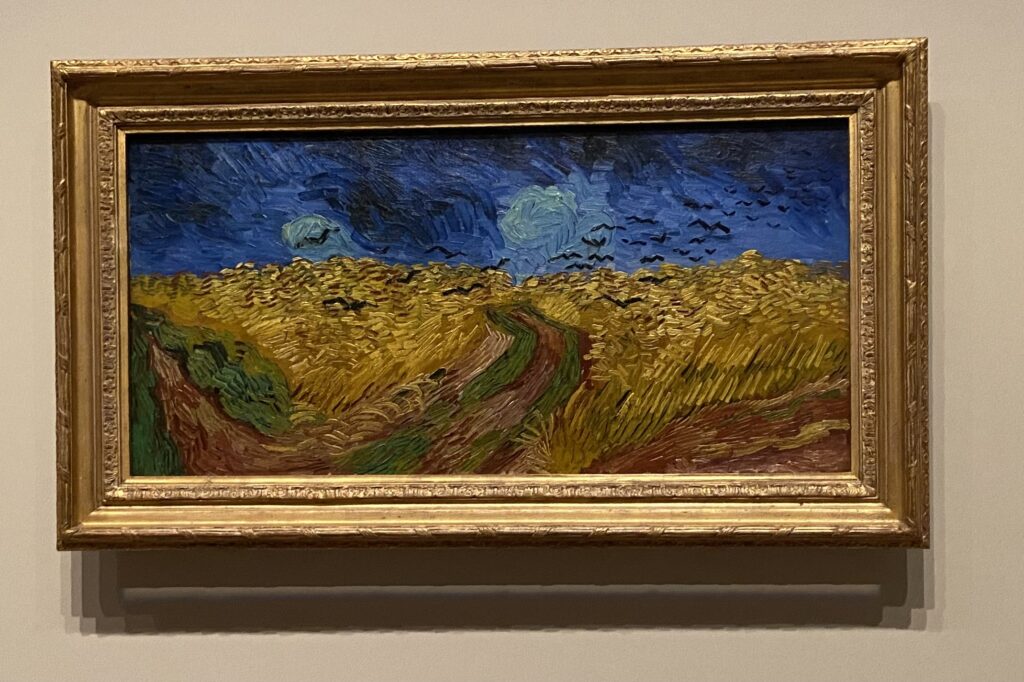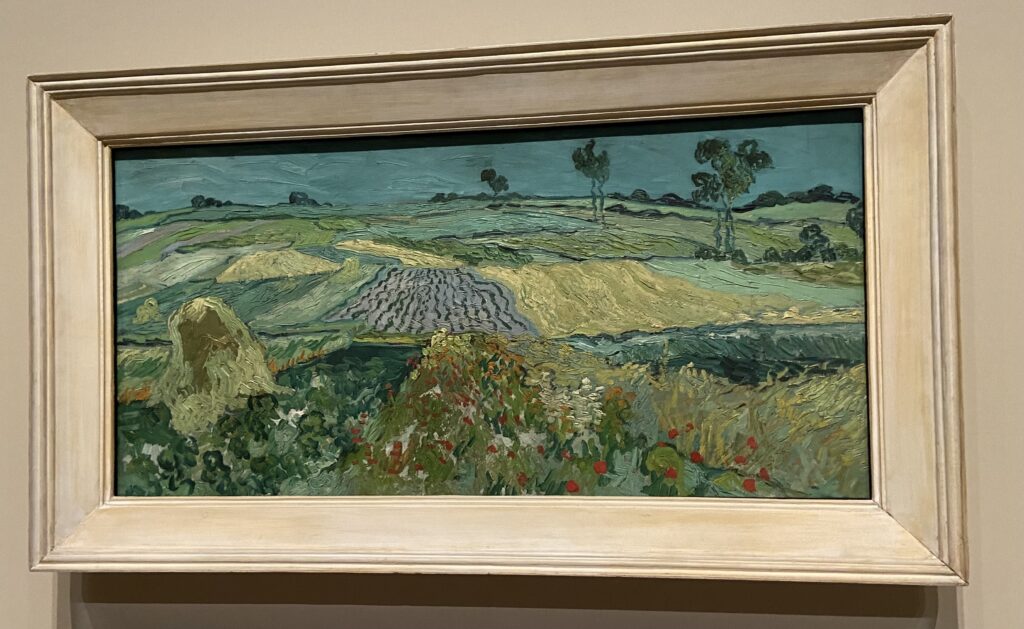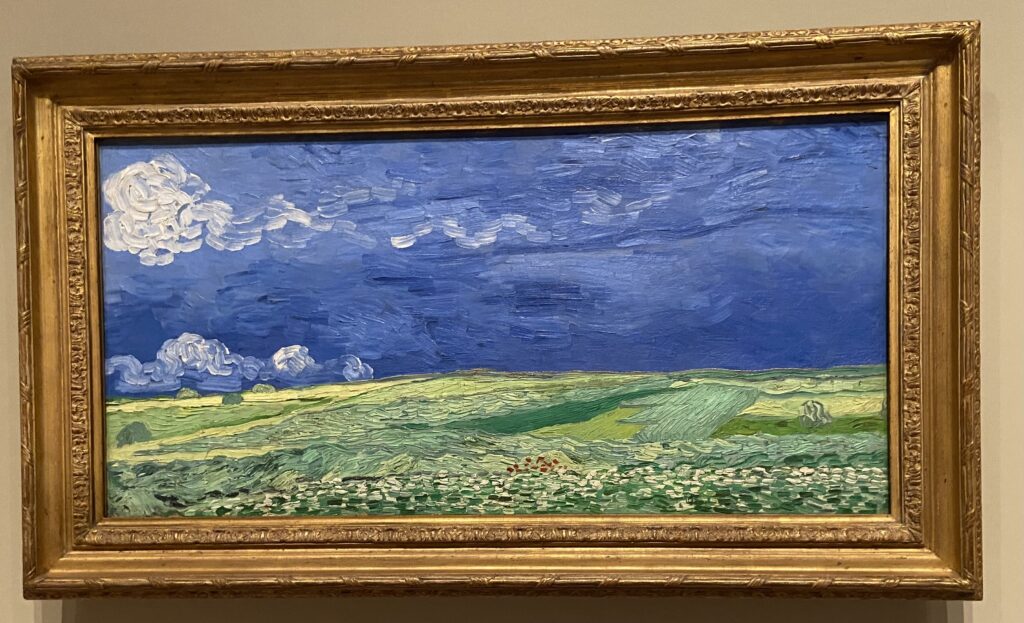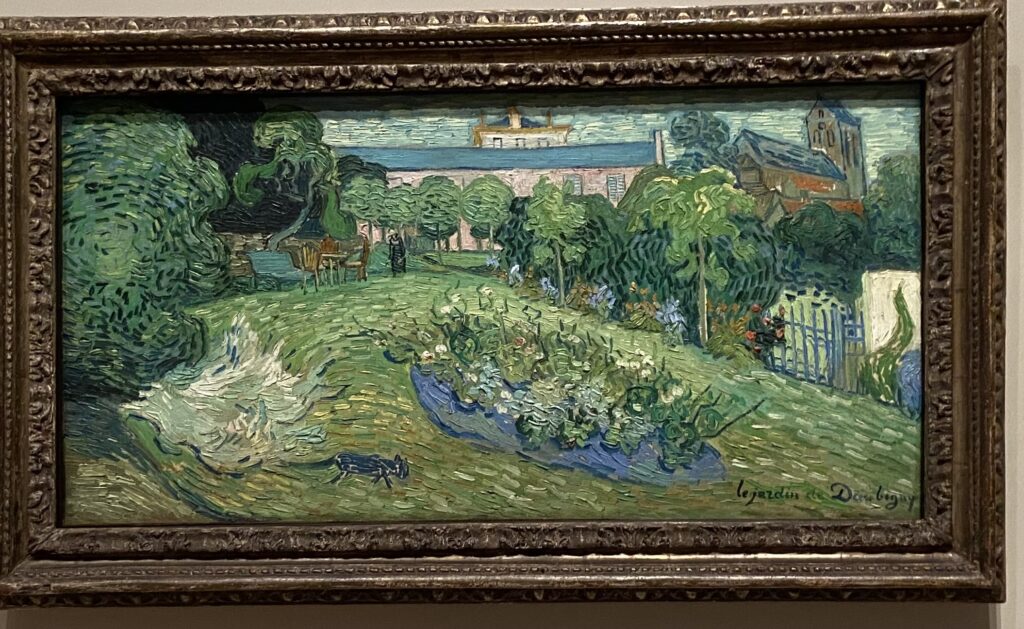 We went to find lunch which we did in Restaurant Red. There turns out to be better choices but we don't know the city or where to look and by this time we had been standing for many hours. I was anxious to sit down and for some icy cold water.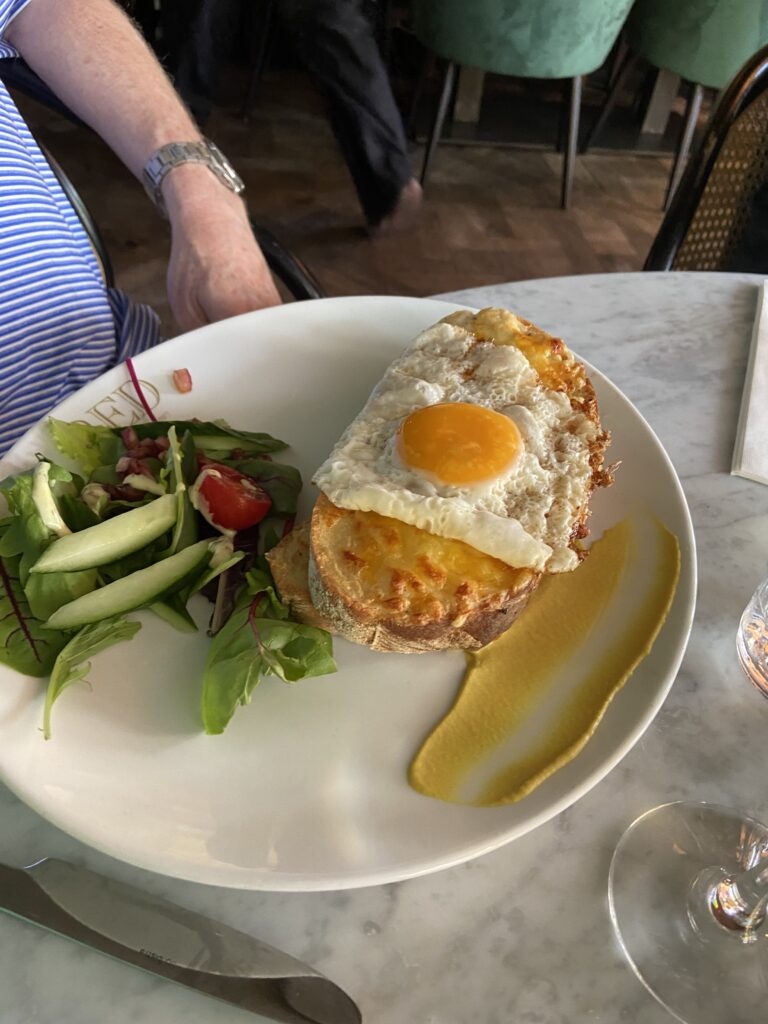 This evening we had reservations at an Indonesian restaurant named Tujuh Maret. Funny thing about Amsterdam that I noticed. When you reserve a table they have a beginning and end time. You get the table for 90 minutes. Having lived in Italy where the table is yours for the whole night it was a flashback to the US dining where they rushed the meal and brought the check, getting you out as fast as possible so they could turn the table. In Italy meals are relaxed affairs and you pay and leave when you are ready.
Anyway, we ordered the big Rijsttafel. Indonesia was a colony of Holland and food migrated with the people who came to Amsterdam. Now it is a specialty. I had had one of these many years ago and I told my sister I don't care what else we do, I just want one Rijsttafel dinner. This one was 18 individual dishes served in the center of the table. With rice on the side. They were served in sets of six — mild, medium and spicy. Some of the spicy ones were pretty spicy but not too much for me. It was yummy. Ranging from tofu, beef, chicken, veggie, salad, sweet, sour, hot. So many different flavors. We all had fun except maybe Bill. He is a trooper and goes along but he isn't a foodie and is not an adventurous eater. I hand it to him, he tried most of them. But he said the meal was only ok.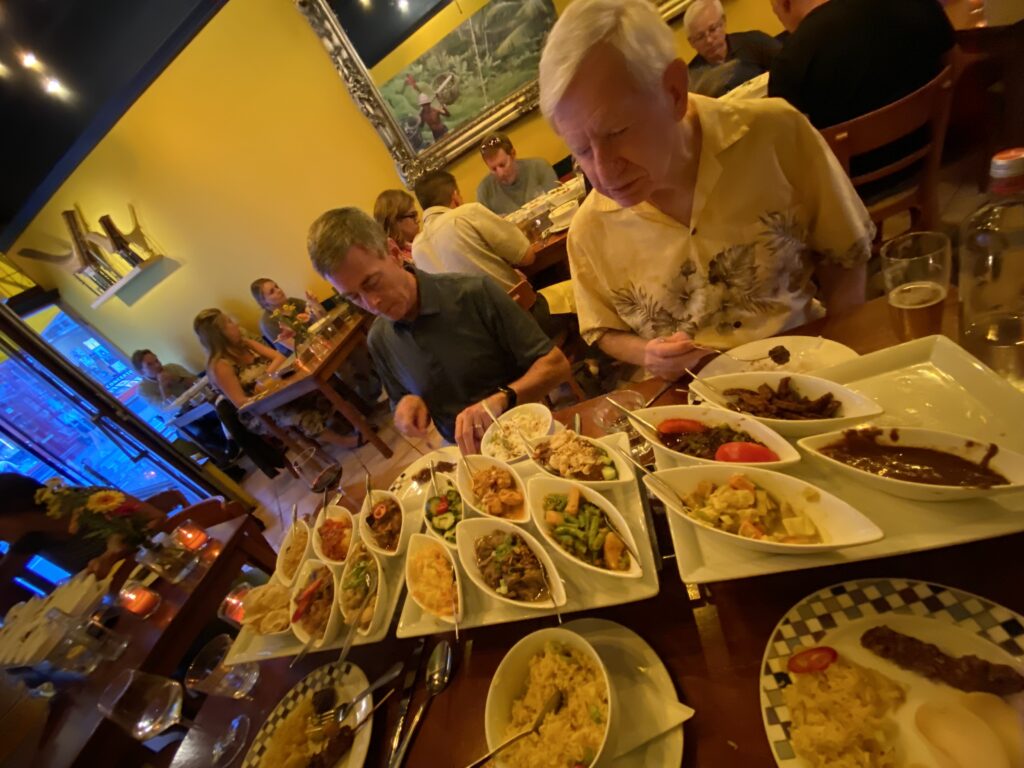 Other pictures of pretty Amsterdam.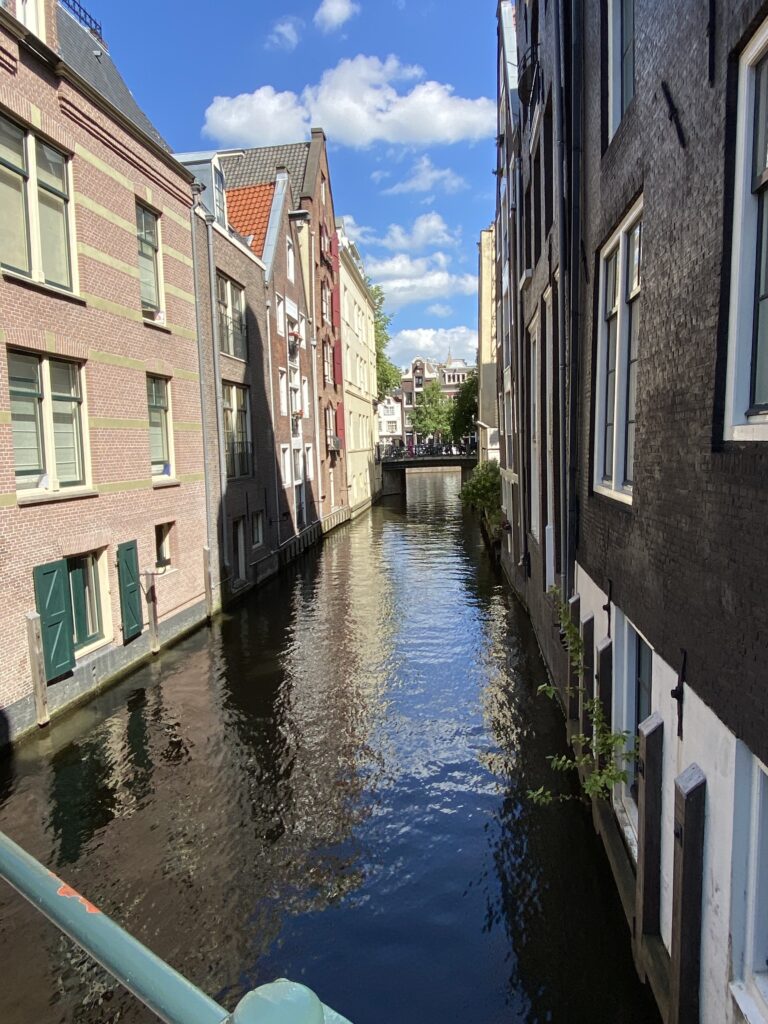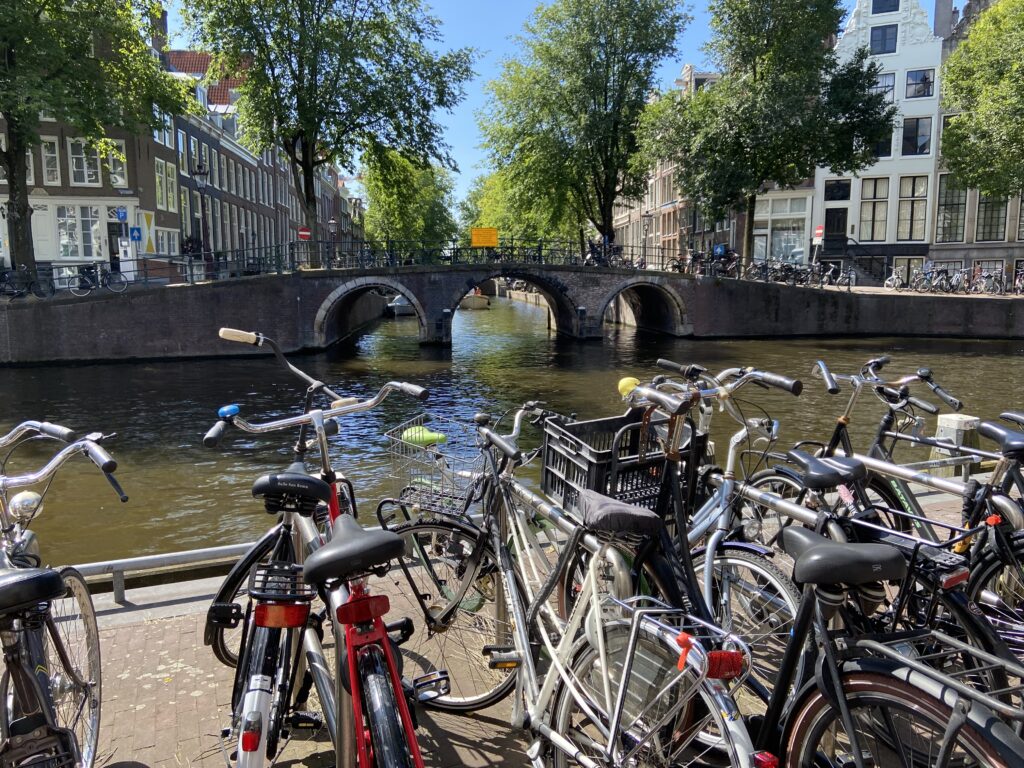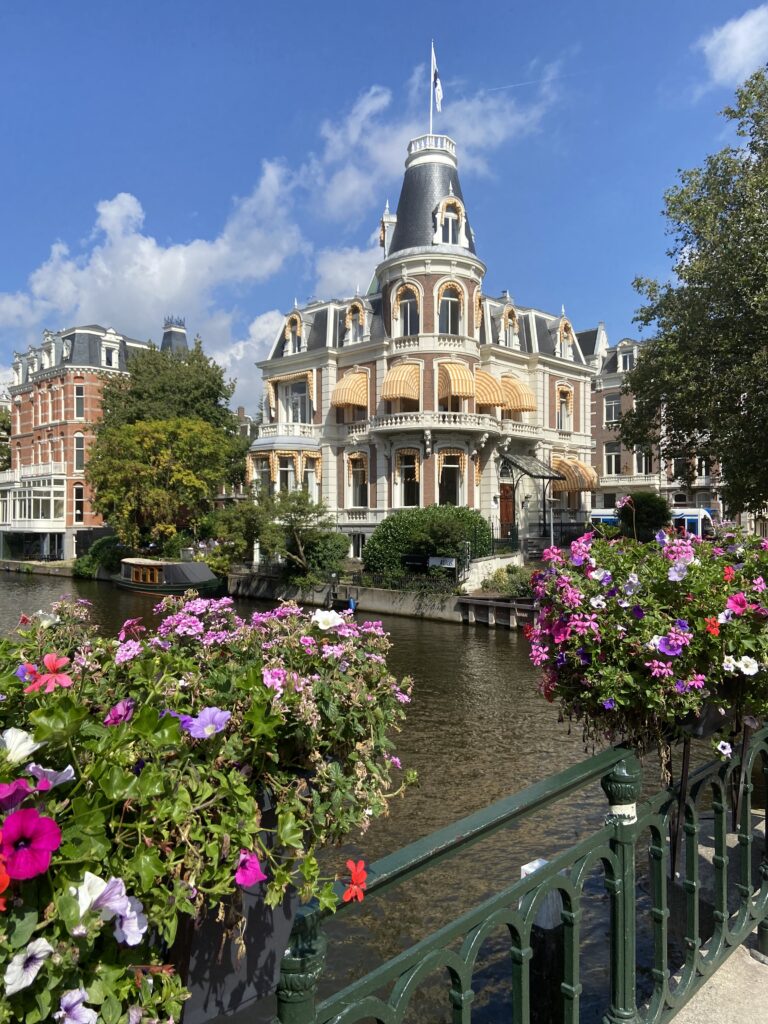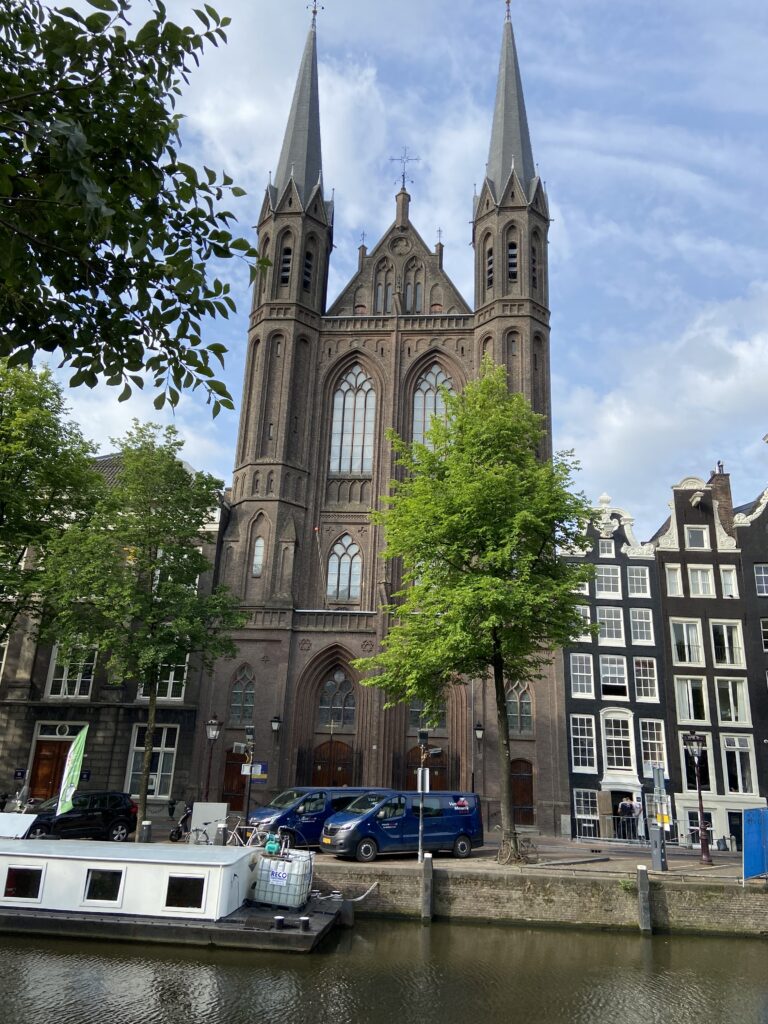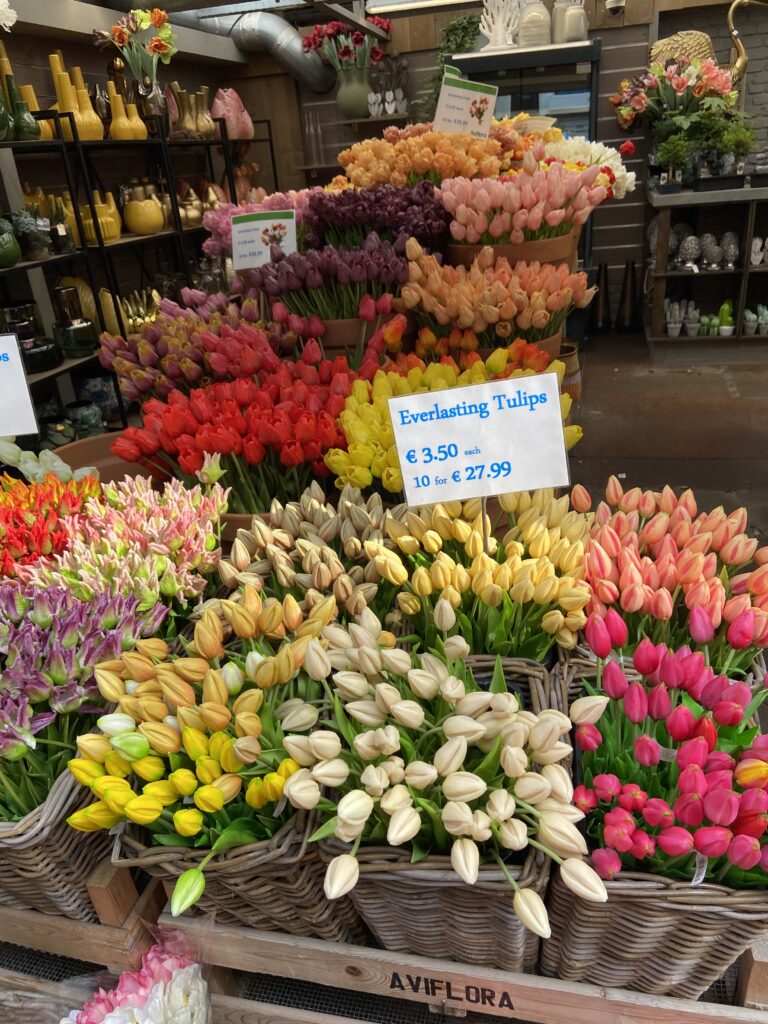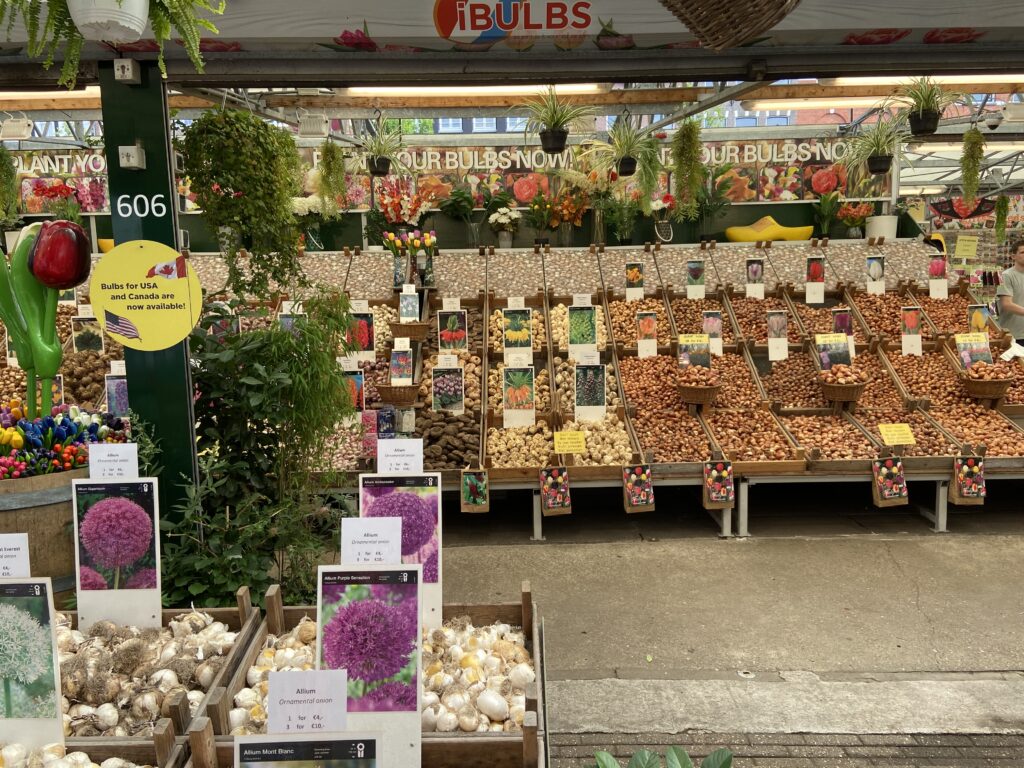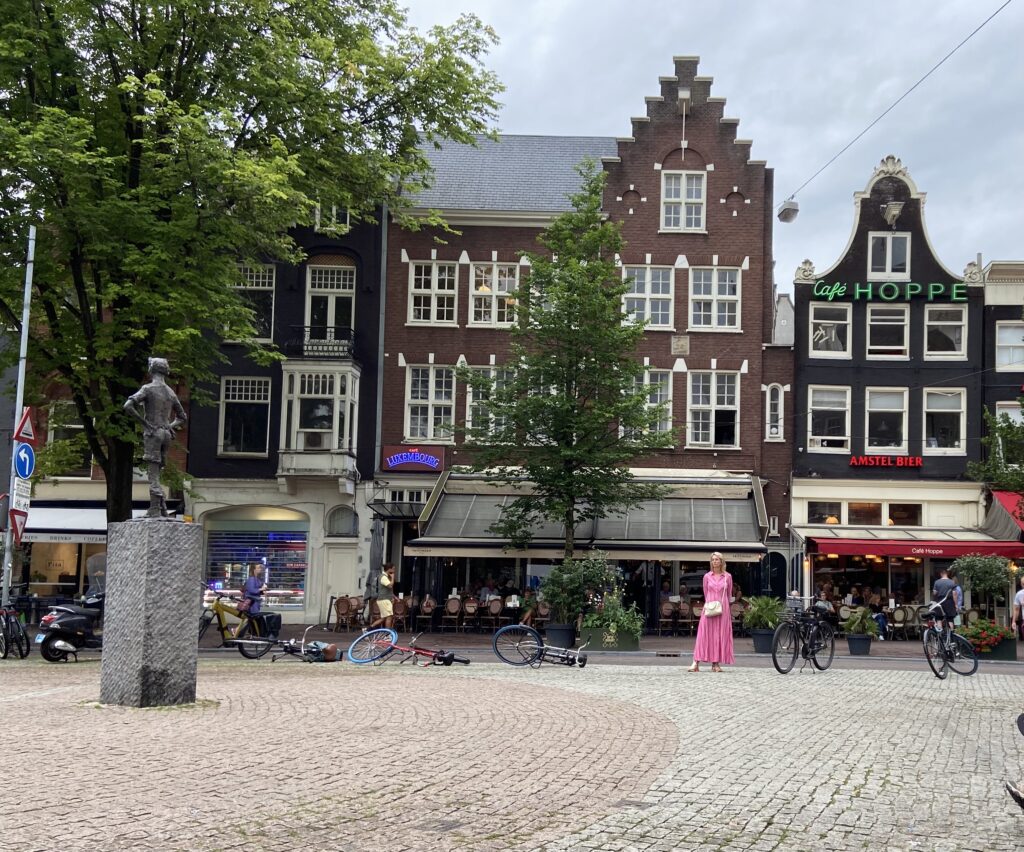 Next up, Star Legend embarkation!